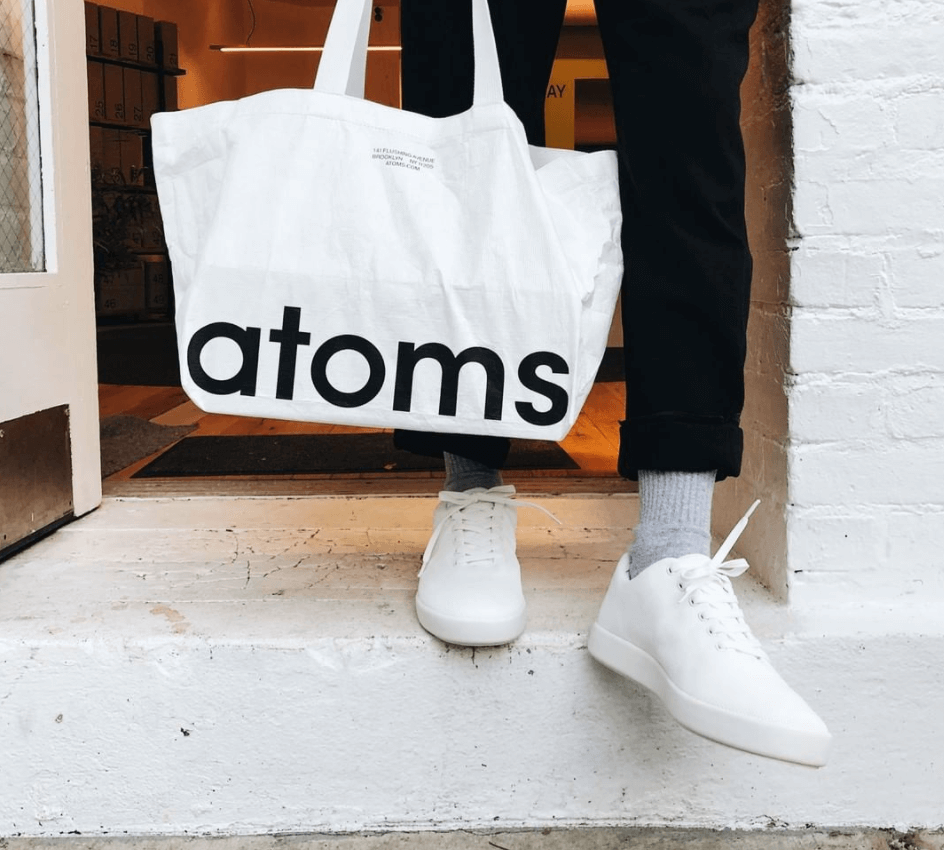 Featured in Vogue, Forbes, TechCrunch, British GQ, Bloomberg, and Esquire, Atom shoes have become known for their minimalist and slick designs. The increased popularity of these shoes has mainly been due to their customizable sizes that occur in quarter increments. This Atoms Shoes review will help you find out if this brand is worth checking out.
The company offers quarter-size shoes, and it allows you to purchase shoes in two different sizes. This aspect has been a great hit with customers since it has allowed people to fully enjoy the comfort provided by wearing an adjustable shoe depending on each foot.
Want to learn more about Atoms Shoes to determine if they offer value for money? Read on.
About Atom Shoes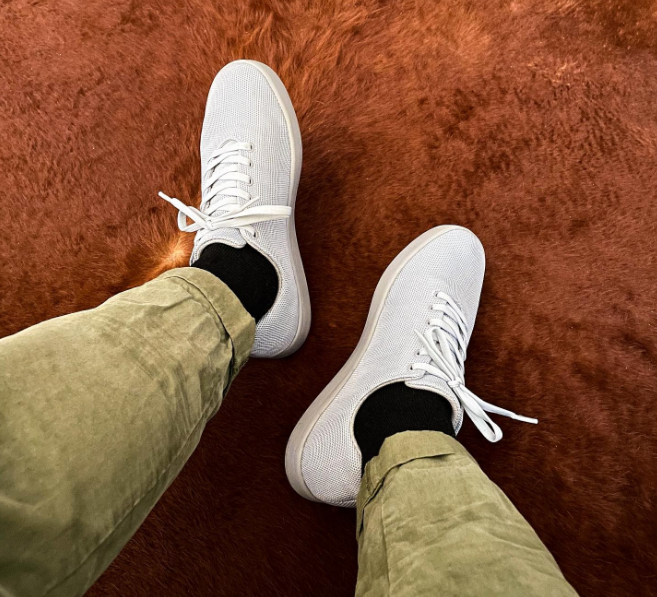 Atoms is a sneaker manufacturing startup based in New York. Sidra Qasim and Waqas Ali, a couple, founded the brand after a tour across the world, researching the various footwear people wear.
After starting their first company, Markhor, in Pakistan in 2012, they later moved to Silicon Valley in 2015.
While in Silicon Valley, they deviated more into product design and customer research. Their research revealed that 70 percent of people have a quarter-size difference between their two feet at least, while over 7 percent have a half-size difference.
With this, they found their market niche and a market gap all at once.
In 2019 the couple launched Atoms. They make shoes for both women and men, allowing them to choose from the two-sizers and wrong-sizers. A simple design and a sleek look featuring rubber soles are the distinctive characteristics of all Atoms shoes.
While other footwear companies pursue apps, 3D scans, and other technologies that might help customers in the tedious task of finding the perfect fit, Atom has developed a reliable sizing system that is simple and fashionable.
The new technique creates more size options by providing shoe sizes with quarter increments.
This bright design was so successful that it caught the attention of the media and investors, most of whom are now devoted customers.
Magazines like Vogue, Forbes, TechCrunch, British GQ, Bloomberg, and Esquire all featured the brand and commended them for solving the age-old dilemma of finding the perfect shoe size.
Since then, Atoms has grown to be an international brand, with a visible social media presence having 19.5k Instagram followers. For a mare startup, their growth and success have been impressive.
Pros
Versatile and minimalist design
Bacteria killing Copper threads within the shoes prevent foot odor
The midsole consists of an ultra-soft material that cushions your stride
The tongue remains in place without slipping
They provide free returns and shipping
You get discount deals for referrals and when you return old Atoms for donation or analysis
Cons
Most sneakers are expensive but worth the money
Colors patterns and designs are in limited supply
The window of time to purchase for their limited editions is too short
They do not offer international shipping
Atoms Shoes Review
This section of Atoms Shoes review will focus on the most popular sneaker models that this brand offers. Tie your laces and tag along as we take a tour of the most popular Atoms sneakers.
Atoms Model 000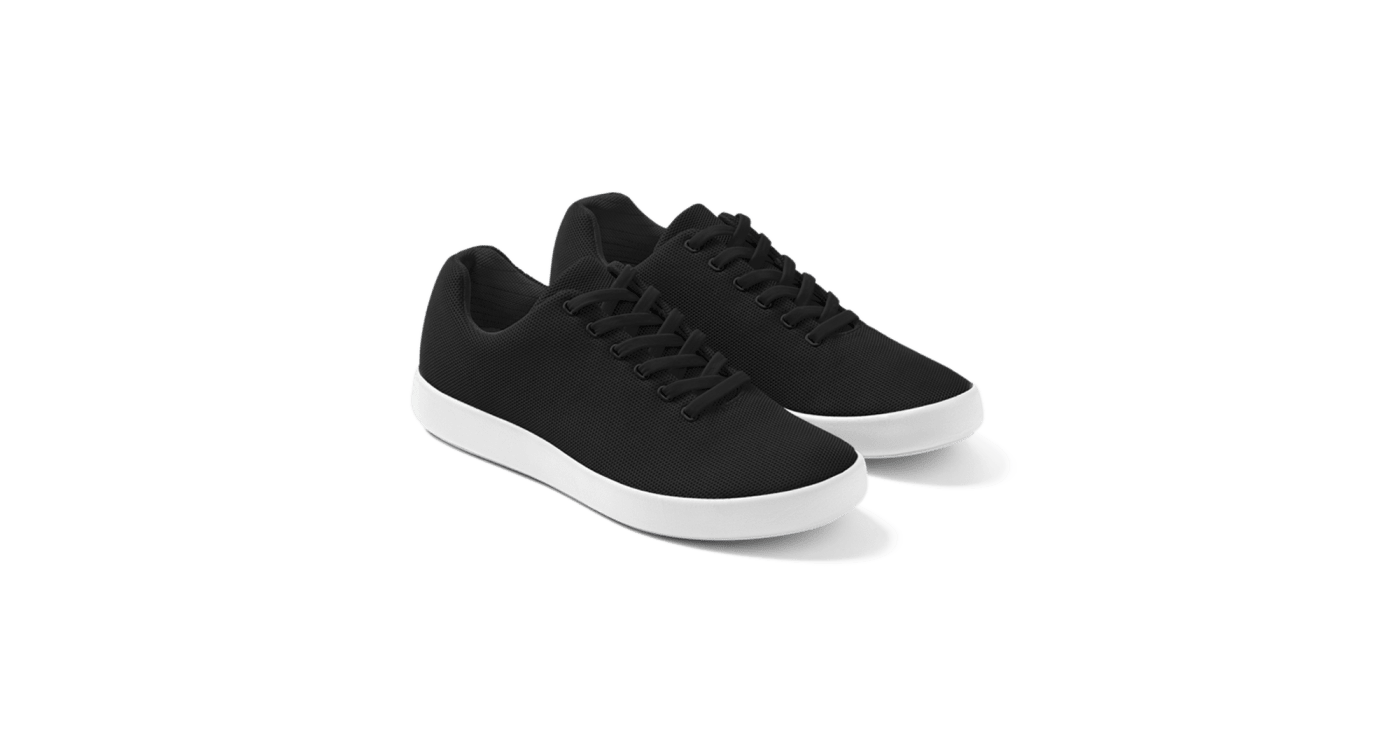 While other brands believe in broadcasting names, Atoms only believes in creating unparalleled user satisfaction. We can observe this devotion to customer experience in their Atoms Model 000. The strengths of this shoe lie in the thoughtfulness of its design.
Our Atoms Shoes review found that this minimalist black-and-white rubber-soled sneaker features a cushioned insole and an antimicrobial copper lining. The upper adapts to foot changes throughout the day.
Its stretchable laces ensure that you only need to tie them once. They are practical and pleasant, making them ideal for casual wear.
The shoe uses a non-slip rubber inner sole and a lightweight outsole foam with cushioning for less stress on the ankles and feet. Aside from this, the shoe is also 100% vegan.
Whether you are doing your morning jogs or just strolling around the local park, the Atoms Model 000 is the perfect shoe for your feet.
With the price set at $129, you can purchase it in various color variations of black, gray, white, and a black/white combination. Although the brand has since expanded its shoe lineup, Atoms Model 000 remains the top-selling shoe of the brand. combine
Atoms AerosynBlue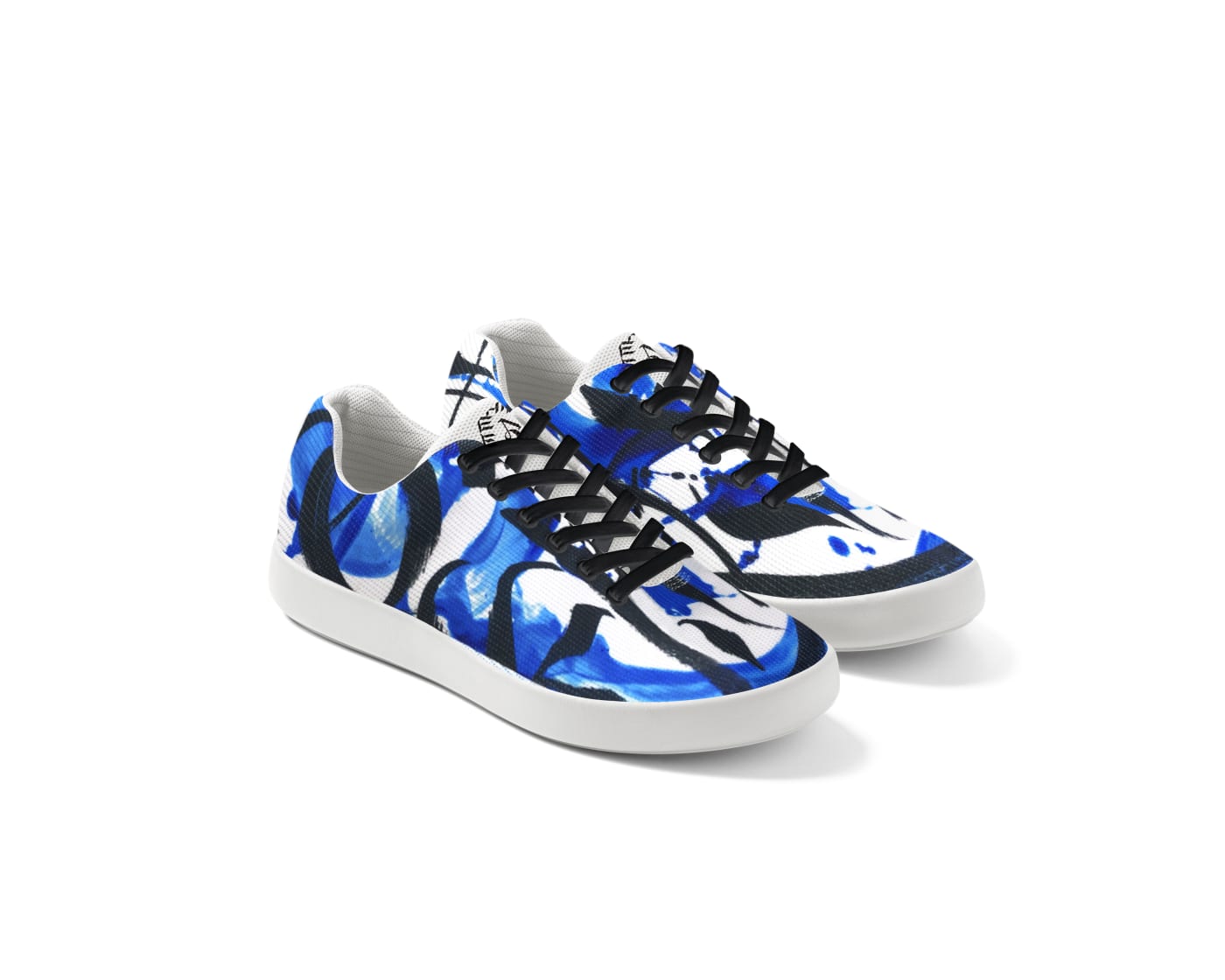 Atoms AerosynBlue is a limited-edition sneaker that comes in a striking blue color. It was produced in collaboration with Aerosyn-Lex Mestrovic.
The shoe reflects a multicultural underpinning due to Mestrovic heritage that combines western and eastern art traditions due to its location in Tokyo and NYC,
The unique sneaker incorporates the simple design of Atoms with the sublimation technique that overlays all Mestrovic designs. This aspect turns the intricate Model 000 into a work of art.
Like the Atoms Model 000, the AerosynBlue contains high-durable TPU coated upper material that adapts to your feet like a second skin. This material also encourages sweat to evaporate, thus, keeping your feet cool and dry all day long.
AerosynBlue also comes with removable insoles with copper lining, which kills bacteria hence preventing foot odor.
The custom foam midsole in the AerosynBlue provides a light and bouncy feel to your feet and arches your calf muscles for more comfort.
To provide a firm grip while walking, this model uses an outsole made of non-slip rubber material that adds to the comfort. Additionally, it has elastic laces, which only require you to tie them once.
This Atoms Shoes review found that customers who purchased the AerosynBlue sneaker have commented on how lightweight and breathable they are. A few customers stated that this sneaker is the most comfortable shoe they have ever worn.
However, being a limited edition, it is not available in all shoe stores and only a few retailers.
Atoms Everyday Crew Socks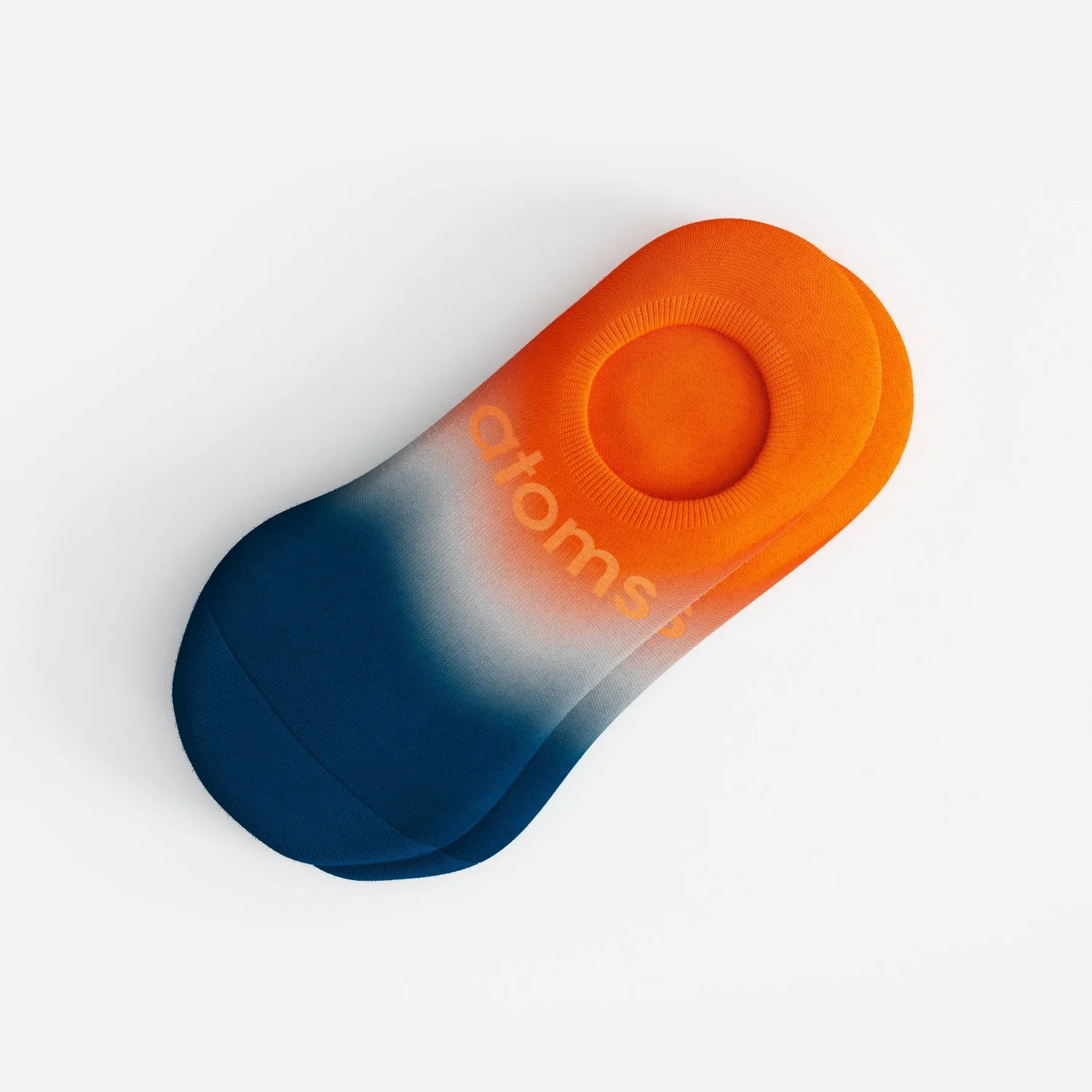 The brand also has a modest line of Atoms No-Show socks. These include the Everyday Crew sock, which comes in regular sizes-small, medium, and large. Knitted in South Korea, designers use the 156 needle type, 22% Polyester, and 75% Organic Cotton to achieve unparalleled comfort.
They come in various colors like the charcoal gradient, forest gradient, and sky gradient. The three different color gradients were an artistic inspiration from the sunset over the pacific and the blooming nature.
However, each pair has a unique look due to the individual hand-dyeing to achieve the distinct two-color gradient.
At Atoms, they do not just make socks because they happen to be a shoe brand; they have a high standard for their socks because they take more time familiarizing themselves with the materials.
They investigate how such materials work in conjunction with Atom shoes to enhance the overall comfort. For this reason, the yarn used in Atoms socks is 30% thinner than regular sports socks. Get a pair of these socks at just $15 and enjoy the numerous benefits.
Atoms Everyday Mask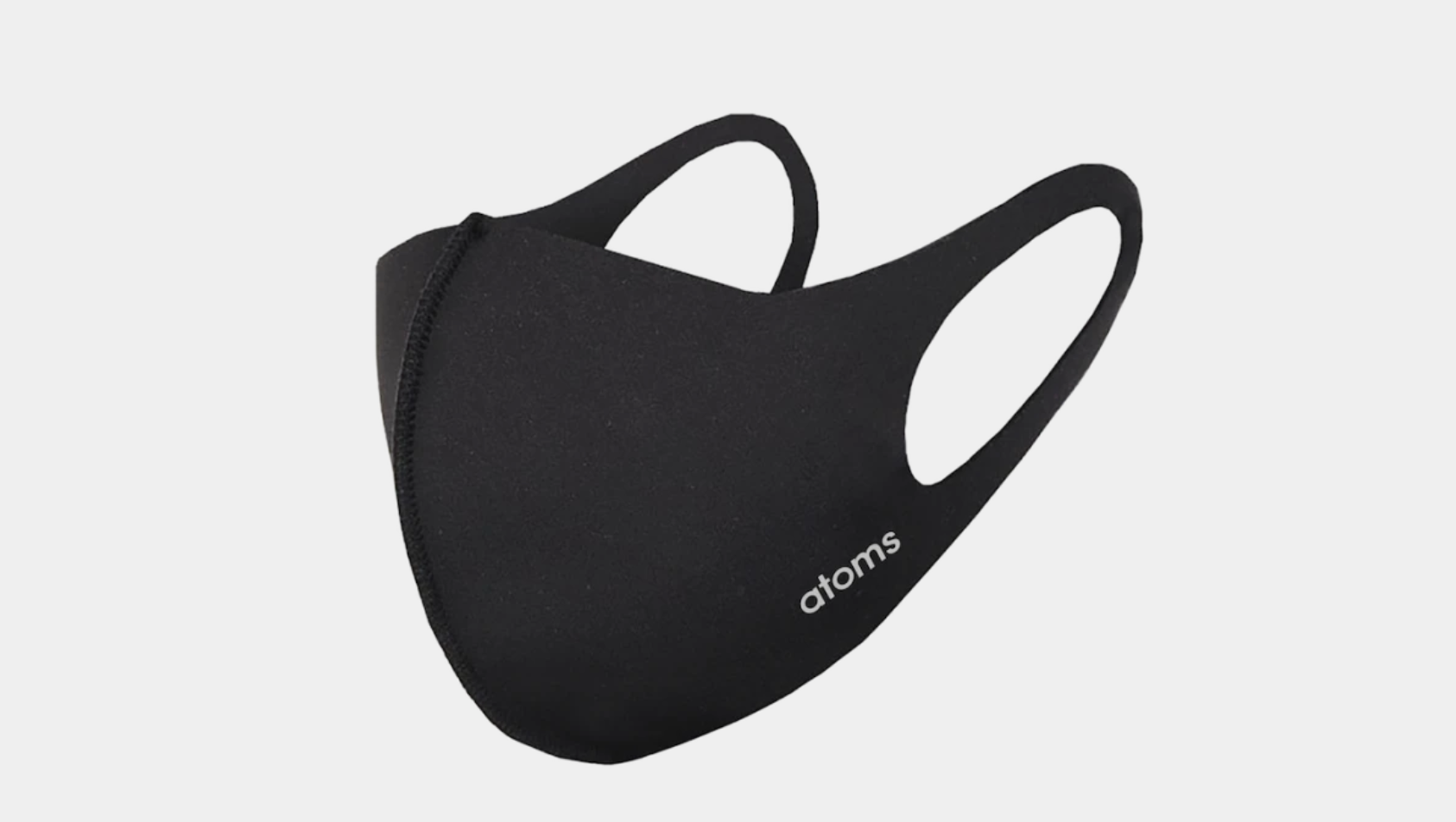 An Atoms everyday mask is a simple yet exciting product that offers comfort and a classy look with its polyester blend outer coat and various color options.
It also has a copper-lined inner layer with ionized quartz yarn that offers 84.6% air filtration. The Atoms Everyday Mask remains usable even after hand washing them 50 times.
Atoms designed this mask due to the COVID pandemic that hit New York hard. After receiving the news of mask shortage, they felt socially responsible as their home base was severely affected.
Therefore, they asked themselves how they could help fight this pandemic and prevent further spread.
They decided to open production facilities in South Korea, where they designed and produced masks for the entire community.
Since then, Atoms has donated upwards of 350K masks to various organizations such as the Colin Kaepernick Know Your Rights Camp (KKYC), New York City Housing Authority (NYCHA), King County Emergency Management, and many more.
User ratings have given this product 4 1/4 stars. Customer reviews show that most people are satisfied with the quality and durability of the masks. Spend $12 to get you one today.
Atoms Shoes Review from Customers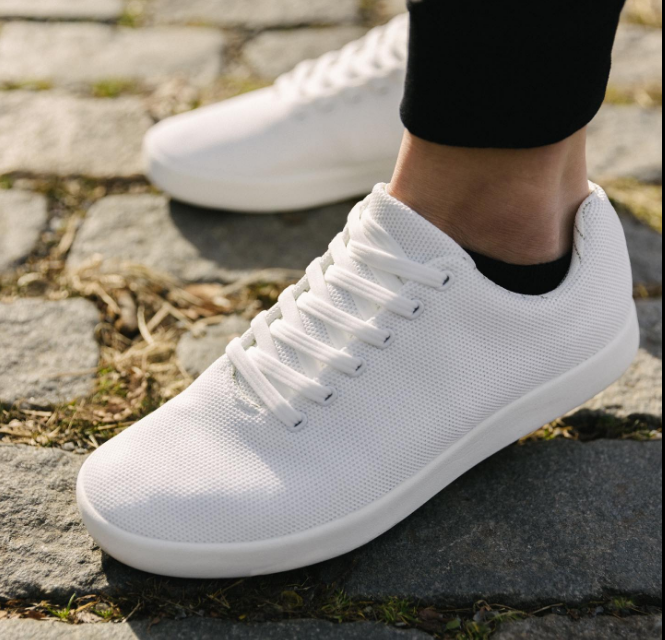 By examining customer reviews on Atoms' products, we can identify the general user sentiment. The reviews have been positive, with most customers rating each product 4 1/2 stars and above. It shows that many people have been satisfied with the products.
Popular Alternatives to Atoms
Despite the good reception, there have also been a few customers who have expressed some concerns about Atoms products. Some customers have complained that sometimes their orders experience a delay.
However, the majority of products have generally been reviewed positively, with most customers agreeing that they are comfortable to wear and of good quality.
Sign Up for Atoms
Sign up for Atoms on their site and get newsletter updates on all their latest products. The site will require you to provide your email address and name. It is the simplest way for customers to contact Atoms about any concerns or questions regarding the products.
Where to Buy Atoms Shoes
Ready to buy Atoms Shoes? Head to their site Atoms.com, and you'll enjoy their wholesale prices. The site is easy to navigate and shows the different products and categories available.
Customers can choose between shoes, socks, masks, etc. The site also allows people to sign up for the Atoms newsletter.
Atoms Shipping and Return Policy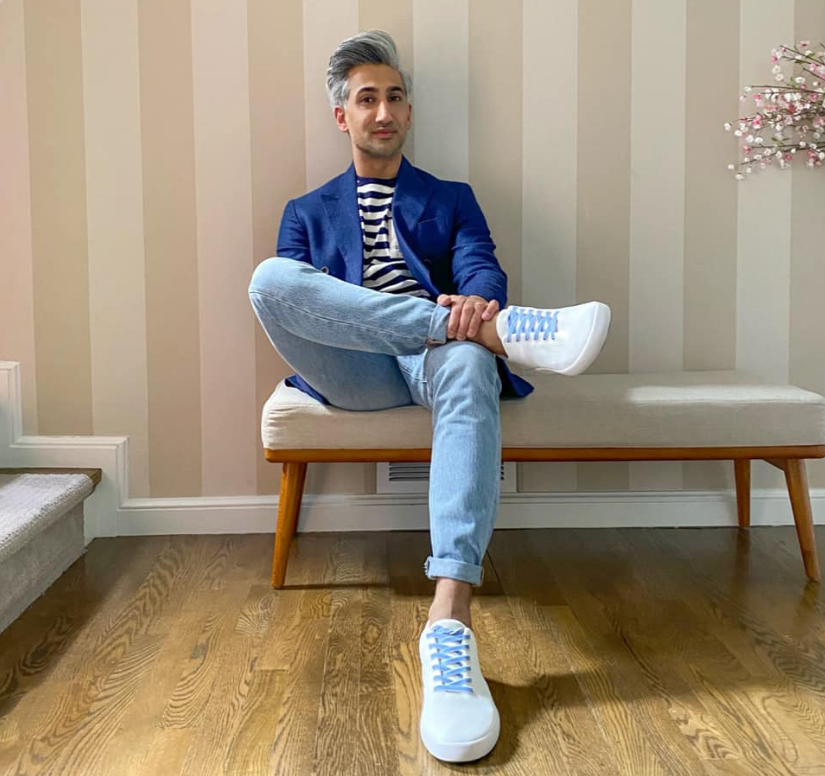 Shipping Policy
Our Atoms Shoe review found that their shipping policy caters to free shipping on all orders worth over $30. Orders below this amount incur a $5 shipping fee on the customer. The destination and the applicable duties determine the shipping fee for international orders.
The typical shipping duration for orders ranges between 2 and days. However, delays may occur due to unavoidable conditions like terrible weather. For international orders, delivery takes 5-10 business days.
However, it can increase to 12 due to custom holdups and other unpredictable conditions. After placing your order, Atoms will send you an email with a tracking link throughout the shipping process for you to keep track of your package.
Their shipping policy also allows for PO box and APO box delivery. However, Atoms customer service cannot develop pre-paid return labels for APO orders. Therefore, you will have to pay for any return shipping costs.
They also allow you to change your shipping address. However, this has to be before the order ships. All you will need to do is go to your account, check pending deliveries, Click to enter the location finder.
There you can enter the new address and click save. To hold or stop delivery, you will have to do it before shipping commences.
If your order goes missing or gets lost, Atoms customer service will help you solve the problem. However, you will first have to check whether you gave the correct address and whether it went to the wrong address.
Most of the time, you might find your order went to your neighbors address accidentally. For other shipping, issues visit their support site and get help.
Return Policy
The well-documented Atoms return policy only allows you to return products within 30 days of purchase. The policy states that they do not accept used items as returns.
Also, note that custom-made shoes are only eligible for exchanges and not returns, while masks do not qualify for either.
Free returns and exchanges are only for US orders. If a mistake occurs and you receive a different product from your order, Atoms recommend you head to their returns portal and exchange it for the item you ordered.
They will give you a prepaid return label so that you can send back that wrong item.
If you have lost your return label, do not fret. You can get another one: Visit the returns portal and generate a new one. If you have any other issues with their return policy, you can visit their portal and get help.
Atoms Promotions & Discounts
Atoms awards promotions and discounts to professionals devoted to creating a better tomorrow. These professionals include students, military, government agencies, teachers, and healthcare workers. They also give discounts to seniors and first responders.
Teachers and teaching assistants, administrators, and students in university, college, or any other technical program in Canada and US receive a 15% discount on all orders. Nurses, doctors, and other healthcare specialists receive a 10% discount on all purchases.
Fire Fighters, EMTs, and members of the police service receive a 10% discount, similar to surgeons above the age of 65. Government employees from federal, state, or local get a 10% discount.
Additionally, military service, those on active duty, the national guard, reserves, veterans, military families, and retirees get 10% off all orders.
If you do not work with any of these professionals, do not worry because they also offer referral programs for everyone. If you refer someone who makes a purchase, you both get a 20% off. Use the Atom Shoes discount code at checkout to redeem the promotion.
Atoms Shoes Review: Editor's Verdict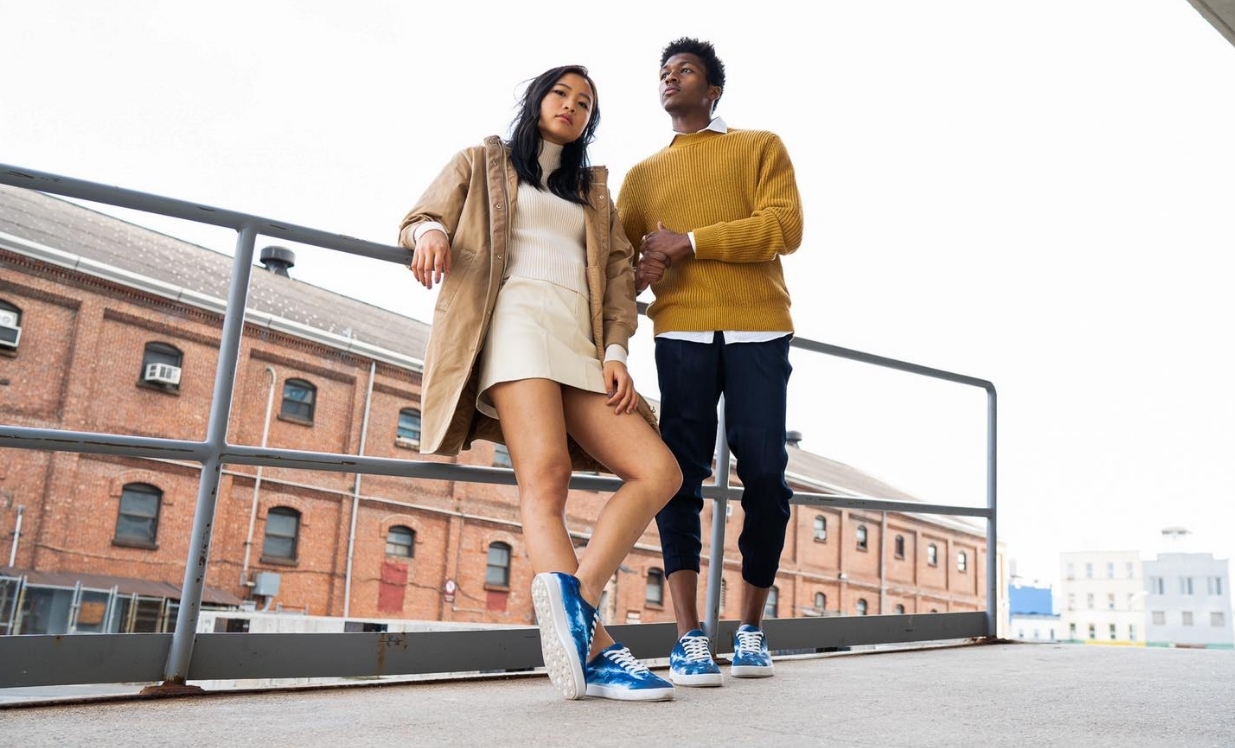 After an in-depth Atoms Shoes review, I can provide an unbiased and reliable opinion on the brand. They stand out for their unique custom-made designs and versatility. Their shoes are made for comfort, style, function, and durability.
Their new sizing system is a revolutionary idea, which sees them as the first major brand to offer such a service. Despite the various colors and designs, I trust they will increase their product lineup for more options.
Looking at their customers' reviews, I see many are pleased with their products and customer service. This feature is a clear indicator that they are doing things right.
To answer the question: Are atoms shoes worth it? My answer is yes. I recommend them to anyone looking for comfortable shoes, whether you wear them for fashion or function. They are the perfect choice for anyone who wants to make a statement and stand out from the crowd.
Still on the search for the original and comfortable pair of shoes? Consider reading our footwear brands reviews of Thursday Boots, Earth Shoes, AllBirds, and Vessi.
Atoms Shoes FAQ
Where are Atoms shoes made?
If you are asking yourself: Where are atoms shoes made? Most Atoms shoe production takes place in South Korea.
How to clean Atoms shoes?
Want to know how to clean Atoms Shoes? Take the insoles out for thorough cleaning but keep the laces tied. Afterward, add shoe trees and put the Atoms in a pillowcase or a linen bag.
Mix in sheets or towels to pad the washing appliance. Add in cold water and set the machine in a gentle cycle.
Only use cold water because heat will shroud the shape and size of the midsole foam. Also, do not use a drying machine for the same reason. Instead, let it dry in the air with the shoe trees.
Are Atoms shoes worth it?
If you are still wondering: Are atoms shoes worth it? The answer is yes. The stylish and comfortable design is worth the investment.
Are Atoms shoes vegan?
Yes, Atoms shoes are 100% vegan as they do not use animal wool, fur, hair, leather, or by-products of the meat and dairy industries.
Are Atoms waterproof?
Yes, Atoms come with an insole and a rubber outsole. The materials used and the design keeps your feet dry and allow you to step on mud and grass without a problem.