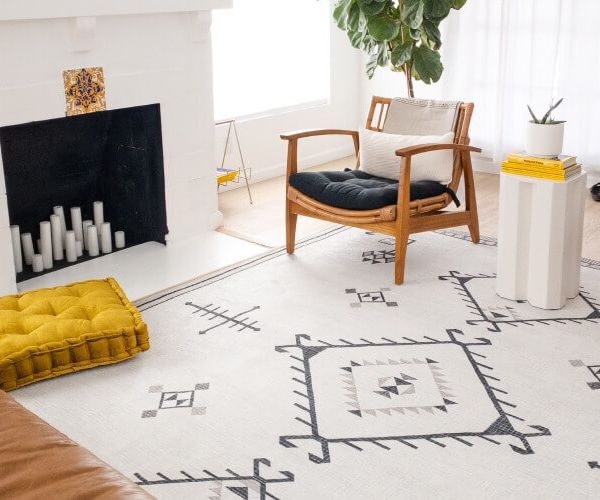 If you've ever had to manually deep-clean a rug because your kid or pet has had an accident, you've probably also wished that you could just throw the whole thing in the washing machine. Unfortunately, most rugs cannot be machine washed because they're either bulky or have flimsy backing that can fall apart easily. This is where our Ruggable review will come in hand. As a two-part rug system consisting of a rubbery nonslip base and a machine-washable top layer, Ruggable area rugs are not only highly durable but also simple and easy to clean. Indeed, they're ideal for parents and pet owners who frequently find themselves with a bottle of stain remover in hand, trying to deal with carpet messes.
However, Ruggable rugs are not exactly cheap, so the obvious question is, are they really worth it? To help answer that and any other questions you may have about this brand, we give you our comprehensive Ruggable review. Read on!
About Ruggable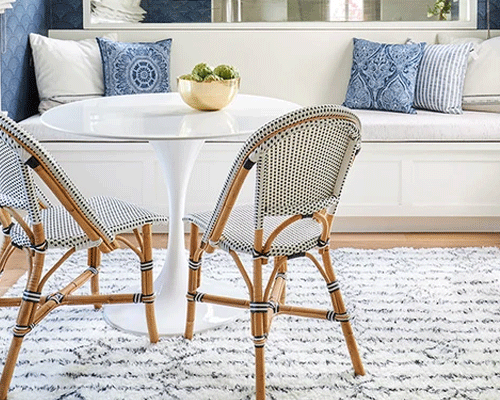 Ruggable rugs are stylish two-piece systems that are comprised of a lightweight cover and a nonslip pad. The two-part system is what allows them to be so easy to care for – the top cover, which is low-pile, can be detached and tossed in the washing machine as needed, while the lower rubbery part remains on the floor.
The rug cover is made from 100% polyester fabric that is stain-resistant and water-resistant, making it not only machine washable but also quite durable. Like most polyester products, the cover feels soft and smooth, however, since it's low-pile, it's rather thin. So, if you're looking for a plush carpet, you might want to look elsewhere (a fair warning though: plush and thick carpets are a nightmare to clean if you have pets!). Best of all, the covers are completely replaceable and come in a variety of designs and colors.
The Ruggable rug pad is constructed from the same material that is used in yoga mats – thermoplastic rubber. This means that while lightweight, the pad is hardy and does not move. Seriously, you can run around and play tug-of-war with your pup on it and the Ruggable will stay firmly planted on the floor.
So how are the top rug cover and base connected? The top of the nonslip pad has a velcro-like material that grips the cover and holds it in place. While we had doubts about the system, thinking it might move around or be uncomfortable to walk on, we have to say that while simple, it's pretty ingenious: the carpet does not budge and it is comfy to walk over thanks to the soft, cushy cover.
Overview of Ruggable
Ruggable rugs were conceptualized in 2009 by Jeneva Bell who wanted a proper machine-washable rug for her home after her pet had accidentally ruined her new, expensive carpet. With the help of industry experts, she and her team created and patented a 2-piece rug system that is easy to wash and maintain. Eight years later, the Ruggable brand was born. Today, the company works with certified suppliers from all over the world, however, each rug is made and packaged in the U.S.A.
While there are many pet-friendly rugs and carpets available on the market today, Ruggable rug is rather unique as it's composed of a two-piece system that is held together with the help of Cling Effect technology. Conveniently, all of the Ruggable's washable rugs are also entirely made of sustainable materials. Let's see the pros and cons in our Ruggable review.
Pros
Machine washable and easy to vacuum
Made from sustainable materials
Kid and pet-friendly design
Doesn't slide on tiles and hardwood
Available in a wide array of colors, styles and sizes
Free delivery within Canada and most US states
A full refund (minus return shipping) within 30 days of delivery
Cons
Feels thinner than a traditional rug
Can curl on edges after washing
Super-large models may not fit in standard washing machines
No exchange possible, only returns
No free shipping for all states and no international free shipping
Ruggable Rugs Review
The brand's rugs come in a wide variety of sizes, colors, and styles, so finding something that complements your style and fits into your space should be easy. They will perfectly fit any type of interior design, the versatility on the website is quite impressive. Whether you are looking for chic, contemporary, minimalist, or modern, there's something for everyone!
Ruggable Sizes
Ruggable rugs are available in five different sizes:
3′ x 5′ – a small rug this size makes for a nice accent that can spruce up any small area, including entryways.
5′ x 7′ – great for small-sized living rooms, a 5'x7′ rug nicely fits underneath a coffee table or in front of the fireplace.
6′ x 9′ – perfect for small to medium-sized living rooms and bedrooms. Also recommended for spacious living rooms if you want to create a focal point. Add it as throw rugs to your decor.
8′ x 10′ – rugs this size are ideal for 11′ x 13′ rooms or larger, and they also fit nicely in open-plan living rooms.
9′ x 12′ – perfect for 12′ x 18′ rooms or larger, as well as large open-plan spaces, area rugs this big should accommodate all your furniture and decor elements, giving your space a more unified look. These rugs are also great under the dining table.
Ruggable runner rugs are fantastic for all narrow spaces, but especially bathrooms and kitchens as they absorb water well and dry out quickly. They come in over 700 designs and two sizes: 2.5′ x 10′ and 2.5′ x 7′.
Ruggable Colors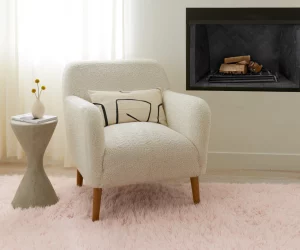 Ruggable's washable rugs come in a wide variety of beautiful and vibrant colors that can help complement virtually any style and decor. The Ruggable website also really simplifies the color selection process, providing their potential customers not only with a host of options but also tips on how to choose the right color for your room theme. On the website, there is a drop-down menu that shows the most popular color combinations, which is extremely helpful if interior design is not exactly your cup of tea.
Overall, there are six color combinations to choose from:
Blue & Green – from bright blue to dark teal to sage and emerald, there are over 240 designs available in this beautiful combo.
Grey & Silver – effortlessly elegant, this color combo includes over 110 rugs, including cool silver, warm ash grey, and others.
White & Cream – classic and versatile, this color combination includes over 50 white, beige, ivory, and cream rugs.
Naturals – over 30 natural and neutral rugs that add an earthy and sophisticated feel to any room.
Black-black rugs make a bold statement in any room, plus they go with virtually any style and color. There are over 80 designs available in black color, including modern and vintage styles.
Multicolor – colorful and cheerful, multicolor area rugs help create a vibrant and inviting space. With 100 designs available, there are models that complement practically any style.
Ruggable Rug Styles
Ruggable rugs are available in a multitude of styles and patterns:
Traditional: inspired by classic styles from all over the world with design elements.  Florals, medallions, and borders, Ruggable's traditional rugs add a touch of timeless elegance to any room (87 designs).
Floral: featuring botanical and floral design elements and a wide range of colors and styles. Ruggable's floral carpets bring a breath of fresh air and elegance to any space (124 models).
Geometric: from stipes to zigzag to diamonds, geometric rugs add an interesting and modern touch to a room (167 designs).
Folk Heritage: with bold patterns and captivating geometric shapes, Folk Heritage rugs can help bring a truly unique style to your home (44 models).
Persian: inspired by the patterns and colors of traditional Persian carpets, these rugs offer that classic luxury that can amp up any space (40 designs).
Moroccan: with rich colors and traditional geometric patterns of traditional Moroccan carpets, these rugs add warmth and timeless appeal to a home (59 designs).
Bohemian: fun and eclectic and available in various colors and patterns, bohemian carpets can really help add a personal touch to any room (63 designs).
Contemporary: featuring subtle colors, clean lines, and a minimalist design, contemporary rugs go with any modern and forward-looking interior (110 models).
Transitional: a blend of traditional and modern style elements, transitional rugs are the perfect combination of a contemporary look and old-world charm (146 models).
Solid and Ombré: from bold and eye-catching to neutral and inviting, these rugs help bring out the best in every room (34 designs).
Aside from these truly gorgeous rugs, Ruggable also offers popular styles, which at the moment include Star Wars, Disney, and Outdoor.
Ruggable Rug Washing Instructions
While writing the Ruggable review, we found that the rugs are really easy to clean. The cover is machine washable so you can just chuck it in the washing machine as needed. In the meantime, the rug pad can be spot cleaned by hand if necessary.
While durable and pretty low maintenance, Ruggable rugs are not indestructible so it's important to exercise care when washing them. Both the rug and the rug pad! Different types of rugs require different ways of care and maintenance and we recommend following  Ruggable's advice for washing to maximize the longevity of your area rug or runner.
Chenille Rugs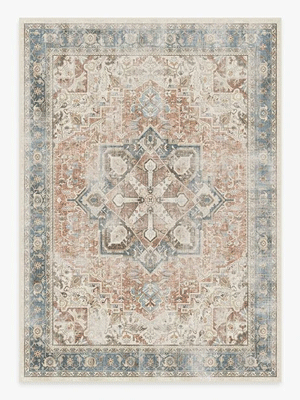 To wash your chenille rug, remove the dirty rug cover from the pad. Then put it in the washing machine with the design side facing out. Wash the rug cover in cold water on a delicate cycle using a mild detergent. This type of rug can be both air-dried and dried on low heat.
Shag Rugs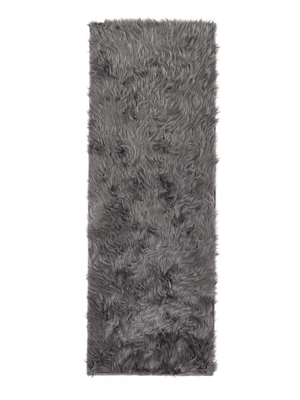 To wash your shag rug, remove the soiled rug cover from the base and toss it in the washing machine with the pile side facing out. Like the chenille rug, a shag rug should be washed in cold water on a delicate cycle, with a mild detergent. The difference is that with a shag rug you should add a fabric softener during the rinse cycle. For best results, shag rugs should be hang-dried.
Plush Rugs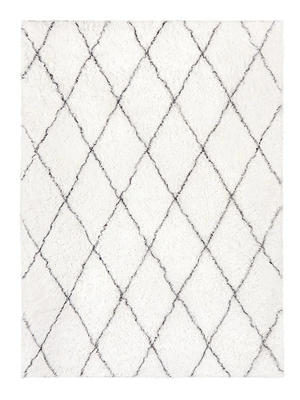 As usual, start by removing the dirty rug cover from the rug pad and chucking it in the washer with the pile side facing out. Wash the cover in cold water on a delicate cycle with a mild detergent. Once washed, the cover should be hang-dried for best results, however, you can also tumble-dry it using the air fluff or delicate setting on your drier. With plush rugs, it's essential to apply very low heat during both the washing and drying process.
Outdoor rugs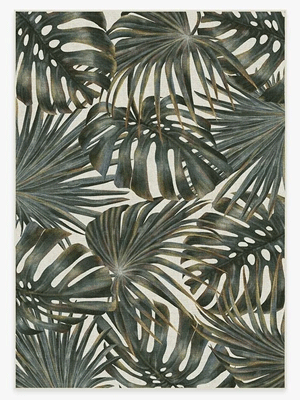 Using a sweeping broom, sweep any dirt and debris from the rug. Be careful not to use any sharp instruments (such as a metal rake), as they may damage the rug fibers. Once swept, remove the cover from the pad and put it in the washing machine with the design side facing out. As with all other rugs, wash it in cold water on a delicate cycle and use a mild detergent. Outdoor rugs can be both tumble-dried on a low setting and hang-dried.
If you have pets and have to deal with pee accidents from time to time, Ruggable advises adding 1/2 cup of white vinegar to your mild detergent when machine washing your rug, as this can greatly help neutralize pet odors. The most important thing to remember about the Ruggable rug is that the cover is washable while the rug pad should be spot-cleaned by hand only.
Ruggable Review from Customers
One of the most important things to do before purchasing any product is to read the reviews. Products reviews, as well as brand reviews, are crucial. You do not want to be spending money without getting to know the brand. This Ruggable review is just perfect if you're curious about the products, but also about what customers have to say.
Alright, so we looked at the ruggable.com website first. Besides being, tried, tested, and approved, customers, seem to have a lot of positive comments about Ruggable. With nearly 125k reviews on the website, the brand received a whopping 4.7 stars. That is impressive. What's even more impressive is the fact that over 80% of these were 5-star reviews. Only about 5% out of the 125k received 1 and 2 stars. Some of them said:
"Not as heavy as I thought it would be, but the bottom mat really helps it stay in place."
"Loving my Ruggable rug runner. Works so well in my kitchen. Haven't washed it yet, but crumbs are easy to sweep or vacuum."
Checking the negative reviews as well, some have been disappointed with the quality:
"I was very excited about my rug but when it arrived the material doesn't feel like a rug and the blue dye has bleed in to the lighter color of the rug. I read how difficult to return the rugs are so I just decided to keep it."
Each of these customers received an answer from Ruggable customer service, so we are positive that they were satisfied in the end.
Further reviews from customers
We had to research the web a bit more and check other reviews. The most trusted place to go to is Trustpilot (pun intended). We couldn't help but notice how the low amount of comments the brand received here. Out of 206 comments, Ruggable rug was rated at 4 stars on Trustpilot. That is a very low number, however, the bad reviews were higher here. That makes us question why on their main website the majority of people were so positive.
Regardless, customers were complaining about shipping and the difficulty of contacting the customer service team. Some never received the goods ordered, while others had huge delays. Very few of them complained about the quality of the rugs, but here's one example.
"Paid $400 for a large tablecloth. This thing is NOTHING like a rug. Its flat as a pancake and wrinkles up all over my floor. I tried to return and got crickets."
This person seemed to be extremely displeased. We are not too worried about these reviews as the rest of them speak for themselves. Overall Ruggable received positive comments and people seem to be loving the products. The fact that you can purchase washable rugs is a miracle.
Where to Buy Ruggable
When doing research for our review of Ruggable washable rug, we found that they are not only available online at the company's website, but also on Wayfair and Overstock. If you're not a fan of online shopping because you like to touch the rug material and see how it feels, you can also find Ruggable rugs at:
Walmart
Target
Bed Bath & Beyond
Home Depot
Kohl's
Lowe's
Rona
Pier 1
Ruggable Promotions & Discounts
To help you get the best deal on your Ruggable rug, we've scoured the internet for promotions and discounts. We found that by subscribing to the Ruggable website, you can receive a coupon code for 10% off your first order. This is pretty neat but we have to say that we would greatly appreciate a higher discount! Still, it's a fine deal. Especially because aside from the discount, you also get first dibs on other offers, styling tips, and more. Also, you can get a discount code of 15% off for each friend you refer to Ruggable who makes a purchase.
Afterpay service is also available for U.S.-based customers which allows you to pay for your order(s) in four equal payments made every two weeks. Best of all, there's no additional interest. However, to be eligible to use this service, your cart value has to be between $35 to $1000.
Shipping and Return Policy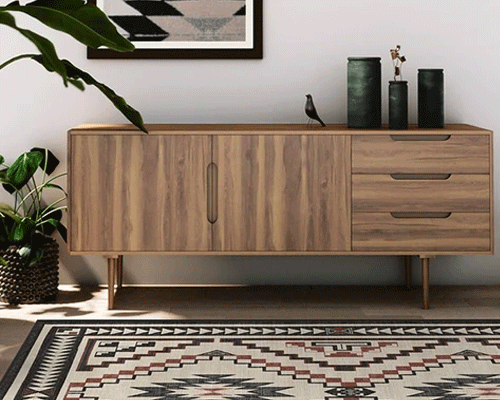 At the time of writing, Ruggable ships to the U.S. (including Alaska and Hawaii) and Canada, but not to P.O. Boxes or the U.S. territories, nor do they ship internationally.
Typically, U.S. deliveries take between three to seven business days, while Canadian deliveries take longer, usually between seven to 14 days. Bear in mind that Ruggable usually takes one week to make your order, so these estimates are excluding those seven days. If you're looking for a faster shipping option, there are some Ruggable rugs available on Amazon with Prime shipping. However, these are pre-made models.
The best thing about Ruggable's shipping policy is that it's completely free within Canada and the U.S. (unfortunately, this is excluding Alaska, Hawaii, and the U.S. Territories).
If for whatever reason you end up not liking your Ruggable rug, you can return it for a full refund or exchange (minus a $25 processing fee per item) within 30 days of the delivery date. However, to be eligible for a full refund, the rug you want to return must be in new condition, meaning without stains, damage, signs of washing or improper care, and pet fur or dander. Importantly, all returns have to be shipped in original or similar packaging so that the item does not get damaged during transport.
Bear in mind that the Ruggable return policy does not include sample sale items and sample swatches.
Ruggable Review: Editors Verdict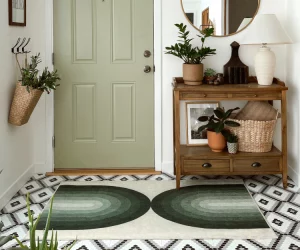 After more than a week spent on research and testing, we can confidently say that yes, Ruggable is worth it! This is especially true if you're a pet parent looking for a washable rug that is also waterproof. To be perfectly honest, anyone can benefit from owning a Ruggable rug. Available in hundreds of gorgeous styles, themes, patterns, and sizes, these easy-to-maintain rugs can amp up the style of any living room, dining room, bedroom, or any other space in a home.
Even if you end up not liking your Ruggable, you can return it within 30 days of delivery for a full refund. The company's customer service department always responds in a timely fashion. So if you're not happy with your product, we highly encourage you to return it so you can find something that better suits your needs and preferences. This being said, it's hard not to love Ruggable! They're stylish, take minimal effort to clean, and they're reasonably priced. Perfect for parents, pet owners, and folks who like having a well-decorated but easy to maintain a home.
Are you looking for other home decor brands? Consider reading our review of American Blinds, AllModern and Blueland.
Frequently Asked Questions
How Do Ruggable Rugs Hold Up to Pets?
As any pet owner can tell you, purchasing an expensive carpet or rug that cannot be machine washed is not the smartest decision.
This is why Ruggable rugs are perfect for animal owners. Designed to be quick and simple to clean, Ruggable rugs are pet-friendly, meaning they hold up really well to all pet messes, including hair, dander, slobber, odors, stains, and more.
How Do Ruggable Rugs Feel?
If you're worried that your Ruggable's washable rug may look somewhat cheap, there's no need - these rugs have vibrant colors that remain fresh and rich even after many washes. Indeed, they can bring a polished and put-together look to any living room, bedroom, or any other space in your home.
Can Ruggable Rugs Be Vacuumed?
While Ruggable rugs can and should be vacuumed on a regular basis, the company doesn't recommend using a heavy-duty vacuum with a beater brush. It's very important to follow the instructions because using the wrong cleaning or washing tools can very well damage the rug material.