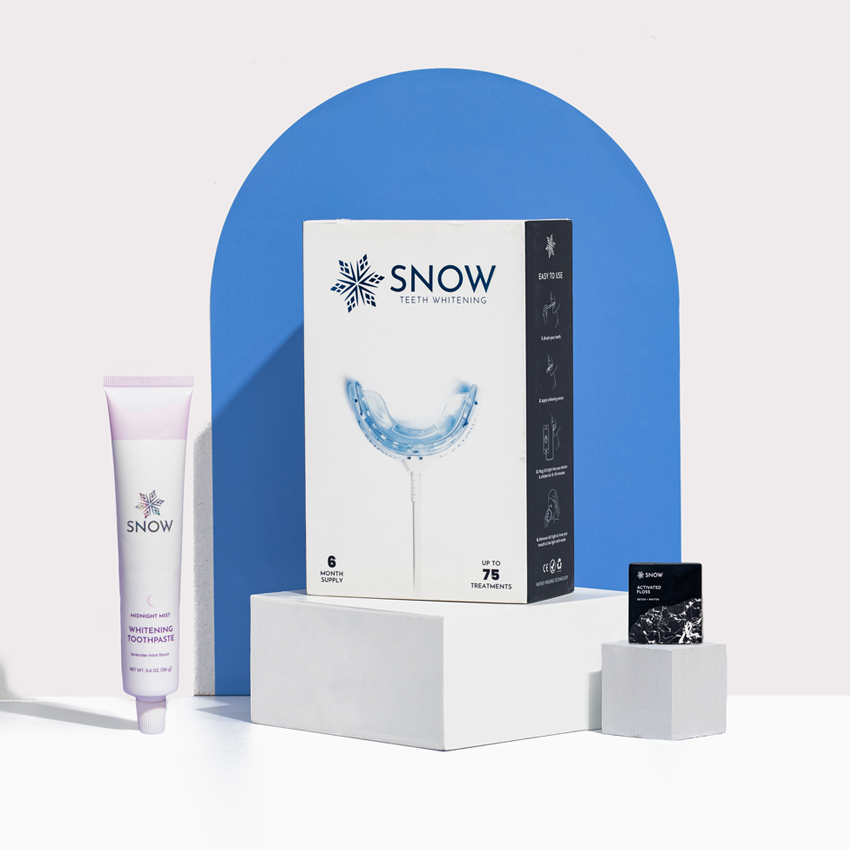 In our Snow Teeth Whitening review, we brush up on the Snow brand and look beyond the product packaging, as well as listen to its customers' experiences to help you decide whether this cool tooth whitening system is the right one for you.
The modern diet can play havoc on the whiteness of our teeth, leaving them looking more gray or yellow than pearly white. This is why teeth whitening treatments have become so popular as we look to restore the sparkle to our smiles. But for many, expensive teeth whitening sessions at the dentist are beyond our budget, sparking a rise in the number of home whitening treatments you can buy. And one of the most popular systems is the market-leading Snow.
Free from harsh chemicals and gentle enough for sensitive teeth, Snow has built up a loyal customer following thanks to its convenient and pretty easy-to-use whitening system. Plus, they also offer a range of complementary oral hygiene products for a dazzling, mega-watt smile. But does Snow Teeth Whitening really stand up to the hype?
About Snow Teeth Whitening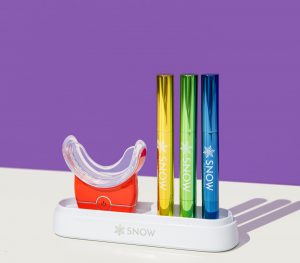 With teeth whitening one of the most popular cosmetic procedures, the brains behind Snow recognized that for many, getting treatment in-salon or at the dentist clinic was too expensive and potentially a painful experience. So, in 2016 they launched what was considered a 'revolutionary' alternative – a safe and easy-to-use teeth whitening system free from harsh chemicals and ingredients which you can do at home.
Based in Phoenix, Arizona, Snow certainly seemed to strike a nerve as, in five short years, they have achieved more than $100m in sales, both in the US and around the world. With a mission 'to make beautiful smiles accessible to everyone, the product is both FDA approved and backed by experienced dentists. Snow also donates a portion of each sale to help underprivileged children access the dental treatment they may need.
Created by 28-year-old entrepreneur, Josh Elizetxe – he was just 22 when he came up with the idea that would become Snow – the company has also been very adept at building its loyal customer base and taking their feedback on board. The result is what has fast become a market-leading brand that has high customer satisfaction rates and expanded to take the home oral health care market by storm.
Pros
Cost-effective teeth whitening compared to treatment at the dentist
Fast teeth whitening results and enamel-safe
Easy to use at home and free of harsh chemicals
Safe for sensitive teeth as well as dental work such as veneers or crowns
Mouth-kind LED lights; kit also available as wireless
45-day money-back guarantee, worldwide shipping, and a five-year warranty
Products are gluten-free, vegan, and cruelty-free
The wider range includes toothpaste, floss, and whitening strips
Accessible customer service and comprehensive online guidance
Cons
Not the cheapest at-home teeth whitening system out there
You need to commit to the long term if you want to maintain results
As a 'one size fits all, the mouthpiece can feel a little uncomfortable
Overseas delivery can be a little slow
How Does Snow Teeth Whitening Work?
This is the most important question that we must prioritize in our Snow teeth whitening review! So, does Snow Teeth Whitening work? Well, using Snow is a refreshingly easy thing to do, if not a little messy until you get the hang of it. The process is a combination of whitening serum and LED light which work together to fade old stains and help protect your teeth from new ones forming.
The serum contains no harsh chemicals, but it does contain both hydrogen and carbamide peroxide as its principal bleaching agents to shade down stains on your teeth.  Snow is quick to highlight that their whitening products are safe enough to use on more sensitive teeth and provided it is used as directed, will cause no or minimal discomfort. But it is important that each treatment lasts no longer than 30 minutes – depending on your tolerance – or you could eventually do some damage to your teeth.
At home kit
To use their at-home whitening system you need to first have freshly brushed and clean teeth. Then, using the applicator pen, you apply the whitening serum to both your top and bottom teeth, taking care to avoid the gum line and your lips. You now need to insert the LED light mouthpiece to start the whitening session. Each session can be as short as nine minutes but must not be longer than 30 minutes. You should repeat this once daily for up to 30 days in a row.
Once completed, you should see a difference in the natural whiteness of your teeth. To maintain that gorgeous pearly white, ensure you brush your teeth twice daily (Snow also sells an effective whitening toothpaste) and maintain good oral hygiene. And as each kit contains a year's worth of treatments, the whitening system can be repeated periodically for maintenance, if needed.
Snow Teeth Whitening Kit Review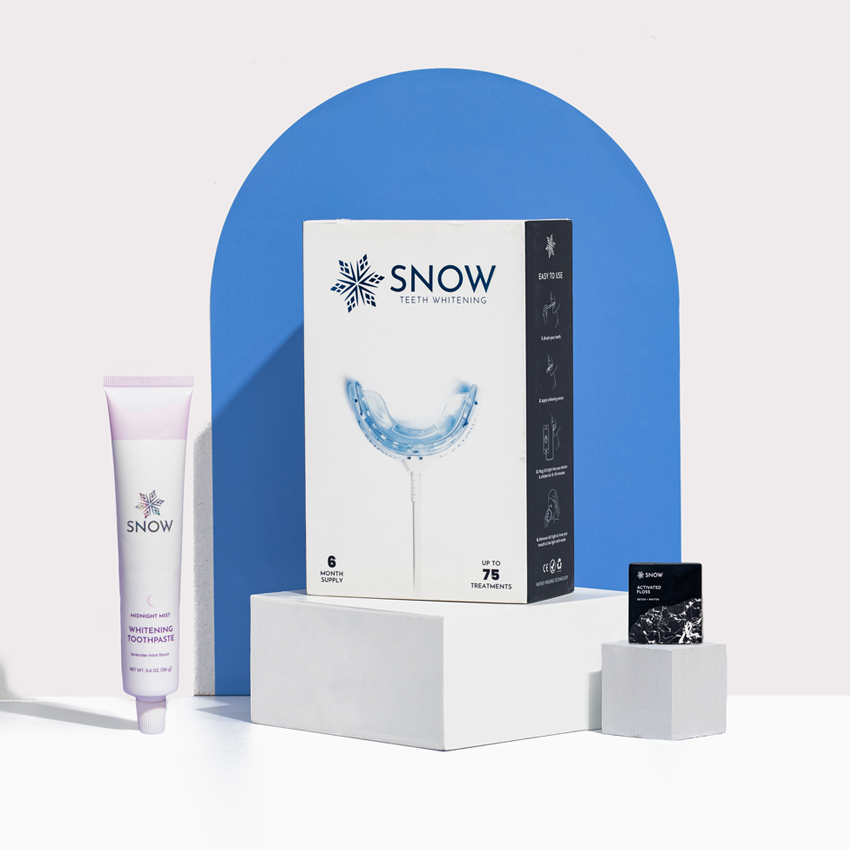 It's a breakthrough product, Snow's Teeth Whitening Kit remains its best-seller and as it retails at $179 for a year's supply, it's easy to see why. It has all you need to start tackling unsightly stains on your tooth and help to restore them back to a natural whiteness. And as there are no harsh or harmful chemicals, this kit is also safe to use if you have more sensitive teeth. So, what do you get for your money? Well, this is a comprehensive pack, which includes its patented LED light mouthpiece, a selection of standard as well as one double-strength serum wand, and a shade chart so you can set your tooth whitening goals.
The LED mouthpiece is also cleverly powered by your smartphone, and you can save on the price of the kit by signing up for Snow's subscription scheme. Let us move on with our snow teeth whitening review, so we can be continuing with the whitening wands, lip treatments, and more!
Snow Whitening Wands Review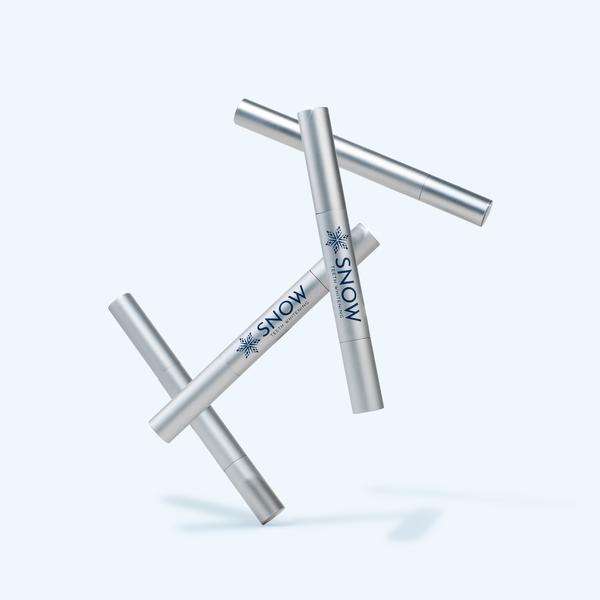 To maintain your gorgeous snow-white smile, you will want to top up that dazzle by repeating the treatment when needed. This is why Snow also offers additional serum wands which maintain the standards set by the original formula.
Available in convenient two-wand packs and currently retailing at $22, these wands also extend the 75-treatment shelf life of your Snow Teeth Whitening kit, and so represent good value for money. Gluten-free and safe to be used on dental work such as bridges, crowns, and veneers, you can choose the standard refills or opt to turbocharge your whitening with Snow's extra-strength formula.
Snow Whitening Toothpaste Review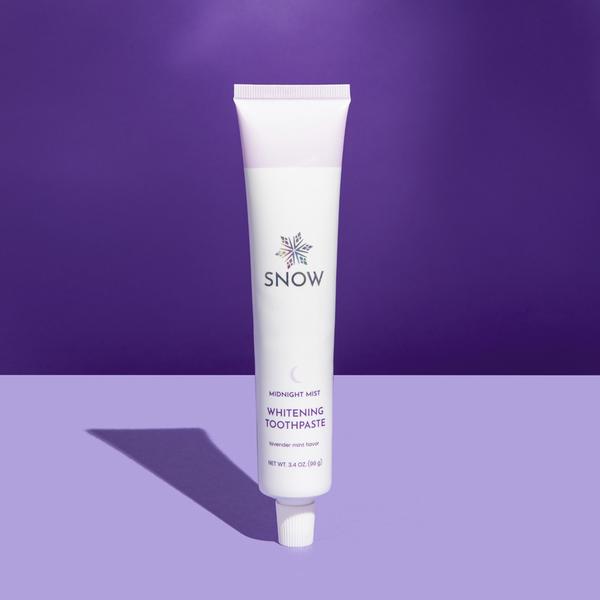 As your teeth whitening serum does not replace your regular daily teeth cleaning routine, Snow has also added their own toothpaste to their product range so you can support and maintain all that whitening hard work. Snow toothpaste is designed to work alongside their whitening kits as well as in-between whitening treatments and provides a gentle clean as it helps to maintain the brightness of your pearly whites.
Snow Whitening Toothpaste hasn't been tested on animals. It has a delicious minty flavor contains fluoride and is sulfate-free. Furthermore, it comes in both morning and night formulations. Each 3.4-ounce tube costs $16 and can last up to three months.
Snow Rejuvenating Lip Treatment Review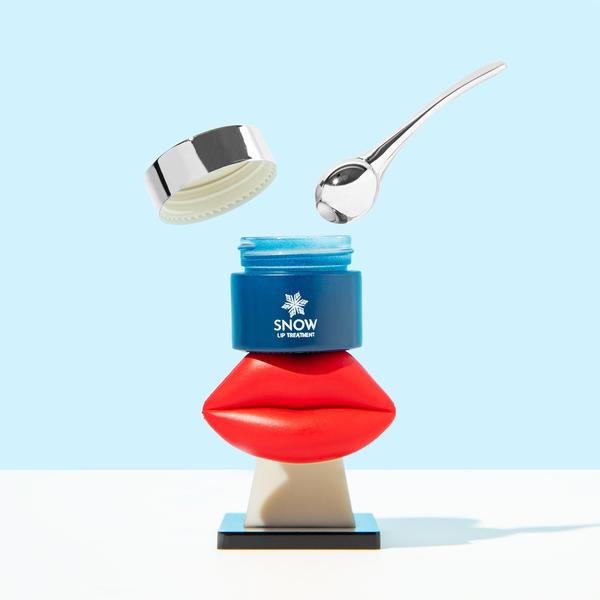 Snow doesn't just stop at teeth when it comes to rejuvenation, their product range also includes a nourishing lip balm to restore a beautiful mouth. Its Rejuvenating Lip Treatment has been designed to deeply hydrate and protect the delicate skin on the lips, restoring moisture as well as protecting from the damaging effect of UV rays.
Using natural ingredients, including shea butter, aloe vera, beeswax, and vitamin E, this rich formula is also paraben, sulfate, and phthalate-free. Perfect for revitalizing a winning smile, this balm also has a delicious, breath-freshening minty flavor. But it is on the pricy side, as you will pay around $30 for a 10g pot.
Snow Limited Edition Wireless Teeth Whitening System Review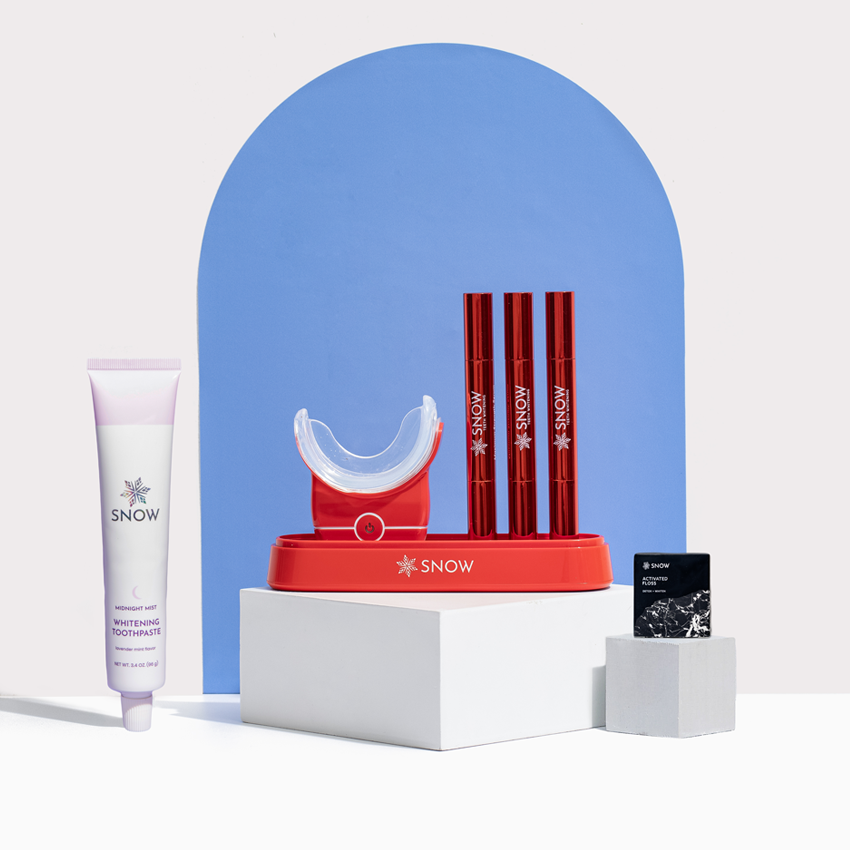 For an extra $150, you can get all the features of Snow's standard teeth whitening set with its upgrade – the Snow Limited Edition Wireless Teeth Whitening System. Not only is this system super-convenient to use, but it's also waterproof so can be used in the shower for the ultimate timesaving win/win.
Retailing at $329, this is not cheap, but it is still more cost-effective when it comes to whitening your teeth than a session in the dentist's chair. And you get the best of Snow's blue and red LED light technology in its comfortable mouthpiece to whiten your teeth and boost healthy gums. Yes, it is an investment, but your teeth and smile could well be worth it.
Snow Teeth Whitening Customer's Reviews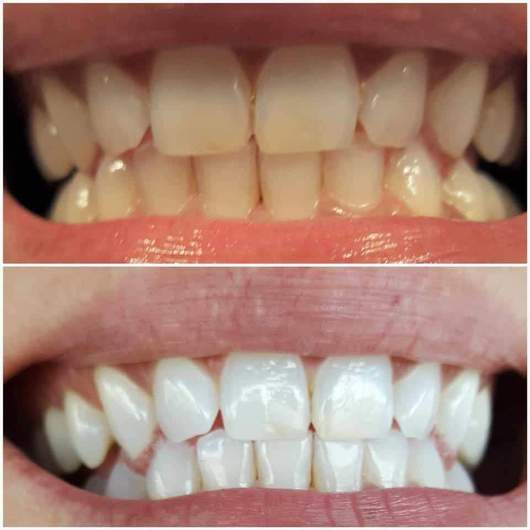 If Snow's own website is anything to go by, feedback from users has been overwhelmingly positive when it comes to answering the question, 'does Snow Whitening work?". With results seen in 97% of cases within just one use, they also claim that 100% of users see a whitening of their teeth within 21 days.
And from over 4,000 onsite reviews, there appear to be no real issues with sensitivity, which, along with the many Snow Teeth Whitening before and after photos posted by users, is a feather in Snow's teeth whitening cap.
'Very easy to use and no pain', 'I've only used it twice and my teeth are whiter, and 'Snow has completely changed my smile' are just a few of the positive comments on the Snow website.
So far, so impressive, but what about reviews away from their own digital platform and their social media followers?
Further customer reviews
Looking at its Amazon platform, there is a dip in the five-star reviews, with the average score for its bestselling Snow Teeth Whitening Kit coming in at 4.4 out of five. Some of the less favorable comments include feedback on the quality of the LED mouthpiece and the short cord.
Some reviewers have also been left feeling disappointed by the level of whiteness they achieved, with a few claiming to see no changes in their teeth at all. But it does seem for some, their expectation was set too high.
'Very slight change. If you already have ok teeth like I do, you'll never get the pearly white', 'Not really getting my teeth that white,' and 'Not really getting my teeth that white.'
But again, the overall feedback is that Snow ticks the boxes in terms of being easy to use doesn't cause sensitivities, and will produce in most cases some level of whitening. And as the directed month-long daily use of this product is covered by Snow's 45-day money-back guarantee, this does give you confidence and shows that the company is confident in the overall effectiveness of their product.
How to Sign Up for Snow Teeth Whitening
Snow runs a subscription service called The Confidence Club, so you can always ensure you have a supply of your teeth whitening items to hand. To sign up, you need to set up an account on the Snow website. Once set up, you can create a recurring order system for your favorite Snow products to be sent out to you, saving you up to 30% of certain products.
Where to Buy Snow Teeth Whitening
With their easy-to-use and comprehensive website, www.trysnow.com is the first port of call to buy Snow Teeth Whitening products. Elsewhere, and Snow Teeth Whitening is sold via Amazon, where they have a Snow Store as well as stocked in over 10,000 retailers across the states, including Target and Best Buy.
Snow Teeth Whitening Shipping and Return Policy
Snow has a well-thought-out shipping policy to reflect its international distribution, which covers over 160 countries worldwide. And while there is a shipping fee for international orders – the final figure will be calculated at check-out – orders over $100 placed within the US are free.
Shipping times are typically 2-5 working days within the US, rising to up to 14 days for international orders.
Snow really wants you to like their teeth whitening system, so offers a 45-day money-back guarantee on its range if you are not satisfied. Even if you have used the product. You also get a generous 45 days to return a product if you do not want it or didn't use it. However, you will need to pay the return shipping (a flat rate of $5) plus a 10% restocking fee.
Returns are made simpler thanks to the online return center on the Snow website, where you can print off your return label. International customers wanting to return an item are advised to contact the Snow customer service team as different return policies may apply.
Also, just be aware that any items discounted by 40% or more are considered sale items and so are not eligible for return.
Snow Teeth Whitening Promotions & Discounts
If you are looking for a promotion or discount on the Snow Teeth Whitening range, you are best starting with the company's own website as they often run sales and discounts on individual items in their product line. And their reward program is also worth a look, as you can get 1 point for every dollar you spend, which can then build up into money off coupons.
They also offer product bundles which can also save you money and it is also worth subscribing to their e-newsletter for updates on any one-off offers and discount codes.
Another sweetener if you are looking to buy Snow White teeth whitening is that they also offer the opportunity to spread the cost over four interest-free installments, with their after-pay service.
Contact Snow Teeth Whitening
Snow offers accessible customer service, whether you are an avid digital user or prefer to speak to a real, live human. They have a 24/7 online chat support function on their website which is user-friendly and has a good response time.
Their telephone customer service team is available on 1- 888-991-2796, Monday to Friday between 9 am and 4 pm (Arizona time), although this service is not available to international customers. Alternatively, you can email them with your questions or queries via [email protected]
Snow Teeth Whitening Review: Editors' Verdict
While teeth whitening products won't necessarily work in every case, Snow clearly has an impressive track record when it comes to achieving some level of brightness and stain removal. We can thank Snow for creating products that you can use at home and at the same time they are safe enough for even sensitive teeth.
OK, Snow's teeth whitening kits are not the cheapest you can buy, but when it comes to the health of your teeth, cheap is not necessarily cheerful. And this brand has the backing of both dentists and thousands of happy customers.
So, while you may need to manage your expectations a little as to how white and bright you can get your teeth, as an affordable and safe alternative to full-on in-clinic dental treatment, Snow should put a smile back on your face.
Are you looking for more brand reviews that can help you obtain a beautiful smile? Read our reviews for BURST Electric Toothbrush as well as Bite Toothpaste Bits.
FAQ - Snow Teeth Whitening
Does Snow work on wine and coffee stains?
Using their LED light teeth whitening kits, as well as their whitening toothpaste, it's possible to reduce discoloration on your teeth, caused by drinking coffee and red wine and help return your teeth to their natural whiteness. The company state that their products can also help to prevent unsightly staining from returning, if used as part of a maintenance program.
How often should I use the product and for how long?
It goes without saying that you should always read the supplied instructions before using Snow Teeth Whitening at home but as a guide, Snow recommends that you use the kit for 9-30 minutes a day for 21-30 days in a row. Once the initial treatment has been completed, you can then choose to use it once or twice a week to maintain that dazzling smile.
If you do experience any sensitivity to the whitening during the first 21-30 days, it is advisable to take a break for up to three days, before continuing with the treatment. And don't use the product for longer than 30 minutes per daily treatment or for more than 30 consecutive days or you could start to damage the enamel on your teeth.
Can children use the Snow teeth whitening kit?
Snow products are only designed for use by adults aged 18 and over. The company advise speaking to a dental professional first if you are considering using a tooth whitening product on any child over the age of 12.
What is the risk of the light used for whitening causing cancer in my mouth?
Snow products are only designed for use by adults aged 18 and over. The company advises speaking to a dental professional first if you are considering using a tooth whitening product on any child over the age of 12.