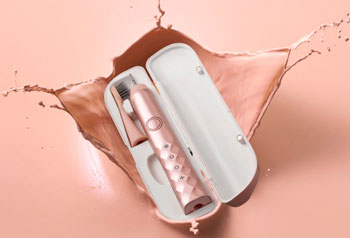 BURST Oral Care is a dental care service, that provides customers with 5 star quality dental products at an affordable price. It was founded in 2017 by Hamish Khayat who has been working in the toothbrush manufacturing industry for years. Hamish was astonished by the prices that big companies such as Oral B and Sonicare were charging for electric toothbrushes and toothbrush heads. He estimates that toothbrush heads come with a 9,000% mark-up. Discover in this BURST Electric Toothbrush Review the affordability and quality of the brush that was developed from this vision, the array of the products on offer, and what consumers genuinely think.
About BURST Oral Care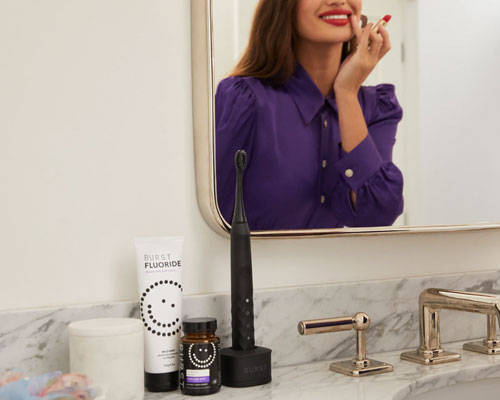 BURST Oral Care is all about empowering dental professionals. They make sure that professionals are involved in the design and marketing process for all their products. There are 25,000 dental hygienists and dentists employed as ambassadors.
Their product aims to be a medical product, not just a fun accessory. If your dentist recommends a BURST electric toothbrush, they are amongst the 99.9% of dental professionals that are enthusiastic about it.
BURST is scientifically driven. They are one of the very few dental manufacturers who have conducted their own clinical trials in recent years. Trials in Canada and Indiana have consistently shown their products to be industry-leading in tackling plaque and gum disease and are a world apart from their competitors. Despite their comparatively small size, BURST consistently invests more in scientific research than even the biggest brands such as Sonicare.
Despite their affordability, BURST products do not suffer in the quality of the brushing experience. They effectively cut out the middlemen and use their own delivery solutions to reduce retail costs. Their toothbrush can reach an impressive 33,000 vibrations per minute and their toothbrush heads use advanced charcoal technology. By taking these measures, they have ensured affordability without cutting costs in the manufacturing process. An asset that neither Sonicare nor Oral B have managed.
Pros
Connections with dental professionals mean all products will be excellent for your teeth.
Their modern approach makes the BURST electric toothbrush at the forefront of the industry with excellent power and battery life.
Array of products available for all your needs.
Products backed up by successful clinical trials.
Opportunity to challenge industry giants such as Oral B and Sonicare.
Affordability without sacrificing the quality of the brushing experience.
Get a replacement head delivered to your door.
Replacement heads use bristles with charcoal on to improve user comfort.
Cons
Most products are available on subscription service only. However, they are cancellable anytime and you are not tied to a contract.
Currently not available in all US states or outside of the USA.
Toothbrush heads can feel large for some users.
Burst Products Review
We'll be talking about the products in-depth in our BURST Electric Toothbrush Review. Some of these include the toothbrush itself, water floss, and even Whitestrips. Oral hygiene can be really fun, as you'll soon find out by reading the description.
BURST Sonic Toothbrush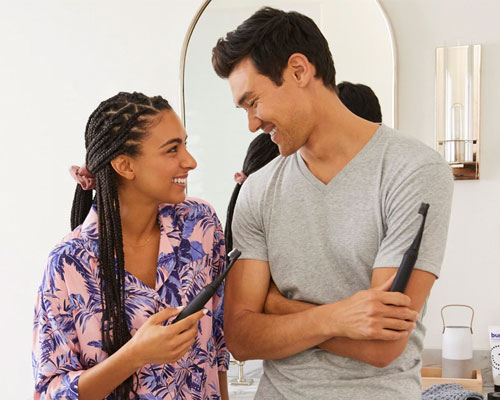 The premier product on offer is the BURST Sonic Toothbrush which retails at $89.98. It is designed to rival the popular Sonicare brush and has been clinically proven to remove 10x more plaque than a manual toothbrush. Users instantly notice the effect of the charcoal-infused bristles which whiten teeth rapidly.
The BURST Sonic Toothbrush is a powerful electric toothbrush with fantastic battery life from a single charge. It has a 2 -minute timer to make sure the user brushes properly and 3 modes, whitening, sensitive, and massage.
The charcoal-infused bristles are much more comfortable than normal toothbrush bristles. They are gentler, allowing for the BURST Sonic Toothbrush to be much more powerful than its competitors. The BURST Sonic Toothbrush has an impressive 33,000 sonic vibrations per minute making you feel perfectly clean.
The BURST Sonic Toothbrush comes with a choice of free gifts including whitening strips and expanding floss. You can use a plan to get a new toothbrush head every 2 weeks for $7. It is also a great idea to get a subscription plan for replacement heads every 12 weeks.
BURST Water Flosser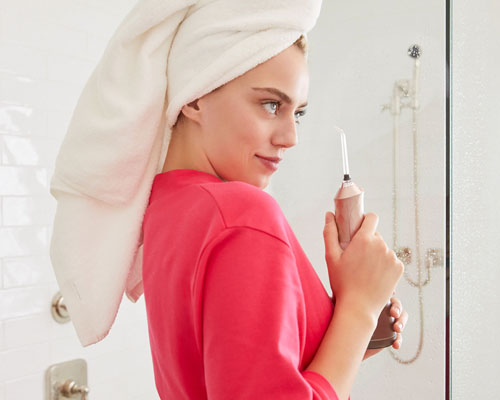 The BURST Water Flosser is a new flossing technology. After you brush your teeth the Water Flosser sprays a water jet between your teeth. It can dislodge even the most stuck piece of food and effectively removes bacteria. The spray is precise and powerful, but will also nicely massage the user's gums
The Water Flosser costs $69.99. It is available on subscriptions only with replacement tips being delivered every 24 weeks. The BURST Water Flosser is available in black, white, or rose gold.
The Water Flosser is a perfect addition to any shower routine to leave the user with fresher breath and cleaner teeth. It also has an 80-day battery life which makes it perfect for travel.
BURST Expanding Floss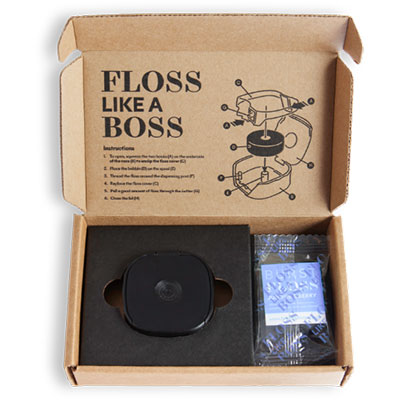 BURST Oral Care offers industry-leading expanding floss, made from microcrystalline wax, xylitol, and charcoal, which is perfect after using the BURST brush. The Expanding Floss's mint eucalyptus aroma gives users excellent breath. It is clinically proven to remove up to 85% of plaque on teeth surfaces that toothbrushes cannot reach, and 58% just under the gum.
Expanding Floss is covered with black coloring and a charcoal coating. The coating can remove even the worst red wine and coffee stains. It also colors the plaque making it easy and satisfying to remove.
An Expanding Floss starter kit will cost $12.99 and comes with a dispenser and a 32 yards floss bobbin. It is available on subscription service only with refills coming every 3 months for $6.99.
BURST Oral Probiotics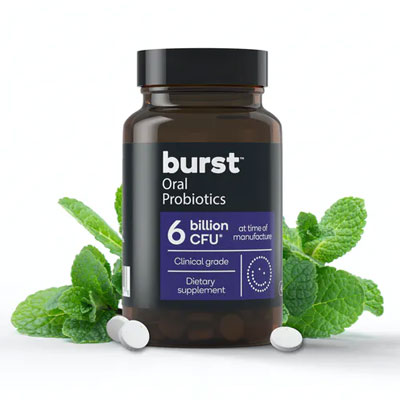 BURST Oral Care also offers dietary supplements. The supplements provide good mouth bacteria to support healthy gums and displace bad bacteria. They are mint-flavored chewy lozenges that can last up to 18 months without refrigeration.
These Oral Probiotics are stronger than their competitors. The supplement contains a blend of BLIS K12 and BLIS M-18 bacteria at a very high concentration. The bacteria strains have been researched most in the probiotics industry. They have been consistently proven to revolutionize the dental hygienist industry. BLIS K12 and BLIS M-18 actively stop plaque from building up, improve gum health, and fight against developing cavities. Beyond oral hygiene, they are also great for your immune system and contain inulin which is excellent for digestion.
The Oral probiotics need to be used for around 4-6 weeks before they can take effect. You should also not eat or drink for 30 minutes after taking them. But the benefits of probiotics are definitely worth this investment of time.
BURST Oral Probiotics are available via subscription or one-time purchase. You can buy a 45 lozenge pack on the 6-week supply deal for $34.99 or a 90 lozenge 12-week supply for $59.99.
BURST Coconut Whitening Strips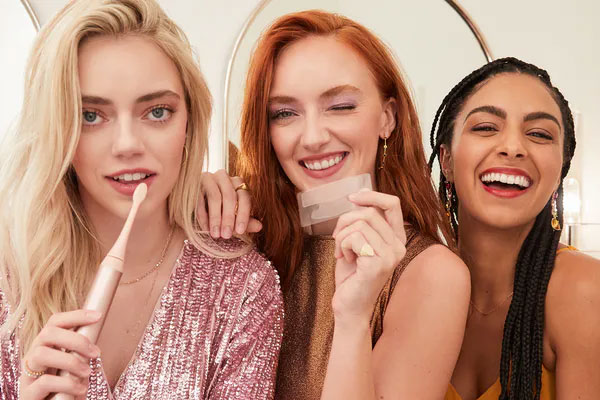 You can supplement your BURST brushes' whitening mode with the highly popular Coconut Whitening Strips. They contain hydrogen peroxide which tackles large stains to make your teeth radiate with clean whiteness.
The Coconut Strips take just 2 weeks of daily 15-minute use to take effect on any stains. Despite their power, the strips do not contain any strong chemicals. Instead, they contain soothing coconut oil. You can expect to use these strips without any of the sensitivity that is expected with other whitening strips.
The strips are available as a one-time purchase. A pack of strips costs $19.99. Alternatively, a subscription costs $14.99 every quarter, with top-ups of strips coming every 3 months. BURST is so proud of their Coconut Strips that if you do not see the results you want in 90-days, they offer a money-back guarantee.
BURST Toothpaste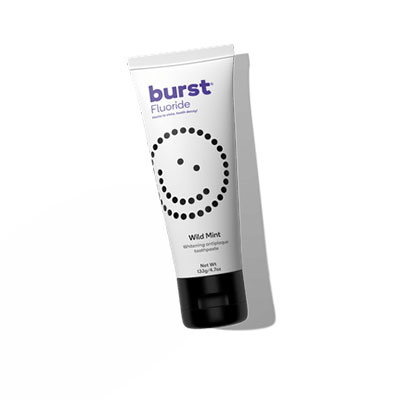 No oral health company is complete without its own signature toothpaste. And BURST's fluoride toothpaste is one of the best available. It's the perfect duo with your BURST toothbrush.
The fluoride and xylitol toothpaste prevents cavities and protects your enamel. What's more, is the perfect minty flavor of the toothpaste that improves your breath and makes brushing an enjoyable experience.
BURST prides itself on the whitening effect of its products, and its toothpaste is no different. It contains hydrated silica which naturally whitens without any nasty chemicals.
Natural ingredients are characteristic of BURST toothpaste. Choosing natural foaming solutions and natural colors makes it much kinder to your teeth. BURST toothpaste has an incredibly low RDA score meaning it will not worsen sensitive teeth. The recyclable toothpaste tube also makes it kind to the planet.
BURST Subscription: How Does it Work?
Your brush is not complete without a subscription to go with it, which is one of the main reasons BURST Toothbrushes' are so affordable. The service saves consumer marketing and retail costs. Getting one is a very easy process. Simply go to their website at burstoralcare.com and click "Buy Now".
You will be moved onto the store page where you can choose a product from their extensive range. When you have chosen a brush click "Buy Now" again and you will be taken to the page where you fill in your details for the subscription.
Most brush heads subscriptions are on a quarterly basis. Your account will be automatically charged every three months and every three months you will receive a top-up of your product of choice delivered right to your door. If you decide that you no longer want to continue with a brush subscription, it can be canceled very easily at a moment's notice.
BURST electric toothbrush review by customers
The BURST Sonic Toothbrush is the toothbrush with the most reviews on the internet, 44,565! They average at an impressive 4.9/5. A BURST Sonic Toothbrush review compared the toothbrush to competitors which can cost in excess of $200. Another BURST electric toothbrush review loved the brush head for the softness of its charcoal bristles.
A review loved the automatic delivery of items such as the brush head, and another review spoke of the 2-minute timer with vibrations every 30 seconds so users know exactly when to move onto other parts of their mouths, which was also popular.
One BURST electric toothbrush review loved the sleek, modernist design of this electric toothbrush. The review stated it fit the aesthetic of a stylish and modern bathroom.
Although the reviews are overwhelmingly positive, some people have not had good experiences. One review complained that the toothbrush is too big and clunky to brush hard-to-reach areas.
To deal with this issue, one BURST Sonic Toothbrush review complained that they had to clean for longer than two minutes to feel they had done a good job. One BURST Sonic Toothbrush review spoke of difficulties with the quality of the hardware.
The BURST toothbrush review reported that the battery life of a BURST toothbrush does not last for the month promised for very long, or worse still, the toothbrush stops charging properly after just six months. Be careful not to draw too much from these negative reviews, even the biggest brands such as Sonicare get bad reviews.
As electric toothbrushes are still not widely used, some users still remain unconvinced by an electric brush that they feel has a brush head that will never last as long as a manual brush.
BURST Promotions & Discounts
The easy way to get a BURST discount is to get their products through a subscription rather than a one-time purchase. BURST will reward your loyalty with cheaper products and free shipping.
They offer bundles of products which, when bought together, will save you a lot of money. The most popular bundle available is the "Best of BURST- Rose Gold" kit. It comes with a Rose gold BURST electric brush starter kit, a travel case, expanding floss, whitening strips, and toothpaste.
These products would normally total $142.96. When bought together they cost just $89.99.
Alternatively, if you or your family are in the military, you can get 25% off all BURST products, including the brush. This discount is also available to medical professionals and first responders.
You can find promotional codes for the BURST store online. The most enticing is the $30 off all purchases with the code DPAQCW.
Finally, BURST offers rewards for referring a friend to them. If your friend buys from BURST and remembers to say that you recommended them, you will be rewarded with discounts or free gifts.
Where to Buy BURST Toothbrush
The best place to buy a BURST toothbrush is through their website as it is here that they offer their best discounts. Alternatively, if your dentist is an ambassador they may store BURST products in their practice.
If you want to buy an electric toothbrush as a one-off you can buy one from online retailers such as Amazon. You won't be able to benefit from the subscription services, though if you decide that you need a brush head subscription it is very easy to get one from the BURST website.
Contact BURST
BURST Oral Care is very easy to get in contact with if you need to find out more about their products, give feedback, or you need to contact them about an order. Simply visit https://www.burstoralcare.com/contact-us and fill in the form. A member of the BURST Oral Care team will get back to you promptly.
BURST Electric Toothbrush Review: Editor Verdict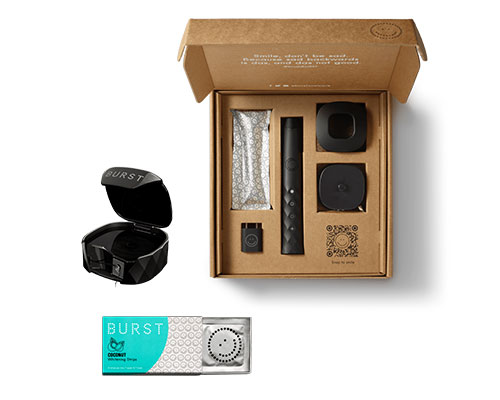 BURST offers products that are more affordable than their competitors, while still delivering a quality product. It is a versatile and powerful product, offering whitening, sensitive, and massage brushing modes.
Moreover, the efficiency of their subscription service means that you will never be in need of a new brush head again. The charcoal brush will always be perfect and fresh. Most importantly, in the reviews, most customers like the product for the exact same reasons that Hamish Khayat is proud of it.
These products are impressive as they use the latest powerful technology while still being kind to your teeth. They use alternatives to harsh chemicals and use groundbreaking charcoal bristles to avoid damage. These attributes are greeted with enthusiasm in all the reviews.
To conclude this BURST Sonic Toothbrush Review, BURST has gifted the world with high-quality dental hygiene, affordable for all. They will certainly start challenging Oral B and Sonicare soon.
What's more, they offer the most stylish designs, offering brushes in black or white, or even rose gold. Users can look great while brushing. Even if you do not feel the need for a complete toothbrush, regular BURST brush heads alone will improve your oral hygiene.
Still on the search for oral care products? Here are a few more options to consider. such as Bite Toothpaste Bits, HiSmile, and the Snow Whitening Kit.
Frequently Asked Questions
How long does BURST toothbrush last?
Burst toothbrushes come with a lifetime warranty. If your brush has problems it will be replaced for free. In terms of battery life, BURST toothbrushes are the most impressive in the industry. The battery can last up to 1 month and is USB rechargeable.
Can electric toothbrushes damage teeth?
Electric toothbrushes are not any more likely to cause damage than a manual toothbrush if used in the right way. However, just like a standard brush, if you push too hard you can damage your enamel or force your gums to recede. If you are careful, your BURST Sonic Toothbrush is no more likely to damage your teeth or gums than any other brush on the market.
How do I cancel my BURST subscription?
If you decide that BURST is not for you, it is easy to cancel your subscription. You can contact BURST at [email protected]. They will quickly stop your subscription. You can also log into your BURST account and cancel your subscription under the "My Subscription"
Are any BURST products tested on animals?
No, Burst products are not tested on animals, they never have and they never will be.
Is the BURST Toothbrush dentist-approved/ADA accepted?
It is not necessarily dentist-approved. Burst just mentions that over 25,000 dental professionals use their toothbrushes. ADA acceptance is not yet available.