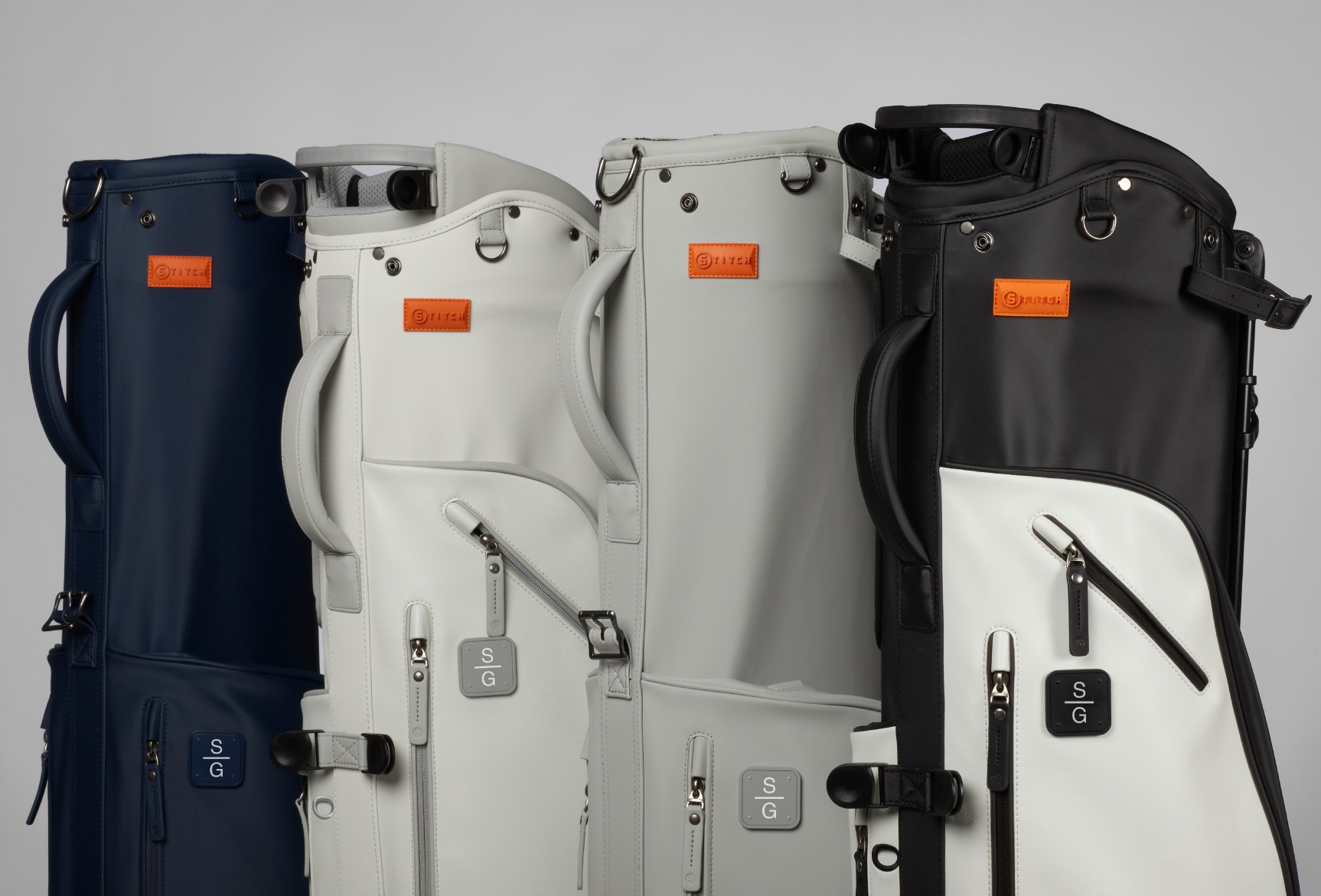 When it comes to playing golf, having the right gear is one of the ways to swing into the golf season. With so many golf products available on the market, distinguishing between genuine and fake ones can be challenging. Stitch Golf is a brand known for selling luxe golf gear, stylish apparel, and innovative travel bags. This Stitch Golf review will examine the company's bestsellers, customer ratings, discounts, and much more to help you determine if their products are worth purchasing. 
About Stitch Golf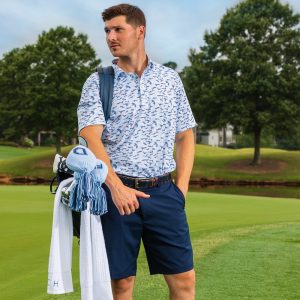 Stitch Golf is a U.S-based company famous for selling unique luxury golf gear, travel bags, and stylish accessories. The company is headquartered in North Carolina, and it aims to give its customers a unique experience through its stories and quality products.
The company started as a result of a coaching relationship between Brad King, the CEO, and Charlie Burgwyn, the Founder. Brad was Charlie's coach, and one of their training sessions gave birth to the company.
The original design of the company was inspired by a love for vintage cars and a passion for golf. The idea began when Charlie saw a parked 1958 Porsche Racer car. The car has stripes on the downside, and Charlie started thinking about how he could blend golf and cars by incorporating the racing stripes into the leather headcovers. This is how the leather headcover got its design, and it remains the company's bestseller to date. 
In 2018, the CEO and the founder struck a business relationship that they still maintain. They developed a vision that focuses on selling custom headcovers.
The CEO is a car enthusiast who loves the Superleggera cars. The cars are a real definition of strength and durability. He got an idea that resulted in designing the first golf bag Superleggera 1 (SL1 ™). 
Since then, Stitch Golf has grown, and it continues to supply unique, innovative travel bags and stylish apparel. In a bid to expand its operations, the golf accessory company has recently acquired Fennec Golf, an upcoming clothing company. The start-up company is a combination of detailed technology, performance fabrics, and tasteful colors.
More about Stitch Golf
Additionally, Stitch Golf has announced a partnership with Arnold Palmer Enterprises. Together, they aim to create products that pay tribute to legendary golfers. Palmers Enterprises approached Stitch to partner in this exclusive project because they felt the company is committed to detail and quality.
This Stitch Golf review found that the company has also unveiled new products like multi-colored umbrellas with their logo, white leather headcovers, and special putter covers designed for blade and mallet models. They are also working to unveil gloves and additional travel bags soon.  
Stitch's signature colors are orange, blue, and white. The main mission of the company is to help people 'dress their game.' The brand has more than 93k Instagram followers and over 19k followers on Facebook. USA Today, Golf Digest, and Forbes all stand behind this company. 
Pros
Customers enjoy free shipping for orders above $200

The company uses excellent STITCH ® Touring Fabric to make all their travel bags

They have fair shipping and returns policies

High-quality products that are resistant to water and stains

The company has a wide variety of products that come in different sizes and colors

Their products are stylish and fun with insulated pocket designs
Cons
They only accept returns accompanied by a Return Authorization Number

The company only ships within the United States

They don't offer 24/7 customer support
Stitch Golf Product Review

 
Stitch Golf is a vintage motorsport-inspired company that sells luxe golf gear, stylish apparel, and innovative bags with detailed design to the last stitch. This Stitch Golf review will now analyze some of its best-selling products.
Stitch SL2 Golf Bag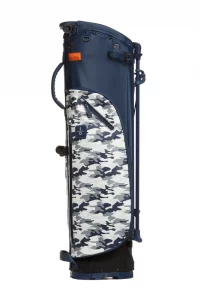 If you are looking for a spacious golf bag with a great stand, consider buying the Stitch SL2 Golf Bag. It is the perfect walking bag. The bag is designed using STITCH ® Touring Fabric used to design all Stitch Golf bags. 
This Stitch Golf bag is a lightweight, durable, and water-resistant bag. The bag is versatile with a convenient stand and interchangeable single and double straps. It is super light and weighs only four pounds.
A combination of style and functionality, the bag features a golf ball pocket, a full-length apparel pocket, and insulated pockets for carrying your favorite beverage. 
It is a spacious bag that will give you plenty of space to carry all your equipment in one round. For an effortless day, the bag has a four-way top divider fitted with comfortable lift-assist handles. 
If you are a weekend golf enthusiast you should make the SL2 bag your weekend partner especially if you prefer to play while walking. The bag will give you an easy time,l and you will end up enjoying your golf game and having an unforgettable experience.
The Stitch SL2 Golf Bag is among the personalized items of the company. 
Stitch Golf Headcovers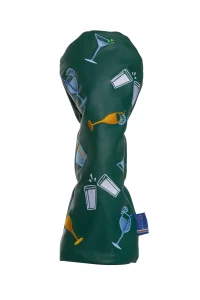 Looking to make a statement on the golf pitch? Then go for the Stitch Golf Headcovers. Your headcover says a lot about you once you hit the golf ground. 
Stitch Golf knits high-quality premium leather headcovers that are designed to suit every golfer's style. As per the company's mission, you need to dress your game with this original leather collection. 
Stitch Golf Headcovers are made from 100% genuine leather, which guarantees great quality and durability. If you are looking for water and stain-resistant material, this is the perfect headcover for you. It is designed to flawlessly fit the standard cubs and stay in place the whole day. 
The Tour Monaco Leather Headcover is eye-catching and features an elegant design with color block decoration. The head-cover features an identifiable Stitch Golf patch handcrafted using 100% genuine leather. It is water-resistant and stains-free, which ensures durability. The headcover goes for $98 and is available only in white. The nice color and design are a perfect match with your Stitch Golf bag. 
Other headcovers include a limited edition 19th Hole Headcover, Limited Edition STITCH x Byrdie Golf Headcover, Monte Carlo Head Cover, and Bonesman Leather Headcover. 
Stitch Golf Shirts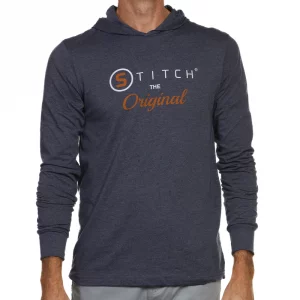 If you are looking for the perfect casual wear to include in your wardrobe, check out Stitch Golf Shirts. These shirts are comfortable, and they will keep you cool, calm, and collected the whole day. They are stitched in basic layers and printed in different outstanding designs, and they are designed for maximum breathability and pleasure.
Stitch the Original T-shirt is the company's best-selling t-shirt. The shirt has been restocked several times and is now available in various colors. The original design features a classic and simple shirt.
The designer embedded a relaxed line on the shirt, and the design suits a golfer who loves watching golf as much as they love to play.
If you love relaxing on Sunday afternoon while watching your favorite golf game it's time to purchase the stitch t-shirts. The t-shirts go well when paired with the stitch tour hat. They are lightweight with a moisture-absorbent material that will keep you cool and on course. 
Other designs from Stitch Golf include Amateur T-Shirt, D2BD (Dare To Be Dangerous) T-Shirt, Modern Vintage T-Shirt, and Stitch Racing T-shirt.
Sterling 5 Pocket Pant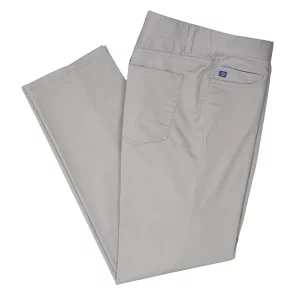 The Sterling 5-Pocket Pants are your go-to pants when you unexpectedly get invited for a golf game or have a pile of activities and errands to run. It is helpful to have a go-to pair of pants that suits all occasions, and the Stitch Golf pocket pant fills your gap. 
The pants are equipped with a storming finish designed to protect your pants from accidental spills and adverse weather conditions such as torrential rains during the day. They are made from cotton, making them comfortable to wear, low maintenance, and breathable. They are also water-repellent, which makes them perfect for any occasion. 
You can wear these pants when going to the office and then duck out to watch your favorite golf game. They will save you the stress of going back to your house and changing your golf gear.
The Sterling Pants are a blend between a straight and skinny leg, which makes them a perfect cut-out for both formal and casual events. They are available in different colors, including gray, beige, and brown.
Stitch Golf Leather Shoe Carrier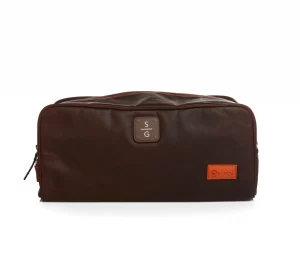 The limited-edition leather shoe carrier is a definition of style and class. The bag is made from upscale leather that is durable and ages gracefully.
The bag features a stylish and decorative orange finishing that makes it look trendy. It is also among the bags with a personalization option from the company. 
If you are looking for a perfect gift, the Stitch Golf leather shoe carrier has got you covered. The bag can make a wonderful gift that will leave someone feeling appreciated and saying thank you for many years to come.
The bag goes for $248, and it is one of those bags that you make a one-time purchase because you can be sure it will last you for many years. It's spacious and lightweight, which is a perfect combination of what every traveler looks for in a bag. 
It is brown with printable orange stitches, and the multiple pockets help you fit various items all in one bag. The zips of the bag are strong, and you can be confident that they will last for long. 
Stitch Golf Reviews from Customers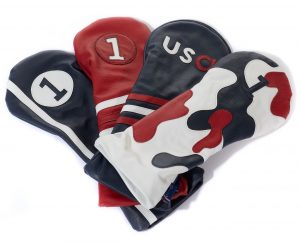 Our Stitch Golf review checked what users say about the brand's products. The company has received many positive remarks from its consumers, who are impressed with the products. 
According to the reviews we went through, many customers praised the company's stylish hat because it is lightweight and breathable. Customers say that it does a great job of keeping sweat away from their eyes. Several customers have received compliments on the ball marker magnet, which has an awesome touch. 
One of the customers wrote a Stitch Golf Bag review and said that it is a great bag, well-built and sturdy. The customer packed the bag in his luggage and used it on his trip to England. According to him, the bag is well balanced, and he was able to carry it for three rounds. The bag can carry 14 balls and 10 clubs. 
Our Stitch Golf Bag review also found that this is one of the brand's products with overwhelmingly positive feedback. Another customer commented on the Stitch Golf Shirt, which he highly recommends. He is in his mid-20s, weighs 158 pounds, and is 6'1" in height. He bought a medium fit which he says is perfect and makes him look like a model. The customer stated that the shirt is great for tucking, and you can wear it as casual wear. Other customers loved how it is lightweight and absorbs sweat, leaving them feeling clean and comfortable. 
Further customer reviews
A satisfied customer from Amazon said that she loved the Sterling 5-Pocket Pants because they fit on the natural waist and not on the low hips. He liked how the pants are lightweight and comfortable, which made him comfortable throughout the entire round. Another customer stated that Stitch Golf made her dream come true because she had struggled to find golf pants that fit her size and choice of color. She got the right pants at their site.
Most reviews from customers are positive, and many are satisfied and content with the products they bought. Some customers feel that the company needs to improve on the sizes, especially the shirts, and distinguish the large and medium sizes.
Sign Up for Stitch Golf

 
To get started with Stitch Golf, visit the company's official website and register an account. You will then receive 15% off your first order.
Remember to subscribe to their newsletter so that you will be among the first people to get notified when the company has active promotions and discounts. You will also know when the company has new arrivals. 
Where to Buy
You can purchase Stitch Golf products on the brand's official website StitchGolf.com. You can also find a selection of their products on Amazon. 
Shipping and Return Policy

 
Stitch Golf offers free shipping on orders above $200. Allow enough processing time regardless of the shipping method you choose. The company offers different shipping methods to suit your needs.
If you purchase an item and you are unsatisfied with it, contact the company and return the product within 30 days of purchase. 
The returned product should be new, in a re-sellable condition, and accompanied by a receipt. If you purchase custom items, they are not eligible for returns.
The company only accepts returns accompanied by a return authorization number. Be sure to contact their support team via email to initiate the return process. 
Promotions and Discounts

 
Our team discovered several promotions and discounts available to customers that will help you save money when shopping for Stitch Golf products
15% on your first purchase when you sign up on their website

Free shipping on orders worth over $200

20% off on orders worth over $140 when you use the code RMN20

There is a 20% off discount during the Memorial Day sale

40% off Sitewide discount during Labor Day Sale
Contact Stitch Golf 

 
To know more about Stitch Golf products, or if you have any questions, contact the company through their phone number 866.529.9448. You can also send them an email through [email protected], and they will respond within 24-48 hours. Alternatively, you can send them a message on their Facebook or Instagram page.
Stitch Golf customer service representatives are available from Monday to Friday from 8 a.m. to 8 p.m. 
Stitch Golf Review: Editor's Verdict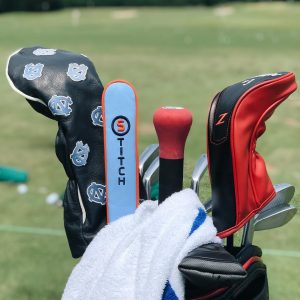 If you are looking for stylish apparel, luxurious golf gear, and innovative travel bags, Stitch Golf is the ideal option. This Stitch Golf review thinks this brand is worth checking out because it produces high-quality golf products.  
There are also many positive and satisfactory reviews from customers. Our Stitch Golf Bag review found customers love this bag because it's durable and functional, and it can handle everything you throw at it. 
Check out our other reviews of Cuup, Conturve and Chicwish.
Stitch Golf FAQ
Is my Stitch Golf product covered under warranty?
Stitch Golf travel bags and golf gear have a one-year warranty. The warranty only applies to products that have been purchased through the company's official website and not through third-party vendors.
Does Stitch Golf ship internationally?
No. Stitch Golf does not currently ship its products internationally, but they are hoping to do that in the future.
Does Stitch Golf offer personalization on products?
The company offers personalization options on their travel bags and golf bags. They do not offer personalization on any other products apart from these.
What is STITCH ®'s Touring Fabric ™?
STITCH ®'s Touring Fabric ™ is a lightweight, unique, and durable fabric similar to leather material. The fabric is also waterproof. To learn more, head over to the Touring Fabric™" section, which is on the About Us section.