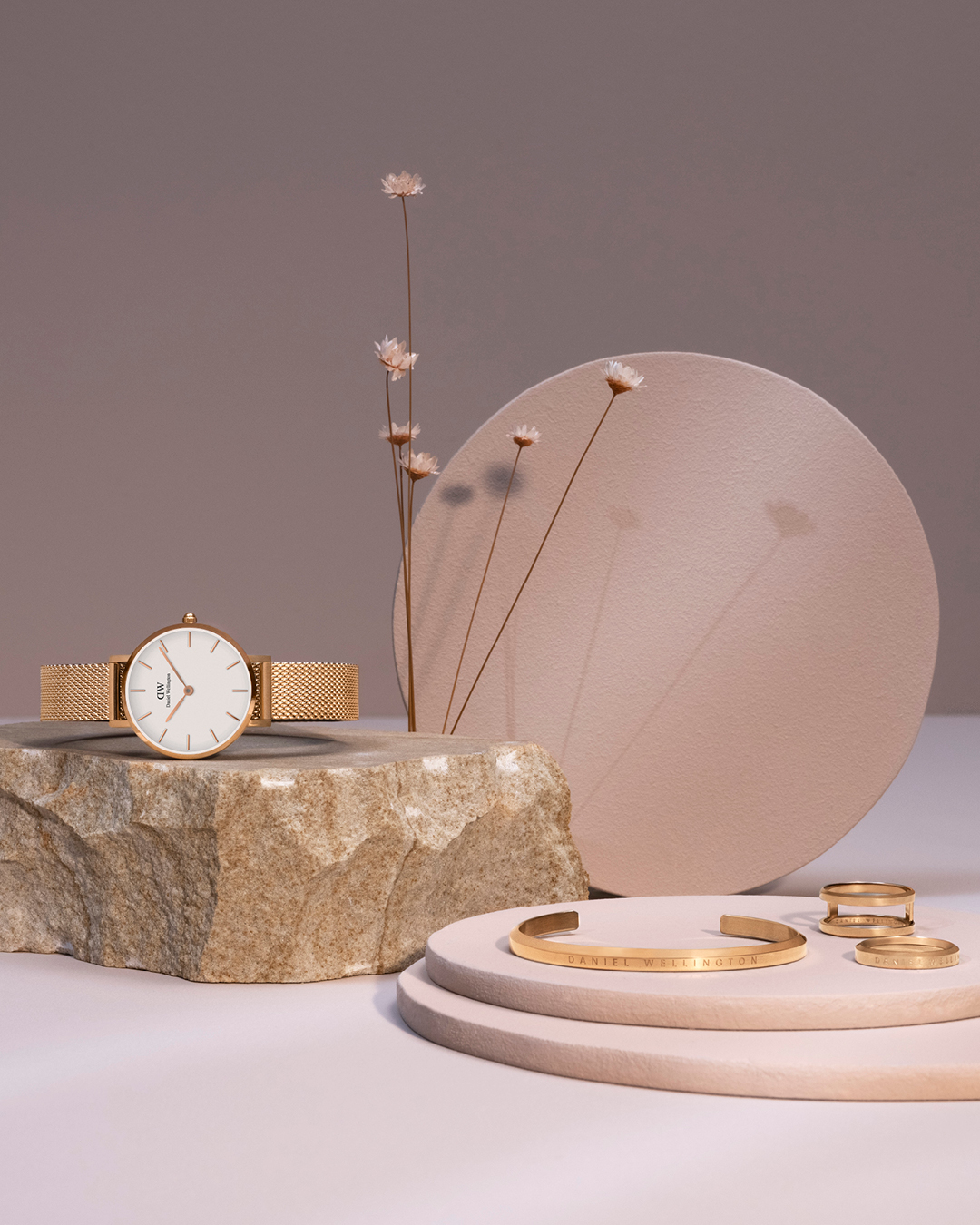 Thanks to the company's strong online presence, it is almost impossible to open any social media platform without coming across Daniel Wellington watches. Their attractive designs and catchy marketing instantly grab the attention. But are they really as luxurious as they are advertised? Are they worth your money? Well, to find out the answers, today we are going to give you our honest and unbiased Daniel Wellington watch review. 
If you are ready to take a sneak peek at the company's history and production, join us in diving deep into the world of stylish Daniel Wellington timepieces.
About Daniel Wellington Watch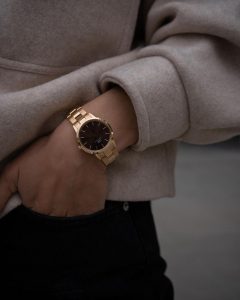 To start our Daniel Wellington watch review, let's see how exactly the company was inspired. The story goes back to a "coincidental meeting halfway around the world" when the company's founder, Filip Tysander met a British man, Daniel Wellington. Tysander was amazed by the style of Wellington who was very fond of classic designed vintage watches on NATO straps. This meeting inspired Tysander to found his own watch and jewelry brand in 2011 that he named after his British acquaintance, Daniel Wellington.
The main products of the brand are men's and women's watches in which you will find the Miyota movement. They are made from stainless steel and they are available in gold, rose gold, silver, and ceramic black colors. The design is minimalist and luxurious and they come with interchangeable straps in many colors, each offering a particular style and feel to the watch.
Thanks to the clean lines and fine detailing, the watches can be easily worn to any occasion as they are characterized by simplicity and elegance. 
The brand was featured in many publications such as BusinessToday, Man of Many, Glamour, and Women's Wear Daily, Its social media presence is also phenomenal, having an incredible number of followers on Facebook, Instagram, TikTok, Pinterest, and Twitter.
But Daniel Wellington is not only about timepieces, the company sells a decent selection of jewelry as well. Visiting the official website, you can find jewelry collections of earrings, necklaces, bracelets, and rings at a quite affordable price. 
Pros
In terms of design, all

Daniel Wellington watches

and accessories are simple and classic with clean lines, which makes them easy to pair with any outfit.

2 years of warranty for all watches.

You can wash or clean the watch bands.

Versatile pieces, thanks to the interchangeable straps can create a whole different look.
Cons
Quality-wise, there are concerns, for example, the leather straps being low quality

Some customers complain that the watches are overpriced

The watches are not waterproof
Daniel Wellington Products Review
Now that we learned a bit about the history of the brand, let's take a look at the Daniel Wellington watches and accessories and see what previous buyers say about them.  
Daniel Wellington Women's Watches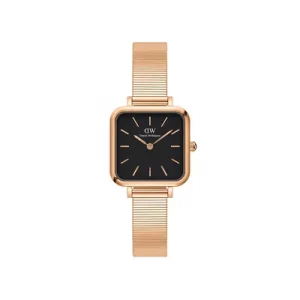 Looking at the women's section, we found a broad range of classic timepieces that can elevate your look no matter the occasion. If you are looking for a timepiece that is classic, yet modern and elegant, we recommend you to check out the selection on the website.
You can filter the result by size with the size range being between 22×22 and 40. The Daniel Wellington watches come in different colors, you can choose from black, gold, rose gold, and silver, not to mention the straps that come in 19 different colors and combinations. 
In terms of pricing, the cost of a watch ranges between $139 to $229. The cheapest Daniel Wellington watch women absolutely adore is the Petite Rosewater watch that is made of double plated stainless steel. The eggshell white dial colors and the pink NATO strap makes this watch comfortable, everyday wear, and a chic little accessory that can be easily combined with any look.  
Daniel Wellington Men's Watches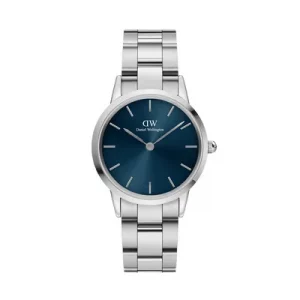 If you are looking for a classic and elegant timepiece for men, you most likely will find a Daniel Wellington watch men, in general, enjoy wearing. In terms of style, the men's watches are very similar to what we saw in the women's section.
The sizes vary from 28 to 40, and you can choose from the Classic, the Petite, and the Iconic collections. As there are many different styles, it is quite simple to find one you like. Depending on your taste you can choose a more traditional piece like the Classic ST Mawes with a black leather strap and white watch face. But if you want to shake things up a bit and go for a more bold look, the Classic Cambridge or Classic Warwick might be something you want to try out.  
Price-wise, the watches start at $196, and the most expensive one, the Iconic Link Automatic costs $419. 
Daniel Wellington Rose Gold Watches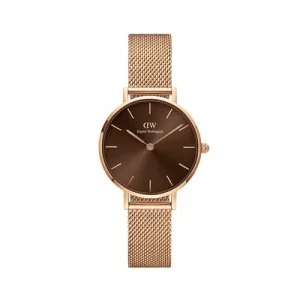 Rose gold came into fashion a few years ago and it is still trendy for a very good reason. On the Daniel Wellington website, there is a whole page dedicated to beautiful rose gold watches for both men and women. You can find it combined with white gold and leather, but it looks genuinely good with a pink NATO strap, too.
For men, a watch like the Classic York gives a timeless look thanks to the white watch face and dark brown leather strap, yet the rose gold detailing spices up the overall look of the watch and gives it a modern vibe. But if you are looking for a chic little Daniel Wellington rose gold watch for summer, the Classic Dover or the Petite Bondi might be what you are looking for. 
Daniel Wellington Jewelry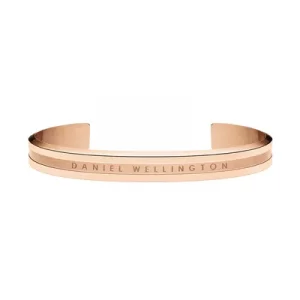 While creating our Daniel Wellington watch review, we also took a look at the jewelry section. The selection here is not so large, but all accessories are simple and classic, and they are easy to match with any outfit. And the best thing is that they are quite affordable.
To give you an example, you can purchase the Daniel Wellington classic ring for $39, which can even be a simple, yet beautiful gift for a loved one. Talking about gifts, if you need some gift ideas for next Valentine's day, here's one. The company sells the Classic Valentine Bracelet in rose gold and silver, and it costs $59. And if you look at the back of the bracelets you will understand what makes this fine little item such a special gift option for someone dear. 
In terms of categories, the company makes bracelets, rings, earrings, and necklaces in many colors such as black, desert sand, dusty rose, gold, rose gold, satin white, and silver. 
Daniel Wellington Collections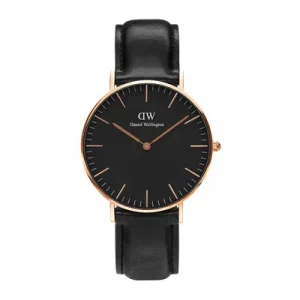 If you visited the Daniel Wellington website, you surely came across the different collections the company has on display. Daniel Wellington watches are part of collections with each being a little bit different from the others. The Iconic Collection gives you an expressive, elegant and timeless vibe and fits those who like to make a statement with their appearance. The Iconic Link Ceramic for instance with its all-black design is hard to be missed by the eye. It's elegant and serious, a great choice for business events or special occasions. 
The Quadro Collection has timepieces such as the Pressed Sheffield which is a comfortable option for everyday wear and it is really easy to integrate with casual, sporty outfits. Needless to say, you can always spice up your watch with a Pressed Mesh strap that will instantly turn your everyday watch into a fine piece of jewelry. 
Daniel Wellington Watch Review from Customers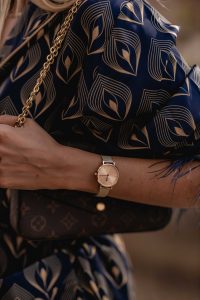 Looking at the Daniel Wellington watch reviews, we have to say, there are conflicting opinions about the brand. Nothing proves better the attractiveness and popularity of the watches than the number of sales the company makes. People adore the simplicity and the minimalistic style of the Daniel Wellington watches, they appreciate the brand's effort to create luxury-looking, yet affordable products.
A previous shopper on Amazon says that the watch she purchased "does not have a ticking sound and it is quite slim and comfortable to wear". Others described the strap as soft and very classy.
However, there are complaints as well. Some customers are unhappy with the pricing, saying that the watches are highly overpriced for their actual value. There are critics regarding the manufacturing process and the quality of the watches. A previous customer mentioned that the leather straps start to fold quickly, which doesn't give the luxurious feel the brand advertises. 
But on independent websites Daniel Wellington scores really well, having none of the products scoring less than 4/5 on Influenster and the overall TrustPilot score 4.5/5.
Sign Up for Daniel Wellington
At the time of writing our Daniel Wellington watch review, there is no option to sign up on the company's website. Once you put the chosen products in your shopping cart, you will be transferred to the checkout page where you will be asked to fill in the form with your contact information, and shipping address. Before sending your order you can choose to subscribe to the newsletter which will give you access to product launches,  promotions, and discount codes.
Where to Buy
The best place to purchase Daniel Wellington watches and accessories is the official website of the company. You can also find third-party retail stores such as Nordstrom, Bloomingdale's, or Amazon selling Daniel Wellington products in the US.
Daniel Wellington Shipping and Return Policy
Now let's continue our Daniel Wellington watch review by taking a closer look at the company's shipping and return policy. All orders to the US and Canada are shipped from the Daniel Wellington warehouse located in Uppsala, Sweden. The shipping of timepiece orders is free, but if you order only accessories, you might need to pay a shipping fee that will be displayed at checkout (depending on the order amount).
Once you submit an order, the company will process it on the very next business day and ship it to you via UPS. Once your order has left the warehouse, you will receive an email notification with all necessary tracking information, including the expected delivery time. According to the company's website, the standard delivery time is 2-3 days.
If you wish to make a return, you have 30 days at your disposal starting from the date you received your package. All returned items must be unused, in their original packaging. To start the process, head to the company's return policy page and register your return. Also, keep in mind that online orders cannot be returned to retail stores, you will need to ship your order to the warehouse in Sweden. The company doesn't cover the return shipping costs. 
Daniel Wellington Promotions & Discounts
If you decide to treat yourself or someone dear to a Daniel Wellington watch or jewelry, don't rush into buying immediately. The company offers quite good deals you can use to save money on your purchase. Here are the most important Daniel Wellington promotions and discounts you can benefit from:
BUY FOR $249, GET 15% OFF

BUY FOR $349, GET 20% OFF

Free returns

10% off if you subscribe to the newsletter
Contact Daniel Wellington
To contact Daniel Wellington you can chat with them, call them at +1 888 857 4707 or send them an e-mail by submitting a request on the official website. The customer service team is available 24/7 to answer your questions and inquiries. 
Daniel Wellington Watch Review: Editors' Verdict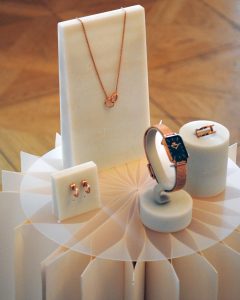 Now that we looked behind the brand's history, checked the products, and analyzed the customer reviews, it is time to give you our unbiased, 100% honest opinion about the Daniel Wellington watches and accessories. Are the products good to buy? Is the company worth your money? Should you choose this brand over others? Well, based on all that we learned we can confidently say that Daniel Wellington is a legit brand that sells stylish, timeless watches that are made to last. 
Undoubtedly, they cannot be compared to high-end luxury brands, either quality or value-wise. But the truth is that even if some shoppers consider the pricing too high based on the actual value of the products, you can buy a Daniel Wellington watch for less than $150, which is undeniably affordable.
We looked at the products and product reviews and our impression is that the watches and accessories the company sells are worth the money as they are made well and can be worn with any outfit on any occasion.  These pieces are more than Instagrammable accessories, they look genuinely good on both men and women. They elevate your style and give you that one classy finishing touch you might just need. 
Are you interested in other accessories brands? Check out our reviews of Georg Jensen, Grip6 Belt, and Adina's Jewelry.
To end our Daniel Wellington Watch review, we collected some of the most popular questions about the company and answered them for you:
Daniel Wellington FAQ
How do I know whether my Daniel Wellington is authentic?
The best way to make sure that your Daniel Wellington is authentic is to purchase it from the official Daniel Wellington website or one of the official retail stores. While all items come with a serial number, unfortunately, the company cannot help you identify your Daniel Wellington items.
Is my watch waterproof?
The water-resistance of most Daniel Wellington watches is 3 ATM, except the Iconic Motion which is 10 ATM. This means that they can handle rain or a splash, but you cannot swim, bathe or shower with them. You are also advised by the company to take off your watch for any activity that might include contact with water or longtime exposure to it.
What is the watch made of?
According to the Daniel Wellington website, the casings of the silver watches are made of stainless steel. In the case of rose gold watches, to create the casing, the company uses stainless steel core and two platings, the base plating being made of 0.8 Micron TiCN (a yellow base metal) and the top coating made of 0.1 Micron rose gold (made of 85% gold and 15% copper to achieve the rose color). To make the glass of the watch, the brand uses hardened mineral glass that is highly resistant to daily use.
Can I wash my watchband?
es, you can wash almost all the Daniel Wellington watchbands, but you should always take into consideration the material of the band. There are 4 different types of bands you can choose from and all types require a different washing or cleaning method such as:
Leather watchbands: This is the only type of band you cannot wash as water can dry the leather and cause damage to the wristband. According to the company's instructions, you are advised to use special cleaning products made for leather. Don't forget to remove the watch face before you start.

NATO watchbands: First you need to remove the watch face. Once that is done, you can clean the band with lukewarm water and soap by scrubbing the band gently. Rinse it and let it flat dry.

Mesh watchbands: Remove the watch face from the band. Mix water with a little detergent and start scrubbing the band gently using a toothbrush.

Link watches: To clean the stainless steel watch you can use a clean soft brush that is soft enough to not damage the material of the watch. For the ceramic link watch, use a damp cloth instead. To achieve a polished finish, use a lint-free cloth at the end of the cleaning process.
How long is the warranty valid and what does it cover?
All Daniel Wellington products come with a 24-month limited warranty. This covers manufacturing defects such as issues with the watch movements, indexes, dial, and hands.