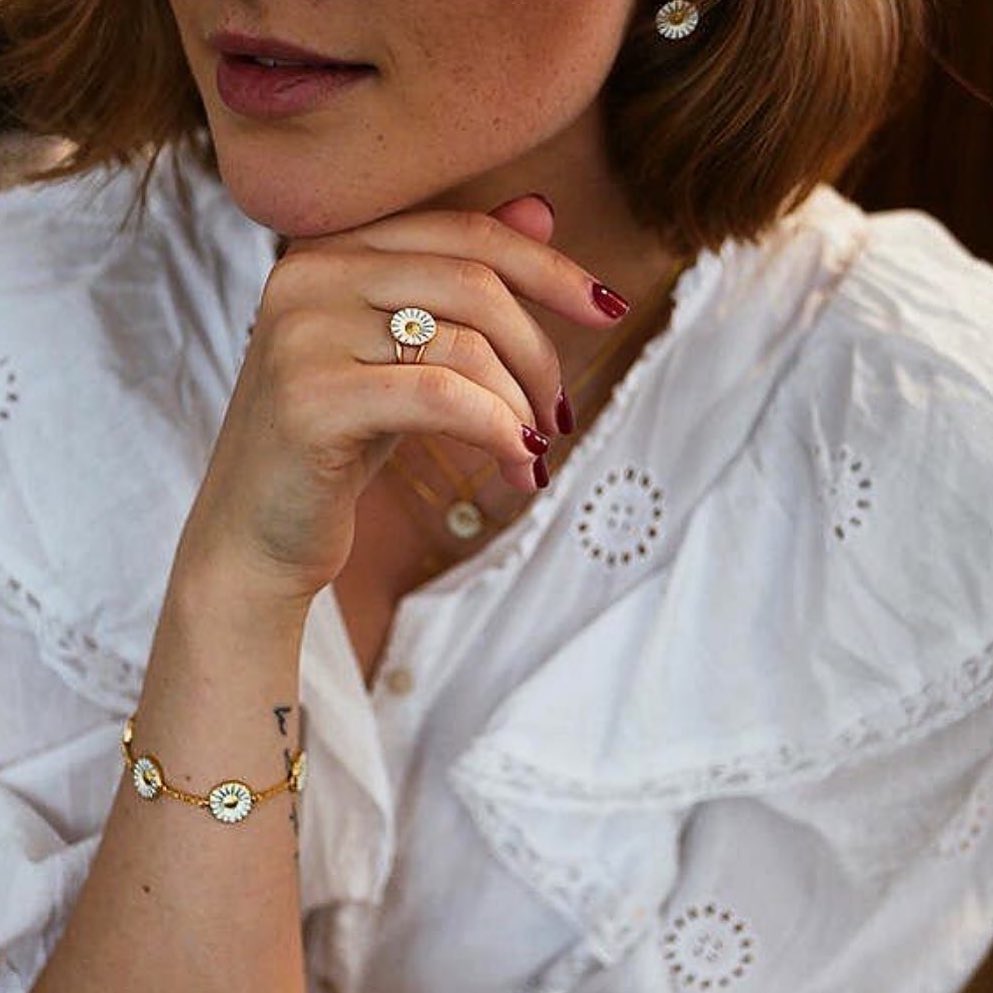 Finding high-quality jewelry products is challenging. Georg Jensen is a Danish luxury lifestyle company specializing in designing and creating stunning Scandinavian jewelry, homeware products, and watches. The company has been drawing attention due to its timeless and contemporary pieces. This Georg Jensen review will explore the brand's best-selling products, shipping policy, customer ratings, and more. With this information, you'll be able to determine if this luxury lifestyle brand is worth checking out.
About Georg Jensen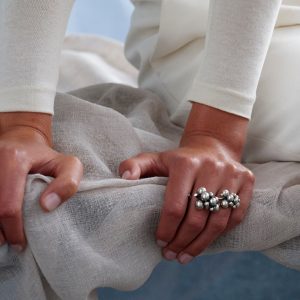 The brand's name traces its roots to Georg Jensen, who founded the company in 1904, and it's currently headquartered in Frederiksberg, Denmark. Jensen had a deep passion for using blue clay to craft mini-figures. The masons living within the local Scandinavian town were fascinated by his creativity and encouraged him to do more. The idea prompted Jensen to study the art of sculpting to enhance his talent. 
Jensen would travel and have short stints in Rome, Paris, and Florence, where he learned more about the Art Nouveau style. Besides, he combined the art and elements of nature inspired by his childhood to craft jewelry, and George Jensen was born. 
This Georg Jensen review found that this brand has grown and shown consistency in its existence spanning over a century. George Jensen boasts 183k+ Instagram followers and more than 185k+ Facebook cementing the company's reputation and ability to withstand the test of time. 
George Jensen has won the recognition of prominent media houses and publishers, including the Esquire, The New York Times, and Vogue. The brand had established a standard and superior craftsmanship in its products, making it among its most sought-after brands. 
Pros
The brand offers home delivery
It has a worldwide presence through brick and mortar stores
The company covers first exchanges
The brand accepts at least 10 payment methods increasing diversity
Customers enjoy free ground shipping for all orders above $100
The company has a trade program for architects and interior designers
Cons
The brand has a short return policy (14 days)
They don't offer 24/7 customer support
Pricey jewelry products, but worthwhile
Georg Jensen Products Review
The jewelry you choose to wear plays a critical role in defining you. Jewelry can be a fashion or an expression of a personal style statement. Whatever reasons inspire you to go shopping for jewelry, it's vital to go for top-notch jewelry that will last for a long time. From earrings, rings, necklaces to bracelets, Georg Jensen stocks top jewelry products that give value for your money. With that in mind, here are some of the top-selling Georg Jensen Denmark jewelry products.
Georg Jensen Earrings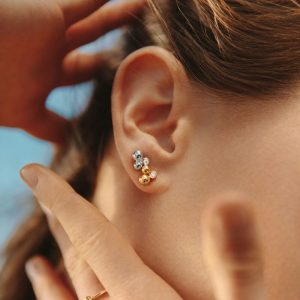 Bring your softer feminine side with Georg Jensen jewelry earrings. The brand's earring collection boasts beautiful high-end diamond, gold, and silver earrings designed to meet modern women's unique needs. They have an expansive selection of earrings, ranging from discrete bold to classics and edgy statements tailored to the taste of every woman's personality, style, and occasions.
The Fusion Earhoops is 18 karat gold earrings crafted from white and yellow, each with a pave of 0.18 karat that has been brilliantly cut diamonds. These features have been effortlessly blended to produce a stunning pair of ear hoops. The pair gives you a rare chance of using jewelry language to tell a beautiful tale of love and a strong bond. 
This overly loved Fusion was crafted by Nina Koppel, whose legacy in this field is unmatched. Many women love the Fusion because it empowers them to reflect a unique personality or tell a personal story. First designed in 2019, these earrings measure 4.5 mm / 0.18 inches. Ø: 13 mm / 0.51 inches and are ideal for pierced ears. 
Moonlight Grapes
This Georg Jensen review also discovered that women love the brand's sophisticated Moonlight Grapes Earrings, which are crafted from 18 karat yellow gold beads and 0.07 CT diamonds that have been carefully clustered together onto a single diamond. These studs are the epitome of elegance and simplicity that cements Georg Jensen's rich history and heritage embracing a timeless allure in the contemporary fashion world. 
You can use Moonlight Grapes as studs or use them to compliment your evening look with a unique touch of luxury, especially if you choose to match them with a pendant.
The Moonlight Grapes collection features a grape detail inspired by an Art Nouveau piece that the legendary Georg Jensen crafted while embracing a modern fashion taste. The combination of two distinct styles results in the creation of minimalist, elegant and striking studs. These earrings measuring 7.5 mm / 0.3 inches offer a perfect way to redefine your fashion and class. 
Another loved pair of earrings in the George Jensen collection is the Moebius Earrings designed in 2001. Did you know that the Möbius is a unique mathematical shape with only one edge and one surface? Well, Georg Jensen takes women to the core of the world of fashion with these unique-shaped earrings. 
The studs' inside and outside are intertwined, creating a form of an eternal balance between individuals' inner and outer selves. Besides, the sterling silver earrings measuring 40 mm / 1.57 inches remind you and everyone that spots them of the importance of not forgetting one's true essence. 
Georg Jensen Bracelets
Designed to help you make a bold statement, Georg Jensen jewelry bracelets are versatile as you can wear them on any occasion. Their bracelet collection contains top-of-class silver, diamond, and gold bangles and bracelets for women. You can decide to wear products in this line singly or in vast combinations to express style and personality. Some of the products that Georg Jensen stocks in this collection include the following. 
The Curve Bangle is one of the high-end bangles stocked in Georg Jensen. This sculptural pair of top-quality perfect curve bangle is crafted from 18 karats producing a stunning open-ended bangle measuring 10.9 mm / 0.43 inches. 
The highly sophisticated tactile bangle can be donned singly as a statement piece. You can also stack the bangle on your wrist with an assortment of bangles and bracelets to express a personal style. 
Many women have confessed that the Offspring Bangle with Charm was love at first sight for them. This organically-shaped bangle crafted from sterling silver rocks your wrist with charm and endless beauty. It offers the kind of unbreakable bond that connects a mother to her child or two long-time lovers that cannot part ways. The beauty and inner meaning attached to this bracelet make it a perfect gift to buy that special woman with a place in the deepest part of your heart. 
The bracelet was designed in 2001 by Jacqueline Rabun, who buys into the school of thought that a piece of jewelry should go beyond expressing aesthetics to incorporate inner meaning. She designed a bracelet that expresses emotional power, sophistication, and elegance. 
Daisy Bracelet
The Daisy Bracelet off is a top piece of jewelry in the Georg Jensen jewelry collection. This rhodium-plated silver has the following measurements H: 11 mm / 0.43 inches. W: 12.5 mm / 0.49 inches. L: 180 mm / 7.09 inches. Using the jump rings, you can shorten the chain depending on your taste and style. The bracelet was in partnership with Stine Goya to reflect a stunning twist of Georg Jensen's 1940s collection. 
Georg Jensen Rings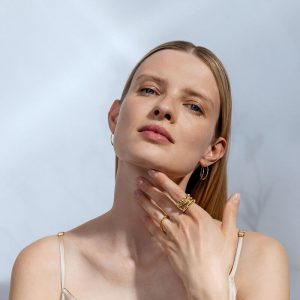 From gold bands to bold diamond or simple silver rings, you can give Georg Jensen jewelry rings as signs of commitment or tokens of love. The brand offers rings for anniversaries, weddings, engagements, and promises. 
If you are looking for a sensual and thought-provoking ring, Mercy Ring is perfect for you. This ring is crafted from an 18 karat free-flowing yellow gold form to cement its organic, tactile quality, making it an ideal dream detail on every woman's finger. 
First of all, the ring draws inspiration from the flow of time and features a circular shape that measures 6.7 mm / 0.26 inches. Its continuous shape is interrupted by a gap that may symbolize the need to pause and reflect on the fluidity of the life event embedded in the ring's meaning. Secondly, you may wear it alone or stack it with other rings and jewelry to reveal your thoughtful nature to those around you. 
The Curve Ring consists of two perfect sterling silver curves that separate by a sharp line that adds to the ring's striking nature. The ring is a pure masterpiece in sophistication and style, making it attractive jewelry to every woman who has a unique taste for style. 
Other Georg Jensen Rings
Regitze Overgaard originally designed the curve ring in 2006 following her collaboration with the household brand Georg Jensen. Overgaard's curve collection reflects her creativity and quality designs characterized by superior craftsmanship.
The Moonlight Grapes Ring is another top-selling high-end ring in the Georg Jensen ring collection series. It boasts a cluster of sterling silver beads following your finger's natural shape making the ring as beautiful as ever. The oxidized finishing adds to the ring's aesthetics. You will love wearing this 2020 ring measuring 21 mm / 0.83 inches. There are several other collections in the Moonlight Grape series, depending on your taste and preferences. 
Jacqueline Rabun collaborated with the Georg Jensen brand to design the Reflect Ring, which has turned into one of the most sought-after rings in 2022. The sterling silver wrap is one of the captivating aspects of this ring. If you are looking for a ring inspired by the traditional chain's design yet remaining as classy as ever, the Reflect Ring is the right jewelry for you: It combines modernity and vintage. 
Georg Jensen Necklaces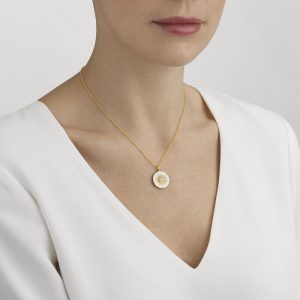 The brand prides itself on the dramatic, bold, classic, and understated diamond, gold, and silver necklaces that every woman dreams of adding to her jewelry. The rings have all your needs covered, whether you want to reflect personality and individuality with a style that will make you stand above the rest. The brand has a plethora of necklaces in its collection, but here are a few that may water your mouth. 
The Offspring Necklace with Pendant will become your favorite when you add it to your jewelry. You will most likely forget about the rest of the necklaces stacked in your wardrobe. The necklace features a stunning design where two irregular organic gold and silver shapes interlock. This creates an impression of a strong bond exhibited among family members, lovers, siblings, or mother and child. 
A powerful emotional meaning embedded in this ring gives it an extra layer of magnificence. The sterling silver and 18 karats rose gold necklace is the best gift worth surprising a loved one. Moreover, the rings complete the necklace hangs from an adjustable silver chain. 
Daisy Necklace
The Daisy Necklace with Pendant stirs the hidden excitement in you, leaving you feeling optimistic and fresh like the little flower inspiring its design. Its youthful attitude attracts women across age groups making the versatile necklace jewelry. These 18 karats gold-plated white enamel petals complement sterling silver. 
The daisy is Denmark's national flag, making this necklace vital in displaying national heritage. The Daisy collection's history traced its roots to the 1940s when Jensen crafted the necklace in honor of Princes Margrethe's birth in 1940. This idea gave rise to several daisy necklaces. 
Popular Alternatives to Georg Jensen
The 18 karats plated sterling silver can be adjusted to meet their wearer's preference. You can purchase the Daisy Necklace in various sizes, including small and medium. Besides, a rhodium-plated sterling silver option is also available. 
The Love Leaf Heart Necklace is an asymmetric and life-styled necklace taking the form of a heart. The magic of this necklace is when two distinctively-shaped parts come together, creating the universally applauded love symbol, a heart. This necklace's delicate heart-shaped pendant is suspended from a fine adjustable chain. 
Customers also have various Love Heart Necklace options to choose from, depending on one's immediate needs. You can pair your Georg Jensen sterling jewelry Love Heart Necklace with a black leather jacket and white shirt.  
The original Art Nouveau design inspired the 2022 edition of Georg Jensen's Heritage Necklace collection. This oxidized sterling silver necklace is crafted and decorated with a row of beards and sprouting leaves. Its back also includes a 2022 engraving to enhance your nostalgia and reminiscence about 2022 in the future. 
Georg Jensen Review from Customers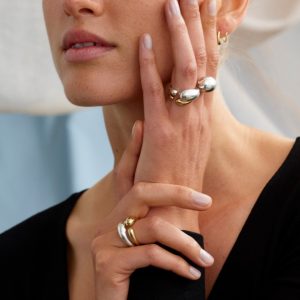 This Georg Jensen review checked what customers think of this luxury lifestyle brand and learned that most of the buyers loved their jewelry products. 
The brand's overall rating on Trustpilot is 4.6/5 from 1476 reviews, with over 81% of the customers praising the brand for excellent products and services. One happy customer applauded the company for its excellent product and services, observing that it took only five days to order and receive her merchandise. 
However, a few clients on Trustpilot complained about high prices for Georg Jensen's products and a short period of returns.
Sign Up for Georg Jensen
If you would like to shop at Georg Jensen, you need to create an account. Visit their site and hit the Create Account Now button. You'll have to provide some basic information about yourself, including your phone number, gender, name, and email.
Where to Buy
You can purchase Georg Jensen jewelry products on their official website GeorgJensen.com. Furthermore, some of the items are available on Amazon. 
Shipping and Return Policy
Georg Jensen Denmark jewelry offers free shipping for all orders exceeding $100 within the United States, except for some items and shipping conditions. 
The brand has a short return policy of 14 days from the day the customer receives the order. Defective or damaged merchandise should be reported within 2 business days. Certain items may need you to pay return fees. The company pays for the first exchange. 
Promotions & Discounts
The brand often has offers on various items. Be sure to check their Promotion page to find out what items are on offer. You'll also enjoy free shipping when you purchase orders worth $100 or more.
Contact Georg Jensen
You can use various channels to reach Georg Jensen for any inquiries or assistance. The first option is through the phone using 1-800-546-5253. All calls should be made within business hours, running from 9 am to 6 pm. You can also shoot their customer care an email through [email protected].
Georg Jensen Review: Editors Verdict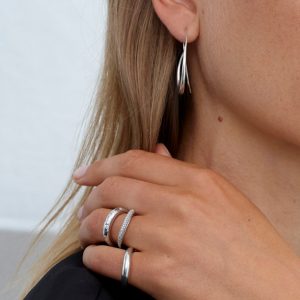 If you are wondering: Is Georg Jensen worth it? This Georg Jensen review has dug into the brand to bring you insightful information. In the end, this brand provides value for money. 
The company produces high-quality products with raw materials, including pure gold and diamond, increasing prices. The brand offers customers a quick first-time return option, making it easy to return your ordered products hassle-free in case of any issues. Besides, the brand's consistency in the market indicates top-notch products. 
Still on the hunt for some unique jewelry? Consider reading our other jewelry brand reviews of  Pura Vida Bracelets, GLDN Jewerly, Melinda Maria and Barkev Rings.
Georg Jensen FAQ
Can I have products bought on georgjensen.com engraved?
Georg Jensen does not offer engraving services for products ordered online. The brand refers you to a local jeweler.
How do I care for my Georg Jensen Sterling Jewelry?
Clean the stones in lukewarm, soapy water using a gentle brush. Also, polish sterling silver occasionally using a soft cloth to prevent it from tarnishing. Avoid cleaning your jewelry using abrasive chemicals or wipers.
What is the breakage warranty on the jewelry?
The breakage warranty covers replacing lost or damaged parts of your jewelry.
Is Georg Jensen Jewelry good quality?
Georg Jensen produces some of the best quality jewelry in the industry. The jewelry is costly because of its high quality and superior craftsmanship.