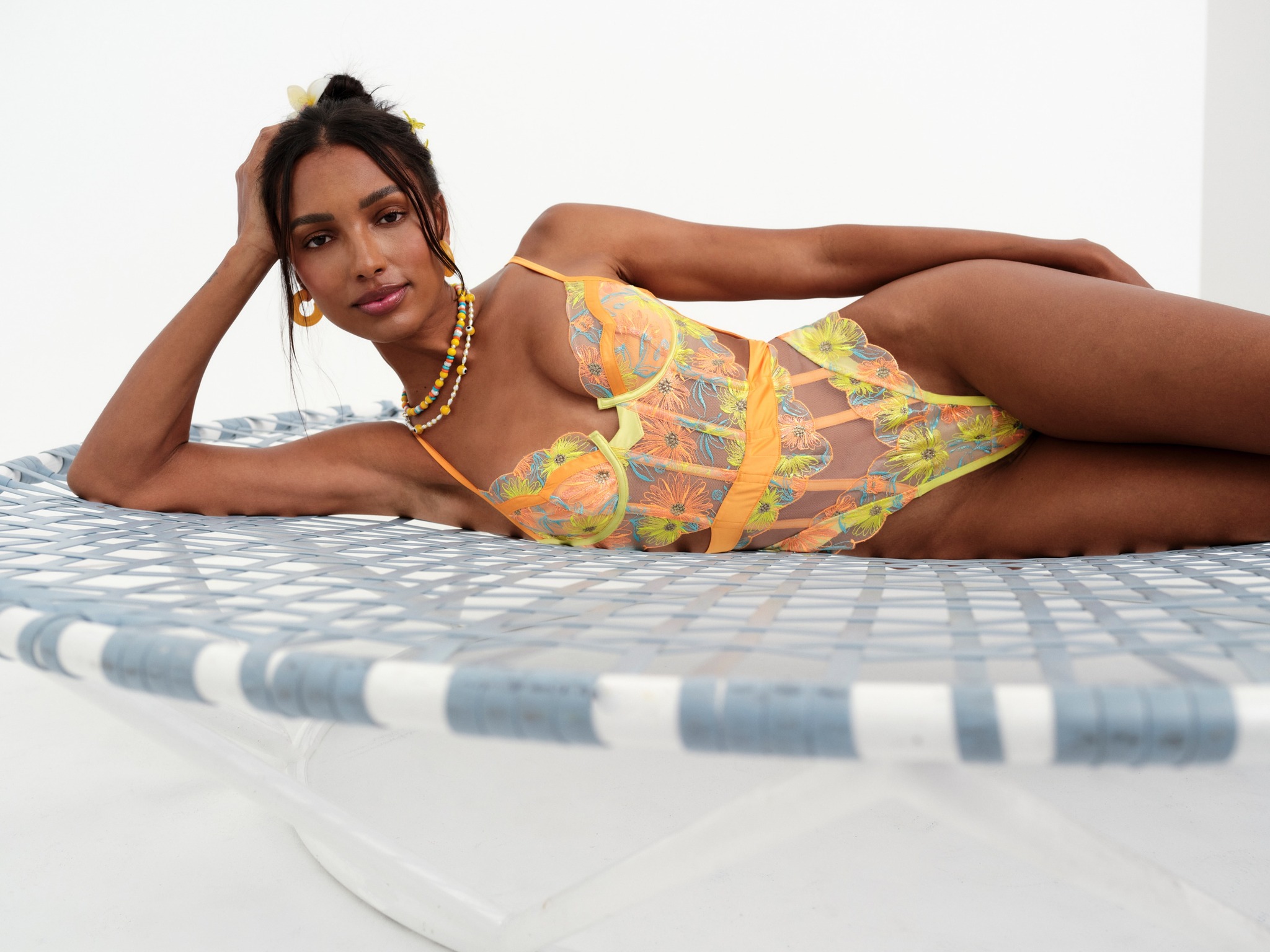 Wearing vintage clothing is a way to experience a different life through clothes. Finding a great vintage piece is more satisfying than spending money on an expensive bag. For Love and Lemons offers vintage bohemian apparel and accessories with the Sixties-inspired themes. We'll highlight For Love and Lemons reviews from customers, its bestsellers, return and shipping policies, discounts, and more to help you determine if you will add their collections to your wardrobe.
About For Love and Lemons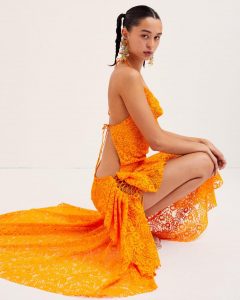 For Love and Lemons is a clothing brand owned by best friends Laura Hall and Gillian Rose Kern. It is a feminine clothing company that every girl can relate to because it does not follow trends but creates them. 
The idea to start For Love and Lemons was born through a lemonade stand that both Laura and Gillian owned when growing up. The two graduated from owning the stand to designing clothes together. Hence, they got the cute name 'For Love and Lemons.'
Laura and Gillian grew up in Wyoming, and they always knew they were destined for the fashion industry. She has a degree in business, while Gillian is a fashion designer. Laura and Gillian always travel together. 
A trip to Australia made them fall in love with Australia's fashion style. They were especially inspired by their unique style of dressing. They decided to relocate to Los Angeles, and that is how For Love and Lemons was born. 
The company is anything but conventional: they are determined to set new standards in the fashion world. The brand is unique and attracts customers with its lustful intriguing designs. Their clothing items are characterized by a clash of colors and patterns that evoke the feminine side.
The brand is known for its captivating, fun, and flirtatious designs. Several media outlets have featured the company, including US Magazine, Fashion Network, and PR Newswire. In 2019, they partnered with Victoria's Secrets to create beautiful and intriguing lingerie pieces. Their vibe is evident on their social media pages, as they have 3.5 million Instagram followers and over 137k followers on Facebook.
Before we delve into For Love and Lemons reviews, check out some of the brand's pros and cons. 
Pros
The company has a reasonable return policy

They offer a wide range of accessories and apparel that has a vintage and boho twist

Free shipping for local orders above $50 and international orders above $300

The company is owned and run by women

Numerous positive reviews from customers on different platforms

Their products are accessible online and in-person
Cons
Items listed as final sales are not eligible for return

Some of their products are not true to size and run small

Their products are pricey compared to other brands in the market
For Love and Lemons Products Review
For Love and Lemons clothes are characterized by intricate laces, whimsical floral, and feminine ruffles. The online clothing company sells a variety of seductive cuts and fusing flowery details that compliment a woman's body. Here are some of its top-selling clothing items.
For Love and Lemons Dresses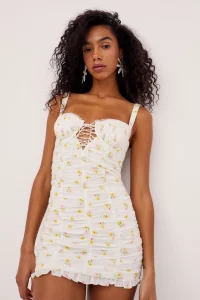 The company offers a variety of dresses for different occasions. The For Love and Lemons dress collection includes midi, mini, floral, lace, knit, and maxi dresses. If you are looking for a dress to show off a bit of knee, thigh, or ankle, there is something that suits your taste.
Every girl needs to have several summer dresses. For Love and Lemons have plenty of summer dresses like the Sasha Mini dress. The Sasha Mini dress features Ecovero fabric made from purified cellulose and processed wood pulp that meets environmental standards. It is made from 55% Ecovero and 45% viscose. 
The dress has a vibrant confetti floral print perfect for a walk on the beach or strolling through the city at midnight. The front part has rushed cups with a hanging decorative front tie. The sleeves are puffed with an elasticized trim that opens and puffs. This mini dress goes for $257.
The Guinevere dress features a 60s-inspired print, and it is made from chiffon fabric that is light and breathable. You can wear this dress as evening wear. On the front, the dress has gathered cups that stretch to the side. 
The body has keyhole cutouts and gathered cutouts on the side. The back of the dress has delicate and adjustable criss-cross straps. A stretchy waistband at the back and high-low hem are the most outstanding features of this dress. It also comes with a matching head scarf. 
Available at $318, this dress matches well with white sandals, which makes it a perfect summer dress for your long vacation.
For Love and Lemons Bottoms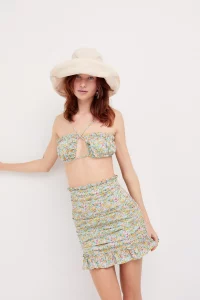 The brand offers a range of stylish bottoms, including pants, sweatpants, skirts, and shorts. Use the For Love and Lemons sizing chart to ensure you get the right size. 
The New Jacinda Mini Skirt will make you stand out from the crowd. It is a vibrant and colorful skirt with chevron stitching on the waist and hem. 
The chevron pattern makes the dress unique. The dress is made from a soft and mid-weight yarn that gives it a beautiful and colorful design. It is made from 100% recycled polyester making the dress strong and lightweight. 
The recycled material used is eco-friendly, reducing carbon emissions by 20%. This dress requires minimal care; follow the cleaning instructions provided on the label. You can get this dress for $135 and pair it with your favorite sandals. 
If you love shorts, check out the yellow-green Gemma Short with a two-tone striped pattern. The short has a ribbed fabric that is v-shaped on the waistband. It is deliciously soft and made from mid-weight yarn. 
Gemma Short is made from 60% cotton, making them comfortable. It also consists of 40% acrylic, which makes it durable and wrinkle-free.
Gemma Short comes with a matching floral headscarf, and you can wear them on a bright and sunny day. You can pair the shorts with white sandals. Spice your wardrobe with this short for only $125. 
For Love and Lemons Swim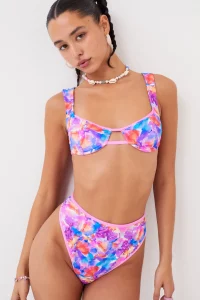 Designed to be worn by those engaging in water sports or water-based activities, the For Love and Lemons swim collection consists of pieces made from high-quality materials. They are also available in different designs and patterns. 
If you are confident in your body, check out their bikinis. There are also one-piece swimsuits and coverups. The Tiana Bikini is designed for self-confident women, and it is available in normal or string options depending on your preference. 
This bikini features a colorful floral pattern with multi-colored beads. The top has adjustable straps to tie on the back. It also has an underwire bra and a curved neckline. 
This bikini has an attractive vintage book print made from 80% recycled nylon and 20% spandex. It is advisable to machine wash the fabric with cold water to avoid shrinkage. A pair of this bikini goes for $95.
If you don't want to show off much flesh go for their one-piece swimwear. The Devon One-Piece swimsuit has a 70s-inspired print and features a one-piece bikini with side cutouts. 
The side and back have pink rings designed to detail. You'll also find adjustable shoulder straps. The material used to make this swimsuit is 80% recycled nylon and 20% spandex. You can get this piece for $150 and pair it with one of their coverups when you want to take a walk on the beach or relax. 
For Love and Lemons Lingerie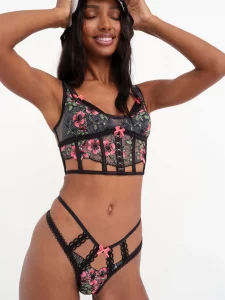 Nothing beats the feeling of wearing a killer lingerie set. The For Love and Lemons lingerie collection incorporates vintage boho-chic flavors, which result in a perfect blend of sweet and sultry pieces. 
Every lady looks for red or pink lingerie when they want to spend some quality time with her significant other. The Retro Heart Thong pant should be your go-to lingerie if you want to boost your confidence sexually, mentally, and physically.
This lingerie features a high-leg silhouette and thin, rick rack elastic straps. The front part has a unique embroidery covered with elastane and sleek polyester at the back.
It is decorated with two tiny pink bows, and the back part is made of sleek pink fabric attached to the waist. For only $39, you can add this lingerie to your wardrobe. 
The Faye Lace Underwire bra is another top-selling lingerie. It features a lace bra with underwire cups and decorative button detail. It also has adjustable slider straps and rings that are customizable to fit your body shape. You can get this bra for $89, and it's available in several colors, including red, black, and pink. 
Available at $165, the Creamsicle lace slip dress is another classy lingerie that will refresh your body like your favorite ice cream. It is romantic lingerie with super skinny straps. 
The lingerie is lightly lined with an underwire bra cup and a back button closure. The material used is scallop lace that is partially sheer and non-stretchable. Lace is easy to hand wash and air dry. The lining of this lingerie is made from light eco-chiffon. 
For Love and Lemons Reviews from Customers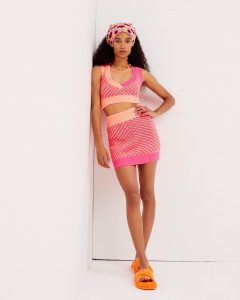 We checked For Love and Lemons reviews from customers and analyzed what buyers had to say about For Love and Lemons clothing items. We found that there were lots of positive reviews written by satisfied customers. The brand has numerous compliments on its website and other online platforms where its products are sold.
According to the reviews we researched on the internet, the brand's clothes are comfortable, unique, and look stunning. Many customers praised their clothes because they are stylish and add a feminine touch to everyone's wardrobe. The company produces high-quality clothes with a touch of vintage bohemian style. 
Many customers visit their site to buy For Love and Lemons For Victoria's Secret bras and lingerie. These products have garnered numerous positive comments and a five-star rating from customers. From the comments, our team established that the products are popular because they have a fantastic quality. 
Several customers report that the bras do not stretch, and they size up for a perfect fit. Their lingerie is also popular because it is flirtatious and appeals to many women. 
Further customer reviews
On Amazon and TrustPilot, customers are generally happy and satisfied with their purchases. Several customers have left a five-star rating on the Sasha Crop Top.   
One customer compliments the top for being beautiful and romantic. The customer loves the top because it is made from satin, and it has a front tie closure. She purchased the extra small size because her body is petite. She stated that the crop top paired well with her favorite denim jeans.
Another happy customer on Revolve describes For Love and Lemons as her favorite brand. The customer is obsessed with all their products. She has bought several dresses from the company and loves them because they are flattering and perfect for her petite body. The buyer stated that the For Love and Lemons sizing chart helped her get the right size and avoid the return process. 
While we found numerous positive reviews, some customers complained that their products are expensive. 
Sign Up for Love and Lemons
To get started with For Love and Lemons products, visit the company's official website and register an account. Provide the required details and click on create an account. 
Remember to subscribe to their newsletter and get a 10% off on your next purchase. You will also be among the first shoppers to get notified about promotions and discounts.
Where to Buy
You can purchase For Love and Lemons products through their website ForLoveandLemons.com. You can also find their products on authorized retailers, including Victoria's Secret, Revolve, and ASOS. Check their Find a Retailer page to find a nearby in-person location.
For Love and Lemons Shipping and Return Policy
Shipping:
Most For Love and Lemons products are shipped from their Los Angeles warehouse. Once your order is processed, it takes 2 to 10 business days to ship the product. Allow an additional 10 to 14 days to process the orders during sale days. 
If you want your products delivered urgently, choose the expedited shipping option for an additional cost. The company offers free shipping for US orders worth more than $50. International orders worth over $300 enjoy free express shipping. 
Return Policy:
If you are not satisfied with the clothing items you've purchased, you can return them within 31 days from the date of purchase. They should be new, with the original tag, unworn, and unwashed. The items you want to return should be in the original packaging. 
Items listed as final sales are not eligible for return. If you return a final sale item, you will incur a 25% restocking fee. 
Promotions & Discounts
Our team discovered several promotions and discounts available to customers to help them save money when shopping for clothing items on the brand's site. You will get a 10% off when you sign-up for their newsletter. Additionally, you'll enjoy 25% off your next purchase when you refer a friend and they make a purchase worth above $250. Your friend will also get a 25-percent discount. Lastly, you can get select items at discounted prices on the For Love and Lemons Sale page.
Contact for Love and Lemons
Is there anything you'd like to know that we haven't covered in our For Love and Lemons reviews? To know more about For Love and Lemons products, or if you have any questions, contact the company through their phone number +1 (800) 218-6230. You can also send an email to in[email protected], and they will respond within 24 hours. 
Alternatively, send them a message on the For Love and Lemons Facebook or Instagram page.
The company has customer service representatives available from Monday through Friday from 10 a.m. to 5 p.m. PST. 
For Love and Lemons Reviews: Editor's Verdict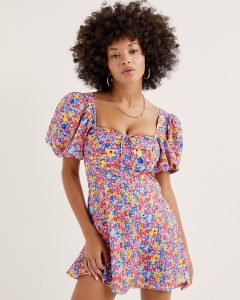 Based on the many positive For Love and Lemons reviews our team saw on the internet, we think the brand is worth checking out. There are numerous positive comments from customers who can attest that their products are high-quality. 
Many customers appreciate their extensive selection of attractive, beautiful, and eye-catching feminine pieces. Our team recommends their products because they deliver what they promise.
Are you looking for similar brands? We have an extensive list of 15 Best Swimsuit Brands and 10 Sustainable Swimwear Brands. Alternatively, read our reviews of Frankies Bikinis. 
For Love and Lemons FAQ
Is For Love and Lemons legit?
Yes. Based on the numerous positive customer reviews we came across online, For Love and Lemons is a legit company that produces feminine knitwear, lingerie, and swimming garments.
Does For Love and Lemons run small?
It depends on the product you are purchasing. Generally, most products run true to size. However, their bras run small because they don't stretch. To ensure you get the right size, check the size guide on the company's website.
Where is For Love and Lemons manufactured?
All swim, knitwear, ready-to-wear, and some lingerie garments are manufactured in Suzhou, China. The brand also manufactures a portion of its clothing items in Los Angeles, California, where it's headquartered.
Is For Love and Lemons sustainable?
Yes. Over the years, the company has been making several moves towards sustainability. From 2020, they hired a sustainability manager to oversee the accomplishment of their sustainability goals.