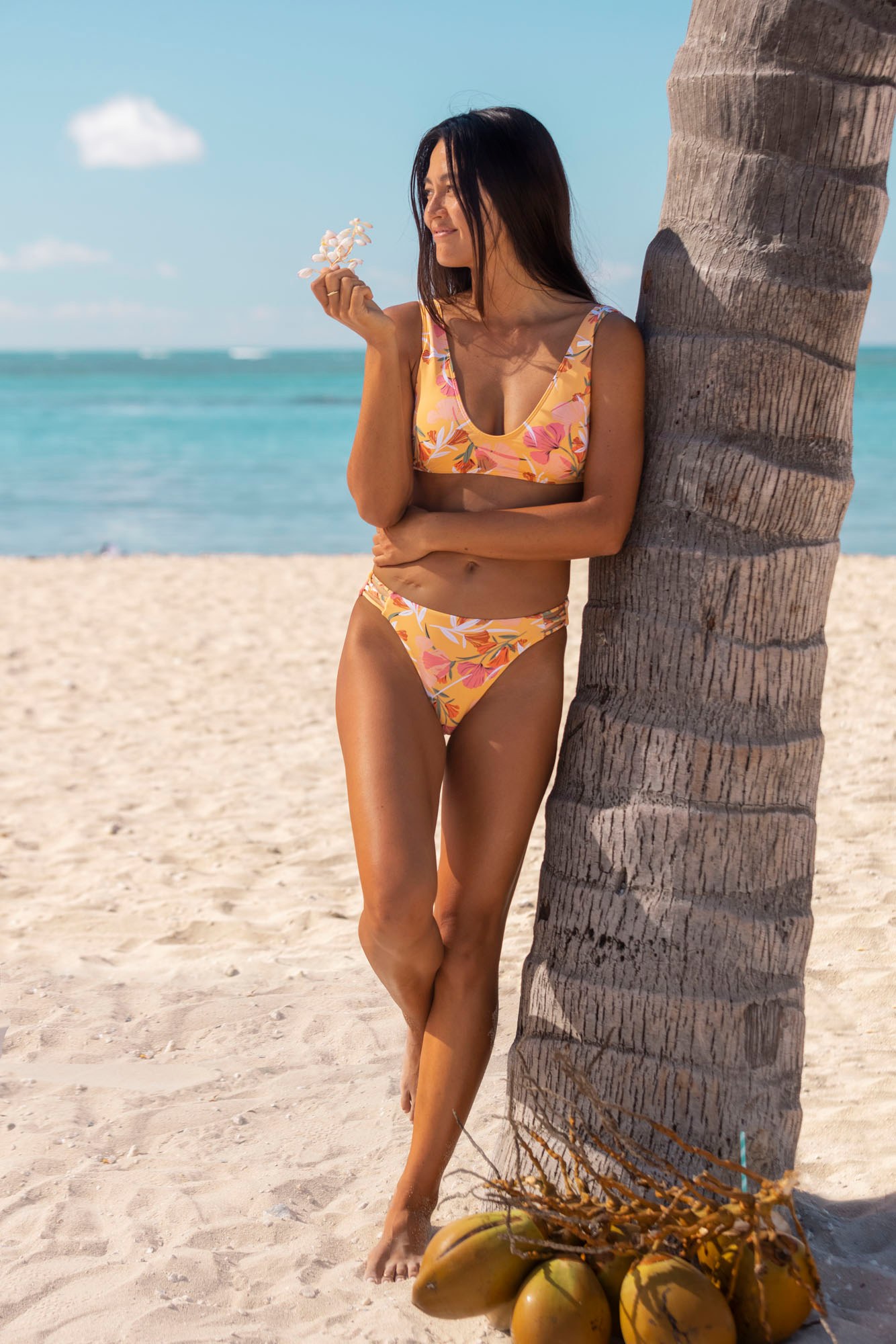 If you are half as excited about summer as we are, you must be ready to get the best swimsuit brands under your radar. To be fair, with so many options available, it can be quite challenging to find a nice bikini or one-piece swimsuit that is not only flattering on the body but it is good quality too. When shopping for swimwear, comfort and confidence are two of the most important aspects to think of, but pricing should be considered also. But how can you find the best brands and how can you possibly know that their swimwear is worth your money?
Well, summer is already upon us, and let's be honest, it won't last forever. To help you find the perfect outfit for the beach before summer is over, we created a list of the 15 best swimsuit brands we came across during our research.
15 Trending Swimsuit Brands
As we have already mentioned, comfort should always come first when shopping for swimwear. No one wants to spend their vacation feeling uncomfortable because of weird straps or soggy bikinis. You deserve to feel at your best when stretching down your towel in the sand or jumping on a wakeboard to create lifelong memories. So if you want to find out what the best swimsuit brands are based on our verdict, join us in today's review and see what we have to share:
1. Bikinishe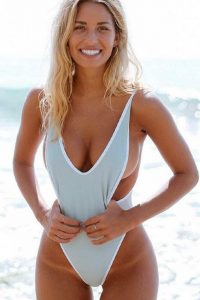 If something, then swimwear should not be boring at all. A little design element, an unexpected touch, or a bold detail added to a swimsuit can make a huge difference. This is the switch when your regular bikini becomes an outfit that turns heads. Looking at the Bikinishe swimwear selection, our overall impression is that the brand knows this well. They sell beautifully designed feminine bikinis and one-pieces, and each one comes with that little extra touch we just talked about.
With an added belt, a strategically placed strap, an unexpected cut, or a playfully sewn cute flower, these swimsuits are here to spice up summer. On the Bikinishe website, you will find around 300 one-piece swimsuits to choose from, each providing a different fit, coverage, style, etc. If you prefer elegance, the Vintage Ruffle High Leg Off Shoulders One Piece Swimsuit might be something you instantly fell in love with. In case you're into a bolder piece and you don't mind cuts and little coverage, there are plenty of seductive options as well.
Along with their trendy designs, what makes Bikinishe a go-to place is their budget-friendly prices. And by this, we mean stylish, chic swimsuits for $25-$50!
2. Blackbough Swim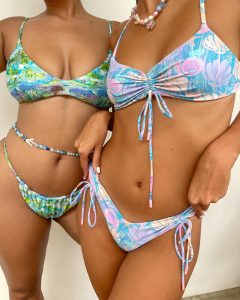 Blackbough Swim offers "sweet treats" for the summer in the form of colorful, exceptionally soft swimsuits. Despite being one of the best affordable swimsuits brands on our list, this company offers a wide variety of sustainable swimsuits made of 80% recycled material. All their pieces are made of high-quality fabrics to ensure durability and the highest level of comfort possible. By using special blends or jacquard and terry fabrics, they perfected the softness of their swimwear that wearing them feels "like a Sunday morning". Who would on Earth say no to that? It's not surprising how satisfied customers are with the brand. On the official website, Blackbough Swim has a 5/5 rating, while on Trustpilot they got a 4.2 rating out of 5. Customers love the vibrant colors and cheeky designs, and they appreciate the company's effort to create sustainable and ethical swimwear.
The price of tops and bottoms ranges between $40 and $60, while one-piece swimsuits cost around $80. In terms of pricing, there are some negative comments, but overall, people agree that Blackbough Swim is worth the extra money.
3. Cupshe Swimsuit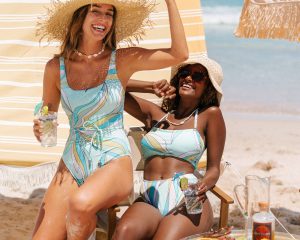 Cupshe Swimsuit is one of the most popular swimsuit brands selling flattering swimwear for all body types and shapes. The brand defines itself as a "beachwear brand inspired by and created for the most vibrant, fun and fearless women". This vision can be seen in all designs. Cupshe does its best to provide empowering, confidence-boosting bikinis and swimsuits that allow you to feel at your best. Their bikinis and one-pieces are flattering and the designs were created to celebrate the beauty of different body shapes and figures.
There is an extensive selection of stylish swimwear. You can find elegant, flamboyant, chic, bold bikinis, and one-piece swimsuits, all in different colors and fits. It is almost guaranteed that you will find something for your taste while scrolling through the Cupshe Swimsuit website. No matter what level of coverage you're after, this brand has it all. Not to mention their accessories and beachwear, which are also worth your attention.
In terms of pricing, the price tags are very affordable. You can purchase a one-piece swimsuit for less than $30. Two-piece bikinis that you can buy as a set usually cost between $20 to $30.
4. TomboyX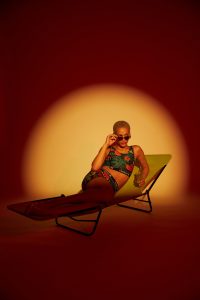 Continuing our collection of the best swimsuit brands, the next on our list is TomboyX. This brand offers a selection of quick-to-dry, eco-friendly, UPF 50 swimwear. Looking at their designs, they are definitely not your usual bikini. The company creates gender-neutral tops, bottoms, and uni suits that can fill the need for high-quality swimwear that anybody can feel comfortable wearing.
TomboyX sells tank tops, board shorts, long sleeve crop tops, high-waisted bottoms, zip tops, and some other items for swimming and watersports activities. You will also find one-piece swimsuits and uni suits in vibrant, lively colors.
When it comes to pricing, we've got good news. Most items will cost you around $50-$60. The most expensive pieces are the uni suits which you can purchase for $89.
5. Girlfriend Collective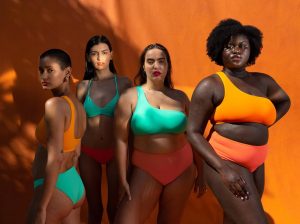 Girlfriend Collective is one of the most popular swimsuit brands when it comes to sporty swimwear. The company offers improved sustainable swimwear for water activities. No matter whether you want to play volleyball, jump into the waves or enjoy a cocktail by the pool, these bikinis and swimsuits are made to elevate your look and boost your confidence.
Thanks to the high-quality materials they are made of, no matter which Girlfriend Collective swimsuits you put on, an exceptional fit is guaranteed. You might be a bit disappointed by the lack of variety when it comes to colors since you can only choose from only black, red, blue, and yellow colors. On the other hand, sizing includes a wider range. You can find all sizes from XXS up to 6XL.
Price-wise, Girlfriend Collective is a budget-friendly brand. All bottoms cost $45, tops are $50, while one-pieces come with a price tag of $95.
6. Frankies Bikinis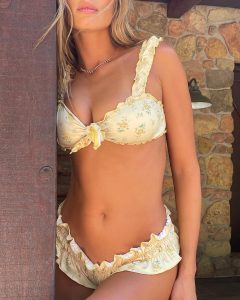 On our list of the best affordable swimsuit brands, Frankie Bikinis falls on the pricier side. With tops and bottoms starting at $80, this company has earned its spot in our review thanks to the high-quality and beautiful designs they offer. Once you visit their website, you will be welcomed by vibrant colors, cheeky, trend-led designs.
The company's goal with their designs is to create chic, effortless swimwear that can easily transition from beach to street. The beachy, tropical vibes can be seen throughout the entire collection, thanks to the exciting color matches and floral prints. The luxurious fabrics offer a soft touch on the skin, and it is visible how well-made the swimsuits are. Needless to say, these bikinis and one-pieces are made to show off your assets, so get ready for cheeky bottoms and unexpected cuts.
One piece-swimsuits start at $175 and the prices go up to $195.
7. Andie Swimwear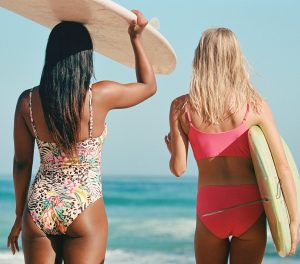 The next on our list of the best swimsuit brands is Andie Swimwear, a brand selling swimsuits engineered for modern life. What can this possibly mean? Well, according to the brand's self-presentation, their swimsuits are designed to be simple and provide an instant look. No adjusting, tugging, or pulling is needed. Once you put on your swimwear it stays where it should and most importantly, keeps everything where it should be.
Along with comfort, flattering designs are important, too. Looking at the collection, you can choose from a broad range of styles and fits. No matter whether you prefer one-pieces or two-pieces, there are plenty of options you can choose from. The collection seems like a paradise of colors. From yellow to pink and tropical floral prints, you will find everything here. In terms of materials, most of the items are made of different types of Eco Nylon, which gives the swimwear both a luxurious look and touch.
What you will also like about this brand is the price tag. Undoubtedly, the budget-friendly prices make Andie Swimwear a more attractive brand. The cheapest tops and bottoms cost $40, but if you're lucky enough to catch a sale, you can purchase these for less than $20. The price of a one piece swimsuit starts at $95, but at the time of writing, there is a sale going on which allows you to purchase this for $25.
8. Rip Curl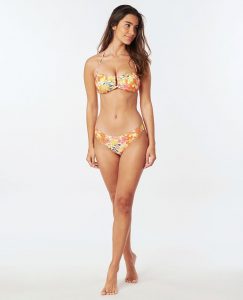 With Rip Curl, summer looks good on you. At least, this is the main message of the company. Rip Curl offers swimwear for both men and women, and from your basic bikini to surf suits, you will find everything here. What we genuinely liked about their collection of swimwear is that the pieces can be easily combined, but you can also find two-piece sets sold together.
All Rip Curl items are designed to offer comfortable wear for watersports, especially surfing. The materials are durable and high-quality which will stand the test of time. No matter whether you choose a two-piece bikini or a one-piece swimwear designed specifically for surfing, nothing will stop you from moving freely and enjoying a carefree day at the beach.
9. Roxy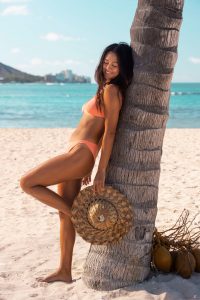 Roxy welcomes you with dreamy stripes, beautiful floral prints, and cute color-blocking designs. Their swimwear collection is just breathtaking. It's really not a surprise that they are known globally as one of the best swimsuit brands. They can be found anywhere. No matter whether you are strolling the shopping streets of California or the sandy streets of Bali, sooner or later you will come across a Roxy store for sure. But what makes this brand so popular?
Well, first of all, their constant effort to create on-trend designs and prints that will elevate your look and cheer you up. They have a broad range of bikini tops, bottoms, and sets in multiple colors and styles, so everyone can find something to their taste. They pay special attention to creating swimwear for all shapes and body types, so everybody can feel comfortable in their designs.
On the website, you can select the designs you like for both tops and bottoms. In the case of tops, you can choose from tankinis, bralettes, elongated tops, D cups, bandeaus, or the basic triangle tops. When it comes to bottoms, you can filter your option based on the level of coverage you prefer. You will find a wide variety of cheeky, moderate, regular, full, tie sides and high-waisted bottoms in all prints and colors.
Price-wise, Roxy is quite unbeatable when it comes to value and quality. The most affordable bottoms cost $35, while the cheapest tops cost $40. Even bottoms made of recycled rib-knit fabric are available at $40. So if you're looking for quality, and versatility and you enjoy swimsuits that give you that beach vibe in general, Roxy is definitely your go-to brand.
10. Riot Swim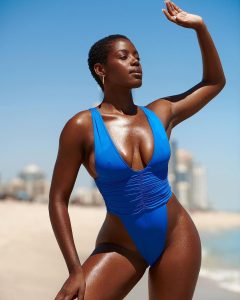 Riot Swim is one of the most famous black owned swimsuit brands, selling a decent range of stylish swimwear for women. You won't find an extensive collection of swimwear on their website, but thanks to the great versatility of the designs, you most likely will be able to pick a nice swimsuit for the summer. The brand offers cheeky one-piece and two-piece swimsuits in multiple colors for a broad range of body types and shapes.
Looking at customer reviews, people seem to be very satisfied with the brand. A previous shopper described her experience very positively: "This suit is so flattering and the fabric is amazing. Also obsessed with the color! Got a lot of compliments." Another shopper mentioned: "Perfectly fitted and very flattering. The color is radiant and beautiful. Can't wait to wear it on the beach!"
When it comes to the price tag, Riot Swim falls on the pricy side. Tops and bottoms cost $99, while one-piece swimsuits are available at $150. However, thanks to the high-quality fabrics used to create these swimsuits, you can be sure that your purchase will last you long and you can think of it as an investment.
11. Ansea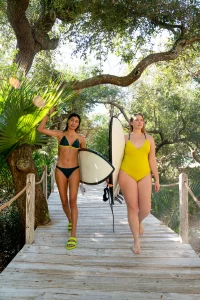 When talking about the top swimsuit brands you should get under your radar, we must mention Ansea, a lifestyle and fashion brand based in New York. Ansea produces ethical, sustainably sourced swimwear in small batches. Their small, yet top-notch collection of swimwear is made of 100% recycled materials, plastic bottles for example.
The colors give you instant beach vibes and the designs are absolutely flattering. Their black and white Reversible High Waist Bottom paired with the Reversible Sporty Bikini Top makes an amazing combo if you are into chic bikinis that make you feel feminine and elegant.
In terms of pricing, items are priced around $100-$200. Definitely, not a budget-friendly option compared to the items offered by fast fashion brands, but keep in mind that Ansea sells sustainable swimwear. Besides the steep prices, people seem to be happy with their purchases and appreciate the brand's different fashion approach. A customer who purchased a one-piece vibrant pink swimsuit says: "Incredibly versatile suit (color & fit)! I am in action water sports and this suit stays exactly where you need it to all while making me feel gorgeous. I also wear this as a body suit under the wide leg pants or jeans. Classic!"
So if you are looking for sustainable swimwear options for this summer, Ansea is your go-to place for stylish bikinis and one-pieces that are made to last.
12. Carve Designs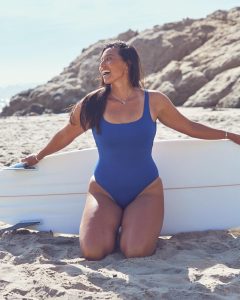 Continuing our selection of the top swimsuit brands, we have to take a close look at Carve Designs, too. If you are looking for floral prints and cheerful designs, you will love this brand. There is a broad range of swimsuits you can choose from, and the best thing is that pieces are easy to match. The company offers more than 20 top styles and 12 bottom styles that come in multiple colors and patterns. You can have some fun mix matching your favorite styles and designs, and build your own swimsuit.
All items are available in multiple colors and the price range is very reasonable for the quality the company delivers. The cheapest top is $48, while the most expensive is $68. You can also select the support you prefer from low to high.
13. Swiminista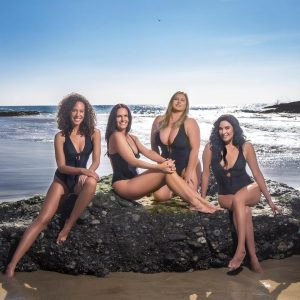 Swiminista is one of the best swimsuit brands for women who are after luxury swimwear that makes them look elegant and elevated. The company targets women who don't mind spending a little extra on stylish swimwear. These highly-curated swimsuits are made sustainably, following ethical practices. Andrea Bernholtz, the founder of the brand created Swiminista to give women the option to buy swimwear that not only boosts their confidence and allows them to celebrate their bodies, but reduces the impact swimwear generally has on the environment. All items are made of luxury recycled fabrics that make the swimsuits durable and give them unquestionable quality.
Despite aiming for classic elegance, Swiminista swimwear is not boring at all. From the basic, yet elegant black one-piece swimsuit to the cheerful floral bikini or animal print, you will find everything here. The prices are a little bit steep, with top and bottoms running between $82-$135. The price of one-piece swimsuits starts at $156 and the price goes up to $198.
14. Sundaze Bikinis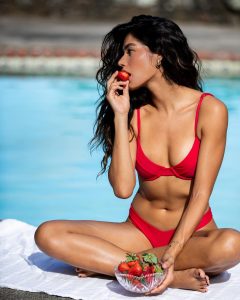 In the world of chic eco-friendly swimwear, Hawaiian swimsuit brands are pioneering. Sundaze Bikinis offers a broad range of romantic swimwear you will need this summer and many summers to come. And what's even better, all of their swimsuits are sustainable, made of eco-friendly, recycled materials such as plastic found in the ocean or fishnets. The brand is on the mission to change the fashion industry by gathering support for small batch sustainable swimwear made of recycled fabrics with minimal impact on the environment.
Their bikinis and one-pieces are feminine, the designs put the focus on the beauty of the female body. There are multiple styles and fits you can choose from depending on the level of coverage you prefer. As the company says, "every bikini babe is different".
15. Issa De' Mar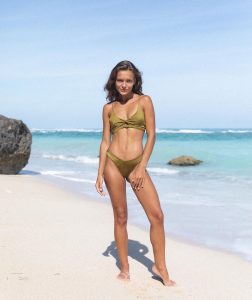 Last, but not least, let's take a look at another example of the popular Hawaiian swimsuit brands, Issa De' Mar. The brand was founded by Marissa Eveland and Melissa Jasniy, two good friends passionate about surfing and Hawaiian beach life. Their items are available in multiple colors and patterns, so it's really easy to find something you like. There is a large selection of styles and level of coverage, but no matter which piece you choose, the high quality of the materials and the careful design guarantees maximum comfort level.
Price-wise, bikini tops, and bottoms cost between $75 to $80, while the most expensive one-piece swimsuit costs $180.
Best Swimsuit Brands: Editor's Verdict
Now that we got to the end of our list of the best swimsuit brands, we hope we could give you some direction on where to look for high-quality, durable swimwear that is worth your money. When shopping for bikinis and swimsuits, the most important aspect is comfort, so make sure to find a style that you feel comfortable wearing. If you don't mind bold designs and unexpected cuts here and there, your options are unlimited. But you shouldn't worry either if you prefer elegant, classic swimwear either. As you could see there are many brands designing swimwear that are made to elevate your look and make you feel confident. Once you know what you like and what you better avoid instead, finding the perfect swimwear won't be a challenge anymore.
Are you looking for other fashion brands for women and men? Check out our reviews of Faherty, Boohoo, and Unbound Merino.