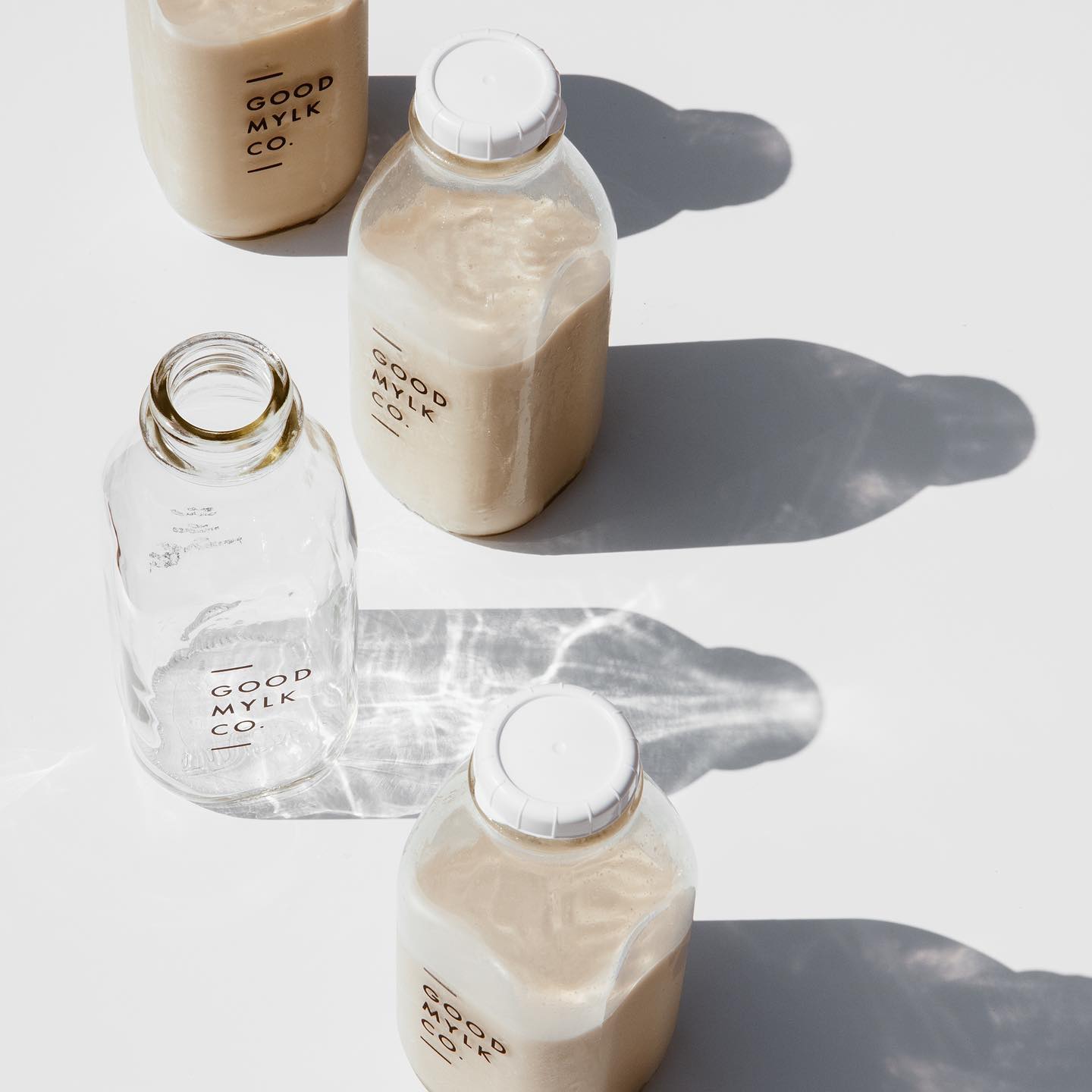 Goodmylk is one of the leading brands that sell a wide range of milk-alternative merchandise and products. The company believes in the power of real and good food, and everyone should have access to it. Their products do not have strange gums or artificial flavoring. Instead, contain pure, organic, and mouth-watering ingredients that are good for your body. Dip in this in-depth Goodmylk review for nuggets of information about this company, including its bestsellers, customer reactions, and return policy. Keep reading to decide if its products are worth the buy.
About Goodmylk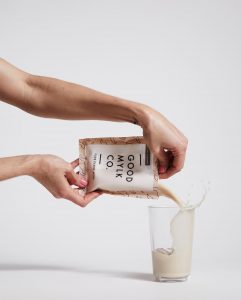 Goodmylk brand was founded by Brooke Rewa. Her mission was to bring good food to the world. The company is a provider of beverages used to make organic, raw, and homemade plant-based creamers and milk. 
The products are plant-based concentrated, frozen, and powder made of actual food ingredients created with creamy, rich, and delicious homemade milk products. This brand is a woman's mission to create alt milk that is good for the tastebuds, body, our planet, and lifestyle. 
Brooke knew that the preservatives, thickeners, and binders found in store-bought food are not only unhealthy but also not readily available and unnecessary. For this reason, she decided to make something good, better, and friendly to health. She began experiencing real food recipes that resulted in her health transformation. Broke then wanted to share her newfound passion with others. 
She launched a plant-based cafe called Made With Love Wellness and began offering proprietary formulas of plant-based juices and milk in her Southern California-based cafe. Her audience was limited, so she created GOODMYLKCO in 2018 to spread globally. 
The company disrupted the dairy industry with successful alternatives. Brooke managed to develop a proprietary flash-blast freezing method that made her scale without compromising the flavor or nutritional integrity of her plant milks. 
Before we continue with this Goodmylk review, let's examine the brand's pros and cons.  
Pros
The brand offers an immense range of milk-alternatives

Their products are ideal for those on keto diets and dairy-sensitive customers

Customers love the hassle-free preparation of the powders and their delicious taste

No-waste packaging

US customers enjoy free shipping on orders worth $100

The company offers accessories, including milk frother and non-toxic glass vessels
Cons
They do not accept returns or exchanges

The company only ships to the continental US

No phone support
Goodmylk Products Review
The brand offers milk-alternative that are 100% organic. That means they do not contain chemical fillers, preservatives, or binders. We'll now look at Goodmlyk best selling products. 
Goodmylk Almond Milk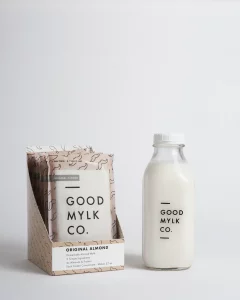 If you like homemade mylk but have one of your feet out the door, the Almond Mylk Concentrate is ideal for you. This Goodmylk almond milk is homemade, and you can never go wrong with its simple, wholesome formula. 
The Almond Mylk Concentrate comes in 10-oz packages and allows you to make 0.9 liters of mylk after you have thawed and added water. All the ingredients are organic and include ancient mineral salt, alkaline water, dates, and sprouted almonds.
The versatility of this Goodmylk Co almond milk makes it suitable for various things. You can splash it over cereal or enjoy a dairy-free ice cream recipe if you are feeling ambitious during the weekend. 
The Almond Mylk Concentrate is available in two options: 2-pack ($28.50) and 6-pack ($67.49).
Goodmylk Super Oat Milk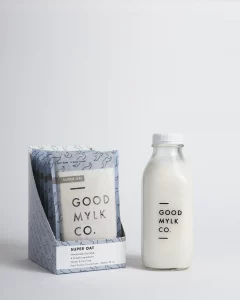 The brand's Super Oat Mylk Concentrate is one of its bestsellers. This frozen classic is never processed, 100% organic, and free from chemicals, oils, or allergens. A 10-oz concentrate pack can produce 32 ounces of oats flavored alt-mylk.  
This Goodmylk oat milk has simple ingredients, such as ancient mineral salt, alkaline water, dates, tiger nuts, and certified gluten-free oat. Rich in fiber and packed with bone-strengthening minerals, this blend will leave a sweet taste in the mouth. Even if you are not intolerant to milk produced by cows, switching to Super Oat Mylk Concentrate will undoubtedly provide you with more nutrients. 
Because this oat concentrate has a lower calorie content than cow's milk, it's alkaline, and is produced without additives, it is perfect for people with celiac disease or food allergies.
This Goodmylk oat milk has no cholesterol, and it's a good source of fiber, which can help boost your diet, as it's filling and will make you feel full. 
No additives, no added sugar
Since this oat milk contains no additives, there is no added sugar; this can benefit those on a diet or who want to reduce their sugar intake, as it can mean you can drink oat milk without adding sugar.
This oat milk can also increase calcium in the body, as it contains potassium, a mineral that helps regulate how much calcium is absorbed in the digestive system. 
Additionally, the nutrients from this oat milk can help reduce inflammation in the body that may derive from allergies, eczema, and rheumatoid arthritis. As a result, it can lead to an improvement in the symptoms of these diseases. As such, this milk can be helpful for those with these conditions as they may not need to take medication as often.
Once you have thawed a pack of this oat concentrate, use it with up to 22 oz of water and stir. Be sure to use it within five days. For only $67.49, you can get a 6-pack of Super Oat Mylk Concentrate; the 2-pack option needs $29. 
Goodmylk Hemp Milk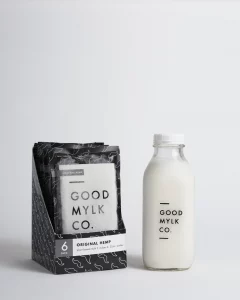 Available in 10-oz packages, the Hemp Mylk Concentrate is 100% organic and frozen fresh. When you add water, each pack generates 30 ounces of fresh Goodmylk. Our Goodmylk review found that it does not feature preservatives, gums, fillers, or binders. 
This hemp milk contains all essential amino acids, making it a complete protein. That means it can help keep your skin, nails, and hair strong. It is also low in calories and fat. 
This Goodmylk Hemp Milk is a great source of omega fatty acids, essential for maintaining good health. Omega fatty acids' benefits include reducing inflammation, improving brain function, and lowering cholesterol levels.
Because this hemp milk is lactose-free, it is an excellent alternative for those intolerant to lactose. Additionally, it is a good choice for those looking for a dairy-free milk alternative.
In addition to being a good source of fiber, this hemp milk is also a good source of vitamins and minerals, including calcium, magnesium, potassium, and iron. 
The Hemp Mylk Concentrate has a nutty flavor that many people enjoy. It comes in an original, unsweetened format, and you can use it in smoothies, cereal, and baking. A 2-pack needs $28.50, while you'll need $67.49 for the 6-pack one. You'll pay $59.39 and save 12% when you subscribe.
Goodmylk Coffee Instant Latte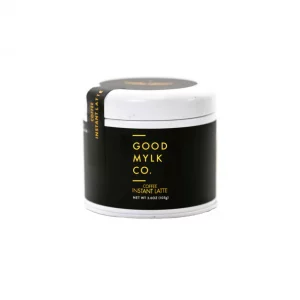 The brand partnered with the Intelligentsia team to bring its customers an impressive instant latte. Goodmylk Coffee Instant Latte blends convenience with attention to detail, exceptional coffee, and great taste that Intelligentsia is known for; this makes it easy for you to enjoy barista-level lattes on the go, office, or at home. 
This Goodmylk review found that the espresso in their instant latte has been made with Black Cat Classic espresso, and the latte consists of a mixture of Costa Rica and Brazilian coffee roasted by Intelligentsia. Sudden Coffee then brews and gently crystalizes them into a quality instant espresso that features rich notes of caramel and dark chocolate. 
Goodmylk then adds their instant latte creamer to this mix, giving it a rich, creamy flavor. Overall, their instant latte uses four instant lattes. You only need to scoop four level tablespoons, and then add 8 oz of water, and you are ready to enjoy a creamy, coffee-bar-style latte. 
The Goodmylk Coffee Instant Latte is very convenient. You can take it with you wherever you go and enjoy it whenever you want: all you need is hot water.
Acidity is one of the main reasons why some people cannot drink coffee. This instant latte has a lower acidity, making it easier on the stomach.
This Coffee Instant Latte is also a great choice for those watching their weight, and it can last for months or even years without losing its flavor. You will need $25 to get this coffee instant latte.
Goodmylk Mini Activated Creamer Bundle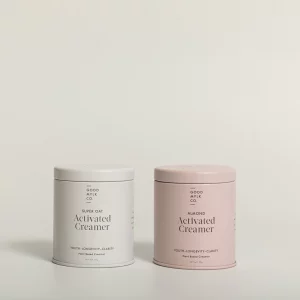 The brand's Super Oat and Almond Activated Creamers offer the luxury of a latte and the functional benefits of adaptogens and your favorite medicinal mushrooms. The company turned their Super Oat and Almond Mylks into creamy, frothy powdered creamers. They then added a custom mixture of tocotrienols, astragalus, lion's mane, and reishi to tick all the boxes on your daily needs list. In turn, you can enjoy a single simple and delicious drink. 
Lion's Mane helps you focus, and it relieves mild symptoms of anxiety and depression. Astragalus gives you energy and longevity; it also contains antioxidants that protect your cells against damage; this ingredient protects and supports your immune system, lowering blood pressure and preventing upper respiratory infections and colds. 
Tocotrienol is an antioxidant, which means it can help slow or reverse skin damage caused by free radicals. In turn, this prevents wrinkles while leaving you with glowing skin.
You can gift this mini-activated creamer bundle to your friend and help them upgrade their mylk routines. Add two tablespoons to your favorite beverage, smoothie, or coffee. You might want to blend or froth stir for best results. 
This Mini Activated Creamer Bundle costs $39.99.
Goodmylk Review from Customers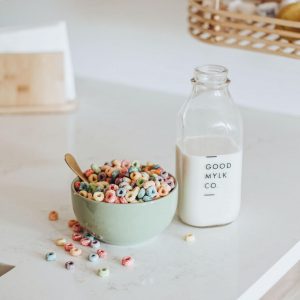 We checked the brand's website to see what customers had to say about Goodmylk and its products. Most of their products have a rating of 5/5 stars. 
Most customers stated that their easy-to-prepare concentrates are a game-changer, and they prefer the taste of their products to milk alternatives on the market. 
One of the customers said they used to spend lots of money and time making mylk for her dairy-sensitive kids. But Goodmylk has made things easier for her with their milk-alternative products.
Another customer stated they loved the taste of the Goodmylk Almond Milk Concentrate. They also praised the products for being pure and 100% organic. 
Most buyers raved about the consistency of the Goodmylk Matcha Latte Powder and loved its flavor. They also said it mixed well with a blender or frother and liked its creaminess.
Another reviewer left a 5-star rating on Goodmylk Cat Latte and said they were surprised by how delicious it was after mixing it with only water. She loved its creamy taste and would recommend it to anyone looking for a quick, easy, and delicious latte. The customer continued saying they would pay more money to get the Goodmylk Cat Latte in a larger size.
We also checked Reddit and found that most of the comments were positive. One reviewer stated that Goodmylk is a great option for anyone seeking non-dairy milk. Another buyer left feedback on the Goodmylk Facebook page, and they said they love their products and have little to no ingredients. They think the frozen Mylk is convenient since you only have to add water, and you are good to go. 
While most of the Goodmylk reviews from customers were positive, some complained that the company does not accept returns or exchanges and they don't have No phone support.
Sign Up for Goodmylk
To sign up for Goodmylk, head to the brand's site and register your account. To create your Goodmylk, you'll have to provide your first and last name and email address. Don't forget to sign up for special offers and news.
Where to Buy
You can purchase Goodmylk products directly on the company's site Goodmylk.co. Their products are also available in stores across the United States. Check their Store Locator page to find a nearby store that sells their delicious alt-mylks.
Goodmylk Shipping and Return Policy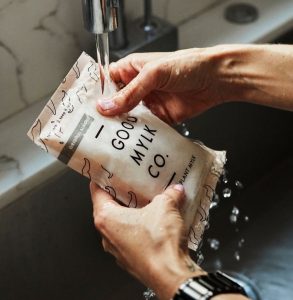 Goldmylk assures delivery to the address specified when the order is placed and retrieval on the scheduled delivery date. Frozen items are shipped by FedEx 2Day, whereas powdered products are shipped via USPS First Class or Priority Mail and are shipped separately.
The company only ships its products to the continental US. Your package will be delivered between 2-10 business days from the day they receive your order. 
Because the company ships perishable items that cannot be refilled or resold, they do not accept returns. 
Promotions & Discounts
We did not come across any Goodmylk discount codes while doing our review. They do not have discounts, promotions, or sales. We cannot blame the company for this because it's still trying to establish itself.
The biggest discount customers can enjoy is 12% on every purchase when they subscribe to their auto-delivery service. Goodmylk also promises its members exclusive rewards and exciting perks. 
For instance, if you refer their products to a friend, you will both get a 10-dollar discount off a 6-pack. Once you are hooked on a beverage, be sure to follow the Goodmylk Instagram page and look out for giveaways.
Lastly, customers from the US enjoy free shipping on orders worth more than $100. 
Contact Goodmylk
Contact their support team if you have questions about the brand or its milk-alternative products. You can send a message via the contact form on their site or the Goodmylk Instagram page. 
Goodmylk Review: Editors' Verdict
To conclude our Goodmylk review, we find this brand 100% worth it. The company offers plant-based alternatives, and they are the go-to option for those seeking clean and simple alternative-milk products perfect for their daily needs. These include baking, cereal, lattes, coffee, and smoothies. 
When it comes to packaging, the company uses pouches made from a recyclable material called BOPA. The materials they use are less wasteful when compared to standard tetra paks, which other alternative milk brands out there use. The brand also has lots of positive reviews online. 
We, therefore, recommend Goodmylk to anyone looking for healthy alternatives to milk products. 
Are you looking for more brands that specialize in drinks? Check out our reviews of Athletic Brewing, Eight Ounce Coffee and Herbaly Tea. 
Goodmylk FAQ
How is Goodmylk "raw"?
The company does not process their mylk using heat; they use raw seeds and nuts, and they sprout them to ensure they are nutrient-dense ingredients.
What makes Goodmylk different from any other non-dairy milk?
Goodmylk is healthy and pure because it's an eco-friendly, raw, organic product. It does not contain preservatives, oils, fillers, binders, or chemicals, and the result is tasty, creamy, and real food plant mylk.
The natural proteins and fats in hemp and almonds allow it to steam up with a microfoam superior just like that of dairy milk. The brand's eco-conscious also allows for 95% waste in cafes and homes, where their products are served.
Is Goodmylk safe to consume while pregnant or nursing?
Yes. Goodmylk products only feature raw, organic plant-based ingredients suited to many dietary needs. As such, they are safe for nursing and pregnant women.
Is Goodmylk vegan?
Yes, Goodmylk doesn't contain ingredients from animals. All its ingredients are derived from plants.
Is Goodmylk gluten-free, dairy-free, and soy-free?
Yes, Goodmylk does not contain soy and dairy products. They are also gluten-free, meaning they can reduce markers of inflammation, such as antibody levels.