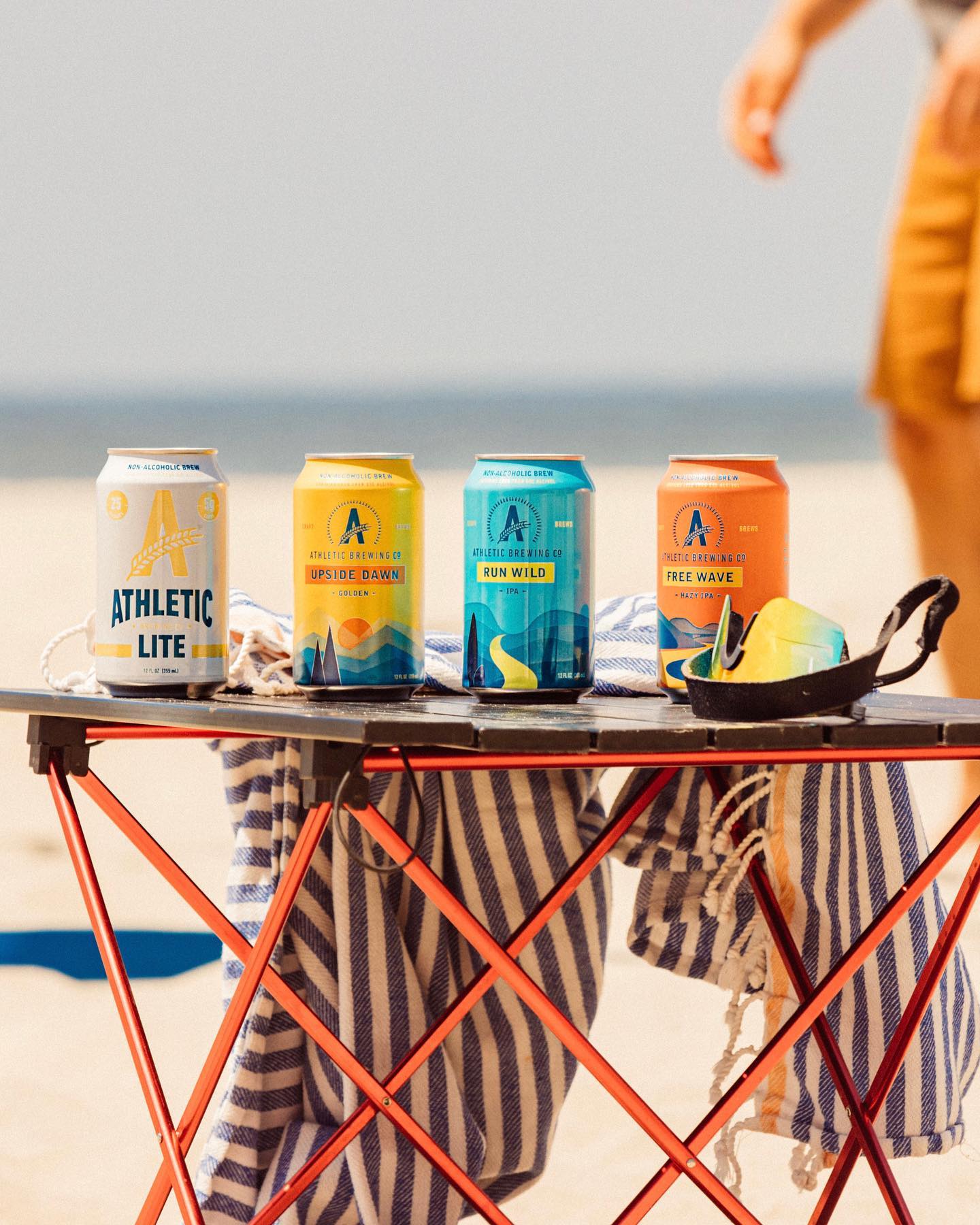 Many people are fans of beer, but for one reason or another, they can't consume alcohol. That creates quite the problem when you would so love a bottle or can of your favorite beverage but can't have it because it means messing up your health, lifestyle, or both. Non-alcoholic beer sprung up to fill this gap. Unfortunately, most non-alcoholic beers leave their drinkers with more regrets than satisfaction. Our Athletic Brewing reviews answer the question of whether Athletic Brewing beers fall in that uninspiring category.
The market sentiment is that Athletic Brewing is one of the (if not the) best non-alcoholic beers around. However, we were not getting caught up in the hype. So, we did our research, and our Athletic Brewing reviews contains some findings. There's no reason to stop now if you've come this far to find your perfect non-alcoholic beverage. Keep reading to learn our opinions on Athletic Brewing and make a conscious buying decision.
About Athletic Brewing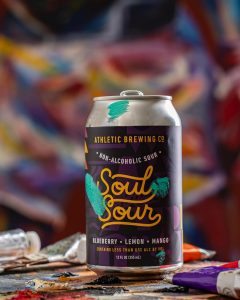 Like most companies looking to change the status quo of an industry or popular culture, Athletic Brewing has personal roots. It started when one of its founders, Bill Shufelt, decided to change its lifestyle but couldn't find a quality non-alcoholic beer that helped him work out in peace and have a good beer when he needed one. So, like most successful entrepreneurs, he took action by teaming up with John Walker (current head brewer of the company) and starting their outfit.  
Today, Athletic Brewing runs two dedicated non-alcoholic breweries in Connecticut and San Diego. AS you'd expect from a company that brewed more than 100 batches (to perfect their product) before they sold a single pint, Athletic Brewing aims to impress with every drink. They offer a collection of beers throughout the year but support those with other shorter-term releases and collaborations. All of these meet up with the company's quality requirements and embody their values.
Talking about values, the brand extends beyond the fitness, health, and satisfaction of customers to focus on the environment and community. As a result, Athletic Brewing has sustainability and giving back at its core. The company's B Corporation Certification exemplifies the ideals they seek to embody. In addition, their sustainability plans include a significant adoption of solar power in the coming years and an improvement of their water efficiency. 
Athletic Brewing is successful, but nowhere is this success more evident than in the features and awards accrued by the company. Notable media outlets like Bloomberg and BBC have a few pages on the company somewhere in their past publications. At the same time, the Athletic Brewed Free Wave became the first non-alcoholic beer to win the Supreme Champion Beer at the International Beer Challenge. 
Pros
There are a fair number of non-alcoholic beer options to choose from

They offer sign up discounts

Free shipping on orders of two or more 6-packs

The company is a certified B Corp
Cons
The company currently offers limited shipping options and locations
Athletic Brewing Beer Review
A beer represents the perfect relaxing drink for many residents of the world. If you've had a stressful day, take a bottle; if you want to wind down after a task, take a bottle; and if there's a game on, take a bottle. However, the alcoholic nature of conventional beers interferes with this instinctive choice of beverage, thus, precluding many from enjoying a can or bottle as they wish. Companies like Athletic Brewing take it upon themselves to make drinks that retain the essence and taste of beers without the alcoholic edge. Hence, the existence of Athletic Brewing beers and our  Athletic Brewing reviews to judge their performance so far.
This is not to say that the drinks below do not possess a measure of alcohol. However, their alcohol content is low. So low that a person would need to consume many bottles very fast to achieve the same buzz they would expect from a single can of alcoholic beer. With that in mind, here is our review of five of the most popular Athletic Brewing beers and drinks:
Athletic Brewing Upside Dawn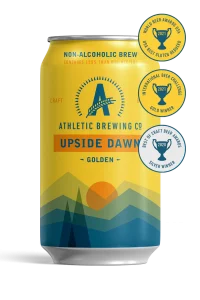 For a brand whose name is synonymous with quality non-alcoholic beer, it is only fitting that we start by looking at their most popular non-alcoholic drink. This Athletic Brewing Golden Ale matches its color with the slightly fruity flavor you'd expect of a modern ale. The Athletic Brewing Upside Dawn is, thus, perfect as a casual refreshing drink or as a pick-me-up when you need one.
According to Athletic Brewing, this drink utilizes Vienna malt and English and American Hops to give a unique-tasting, best-of-both-worlds drink. In addition, though it is fermented from grains containing gluten, the company brews the beverage in such a way as to remove gluten. However, their online shop refrains from verifying the gluten content of the drink and admits that the Athletic Brewing Upside Dawn Golden Ale may contain gluten. 
Athletic Brewing Run Wild Non-Alcoholic IPA
Suppose you will be spending more time than normal in the sun. In that case, you should be running wild on this Athletic Brewing Run Wild who oeNon-alcoholic IPA. As the name indicates, if you take our advice and guzzle down a few cans, there's no reason to fear any headaches. A can of this is both refreshing and risk-free.
The Run Wild IPA also has a fruity flavor like the drink above. However, it is made from five different hops, all sourced from the northwest. The combination of hops ensures that it has a lingering bitterness that contrasts with and balances the sweetness of the malt. With the Athletic Brewing Run Wild Non-Alcoholic IPA, you get to enjoy the quality refreshment free from excess calories and sweetness without fearing a hangover. 
Athletic Brewing Free Wave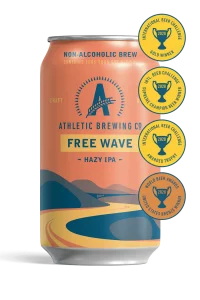 We'd love to be flies on the wall when they are naming these drinks. We can't, though, so we settle for the logic the company shares. According to their website, the Athletic Brewing Free wave is for the open road hence the name. That indicates that it's suitable for driving, which suggests that it's a non-alcoholic brew.
This particular non-alcoholic IPA is rich with Amarillo, Citra, and Mosaic hops flavors. Therefore, it is somewhat richer in flavor than some other drinks under review. However, it does share one thing with them; it represents a relatively low-calorie count, clocking in at 70 calories per can. Rich, non-alcoholic, and light, there's no reason not to try out a can of the Free Wave.  
Athletic Brewing All Out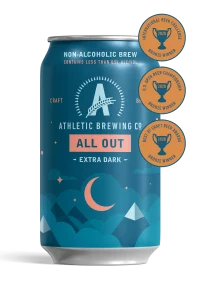 The Athletic Brewing All Out Stout does away with the fruity flavor present in some Athletic Brewing Drinks. Instead, consumers of this brew are welcome to enjoy the hints of bittersweet dark chocolate and coffee that it contains. As expected, the combination makes for a unique, rich taste to go with its full-bodied nature.
Athletic Brewing goes a step further and provides advice for the consumption of the All Out Stout. They encourage drinkers to pair it with spicy and sweet dishes. However, in terms of calorie content, it reads slightly higher than other drinks on our list at 90 calories per can. However, that is a consequence of its fuller nature, rich nature.
Blood Orange Sparkling Water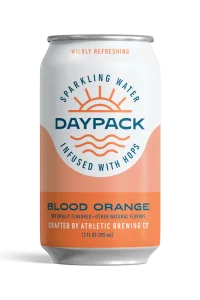 Athletic Brewing strives to have something for everyone. In that vein, the Blood Orange Sparkling Water intends to satisfy the needs of diet-friendly, alcohol-conscious people in need of some refreshment. As a result, a can of the Athletic Brewing Zero Orange Sparkling Water contains zero calories or carbs. It then borrows a citrusy flavor for the much-needed tang.
Regarding the hops used in making this beer, Chinook hops were the solution. The hops help to emphasize the acidic flavor of the citrus, adding to the drink's taste. The overall product is fantastic, and it's no wonder this Athletic Brewing Sparkling Water has proven itself to be a customer favorite among the daypacks.  
Athletic Brewing Reviews from Customers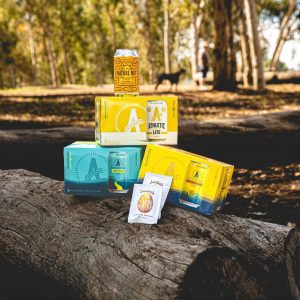 The performances of the brand and all five products above are strong. The specific athletic brewing review numbers behind these are available on the company website and read as follows:
Blood Orange Sparkling water has 4.4 stars out of a possible five from 50 reviews

All Out Stout has 4.6 stars out of a possible five from 432 reviews

Free wave has 4.8 stars out of a possible five from 730 reviews

Run Wild Non-Alcoholic IPA has a maximum of 5 stars of five from 134 reviews

Upside Dawn has 4.7 stars out of a possible five from 525 reviews
Despite the overwhelming positivity expressed by these Athletic brewing reviews, it has not been all smooth. For example, the Blood Orange Sparkling Water had a couple of negative reviews pointing out its orange flavor's disappointing faintness. Thankfully, many more people expressed satisfaction, with many describing the drink as "refreshing" and "delicious."
In the case of the All Out Stout, the flavor, richness, and non-alcoholic nature was a crowd puller. However, the drink garnered five 1-star reviews. These poor Athletic Brewing reviews focused on concerns with the taste and after taste of the drink. For example, one buyer called the aftertastes "brutal." At the same time, another was dismayed at the drink's taste, citing that it was closer to coffee than it was to beer.
Of all five drinks, the Free Wave was the most popularly reviewed, suggesting that it topped the buying list of many customers and left them satisfied as well. However, with its wealth of reviews came five 1-star reviews. The primary concern from the 1-star rating and other poor reviews was shipping issues and late deliveries, but one notable customer complained about the taste. The latter's opinions contrasted even with those of other relatively negative reviewers, so it's fair to say it was just an aberration.
Further customer reviews
That brings us to the best-reviewed beer of the bunch. Reviews of all lengths and contents followed the Run Wild IPA, but one thing was constant; the quality of the beer was not up for debate. Many comments praised the near-original taste of the non-alcoholic beer. Quite a few considered themselves "fortunate" to have discovered a non-alcoholic beer that tastes like beer.
We are back where we started. Despite not having the best rating of these five beers, the Upside Dawn Golden Ale is a true customer favorite. Many praise its style, refreshing nature, and presentation. However, there were more than a few complaints about its aftertaste. Some customers considered it too strong.
Overall, is racking up positive reviews for these drinks along with the numerous awards on display on its website. There might be some skepticism about the accuracy and integrity of these reviews, but the sentiments mirrored were similar to those of other prominent online retailers.
Sign Up for Athletic Brewing
Do you want 10% off your first order from Athletic Brewing? If yes, you would need to sign up on the company website (uk.athleticbrewing.com). The process is straightforward. You provide your first name, last name, email address, and password, and (voila!) you have an account with Athletic Brewing and are ready to receive the initial 10% discount. 
Where to Buy 
People looking to buy Athletic Brewing products need not look too far. You can make purchases through the online shop on the company's website. However, there is an alternative if you are not looking to rack up shipping/delivery fees. Using the "Find a Store" page on the Athletic Brewed website, you can search for stocked retailers near you. Suppose a potential buyer struggles to locate a retailer. In that case, the company provides a contact email ([email protected]) for those who might need help.
Shipping and Return Policy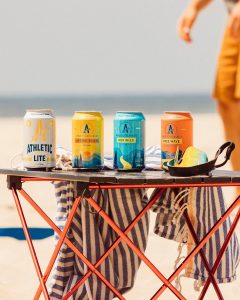 The terms and conditions on the contact page of the Athletic brewing website have some information that could come in handy when considering orders and shipping options. The following details are also important:
Athletic brewing standard shipping ships within two business days of order confirmation

Depending on location, carrier shipping takes 2 – 7 business days or longer

Same-day and 2-hour delivery services are available only for select products and within New York, Chicago, Los Angeles, and San Francisco

If same-day and 2-hour deliveries are available for your order and location, the appropriate options would be available at checkout

There is no shipping of non-alcoholic beer products to Georgia, Michigan, Nebraska, Idaho, Mississippi, South Carolina, and Kansas because of individual state regulations

Athletic Brewing merchandise and DayPack Seltzer products are available for shipment to all states

Changes to orders would require contacting the company for confirmation of whether it is possible at a point in time
Along with these details, the company's website also contains information on Athletic Brewing return policies and more. For example, the return policy would come into play in the event of dissatisfaction with a delivery. You should check out the terms and conditions of sale beforehand, though.
Promotions & Discounts
Other than the discount on initial orders available to newly created account holders, we didn't come across any promotions or discounts. However, there are a few ways to cut down on spending while still receiving great value. For one, customers can receive free shipping on orders of two 6-packs or more. In addition, you can also consider signing up for the company's subscription service. The subscription would reduce the total money spent per can, as subscription fees inherently possess discounts.
Contact Athletic Brewing
Some customers have pointed out issues with Athletic Brewing's customer service. Still, the company seems to be striving for accessibility as much as possible. The registered company address is on the website:
37 Vintage House, Albert Embankment, London, England, SE1 7TL. 
Alternatively, a customer can establish contact through the listed email address, [email protected]. However, endeavor to read through the terms and conditions on the contact page before making contact
Athletic Brewing Reviews: Editor's Verdict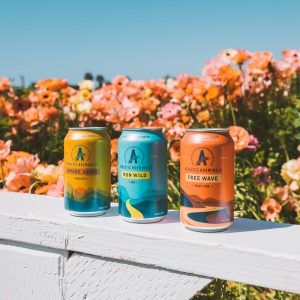 There is a tendency for the company to get ambitious with some of its drinks. Still, innovativeness is essential to growth and success. According to Athletic Brewing reviews, most of their drinks have performed well, satisfying customers and raking in profits. The brand is also one we like: socially conscious and sustainable. With that in mind, we conclude that this is a brand worth checking out, and its products are ideal for non-alcohol drinkers. Our Athletic Brewing review gives the brand a green tick.
Are you still on the lookout for other brands that specialize in drinks? Check out our reviews of Bev Wine, Zoa Energy, and Brothers Bond Bourbon. 
Athletic Brewing FAQs
Is Athletic Brewing Gluten Free?
The company tries its best to reduce the gluten content of its drinks. A more specific answer to the question to the "Athletic Brewing gluten-free" question is difficult to give because not all the drinks are gluten-free. However, it has only classified the Athletic Brewing Upside Dawn Golden Ale as gluten-free.
Who owns Athletic Brewing?
John Walker and Bill Shufelt are the co-founders and owners of Athletic Brewing. This is a common question because the name of the brand gives no indication as to who owns Athletic Brewing. Both men started the company in 2018 and are still going strong today.
Is Athletic Beer healthy for me?
In a nutshell, yes. Athletic brewing beers have minerals (calcium, potassium, magnesium) and vitamins. In addition, they are also light on calories (and carbs) and are appropriate for persons below the age of 18 (or whatever the age restriction on drinking is).
Is Athletic Beer safe while pregnant?
Even though the alcohol content of Athletic Brewing beers is within the accepted range for non-alcoholic beverages, pregnant women shouldn't consume them. No level of alcohol consumption is safe during pregnancy, and pregnant women and breastfeeding mothers should consult their doctors before deciding on the consumption of these beers.