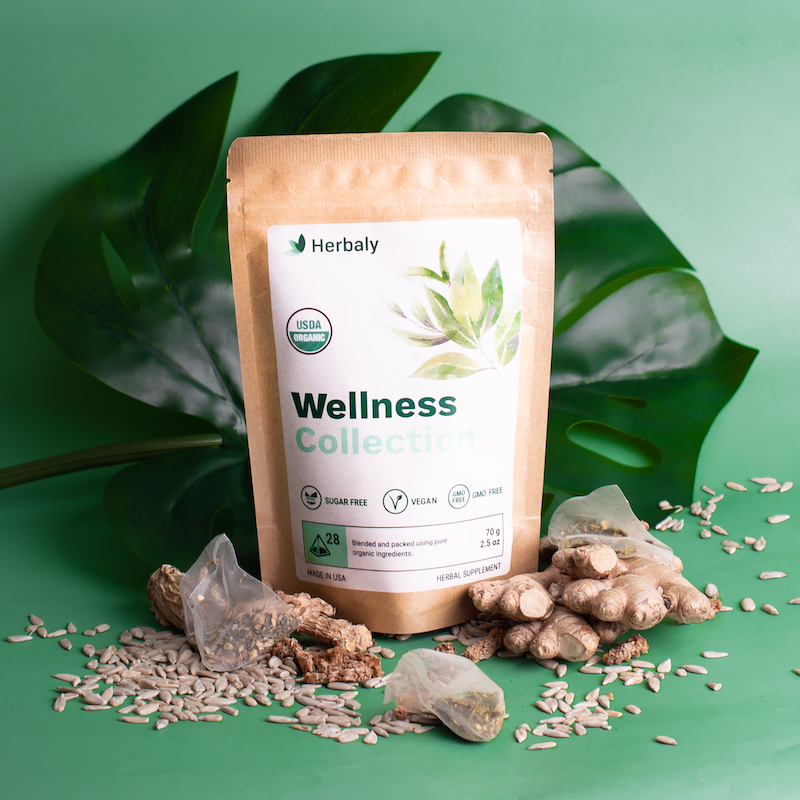 Studies have shown numerous health benefits from drinking tea, such as soothing anxiety, boosting the immune system, and alertness. Sometimes, it also serves as an effective treatment for chronic diseases. However, we've discovered many Herbaly tea reviews that claim this product will have a lasting effect on your general wellness. 
Herbaly offers a pure blend of herbs, fruits, spices, and essential oils that help to increase vitality and wellness. It promotes a rich collection of an organic, all-natural selection of herbs and more ingredients to help your body's immune system. 
If you're looking for a highly-rated herbal tea brand, Herbaly is one of your best. From customer Herbaly tea reviews to high ratings on wellness blogs, it's clear that this brand is doing something right. Keep reading to find out what the hype is about and whether or not the brand offers your money's worth. 
About Herbaly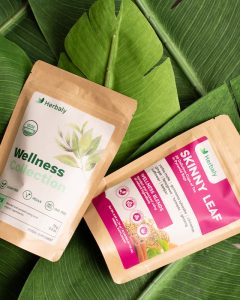 Herbaly is a Montreal-based wellness tea brand that offers an all-natural collection of rich, full spice herbal tea. The brand offers a rich collection of spices, herbs, and fruit blends that help to stimulate both mental and physical wellbeing. It offers a collection of tea that boosts immunity, calms the nervous system, and aids body repair.  
In addition, with Herbaly, you can include a daily tea consumption into your diet to offer extra wellness nutrients that may be missing in your usual diet. It aids fitness and alertness, soothes anxiety and stress, and offers many benefits. Besides, nothing compares to a delicious, soothing brew to help relax your mind, whether in the morning or after a long day at night. 
Herbaly teas aid both spiritual and physical wellbeing and help to stimulate both body and brain. According to the website, the founders (unnamed) of the brand are "best friends and travelers who are passionate about living well." You'll appreciate Herbaly's wide selection of transformative herbal recipes if you relate well to this statement.  
Meanwhile, the brand's social media presence has a growing 5k followers on Instagram and 12k followers on Facebook. As you scroll past multiple smiling faces and positive Herbaly tea reviews on Instagram, and Facebook, you'll discover what real users think about this brand. It is also featured on Zotezo, Everyday Health, Advanced Living, and other wellness blogs. 
Pros
Offers healthy tea blends with all-natural, organic herbs, fruits, and spices

Provides five varieties of tea blends

100% natural stevia sweetener

Diabetic & Vegan friendly

60-day money-back guarantee
Cons
High costs compared to other brands

No Frequently Asked Questions page.
Herbaly Product Reviews 
Herbaly is a wellness brand that focuses on delicious benefit-packed healthy herbal teas that help to regulate the body's immune system. It provides a variety of tea blends and essential oils that support physical, mental, and spiritual wellbeing. In addition, you will also get a healthy dose of nutrients that are often missing in your natural diet. 
This section of our Herbaly tea review will take you through the brand's wide selection of products. Herbaly is also fully-transparent with how each ingredient is obtained and their health benefits. Keep reading to discover what this brand offers and find the best brews to support your physical and mental wellbeing. We'll also confirm if any Herbaly tea side effects should concern you. 
Herbaly Wellness Collection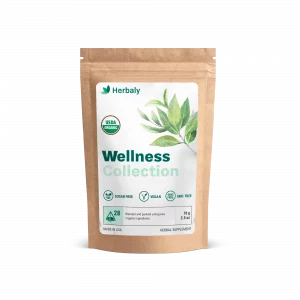 Whether it's better digestion, soothing nerves, mental stimulation, or boosting the immune system, the Herbaly wellness collection offers various kinds of tea that support your body from different angles. The Herbaly wellness tea is specifically designed to support healthy blood sugar levels, manage appetite and ensure healthy digestion.  
In addition, it's the perfect solution if you're trying to combine a healthy diet with your busy lifestyle. One of the main functions of the Herbaly Wellness Collection pack is that it specifically targets blood sugar issues. Although many people aren't aware, an imbalanced blood sugar level can cause diabetes and sluggishness and affect your entire wellbeing. 
Hence, if your blood sugar is too low or too high, a daily intake of the Herbaly Wellness collection tea will help regulate your blood sugar level to ensure a reasonable balance. The formula consists of Sencha tea, a natural antioxidant; ginger & Turmeric to reduce inflammation; fennel seeds; and Tulsi for minerals and blood pressure. 
The tea has a rich flavor that improves with every sip using natural flavors like Stevia sweetener and citrus. The brand boasts of scientifically-backed ingredients that support immune cell function and metabolism and stimulates neurotransmitters (dopamine) in your brain to reduce anxiety. One bag of the Herbaly Wellness tea collection costs $30, and it comes with 28 tea bags. 
Herbaly Dream Vibes Herbal Tea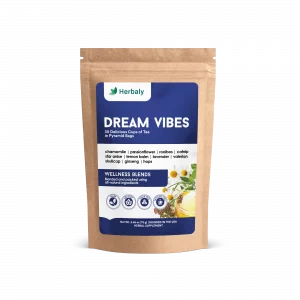 Suppose you have trouble falling asleep or staying asleep long enough to get complete rest. In that case, the Herbaly Dream Vibes tea is the perfect antidote. Several factors like stress, diet, and sickness can affect your ability to stay asleep, which causes more health issues. So, Herbaly offers the Dream Vibes Herbal Tea to soothe your mind and ensure better sleep. 
It is the perfect alternative to avoid pills or synthetic treatments because the tea consists of only healthy, natural ingredients. Herbaly Dream Vibes contains chamomile, catnip, rooibos tea, and hops which are natural calming agents. The blend also contains valerian root and skullcap swoop to aid deep and better sleep. 
The Herbaly Dream Vibes tea is specially formulated to ensure that your body relaxes, which is very important after working all day. It has a strong lavender scent that is naturally relieving and helps relieve stress. These Herbaly tea ingredients have a natural calming effect on the body and encourage relaxation and restful ease. 
Herbaly Skinny Leaf Herbal Tea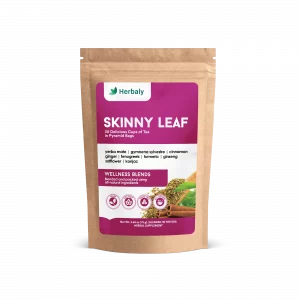 Many people go about weight loss incorrectly, either by imbibing unhealthy dietary habits or using toxic, harmful substances. However, Herbaly offers a powerful blend of nutrients that help to regulate blood sugar and aid weight loss. The Skinny Leaf tea is formulated with essential plants and herbs to restore natural fat-burning. 
In this Herbaly Skinny Leaf tea, you'll find cinnamon which helps to control your blood sugar levels. Gymnema Sylvestre herb is another key ingredient that reduces your ability to taste sweet food. It implies that sweetened food will be less appealing to your taste buds, making removing excess sugar from your diet easier. 
Other ingredients in the Skinny Leaf tea include Turmeric, which is anti-inflammatory, and Ginseng, a powerful antioxidant. This Herbaly weight loss tea includes moderate amounts of caffeine from Yerba's mate that helps to energize and strengthen the body. If you have digestion problems, the tea includes Konjac which is water-soluble and works as a great natural remedy. 
Meanwhile, you should ensure that this tea is part of your regular balanced diet and it doesn't substitute solid food. While the Skinny Leaf Herbaly Tea specifically targets weight loss, it aids your body's natural balance and improves overall wellness. While we're speaking of wellness, don't forget to check out the best superfood powders.
Herbaly Essential Oils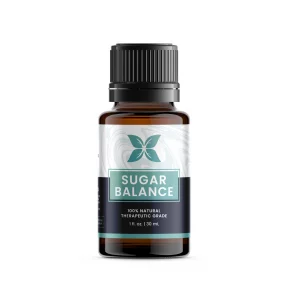 Herbaly's collection of healthy natural products includes pure, quality essential oils which work into your system through aromatic and topical methods. These essential oils are formulated with a strong blend of ingredients that perform different functions and give substantial health benefits. One of Herbaly's bestseller essential oils is the Sugar Balance Essential Oil. 
As the name suggests, the Sugar Balance Essential Oil helps balance your natural blood sugar levels. It works just like herbal tea, except you can only apply it topically or inhale it as it works into your bloodstream. The essential oil contains three elements: lemon, rosemary, and clove, which cleanse the liver, fight inflammation, and control insulin production. 
In addition, the eucalyptus is a detoxifying agent, and it works with all the ingredients to cleanse to create a stable blood sugar balance. You can rub the oil into your skin or add a few drops into your diffuser. One bottle of the Herbaly Sugar Balance Essential Oil costs $24, or you can buy two for $44. Another bestselling Herbaly essential oil treatment is Immune Warrior essential oil, and it also costs $24. 
Herbaly Gummies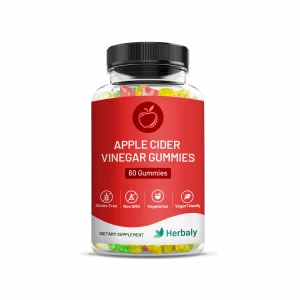 Suppose you're not a big tea drinker but want to enjoy the same health benefits. In that case, Herbaly offers a wide selection of vitamin gummies that you can use as a healthy snack option with your regular balanced diet. It helps you save energy, works well with all types of busy lifestyles, and can serve as a staple food in your household. 
Meanwhile, Herbaly recently introduced its gummies snacks with seven different products, including Apple Cider Vinegar, Elderberry, Hair, Skin and Nail, Joint Care, Fiber, Probiotics, and Turmeric Gummies. Depending on your health goals and dietary needs, you can get any kind. 
Herbaly Tea Reviews From Customers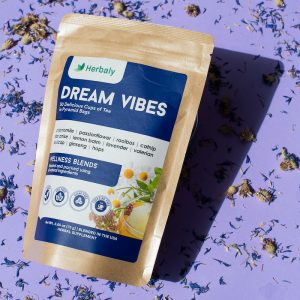 Now that you're familiar with the different types of products that Herbaly offers, it's important to consider the customer feedback on the brand's products and services before settling for a purchase. Herbaly tea has converted many people into dedicated tea drinkers based on the reviews due to its high-quality products. 
The positive reviews are primarily about the tea's richness and great taste. For the Herbaly Wellness Collection, one user stated, 
"I'm not usually a tea drinker (except for chai). I usually don't care for the taste. When I drink tea (including chai), I usually add a fair amount of sweetener. The Wellness tea is an exception. It tastes good even without sweetener, so it's easy to prepare. Plus, I feel good about consuming all the healthy ingredients, and I appreciate the explanation of the benefits of each one." 
We also found another helpful review from a customer who noticed changes in their blood sugar level. "I have been taking the wellness tea, one tea bag per day for the past two weeks; also noticed that my morning blood sugar level has gone down below 100. my level was at a prediabetic level before. I am so happy that this tea helps regulate my sugar level without using the medicine, and I love its flavor too!" 
For the Sugar Balance Herbaly Tea, customers gave excellent 5-star ratings and shared how they enjoyed the lovely aroma and taste. "Had used the Sugar Balance tea before and ran out before my auto-ship date, and Sugar levels had gotten back off track. Now that I started back drinking it, my Sugar levels have lowered tremendously. Now my wife drinks it and saw changes in her glucose levels after the first time she had some of the tea. Works great!" 
The brand was also featured in GoWellness.
Popular Alternatives to Herbaly
Further customer reviews
Meanwhile, we also looked outside Herbaly's main website to find useful, unpaid Herbally reviews on independent blogs. Healthcare Business Review shares that Herbaly tea offers a very convenient brew, and it doesn't take more than 60 seconds. All you have to do is put the tea in a pot of boiling water and enjoy it just as is. 
On Google ratings, Herbaly has an overall of 4.⅖ stars from 3,567 customers. Many people like that it offers carefully chosen and organic ingredients. It also performs well, and many users claimed to see results shortly after starting the tea treatment. 
Sign Up for Herbaly 
You can make a one-time purchase or join the subscription plan to restock your tea stack easily. Sign up for a Herbaly shopping account to enjoy exclusive promotional offers, access to newly launched products, easy subscription management, and a member loyalty program. 
Where To Buy Herbaly Wellness Tea 
If you want to enjoy exclusive deals and discounts, you can purchase your products directly from the brand's website, herbaly.com. However, suppose you're wondering where to buy Herbaly wellness tea products apart from the brand's website. In that case, you can check Amazon, Walmart, and Well.com. 
Herbaly Shipping and Return Policy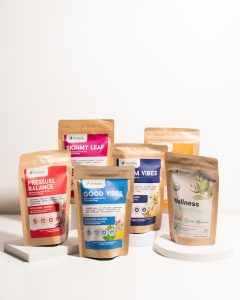 Herbaly offers nationwide and global shipping but has a different shipping policy for every country. It gives free shipping for all US orders that are over $60. You can confirm whether Herbally ships to your location by going through the country list in the address section. Once you have completed your order, you'll get a confirmation mail with your shipping information. 
In addition, Herbaly shipping costs and delivery time will depend on your location and order information. Order processing begins once you place your order. You can contact customer service for more details concerning your shipping or request exchanges, or make updates to your order. 
Meanwhile, you can take advantage of the 60-day returns policy if there is any problem with your order. The brand promises a full money-back guarantee if you're not satisfied with the tea or essential oils. You can begin the return process by sending your name, order number, and reason for return to Herbaly's customer service center. 
Promotions & Discounts 
Herbaly encourages its customers to take wellness seriously by offering different discounts and great bundle prices. It provides; 
Free shipping for orders above $60 

The subscription plan comes with 25% savings 
In addition, the brand has a loyalty and rewards program where customers can redeem points for store credit and future bonuses. Herbaly offers Green Thumb Members 5 leaves for every $1, while subscription members get ten leaves for every $1. 
Contact Herbaly 
If you want to get more information directly from the brand's representatives, you can contact Herbally through: 
Herbaly Tea Reviews: Editors' Verdict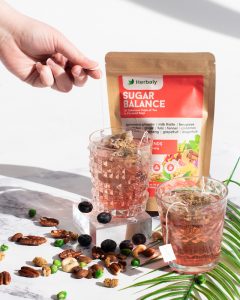 Generally, most meals don't offer all the complete nutrients that your body needs to function. But with a supplementary diet, you can provide your body with all the necessary goodies that help boost the immune system and increase metabolism. Based on the overall Herbaly tea reviews, this is the perfect antidote for complete physical and mental well-being. 
Herbaly is a herbal tea company that provides a rich tea blend with high-quality, all-natural organic ingredients. It helps you develop a mindful diet plan to achieve health goals such as balanced sugar levels, weight loss, hair & skin care, immune cell function, and better sleep. Herbaly wellness tea also has a natural calming effect on the body, and it helps reduce anxiety and stress. 
Our verdict is that Herbaly is one of the best herbal tea brands in the wellness industry, and it is well-known for its quality products. It provides a wide selection of products with premium ingredients, great taste, and long-lasting effects, making this brand worth the purchase. 
Are you looking for further superfood brands? Check out our reviews of Ancient Nutrition, Kuli Kuli, Thrive Market, and Matcha Love.
Herbaly FAQ
Is Herbaly Tea good for you?
Your health and overall well-being are largely dependent on your diet and lifestyle. And, Herbaly offers quality herbal tea that allows you to combine your daily routine with an effective daily tea intake. It is completely free of toxins and harmful additives, making it safe for general consumption. However, it's important to talk to your doctor before starting any supplement diet.
How often should I drink Herbaly Tea?
You can drink your Herbaly tea as often as you like, but you must maintain a regular balanced diet.
Is Herbaly Tea good for blood sugar?
If you have a blood sugar imbalance, the Herbaly Sugar Balance herbal tea is the perfect solution. It works into your bloodstream to regulate your blood sugar levels and provide other functions.
Is Herbaly Tea caffeine-free?
Herbaly offers natural sweeteners and flavors with a blend of herbs, fruits, and spices that aid healthy body function. Some tea blends include natural caffeine contents, so it isn't 100% caffeine-free.