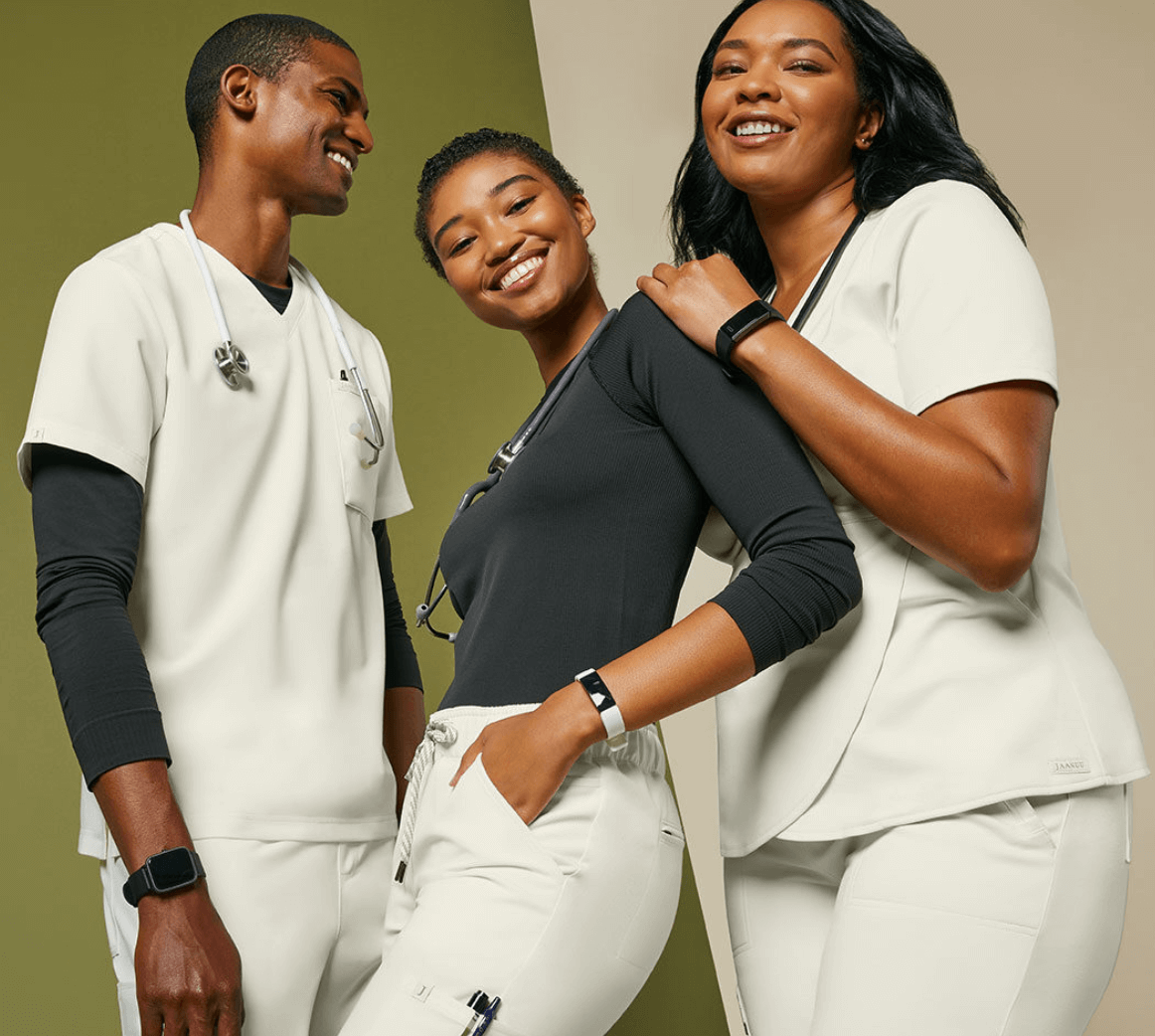 When it comes to nursing scrubs, Jaanuu scrubs are always the talk of the town. Popular amongst students and medical professionals alike, hundreds of people turn to Jaanuu for their comfortable feel, competitive pricing, flattering designs, and superior quality. Scrubs are a necessity in the clinical environment, but that doesn't mean they have to be ill-fitting and boring! Jaanuu's entire medical apparel appeal is about making trendy, well-cut scrubs that are comfortable, affordable, and antimicrobial. They focus on honoring medical professionals and students on their hard work and strength while also allowing them to show up in style! In this comprehensive Jaanuu scrubs review, we cover it all. From the pros and cons to their product range, shipping policies, and exciting promotions and discounts, keep on reading to find out all you need to know about this up-and-coming brand! 
About Jaanuu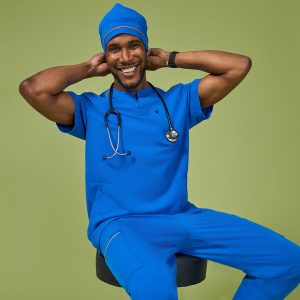 Jaanuu is a contemporary medical apparel brand founded by Dr. Neela and her brother, with a vision of creating products that were "unrivaled in functionality, but also aspirational in style". Their products range from medical scrubs and lab coats to masks, accessories, and more. 
With a medical professional behind its creation, the brand has an interesting and unique story, alongside a meaningful name. The name 'Jaanuu' comes from the Hindi word "Jaan", meaning life.
Jaanuu's motto is equally as inspiring and honest as the brand's purpose- "In reverence to all that life challenges us to face, accept and overcome. Through life's journey, we grow."
Having received excellent reviews and being featured in numerous publications such as Marie Claire, GQ, PopSugar, and Refinery29, it's safe to say that Jaanuu has reinvented what was possible in the medical apparel industry.
With their flattering cuts and unique designs, Jaanuu's collection comprises boundary-pushing medical scrubs that strike a balance between both functionality and style. Carry on reading our Jaanuu scrubs review to find out more! 
Pros
Jaanuu scrubs are priced much more competitively than other medical apparel brands. Their prices range from $50 to $100, and they also offer some amazing discounts to save you some extra cash.

Jaanuu has a wide size variety available, with short, tall, and extended options for men, as well as petite and tall for women. They also have an inclusive plus-size range, which is always a plus!

The scrubs are available in 3 different types of fittings (slim, semi-fitted, and relaxed), allowing you to pick your desired look and comfort preference from a variety of options.

Their style range is currently the best out of all other brands. They've often been called the most "Instagrammable scrubs" for how amazing and sleek they look, without cutting back on comfort and quality.
Cons
A major disadvantage of shopping with Jaanuu is that they don't offer shipping outside US states, Canada, Guam and Puerto Rico.

Unlike many of their competitors, Jaanuu's masks don't come with an air filter lining.

Some customer reviews say that the scrubs aren't always true to size.
Jaanuu Scrubs Sets Review

 
The Jaanuu uniforms collection features soft and stylish scrub sets, available in more than 15 colors, ranging from cell blue to black, wine, white, blush pink, gray, royal blue, and navy.
Jaanuu scrub sets are crafted from incredible SPINryx fabric that's durable, breathable, and functional all in one. The items range from $36 to $54, with a different number of pockets and a special quirk (such as a handy tuck-in or up to ten pockets!) on each item.
Jaanuu also offers embroidery services that can customize your scrubs with any design of your choice for an additional $14. If you don't find what you're looking for amidst their collection, the brand also has a 'Build My Set' option which allows you to create your favorite pair of scrubs by matching a top and pants! 
Jaanuu Pants For Women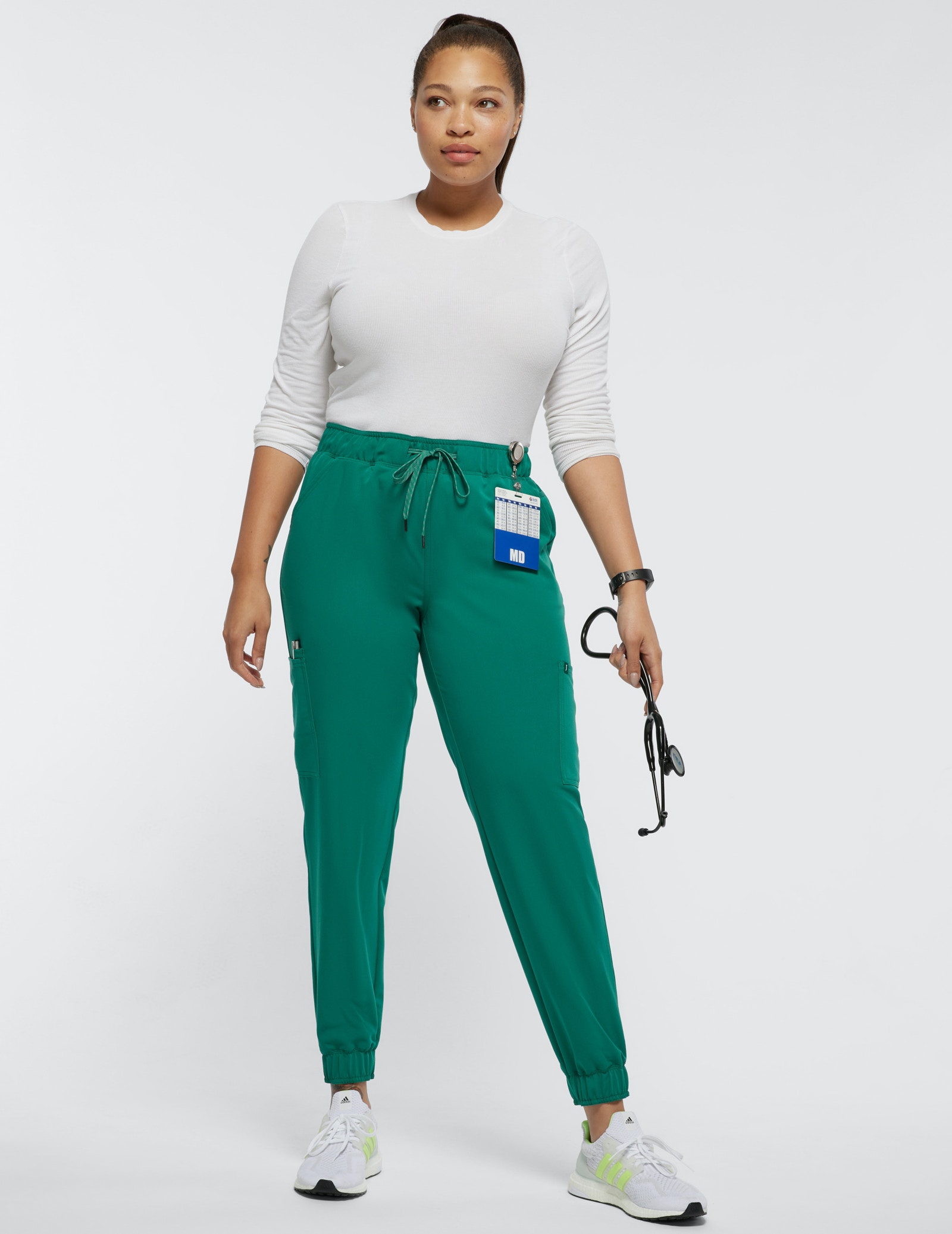 The Jaanuu scrub pant collection is quite literally one of a kind, in both style and variety. Jaanuu's women's scrub pants are boundary-pushing and trendy, doing what's never been done before in the medical apparel world.
Unlike dull, ill-fitting scrub pants that are the general norm, Jaanuu has compromised neither functionality nor style.
Their collection currently features four different styles of scrub pants (straight, jogger, skinny and bootcut), comes in three fittings (slim fit, semi-fit and relaxed), and are available in nine different sizes!
Talk about inclusivity! They even have both mid-rise and high-rise pants with a variety of pockets and functional features that make this collection an absolute dream.
This level of variety is practically unheard of in the medical apparel world and is precisely what sets Jaanuu apart from other brands.
The casual and comfortable design makes them easy to wear while also looking stylish and professional at the same time. Jaanuu scrub pants are made from high-quality FUSEryx and SPINryx fabric, are highly stretchable and provide unmatched durability and comfort.
The scrub pants are wrinkle-resistant, maintain their vibrant color for a long time, and are designed using special Silvadur antimicrobial technology, making them perfect for the clinical environment. 
Jaanuu Tops For Women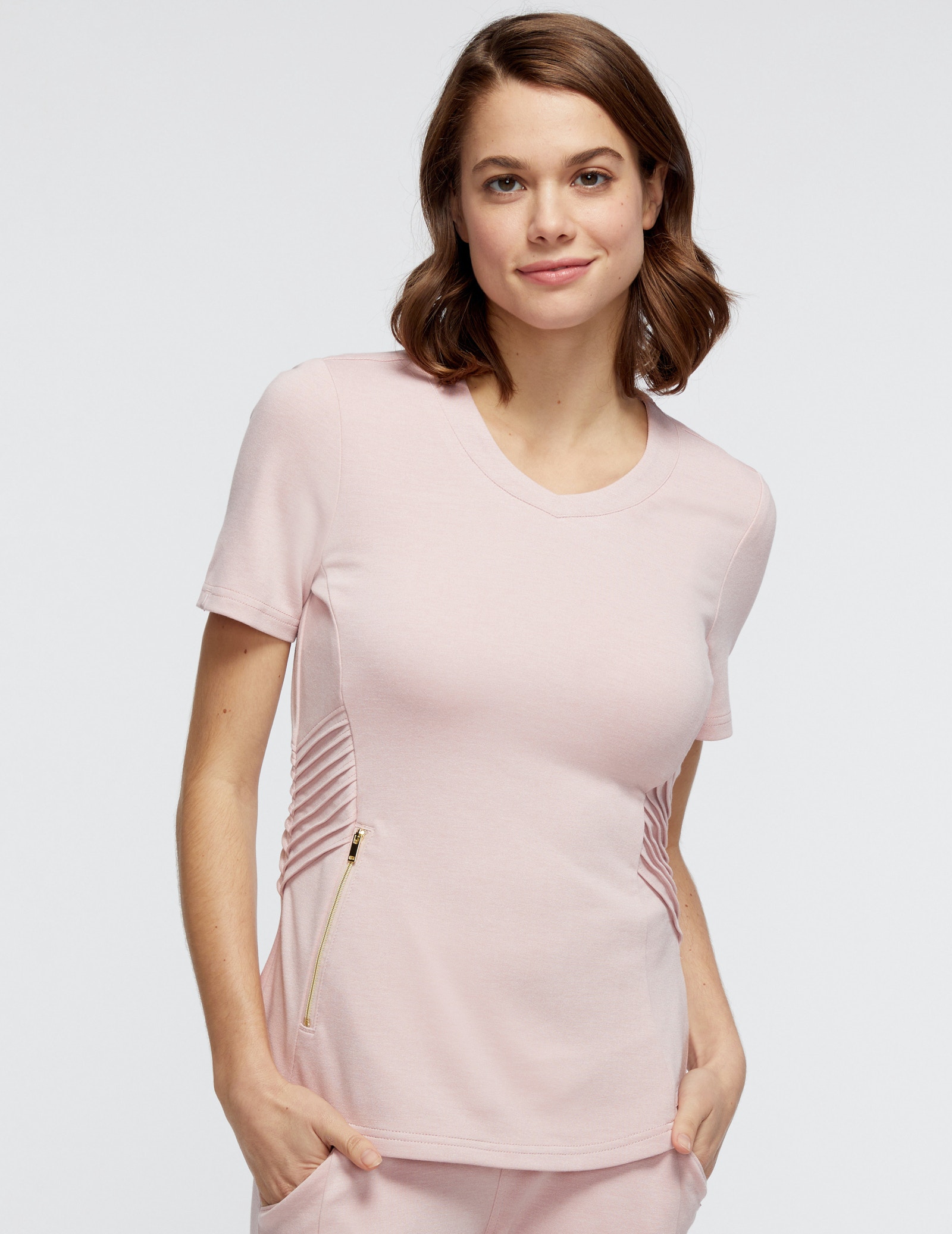 Jaanuu scrub tops are made from revolutionary SPINryx fabric, making them breathable, stretchable, and soft on your skin. These are also available in slim-fit, semi-fit, and relaxed fittings, allowing you to choose what works best for you.
The scrub tops are designed with crew neck and v-neck options and have additional style and functionality features that set them apart in the market.
You can find Jaanuu scrub tops with some trendy puff sleeves, a side-rib zip feature for a tapered waist look, and can even go for a tuck-in top if you like that kind of style! 
Apart from the basics, there are the contemporary mock-wrap tulip tops, along with scrub tops in full sleeves, half-sleeves, and three-quarter sleeves.
For added functionality, the scrub tops are also available in two, three, and four-pocket options and these roomy and practical pockets are most customers' favorite features! Pair it with some comfortable pants and you'll have stylish Jaanuu scrub sets. 
Women's Jaanuu Jacket

 
One of the best-reviewed Jaanuu scrub jackets is the Women's Hybrid Quilt Jacket, a comfortable, lightweight jacket that is perfect both inside and outside the medical room.
This jacket is available in 9 different sizes and four luscious colors (rich olive, blushing pink, wine, and standard black) and comes with a semi-fitted look, keeping you both warm and comfortable at all times.
It's made with stretchy, moisture-resistant fabric, comprising 95% polyester and 5% spandex. The two side pockets are also perfect for any small items you might need to carry, and ultra-soft, stretchy brushed fleece sleeves provide top comfort. 
Jaanuu Men's Tops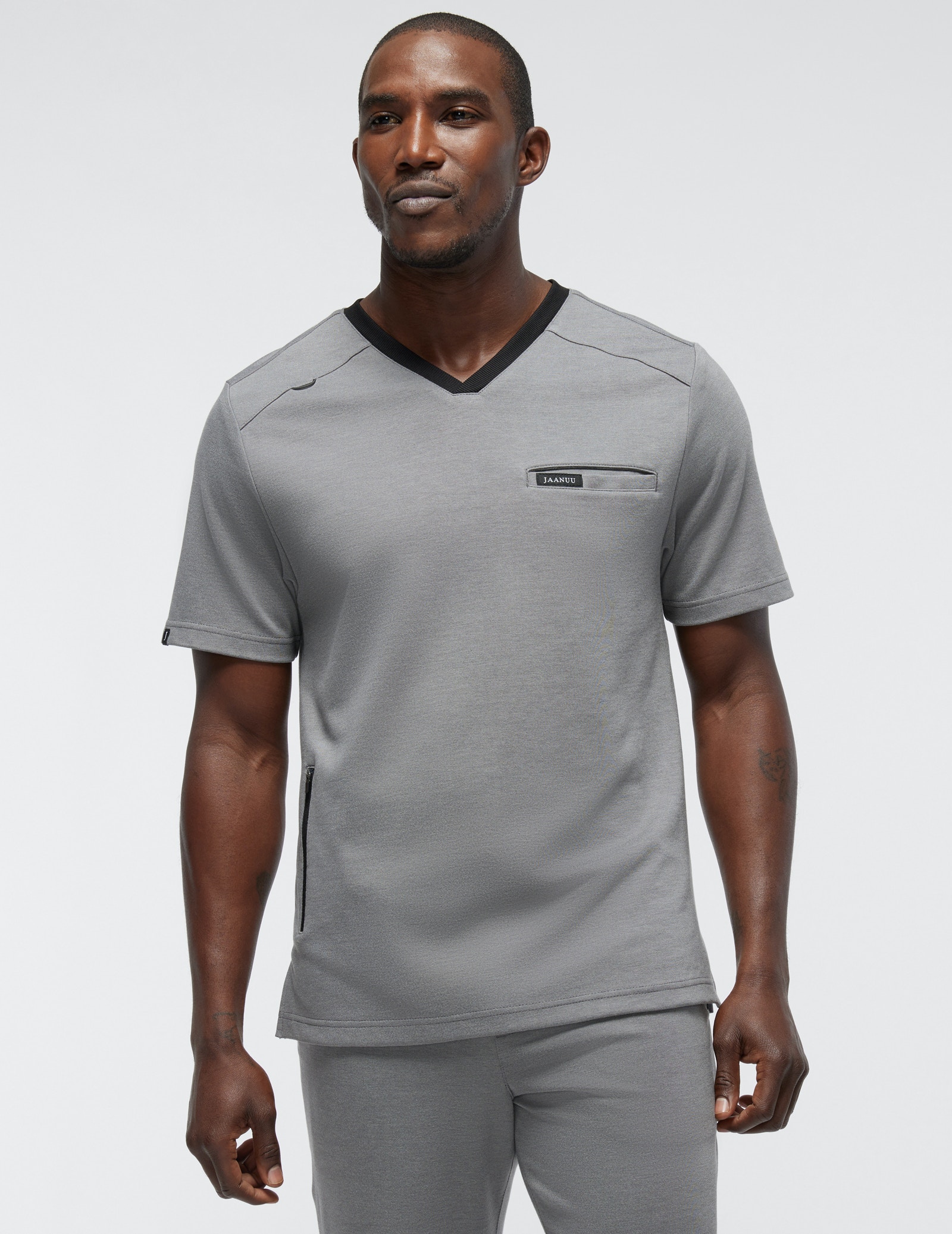 The Jaanuu men scrub top collection is an absolute classic. If you've been wanting to have medical grade protective equipment, Jaanuu is the one for you. Following the iconic relaxed fit scrub silhouette, they bring in variety with the v-neck and crew-neck options, with the 14 different color options, ranging from heather wine to charcoal, classic black, and mauve.
Made with EDGEryx technology, they are available in 2 pockets and 4 pocket designs, which are both practical and stylish. All men scrub tops are made with premium quality wrinkle-resistant and fade-resistant material that is lightweight, durable, and soft to the touch.
With their superior comfort and iconic style, the Jaanuu men's scrub tops are a must-have in every doctor's or nurse's closet. 
Jaanuu Men's Pants

 
Part of Jaanuu's men's performance collection, the Jaanuu men's scrub pants provide high levels of comfort for professionals in the medical field and students to go about their day, with added pockets and features to make the scrubs as practical as they are stylish. 
With regards to variety, Jaanuu again does not disappoint. The scrub pants are available in 14 classic and vibrant colors and both straight and jogger styles.
You also have the option of choosing between an elastic waistband or the comfy drawstring jogger pants, which are extremely versatile and can be used at both work and outside.
Along with the jogger cut, there are also straight cargo pants, merger jogger, and trim-cuff joggers for that extra sprinkling of style! These pants are built with six convenient pockets, allowing you adequate space to carry essentials around without a hassle.
They're semi-fitted so they flatter all body shapes and sizes without being too snug and are built especially with durable and sweat-resistant fabric.
They range from $44 to $58 and are available in regular, short, and tall lengths. With so much variety, eight different sizes and styles to choose from, there's something for everyone in the Jaanuu men's performance scrub collection! 
Jaanuu Scrubs Reviews From Customers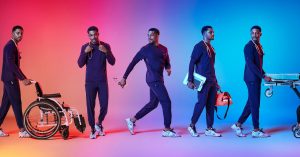 Would this be an honest Jaanuu scrubs review without customers reviews? If there's one way to judge a brand's value, it's through the words of the customers themselves! If you're looking into Jaanuu scrubs and wondering whether they're worth a try, these customer reviews can help you make your decision. 
Jaanuu's masks are consistently rated 5 stars on their website, according to over 17,000 reviews! Their men's scrubs have also been appreciated for the soft fabric and great fit.
One satisfied customer, Ben, reviewed: "Absolutely the best fit, most comfortable scrub shirts (or any shirt for that matter) I've ever worn in my life!!! I'm a new lifelong customer."
Other Jaanuu items such as the women's scrub tops have also received high ratings. One customer said: "Such a comfortable and cute top. I love how different the design and fabric are from so many other brands out there. Very fitted so order a size up if you don't want it snug."
A Jaanuu men's jogger pants review says, "Ok these are by far my favorite pants! the quality of the material is nice on your skin, the color is deep and bold, the pockets are AWESOME (I love the pen slits) but if you like to put a notebook or iPad mini in your pants, the pockets will not hold them. I really like the drawstring as well!"
Some customer problems have been regarding the sizing being too slim fitted, along with some shipping and contact problems. Other than that, their products and customer service have been consistently reviewed well, and they've also received high ratings on sites such as nurse.org. 
Unfortunately, they do not have that many ratings on other review website, such as TrustPilot.
Sign Up For Jaanuu
If you're interested in becoming a member of the Jaanuu brand, you can create your own account and sign up on their website! The process is super simple- all you have to do is provide your email address, name and set a password, and you get added to their mailing list! 
While you can order without having to become a member, signing up for Jaanuu gives you early access to all their new arrival alerts, latest offers, and juicy discounts, so you get the first pick on all the best stuff!  
Where To Buy Jaanuu Scrubs

 
The easiest way to order yourself some Jaanuu Scrubs is through their website, Jaanuu.com. Some of their products are also available on eBay and Amazon, but we would recommend using their official website so you can apply any promo codes at checkout and take advantage of amazing discounts.
Jaanuu Shipping And Return Policy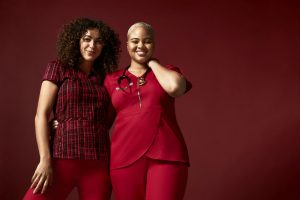 As all Jaanuu products come with an unbeatable 5-star quality guarantee, they allow you to return any product that doesn't meet your expectations within 30 days of your purchase!
As long as the product is unworn, unwashed, not damaged, and has all the tags attached, you get a full refund on your purchase- no questions asked!
However, Jaanuu does not refund any duties or taxes applied to the product, and any product purchased under Gift Wrapping and Final Sale is not eligible for a refund. 
As for shipping, Jaanuu offers completely free shipping on US orders of $50 or more, while shipping fees vary on international orders depending on your location. 
Jaanuu Promotions & Discounts

 
Student Discounts

 
As a brand committed to supporting students on their journey of self-discovery and their efforts towards a bright career, Jaanuu offers a special 15% discount for medical students.
If you're a student, you can apply the Jaanuu scrubs promo code "Students save 15%" at checkout, and a 15% discount will automatically apply to your items! Talk about staying true to your brand! 
Jaanuu even has the option of placing a bulk order for your school! You can get in touch with Jaanuu at [email protected] to learn more details in this regard. 
First-Timer Discounts
You can get a 15% discount on your very first order by applying the Jaanuu scrubs promo code WELCOME15 at checkout on their official website. 
There's also a "Share and Get $25" offer where you get $25 off if you refer a friend to Jaanuu. The friend must be a first-time Jaanuu customer and should make a purchase of at least $75 for the discount to be applicable. 
Contact Jaanuu

 
Jaanuu is an inherently customer-oriented brand, with a promise of standing with medical heroes every step of the way. If you have any queries or concerns about Jaanuu's products or services, you can get in touch with Jaanuu customer service members on the 'Help' page on their website.
All you have to do is fill out a request form with your query, and we expect you'll hear back from them very soon! Alternatively, you can call or text them at 844-542-2688 from Monday to Friday, 6 am to 5 pm PST. 
Jaanuu Scrubs Review: Editor's Verdict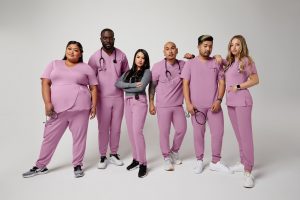 Are you still curious about our verdict after reading this extensive Jaanuu scrubs review? Taking into account Jaanuu's unique designs, elevated style, competitive pricing, and the plethora of happy customers to vouch for them, it's easy to conclude that Jaanuu scrubs are very worth it.
As the person behind the brand, Dr. Neela, is a medical professional herself, the brand goes a long way to cater to the needs of doctors and nursing students, offering exclusive discounts and an incredible product range. 
One major advantage of shopping with Jaanuu is that their scrubs are premium quality and beautifully designed, but are still priced much lower than their competitors.
If you're a nursing student or working in the medical field looking for the ultimate set of scrubs to power you through the day, this review suggests shopping with Jaanuu!
Not only are they the perfect brand for medical fashionistas, but also offer superior comfort and durability– truly the best of both worlds. 
If you are looking for more comfortable clothing brands, here are a few more options to consider: Gymshark, Fabletics, and Everlane.
Frequently Asked Questions
Do Jaanuu Scrubs shrink?
According to some reviews, Januu scrubs do tend to shrink in the wash, so we would recommend being careful when you pick out your size.
As the slim fit also fits very snugly, most reviews suggest getting one size up so that they're comfortable to wear.
How do I care for my Jaanuu apparel?
Although Jaanuu apparel is always of the highest quality, caring for it well will help extend its lifespan even more.
To keep your Jaanuu apparel in top-notch condition, you should machine wash it using only non-chlorine detergent, keeping it inside out and on cold.
The best option is to hang dry, but you can also tumble dry keeping the setting on low. Do not dry clean your Jaanuu apparel and iron on low heat when turning the cloth inside out for best results.
Are the scrubs true to size?
As we mentioned in the previous question, some scrubs might tend to shrink so you should consider whether it's worth sizing them up or not. On one hand, the reviews online claim that they fit true to size and on the other hand they also claim that washing can shrink them.
Where are Jaanuu products made?
Shaan Sethi, one of the co-founders of Jaanuu confirmed that they manufacture products all around the world.
How do Jaanuu scrubs compare to other brands?
Jaanuu scrubs are made with a polyester-spandex fabric blend that is both comfortable and durable. The fabric is also wrinkle-resistant and quick-drying, making it ideal for busy medical professionals. The company offers a wide range of styles and colors to choose from, so you can find the perfect scrub set for your needs.