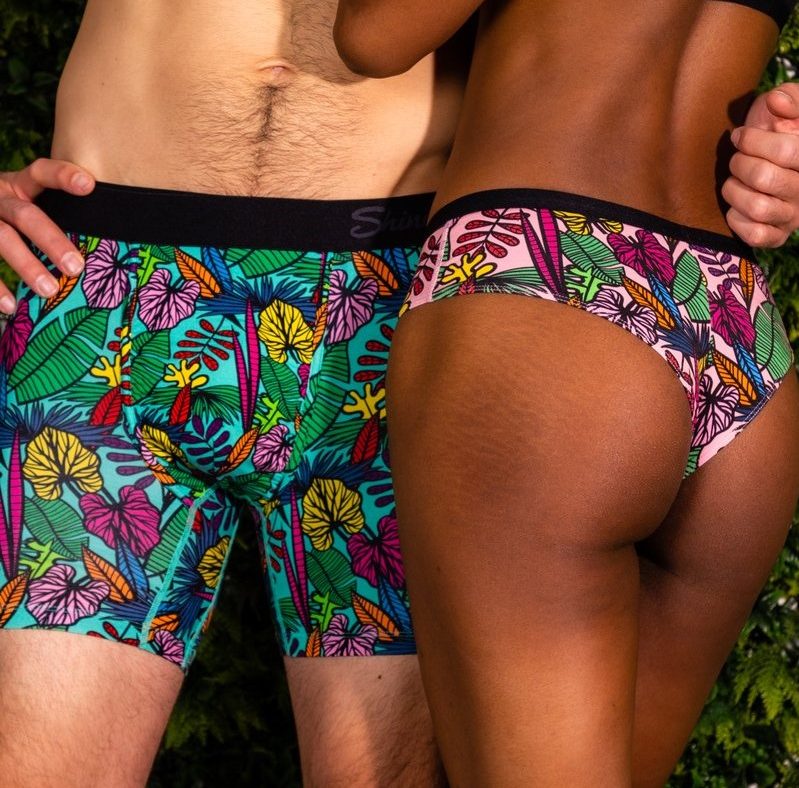 Don't let life get too gray – shop Shinesty! That's the message from this in-your-face novelty clothing brand, which aims to inject color and fun into your everyday wear, from underwear and PJs to party gear and even suits for the boardroom. In fact, the more outrageous the better it seems, as their mission is to force the world to take itself less seriously. You'll see shortly how they're doing it within this Shinesty review.
But joking apart, this Colorado-based brand seems to have struck a chord, as it has gone from strength to strength since its launch in 2014. And tapping into both the world of social media and nostalgia for the party days of our youth has brought the company a strong and loyal following.
But is the bizarre, relatively cheap, and cheerful Shinesty range for both men and women your particular fashion forte? Our Shinesty review aims to unpack the brand, its products, and customer ratings so you can decide whether to add a touch of Shinesty eccentricity to your wardrobe.
About Shinesty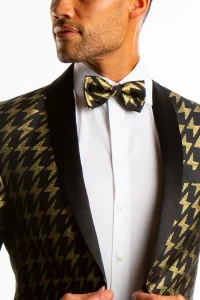 So, is Shinesty legit? Well, doing a few Google searches and looking at its background, this brash clothing company is deadly serious when it comes to selling its unique take on everyday fashion.
The brains behind the Shinesty concept are Chris White and Jens Nicolaysen, who met while studying at the University of Colorado Boulder. Seemingly party animals while at the university, the friends were reluctant to let their love of themed college parties go and quickly realized that they were not alone. So, they set about creating a fashion e-commerce business that would help to keep their crazy dress-up party dreams alive. In 2014 they launched Shinesty, initially selling vintage clothes before branching out in more everyday wear, all designed with the colorful, novelty vibe that remains at the heart of the business today.
Underpinning the brand's launch and subsequent successful marketing was a strong social media presence, which enabled the company to reach its target audience and lead to their first batch of products quickly selling out. Before you knew it, Shinesty got serious about its mission to create outlandish clothes that would bring a little more color to the world and help its customers really stand out. And among its many crazy styles, there are actually some real fashion gems such as their underwear, which have a loyal customer following.
Pros
They offer a wide variety of products for both men and women
The prices are reasonable enough for you to make a one-off buy
Their underwear, in particular, deliver in terms of quality and comfort
An easy to use and good value subscription service
Perfect if you and your partner like matchy-matchy outfits
The ideal range if you love your themed parties!
Free US shipping and returns on all products
Cons
Their loud, novelty designs are not for everyone
The Shinesty customer service is not the best, if customer reviews are anything to go by
No free returns on international orders
Products – Shinesty review
When it comes to the bold and bright, there's plenty to choose from on the brand's website. Here are some of the brand's best-selling product ranges for both men and women to give you a flavor of what you can expect.
Shinesty Men Review
Stuck wondering what gift you can buy for the man in your life? Then look no further than the provocative and undoubtedly colorful Shinesty range for men, which includes:
Shinesty Underwear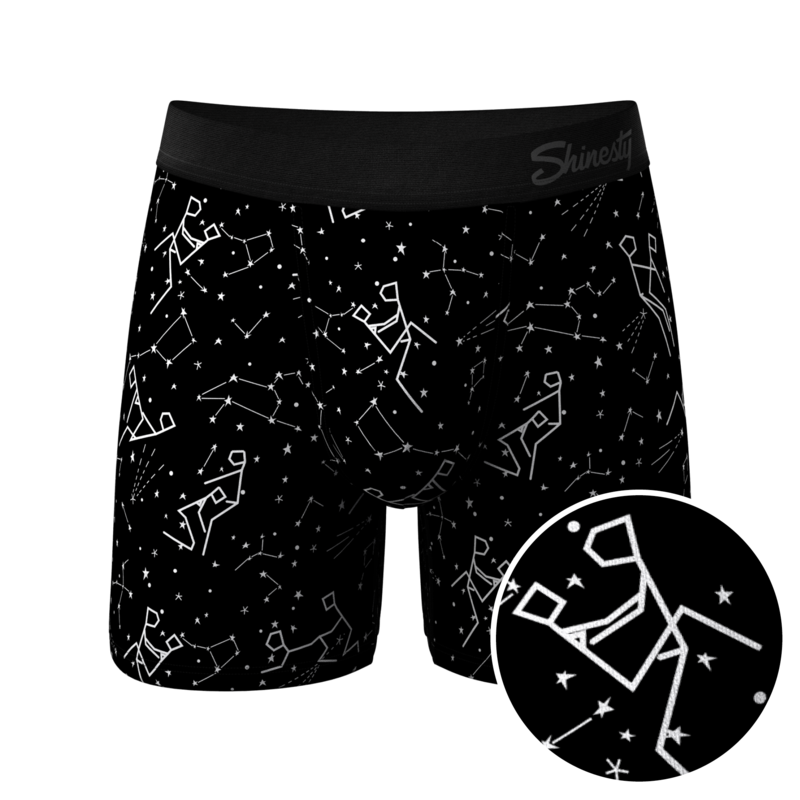 When you scan reviews on the internet, it's the boxer briefs that consistently come out tops. And none more so than their range for men, which includes the awesomely named Shinesty Ball Hammock.
The Ball Hammock Shinesty Boxer briefs, which as the moniker suggests, are comfort underpants that claim to offer additional support for the male undercarriage thanks to an inner hammock. Made from super-soft fabric that is both wicking and breathable, wearers say these pants feel comfortable against the skin and with its four-way stretch, fit snugly without any bunching. And as you would expect from Shinesty, these ball-cradling wonders come with or without a fly and in an eclectic mix of colors and cheeky patterns, from a naughty stellar constellation to an urban cool camo design.
You can also choose a longer leg design as well as ball hammock pants for kids. And for when the heat is on, you can opt for the Shinesty Ball Hammock Cooling Boxer briefs which will help to regulate temperature better than ordinary cotton pants.
For all this design tech and quality material, Shinesty's underpants for men are not the cheapest, but you can save up to 38% if you join their subscription scheme. And you can also save up 33% on multiple pant packs. As a final touch, all their pants can be matched, design and color-wise, with your female partner's own Shinesty underwear.
Crazy Party Suits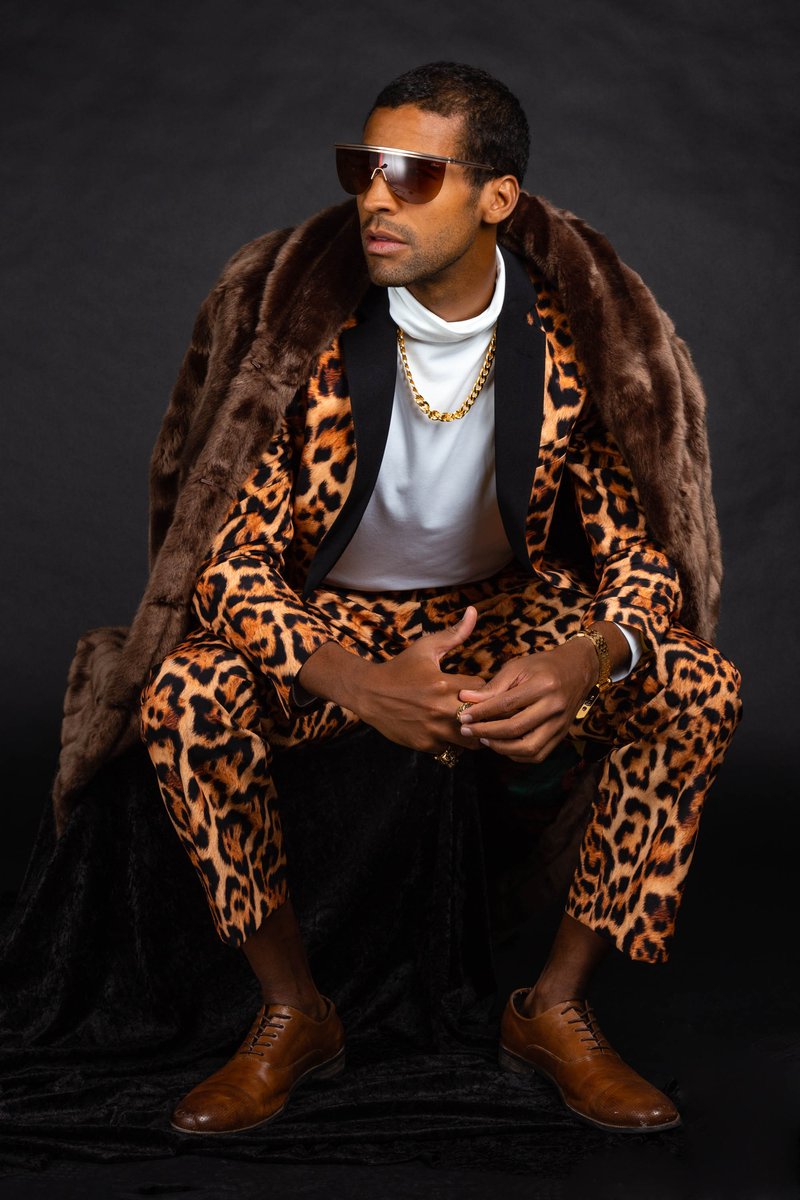 Perhaps not best suited to a formal boardroom meeting (but then again, you may want to make an impression), Shinesty does a fine line in 'crazy party suits' that could be difficult to beat. Starting from around $100 for a jacket and rising to over $250, these suits do have a tailored feel and include a sharp-shaped jacket and straight-legged pants.
You can even buy the tie to match if you want to complete the crazy but coordinated look. Ok, the material isn't top end, but the polyester is quality, and the final finish is good.
Our Shinesty suits review struggled to pick its favorite design, as the choice is wide, from Santa sharp suits and candy stick patterns to beach suits in a suitably tropical pattern. You can also choose a more sedate look with head-to-toe plaid, and who wouldn't want a Christmas tree design this Holiday time?
The size range is decent, with a choice of 11 chest and waist measurements and you can buy everything as separates too or add a pair of matching shorts for a winter to summer vibe.
Shinesty Tops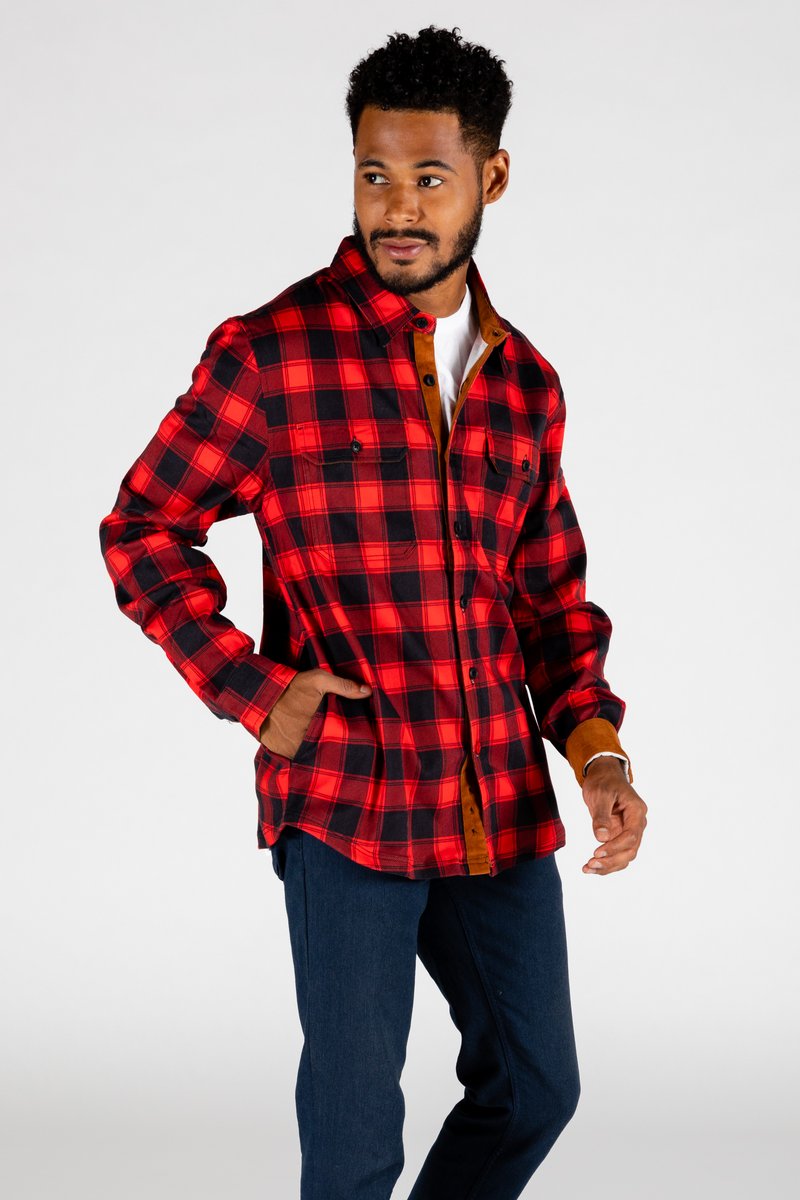 Shinesty is committed to the party, and so would be remiss if its range didn't include the novelty jumper and Hawaiian style shirt. Yes, you get the usual Christmas and tropical designs, but there are a few other curveballs thrown into this range to really get you noticed. A candy patterned turtleneck, anyone? Or, how about an animal print fleece hoody to complete your Shinesty look.
But their tops for men are not all novelty designs as there are some surprisingly stylish shirts that are still colorful enough to still make the Shinesty brief. And if vintage styles are your thing, then you could be spoilt for choice.
Pajamas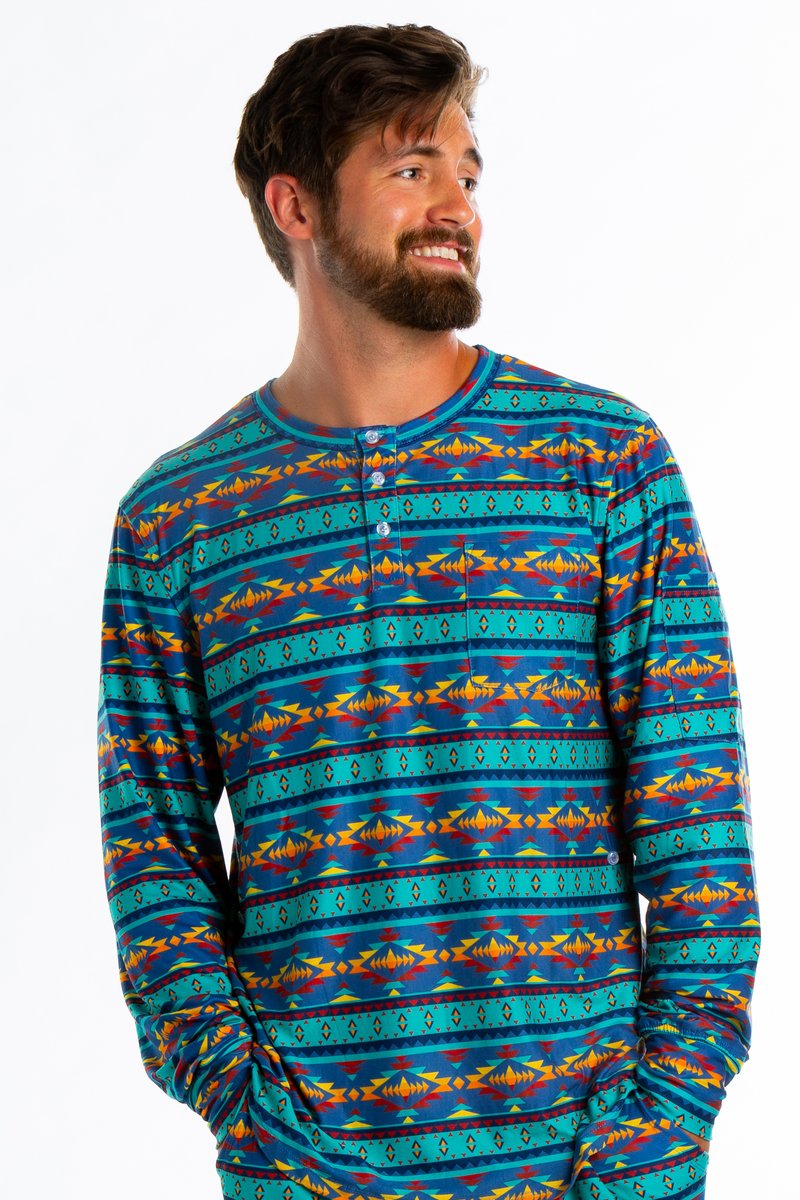 You'd be right to suspect that Shinesty doesn't do ordinary nightwear but if outlandish lounge gear is your thing, you won't be disappointed! Most of the Shinesty Pajama range is obviously suited to the Holidays and toasting days – and nights – inside beside the fire, but there are designs that can easily be worn at other times of the year.
Think plaid PJs, woolly knit onesies, and retro nightshirts, all in vibrant and dare we say it, tongue in cheek patterns and you get the picture. Add in sleepy nightcaps, complementary underwear, and the choice to go matchy-matchy with your partner's own nightwear and you'll be cozily dressed from head to toe.
Shinesty Women Review
So, can the Shinesty women's range match the quality quirks of the men's? We look at the Shinesty women's range so you can make up your own mind.
Underwear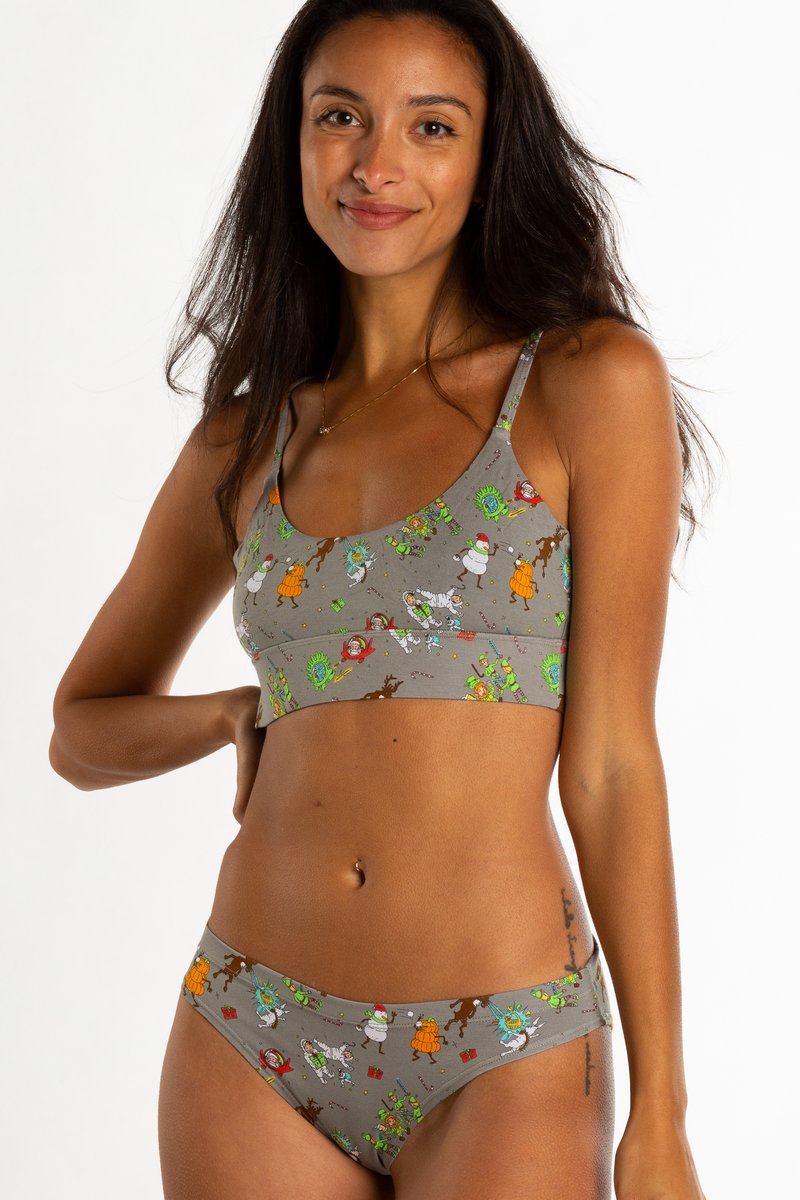 The secret to Shinesty's underwear for women, it appears, is its seamless approach to design. And with no seams, you don't get any unsightly bulk but a smooth silhouette and no lines. When conducting our Shinesty underwear review, it quickly became clear that their women's underwear line is the most mainstream and actually offers some rather lovely pieces. But if you do want to jazz your pants up in Shinesty style, they won't disappoint as you also get the choice of some funky and out-there patterns.
You get the standard shapes – boyshorts, bikini, thong, and the cutely named cheeky – plus matching bralettes and cropped bra tops which all come in sizes from XS to XXL so plenty of choices when it comes to fit. And the colors range from after-dark black to vibrant patterns, including lumberjack, Mrs. Claus, mistletoe, ribbon, and even pumpkin pie!
And if you and your partner like to be matchy-matchy, then coordinated underwear can be a whole heap of fun. All the women's underwear range is also available as part of the subscription and bundle offers so you can also save up to 30%.
Party Dresses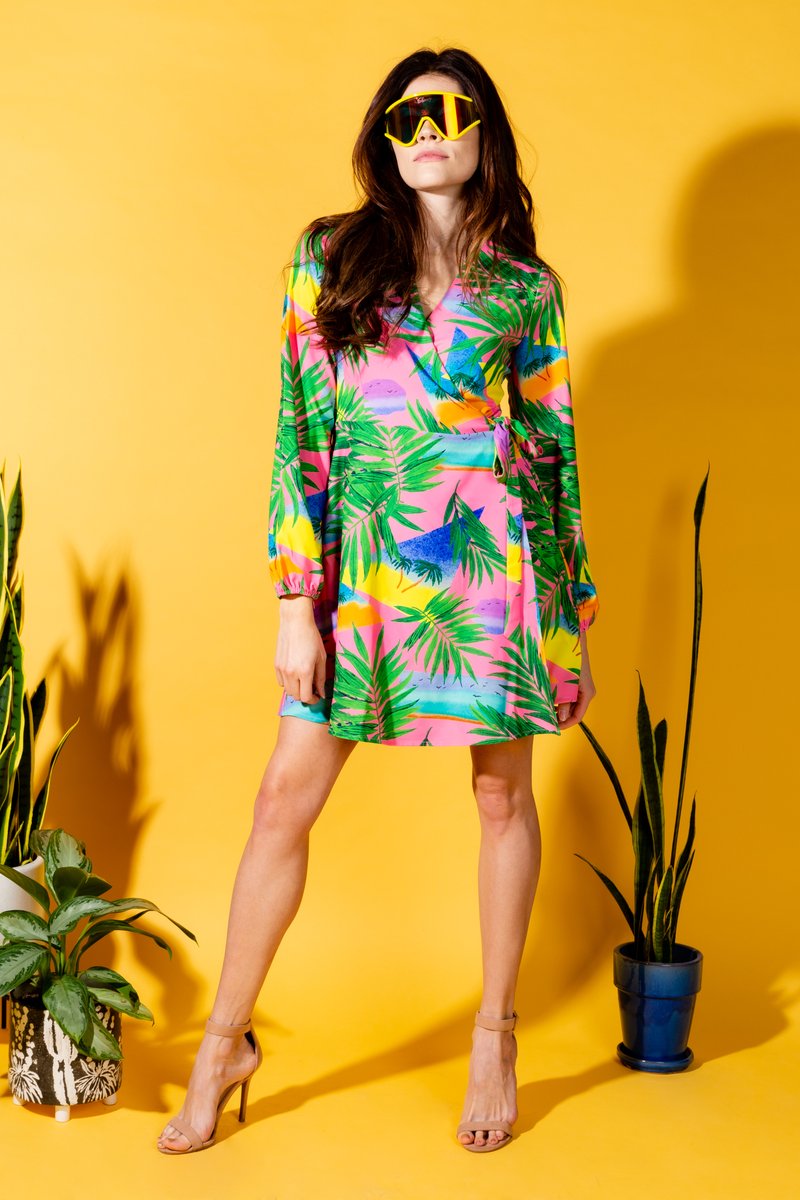 Considering the maverick tone that Shinesty tries to set, what is a surprise is how attractive their party dress range really is! Yes, there are novelty patterns and color brights that will leave you reaching for your shades, but the designs are highly wearable, come party time. And they have styles for every time of the year, from beach parties to Christmas.
Choose from pretty strappy dresses and summery wraps long-sleeved tunics and pinafores as well as more form-fitting seductive styles. The materials seem good quality too and include crepe, cotton, and figure-hugging spandex to see you from day to night. Shinesty party dresses start at around $70 although you can also buy separates for under $40 meaning the range won't break the bank.
Shinesty Christmas Pants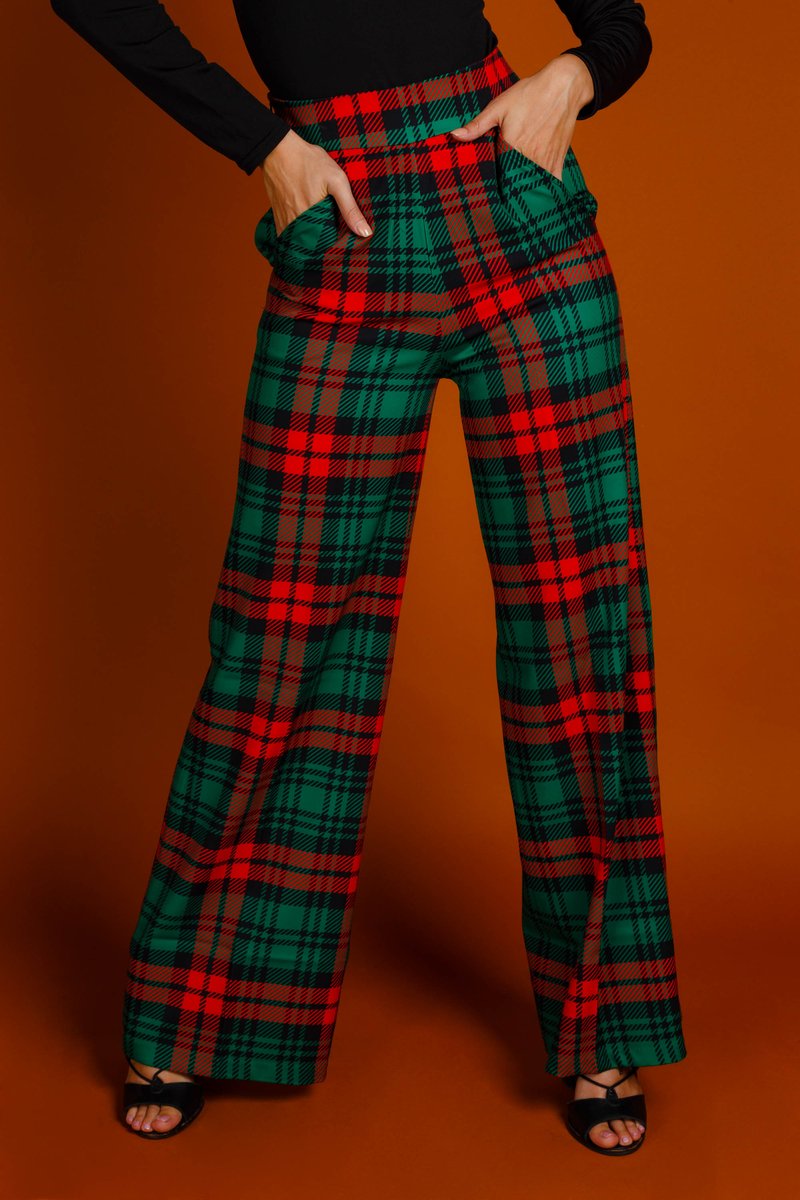 Who knew Christmas pants were a thing, but it seems Shinesty is fashion-forward if patterned trousers float your style boat! While they may sound gimmicky – and admittedly some of the patterns are – Shinesty Christmas pants are a stylish alternative to your seasonal party dress and can even give your outfit a more grown-up look.
Worn with bandeau or any other designs from Shinesty's women's top range, you get the choice of retro wide-leg pants, cropped culottes, and pajama-style bottoms, which can look funky, dressed up or down. Then there are playsuits and the fun look that is Shinesty's pajamas, bringing together sleepwear style with overalls!
Ok, the Shinesty pant collection is on the pricier side, starting at $50, rising to over $90 for more formal trousers. But add in the obligatory Christmas patterns – all the classics are there – and you have the perfect pants this Holiday season, and many more to come.
Tops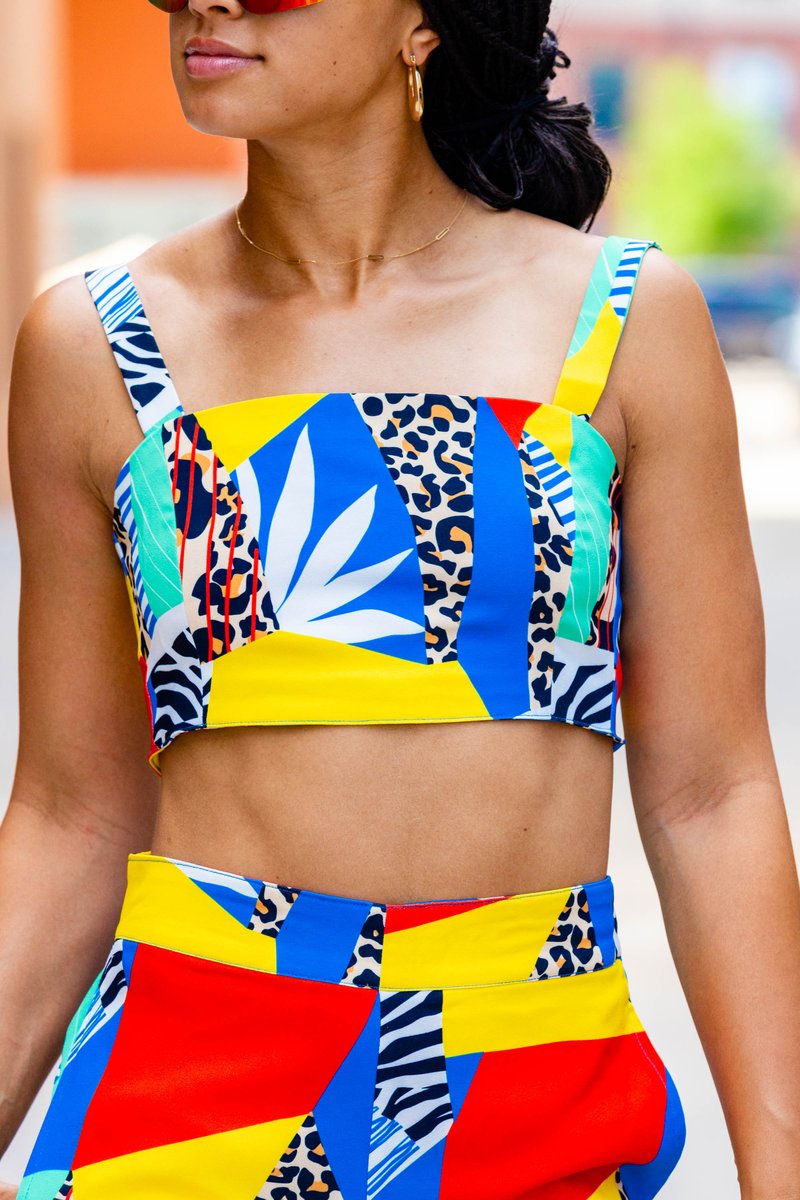 From Christmas jumper crazy to midriff-baring party tops, Shinesty stays just on the right side of cheesy with many of their women's tops patterns. But if plain sophistication is more your thing, then there are also a few classier options in their range.
And there are a few items that quickly stand out – their crop top sets are super-cute and can be worn together or with other items for extra versatility. Christmas patterns also abound in their current range, including a surprisingly stylish gingerbread pattern turtleneck and the wonderful Christmas jumper made for two. Yes, you did read that right!
With prices starting from around $30, a top from Shinesty could also make a lovely present for the fashionista in your life…or a fun treat for your own wardrobe.
Shinesty Review from Customers
One look at the product range and there is no doubting the novelty vibe that dominates the whole Shinesty brand, and which may or may not put some customers off. But looking beyond first impressions and on their own website at least, the reviews largely tip into the positive or very positive range.
Leading the good feedback is their underwear, which according to many customers balances humor with a practical product that is both well-fitting and well-made. And it is the men's underwear, including the associated subscription service, that appears to come out top, with an average customer rating of 4.5/5.
"Actually thought [the ball hammock underpants] were a joke gift but he loved them so much I had to get him more", "I cannot wear any other underwear anymore!", "Great subscription service. Love the crazy patterns and oh so soft."
Move away from the website, and overwhelmingly positive customer reviews are a little harder to find, although comfort and fit still rates highly across all products, which gives them an average plus 4 stars on Amazon. But it seems it is the Shinesty customer service that comes in for more of a hard time. Issues with delivery, slow refunds, and inaccessible customer service are the most common complaints by reviewers, although many customers state the customer service is excellent, it can be concluded that it seems to be a little hit and miss.
On TrustPilot they also rank very high with only a couple of complaints, but an overall score of 4.2 by 392 customers.
Sign Up for Shinesty
Shinesty prides itself on its customer engagement and works hard to build a relationship with its followers, based on its ethos and unique sense of humor! To get your regular dose of Shinesty world, you can sign up via the Shinesty website for their newsletters.
And then there is the Shinesty Subscription Service, which will require you to create your own Shinesty account.
Where to Buy Shinesty
Your main port of call for the full range of Shinesty products is the company's own online store at shinesty.com. Away from their website, there are very few other online stores where you can buy Shinesty, other than Amazon, which tends to only stock the range's bestsellers.
Shinesty Shipping and Return Policy
First up, the good news – Shinesty offers free delivery, exchanges, and returns to all domestic orders in the USA. They use UPS and FedEx for delivery, which can be as fast as one working day if you order before 12 pm.
Overseas shipping is, however, subject to a charge and the cost will depend on your location as Shinesty ships to more than 190 countries, worldwide. The average delivery time for overseas orders is between four and six business days.
When it comes to returning goods bought from Shinesty, you get 30 days from purchase, if you change your mind, and returns in the US are free. The items must be unworn and in the original packing wherever possible.
The main exception to note is underwear, which cannot be returned for a refund once bought, even if they are unworn and unopened. However, you can get a store credit.
For orders placed within the US, you can download a return label from their website. The company does not offer this service for orders placed overseas and so if you are outside of the US, you will need to pay the return shipping fees. The return address can be found on the Shinesty website.
Shinesty Promotions & Discounts
Searching their website, promos and discount offers are a little thin on the ground, although you can save $20 and so can your bud as part of their Refer and Friend scheme. They also have a sale section on the website, and you can save on your underwear too if you sign up for Shinesty's subscription service.
Contact Shinesty
It's understandable if you think Shinesty doesn't really want to talk to you as their telephone contact details can be difficult to find on their website. But it is there, and you can call a real, live human Monday to Friday between 9 am and 5 pm on their General Customer Service Number: +1 (720)-784-3986.
However, as this is the digital world and its target audience is assumed to be happy in this space, then their customer service team is more readily available via their website, where there is an easy-to-use contact form, or by email – [email protected].
What is good is that Shinesty has a fairly comprehensive Help and FAQ section on their website where you should be able to resolve the more common issues.
Shinesty Review: Editors' Verdict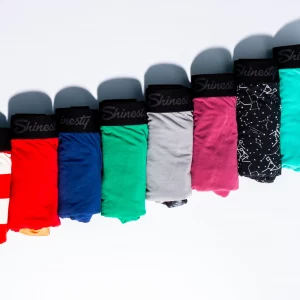 Loud, brash, over the top…. or cute, humorous, stylishly outrageous? Shinesty is a clothing brand that can split opinions. But as it likes to stand out in the crowd, we really don't think Shinesty would be too offended. Instead, this is a brand that if it floats your style boat, will be a website you'll come back to, again and again. And look past all the crazy, out-there designs and fabric patterns and you actually have a clothing range that overall offers well-made items that are comfortable and have a good fit.
This makes us feel that Shinesty knows its customers, likes to have fun and enjoys bringing you along for the ride. And if well-made, mid-priced novelty clothing is your thing, then Shinesty should be (or most likely, already is) on your fashion radar.
Where the brand may falter a little is with its customer service, which if you follow the reviews, also splits opinions. Returns can seem problematic, especially with overseas orders and if you like to speak to a live human rather than a chatbot, then you may have to work a little harder to get in touch.
In short, if your purchases are suitable and you are going to keep them, happy days but if you need additional support or want to return anything, the Shinesty service can become a bit hit and miss.
Still on the hunt for the perfect underwear? Check out our reviews of Tommy John Underwear, Modibodi Underwear, and MeUndies Underwear.
Shinesty FAQ
Where is Shinesty made?
With the company HQ based in Boulder, Colorado, they don't have a specific manufacturing site, they do work with numerous contract partners, both in Asia and in the US. They also sell products from around 60 other brands.
How do I unsubscribe from Shinesty?
Famous – or should that be infamous – for their edgy customer communications and, in their own words, 'weird' e-newsletters, Shinesty's subscription services are also a popular customer feature. Via a Shinesty subscription, you can sign up to repeat orders of your favorite underwear.
But if you do wish to unsubscribe from their communications, including catalogs, there's a simple to use click-through at the bottom of their website's home page.
To cancel a Shinesty subscription, you need to be a little more proactive by either updating your preferences on your Shinesty account or asking their customer service team, via [email protected], to do it for you.
Do Shinesty suits run small?
Shinesty is very honest about this and mentions that you should size up in the suits. These have a slim-fit design so you want to feel and look comfortable.
How long are Shinesty boxers?
The standard boxers are usually 3-4 inches long. Shinesty boxers also come in a long size and they claim to have added an extra 2.5 inches. If you prefer for your boxers to come down to your thighs then the long ones are worth the try.