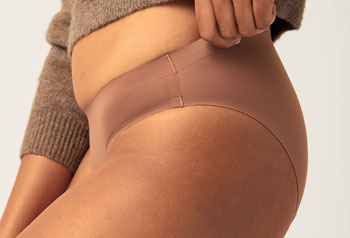 If you've searched for period-proof underwear before, you have most likely come across Modibodi. Popular among influencers and press alike, appearing in titles such as Marie Claire and Cosmopolitan, Modibodi is the leader in the period underwear market. Modibodi took it upon themselves to not only openly talk about topics like menstruation, pregnancy, or post-pregnancy, but also provide an innovative way of dealing with the issues a period and incontinence can cause. This is what we're going to explore in our Modibodi underwear review.
Modibodi offers reusable leak-proof underwear that is moisture-wicking, absorbs all the leaked liquid, and replaces tampons, pads, liners, and menstrual cups. According to the brand, none of those are needed anymore, as long as you wear a pair of Modibodi. But does Modibodi's underwear really work and does it deliver what it promises? And is the brand really worth your money? In this Modibodi Underwear review, we delve deep into the company, answer these questions and more and we examine the existing customer reviews and ratings to give us an even better idea of whether Modibodi is worth it or not.
About Modibodi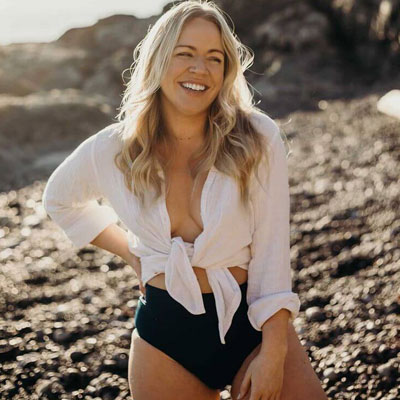 Modibodi is an Australian sustainable brand of leak-proof undergarments designed to absorb any moisture and liquids like sweat, periods, or leaks caused by conditions such as incontinence. Now, Modibodi eliminates the need for wearing a pad, tampon, or a menstrual cup and either replaces or reduces the use of all period products.
Modibodi promotes inclusivity and body positivity and supports this by the casting of its ads and imagery which shows many different body types and skin colors, as well as its sizing which generally ranges from size XS to 6XL. The brand started by designing underwear for women but since its launch in 2013, lines for men, babies, and teens, as well as maternity wear and swimwear have been also added to Modibodi's line of products.
Modibodi was started by Kristy Chong following the birth of her second child when she herself struggled with bladder leaks. That prompted her to design the now patented Modifier Technology panties which can hold up to 20ml, the equivalent of 3 tampons.
More about the brand
The brand is very conscious of environmental and social issues and does its part to help. The reusable Modibodi undies eradicate the need for single-use tampons and pads which go straight into landfills when discarded. Modibodi is also on a quest to end period poverty so a small percentage from every purchase made goes towards donating a pair of the period-proof undies to women in need across Australia.
To date, the brand has donated over 23 000 pairs of underwear. The brand takes part in providing educational programs around women's health issues, including period, menopause, and incontinence, and encourages openness and reducing shame around these topics. The company is so passionate about these causes that it is woven into the brand's identity. Alright, let's get into our in-depth Modibodi underwear review.
Pros
Very inclusive sizing - ranges from size XS to 6XL
Wide range of styles and colours
Product quiz is available if unsure what pair of undies is best for your specific needs
60 day trial for first-time customers
Modibodi underwear replaces tampons and pads which create waste, the packaging is compostable and materials are eco-friendly
Delivers worldwide
Offers student and youth discount
Cons
More expensive than most underwear brands
Pricey delivery charge of $10 for orders under $75
Not readily available in physical stores for you to be able to feel and/or try the product before purchasing
Modibodi Women Underwear Review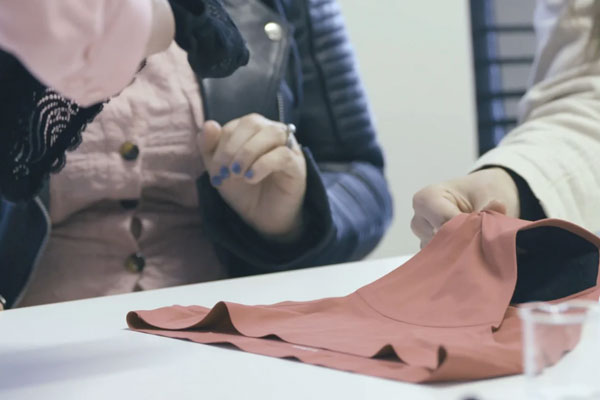 Modibodi is most known and popular for its absorbent period underwear for women which provides protection from leaks due to their high absorbency while staying dry and odor-free. When selecting your undies, the website gives you two different sets of categories, either by style or absorbencies. As for the latter, the brand uses several fabric combinations and technologies made for different circumstances and various levels of flow heaviness, depending on how absorbent each material is.
All Modibodi period underwear is made with the top layer of the gusset in merino wool which is naturally antimicrobial, wicks away moisture, and repels odor but is also a renewable resource and biodegradable, therefore it is in line with the brand's sustainability ethos. The other materials used on the rest of the underwear are:
Bamboo viscose as bamboo grows abundantly without the need for any pesticides or causing damage to the soil.
Organic cotton with a GOTS certification (Global Organic Textile Standard)
Recycled nylon sourced from textile factories prevents unnecessary waste from going into landfills and waste of energy to make virgin nylon.
Modibodi Categories
Moisture Wicking using Modifier Air Technology which is an extremely light and thin fabric at just 1mm. It is breathable and very effective at absorbing sweat while keeping you dry. Perfect for hot days, exercise, or any high sweat situations.
Super Light, Light to Moderate, Moderate-Heavy, and Heavy-Overnight all use the patented Modifier Technology, the innovative material that Modibodi introduced to the market with its original launch is now much loved by the brand's customers. Consisting of three layers – the merino wool top layer, a microfibre middle layer, and a waterproof outer layer, it is only 3mm thick. The absorbent lining can hold 5ml of liquid which is the equivalent of one tampon for the Super Light category, 10ml/two tampons worth for the Light-Moderate, Moderate-Heavy styles can hold 15ml of blood which is the same as 3 tampons and Heavy-Overnight can absorb up to 20ml, same as 4 tampons.
Maxi-24 hours utilizes the Patent-bending Maxi-24Hrs Technology which provides maximum protection for all day and night, holding up to 50ml of liquid without leaking, the equivalent of 10 tampons. The gusset is thicker at 6mm, but the material gets thinned down to 3mm at the waistband. This material is ideal for those with a heavy flow or frequent bladder leaks.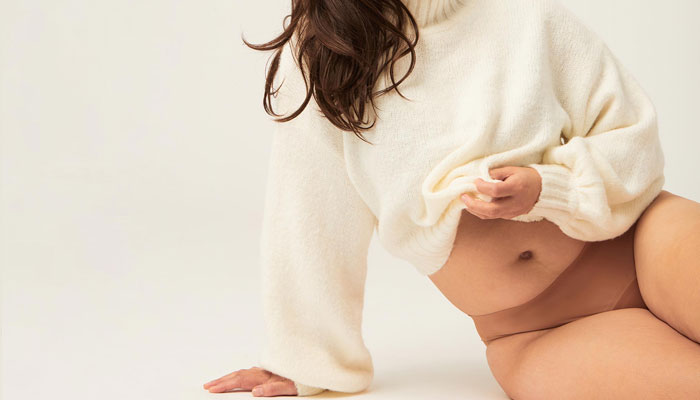 As the brand offers a wide range of products these days, the website provides a helpful hand. This comes in the form of a product quiz that will match you up with a shortlist of styles. There's a series of questions such as:
What leaks are you looking for Modibodi to help with?
How many times do you need to change your tampon on your heaviest day?
How do you prefer your underwear sitting on you?
Modibodi Bikini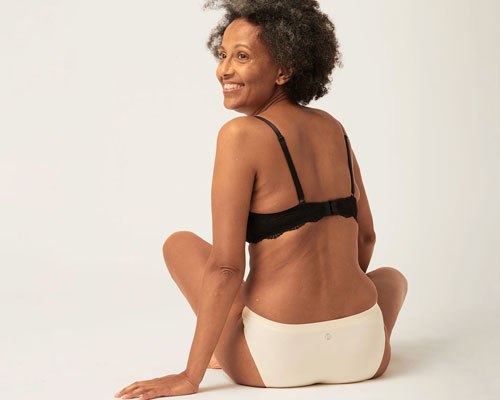 The classic bikini cut sits on the hips with a higher leg compared to some of the other styles by Modibodi. The prices range from $19.50 to $30 per pair, depending on the material and absorbency. The heavy-overnight classic bikini style made with bamboo viscose is one of the brand's all-time bestsellers but the range also includes seamfree bikini styles, made with extremely smooth recycled fabric, that disappears under your clothes while keeping you protected.
The no-dig seamfree underwear is designed to act as a second skin and therefore be both invisible and snug. The bikini comes in a variety of colors. Some styles are only available in black or nude but many come in bright colors like hot pink, lemon yellow, or turquoise.
Modibodi Full Brief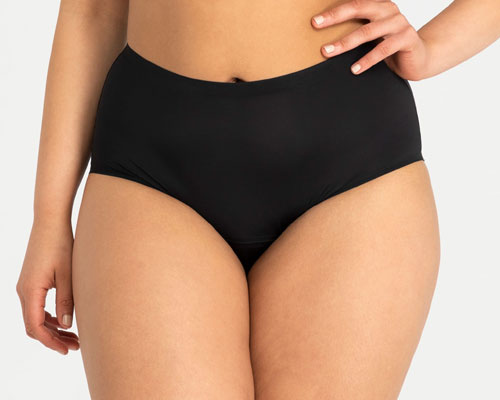 The full brief is a more traditional style that offers higher coverage with a lower leg and high waist sitting just by the belly button which is perfect for period panties as it adds even more to the sense of safety and comfort. Period underwear is so difficult to come by. Some of the designs are not wide enough to fit a pad or they are just uncomfortable with the pad on. These Mobibody briefs are just amazing as period underwear. They are also perfect if you're using a menstrual cup instead of pads.
This design is also one of the top sellers, especially the heavy-overnight seamfree full brief is a hit with existing customers. The price range for the full brief is a bit more pricey than the bikini, starting at $25 and going up to $40.
Modibodi Boyshort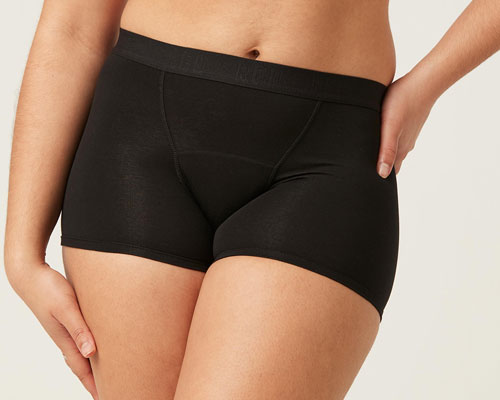 The boyshorts borrows elements of the men's trunks and applies them to women's underwear. The style features extra coverage around the bottom and thighs with a longer leg, much like shorts. The waistband sits on the hips but is higher than the classic bikini. Just like the previous panties, these shorts can be comfortable as period underwear or wearing a menstrual cup. They hug your curves and give you stability as well as comfort.
The boyshort is only available in bamboo viscose and doesn't come in a seamless version. It retails for $30 or $34 per pair.
Modibodi Brief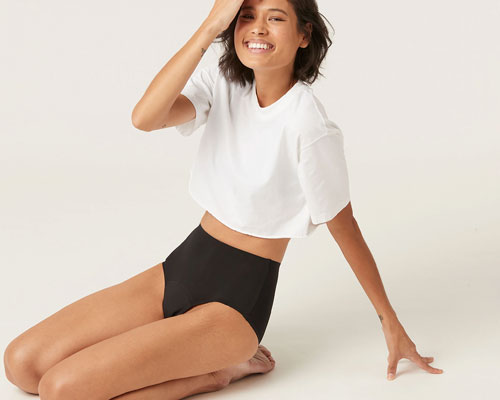 Modibodi's brief sits on the hips and offers good coverage of the bottom without any wedgies. While the classic brief style originally only came in black bamboo viscose, the brand has recently added a new kind of brief with a sporty aesthetic and a contrasting waistband and trims called the Modibodi X Brief. This line produces interesting color combinations like charcoal and a pop of lime green. The briefs retail for $25 but are not available as seamfree undies.
Modibodi Teen Swimwear Review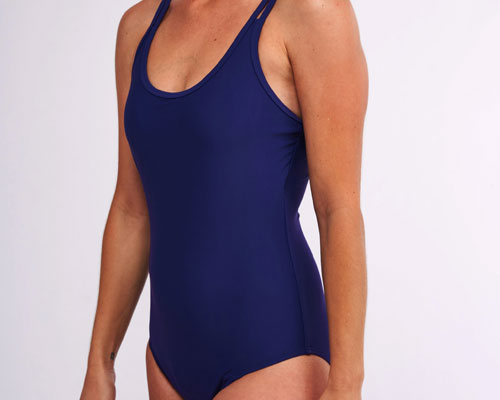 Modibodi launched its women's swimwear in 2017 with the teen swimwear line called RED following in 2018 which is designed specifically for younger bodies. The material used consists of two layers and is only 1mm thick. The inside layer is has a waterproof fabric and mesh which is antimicrobial and fast-absorbing. The outside layer is made of recycled nylon which is water repellent and fast drying. Furthermore, it dries three times faster than regular swimsuits. This unique technology is designed to hold up to 10ml of blood without leaking, which is the equivalent of 2 tampons, perfect for light-moderate period days.
The current teen collection of swimwear briefs and one-piece swimsuits is on sale available at bargain prices. The range comes in versatile navy and black colors, considering school training and matching any school uniforms. The one-piece currently retails for $48.30, while the bikini briefs are available at $25.55.
Modibodi Underwear Review Men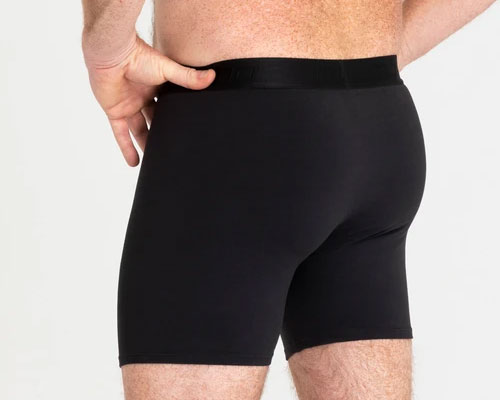 Modibodi was first started with women and their unique issues in mind. But as the company expanded, so did its offering. And so in 2019, the Modibodi range for men was introduced. The patented three-layer technology built into the front pouch is designed to wick away moisture, absorb any sweat or drips, and prevent leakage and odors. That makes it perfect for working out or hot weather, as well as for any dribbling, light bladder leaks, or post-ops.
The fit and softness of the fabric also make the underwear exceptionally comfortable and stop any rubbing or chafing. The styles available are classic trunks and briefs in elegant navy and black. Both of these are on sale sometimes on the Modibodi website. They come both as a single pair at $20.30 for the briefs or $23.10 for a pair of trunks and packs of three or seven pairs. Furthermore, they include packs with a mix of both styles.
Modibodi Underwear Review from Customers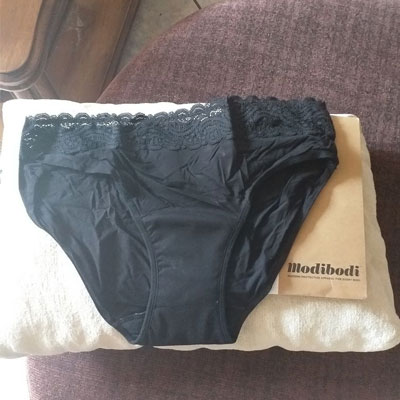 Most customer feedback on Modibodi's website and Facebook page are positive. Many customers describe the products as "life changing" or "the best thing that ever happened" to them. And many regret not finding the Modibodi period undies sooner. Most products on the website get a rating of 4.8/5 based on over 4000 reviews each, while on Facebook the response is a little more mixed with an overall rating of 4.1/5 based on over 750 reviews.
The only consistent complaints about the undies are their durability with customers saying that the undies developed holes after very few washes and their lack of effectiveness as some pairs have been known to leak despite its marketing as leak-proof. Some also claim the quality of the brand has declined over the years. Here are some examples of what Modibodi period and pee proof underwear reviews by customers say:
"I can't recommend these undies enough. In fact, they have literally saved my bed, my clothes but most importantly my ability to be confident when out and about. Thank you Modibodi for such a great product."
Popular Alternatives to Modibodi
"I'm a bit 50/50 on my recommendation. Great fit, very comfortable, I'm feeling comfortable throughout the day. But very disappointed in the quality. After 3 hand washes there are holes along the seams and lace."
"We have been using Modibodi for a good few years and we can not live without. My 13 year old always chooses this brand over others because they are reliable. We have just purchased the bathers and Modibodi have been amazing it getting them to me within 2 days as I needed for my child's camp. Thanks so much Modibodi."
Where to Buy Modibodi Underwear
Despite being an Australian brand, Modibodi is available for shipping all over the world as it has offices and warehouses in Australia (responsible for local shipping, as well as the US, New Zealand, and Asia), the UK (also covering Ireland), and EU.
Sadly, Modibodi doesn't share a list of stockists and stores on its website (or anywhere else) and only vaguely states that the brand is available in only a handful of external stockists and encourages customers to shop on the site to also not miss out on the risk-free trial for first-time buyers.
Modibodi Shipping and Return Policy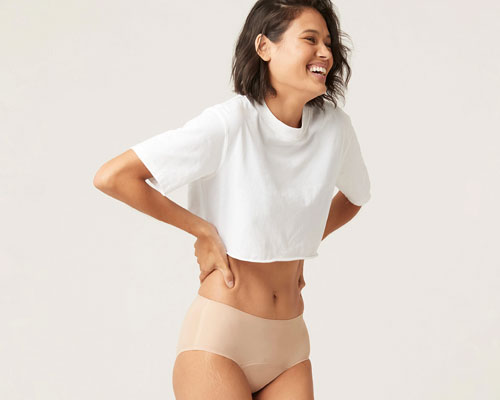 Shipping
The company offers free shipping on all orders over $75 within the United States and Mexico. For all orders below that amount, the shipping fee is $10. Standard delivery takes between 2-3 business days. Modibodi has five different versions of its website for five different territories – the US, UK, Australia, New Zealand, and the EU, each with a slightly different shipping policy.
Returns
Modibodi offers a 60-day risk-free trial for first-time customers and if for whatever reason you don't like your first pair of undies or nappies for your baby, you are entitled to a return and a full refund. For all other customers, the brand accepts returns within 30 days of purchase of unopened, unworn, and unwashed products with a full refund or store credit. However, customers must pay a postage fee of $9.50.
Modibodi Promotions & Discounts
The brand offers a discount when you buy multiple pairs of undies. Customers are able to mix a match and can save:
5% if buying 5 pairs
10% when buying 7 pairs
15% with a purchase of 10 pairs of underwear
Modibodi also offers 10% off your first order on its site when customers sign up for the brand's newsletter.
Contact Modibodi
If you still have any other questions that we didn't cover in this Modibodi Underwear review, feel free to get in touch with the brand's customer team by:
Filling out the contact form on the company's website
Emailing [email protected]
Facebook
Instagram
Twitter
TikTok
Pinterest
Youtube
Modibodi Underwear Review: Editors' Verdict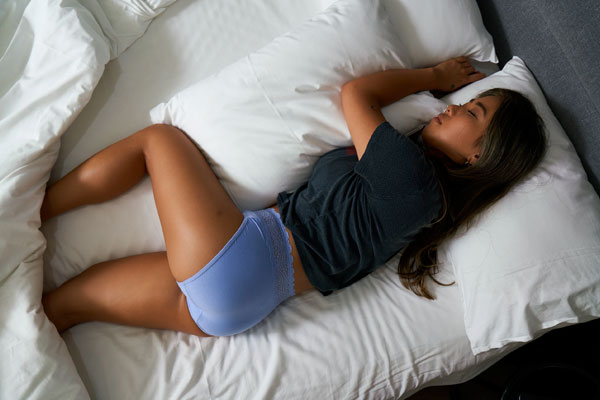 With an average price of $20 to $25 for a pair of panties, Modibodi certainly places itself on the higher end of the underwear market. However, we believe that it is worth it as Modibodi covers what you would normally spend not only on underwear but also any period products. And its reusability makes it an investment that will pay off in the long run as it eliminates your spending on single-use tampons and pads.
The customer feedback has also been overwhelmingly more positive than negative, backing up the products and their effectiveness and delivery of what the brand promises.
Still on the hunt for functional underwear? Perhaps you'll like our reviews for similar brands such as Tommy John Underwear, MeUndies, SAXX, and Knix.
Frequently Asked Questions
How should I wash Modibodi underwear?
The care guide on the brand's site recommends to wash your new Modibodi undies in the washing machine before first use to activate the leak-proof technology in the gusset. After each use, first rinse the gusset under running cold water until the water runs clear and doesn't have any blood in it, then cold wash in the washing machine without using fabric softener, ideally in a delicates bag which you can purchase on the site as well.
Can I wear Modibodi underwear all day?
Yes, but make sure to choose the right pair with the right level of absorbency depending on the heaviness of your flow or bladder issues.
What do I do if I have a faulty item?
It seems like Modibodi takes care of their customers. Although the products are high-quality, if you have received a faulty item, you can return the item for up to 6 months from the purchase date. They will be happy to replace it. Just contact their customer service team!

Does Modibodi smell?
We have read mixed reviews over this. Some customers mentioned that it smells bad even after it has been washed, others had no issues with the scent. Although the undies are created with special fabric, they should not retain any scent if you care for them.

Do I need to wear a pad with Modibodi?
Yes, period undies were not created to be worn without pads. The only reason why you wouldn't wear pads is if you're wearing a cup or tampon.