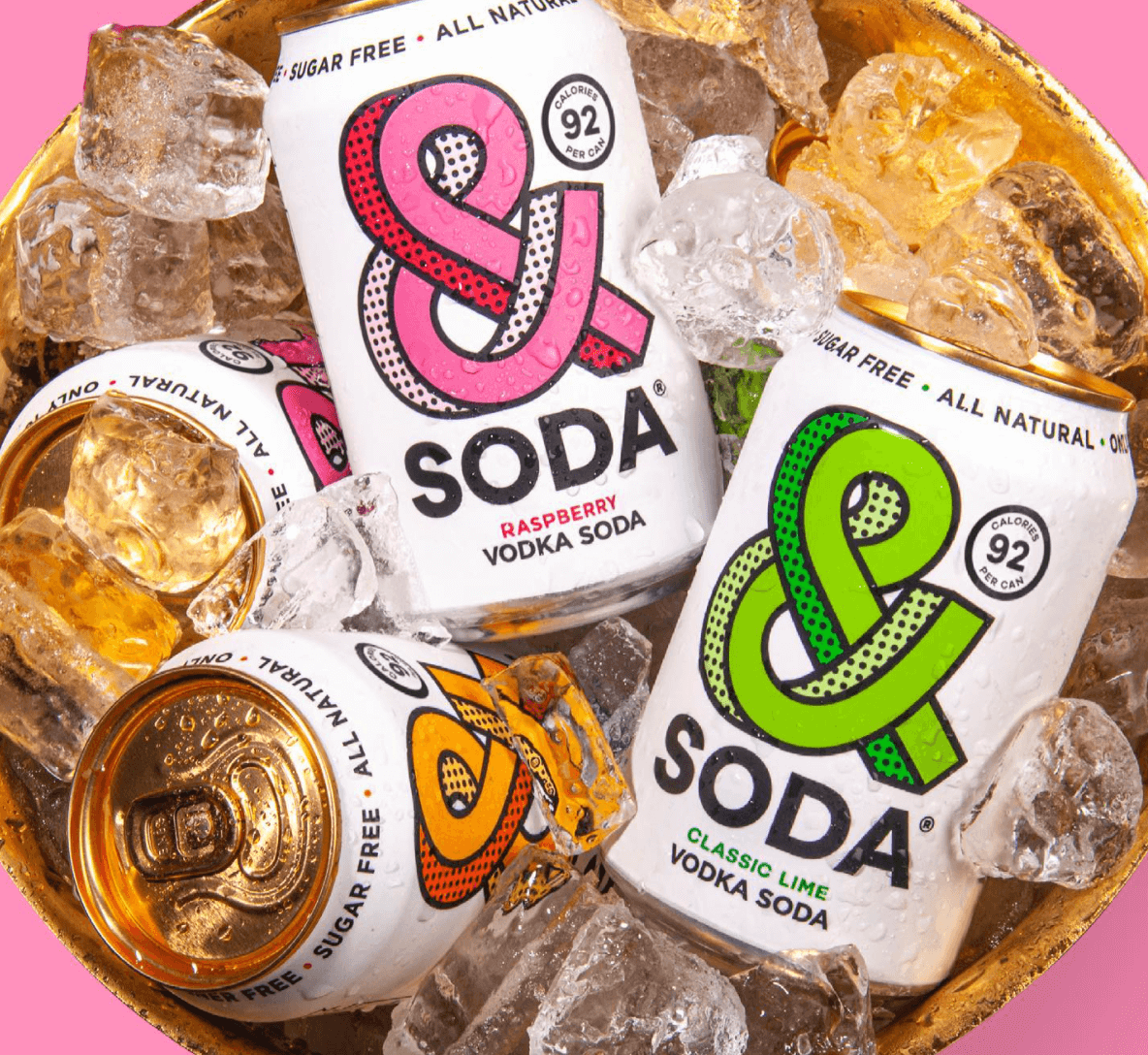 Ever had a hard day at work and wanted to gulp down your woes with a flavorful, refreshing drink? In this And Soda Review, we will help you get your dreams to come true as there is such an elixir that can make your day better. So, sit back, relax, and find out all about this phenomenal brand of drinks that is changing the game once and for all!
About And Soda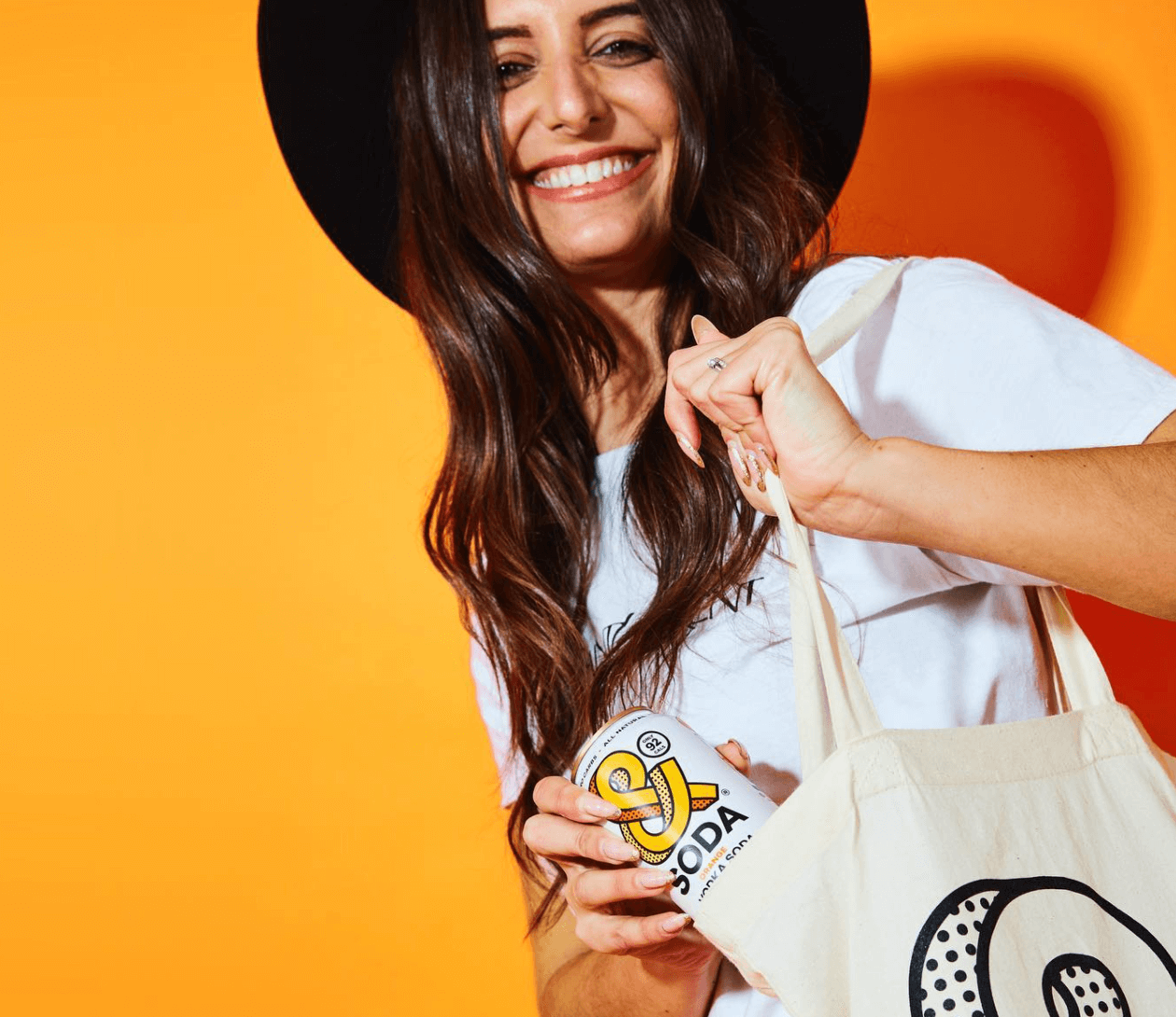 And Soda was made by drinks enthusiasts for the drink enthusiasts. It is not just a brand that works on concocting drinks, but it also works towards creating engaging designs, encouraging collaboration, and bringing forward the best tastes.
And Soda is currently in its initial stages. It focuses on building the menu with a unique flavor palette and using only the best and most natural ingredients.
In addition, this company focuses on making drinks that are devoid of sugars, sweeteners, and other artificial products.
Despite being in its initial stages, this company is taking off well. It is already featured in a couple of magazines, including The Week Magazine, The Evening Standard, and the Stylist Magazine as the best soda in the UK.
Moreover, it has already garnered traction on social media, especially on Instagram, with over five thousand followers.
So, are you excited about And Soda? Well, say no more! Keep reading to find out more about it in this And Soda Review.
Pros
The sodas are sugar-free, making them healthier than other sodas in the market
They are made from natural ingredients
Sodas are low-calorie beverages and gluten-free
A treat for vegans
The packaging is dope and contemporary!
Cons
Not a wide variety of flavors available
Not available in many large go-to retailers
And Soda Review
And Soda is perfect for all those who enjoy a crisp and cold drink in their hands on a hot, sunny day. This soda uk has sharp flavors that you can enjoy guilt-free due to its ingredients. And Soda is perfecting the taste one by one and thus vends its delicious sodas in three flavors only.
So, if you want to explore the tastes, keep reading to find out more!
Raspberry Vodka Soda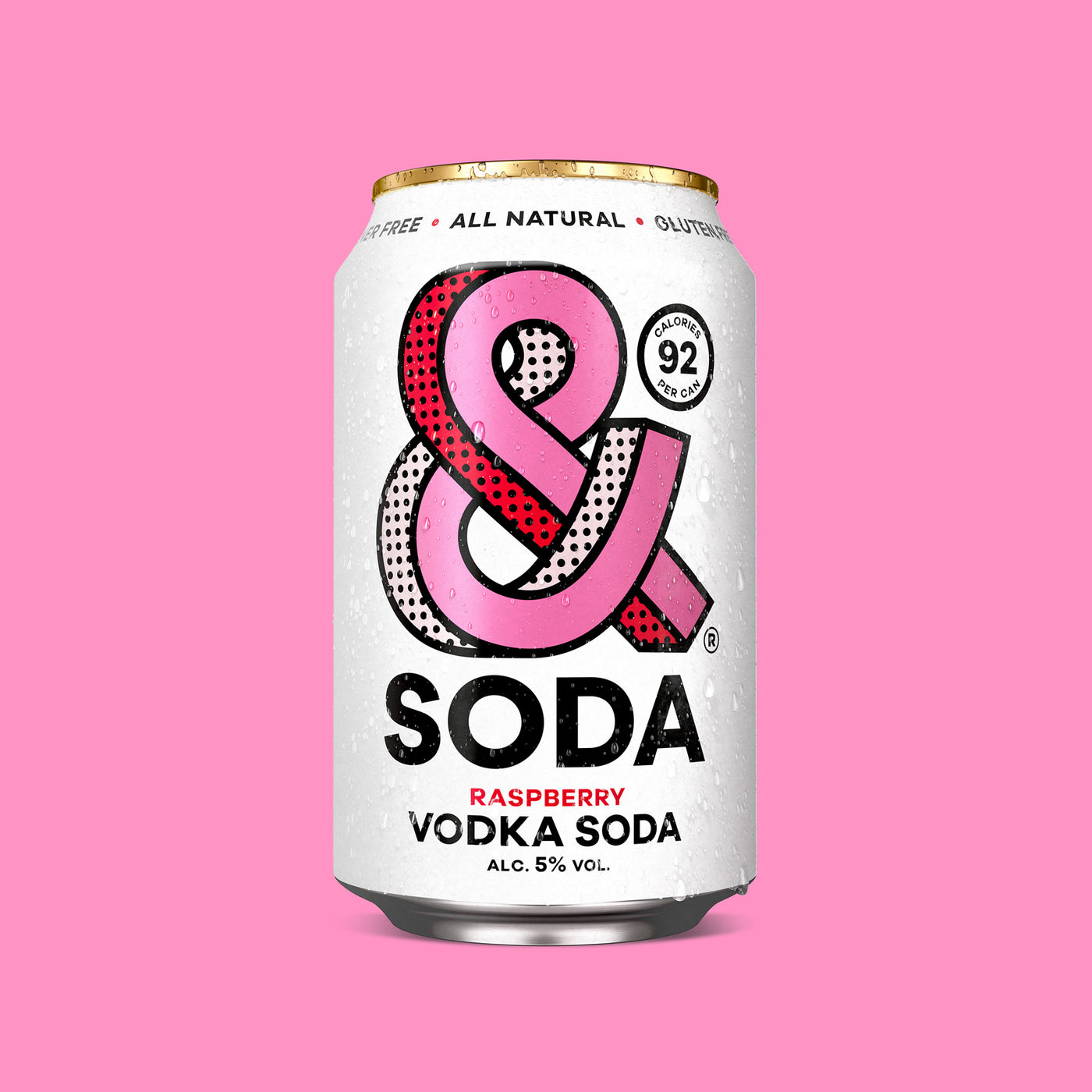 The And Soda in Raspberry flavor is quite famous due to its distinctive sweet raspberry flavor with a hint of berries mixed in vodka. It is a refreshing drink packed with all the right flavors you may need on a hot day.
The taste of raspberries is perfect —not too mild or overpowering.
The best thing about this can of soda is that it only has 92 calories, so you can chug a can or two without feeling guilty. Moreover, it is perfect for people who opt for vegan or gluten-free diets.
A 330 ml can of And Soda's Raspberry can include only 5% alcohol and comes without any sugar or sweetener.
The prices are great! You can get a pack of dozen cans for only $25. However, you can save up to 4 dollars if you choose the auto-delivery option. If you like its sound, here is an affirmation: it tastes better than it sounds.
So stock up your refrigerator with these refreshing bevies to impress your friends and family at the next party!
Orange Vodka Soda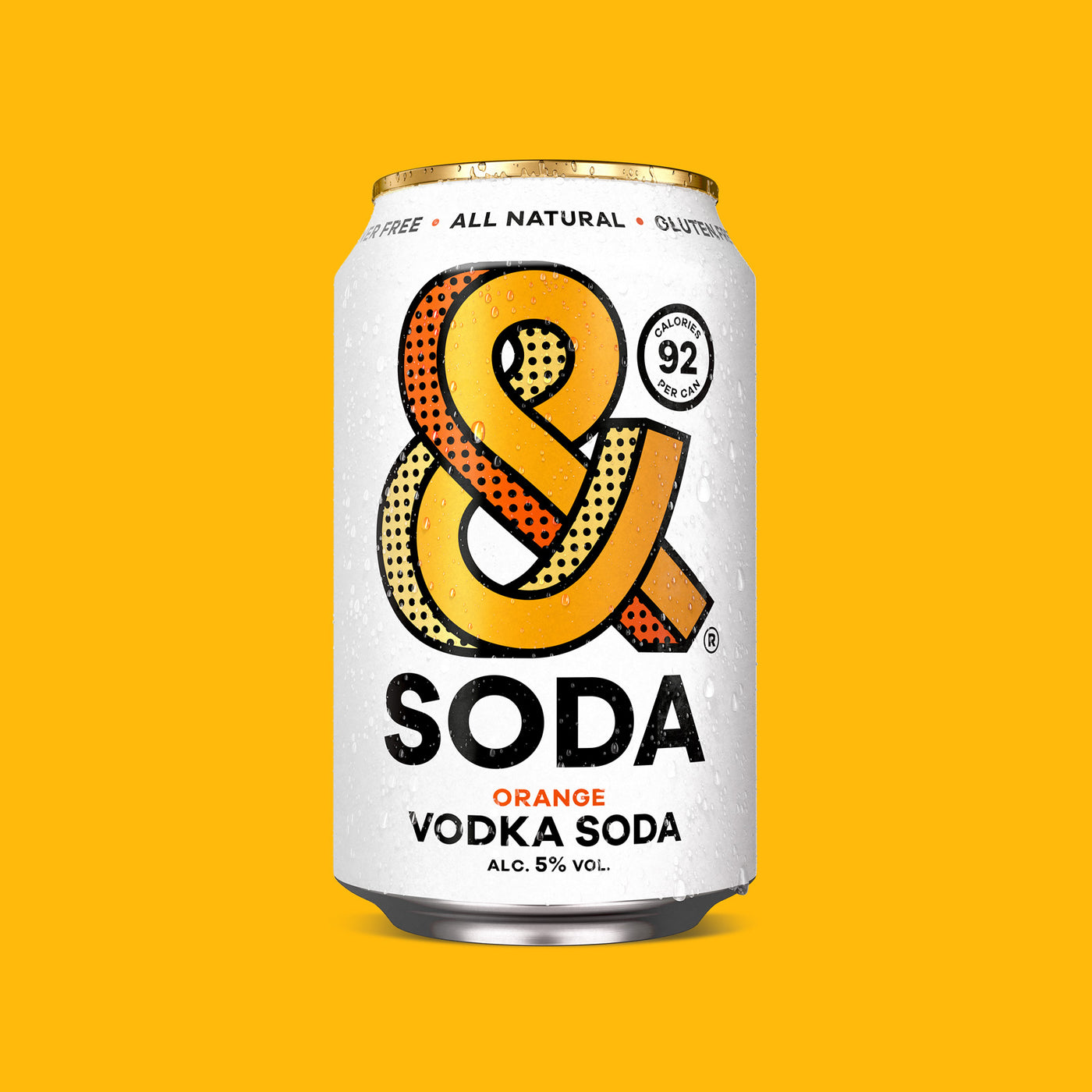 Are you a fan of oranges? If yes, then this is a soda straight from heaven for you. Orange Vodka Soda is an exquisite drink that is prepared from natural oranges. It tastes boozy and bubbly with a delightful punch of vodka mixed with the deep flavor of oranges.
The packaging is exceptionally excellent and prepares you for an extraordinary experience. Not only is this soda made from natural ingredients, but it also has no traces of sweeteners or sugars.
Citrus lovers will enjoy this drink for sure, as it has a real zinger for a refreshing, tangy flavor. Moreover, people who prefer vegan and gluten-free diets don't have to refrain from trying this drink as it caters to them.
It only has 5% alcohol in 330 ml can and contains only 92 calories. This means that with Orange Vodka Soda, you don't have to end the party early.
The prices are great as well. For example, you can acquire a 12-pack of the cans for merely $25. In addition, you can benefit from the auto-delivery service and get 15% off.
Classic Lime Vodka Soda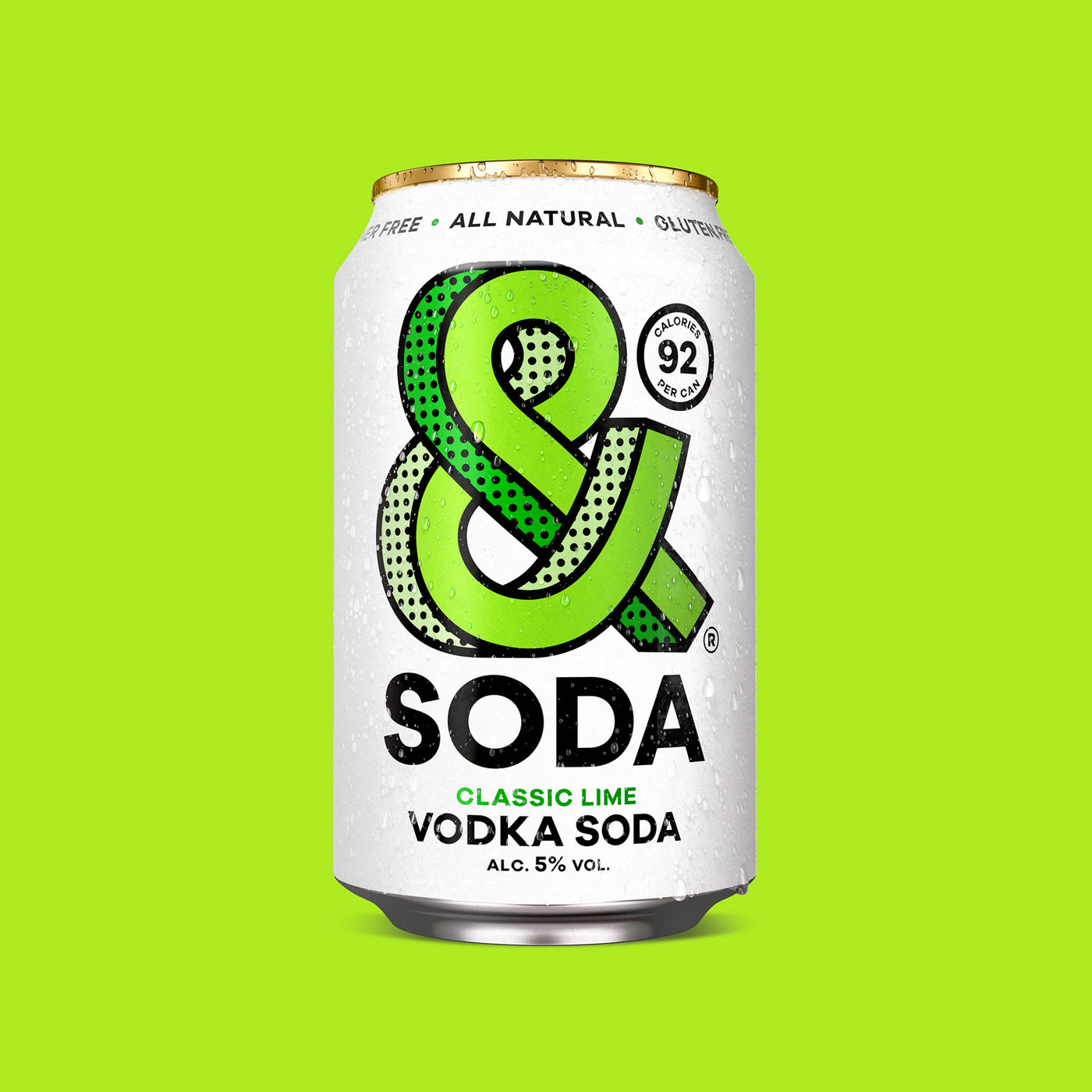 How can one talk about sodas and skip the lime flavor? And Soda agrees big time! Their Classic Lime Vodka Soda is unique in its own way. It has a classic citrusy punch with full flavors of lime and vodka gimlet.
The taste is divine and will definitely make you grab another one.
This And Soda flavor is refreshing in every way and will keep you cool on a hard day at work. It is equally perfect for backyard barbeques as its acidic flavor can beautifully balance the spicy food.
And what is more impressive is that you don't have to stop yourself from drinking more as it is sugar-free and sweetener-free soda as well.
Like all the sodas mentioned in this And Soda Review, this lime vodka soda is also vegan and gluten-free friendly. It is prepared from triple distilled vodka and soda water with loads of natural limes. Sounds great, right?
You can try these cans by ordering a pack of 12 for only $25. However, if you never want to find yourself in a position where you ran out of these soda cans, then you should opt for auto-delivery and get an additional discount.
And Soda Mix Pack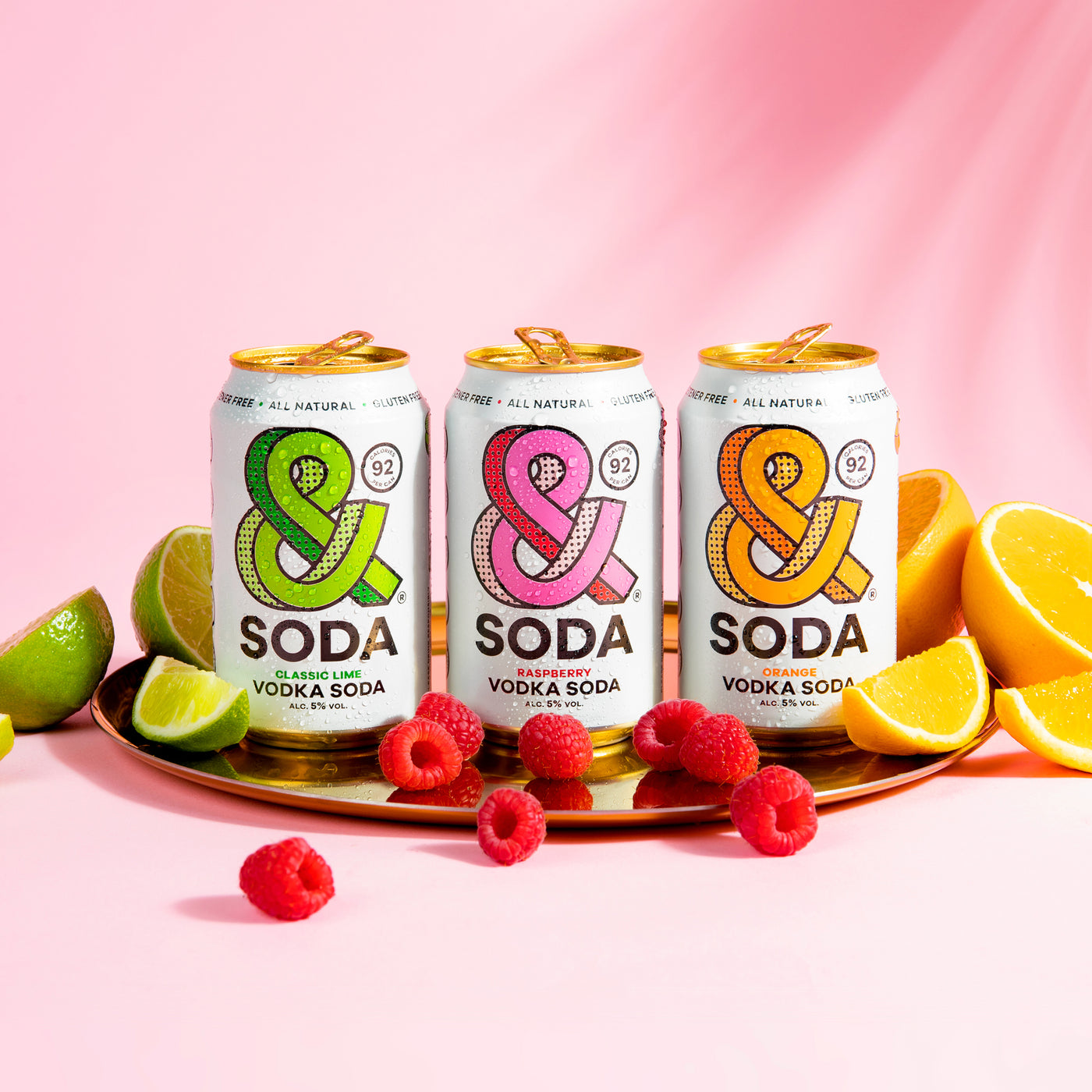 After reading the reviews, have you found yourself stuck in the debacle of choosing one between the three flavors? It is understandable, considering all three sounds like the right choice to make.
But, what if we tell you that there is a way to taste all three flavors without ordering a pack of dozen each?
If you are perked up at the idea of a bunch of all three flavors, then And Soda Mix Pack is precisely the right choice for you. This pack contains all three flavors, so you or your friend pick out whatever flavor flutters their fancies.
This And Soda Mix Pack contains four Raspberry soda, Classic Lime, and orange cans. So, you can mix and match and have some fun while sipping these delightful bevies.
And Soda Taster Pack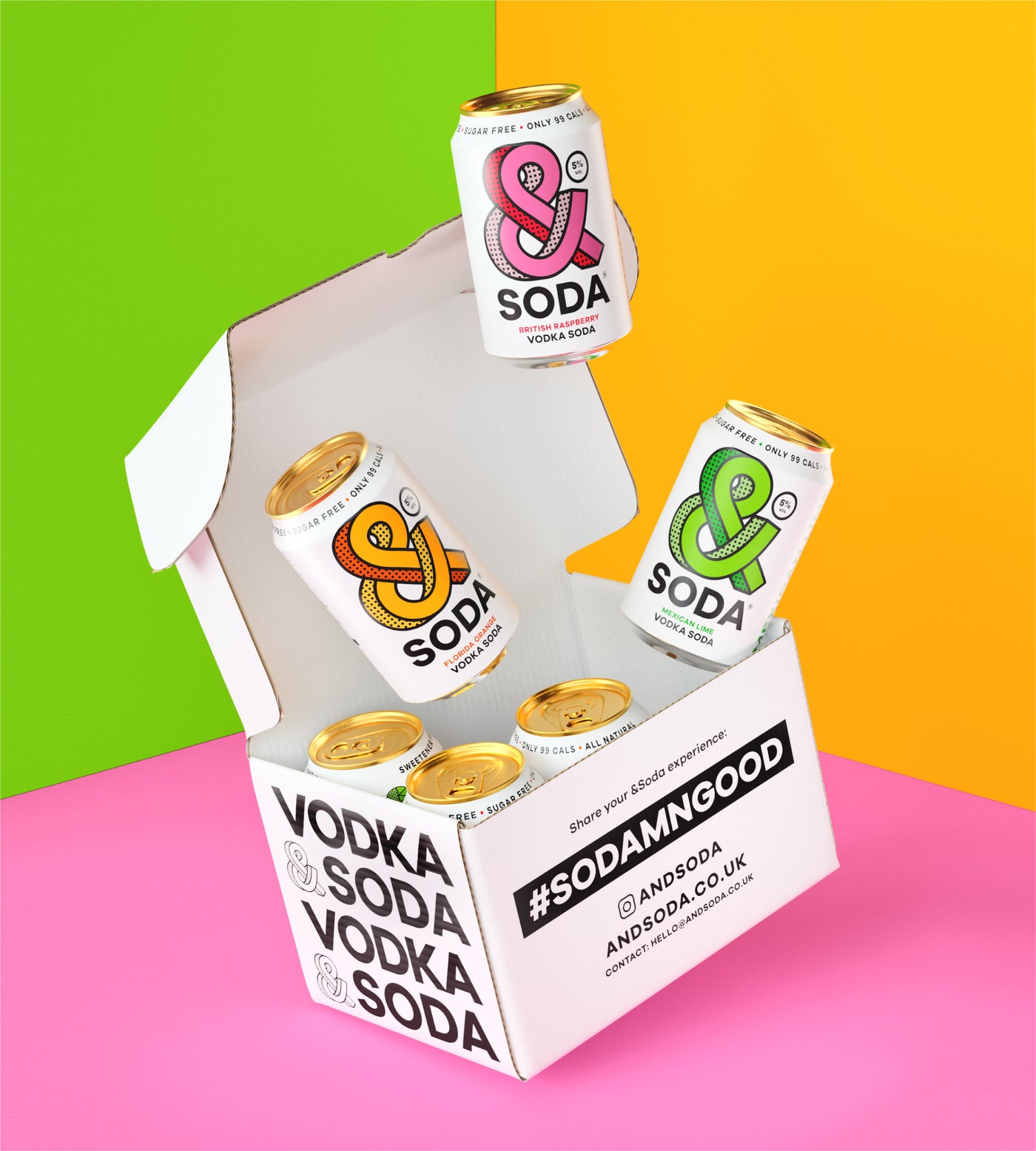 The best thing about And Soda is that it understands a customer's problems on a deeper level. For example, sometimes, one may order a dozen drinks but may not like them.
This problem could render on in a loss of money and lead to waste of the items. The company valued its customers and came up with a perfect solution to avoid this dilemma—And Soda Taster Pack.
And Soda is so sure of its taste and quality that it allows people to buy a taster pack that contains six cans, two of each flavor. This way, one could taste all the flavors and determine their preferences.
This product is perfect for ordering if you are a beginner and want to experiment with all three flavors before signing up for auto-delivery survive for your favorite flavor. Rest assured, you will find the taste you love the most in this taster pack, so get it now!
And Soda Reviews from Customers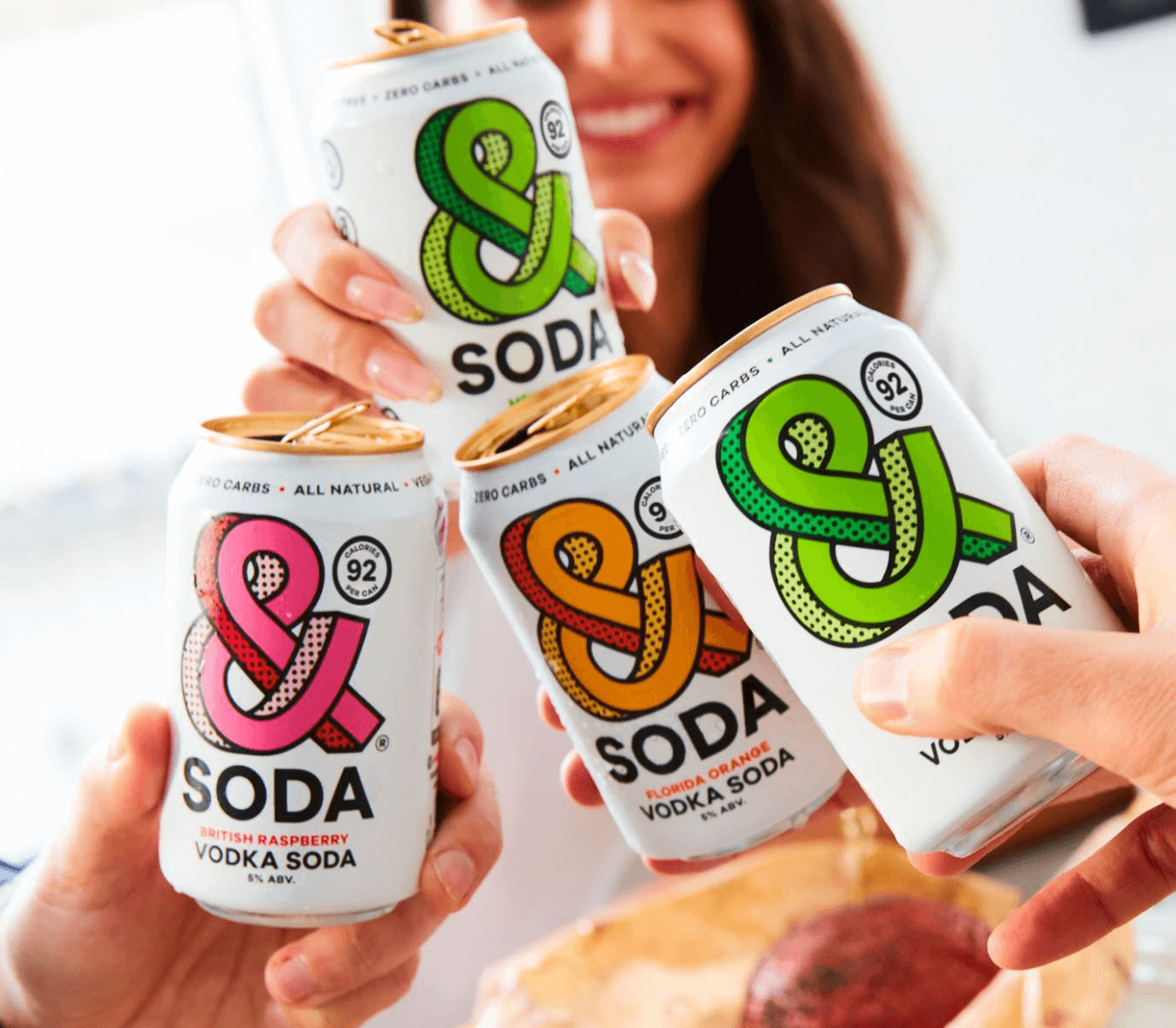 And Soda is quickly rising to popularity. More and more are gravitating towards it for what it is offering is rare in the market.
In this review, you have learned the fundamentals of each product, but to fully understand the worth of a product, it is best to seek what other customers are saying.
So, let's take a minute and delve into what people are saying about these sodas, and if you should go ahead and order a pack for yourself.
A satisfied customer described not only praised the drink but explained how it enhances her life adventures. She wrote, "A refreshing drink perfect for an evening in the garden or the park."
And Soda cans have a separate fan base in the summers. A customer wrote, I drink vodka soda and I have always wondered why it's taken so long for someone to do a decent canned version.
&Soda is super clean and crisp tasting and the cans look amazing. I have filled my fridge for summer.
As discussed early in the review that these drinks are sugar-free, which is why it has attracted a large base of customers. One such person wrote on Amazon, "If you are drinking and looking for something guilt-free, then look no further.
Delicious and gluten-free, you'll feel lighter and refreshed drinking these – a great alternative to heavy craft beers."
More Customer Reviews
One more customer was deeply impressed by the brand's strategy to find a way to make sugar-less beverages and wrote, "Wow! Finally, a hard seltzer that's true to the flavor with no sugar and sweeteners that make your teeth furry!
I've tried all the other contenders and none compare to &Soda." While another wrote, "Arrived just in time for Christmas, I cut down on beers and switched to this after having some over summer."
The products are separately rated as well on the website, and as predicted, the rating is high.
Orange has four reviews and 5/5 stars
Classic Lime has nine reviews and 5/5 stars
Raspberry has four reviews and 5/5 stars
Sign Up for And Soda
Signing up for And Soda can bring a lot of happy vibes to your life. And, it is not hard to be a part of their happy family. All you require is a working email ID and enter it to sign up! That's all, and you're all good to go.
Are you questioning why you should sign up for And Soda? Well, good question! There are many benefits of signing up, including winning a free Soda on the spot. Moreover, you can easily avail early key to all the upcoming discounts, big sales, and latest launches of new items on the menu.
There is no reason why you can't order without signing up, but if you do, then you're in for a ride!
Where to Buy And Soda
Are you drooling to get a taste of the heavenly And Soda? Well, it is your cue to treat yourself. You can head directly to their website and add whatever you fancy in your cart to get one of their items.
You can also get And Soda from local Sainsburys or Tescos stores placed anywhere in the UK. It is all about what is the most convenient for you and your taste buds!
And Soda Shipping and Return Policy
So, are you ready to quench your thirst with And Soda products? Well, you can ready, set, and go as soon as you can get accustomed to the shipping details before placing your order!
The company delivers all over the United Kingdom, including places such as Scilly Isles, the Highlands, the Islands, Northern Ireland, the Isle of Man, etc. Any order that is shipped within the UK costs only £5. And, if the order is above £35, then there are no shipping costs.
There are no set delivery charges for international shipping as it depends on the checking points. Moreover, the shipping process is prompt as the processing starts within a day at max.
If you happen to place your order before or near noon, your order will get dispatched the same day. If you order after 3, it will get dispatched the very next day.
One last important shipping policy of And Soda company is that someone above the age of 18+ must be present at the time of delivery to receive the parcel.
Return Policy
Once you get the product, there is a possibility of some error. If you are not 100% satisfied with the product you've received, you can return And Soda items. Here is everything you need to know about their return policy:
After possessing the item, it is advised to check it for any defects immediately. If you need to return, you should inform the company within a week after receiving the products. Whether you are going for a full refund, you need to ensure that the items are returned without any harm.
If the company approves your complaint and finds the problem to be actual, they will cover the shipping cost and return the total price. However, you need to ensure that you give And Soda four to six weeks to process the complaint.
And Soda Promotions & Discounts
And Soda is dedicated to providing its customers with the best experience possible. In order to do that, they are constantly working towards creating promo deals and sales.
Apart from the signing up discount deal, you use the code GETFIZZY at the time of payment and avail 10% discount on your first order.
Additionally, you can save up to 15% on the total order if you opt for the auto-ship option. And, for more discounts, you can use the deals on websites such as Coupon Birds to get supplemental offers.
Contact And Soda
Got any questions? Need to inquire something? Want to file a complaint? No worries! And Soda ensures that it provides the best customer service for its loyal customers.
You can easily reach out to them through their official email at [email protected].
You can also fill in the details on their website's contact page. All you need to put in are the details of your name, email ID, Phone number (optional), and the message.
And Soda: Editors Verdict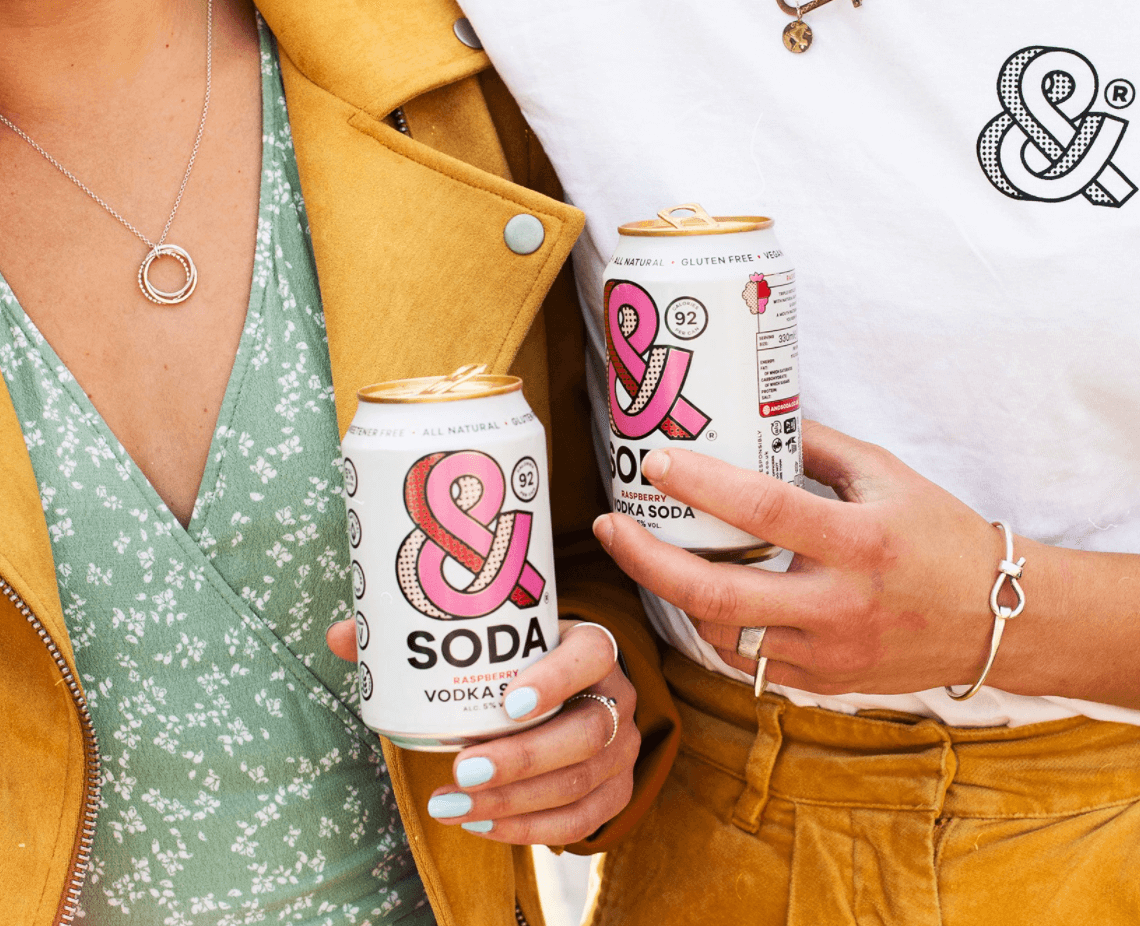 After reading And Soda Review, you must be wondering if it is worth it or not. Well, the answer is a plain and straight YES!
The drink is worth the money.
These concoctions are prepared with love, and it does not matter what your usual preference is because you will definitely love at least one of the three flavors. These drinks are not pretentious or overpriced but made for your pleasure on good and bad days.
Indeed, there is not a lot of variety on the menu right now, but we are keeping our fingers crossed that the company will keep adding more and more heavenly beverages to their menu.
Still looking for the perfect drinks for your upcoming party? Check out our reviews of Fresh Vine Wine, Winc Wine Club and FirstLeaf Wine Club.
And Soda FAQ
Can I get my product personalized?
The option to personalize your product is dependent on the product you're going for and the originator. If you want to aim for customization options, then you need to seek them on the website's layout page.
Is And Soda natural?
The company had revealed before and maintained that their beverages are produced from natural ingredients, which ultimately makes the sodas less harmful.
Who owns And Soda?
Barry Darnell and Michael Johns co-founded this unique enterprise. Together, these two businessmen own the soda company.
Does And Soda ship overseas?
Yes! And Soda delivers internationally. However, the estimated delivery charges are not set and can be summed up at the checkouts.