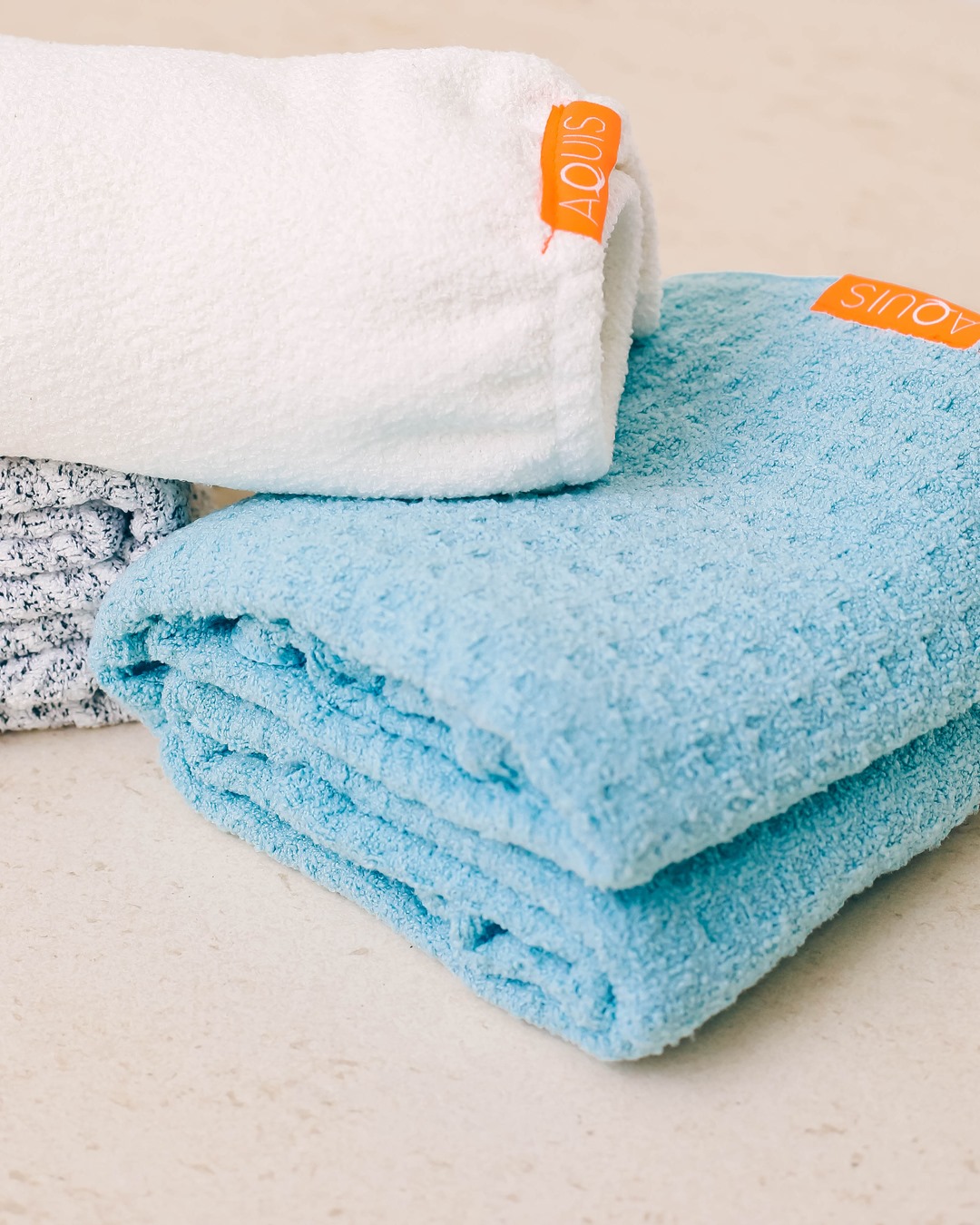 We've all been there: You're standing in the shower with a towel in your hand, and suddenly you realize that your hair is still wet. You'll then be stuck with damp hair until you get to work or sleep. The AQUIS Hair Towel can help you solve this problem by wicking away excess water from your hair while it's still wet. This AQUIS hair towel review highlights the ins and outs of this brand, including its best-selling products, customer ratings, and shipping policy, to help you determine if its innovative hair care products are worth the buy.
About AQUIS Beauty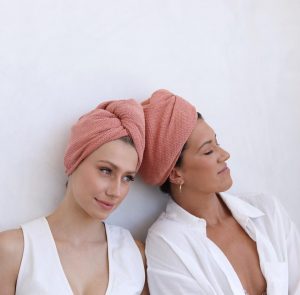 Britta Cox, the company's creator, flew to Japan in 1990 to collaborate with a team of experts on the development of the first AQUIS towel. This was when she discovered a high-quality cloth that could quickly absorb moisture. Cox filled a market void by offering a new hair care product. 
Users did not have to worry about friction damage or excessive heat when using the AQUIS towel to dry their hair. Britta expanded the brand to include hair care products in 2018 with the support of her husband, releasing the AQUIS prime hair care system.
By researching the biology of hair and developing the appropriate hair products, AQUIS Beauty hopes to restore the beauty of hair. Their products are meant to make your hair care process easier and faster, from pre-wash through drying. Turbans, towels, and therapeutic remedies are among the company's offerings.
The revolutionary hair care treatments provided by the firm have earned it mentions in a variety of well-known publications. The Cut, Business Insider, and NY Magazine are among them. As for social media, the company has amassed over 78K followers on Instagram and more than 55k followers on Facebook.
Pros
The brand sells a wide range of towels and turbans

Dermatologically tested and cruelty-free products that do not include parabens, sulfates, or phthalate ingredient

Their products are made of high-quality, long-lasting material

The company has products that are suitable for all hair types

Customers in the United States have 90 days to return items

Free shipping is available on orders worth $49 and above in the United States
Cons
Their towels and turbans are expensive compared to similar products in the market

Customer support is not available around the clock

The company does not accept exchanges on international orders
AQUIS Beauty Products Review
Since its inception, AQUIS Beauty has been offering an expansive range of hair care products. In this section, we'll look at some of its best-selling products, including turbans and towels.
AQUIS Hair Towel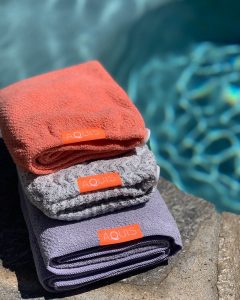 Designed to dry the hair without inflicting any harm, the AQUIS hair towel is one of their bestsellers. With its terry cloth weave and microfibers, the fabric is capable of wicking away water and preventing frizz and flyaways. This AQUIS Hair Towel review found that this product may be used on both wet and dry hair, making it great for all hair types and conditions. It can also be washed in the washing machine!
Patented Aquitex microfiber technology is used in the AQUIS Hair Towel, which is capable of absorbing 10 times its total weight in water. As a result, your hair dries faster and is less likely to be damaged by heat or break. Drying your hair in this manner also prevents flyaways and frizz because rubbing isn't necessary (which creates frizz). Different colors and sizes of the towel are offered at various price points.  
AQUIS Hair Turban
When you're drying your hair, it can't take long for a towel to become saturated with water. The AQUIS Hair Turban is the only towel that can absorb water in your hair and leave it looking sleek and smooth. It's made from super-absorbent microfiber fibers, which are woven together to form a thin layer that will quickly dry your hair.
The AQUIS Hair Turban is designed for busy women who want to look their best without spending hours in front of the mirror. It absorbs water quickly so you can dry your hair faster than ever before. When you use this towel, your hair will be left feeling soft, smooth, and shiny.
The AQUIS Hair Turban is also great for traveling because it compresses easily into small spaces, meaning you can pack it for any trip without worrying about wrinkles or wrinkles ruining its performance. This towel is available in several colors, including black, white, pink, or blue. So you can choose one that perfectly matches your style. 
If you are asking yourself: AQUIS hair towel how to use? Follow the steps below:
Make sure your head is in a downward position, then place the turban on the back of the head. The button should be at the nape of the neck.

Next, twist the wrap until it tightens; fasten the loop to the bottom, exactly at the nape of the neck, to secure it in place As you are putting the wrap on, avoid rubbing your hair.

Check your hair after every few minutes; remove it once it becomes damp or drier.
AQUIS Waffle Hair Towel Wrap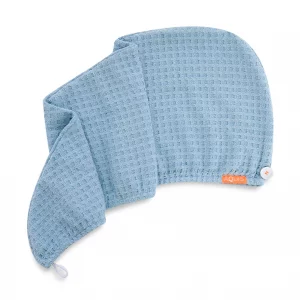 There are a lot of ways to dry your hair. You can use a regular towel, an old T-shirt, or even a hoodie — but none of these options are as effective as the AQUIS Waffle Hair Towel Wrap.
This Waffle Hair Towel Wrap is made out of super absorbent microfiber material that's great for getting rid of water and preventing frizz. It's also extremely lightweight and thin, which means it can easily fit into your gym bag or suitcase without adding bulk or weight.
The best thing about this hair wrap is that it doesn't just work well, but it also looks good. The design features a cool waffle pattern that gives it an ultra-modern look you'll love showing off at home or on vacation. It comes in three different sizes, so you can choose one that fits your needs best. The only downside to this towel is that it's not machine washable. You have to hand wash it, which can be time-consuming if you want to use it daily or multiple times per week.
For only $40, AQUIS Waffle hair towel wrap could be yours.
Double Layer AQUIS Hair Wrap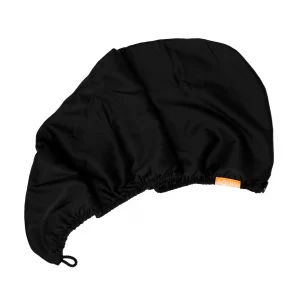 This is another great option for those who don't want to take the time to hand wash their towel every other day. It's double-layered with nylon fabric on both sides, which allows it to dry your hair quickly without causing frizz or tangles in your mane. 
This model also comes in three different sizes so you can find one that fits perfectly on your head and shoulders during use. The only downside is that it doesn't have any kind of closure system, so if you have long hair you may need someone else's help putting it on correctly so that it stays secure during use. This Aquis hair wrap is available for $50.
AQUIS Hair Comb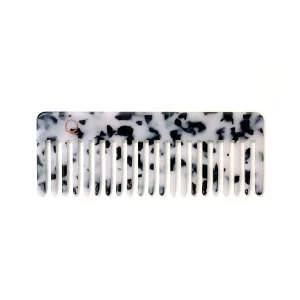 The AQUIS Hair Comb is a unique and innovative way to style and comb your hair without any tugging or pulling. The large-toothed comb features 100% silicone teeth, which are gentle on your hair, and won't snag it the way traditional combs do.
AQUIS has made this comb in two sizes: a smaller travel size and a larger one that's ideal for home use. This AQUIS hair wrap is perfect for those who love traveling, as it fits anywhere in your bag, while the larger one works best at home when you have more time to style your hair.
For only $18, you can detangle your hair without breaking it with the AQUIS hair comb.
AQUIS Hair Towel Review from Customers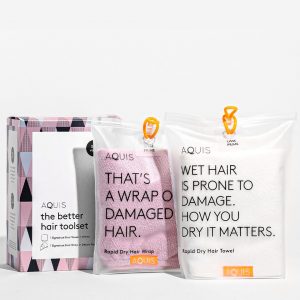 This AQUIS Hair Towel review checked what buyers say about their innovative hair care products. Our team sifted through various websites to get a sense of what people were saying. We found reviews of specific products on the brand's site. AQUIS Rapid Dry Hair Turban is one of their products with tons of 5-star reviews.
Hair Care received a score of 4.8/5 stars on MakeupAlley. Our review also found that 94% of the customers who left feedback stated they would purchase the brand's towels and turbans again. 
One of the customers said they loved how towel drying time was greatly reduced by AQUIS's hair towel. As opposed to an oversized towel, she said the hair ties she used with these products were "easy." It's a lifesaver in the morning when she is in a rush.
Further customer reviews
More than 90% of the 442 reviewers gave the product a 4-star rating, according to the Influenster review thread. Users were pleased to find that the hair towel reduced frizz and dryness, making their hair healthier than before.
Our team also checked Amazon and found some reviews that described the Rapid Dry Lisse Hair as luxurious and reliable. One of the customers said that they didn't have to worry about their hair drying out because it dries so quickly. They also said that the AQUITEX made them feel like their hair was being drained of all of its vitality.
Other customers were able to discern the differences between the towels and standard bath towels. When it came time to blow dry, the hair was both damp and heavy. This prompted them to use the towel that was specifically recommended for their hair type and thickness.
A couple of customers expressed displeasure at the high cost of the hair towel, and they said that the company should consider reducing it. One client replied to the negative feedback and said that if you value your hair's integrity, you should invest in a product that offers value for money, and AQUIS products are good for maintaining healthy hair and scalp.
Sign Up for AQUIS
Signing up for an AQUIS account is easy, and you can do it in a few simple steps.
Step 1. Click on the "Sign Up" button located in the top right corner of the page.
Step 2. Fill out your personal information, including your name, address, phone number, and email address. You will also have to choose a username and password for your account before continuing. Once you have filled out all of this information, click the "Continue" button at the bottom of the page.
Step 3. You will now be taken to a page where you can choose a package you would like to purchase from AQUIS. Please note that there are no contracts or monthly fees associated with any of these packages, so you can cancel any time you want.
Where to Buy AQUIS Hair Towel 
Wondering where to buy AQUIS hair towel? You can purchase their hair towels and turbans on their official website AQUIS.com. Sephora, eBay, Nordstrom, Amazon, and Target also sell their products. Be sure to head to their Store Locator page, as this will help you find a retailer near you. 
AQUIS Shipping and Return Policy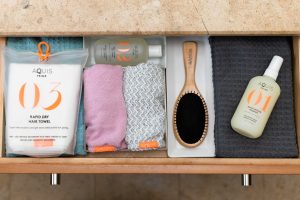 The brand offers free returns and exchanges within 90 days of purchase. If you're not completely satisfied with your purchase, the company will issue a full refund within 2 weeks.
The company offers free shipping in the contiguous United States for orders worth $49 and above. If you're ordering less than that amount, expect to pay between $10 and $20 as shipping charges, depending on the size of your order. 
AQUIS Promotions & Discounts
Customers will receive a 10% discount on all orders over $100. The maximum discount that can be applied is $30. To receive this discount, simply enter the code "AQUIS10" in the promo code box at checkout. Visit their website for more details. The company also offers free shipping on orders that total $49 or more. 
Contact AQUIS
If you have any questions about AQUIS products or services, please feel free to contact the company's customer support team by filling out the message form on the company's website. You can also phone or send a text to +1-800-466-7379. Their support team will be more than happy to assist you.
AQUIS Hair Towel Review: Editors' Verdict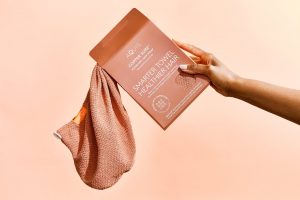 To sum up this AQUIS hair towel review, our team concludes by saying that we find their products worth purchasing. Only one or two customers were not happy with their towels. A high percentage of customers praised the brand, saying they offer high-quality towels and turbans. 
Many buyers said that they love how well it absorbs water, but some complained that it can take some time to dry after use. While you can sleep in AQUIS towels, the brand's Rapid Double Layer Hair Turban that features a reversible silk sleeve is perfect for this job.
Different hair lengths and types can be selected from a variety of patterns to find what works best for the customer's needs. Buyers can also rest easy knowing that these products have been dermatologically and cruelty-free certified. We, therefore, believe that this AQUIS is worth checking out.
Are you looking for other beauty brands? Check out our reviews of Safe Chic Review, Ballsy Review, Crepe Erase Review, and By Terry Review.
AQUIS FAQ
What is AQUIS made of?
The brand's towels are all made using Aquitex technology, which is an innovative, lightweight drying system that consists of ultra-fine fibers split into thinner-than-silk strands. They are uniquely woven to form channels that wick water away from hair swiftly without causing friction or snagging cuticles.
Will AQUIS replace your hairdryer?
Blow dryers were not designed to dry wet hair, but they were built to style damp hair. Using a blow-dry to dry your wet hair quickly results in substantial cuticle damage. Your har can lose up to 57 percent of its strength when wet, which makes it prone to damage from heat and friction. As such, you should not use a blow-dry on your wet hair. You should instead use AQUIS towel to dry your wet hair fast to a damp stage when your hair begins regaining its strength. You can then use heat to style it or leave it to air dry.
Will AQUIS work for my long hair?
Absolutely. People with long hair should use Long Hair towels or turbans. The company designs its turbans to fit different hair lengths. They come with elastic tapered seams that ensure you get a flexible fit; the turbans also feature a button closure that allows for a secure hold. The brand's Turbans are approximately 10" longer than their standard Hair Towels for hands-free hair drying and complete coverage.
How to use AQUIS hair turban
If you are wondering: how to use AQUIS hair turban? It's quite straightforward. Soak your hair in water for about 3 -5 minutes before use. Make sure the water is warm. You can then apply the hair Turban to your dump or dry hair. Next, press the fabric into your scalp to absorb any excess moisture and get rid of frizz. To remove, massage your scalp gently to release any remaining moisture. You can now wring out excess moisture using a hand cloth or towel. Repeat this process if necessary until your towel dries completely.
How can I take care of AQUIS?
To learn how to take care of your AQUIS, you have to understand that AQUIS textiles feature ultra-fine fiber channels designed for enhanced wicking. The channels are sensitive to heat, chemicals, odor, and lint from other fabrics. Therefore, for best results, you might want to follow the care instructions.
Wash before using it for the first time. Machine-wash it in warm water but in gentle cycles with a small amount of liquid detergent. Be sure to use non-chlorine bleach if necessary.

Avoid using fabric softeners, powder detergents, or any detergent containing sodium chloride, borax, phenol derivatives, or anti-foaming agents

Air dry or dry immediately after you have washed on low heat

Use mild liquid detergent

Avoid washing your AQUIS product using other fabrics that have to impart odors or chemicals

Hang-dry your AQUIS immediately after use