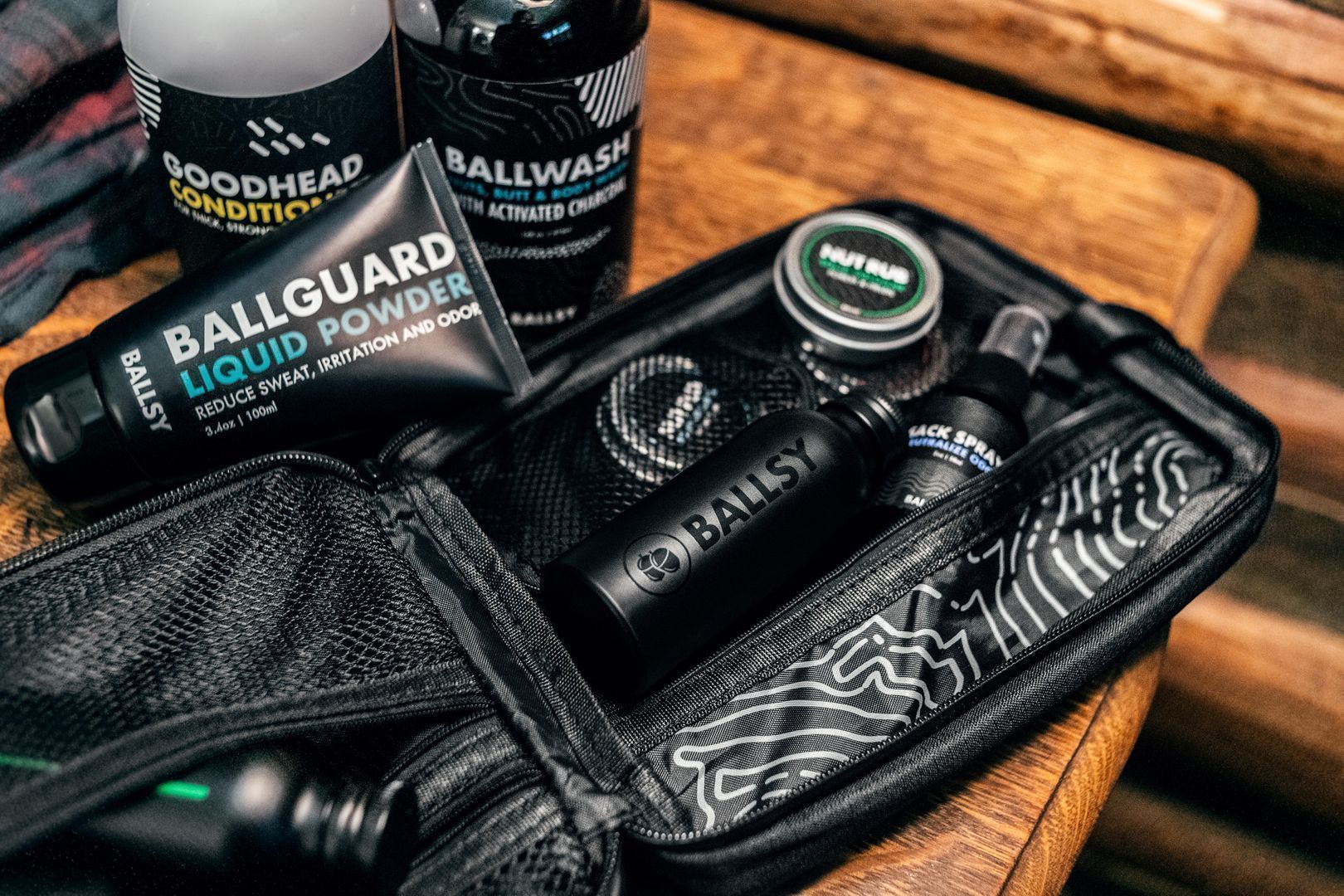 Men also want to smell nice, as it evokes good memories and positive, uplifting emotions. Ballsy offers an expansive selection of men's personal care products, including refreshing spray, nut rubs, body wash, and natural ball deodorant. These products have many scents, and they are designed to absorb moisture, condition the skin and give a subtle and fresh scent. The company creates natural and effective products and has been featured in famous magazines, such as Forbes, Buzzfeed, Men's Health, Cosmopolitan, and Men's Journal. We will take you through Ballsy reviews from customers, its bestsellers, deals, return policy, and more to help you determine if their products suit your manly bits.
About Ball Wash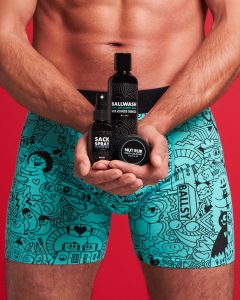 The founder of this company, Adam Hendle, was taking a shower when the whole idea ran through his mind. He wondered why he was using a $4 body wash full of chemicals and toxicity. He realized that he and his fellow men deserved something effective and harmless. It is at this point that the idea of creating all-natural products crossed his mind. After a discussion with his wife, Adams began the journey toward making all men proud.
In 2017, the brand launched its first product: Ball Wash. Taking this step was one thing, but creating an all-natural Ball Wash free from chemicals and other synthetic additives was another. This product has a clean, simple, yet manly scent just as Adams loved it. Adams decided to call it "Ball Wash," as he knew he had created something far from the ordinary body wash. 
Hendle spent time in the lab finding the perfect combination of safe and natural ingredients. He later mixed his combination of ingredients with activated charcoal famous for drawing out poisons, bacteria, toxins, and chemicals from the skin. All Ballsy products originate from Austin, Texas in the United States of America.
Pros
The brand offers personal care products uniquely created for men's bodies

They use a combination of clean and natural ingredients to make the products

All the products are free from chemicals and other synthetic additives that are harmful to the skin

Their products are cruelty-free, and quality and efficacy are evident

Their products are available at an affordable price

The brand offers men six fresh and subtle scents to select from
Cons
The company's subscription-only allows sending one item per month

Their products come in relatively small packages

Customer support is not available around the clock
Ballsy Ball Wash Review
Ballsy has a varied selection of clean and simple manly scents. This Ballsy Ball Wash Review will look at the brand's best-selling personal care products, their benefits, the ingredients they feature, and why they are unique. All these products are safe to use in the most sensitive parts of the body.
Ballsy Gift Set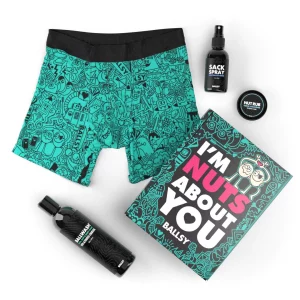 Here is the perfect package to help you make your man's birthday, Valentine's Day, or men's day memorable. The gift set includes ball wash, nut rub, sack spray, and V-day boxers. The ball wash leaves your butts, nuts, and body clean and smelling fresh. The ball wash moisturizes and cleanses the body leaving you feeling fantastic. The Ball Wash in the Ballsy gift set is available in an 8-fl-oz bottle that lasts for a month.
The nut rub is a portable natural cologne that can be applied to all parts of the body. This product comes in three scents that match any occasion. Nut rub contains beeswax, which provides firmness and a long-lasting effect on the cologne. Beeswax is also a moisturizer, and it contains anti-bacterial and anti-inflammatory advantages. 
Ballsy reviews reveal that users love this set because it contains coconut and sunflower seed oil that does a great job of nourishing and moisturizing their skin. Sunflowers have vitamin E, which is rich in antioxidants that prevent aging signs. On top of that, the linoleic acid in sunflowers locks in moisture, making the skin less dry.
The sack spray helps to neutralize odor and also prevents skin irritation. It contains zinc ricinoleate, witch hazel, green tea, chamomile, tea tree, aloe vera, and lavender. These ingredients have anti-inflammatory, anti-bacterial, antiseptic, and moisturizing capabilities for the skin.
Ballsy Sack Spray
Many men struggle with sweat which produces a foul smell when left stuck on the skin for longer. Also, we must admit that things can get nasty down there if we don't groom our bodies accordingly. In such cases, Ballsy Sack Spray comes to your rescue. The spray is outstanding and contains ingredients armed to fight the body odor and foul smells. 
This product contains zinc ricinoleate, a major fatty acid present in castor oil. This ingredient has the power to trap and absorb bad smell molecules in a way that they no longer come out; this makes it the most effective deodorizer in the sack spray.
Ballsy Sack Spray also contains witch hazel, which helps the product have a long-lasting scent. This ingredient also soothes and cleanses irritated skin while protecting the skin against damage. The sack spray contains lavender, the most recognized fragrance that calms and soothes the skin, and it can reduce anxiety and promote sleep.
Aloe vera contents in the sack spray give the cologne anti-bacterial and anti-inflammatory benefits. Chamomile, on the other hand, helps heal the body, lift the mind, promotes sleep, and is safe for all skin types.
Ballsy Liquid Powder
Just like mothers apply baby powders to keep their babies 'skin off sweat, the Ballsy liquid powder works the same magic on men's balls. The product does not create the mess baby powders do because it is created in a creamy form instead. 
This product is available in a 3.4-oz tube. It applies flawlessly and dries out immediately, giving your man a clean and dry feeling. This liquid powder reduces sweat and odor using the soothing abilities of tapioca powder and aloe vera. 
Based on Ballsy reviews, customers love this liquid powder because it is chemical free and safe for their overall testicular health. You need to give it 30 seconds to dry out before pulling up your pants, then clean your hands thoroughly after. The tapioca starch found in the product helps the product absorb sweat and soften the skin. 
Additionally, the liquid powder contains kernels extract that acts as the skin's cleanser. This ingredient removes oil and dirt from the skin, lightens the skin, smooths the texture, and diminishes the pores. Keep your balls, cheeks, and inner thighs healthy and clean with the Ballsy Liquid powder.
Ballsy B2 Balls & Body Trimmer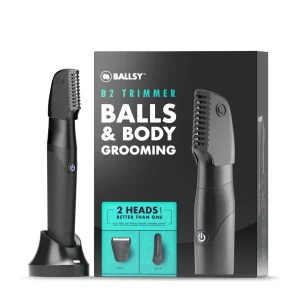 If you're using multiple trimmers for different sections of your body, do not fret because their Ballsy B2 Balls & Body Trimmer has got you covered. The package contains two change heads to allow you to use each one for a specific need. One of the heads is the ball trimmer head that allows you to trim the hard-to-reach parts of the body. The head has ball-safe blades and a vertical head for easier groin grooming. 
The other one is the body trimmer head. It is a horizontal head that features ceramic blades ideal for grooming the other parts of your body. The product also features a cordless charging base and a solid handle. The package includes 3 Ball Trimmer Guards & 4 Body Trimmer Guards to deliver ease and simplicity while grooming up.
Ballsy Handy Shower Tool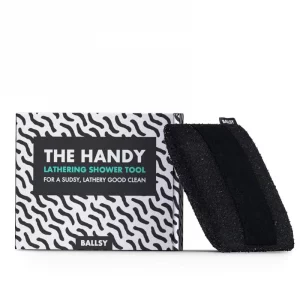 The shower tool is purely designed for men. The Ballsy Handy Shower Tool allows you to shed off your dirt in a healthier way. It generates extra suds as it gently exfoliates the dead skin away. It is an extra soft yet scrubby hand tool with a handy strap that prevents it from falling off your hands while taking a shower. 
The strap also helps you avoid bathroom accidents that might result from squatting, bending, or stretching trying to pick up the fallen hand tool. Having a session with the handy showering tool and Ballsy Ball Wash makes your showering a success leaving you feeling clean and re-energized. 
Ballsy Reviews from Customers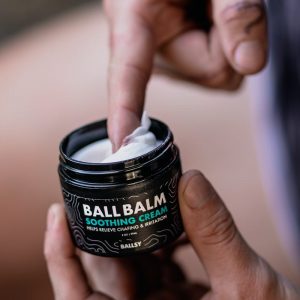 Numerous people are already enjoying Ballsy all-natural men's personal care products at affordable prices. We checked for the Ballsy Ball Wash reviews on different sites to see what their customers are saying about this brand and its products. The brand has a 4.8/ 5 score with over 4,000 reviews on its website. 
More than 90% of reviewers recommend the company and its products for offering clean and quality products for all men. Men talk about how clean and fresh the products make them feel. Other customers are impressed by the fast and easy shipping on top of the products being incredible.
Popular Alternatives to Ballsy
Most of the Ballsy products on Amazon have an average score of 4.5/5, with a high percentage of buyers loving them and stating that they are effective. They are also the go-to products for people with sensitive skin, as most of the customers who have used them say they are kind to the skin and safe to use. 
Other customers like how their products have been made with a long-lasting fragrance. Most of them stated that they love the feeling of protection they get after using Ballsy products. 
On Trustpilot, customers are generally impressed by the effectiveness of the products. We also came across a few negative reviews on Trustpilot, where some customers complained that their products come in relatively small packages. Others complained that their support team is not available 24/7, so they might delay responding to your message.
Sign Up for Ballsy
Sign up for beauty pie and start shopping for your favorite products right away. The registration process will only take a couple of seconds.
Visit the sign-up page on the company's website and fill out the form they have provided with your basic details. You need to provide your email address and name. They will also require you to create a password. Once you complete the simple process, you can start browsing their products and find an item that interests you.
The company offers a 10% discount to all first-time customers who purchase products through the account they create on its website.
Where to Buy Ballsy Ball Wash
If you're wondering where to buy Ballsy Ball Wash products. You will find their entire collection on the brand's official website BallWash.com. Their products are also available in trusted online retailers, including Amazon. However, to take advantage of the promotions and discounts they offer, you might want to purchase your favorite Ballsy product on their site.
Ballsy Shipping and Return Policy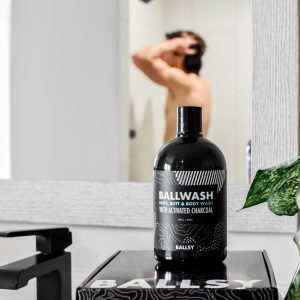 Shipping:
Ballsy products are available for men all over the world, and they ship their products domestically and internationally. Once you order your items, shipping starts within 1-2 days. Standard shipping for domestic orders takes 4-10 business days, depending on the location. The company will send tracking information via email to help you follow up on the progress of your order. Customers who want to place rush orders should inform the company in advance to have everything arranged and in place.
Return Policy: 
The company offers customers a 100% money-back guarantee for all their personal care products. If you are unhappy or dissatisfied with your purchase, you can return the items within 30 days from the date of purchase. Email the customer service team at [email protected] to get your refund. Keep in mind that the company does not refund the initial shipping costs. 
To qualify for a refund for boxers, they need to be unopened and unused upon return. Make sure you share your zip code, order number, and the reason for return with customer service.
Ballsy Promotions & Discounts
Imagine getting a reward for keeping your balls clean? We investigated Ballsy to find out if they offer any discounts to help you save money. Our team found out that the company allows you to earn Ballcoins that can reward you with free products and discounts. 
You earn 5 Ballcoins for every dollar you spend on the company's products. The company also rewards 200 Ballcoins for creating an account with them, 200 Ballcoins on your birthday, 200 Ballcoins when you like the brand's social media pages, and 200 Ballcoins for leaving a review on the company's website.
Enjoy tons of rewards every time you level up your Baller status. Also, the company offers a $5 off discount for referring a friend as they also get $5 off. 
Contact Ballsy
Is there something we haven't covered in our Ballsy reviews? Or if you have any questions about Ballys or its product, you have several ways to reach out to their support team. You can contact the company via email at [email protected]. You can also fill out the contact form available on the company's website or start a live chat with any one of Ballys' customer service representatives.
Alternatively, you can contact their support team via Ballsy's Facebook or Instagram page.
Ballsy Reviews: Editor's Verdict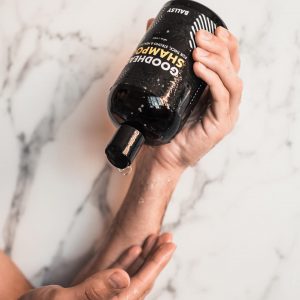 After sifting through Ballsy reviews from customers, we find the brand worthwhile. Their products are all-natural, effective, and affordable. It is also good that the brand designs products with guys in mind because they also deserve to clean and stay fresh all day. 
Men should not worry when using the products in the most sensitive areas as they are safe and free from chemicals and irritants. You will not overwhelm your boys with a strong and irritating cologne as the products are clean and simple but masculine.
These products are worth it, and even though some customers complain that they receive them in small quantities, they are worth every dime. You can consider doubling the number of items you buy and use if they run out so fast. If you want to de-stick your body and stay clean, dry, and fresh all day, this Ballsy Ball Wash review agrees that the products are worthwhile.
Are you looking for other self-care products for men? Consider reading our reviews of Bravo Sierra, COSRX, Black Wolf Nation, and Geologie.
Ballsy FAQ
What is the most popular Ballsy Nut Rub scent?
All the Nut Rub scents are awesome, but customers' reviews show that many buyers go for the Ocean & Air and Forest & Fields as their favorite scents. The company also offers Drift & Dunes, Sun & Surf, Smoke & Suede, and Citrus & Cedar. All these are masculine fragrances, and you only have to choose the one that suits you.
Is Ballsy nut rub safe?
Yes, Ballsy nut rub is as safe as any other product offered by the brand. The ingredients used to create the products include beeswax, sunflower seed oil, and coconut oil. These ingredients are natural and are safe for use by people with the most sensitive skin.
Are Ballsy products vegan?
No, not all products from Ballsy are vegan. The company prohibits animal testing, but some products contain animal derivatives. You can confirm the contents of the products you are purchasing by looking at the "formulated without" list available below the product description.
Is Ballsy cruelty-free?
The company offers cruelty-free products. They do not perform testing on animals or allow animal testing on any of its products and ingredients. Their suppliers also don't perform animal testing.