Do you dream of luxurious, long locks of hair flowing down your back? Or are you looking for a solution to the hair loss that affects so many of us (men and women) as we age? With thousands of positive reviews and a huge social media following, this haircare brand caught our eye. But are the Hairburst reviews we've spotted a true reflection of the brand? In our thorough and unbiased Hairburst review, we're going to find out.
About Hairburst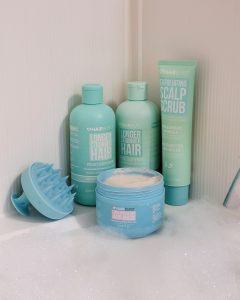 Hairburst is a UK haircare brand that promises "longer, stronger, healthier hair." It offers a vast collection of vitamins, shampoos, conditioners, and cosmetics for men and women.
Henry Gwilliam, Matthew Cragg, and James Hill founded Hairburst in 2014. The company is now spearheaded by James Hill, the CEO. Based in the UK, Hairburst offers haircare products to a worldwide audience. It also boasts an impressive collection of celebrity endorsements and positive press.
Customers love Hairburst for its high-quality formulas. These combat common hair problems caused by "over styling, aging, stress, poor nutrition, and pollution." The products aim to keep hair in the "growth phase" for as long as possible to encourage long, luscious locks. Not sure you believe it? Hairburst has a handy webpage that details exactly how the formulas improve hair health, all in an easily digestible format.
Promising "products you can trust," Hairburst only works with trusted and certified manufacturers. Products are always free from GMOs and gluten, and many are certified vegan. The brand utilizes the best premium/natural ingredients that have been proven to improve hair health. For example, biotin, selenium, and zinc.
But don't just take the brand's word for it! Hairburst reviews are overwhelmingly positive, and many include "before & after" pictures to show the power of these impressive-sounding formulas.
But is Hairburst everything it promises?
Although many customers seem thrilled by the results of this haircare brand, we did find a fair share of more negative Hairburst reviews, with customers claiming they didn't experience the promised results. In some instances, customers claimed the products made their hair greasy, increased hair loss, or made them break out in spots.
It's worth noting that Hairburst does not promise instant results. In a customer trial conducted by Princeton Consumer Research, out of 100 people who took the brand's Healthy Hair Vitamins for 3 months, 98% noticed faster hair growth, 100% stated they'd use the products again, and 88% said their hair felt healthier. So, perhaps longevity is the secret to the luscious locks Hairburst promises?
The brand was featured in British Vogue, Good Housekeeping, Daily Mail, Women's Health, and Mirror, among others.
In our thorough and unbiased Hairburst review, we'll aim to get to the bottom of this brand's claims. We'll look at some of the brand's best-selling products, real customer reviews (from independent sites as well as on Hairburst's own website), and the background of the company… All to figure out whether this is a brand worthy of your attention (and cash!).
Pros
Good variety of products from supplements and gummies to shampoos and conditioners, and even cosmetics!
All Hairburst formulas are free from SLS, parabens, and GMOs.
Hairburst is a cruelty-free brand with a strong collection of vegan products.
Hairburst reviews are generally positive. The brand also features many "before & after" images from customers to help prove their claims.
Sponsors charitable initiatives, with part of the revenue from all sales helping fund Vitamin Angels.
Pay in installments with Klarna.
Customers can often enjoy promotions and sales, such as BOGOF deals.
Free shipping on orders over $50 with a 28-day return policy.
Cons
Some Hairburst reviews mention they didn't experience any changes in their hair. Some even suffered breakouts, increased hair loss, or greasy hair after using the products.
Return shipping costs are not covered by the company.
There is some controversy surrounding the brand due to FTC disclosure and claims surrounding the effects of Hairburst vitamins.
Hairburst Products Review
Now we know a little more about Hairburst, it's time to dive deeper into the products themselves. There are many hair care brands on the market that might catch your attention. Hairburst definitely has some of the best products, so let's see what customers have to say about them.
Hairburst Shampoo and Conditioner Review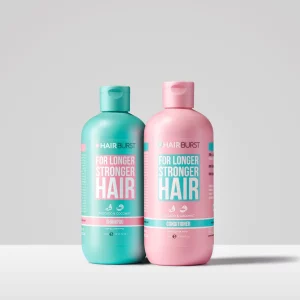 The Hairburst shampoo and conditioner set promises "stronger, healthier locks." It features a carefully curated formula designed to accompany the brand's hair growth vitamins and produce the gorgeous hair you've always dreamed of.
The shampoo and conditioner are made with over 95% natural ingredients. These include hydrolyzed wheat protein, amino acids, and panthenol to reduce shedding, nourish and repair split ends, and reduce breakage.
Hairburst reviews are overwhelmingly positive for this shampoo and conditioner set. On Hairburst's own website, the product scores an impressive 5-stars across 643 reviews. Customers rave "results seen immediately" and that hair was noticeably "stronger, healthier, and shiner". Some reviews also comment on the scent of the product, stating they "love the smell of every wash."
Hairburst shampoo is also available on Amazon, where it also scores highly – 4-stars across 3,725 reviews. Here, customers state the product "works wonders," hair is "stronger and thicker," and that they "could tell an immediate difference."
That said, there are a handful of negative Hairburst reviews for this product. The top three complaints on Amazon claim Hairburst shampoo:
Dries out hair.
Doesn't work.
Can cause an allergic reaction.
Hairburst Vitamins Review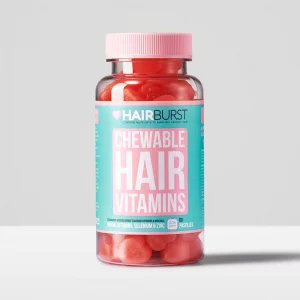 Hairburst chewable hair vitamins are arguably the product that put this brand on the map. But are they effective?
Hairburst vitamins contain a plethora of ingredients essential for healthy hair growth. These ingredients include biotin, zinc, and selenium, to improve hair health "from the inside out."
The brand promises Hairburst chewable hair vitamins "visibly improves fine or thinning hair, prevents breakage, and encourages stubborn hair to grow."
They're made to be perfect for anyone who struggles to swallow conventional vitamins. Despite the sweet strawberry/blackcurrant flavor, Hairburst vitamins are low in sugar. They're also made from premium and naturally derived ingredients.
On Hairburst's own website, these chewable vitamins score 5-stars across 529 reviews. Customers rave about the fast results. One customer claimed they've "only been using it for a month and already my nails and hair are stronger." Another stated they "have seen a real improvement since using the products."
Checking independent Hairburst reviews on Amazon, we see a similar story. Here, Hairburst chewable hair vitamins score 4.2-stars across 2,212 reviews.
Commenters on Amazon praise the "great taste" and claim they "definitely noticed a difference in how much faster [their] hair grew." Some reviews suggest "the second-month results are more visible." Seeing as Hairburst recommends taking these vitamins for at least three months, this sounds like a fair review.
Hairburst Scalp Scrub Review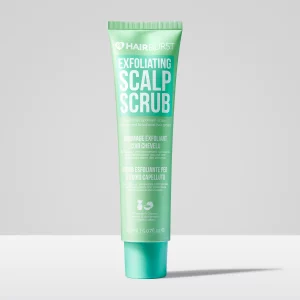 This pre-shampoo treatment claims to "promote a healthy and optimum scalp environment to support hair growth." In other words, the Hairburst scalp scrub encourages healthy hair growth by "removing dead skin cells and product build-up" for a deeply cleansing and exfoliating experience.
This product is vegan-friendly. It utilizes key ingredients such as coconut oil (to add shine and moisturize), bamboo stem powder and peach seed (to gently exfoliate the scalp), glycolic acid (to exfoliate and reduce scalp dryness/flaking), and bilberry fruit extract (high in antioxidants for a nourishing, soothing effect), among other natural ingredients that have been carefully selected for their skin/hair benefits.
The Hairburst scalp scrub scores 5-stars across 24 reviews on the website – fewer than we've found on other products, but still an impressive result. One reviewer called the scrub "fantastic," going on to say they are "loving this product, after a few goes my dry skin on my scalp has gone." Another reviewer claimed the "scrub is so nice to use, it makes your hair look a lot healthier, softer, and helps to grow it."
We couldn't find the scalp scrub on Amazon for independent Hairburst reviews. But there are plenty of bloggers out there who've given this product a glowing review.
Hairburst Hair Growth Elixir Spray Review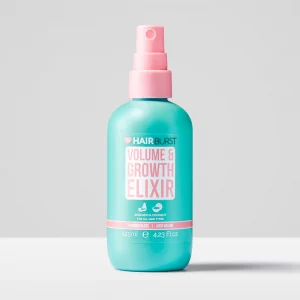 To us, the Hairburst Hair Growth Elixir Spray sounds like some sort of magical potion. But it's real, and it has some real benefits to offer if the Hairburst reviews we've read have any credibility!
This magic-sounding serum claims to provide "instant hair volume" plus a plethora of other benefits that make it "the perfect addition to your daily hair styling routine." Some of these benefits include:
Enhancing hair volume and gloss,
Making hair visibly thicker and stronger,
Hydrating and preventing breakage,
Protects hair from UV and heat damage from styling or environmental damage.
As with all Hairburst hair care products, the elixir contains only the most premium and/or natural ingredients. These include pea sprout extract, cloudberry (magic or what?!), and polymers to create the hair of your dreams.
The brand recommends using this product on clean, wet, towel-dried hair before you blow-dry. But it can also add volume and gloss when applied to dry hair. This really is a versatile and multi-functional elixir!
The Hairburst Hair Growth Elixir Spray scores a little lower on the Hairburst website than other products we've looked at with a ranking of 4.2-stars across 317 reviews.
Customers claim the elixir leaves hair "looking healthy, bouncy, and shiny." Other comments call it "the best elixir ever," and many state the elixir "really made a difference to [their] hair.
On Amazon, this product scores 4.2-stars across 604 reviews. Although a handful of comments state they were "not impressed" by the elixir spray, others "love, love, love this product." Many claim it "brought [their] hair back to life."
Hairburst The Chewable Hair Growth Bundle Review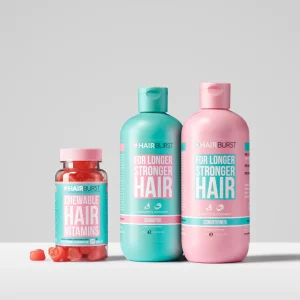 Hairburst regularly claims that using multiple Hairburst products together is the best way to achieve premium results. But they don't expect customers to add individual products to the cart every time.
Instead, Hairburst offers a selection of bundles and packages that enable customers to find the perfect combination of products, and enjoy a sneaky discount to boot!
The Hairburst Chewable Hair Growth Bundle is probably their best-selling package – and seems to be the one the brand itself recommends most often.
This package includes the famous, chewable Hairburst vitamins, plus a bottle of Hairburst shampoo and conditioner. The idea is that this package will enable you to boost your hair health inside and out, providing your body with the nutrients it needs to achieve healthy, luscious locks, while also giving you the tools to cleanse, strengthen, repair, and moisturize.
Popular Alternatives to Hairburst
The Chewable Hair Growth Bundle comes in four variations to suit your hair type:
For normal hair
Dry and damaged hair
For oily hair
For curly hair
With this selection, you're sure to find the perfect solution to any of your hair woes.
This Bundle scores 5-stars across 238 reviews on the company's website. Customers claim the products make their hair feel "so much healthier and softer." Some also praise the Hairburst customer service team.
Some Hairburst bundles are also available on Amazon, where this bundle scored an impressive 4.3-stars across 238 reviews. One of the top reviews claimed people have been asking if they've "had hair extensions fitted as [their] hair has grown so much" since taking Hairburst vitamins alongside the shampoo and conditioner! High praise indeed. Another similar brand that sell hair growth gummies are HairTamin.
Hairburst Reviews from Customers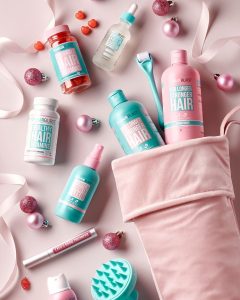 When it comes to customer reviews, we always like to check independent review sites such as Amazon or Trustpilot. This ensures we're getting an unbiased view of the company, and that the brand can't filter results (as much as we wish it didn't happen, it often does!).
For our Hairburst review, we looked at the Hairburst reviews published on the company's own website. We then compared these to Amazon.com reviews for the same products. We also checked out the brand's ranking on Trustpilot to get a good overview of the customer experience.
Throughout these platforms, Hairburst scores highly. Almost all products on their own website have a 5-star result. On Amazon, we found most offerings scored at least 4-stars. And Trustpilot rates Hairburst a "great" 4.3-stars across 3,608 reviews.
Almost all reviewers claimed to have seen genuine results when using the Hairburst shampoo, vitamins, or other products. Many Hairburst reviews also comment on the pleasant smell of the products.
That said, as with any product, Hairburst does have its share of less impressed customers. Often, these reviews claim they didn't experience any results from using the products. While this is disappointing, it's worth noting that everyone's hair is different, and there's no such thing as a one-size-fits-all when it comes to haircare.
It's also worth mentioning that Hairburst recommends customers try the products for at least three months. This gives the hair its best chance of absorbing the beneficial ingredients and demonstrating a visible result.
In some instances, customers have reported allergies. Hairburst doesn't always provide the full ingredient list on the product page. Although full ingredients are always printed on the packaging, this is something to be wary of if you have any sensitivities. Other reviewers claimed the Hairburst shampoos or vitamins dried out their hair, and in a few instances even made their hair loss more extreme.
Sign Up for Hairburst
To get the most out of your Hairburst shopping, it's worth becoming an HB Insider. Insiders receive exclusive discounts and a free full-size product with every subscription.
To benefit, simply sign up for a Hairburst account and buy a three-month supply of any Hairburst vitamins on a subscription basis. You'll save 33% on your order and receive a free full-size gift worth at least £23.99 with every delivery. Not to mention free shipping!
HB Insider subscriptions start at $40 every three months.
Where to Buy Hairburst
The full Hairburst range is available on the website – Hairburst.com. Many products are also available from Amazon, Walmart, FeelUnique, CVS Pharmacy, and other haircare retailers.
Hairburst Shipping and Return Policy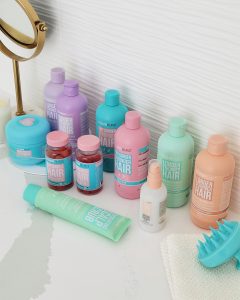 Hairburst offers international shipping and has a dedicated "local site" to make shopping in your chosen country easier.
For US customers, shipping costs $6.99 or is free for orders over $45 and usually takes 2-6 business days.
Canadian customers will be charged $12 for shipping. Delivery time is also 2-6 business days.
If for any reason you're unhappy with your order, Hairburst offers a 30-day returns policy. Items must be in their original condition with the order confirmation letter enclosed.
Hairburst doesn't cover the cost of return shipping. There are also multiple return addresses, so you should contact a customer service representative before returning a product.
Promotions & Discounts
The best way to receive money off your Hairburst shopping is with an HB Insider subscription box. However, there are other ways to uncover Hairburst coupons!
The company often runs special offers and promotions for new and existing customers. They regularly offer BOGOF deals and you can frequently find Hairburst coupons on your favorite coupon site.
It's also a good idea to subscribe to the Hairburst mailing list to receive emails containing "exclusive discounts, early sale access, and the latest Hairburst news!" You may also be able to find Hairburst coupons by following the brand on social media.
Contact Hairburst
You can contact Hairburst via email at [email protected], by completing the online enquiring form on the website, or by connecting via social media. You can follow their Instagram account or Facebook.
The customer service team is available Monday to Friday, 8am – 4pm GMT.
Hairburst Reviews: Editors' Verdict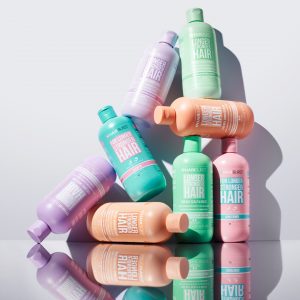 As part of our Hairburst review, we've spent a lot of time looking at the various products and claims made by the company and comparing these to real Hairburst reviews from customers. And overall, we can't help but be quite impressed by the brand.
Although many of the promises this company makes sound too good to be true (which is usually the case), Hairburst reviews match the claims. Almost every customer (even those that left a negative review) stated they did experience healthier and stronger hair from using these products.
The only thing that's still putting us off a bit is the high price of Hairburst products. But, if the Hairburst shampoo, vitamins, and other products really do provide the hair growth and benefits it promises, the price feels increasingly justified – particularly when you take advantage of the range of discounts or even the subscription boxes the brand offers (and who doesn't like a freebie?!).
In conclusion, it does seem like this brand lives up to its promises and is a worthy recommendation. We'll be keeping an eye out for their next sale and stocking up!
Still on the lookout for further hair care brands? Check out our reviews of Hairstory, Maui Moisture, Coco & Eve, and MoroccanOil.
Hairburst FAQ
What does Hairburst do? How does it work?
Hairburst has an entire web page dedicated to explaining how its haircare products improve your hair health and encourage hair growth.
There's plenty of science on this page, translated into easy-to-understand sections that really will empower you to make the best hair health choices.
When do I use Hairburst?
Hairburst vitamins (chewable or normal) come in packs with 1 month's supply of vitamins. The company recommends you take two capsules per day, ideally in the morning with your first meal.
How fast will my hair grow using Hairburst?
On average, Hairburst claims your hair should grow around one inch per month, although individual results will vary.
Does Hairburst cure baldness?
Unfortunately, even Hairburst doesn't claim to have a miracle cure for baldness. You should consult your GP if you're losing a substantial amount of hair.
Can I take Hairburst if I am pregnant or breastfeeding?
If you're pregnant or breastfeeding, it's always a good idea to consult your doctor before taking a new course of vitamins.