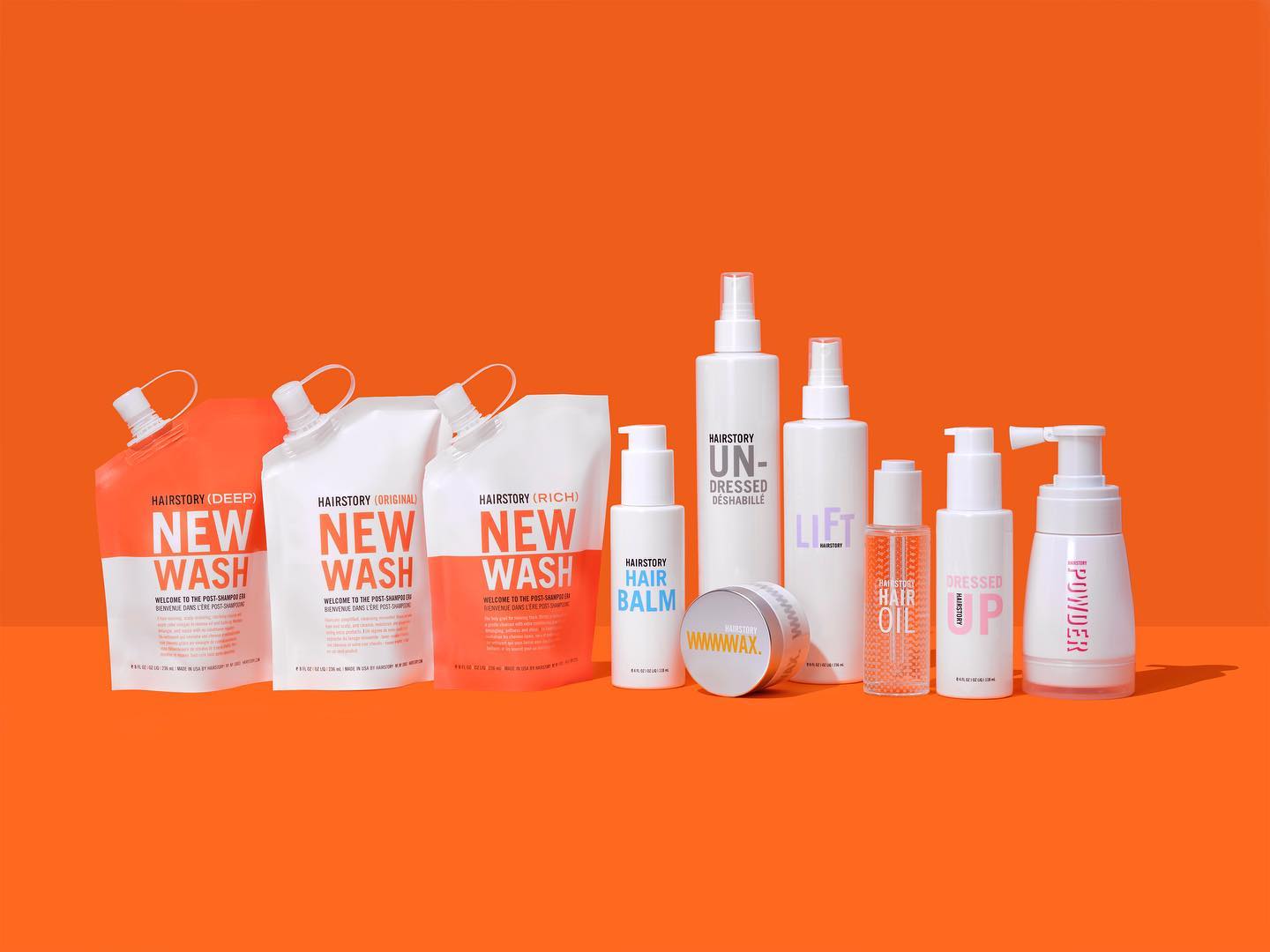 Most commercial shampoos are very harsh on the scalp and can cause dryness and irritation. Commercial conditioners also do not contain the nutrients needed to repair dry, damaged hair. Hairstory offers a range of high-quality hair care products. The company created a new way of selling hair care products, as they do not use distributors or big-box stores. They also reward hairdressers when they recommend their products to their customers. We'll look at Hairstory reviews from customers, its best-selling products, shipping policy, and more to help customers determine if this company is worth the hype.
About Hairstory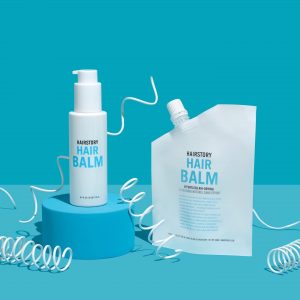 Hairstory was founded in 2014 when Michael Gordon, the founder of Bumble & Bumble, teamed up with Eli Halliwell. They created a haircare brand that focuses on formulating hair washes that do not contain detergents and harmful substances like standard shampoos. Their products are enriched with natural ingredients and essential oils.
The brand not only ensures it produces excellent and nourishing products for your hair. It also donates to eco-friendly initiatives as a member of the 1% for the planet. Hairstory also provides refill plans in a bid to manage waste.
The brand is based in New York City and doubles up as its studio. The brand has a cult following across social media platforms, with more than 55K followers on Facebook, and 141K on Instagram. Prominent publishers like Forbes, The Cut, Glamour, and The New York Times have featured the brand.
Before we get to Hairstory reviews from users, let's look at this haircare brand's pros and cons.
Pros
The products are organic and cruelty-free

The quality of the products is excellent, especially considering the price points

Decent selection of products

Free samples available

Easy to use the website

Customer service is friendly and helpful
Cons
The price per product is high, making it difficult for some people to afford it

The products are only available online or at select salons in New York City

They do not refund shipping fees
Hairstory Products Review
Hairstory offers a range of hair care products, including serums, shampoos, and conditioners made from natural ingredients. These products are made from natural ingredients that are safe for your hair and skin. They do not contain any harmful chemicals, making them ideal for all hair types, including colored ones. Let's take a look at the brand's best-selling products.
Hairstory New Wash Rich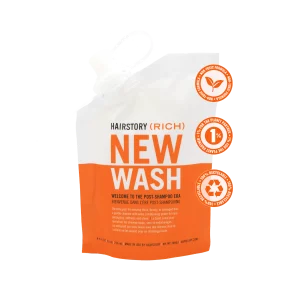 The Hairstory New Wash Rich is the first product that Hairstory launched, and it's a shampoo that aims to be as luxurious as Oribe's other offerings while also being free of silicone and parabens.
Hairstory reviews show that customers love the New Wash Rich because it doesn't contain any silicones or sulfates, so it doesn't weigh their hair down as most traditional shampoos do. The formula comprises Japanese botanicals like green tea and matcha to help cleanse your scalp and add shine and volume to your hair.
If you have thicker or coarser strands that need more volume, Hairstory has got you covered. The brand has several options that you can choose from, including clarifying shampoos that are great for adding volume without weighing down your strands. This is an excellent option if you have fine or oily hair because it won't dry out your scalp or make your hair feel weighed down.
Hairstory Dry Shampoo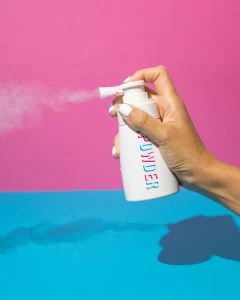 Made with bamboo charcoal, Hairstory Dry Shampoo absorbs excess oil in your hair without drying it out. It absorbs impurities like dirt, grime, and sweat to leave you with fresh locks. 
This dry shampoo contains only the finest ingredients — such as organic Bamboo Charcoal Powder, Kaolin Clay, and Organic Aloe Vera Powder — that nourishes your scalp and give you that extra boost of volume.
The consistency of this product is fragile and light. Many users like these qualities because it doesn't weigh down their hair. It's ideal for people who experience oily roots if they don't wash their hair. 
Hairstory Dry Shampoo also smells good, making it perfect for those days when you've slept in your hair and need to freshen up before going out. Additionally, it gives your hair a little volume without making it feel crunchy or stiff.
Hairstory Hair Balm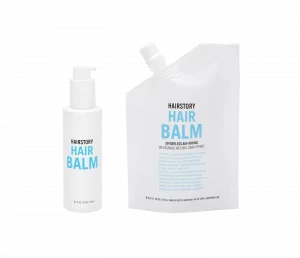 Designed to keep flyaways at bay while adding shine to your hair, Hairstory Hair Balm has a nice smell, and it's suitable for all hair types. Those with curly or frizzy hair can also use it because it helps tame any unwanted frizziness.
This hair balm has become a staple in Hairstory's client's morning routines. All you need is to apply a small amount to damp hair before blow-drying or air drying. It helps the hair stay soft and shiny throughout the day without weighing it down or making it look greasy (sometimes if you use too much). 
It also has a floral scent with hints of citrus, vanilla, and musk – all of which are inspired by the aromatherapy benefits of rosemary essential oil that was added to the formula during development.
The only disadvantage of this brand's product is that the jar packaging makes it difficult to get out what little bit remains at the bottom after multiple uses. 
Hairstory Scalp Brush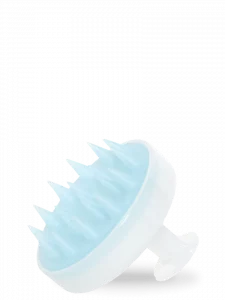 Designed to help you detangle and tame your hair when showering, Hairstory Scalp Brush is a revolutionary new tool. The design was created to fit comfortably in your hand, making it easy to use while in the shower. 
The bristles are silicone, allowing you to glide through tangles without pulling or tugging at your hair. The silicone bristles have antibacterial properties, preventing buildup and germs on your brush.
The unique design of the Hairstory Scalp Brush allows you to use it with any shampoo or conditioner product in the shower. You'll be able to efficiently cleanse and nourish your scalp without worrying about getting soap in your eyes or losing grip on your brush during application.
The scalp brush can be used on wet and dry hair without causing unnecessary damage or breakage to fragile strands; this makes it an ideal accessory for those with curly or frizzy tresses that need extra care when shampooing or conditioning their locks. You don't have to worry about losing grip on your brush while rinsing out shampoo suds because its silicone bristles are gentle enough for use on delicate Scalp Brushes.
Hairstory Shorter Hair Starter Kit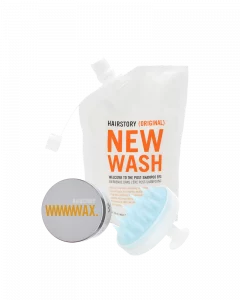 If you're going for the lob, this starter kit from Hairstory will give you the exact right products to get it right. It includes everything you need to keep your hair healthy and shiny.
The starter kit comes with Hairstory shampoo, conditioner, leave-in treatment, and styling cream (a heat protectant). All products are sulfate-free and contain natural ingredients like avocado oil, rosemary extract, and jojoba seed oil. These ingredients nourish your scalp while reducing frizziness and adding shine to your mane.
These products are also cruelty-free, so you can feel good about using them on your head. While the kit is not cheap, it is worth purchasing, especially if you have fine or thinning hair that needs some extra love.
Hairstory Reviews from Customers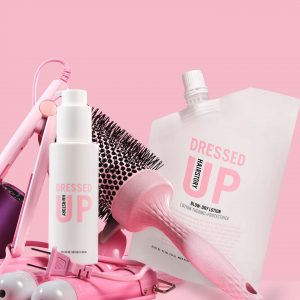 This Hairstory hair care review was curious to check what customers had to say about the brand. We visited the company's website, Amazon, and Reddit to learn more about their products. 
Customers' testimonials on the company's website show that its products help them achieve long, healthy hair. Their best-selling products have earned hundreds or thousands of positive reviews, with most of them scoring 4 out of 5 stars.
The New Wash Original has received 7,4000 reviews and an average of 4.1/5 stars from users

Their New Wash Rich scored a 4.3-star rating out of more than 750 reviews. 

There are almost 900 reviews on this New Wash Deep product, with an average rating of 3.8/5 stars

With over 1,000 reviews, Hair Balm has a star rating of 4.2 out of 5

More than 300 customers have given the Dressed Up Hair Protector 4.1/5 ratings

There were more than 300 reviews with an average of 4.1/5 stars for Undressed Texturizing Spray 
The company's most well-known product, Hairstory New Wash, caught our eye. Those who have tried it rave about how soft and lustrous their hair feels afterward. There has been a significant improvement in one reviewer's hair:
One customer left a 1-star rating as they stated they experienced limp and oily and dry, knotted hair as side effects. The number of those who openly admitted to feeling this way was relatively low. It was helpful to look at other review sites to see if similar problems were prevalent.
Popular Alternatives to Hairstory
Further customer reviews
The Hairstory New Wash has received a rating of 4/5 stars from Amazon customers. They said they had used it before for their kids' plaque psoriasis, so they know it's a good drug. A shopper who awarded the product five stars also wrote that her scalp and hair felt brand new after using this shampoo. She stated that her hair became a lot longer.
Others have the same rating as this product. For example, over 200 customers gave the Hair Balm a rating of 4.1/5 stars. After using this shampoo, many customers claim their hair is softer and smoother. A floral undertone is present. 
Hairstory postings on Reddit discuss the highs and lows of the brand's merchandise. One customer stated that this was the closest thing they have found to a solution that cleans without stripping or leaving residue.
Customers seem to like the brand's products in general. Studies show that hair with softer, easier-to-manage fibers is more durable and growing more quickly. However, 15 percent of clients' hair becomes drier and frizzier after using Hairstory's New Wash product.
Sign Up for Hairstory
Nothing beats getting ready for the day only to find no shampoo in the bathroom. Your existing washer appears to be worn out. Hairstory's New Wash subscription delivers your vital hair care product regularly.
Before buying New Wash, take the Hairstory quiz. You will then be shown a list of suggested products and delivery dates, which they can modify.
Visit their brand's site website and create your account by providing your personal information, including your email, which will be used for any alerts. You can also sign up for another similar brand such as Amika. 
Where to Buy
Are you ready to buy the products after reading our Hairstory reviews? You can buy Hairstory products directly from their website Hairstory.com, retail shops, and salons; however, we recommend getting their products from the brand's site to avoid counterfeits and enjoy promotions and discounts. To find a participating location near you, enter your zip code into the locator at the top of the Hairstory website.
Hairstory Shipping and Return Policy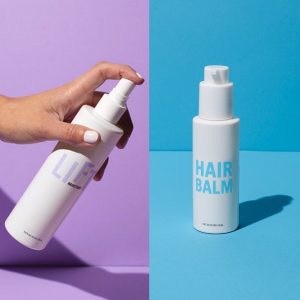 Shipping:
New Wash Refill Club members receive free shipping on all orders. They offer to ship to all 50 states. The delivery options include Hairstory Canada, the United Kingdom, Australia, New Zealand, the EU, Norway, Iceland, and Switzerland. The company will pay for shipping on your first purchase. The cost of subsequent orders ranges between $4 and $6.
Depending on your geographical location, your package may take some time to arrive. You will be given an estimate at the time of purchase. To check the status of your order, sign in to your Hairstory account.
Return Policy:
According to this review, Hairstory hair care products can be returned for a full refund within 30 days of purchase. If you are dissatisfied with an unopened product, you may exchange or replace it. You should report any damaged product to the company as soon as you become aware.
You will be charged additional fees for the return shipment. 
Promotions & Discounts
The brand has several discounts to offer to its customers to help them save money while buying hair products on their site. To enjoy them to the maximum, you have to subscribe as a member. You will then have a free refilled travel or jar container on all orders. The larger two sizes include a reusable shower container. Using a Hairstory coupon code at checkout will allow you to buy items at a discounted price.
New Wash Refill Club members will also enjoy free shipping. Your order will be deferred and dispatched the next month if you pick the 'next ship date'. The company can cancel an appointment at any time.
Additionally, Afterpay offers interest-free payments for one-time purchases. However, it is not available to all subscribers.
Contact Hairstory
If you have any questions that you feel were not covered after reading this Hairstory hair care review, don't hesitate to get in touch with the company using the following contact methods:
Send an email to [email protected]

Phone number (646) 760-5142 

Send a message to their Twitter, Facebook, or Instagram page
Hairstory Reviews: Editor's Verdict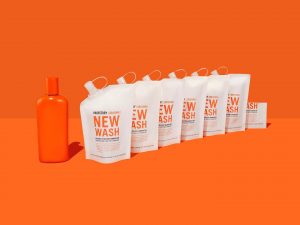 According to the Hairstory reviews from customers, it is clear that most of those who have tried the brand's products love them; only a few customers were not happy with their purchase.
Hairstory clarifies that using its wash in a specific method and transitioning your hair from synthetic treatments to natural ones can take some time. This can occur because of poor product use or a lack of time for their hair to adjust.
When you're not satisfied with the results of your purchases, you can return them within 30 days of purchase, which makes it easy to work with since you don't have to worry about products that don't work.
If professional hairdressers are using Hairstory's products, it's a good sign. We also appreciate the brand's efforts to change the way we view and care for our hair. If you are looking for a brand with effective hair care products, check out Hairstory.
Still searching for new beauty brands? Check out our Xmondo Hair, Briogeo, 4C Only Hair, and Cantu.
Hairstory FAQ
Where are Hairstory products made?
The brand's products are made in the United States. And the company uses clean ingredients that are not harmful to your hair or skin.
Are Hairstory products organic?
Yes. Most of their products are certified organic. The ingredients they use are of the highest quality.
Where can I find Product Ingredient Lists?
You can get Hairstory's whole ingredient list from its product page. The brand is committed to maintaining complete transparency.
They have decided to list every component, including fragrance components and ingredients present in such trace amounts that FDA regulations do not allow them to list them.
Are Hairstory products tested on animals?
They have extensively tested their products on their heads, friends, family, and models, but never on animals. Furthermore, all of their raw ingredients are cruelty-free and have never been tested on animals.
Do Hairstory products have an expiration date?
Hairstory products have a two-year shelf life before being opened. Due to the rapid turnover of the products they sell, you won't receive anything that has been languishing in their warehouse for more than three to six months.
After opening, a product's POA (period after opening) is the amount of time it will last before it becomes hazardous or detrimental.
Even if a product has settled or separated after a lengthy amount of time (more than a year), it will continue to be helpful in cleaning, conditioning, or styling: It will not be detrimental.