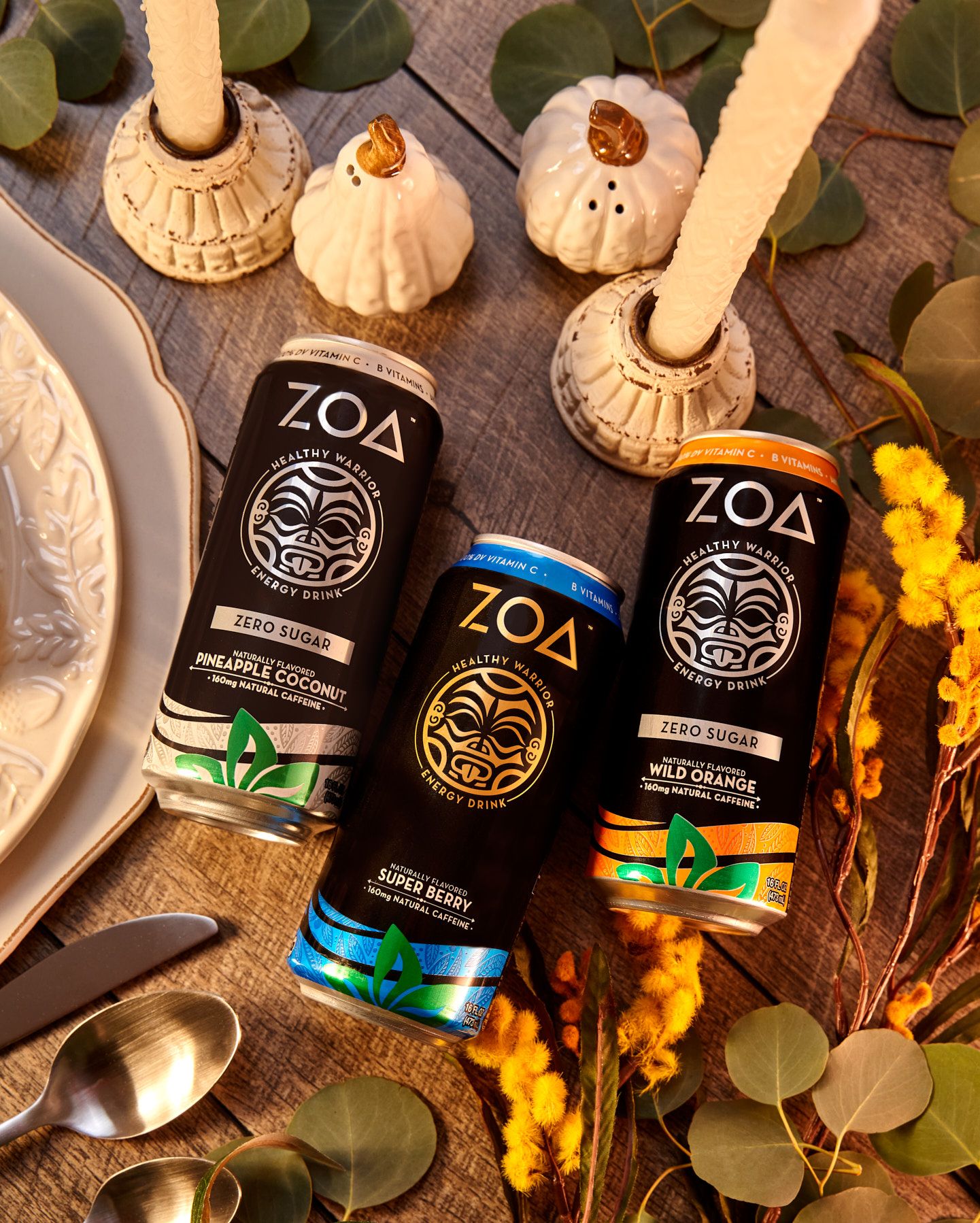 You have spent most of your day inspecting works at a construction site. Perhaps you are an athlete who spends most of the day in strenuous workouts, or sitting in the boardroom left you feeling more worn out than ever. The closest thing that closes your mind is getting an energy drink. Owned by Dwayne Johnson (the Rock), the Zoa is an energy drink chock full of nutrients and vitamins designed to boost your immune system while providing you with a dose of natural caffeine healthy enough to allow you to focus and balance all day. This Zoa Energy Drink review will look into various products this brand offers, reviews from customers, promotions and discounts, and much more to help you decide if you will grab the drinks to re-energize yourself as everyday warriors do.
About Zoa Energy Drink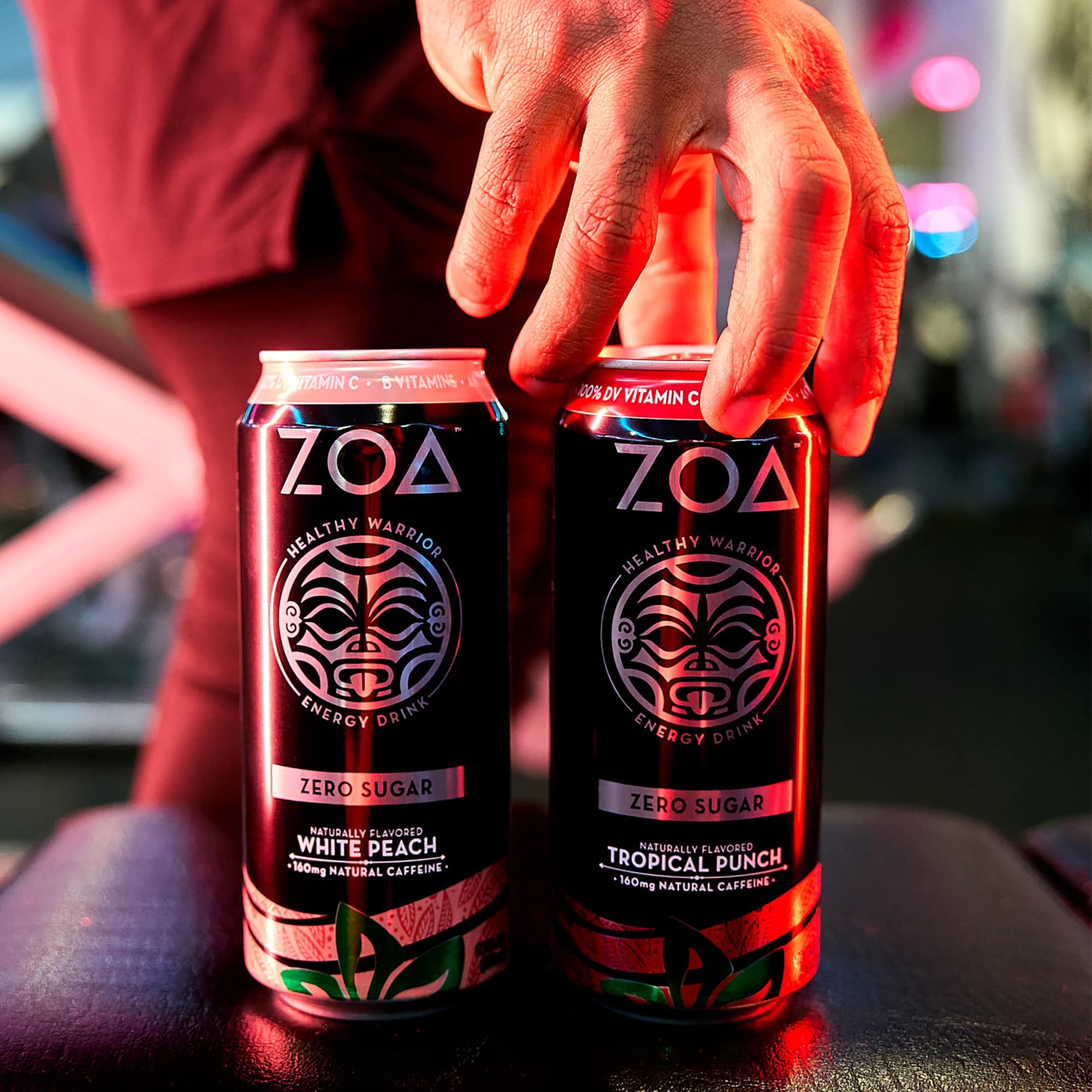 Dwayne Johnson, known for his popular name "The Rock," who has several brands to his name, announced in January 2021 that he was going to launch an energy drink. The Rock informed his fans through his Instagram account that Zoa Energy Drink would hit the market within a few coming months.
The Rock said in his post that Zoa Energy would be a clean and healthy energy drink, the first of its kind to reach the market. In the video clip introducing Zoa to the world, Dwayne said that it would be a healthy and immune-strengthening energy drink for everyone.
ZOA was officially founded and launched in March 2021 with The Rock as the Chief Energy Officer (CEO). The Rock, one of the greatest wrestlers of all time and a remarkable Hollywood legend, is famous for his tireless effort to give clients the best. This drink, which comes in two versions, with sugar and zero sugar, is yet another opportunity to prove that Dwayne is the best in what he does.
Another crucial brain behind Zoa is Dany Garcia serving as the brand chief visionary officer. The mom, a professional bodybuilder and focused businesswoman has many achievements. She sits as ZOA's guardian, ensuring that all ingredients are tailored towards impacting customers positively.
Zoa Overview
Garcia works closely with Dave Rienzi, who serves as the brand's chief health officer. Dave is a renowned strength coach whose prowess, fitness, and health can assist mortals in acquiring god-like strength. Through Dave's support, ZOA is fortified, strengthening to ensure that everyone gets the power to keep the day going.
John Shulman, the founder of Juggernaut Capital Partners, is ZOA's chief positivity officer. He brings over two decades of experience creating and promoting products to ZOA to ensure that you lead a happier and better life here. His primary role is ensuring that ZOA is available on your next shelf, ready to fuel your daily life with new vibes and positive energy to do the extraordinary.
During the brand's launch, the founders said that ZOA is a drink that fights for you with positive energy. When it comes to Zoa Energy Drink nutrition facts, it features numerous nutrients and vitamins with loads of benefits, including hydrating your body, boosting the immune system, and providing you with a modest amount of caffeine to sustain your energy.
Pros
It comes in two different versions- with sugar and zero sugar
You have five flavors to choose from
Free shipping
Low calories
It boosts your energy and immune system
Moderate caffeine
Cons
The drinks contain sweetened sucralose
No phone support
Their products are not vegan
ZOA Energy Drinks Review
A can of ZOA Energy drink has 160 milligrams of caffeine extracted from unroasted green tea and green coffee and about 250 milligrams of branched-chain amino acids. It also contains 100% daily value essential vitamins C extracted from Camu Camu, ascorbic acid, and acerola.
A 16-oz beverage is also packed with vitamin D, turmeric, B1, B2, B3, B5, BC, and B12. Other ingredients that make the beverage include potassium, electrolytes, magnesium, and choline. We will examine five Zoa Energy Drink flavors.
ZOA Original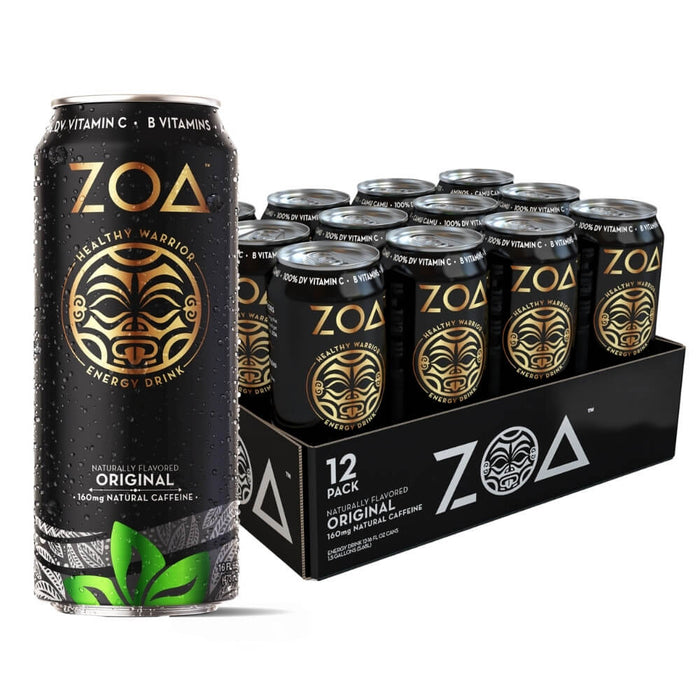 Discover your unlimited potential with this drink whose flavor will prove a mystery to your palate. The mixture of fruity explosion and the energizing flavor is enriched with Acerola Cherries and Camu berries. Its taste will give you the longing for another can immediately. However, the recommended serving per day is one can. Here is why it will be love at first taste for you with ZOA Original.
The Acerola and Camu Camu Cherries are secret superfoods containing 100% of the daily recommended vitamin C. Besides, these crucial ingredients boast powerful antioxidants to bolster your immunity and shield your cells.
Our Zoa Energy Drink review found that this drink also has amino acids as added elements to ensure that your workout is as flawless as possible. The branched-amino acids are crucial for supercharging your muscle growth, choline improves your metabolism, and electrolytes keep your body hydrated at all times during workouts.
Thanks to the infused vitamins, it is time for you to keep your body and mind focused on things that matter most without draining your energy. Your mental energy received a boost from vitamins B1, B2, B6, and B12.
Lastly, you cannot mention energy drinks without caffeine to alert you. This ZOA Energy Drink caffeine from green tea and green coffee will keep your days going and you awake at night locked in your study room, completing crucial projects.
If you love the taste of cherries and berries, ZOA original will be your thing. We can attest that you will love it, having tasted it. You are free to choose between sugar and zero sugar.
ZOA Pineapple Coconut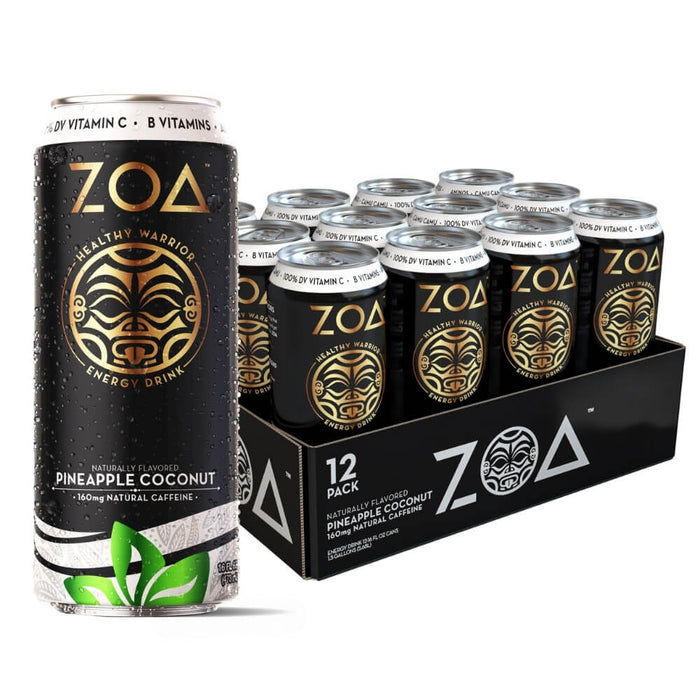 What comes into your mind imagining the energy source for a healthy and positive life? It should be ZOA Pineapple Coconut. The lightly carbonated energy drink contains Camu Camu, acerola, and natural caffeine superfoods. It also contains added electrolytes and vitamins for sustained energy and an immune support system.
Let's talk about the basics that make ZOA Pineapple Coconut unique. The delicious blended taste of pineapple and coconut has certainly been manufactured in paradise to take you for a quick tour to paradise as you re-energize yourself. The unique fusion between the nutty sweetness of coconut and the bright vibrancy of pineapple will fuel the sleeping warrior in you when you gulp the 16 oz serving.
Can one serve to leave you exploding with energy and vibrancy? Yes. A can of ZOA contains 160 milligrams of natural caffeine extracted from healthy and unroasted green coffee and tea, which is enough for you. This energy drink is a suitable pre-workout drink or a perfect way to reignite your afternoons and get into action once more.
This drink also has 100% or 90 grams daily vitamin C to boost your immune system and ensure that your muscles get a new lease of life. Recovery from strenuous activities will no longer concern ZOA Pineapple Coconut. You always remain hydrated, focused, and on a fast-recovery path with ZOA energy drink.
ZOA Energy Drink makes it possible for you to have sufficient energy for the positive and healthy life that has crossed your wildest imaginations.
ZOA Wild Orange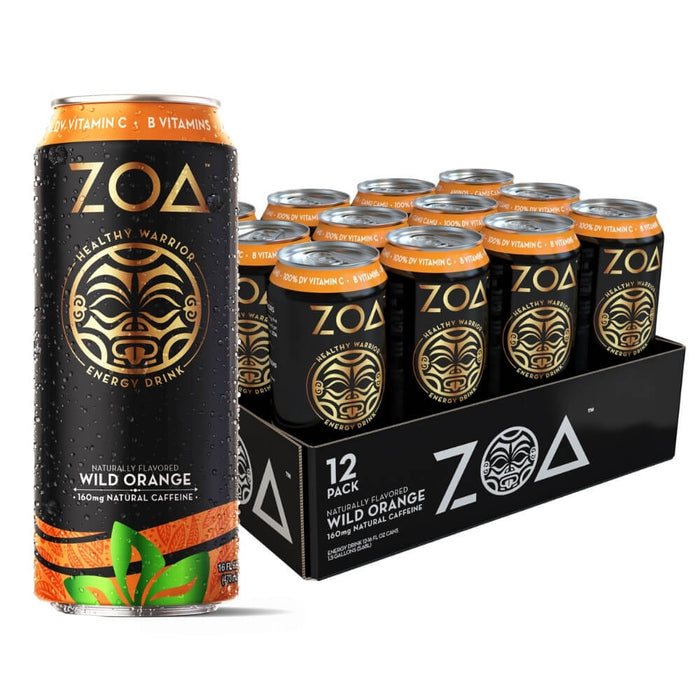 We all love energy drinks, but nothing makes these energizing beverages as delicious as enriching them with a tone of wild-picked oranges. Who said to you that you couldn't have energy drinks for breakfast? ZOA Wild Orange disqualifies this assertion.
You can now sit comfortably in your dining room and sip from this can before leaving for work or take it along to keep you company during your morning drives. It is a perfect way to prepare for a long day in your office or fieldwork.
Like other ZOA Energy drink beverages, the ZOA Wild Orange is enriched with Camu Camu, amino acids, and vitamins to ensure that you get everything that the ZOA brand offers in this can. Enjoy the vital daily vitamin C.
Are you on a sugar diet? You may have heard of fallacious statements that you cannot have an energy drink minus the sugar. However, you have a reason to smile if you are on a no-sugar diet, as ZOA Wild Orange Zero sugar has you covered.
The natural caffeine embedded in the wild orange flavor makes this drink insanely good, especially for those who want to try the zero sugar energy drinks. The Rock never made a mistake when he said that ZOA is here to ensure that the warrior in you is awakened healthily.
ZOA Lemon Lime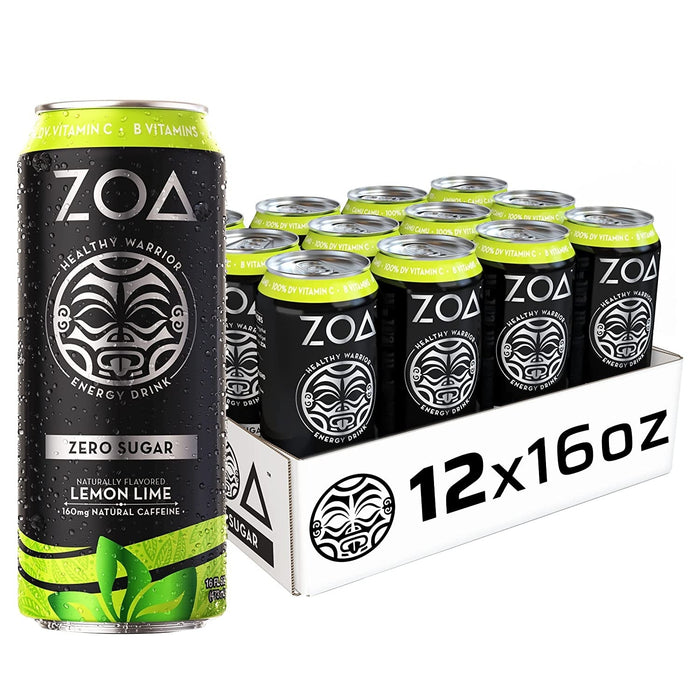 The bitter taste of lemon-lime soothes the tongue, and ZOA Lemon Lime offers you an authentic taste balancing between sweet and tart. How would you like to wake your taste buds, especially after missing lunch? ZOA Lemon energy drink wakes both you and your taste buds.
This 16 oz, 100 calorie drink is all you need to reignite the vibe in your day. Whether you are preparing to spring into action in a crucial match or you are going for a dancing competition that will taste your muscles' innermost capabilities, this ZOA drink has you covered. It is also perfect when preparing for a TED talk as it will give you the energy to keep your robust for 20 minutes and soothe your throat to do your best.
Like other energy drinks in the ZOA collection, the ZOA Lemon Lime comes packed with 100% vitamin C, B1, B2, B6, and B12 to ensure that your mental energy is as stable as possible. Camu cherries and acerola berries boost your immune system. The natural caffeine extract does it all in ensuring alertness if you take this drink to keep you awake to the ungodly hours of the night to pursue your life purpose.
Your family and friends have your back, but ZOA will lift you with energy and take you to where you belong. ZOA Lemon Lime offers one of the most balanced lemon-lime flavors unmatched by any energy drink that you can get out there.
Did we mention that you can get your favorite drink in sugar or zero sugar can? When taking ZOA Lemon-lime, you no longer have to worry about burdening your system with more sugar. It is a worthy drink to have while sitting or standing in a rush to attend to some demanding errands.
 ZOA Tropical Punch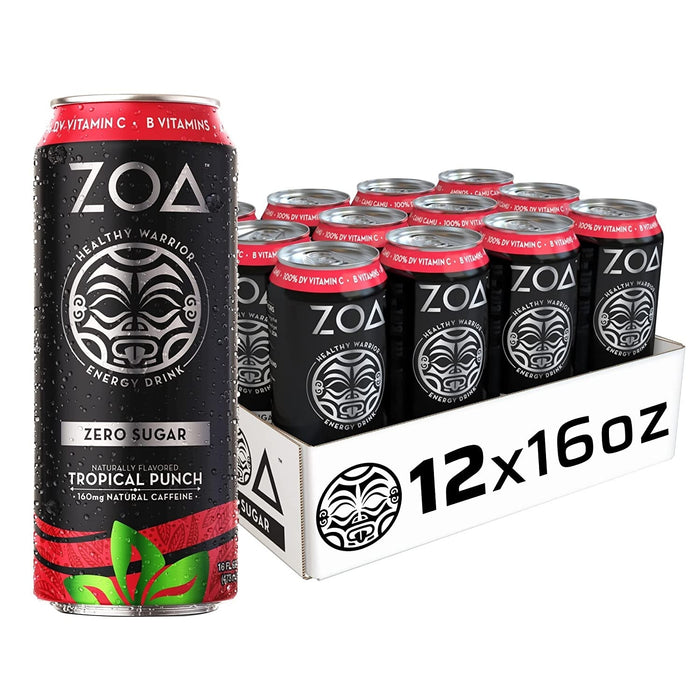 No matter how different our taste buds can be, ZOA Tropical Punch has a soothing taste that can appeal to almost everyone. This zero sugar energy drink with a gentle taste without cringe or bitter aftertaste is what many soft drinkers look for in an energy drink. The tropical punch has all ingredients of the ZOA brand energy drink collection. It is something that you will love to continue drinking in the future.
Our Zoa Energy Drink review found that ZOA Tropical Punch is among the few health-centric energy drinks you can come across in the market. The first thing is the moderate caffeine content of 160 milligrams, equivalent to 1-1.5 cups of coffee. Your heart is under minimal health risks with this energy drink. Besides, the caffeine is extracted from ethically healthy sources of green tea leaves and unroasted green coffee beans.
The tropical punch's natural compounds ensure that you remain focused while Camu Camu and vitamin C boost your immune system. Muscles receive sufficient support, thanks to the inclusion of electrolytes and BCAAs. Its hydration power prevents you from feeling thirsty and keeps you working for longer. Low acid contents reduce the rate of heartburns you receive compared to when you take a regular cup of Joe.
ZOA Energy Reviews from Customers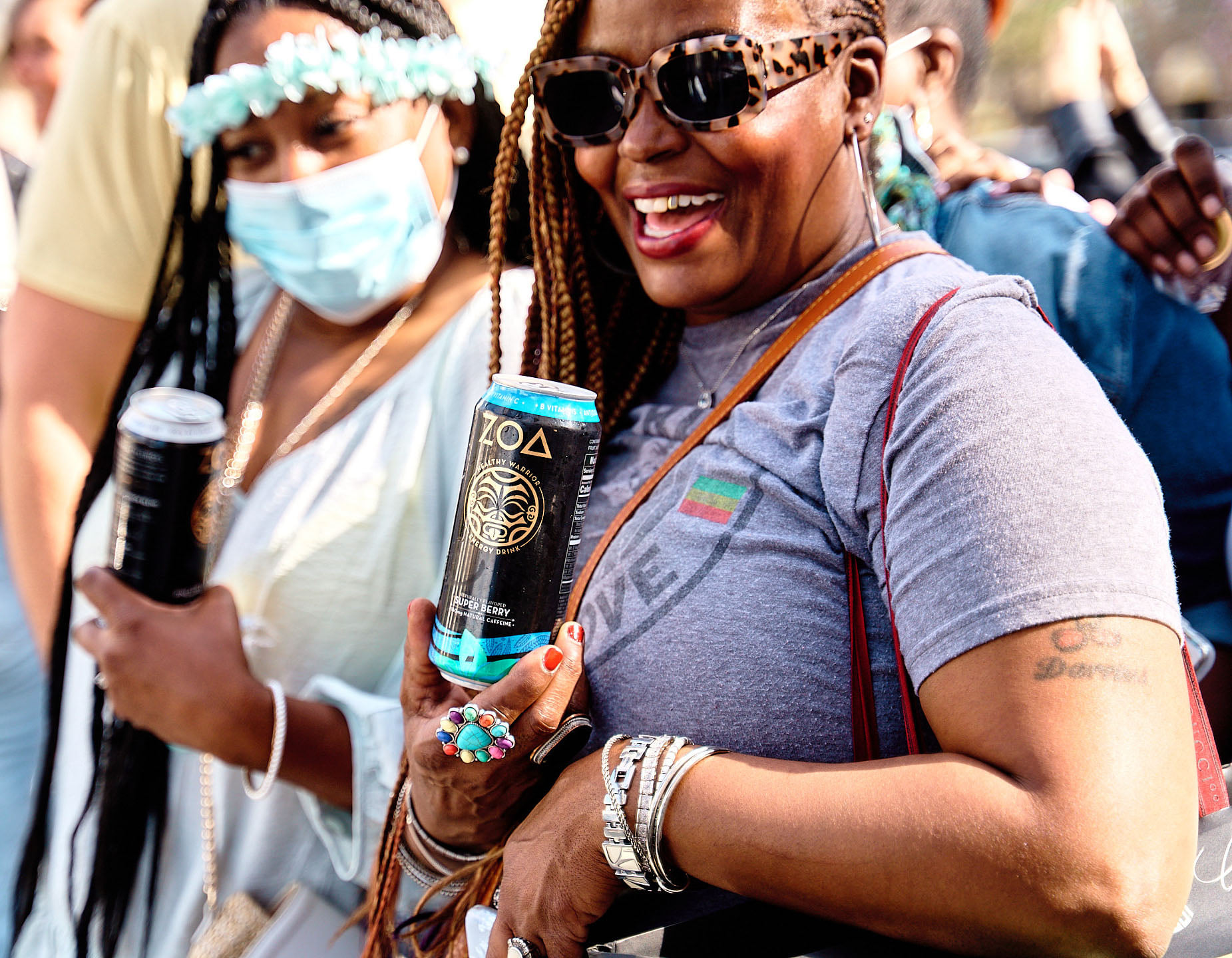 The ZOA energy Drink has an overall rating of 4.5/5 from 1805+ reviews on their official site. Most customers left positive reviews and rated it 5/5 for its high-quality products and top-notch customer service.
One customer praised ZOA for its soothing taste with no aftertaste and even recommended the brand to family and friends. Another customer in a separate review applauded ZOA for offering a variety of flavors to suit people with different preferences.
ZOA also received a 4.5/5 overall rating on Amazon from 10,380+ global reviews. One customer said he has been drinking ZOA regularly, and he was happy with the results. Another Amazon client praised the orange flavor energy drink.
A few clients rated the zero sugar versions low, saying the taste was not what they expected. However, these criticisms are expected as the zero sugar energy drinks are likely to have a less delicious taste than their sugar counterparts.
Sign Up for ZOA Energy
Sign up for ZOA by creating an account using your name and email credentials. You'll then be able to browse through the list of products they offer and enjoy quick checkouts.
Where to Buy Zoa Energy Drink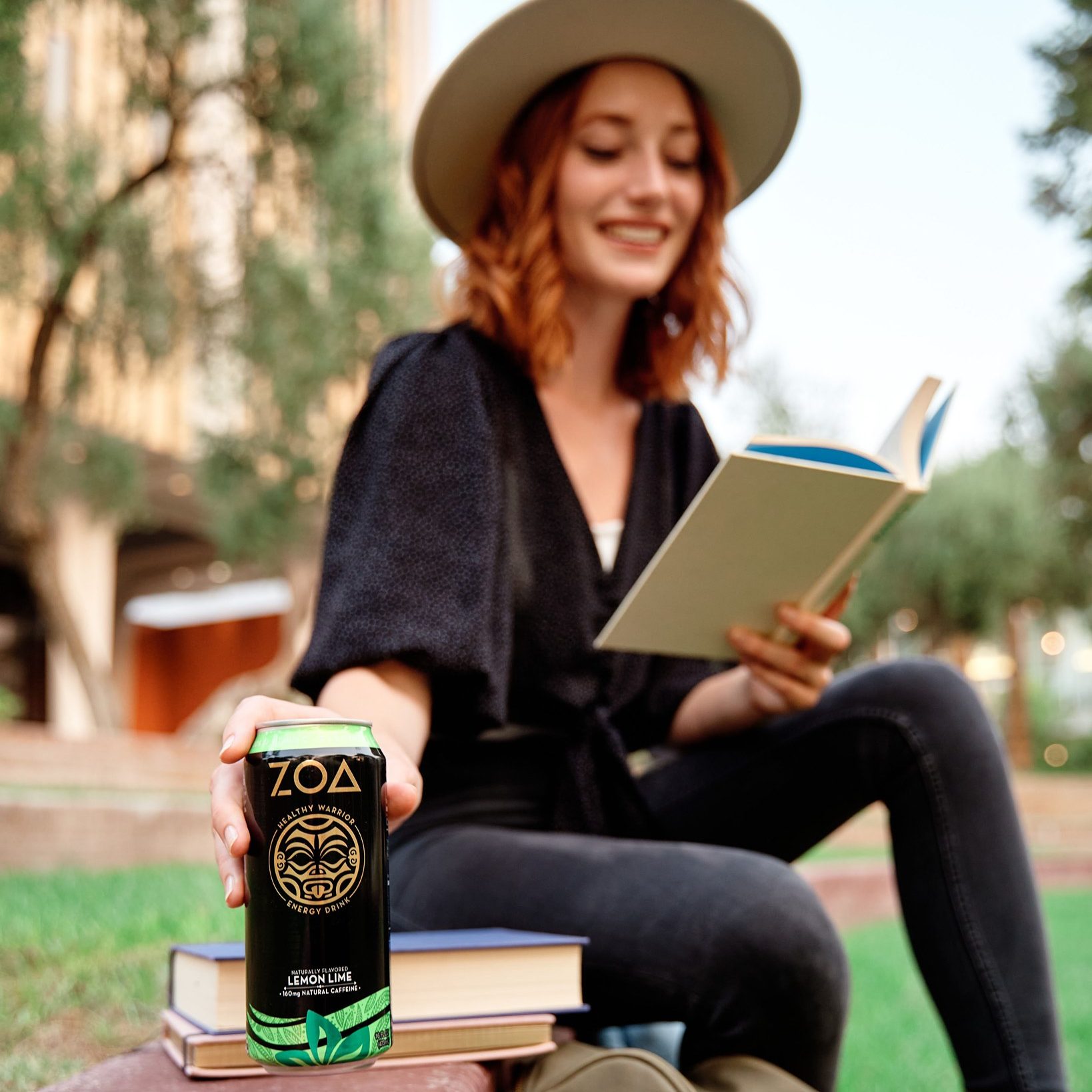 Are you wondering where to buy Zoa Energy Drink? You can buy the energy drink at the company's official website ZoaEnergy.com, Amazon, and eBay. You can also visit ZOA's Store Locator page to find a nearby store.
Zoa Energy Shipping and Return Policy
Shipping may take between 2 and 14 days, depending on your location. The company accepts returns from clients having issues with shipped products. If you are content with the product you received, reach the company through their official website. You will receive a code for refunds or free shipping of the desired products. Requests for returns should be made within 30 days.
Zoa Energy Promotions and Discounts
You can find a valid ZOA Energy discount code online and use it when checking out. You can also enjoy up to 30% discounts by buying from Amazon.
Contact Zoa Energy
Customers with inquiries can reach the support team through the contact form on ZOA's site. You will be prompted to enter your name, email address, phone number before writing the nature of your inquiry in the message space provided and clicking send. You can also email them directly through [email protected].
Zoa Energy Drink Review: Editor's Verdict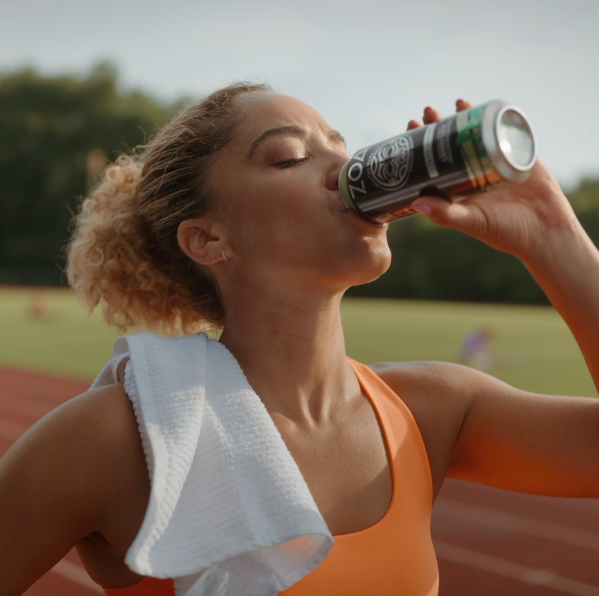 This ZOA Energy Drink review found this brand worthwhile. To begin with, a few brands have made the effort that ZOA has made in cutting down caffeine and calories in their energy drinks, and to me, that is something to reckon.
Zoa Energy Drink ingredients are included in every can for transparency. Every serving bolsters your energy besides boosting your immune system. Finally, it is a smooth drink with no aftertaste.
Looking for more ways to boost your energy? Consider reading our reviews of And Soda, Beekeeper's Naturals, and Aloha Protein Bars.
Zoa Energy FAQ
Is ZOA energy drink healthy?
If you are skiing yourself: Is Zoa Energy Drink healthy? The answer to your question is yes. ZOA is a healthy drink because it is enriched with nutrients that boost immunity. It has Vitamin C, B1, B2, B3, and B6, strengthening your immunity.
Is Zoa Suitable for everyone?
ZOA energy drink is crafted for hard workers and individuals who partake in strenuous activities to help them face their demands. The drink is unsuitable for pregnant women, nursing mothers, children, and individuals sensitive to caffeine.
Is Zoa gluten-free?
ZOA is gluten-free. There are no traces of wheat, whey, or wheat products in the energy drinks. That means it promotes weight loss, eases digestive symptoms, and boosts energy.
Is Zoa vegan?
ZOA is not vegan, but it is vegetarian-friendly. It contains amino acids, which are animal extracts.
How much caffeine is in each Zoe Energy can?
ZOA healthy warrior energy drink has 160 mg of caffeine per serving. The caffeine is extracted from natural unroasted green coffee beans and green tea.