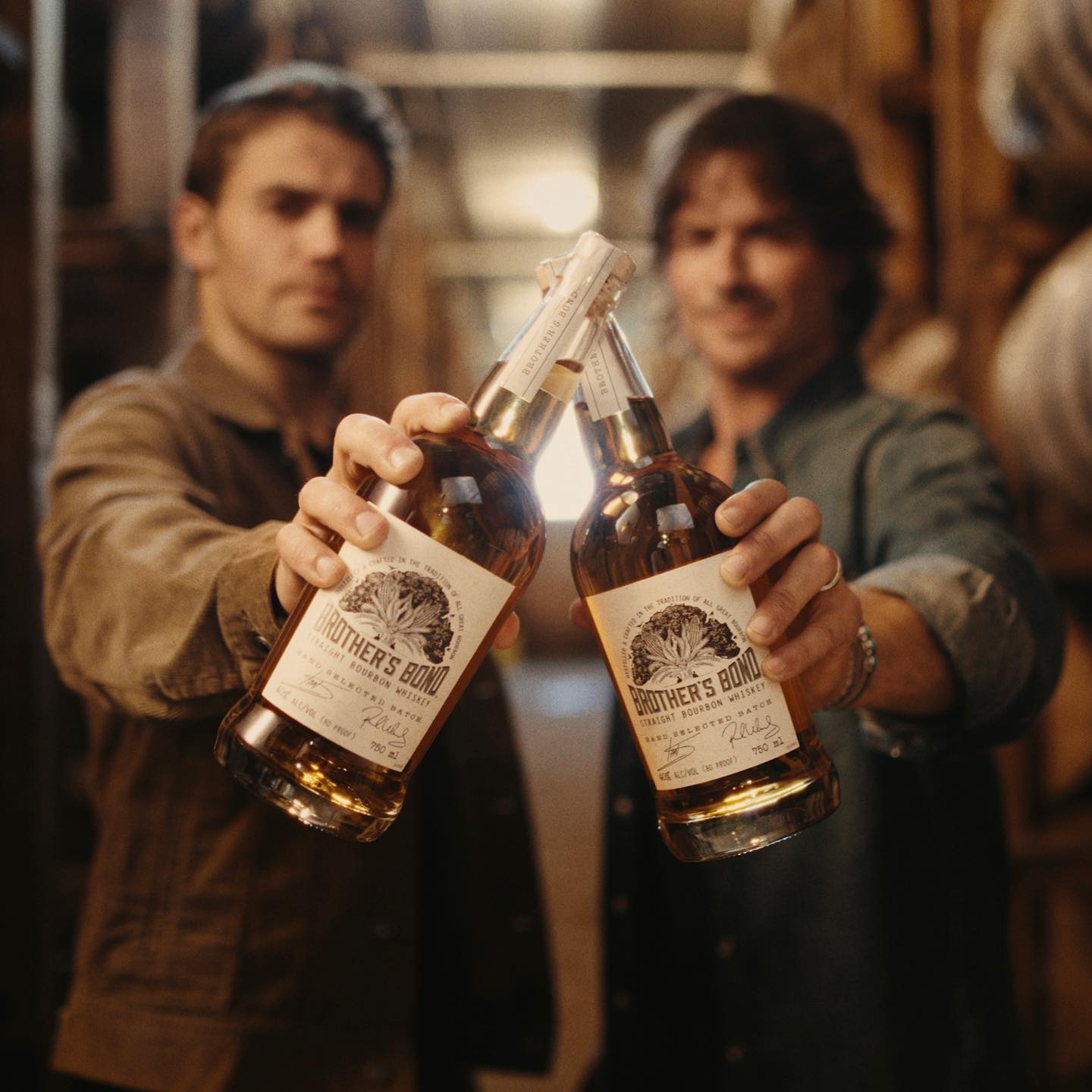 Brothers Bond bourbon is a whisky that encompasses a story of brotherhood, friendship, quality, and time. Crafting its smooth profile and exceptional taste remains a fit of inspiration, history, and knowledge. This bourbon was born after an extensive process involving tasting and blending an ample assortment of ingredients. It is a drink meant to captivate palates with its harmonious balance of complex flavors. This in-depth Brothers Bond Bourbon review will give you the ins and outs of this company and its production process. We also look at other products from the brand to help you decide if they are worth checking out.
About Brother's Bond Bourbon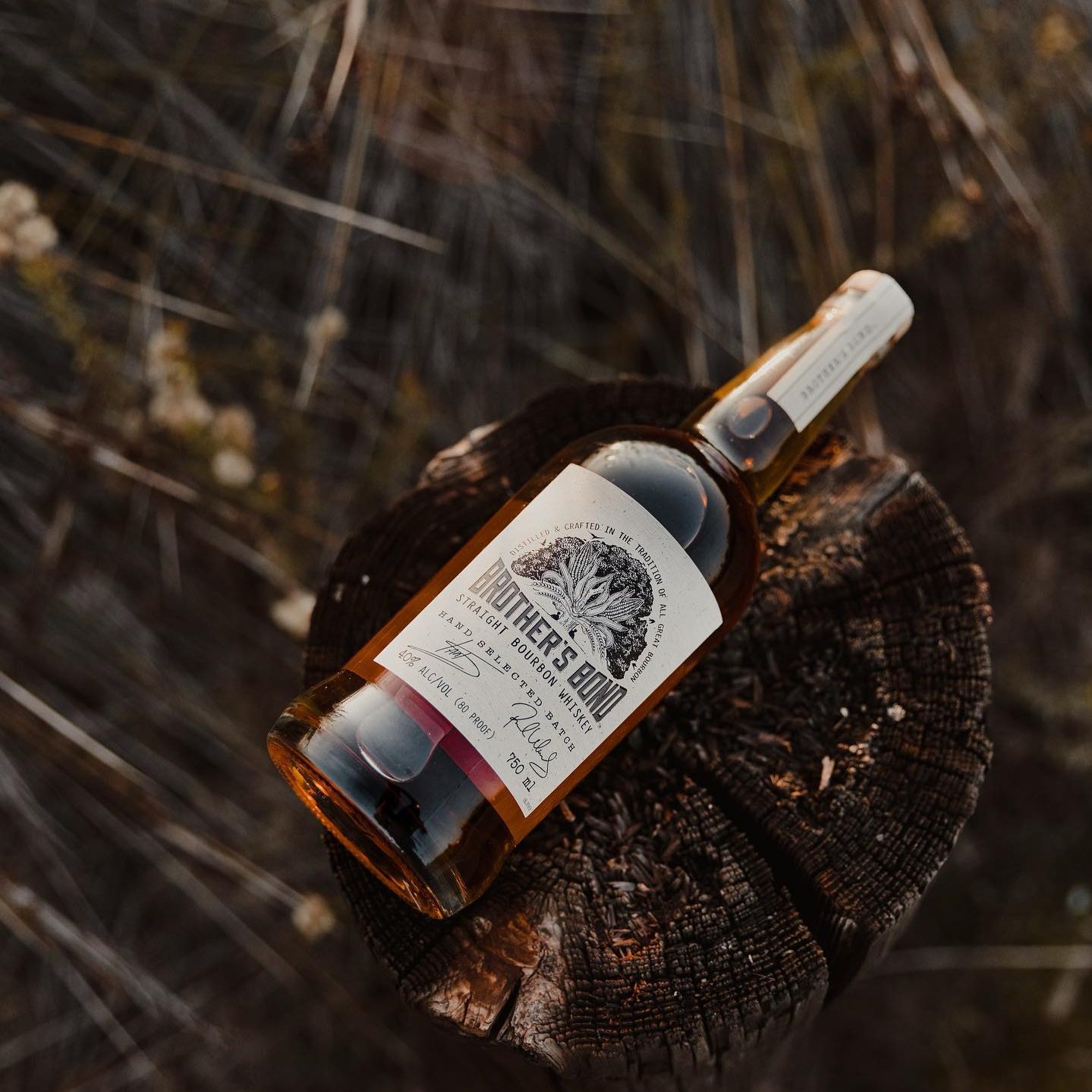 Brothers Bond Bourbon began purely out of the vision of two individuals, friends who have a passion for good whisky. The idea to establish a quality bourbon was one that both Paul Wesley and Ian Sommerhalder had been thinking about since they began playing brothers in the supernatural television series The Vampire Diaries.
In the show, Paul Wesley played the character of Stefan Salvatore, and Ian Sommerhalder was playing the role of Damon Salvatore.
Their story was a story about friendship and brotherhood. In the TV series, the two brothers, especially Damon (Ian), loved bonding over bourbon. They would always drink together during celebrations and trying times. Their bond was so remarkable that most episodes would end with the two sharing a glass of bourbon.
Their chemistry on the show later became the inspiration behind Brothers Bond Bourbon. They desired to create a drink representing the same special bond they shared as brothers on the show and sharing now as friends. After an extensive task of blending and tasting three mash bills, the production team finally developed a drink that they deemed worthy of the name Brothers Bond Bourbon.
Brothers Bond Bourbon Overview
The creation process was not easy for everyone involved as each team member wanted to develop a drink that tasted great and had a story to tell. Eventually, the operation was a success, and they named the resultant liquor Brothers Bond Bourbon.
Brothers Bond Bourbon became the drink that brings on-screen brotherhood into real life and reminds us of the people we love and cherish. It is the first choice for any easy drinker. With its lovely flavors like marzipan, caramel, and smoke in the mix, it is pleasant from start to end. This bourbon is a malty beer with a four-grain mash bill that makes it intriguing.
Pros
The drink is 120 proof and has a mash bill high in corn and low in the rye; this balance ensures you get a smooth-tasting drink with the right blend of flavors
It is crafted and distilled in the tradition of bourbon making. The company uses the same equipment and techniques used to distill bourbon 100 years ago, and this process ensures you get a drink with the best flavor profiles
It is unique because of its four-grain mash bill, which brings different tastes
There is an interesting story behind the drink
High-quality and affordable products
It is made of high-quality ingredients and distilled in Kentucky, where bourbon-making has long been a tradition
Cons
It is challenging to find this drink in many stores, and it remains predominantly available online
Doesn't have phone support
They do not ship internationally
No live chat feature
Brother's Bond Bourbon Nature
Brother's Bond Distilling Company, LLC has a deep respect for its sources, ingredients, and bourbon crafting traditions and techniques that have existed for generations. Brother's Bond Bourbon Nature comes out in their final product.
Our Brothers Bond Bourbon review found that the nature of the brand involves six crucial steps: ingredient gathering, prepping, water sourcing, crafting/purification, aging, and taste completion. The production team gathers 100% natural ingredients like wheat, barley, rye, and corn.
They meticulously prep the ingredients by crushing them to form a mash. They have a 65 percent proportion of corn in their mash rather than the typical 51% throughout history. The rye content is also up 22%, delivering the spice notes. Once they have the mash, the next step is water sourcing, where they use limestone-containing water to neutralize the pH of the mash.
After this, the next step is crafting, where distillation and purification of the spirit occurs. Distillation and filtration occur at a low temperature to ensure that the liquor does not alter its taste. After crafting, they leave the drink to age slow and well in quality wood and optimum char levels.
Nature of the Brand Overview
Upon completion of the aging process, the spirit is ready. The team tastes it and determines if they have achieved the flavor profile of the Brothers bond bourbon.
Each grain in the bourbon plays an essential part in making it exceptional. The corn has a pleasant, sweet flavor and notes of fruit, and the drink has a spicy and floral flavor, thanks to the rye. The wheat lends a bready smoothness to the texture. Finally, the barley adds caramel and nutty notes to the mix.
Brother's Bond Bourbon Method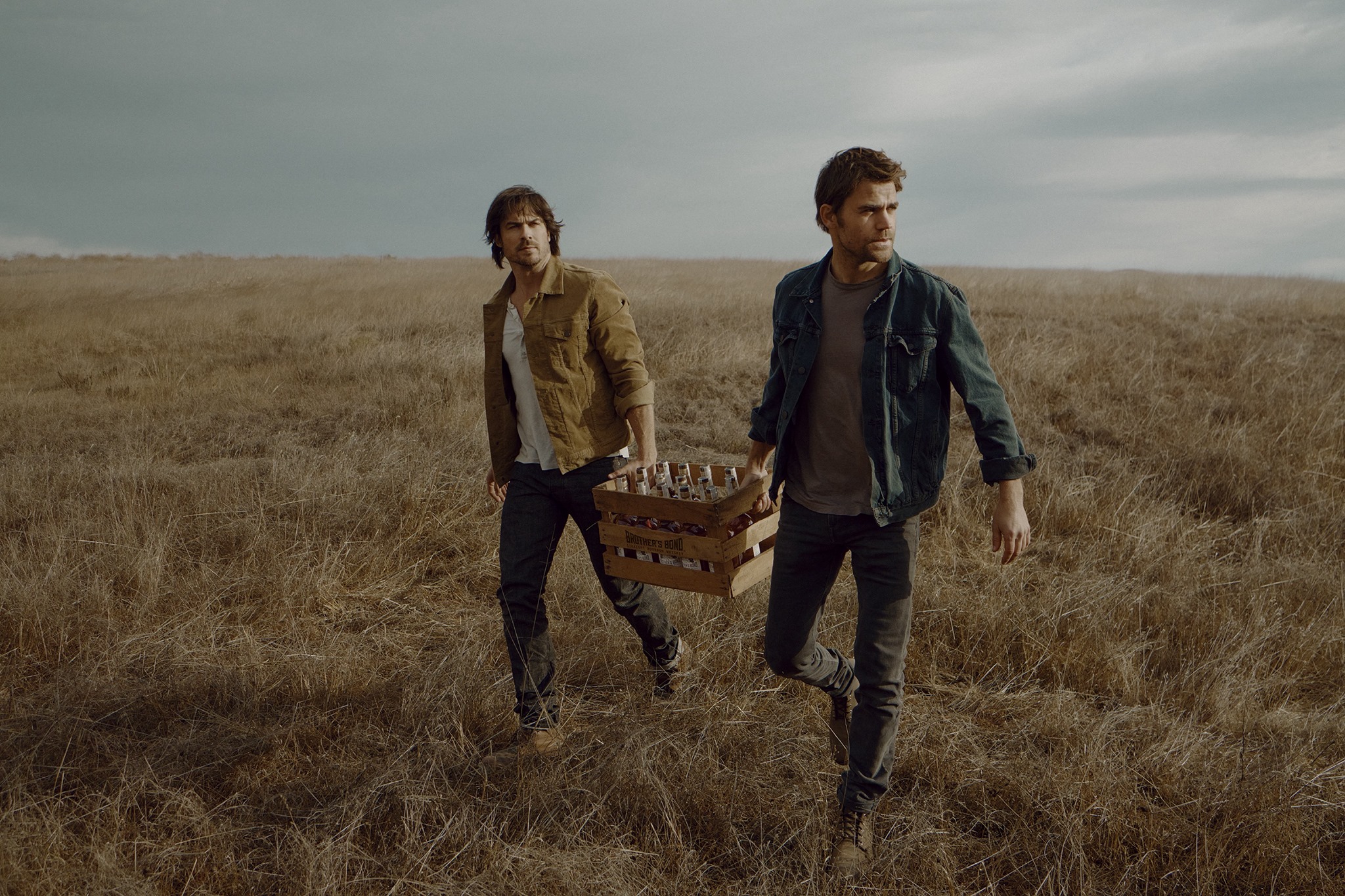 Brother's Bond method is more than just putting ingredients together. It is a culmination of time, effort, and patience that produces a drink that any whiskey-drinking connoisseur will appreciate.
This Brothers Bond Bourbon review discovered that the company uses the traditional bourbon-making methods, with local distillers playing pivotal roles in the production process. It uses 100% natural ingredients from American farms, including the classical four grains, wheat, barley, rye, and corn, used in their four-grain mash bill. With these grains gathered, the production team begins a meticulous process of prepping.
They prepare the grains by crushing them with a hammer mill to increase the surface area for optimal yeast reaction. The team ensures that the mill crushes the grains completely into a mash for high-quality production alcoholic yield.
They also ensure they have a quality water source. The team uses well-water sourced from a glacier aquifer that passes through shale containing interbedded limestone. The limestone content in the well-water is essential to the mash as it neutralizes its pH, filters out any impurities, and adds valuable minerals, such as calcium.
The spirit contact with copper during the distillation process eradicates sulfur impurities, improves the taste of the liquor, and shapes the various flavors. The company uses a custom-made copper still for pure distillation.
More Brother's Bond Method Details
During aging, the char levels and wood purity contribute to the flavor and color of Brother's Bond Bourbon. The staves of the company are (55-second burn) #4 char, which helps in extracting more flavor from the wood. #2 char heads (55-second burn) contribute to the complexity and sweetness of the bourbon.
The team then blends the bourbon, ensuring they achieve a complex, smooth flavor profile with the ideal balance. Once they achieve gold standards, they bottle and label it ready for sale.
Brother's Bond Products Review
Aside from bourbon, Brother's Bond also has other products that bourbon lovers will certainly love. The brand develops these store products with the same passion and patience as they make their bourbon. Keeping this in mind, let's take a close look at some of these products.
Brother's Bond Cocktail Glasses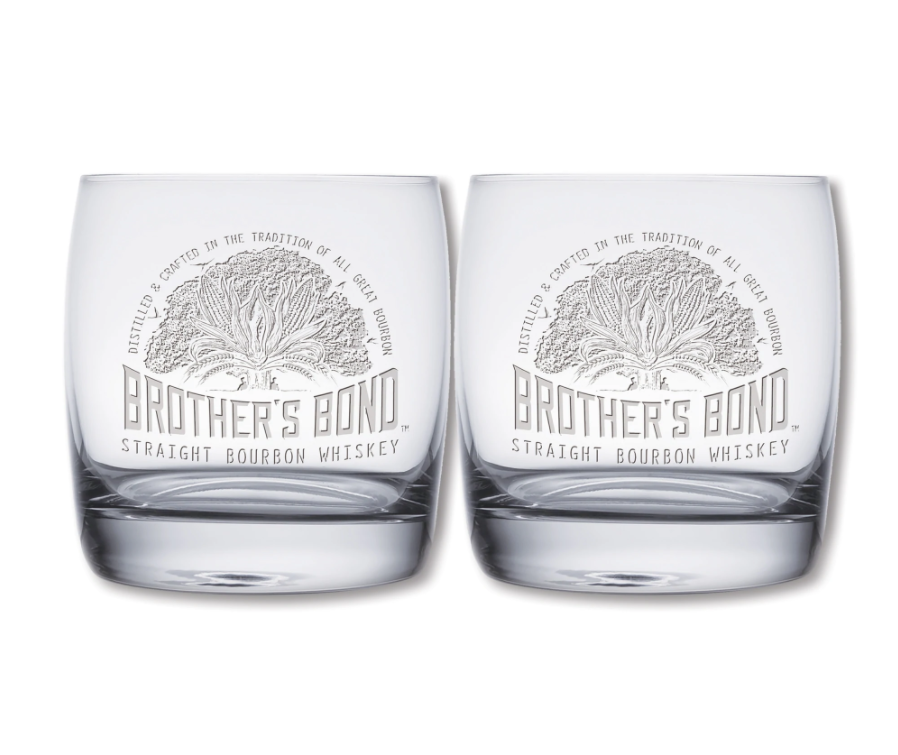 Brother's Bond Cocktail Glasses are the perfect way to present your cocktails. The glasses come as a set containing two glasses. They feature a classic design that adds sophistication and elegance to any cocktail.
These glasses come with their signature logo engraved on them. The company uses a blasting technique that gives the engravings their permanent quality. These quality glassware products have a capacity of 12 oz. They are so heavy-duty that they can withstand rough handling.
Made in the United States, Brother's Bond Cocktail Glasses feature patented Clear Fire glass. To eradicate the risk of reproductive harm or cancer, they refrain from using potentially hazardous metals to achieve sparkling clarity and unrivaled brilliance. With a modern twist and classic beauty, these cocktail glasses are the ideal way to raise the appeal of your mixed drinks.
Purchase these glasses on the company website and serve your friends some ice-cold cocktails. Both sets go for $34.99.
Brother's Bond Vintage Copper Bar Tool Kit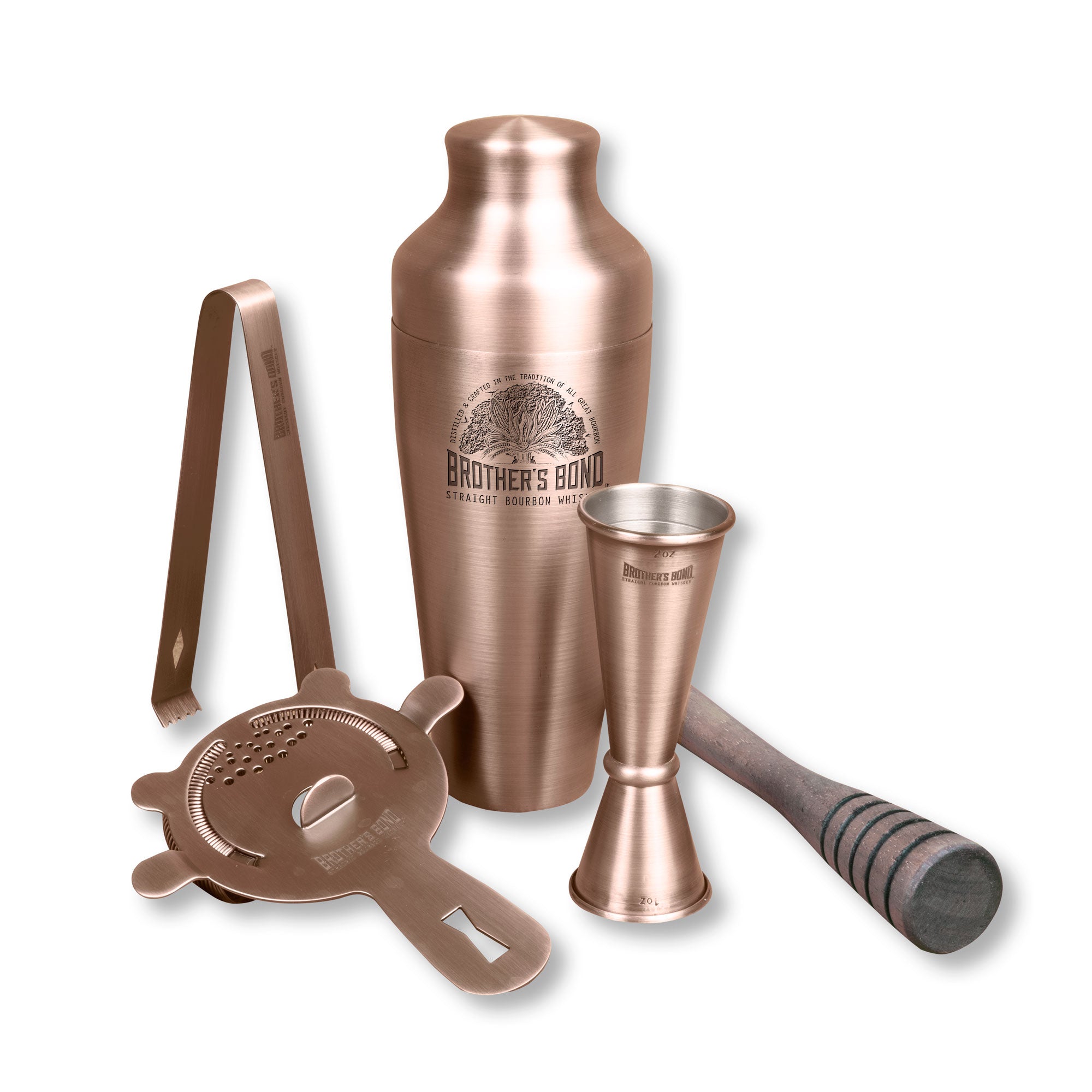 Brother's Bond also offers a Vintage Copper Bar Tool kit perfect for any cocktail enthusiast. This set includes five essential tools, a muddler, two pc shakers, ice tongs, a jigger, and a Hawthorne strainer. Each of these tools is durable and coated with copper. The 2pc shaker has a capacity of 350 ml and comes with a tight-fitting lid for streamlined storage. It has a slim design that perfectly fits in the palm of your hand.
The ice tongs are heavy-duty and come with a classic design. They have curved ends and comfortable handles for a firm grip, while the two-piece jigger has a capacity of 1 oz. The Hawthorne strainer is another classic design with a lab-quality winged wire coil. Each of these tools features the signature logo engraved on them.
The imported Brother's Bond Vintage Copper Bar Tool Kit is the ideal way to get your home bar up and running while preparing your Brother's Bond Bourbon Cocktails. The company offers this bar toolset for $69.95.
The tools use high-quality solid copper material that lasts longer than other similar products on the market. Other companies on the market may use inferior, lowly metals to manufacture similar items; however, Brother's Bond uses high-quality materials to produce durable and quality products that you will never find in the market.
Brother's Bond Bourbon Reviews from Customers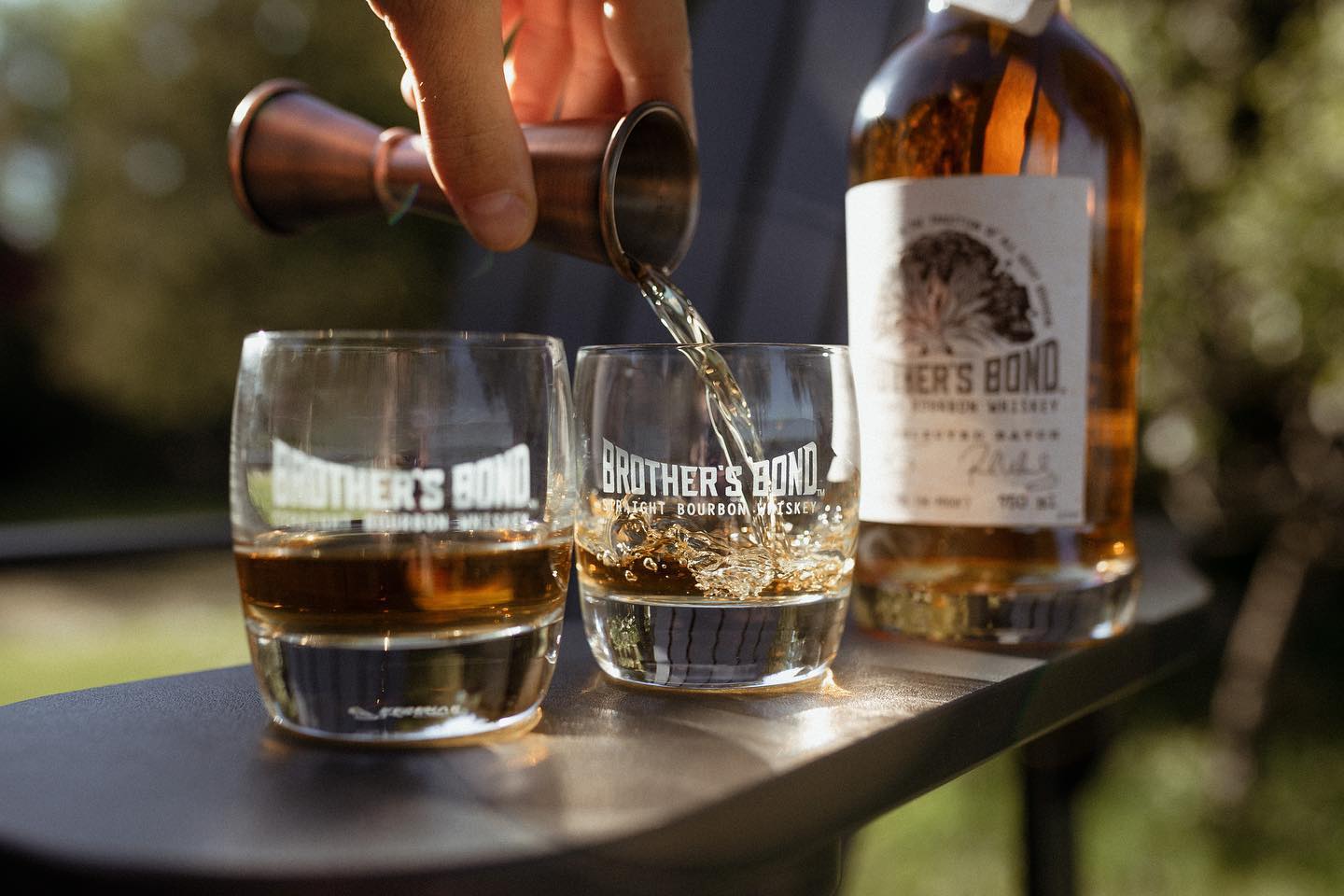 According to the Brother's Bond Bourbon reviews from customers, this American brand is indeed one of the finest brands on the market today. This bourbon comes in a 750 ml bottle and has an alcohol content of 120 proof. It only uses quality ingredients that make it delicious and unique compared to other liquors on the market today.
Customers commend the company for its excellent packaging and unique taste. People love the way it goes down their throats, leaving them with a spicy aftertaste that they enjoy. They also appreciate that the drink does not contain harsh chemicals or additives that might taint or ruin its overall quality.
One customer claims that he tried other brands before buying Brother's Bond Bourbon, but nothing satisfied him the way it did. He says that he only began to enjoy how his favorite drink should taste after trying Brother's Bond brand for the first time.
Another whisky lover wrote in his review that it is unlike any other liquors on the market today because of its smooth, mellow character. He was also happy that the bourbon did not leave any unpleasant aftertaste in his mouth.
Such positive comments highlight most Brothers bond bourbon reviews you can find on the internet. However, some customers complained that the brand doesn't have a phone and live chat function.
Sign Up for Brother's Bond
Signing up for Brother's Bond is easy and quick. Just head over to the website and register by providing your name and email address. Join their community and subscribe for updates and news.
Brother's Bond Bourbon – Where to Buy?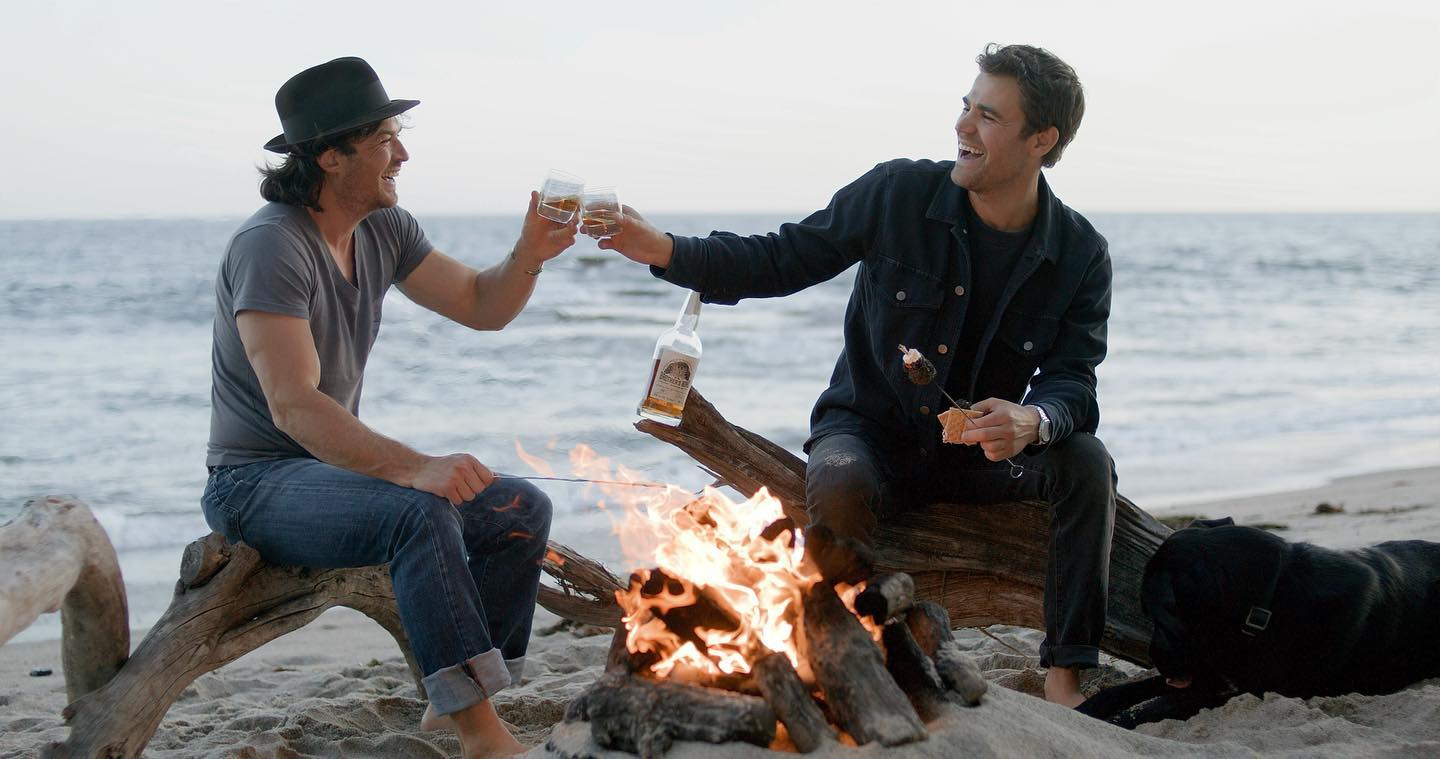 There are three shopping options for customers wondering: Brother's Bond bourbon where to buy? You can purchase their products on their website BrothersBondBourbon.com. You can also get their products from various online stores, such as Drizly, Instacart, MiniBar, and ReserveBar.com.
Additionally, the company offers a network of wine and liquor stores across the U.S. You can purchase the drink at a local spirits store in your area. Brothers Bond is also working on availing their bourbon to international customers. Keep your ears open for where to buy Brothers Bond Bourbon products outside the U.S.
Brother's Bond Shipping and Return Policy
Shipping Policy
Brothers Bond offers shipping services to locations in the contiguous US. The brand incorporates charges for the service in the bourbon price tag. Your order will be processed and shipped within 3-5 business days of receiving your payment. This rule applies to all domestic orders, including expedited shipping options.
Return Policy
If you obtain a Brother's Bond order and are not happy with it or notice any flaws in the items, contact their customer care within 48 hours for a full refund except the shipping fees. If you are unhappy with your purchase after 48 hours, you may still return the item. However, you will receive credit on your account for the price of the product you purchase next.
Brother's Bond Promotions & Discounts
The brand does not have any currently running promotion campaigns. However, the company offers a special gift with every first purchase. You can get a free 25 ml stainless steel hip flask when you make your first order.
Contact Brother's Bond
If you have any questions or concerns regarding the brand, its services, and products, do not hesitate to contact their customer care team via their email at [email protected]. You can also visit their physical address at 1751 River Run, Suite 200, Fort Worth, Texas 76107.
Brothers Bond Bourbon Review – Editors Verdict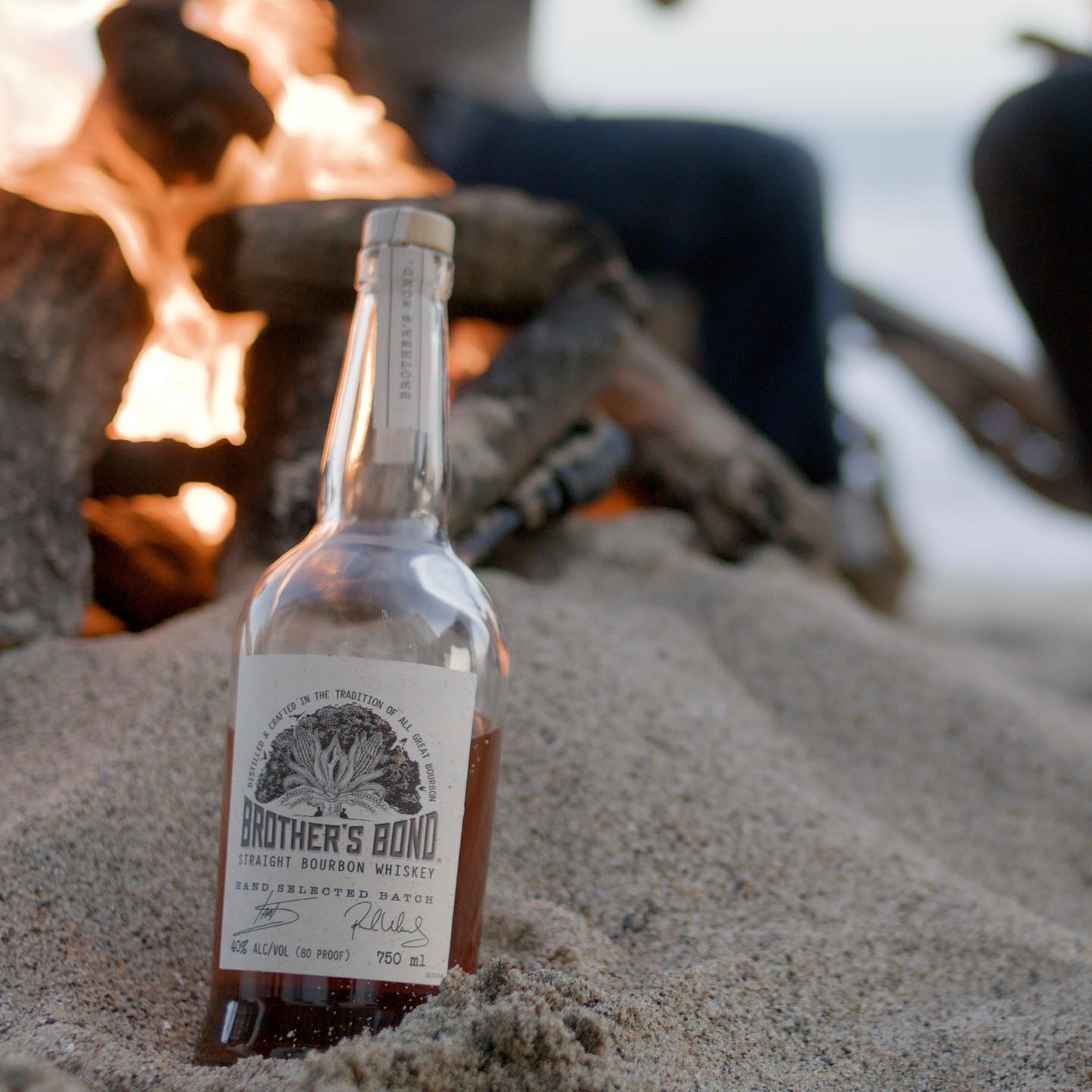 Brother's Bond is a delicious and unique bourbon made with quality ingredients that provide its smooth and mellow character. With only a few years in the market, it has already proven that it can stand tall and compete with the best brands in this industry. Brothers Bond Bourbon price is affordable and competitive.
The premise of this brand is to make bourbon without any additives. It is undoubtedly smooth and mellow to the palate, with no harsh chemicals or additives that might ruin its flavor. The immense positive customer feedback we have seen on this Brothers bond bourbon review is a testament to this fact.
This drink is also unique since it has a rich and spicy flavor. It tastes best when served neat or on the rocks. But if you prefer your liquor sweet, it also blends well with various mixers. Aside from the drink, customer comments also indicate service certification. The brand also offers a high satisfaction guarantee with its quality customer services.
After evaluating all the different factors, Brothers bond bourbon is indeed a brand worth buying. It keeps getting rave reviews from customers and critics worldwide. In addition, the unique premise of the brand is a breath of fresh air in the bourbon industry. We recommend trying this if you happen to love bourbon.
Still on the hunt for other drinks for your upcoming party? Check out our reviews of And Soda, Fresh Vine Wine as well as Winc Wine.
Brother's Bond FAQ
What does Brother's bond bourbon taste like?
Brother's Bond has a sweet, smooth taste that is tasty and easy to drink. Its natural ingredients such as corn, rye, wheat, malted barley, and pure limestone spring water give it a mellow and unique character.
How long is Brothers bond bourbon aged?
This bourbon ages for eight years. During this period, the distillate stays in American Oak barrels, which give it its golden color. It is then blended and bottled to provide the customers with a consistent flavor.
Is Brother's bond bourbon smooth?
Yes, Brother's bond is smooth. It contains no harsh chemicals or additives, which may break down its taste and flavor. Besides, its mellow flavor makes it easy to drink.
Where is the Brother's bond bourbon made?
The bourbon is produced at Bardstown, Kentucky, within the United States by a group of experts with corn, rye, wheat, malted barley, and pure limestone spring water as its main ingredients.