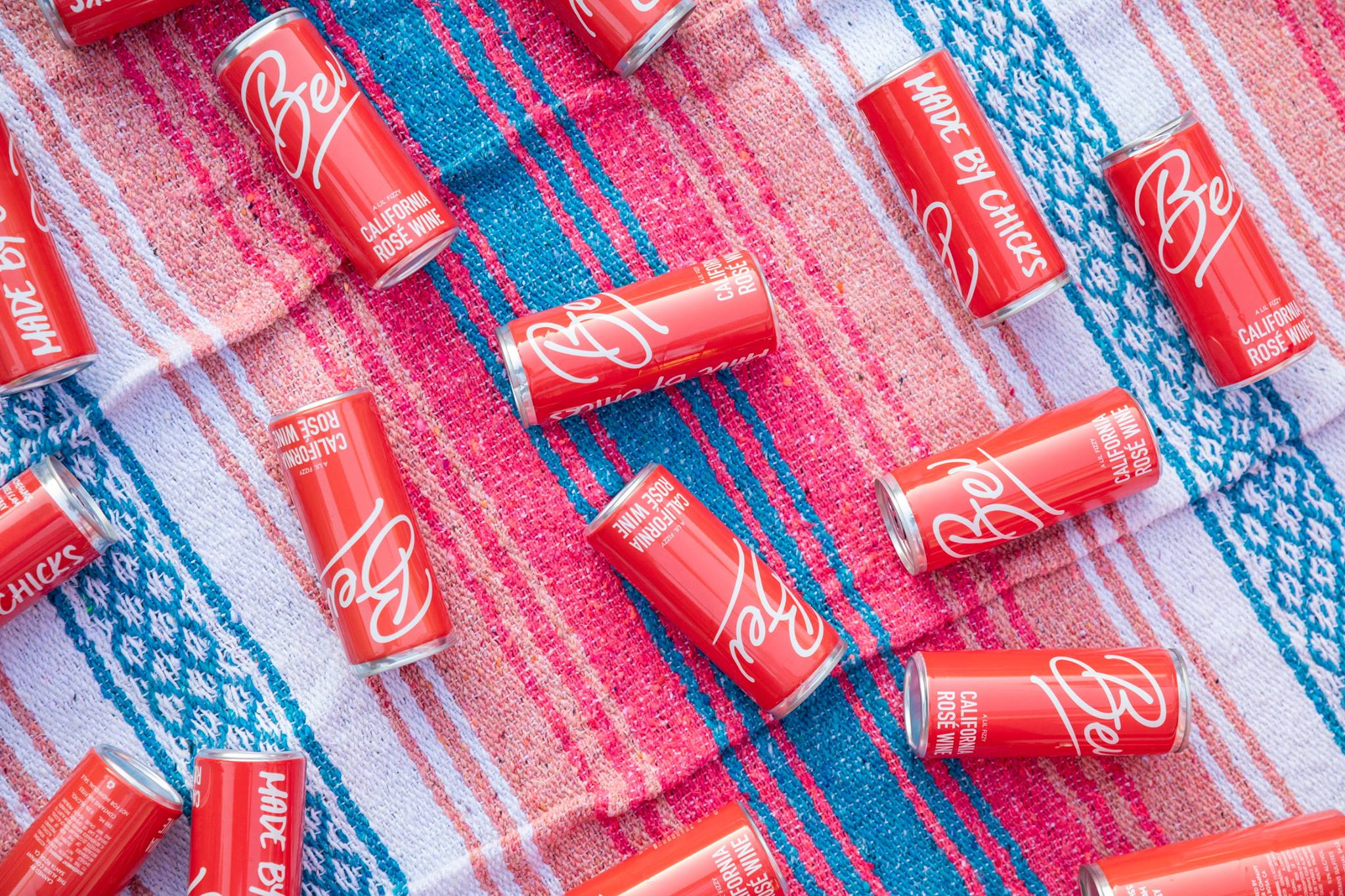 While alcohol is ideal for special occasions, it's not good for your health. That's why Bev crafted a healthy alternative to the usual wine. Their beverages are made by women and canned for recycling purposes. The company promotes female empowerment in business and beyond. We'll give you the low-down on this wine brand, including Bev Wine reviews from buyers, its bestsellers, discounts, and what customers think about their canned beverages. In turn, you'll be able to decide if Bev lives up to the hype. 
About Bev Wine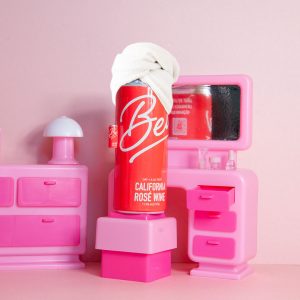 Founded by Alix Peabod, Bev's wines are made without artificial sweeteners, additives, or sugar. Instead, the company uses grapes from California to make the beverage delicious. Their drinks are carb and calorie-conscious, making them ideal for those looking for a lighter option.
In 2015, the then 24-year-old Alix experienced organ failure. Consequently, she lost her ovaries and the ability to have kids naturally. She then decided to freeze her eggs when her health stabilized. However, insurance rarely covers this expensive process. As a result, Peabod decided to host ticketed parties aimed at women seeking a safe space to unwind. 
Alix made enough money that allowed her to cover her medical bills. That's when she got the idea of launching a health-conscious wine brand.  
Alix started making her canned wine in 2017. She used the retirement account that she got while still working at hedge fund Bridgewater to pay for the first production run. After cashing it out, she used $20,000 to create gallons of Bev's first rosé. 
The company packages its wines in cans because they can be recycled. They are also better for the environment when compared to bottles. While their facilities haven't received certification from a rabbi, they don't use ingredients that would make their wines non-kosher. 
Bev designed its fermentation process to remove all the sugar after the alcohol in the wine is fermented. They are the first TTB-approved canned wine. 
Several big-time publications have featured this brand, including Entrepreneur, Women's Health, Business Insider, and Forbes. Bev Wine has more than 48k followers on Instagram and over 17k Facebook followers. 
Before we get to Bev Wine reviews from customers, we'll highlight the pros and cons of this Los Angeles, California-based company. 
Pros
They sell health-conscious, light, and flavor-packed canned wine

The company creates wines that are low in carbohydrates and calories

Their wines do not contain unnecessary additives, artificial sugars, or additional sugar

US customers enjoy free 2-day shipping

They offer cute loungewear and accessories

Beverages come in recyclable aluminum cans
Cons
The company does not ship worldwide

Some customers felt that the wines are quite pricey

No phone support
Bev Canned Wine Review
Because the company is all about equality, their Bev Canned wine is suitable for men and women. Their wines contain zero sugar, and they don't use artificial sugar or additives when making the beverages. With that in mind, here are some of the company's popular selections.
Bev Rose Wine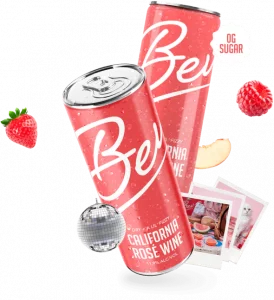 With hints of raspberry, strawberry, and a touch of peach, the Bev Rose Wine is the first drink that this company created. It's crisp and dry with a thrilling fizz. 
This wine is undoubtedly a great partner in crime. You can grab a can before heading to your friend for a sleepover. It is available in three sizes: The 8-pack costs $49, 24-pack needs $99, and the price for 48-pack is $190.
The wine features white peach, which is rich in vitamin A, calcium, thiamine, vitamin C, and potassium. That means it can help cleanse your kidney, lower your chances of obesity, and strengthen your immune system. Vitamin A offers protection from oral and lung cancers, while potassium is a vital component of body and cell fluids that help regulate blood and heart rate pressure.
The raspberries found in this wine are a good source of antioxidants, minerals, and vitamins. Raspberries are rich in omega-3 fatty acids that can help prevent heart disease and stroke. They also contain manganese, which plays a vital role in regulating blood sugar and keeping your skin and bones healthy. 
Because the wine contains strawberries, it has antioxidant and inflammatory properties that nourish your entire body system while fighting ailments. With zero cholesterol and rich in potassium, the Bev Rose Wine controls or lowers blood pressure while reducing the risk of Alzheimer's disease (AD) in old age.
Bev Blanc Wine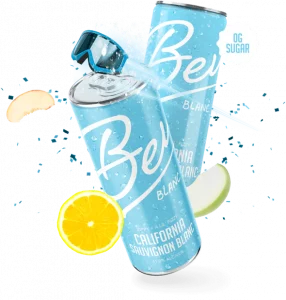 Meet this deliciously lean, bright, and fresh California Sauvignon Blanc summer classic. This Bev wine is zippy, dry, and a bit frizzy, and it has aromatics of crisp green apple and white nectarine. It also has a light, fresh citrus finish. 
This brand is the friend you need whenever you want a refreshing change of pace. Bev Wine reviews show that this win is loved by classy women who want to get loose during the day but later go home to a ten-step skincare routine.  
Bev Zero Sugar Wine reviews reveal that customers love this canned beverage because the drink improves their skin and makes them healthier overall. The citrus fruit in this wine features numerous compounds that help keep your heart healthy. 
The fruit's flavonoids and soluble fiber can help raise HDL cholesterol while lowering harmful triglycerides and LDL cholesterol. This ingredient reduces cancer risks, lowers high blood pressure, and promotes longevity. 
Moreover, the wine features green apple; this ingredient is high in fiber, which helps increase metabolism by stimulating the detoxification process and keeping the digestive system unalloyed. 
It is also good for your liver, as the antioxidants are known to be natural detoxifying agents that can prevent the liver from hepatic conditions. Green apples also help you lose weight and fat while strengthening your bones.
Bev Blanc is available in the following packs:
48-pack for $190

24-pack for $99

8-pack for $49
Bev Gris Wine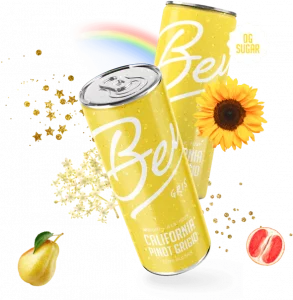 The Bev Gris wine tastes like grapefruit, elderflower, and pear. It calls for a memorable night out. 
Bev Gris is the kind of friend that will take up the whole room with her stunts and loud energy. But you know she's got a soft side, with loads of undertones to her character.
Like the other Bev wines, Bev Gris is sugar-free. It also features grapefruit, an ingredient that protects your immune system. Grapefruit is also low in calories and contains 2g of dietary fiber, allowing it to protect you against stroke and heart disease. Additionally, it's a great source of vitamins C, which plays a vital role in your body's regular immune system function. 
The wine also contains pears, which deliver a large amount of fiber that helps to keep your gut and fiber healthy. Pears have natural sugar and high fiber content to keep your blood sugar from soaring. Because pears are high in fiber, it reduces the risk of developing heart disease.  
Elderflower is another ingredient found in this Bev canned wine. It has anti-inflammatory and antioxidant properties, and it supports healthy skin healing.
Bev Gris is available in three packs: 8-pack will cost you $49, you'll need $99 for the 24-pack, and 48-pack requires $190.
Bev Noir Wine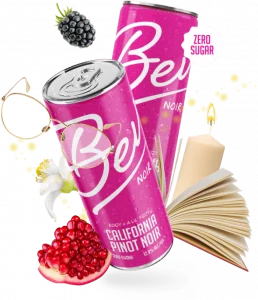 Ideal for those who love red wine, the Bev Noir Wine is dry and delicate. This coastal pinot has aromatics of citrus blossoms and pomegranate, with a light blackberry finish. 
Bev Noir Wine contains blackberries, which promote good cholesterol while protecting you against irreparable artery damage. This dark-colored fruit is also high in flavonoids, which have antioxidant properties that reduce the risks of different types of cancers, including cervical and breast.  
Flavonoids also protect your body from free radicals that could attack collagen production in your blood vessels and joints. In turn, this reduces the probability of edema and hemorrhoids. It also contains procyanidins, which help reduce the risk of heart disease. 
The wine also contains non-flavonoids called resveratrol, which prevents blood vessel damage, lowers bad cholesterol, and protects you against diabetes and obesity. Resveratrol has also been proven to reduce the risk of blood clots related to strokes by 50% and prevent blood clots.
Citrus blossoms are also found in this delicious beverage. They add a sweet and refreshing aroma to the wine.
You can drink this wine when reading a book, lighting a candle, or winding down. Bev Noir is available in three sizes: 48-pack costs $190, 24-pack needs $99, and you'll need $49 for the 8-pack.
Bev Glitz Wine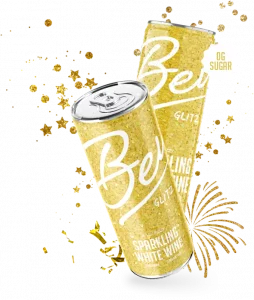 The queen has returned as a Bev club exclusive: so Bow down. Bev Glitz is all dressed up, ready for extravagant celebrations or an oceanside swim. Extra dry and fizzy, you can get your girlfriend this drink when you want to get her in the mood for a party or when you want to get back together with your significant other after a breakup. This sparkling white wine embodies black-tie events and dinner gatherings because she's fancy.  
The Bev Glitz contains elderflower and pear, and it doesn't feature added sugar. This wine can help you reduce the risk of osteoporosis, an age-related thinning linked with calcium loss.
A glass of Bev Glitz after a long day at work can help you clear your mind of inflammation and damaging toxins. When it comes to alcohol content, the beverage has 11.9% ABV. That means you can have a whale of a time and still feel good the following day.
You can only get the Bev Glitz by subscription. New customers will get a 20-percent discount when they purchase this wine on their site. Club members can choose from the following sizes:
48-pack for $175

24-pack for $95

8-pack for $47
Bev Wine Reviews from Customers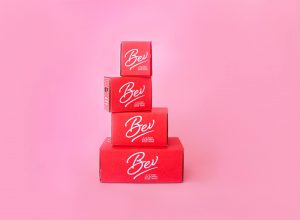 To find out if Bev wine is good, we checked what customers who have tasted their beverages say. The company has scored 4.9 stars out of 2179 reviews on its site, with over 99% of reviewers stating that they would recommend their canned wines to a friend.
A verified buyer said they love all their flavors and left a 5-star rating. The Bev Rose Wine scored a 5 star out of 224 reviews, with most customers saying they love how sexy, convenient, fun, and delicious she is. 
Bev Blanc also had a 5-star rating out of 237 reviews. Most customers stated that they loved the zero sugar and the crispy, clean taste that the wine has. 
One of the customers pointed out the alcohol content in their wine; she loved that their beverages have low BVA and no added sugar. 
Bev Wine Total Wine reviews show that most customers love their products because they found a drink that fits in with their health regime.
On Target, Bev received a 5-star rating from 170 reviews for their miss Bev Rose. People loved how the drink contained natural ingredients, as this ensures they live a healthy life while having fun.
While most of the customers loved their wine, a couple of people complained that they are pricey for their budget.
Sign Up for Bev Wine
If you want to join the Bev family, head to their official website and register an account. You'll then be able to access their canned wine collection and enjoy fast checkouts. 
Where to Buy 
If you are asking yourself: Where to buy Bev Wine? You can purchase their canned wines directly from their site DrinkBev.com. Customers can also get their delicious wine BevMo, Total Wine & More, Drizly, and Target.
If you are wondering: Can you buy Bev wine in stores? The answer is yes. Visit their Store Locator page to find Bev wine near me.
Shipping and Return Policy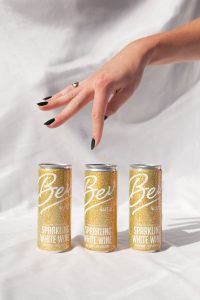 Shipping:
Bev only ships within the United States, and 2-day shipping is free. Once you place your order, expect them to deliver it within 2-3 business days. You will then receive a confirmation text or email with a tracking number. 
You must show the delivery person your ID to prove to them that you are 21 years or older. 
Return Policy:
The company has specified on its website that orders shipped incorrectly or defective products are eligible for an exchange. However, the wine has to be unopened, and you'll have to provide your receipt. The new item you choose must be of equal value. 
The company will deduct shipping charges from the refund total if you return the wine in a damaged condition.
Promotions & Discounts
You might want to sign up for their newsletter to receive updates and exclusive offers. In the future, you'll also receive a Bev Wine discount code in your inbox and use it at checkout when making a purchase. 
Bev also has a referral program that allows you to get $20 off your next purchase when you refer a friend, and they make a purchase. Best of all, your friend will also receive $20 off their first order.
Contact Drink Bev
You can contact the Bev customers support team if you have any questions about their products or the brand itself. You can send them an email via [email protected] or use the contact form provided on their website. 
They also have a Live Chat function on their site that you can use to chat with one of their customer service agents. Alternatively, you could send them a message on their Facebook, Twitter, or Instagram page.
Bev Wine reviews: Editors' Verdict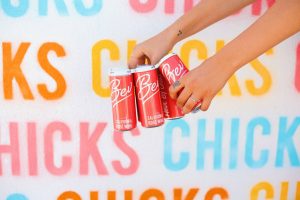 Based on the many positive Bev Wine reviews from customers our team found online, we can confidently say that this wine brand is worth checking out. 
The company offers light, crisp, and carbonated beverages that you can enjoy all year round. Their health-conscious beverages and female-driven branding make their wine exhilarating and fun. The company offers a variety of flavors to treat your taste buds. They also have an impressive mission to break barriers and promote equality. 
Customers love the taste of their wine and the ingredients the company has used in its beverages. They also commended how Bev covers delivery fees. 
While there were a few complaints regarding the price of Bev wines being pricey, most comments were positive. We, therefore, recommend you pick a pack of your choice and have the time of your life, as their wines are worth purchasing. 
Are you looking for other popular brands that offer drinks? Check out our reviews of Adagio Teas, Brothers Bond Bourbon, and Firstleaf Wine Club.
Bev Wine FAQ
How many carbs and calories per Bev can?
Each Bev wine packs 160 calories per can or 100 calories per serving. You'll also find 3 grams of carbs per can, meaning it can help keep the body in ketosis.
Is Bev gluten-free?
Absolutely. This makes their wine an excellent option for those who would like to limit their amount of gluten consumption while enjoying a drink.
Where are Bev grapes from?
Bev wines come from Central Coast, California.
Can I recycle Bev cans?
Bev cans are made from aluminum, which is easily recyclable. Using recycled aluminum reduces energy use, carbon dioxide emissions, and shipping pollution and emissions.
Cans made of aluminum are the most sustainable beverage package. Aluminum cans are lightweight, strong, and stackable, allowing the company to package and transport more drinks using fewer materials.