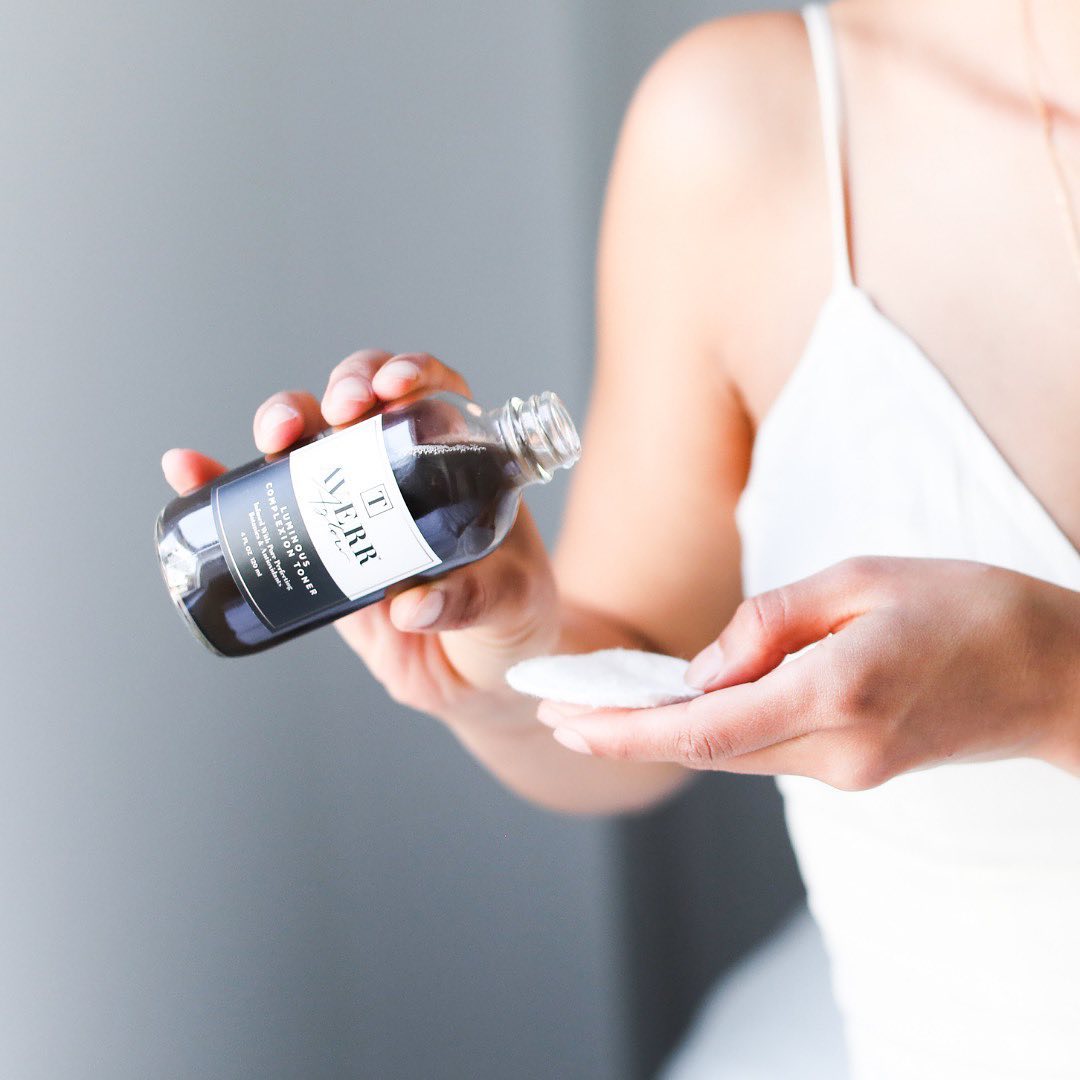 Averr Aglow is an all-natural skincare brand that offers both anti-aging and acne products for all women. You can purchase their products individually or in kits. This brand aims to create skincare products that help women feel confident in their skin. The products are cruelty-free and do not feature artificial additives harmful to the skin. We'll give you the low-down of this skincare brand, including Averr Aglow reviews from customers, discounts, promotions, and shipping policy to help you determine if their products are worth purchasing.
About Averr Aglow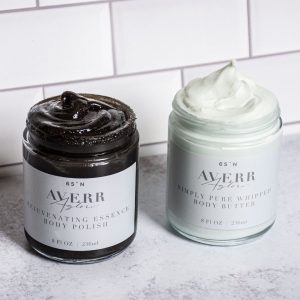 Averr Aglow was founded by Camille Chulik as a solution to the struggles with her skin. Camille had tried all means to fight acne for 16 years unsuccessfully. She tried exercising, eating healthy, taking supplements, applying creams and serums, and none of the methods worked for her. 
She would visit websites, trying to find a solution to clear up her skin and leave her more confused than before. Camille underwent trauma and stress as a woman who wanted to have flawless skin. Cammille came across an article that discussed how hormones and other internal factors affect breakouts. At this point, she thought that she had nailed it only to be disappointed again.
However, Chulilk never gave up on her skin; she decided to take the matter into her hands and find a solution for her stubborn skin and everyone struggling with the same. She went back to the drawing board and researched for a solution. 
In 2015, Chulik began creating all-natural products that would end her struggles forever. It has been several years now, and her products have helped over 100,000 women around the world. Reviews on the brand show how women are excited as they share positive comments about their experience with Camille's products. The brand boasts 103k followers on Instagram and more than 48k followers on Facebook.
Before we jump into Averr Aglow reviews from buyers and check their most popular skin-perfecting products, let's look at the pros and cons of this company.
Pros
The brand offers a wide range of anti-aging and acne products

The company creates all-natural products that are safe for the skin

The products are hypoallergenic and safe for all skin types, including the super sensitive

Their products are cruelty-free and gluten-free

The company offers international shipping and allows payments in installments through Afterpay.

The brand offers lots of discounts and deals
Cons
Some products cause breakouts

The bottles can be difficult to use for some people

They do not accept returns on any item from an open shipping box
Averr Aglow Skincare Products Review
Averr's philosophy is to make you feel confident in your skin through conventional methods. Let's have a look at the brand's most popular products, the ingredients they feature, the benefits they offer your skin, and why they outshine other products in the market.
Averr Aglow Perfectionist Serum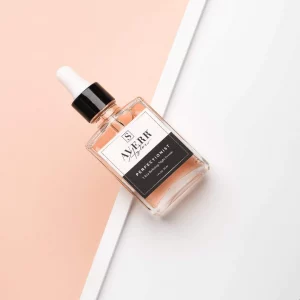 It is normal for the skin to react positively to natural ingredients and products. Most anti-aging creams contain additives that can be harsh and harmful to the skin. The Averr Aglow Perfectionist Serum features natural ingredients that don't have nasty side effects on the skin. These ingredients include vitamins and antioxidants that bring the most out of your skin. 
An ingredient such as Apricot kernel oil contains vitamins A, C, and E. Apricot oil helps improve the skin tone, soften, and maintain its radiance. Additionally, the ingredient nourishes the skin to minimize the appearance of wrinkles and fine lines. The vitamin A present in apricot kernel oil helps to improve the skin's elasticity. Apricot also lightens dark spots and blemishes, creating an even skin tone and glow.
The product also contains hemp seed oil that moisturizes the skin without clogging the pores. The Omega-6 in hemp seeds calms the skin's irritation and inflammation, including acne. In addition to its moisturizing effect, hemp seed oil has anti-aging properties. 
The Averr Aglow perfectionist serum also contains kukui nut oil that keeps the skin hydrated, soft, and smooth. Kukui oil is a protective oil that provides skin with speedy healing and pain relief while reducing the risk of skin infections. 
Averr Aglow Toner For Face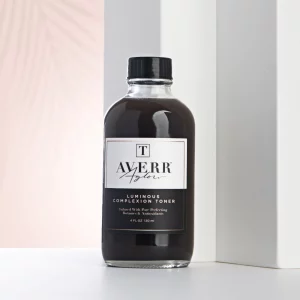 Formulated to gently refresh the skin, the Averr Aglow toner is a must-have in your daily skincare routine, especially if you are experiencing aging skin. The toner features a clear product containing minerals and antioxidants to prevent and remove scars. 
The toner removes all the dirt and impurities that stick in your pores after washing your face. Using this product daily has a positive impact on the skin's appearance and tightness. The Averr Aglow Toner contains bitter orange oil, which has both anti-inflammatory and anti-bacterial properties. Bitter orange oil relieves inflamed skin as well as acne breakouts. The ingredient also speeds up the healing process and helps remove dark spots and blemishes.
Pentylene Glycol is another ingredient found in face toner; this ingredient is a humectant and also a good hydrating agent. It is a solvent that helps other ingredients penetrate well into the skin. It improves the texture of the face toner while acting as a preservative to the formula. 
Averr Aglow reviews show that customers praise the toner because it features grape seed extract, which is a powerful antioxidant that protects the skin against sun damage and sunburns. The ingredient smoothes and softens the skin, reducing the signs of aging, such as wrinkles and fine lines.
Averr Aglow Makeup Remover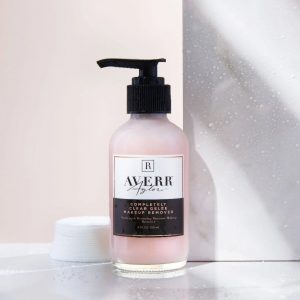 Proper makeup removal should be part of every lady's daily skincare routine because it leaves the skin feeling clean and fresh. The Averr Aglow Makeup Remover is created with plant-based ingredients to remove even the most stubborn waterproof skin products. 
The makeup remover reduces the risk of developing blackheads, pimples, and other blemishes. It eliminates dead skin as well as promotes cellular renewal. The circular motion used while applying the makeup remover promotes the skin's microcirculation.
The product contains sweet almond oil rich in vitamins A and E, omega 3 fatty acids, and zinc. Its anti-inflammatory properties help ease skin swelling. The ingredient also has emollient properties that make the makeup remover have the ability to improve skin tone and complexion. 
The fatty acid content of this ingredient helps dissolve excess oil improving cellular turnover while reducing acne. The product also contains glycerin, which gives the product the ability to lock in moisture. The glycerin content in the product relieves dry skin keeping the skin smooth and soft. 
Aloe Barbadensis Leaf Juice is another ingredient found in the Averr Aglow Makeup Remover; this ingredient protects and heals the skin against sunburns and other sun damage. It also fights skin aging, lightens blemishes, and boosts the healing of wounds and infections.  
Averr Aglow Clear Skin Elixir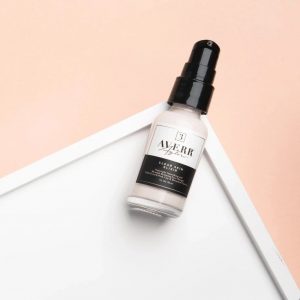 This skincare product features a combination of zinc oxide, French clay, and witch hazel, among other ingredients. Zinc oxide is known to be one of the best sunscreen ingredients; the ingredient is resistant to water and is also completely photostable. 
Zinc oxide is safe for all skin types, including the most sensitive ones. Essentially, this ingredient does not cause hormonal disturbances like the artificial sunscreens; it also treats melisma and dark spots without lightening the skin.
Witch Hazel, on the other hand, holds anti-inflammatory properties for the skin; this ingredient helps with razor burns and tightens pores while reducing acne. French clay helps remove impurities, making it the perfect skin soothing ingredient for the Averr Aglow Free Elixir. The ingredient tightens the pores, tone the skin, removes dead skin, and removes acne. French clay also treats sunburns, reduces rashes, and protects the skin against any itchiness or irritation caused by exposure to the environment.
This product contains more than 70 different minerals directed toward renewing and replenishing your skin. It is crucial to know how to use Averr Aglow Clear Skin Elixir for perfect results. Apply this treatment before going to bed. Be sure to apply over clean skin and add a serum first for an extra boost of moisture. Make sure you shake well before applying it to your face and leave it on for a minimum of ten minutes before rinsing
Averr Aglow Flawless Water Crème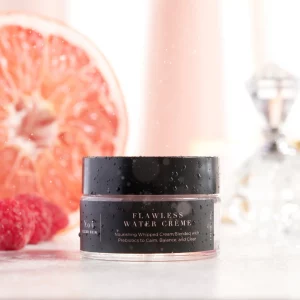 The skin moisturizer is created using all-natural and vegan contents making it safe for all skin types. The product locks in moisture, making your skin stay hydrated and healthy throughout the day. 
It contains grape flower cell extract that reduces redness and eliminates acne. The ingredient fights against the environmental skin aggressors and free radicals to help speed up breakout healing.
Additionally, the product contains rosehip oil rich in vitamin A, B1, B2, B3, and K. The potent combination helps hydrate the skin, brighten the skin, reduce inflammation, boost collagen formation, reduce hyperpigmentation, and protect the skin against sun damage. Rosehip oil is responsible for skin cell regeneration and renewal. The ingredient also smoothes fine lines and wrinkles to give you an even and flawless skin. 
Rosehip oil offers both moisturizing and nourishing properties to the skin. Another effective ingredient is the Polymnia Sonchifolia root juice which helps retain the skin's radiance and complexion. The ingredient makes the skin stay hydrated and healthy-looking. The flawless water crème soaks in quickly, leaving the skin healthy and glowy. 
Averr Aglow Skincare Reviews from Customers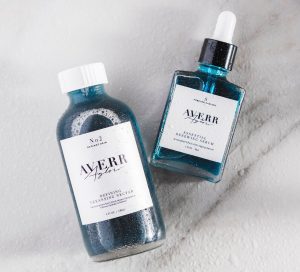 Our team checked Averr Aglow skincare reviews from their previous customers to see what they are saying about this company and its acne products. Most online reviews are positive, with the majority of the customers stating the company is doing a great job. A high percentage of their products have received a five-star rating due to their effectiveness and convenience.
On the brand's website, it received lots of praises from customers who were overwhelmed by the product's magic on the skin. Customers are happy with the brand, and others describe it as the all-time brand for women. 
Amazon gave Averr Aglow a 75% score. Many customers love their responsive and efficient support team that works around the clock to solve any issues that may arise. They also praised the quality of the ingredients used on their products, saying that they are all-natural and perfect for all skin types.
TrustPilot gave Averr Aglow 4.3/5 score.
A significant number of customers commend the brand and how it ensures prompt delivery of the items ordered. However, a few customers left negative reviews, with some shoppers complaining that the bottles were difficult to use. 
 The Averr Aglow customer service representatives always respond to negative feedback and offer a solution to ensure everyone has an exhilarating shopping experience when making their purchase.  
Sign Up for Averr Aglow
To get the ball rolling with Averr Aglow, you need to head to their sign-up page and create an account. The registration process is a cinch, and you will only have to provide your first and last name, valid email address, and password. 
Where to Buy 
You can find Averr Aglow products on their official site AverrAglow.com. Their products are also available on Amazon.
Shipping and Return Policy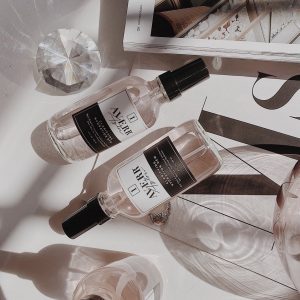 Shipping:
Averr Aglow ships its products worldwide. International orders are subject to taxes according to the destination country's tax laws. Standard shipping takes 1-3 business days, expedited shipping takes 1-2 business days, while international orders shipping varies with the location. You will receive a shipping email containing your order's tracking number to help you follow up with the order.
Return Policy:
The company does not accept returns of products that are already opened due to the nature of the products. Returns of unopened products should be done within ten days. You should channel the return request through the customer support team at [email protected]. The company does not refund the original shipping cost.
If an item is damaged, the company requires you to take a picture of the damaged product, including the condition it arrived in. You should do this within 48 hours of delivery.
Promotions & Discounts
The brand rewards program allows you to earn points with the loyalty program by making a purchase, referring friends to join the site to buy makeup, and writing reviews on the products you purchase.
Sign up for their mailing lists and get a 10% off after using an Averr Aglow discount code at checkout. Allow the company to send SMS updates to get a 10% off Averr Aglow coupon code.
When you refer a friend to the company, you'll get $20 off your next order; your friend will also receive 15% off on their first order. Additionally, the company offers free shipping on orders worth over $80.
Contact Averr Aglow
If you need more information that we did not cover in this Averr Aglow Skincare review, reach out to one of the Averr Aglow customer service agents using the following communication channels:
Emailing Averr Aglow customer support team at [email protected]

Filling out the Contact Form on Averr Aglow's website

Using the live chat feature on their site
The customer service team will get back to you within 24-48 hours during their business hours of Monday-Friday, 9 a.m. – 5 p.m. EST.
Averr Aglow Reviews: Editor's Verdict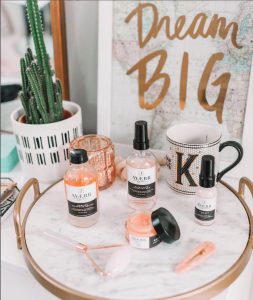 After checking Averr Aglow reviews, we have concluded that the brand and its products are worth it. They have been celebrated and loved by many customers for their exceptional performance. 
The products contain all-natural and vegan ingredients that favor all skin types. Reviews from customers show that many customers who have been struggling with acne and other skin irritations found relief in aver glow products.
For those looking for products to fight aging signs, the brand has a once and for all solution for them. Most of these products hydrate, smoothen, and reduce signs of fine lines and wrinkles, leaving the skin nourished and moisturized. The products are also cruelty-free and worth giving a shot at. 
We, therefore, recommend Averr Aglow products to anyone having acne problems or those who want to slow down the signs of aging.
Looking for other beauty brands to help your daily skin and hair care routine? Check out our reviews of Farmacy Beauty Review, Function of Beauty Review, True Botanicals Review, and BoxyCharm Review.
Averr Aglow Skincare FAQ
Does Averr Aglow work?
If you are asking yourself: Does Averr Aglow work? The answer is yes, it does. Averr Aglow products work effectively and have received lots of positive feedback from customers who have had positive experiences.
Is Averr Aglow safe for pregnancy?
If you are wondering: Is Averr Aglow safe for pregnancy? Their products are very safe for pregnant women to use. Averr Aglow ingredients are mild and naturally incorporated in reasonable ratios. The products are free from harsh chemicals harmful to both the mother and the baby. If you have a concern about any ingredient, consult your doctor before applying the product to your skin.
Are Averr Aglow products for sensitive skin?
Yes, Averr Aglow products are safe for every skin type, including the super sensitive. The products are all-natural and do not contain harsh ingredients that can damage the skin.
Will Averr Aglow products expire?
The products offer optimal results when fresh. Therefore, you should use them within 4-6 months to ensure you get the best out of them. These products are exposed to bacteria from the bathroom, and it is advisable not to exceed this window period.
Is there a guarantee that Averr Aglow will clear up my skin?
It is important to understand that different skin types experience different results within different time frames. Just be patient and consistent to see results from Averr Aglow products.