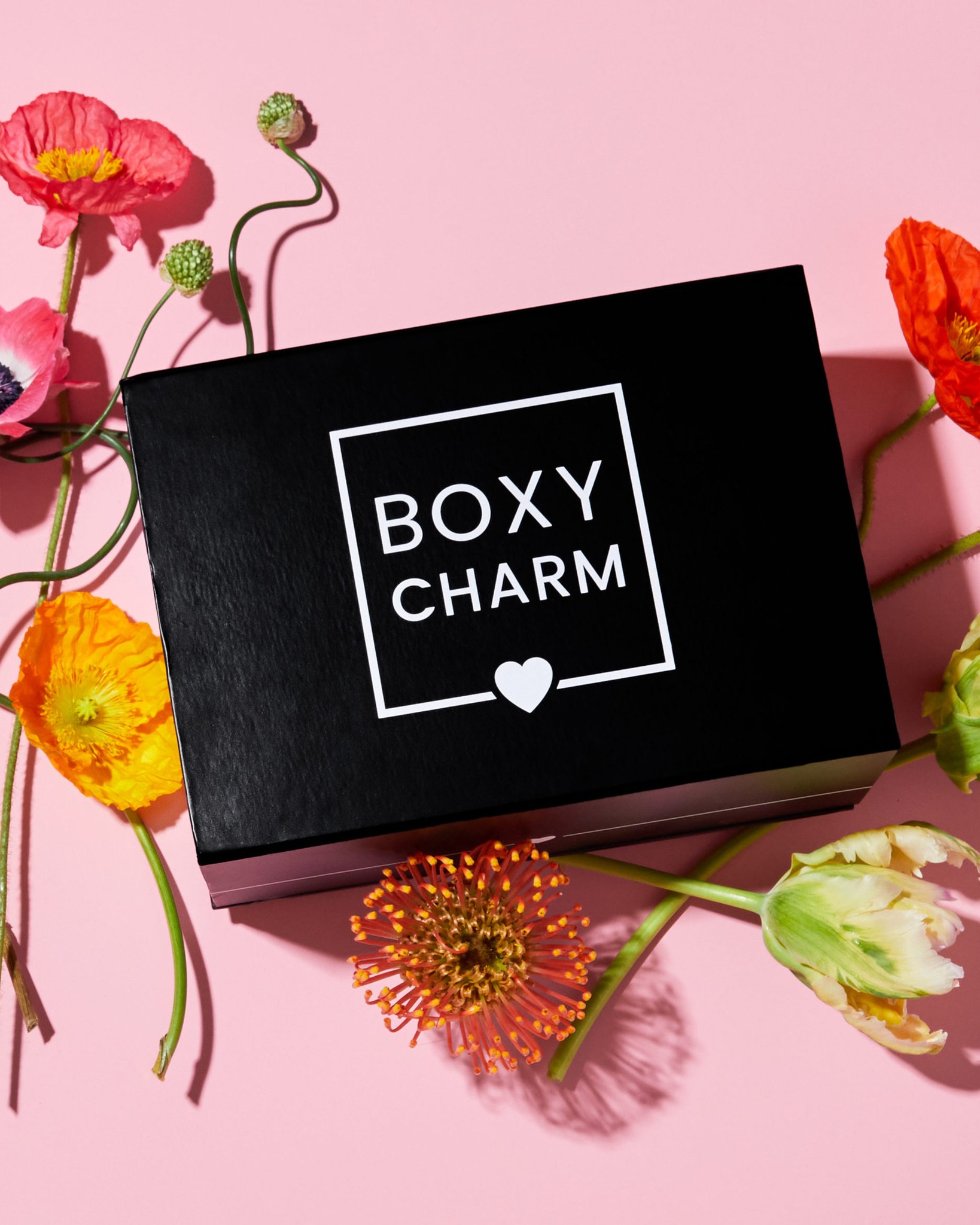 There is something quite addictive about receiving a box full of beauty goodies every month if the numerous BoxyCharm reviews are anything to go by. And with this forward-thinking makeup and beauty subscription service, you get a personalized experience.
Tailoring their boxes to your preferences, you also get to experiment with new products. Plus, you get the additional support of makeup tutorials and member-exclusive access to other beauty products.
But does the monthly BoxyCharm subscription add up to good value long-term? And are all the extra perks really worth it? We put this on-trend beauty box service to the test and listen to the opinions of its customers so you can decide whether BoxyCharm is your new monthly must-have.
About BoxyCharm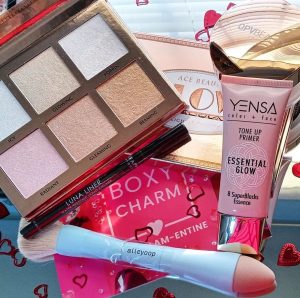 Beauty subscription boxes are nothing new, but BoxyCharm has been able to carve out its niche in a competitive market. And that niche is its commitment to accessible beauty for all as well as its savvy use of social media.
Founded in 2013 by beauty and makeup entrepreneur, Joe Martin, BoxyCharm operates out of its headquarters in Pembroke Pines, Florida. The second office is in Toronto, Canada.  And it is a combination of understanding the freshest beauty and makeup trends, a direct appeal to younger consumers, and a good value price point that BoxyCharm has captured a good slice of the beauty box subscription business. This means that with annual revenue of around $50m, BoxyCharm is giving its competition, which includes the likes of Birchbox and Facetory a run for their money.
It is the little extra details that also make a BoxyCharm subscription appealing. These include tutorials so you can learn how to use and enjoy your new products, exclusive member access to the BoxyCharm online shop, and its compact, attractive packaging. But top of the list for loyal customers is the ability to customize their box and the chance to choose at least one of the full-sized products, depending on the subscription package.
Before we delve deeper into the various subscriptions, here's our overview of the pros and cons of BoxyCharm.
Pros
You get full-sized beauty products, not travel or minis
A choice of subscription options to suit your budget
Ability to tailor your preferences and choose at least one product per month
The makeup tutorials really help you to get the most out of the products
Good selection of quality brands and diverse products
Not just makeup as you also get hair, body, and skincare
Option to cancel at anytime
Cons
Only available in US and Canada, no international shipping
Can be difficult to get to speak to a customer service rep in person
Once paid for, you cannot get refund or exchange
It is more expensive than some of its competitors
How Does BoxyCharm Work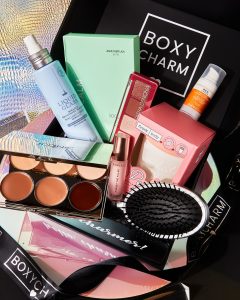 The premise of BoxyCharm is simple but effective. You choose your subscription type (Base, Premium or Luxe), answer the personalization 'Beauty Quiz' questionnaire, and choose your start date. Then your monthly BoxyCharm box is sent to you, with an average value of $175.
For the basic package, your monthly box will contain five full-sized beauty, haircare, and makeup products for you to use. You also get access to well-produced tutorials so you can see how to use your products and get the best from them.
In addition, as a BoxyCharm member, you get access to BoxyCharm's member online store, with up to 70% off selected items as well as enjoying exclusive offers and giveaways in their monthly 'Drop Shop'.
You are not tied into a contract with BoxyCharm and can opt to either pause or cancel your subscription at any time.
BoxyCharm Boxes Review
So, what exactly do you get with your BoxyCharm choice of subscription, and is it worth the money? We lift the lid with our BoxyCharm reviews to give you the insider on each of their monthly box subscriptions.
BoxyCharm Base Box
The standard subscription, Base Box is the ideal introduction to the BoxyCharm world of beauty and great value products. Subscribing to BoxyCharm Base Box will cost you $27.99 per month, but for that, you will get products to the minimum value of $125. The Base Box has also been known to supply products worth over $200, and the average value is currently around $175, so this is a good deal on paper!
With the BoxyCharm Base Box, you get five full-sized products each month. These include makeup, skin, hair care, and accessories, so you always have a variety and new brands and styles to try. Plus, you get to choose one of these five products from your favorites, while letting BoxyCharm select the rest, matching your preferences.
Boxycharm doesn't skimp on their products either. A quick peek at some of the latest products finding their way into Base boxes include some lush makeup from Lauren Conrad.  There's also a complexion-saving Velvet Skin Drink from cult Greek beauty brand, Korres, which on its own retails at $48. We think the Base Box is a bit risky, as you can only select one product. For this reason, you might not end up liking the rest.
Boxycharm Premium Box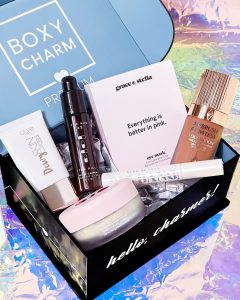 For an extra $12 a month – it will cost $39.99 – you can bump your subscription up to the BoxyCharm Premium Box. BoxyCharm Premium gives you six full-sized products and monthly delivery. It could have a total value of up to $285 (although the website states the average value is $215). And this time you get to choose two of the products yourself, which is quite the sweetener.
A sneak peek at a recent Premium box shows some covetable products, including makeup guru, Charlotte Tilbury. And the six-product offer means you get more access to some of the latest and up-and-coming beauty brands. Another bonus to Premium is that you are also eligible for BoxyCharm's exclusive brand-takeover boxes. These feature trend-setting products from one beauty brand. However, these takeovers are issued only once or twice a year so it's up to you to decide whether the upgrade to Premium is worth it.
Boxycharm Luxe Box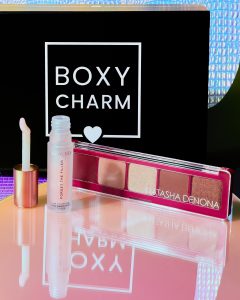 So, to the final upgrade in the BoxyCharm box menu – the Luxe. This is not a monthly option but a quarterly treat to boost your Base Box subscription. It's not called Luxe for no reason as it comes with a $59.99 price tag. But the BoxyCharm website states that you then get a product box worth on average $395. For the upgrade, you get eight products. Out of these, you can select two, and have the opportunity to try some of the latest up-and-coming brands.
The BoxyCharm Luxe does come with some caveats, however. It currently cannot be taken out in conjunction with the Premium box, only with a Base box subscription. However, there is a way around it, but the billing is complicated and means you need to set up a Base subscription, upgrade to Luxe, then cancel both once you have been billed. This is something we think BoxyCharm needs to fix.
Boxycharm vs Ipsy
BoxyCharm operates in a competitive market, which includes other leading beauty box subscription services, including GlossyBox and Beauty Pie. Then there is the California-based Ipsy, which is considered the world's largest beauty sampling service. Interestingly, Ipsy acquired BoxyCharm in 2020 but continues to operate as separate subscription services.
This raises the question – which is better: BoxyCharm or Ipsy? Well, this depends on your budget and your beauty product expectations and preferences. Ipsy has a much wider range of beauty boxes, which start at $13 for their 'Glam Bag', compared to BoxyCharm's entry-level $27.99. Many users also highlight that Ipsy offers slightly more customization when signing up for a subscription as well as more box choices. However, you get full-size products with BoxyCharm, whereas Ipsy's are in varying sizes.
And the fact that Ipsy now owns BoxyCharm means they see real value in its approach to subscription beauty.
BoxyCharm Reviews from Customers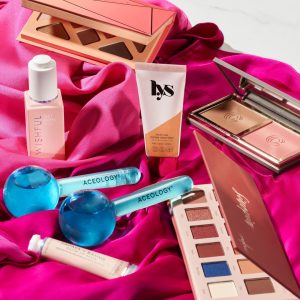 When searching for reviews of the BoxyCharm subscription service, feedback is a little hit and miss. Their website includes some glowing reviews – 'I absolutely loved this box!' and 'I would have never bought these brands but thanks to BoxyCharm' are just two examples. And beyond the BoxyCharm website, this vibe largely continues.
Over at Trustpilot, BoxyCharm scores 3.9 out of five, with over 4,600 reviews posted. On the plus side, the opportunity to try new products at a significant discount was a common theme, so the service's value was appreciated. The full-size products and some of the bolder product choices, backed by the informative 'how to use' tutorials are also well-received. And many reviewers have been subscribers for a year or more, so there's evidence of brand loyalty. And the quarterly sales are popular too.
But there are also rumblings about the lack of variety in some boxes and the higher prices. And the slow shipping times are a repeated concern, while inconsistencies in customer service were also a point often raised.
Sign Up for BoxyCharm
Signing up for BoxyCharm is an easy process. You first create an account and then choose your subscription – Base or Premium. You are now known as a 'Charmer' and part of the BoxyCharm community.
New Charmers get a BoxyCharm free gift, which is typically makeup in the form of a BoxyCharm palette worth up to $48, which is a nice touch. Plus, you can currently get a $10 coupon to spend in the BoxyCharm online store.
After completing a questionnaire so you can indicate your preferences, you can settle back and get ready to receive your first monthly BoxyCharm box.
Where to Buy BoxyCharm
You can only subscribe to BoxyCharm on their website where you can buy your preferred monthly box. Once subscribed, you also get exclusive access to their online beauty store. Take advantage of up to 70% off some of the leading beauty brands.
BoxyCharm Shipping and Return Policy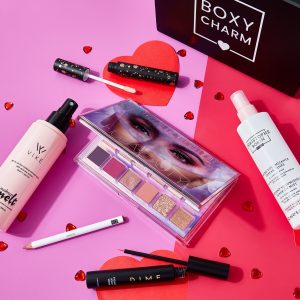 Delivered monthly, BoxyCharm will ship their subscription boxes within the US and Canada. This will happen in 5 to 10 working days from the date you place your first order. Orders to US territories can take an extra 5-20 days. The processing of all subsequent orders will commence on the 1st of each month.
A tracking number will be issued to customers within 48-72 hours post-shipment. You can keep track of your box delivery with the number.
There is no additional shipping cost for orders within the US, but in Canada, you will be charged $5 per box ($8 for the Luxe subscription). Deliveries to US territories also incur a $5 shipping charge.
While you can cancel your BoxyCharm subscription at any time, if you don't cancel it before the automatic renewal date of the 1st of the month, and are charged, BoxyCharm is unable to issue a refund. They also do not accept returns or exchanges.
BoxyCharm Promotions & Discounts
As well as the special joining offer, BoxyCharm subscribers can also save up to 70% off selected products in the online beauty store. Search the internet and you can also uncover BoxyCharm coupons. Some of the most recent include 35% off your first order and free shipping.
Signing up for BoxyCharm's e-newsletter will also mean you are amongst the first to hear about their own discounts as well as seasonal promotions and offers.
Contact BoxyCharm
The BoxyCharm website has a decent FAQ section. For general inquiries, they encourage this to be your first port of call. The website also has a chat function – the BoxyBot – which uses virtual assistant technology to answer any other basic questions.
For personal subscription-related inquiries that require the attention of a real human, you may struggle with BoxyCharm. Although we did find a customer service email – [email protected] – after a more in-depth Google search.
Alternatively, you can direct message BoxyCharm via their social media platforms – Facebook, Twitter, and Instagram.
BoxyCharm Reviews: Editors Verdict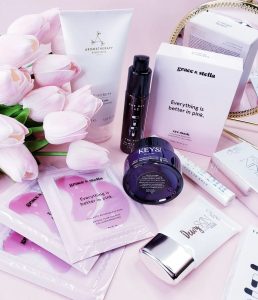 If the majority of positive BoxyCharm reviews are anything to go by, this subscription service offers a little more than many other similar services. First up, you get generous full-size products, as well as items that, as some customers describe, push you outside of your beauty comfort zone. And this is mostly in a good way. For makeup and fashion lovers, the chance to try out new styles, supported by the informative tutorials, is worth the monthly fee.
But it seems that the box contents can be inconsistent, and the opportunity to tailor the products to your own preferences is a little limited. This brings it down to whether you are getting value for money.
BoxyCharm is not the cheapest beauty box service on the market. It does rely on repeat orders to make its business model work. But the trump cards it holds are its brand partners, the promise of exciting and diverse makeup, skin and hair care ranges, and its full-sized products, and not just samples or travel sizes. And the BoxyCharm community, sales, and supportive tutorials add extra value.
The bottom line is that if you just want to test out beauty products but don't really want to spend too much, then there are probably better beauty boxes out there for you. But if you love to experiment and explore, while looking for quality and value the extras such as tutorials, then BoxyCharm will have enough charm to make you look forward to your monthly beauty box delivery.
Do you enjoy subscription boxes? Consider reading our reviews of Allure Beauty Box Review, Birchbox Review,  and Curateur Review. Alternatively, read our reviews of the 10 Makeup Subscription Boxes.
BoxyCharm FAQ
How to cancel BoxyCharm?
When you sign up for one of BoxyCharm's subscription boxes, you go onto an automatic renewal on the 1st of each month. You can cancel your subscription at any time and are not tied to a contract. However, you must cancel your subscription before the 1st of the month, otherwise, you will still be charged for the month from which you wish to cancel.
To cancel your BoxyCharm, you need to log into your online account, then choose the subscription you want to cancel. Click on 'Cancel Subscription' to follow the instructions. An email will then be sent to you asking for a final confirmation that you wish to cancel. It's important to note that your subscription will not be canceled until you click the link in this email.
Alternatively, you can contact BoxyCharm directly by the 25th of the month who will then cancel the subscription on your behalf.
What kind of products will my boxys contain?
The focus for the BoxyCharm subscription boxes is 'beauty' and so you won't just get makeup as they like to shake it up a little. Using the preference information that you supplied via the initial sign-up questionnaire, you can expect a nice mix of makeup, skin, and haircare products (all full-sized), with a few other beauty-related surprises thrown in. You can also opt for a quarterly upgrade to a Luxe box for an extra-special treat every now and again.
How many items will be in my BoxyCharm?
The number of items you receive as part of your monthly BoxyCharm delivery depends on the subscription you take out.
The core package – BoxyCharm Base Box – supplies five full-sized products, of which you can choose one. Upgrade to the BoxyCharm Premium and you get six products, of which two are personal choice items.
And for dedicated beauty fans, there is the final upgrade, BoxyCharm Luxe, which offers an impressive eight items although only two can be personally chosen by you.
Does BoxyCharm have good makeup?
BoxyCharm bases its business approach on 'makeup and beauty for all' and so cleverly chooses brands that have a broad appeal but offer the freshest trends. The result is that they can offer some high-quality and cult makeup brands such as MAC, NARS and GlamGlow.
Where does BoxyCharm get their products?
To make their subscription work – both for the business and their customers – BoxyCharm buys in bulk from their chosen brands, which currently include MAC, IGK and Bumble and Bumble. This means they can offer full-sized products at a proportion of the price. They then make their revenue through a high volume of subscription sales.