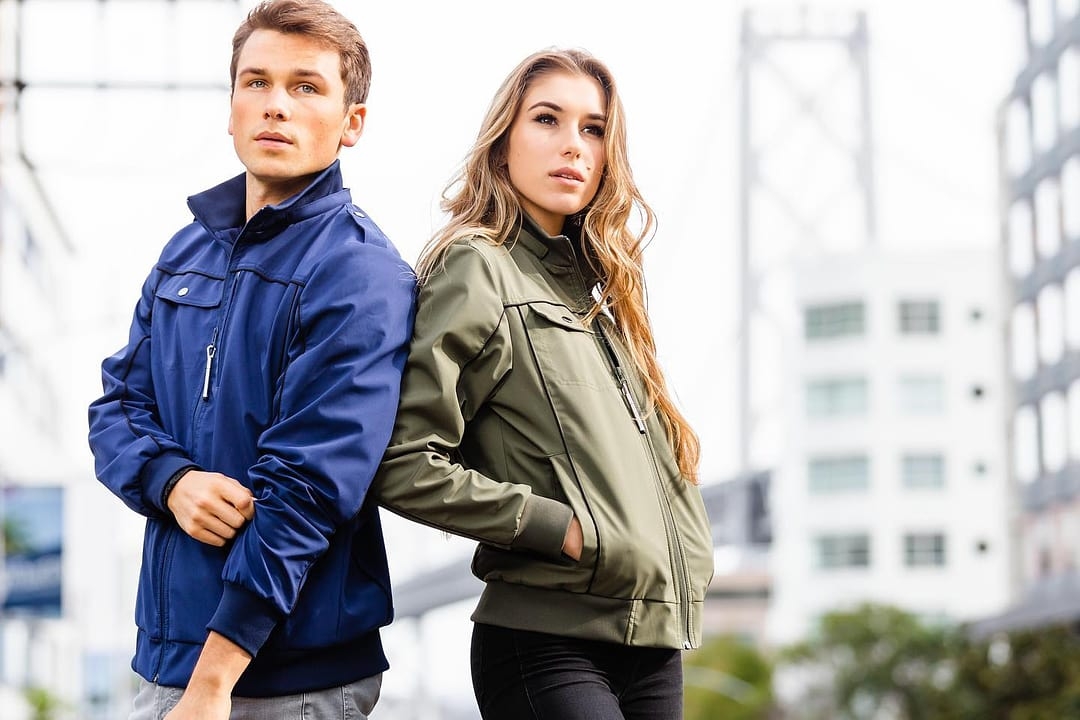 We love it when a brand comes on to the market specifically to solve a problem experienced by its founders. And that is exactly the story behind the Kickstarter phenomenon, BauBax. Created by a long-distance traveler looking for a multi-functional travel jacket to make his journeys easier, BauBax is also a crowdfunding success story. And, from its first travel jacket launch in 2015, BauBax has since expanded to include a full travel clothing and shoe range. We'll now examine the products and the brand within our Baubax reviews.
The Baubax website features the strapline – the world's best travel clothing line – which is quite an ambitious claim. So, just how good is the BauBax range? We unpack the story behind its growth and success, listen to its customers, and review some of its trailblazing products so you can decide whether BauxBax should be your essential travel companion.  
About BauBax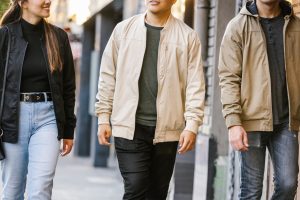 The story behind the BauBax brand is a marketer's dream – a couple in a long-distance relationship and a jacket with a unique design born out of a desire to have some creature comforts during their travels.
The couple in question are Hiral Sanghavi and Yoganshi Shah, who spent their first year of married life clocking up air miles traveling between Chicago and San Francisco to spend time together. The company name is actually derived from the couple's pet names for each other – Bau and Bax. Now that's cute.
Loss of sleep from these frequent flights inspired Hiral to start working on a design for a quality travel jacket that would not only look good but make traveling time more comfortable. The result was a jacket that had no less than 15 features – including an eye mask, cup holder, neck pillow, and pockets specifically designed to hold specific items such as tech – and married functionality with stylish looks.
More about BauBax
The original BauBax Travel Jacket was launched in 2015, backed by funders via a Kickstarter campaign, which led to the design becoming one of the highest crowdfunded items of clothing in the history of the site. Fast-forward to 2018, and the next generation of the BauBax Travel Jacket – the 2.0 – was launched, to offer not only more features but also styles, with variations including the sweatshirt, the windbreaker, the bomber, and the blazer. And all come with the option of a host of features and accessories, including a travel blanket, water bottle, inflatable neck pillow, and even detachable gloves.
The success of the BauBax Travel Jacket for both men and women has also spawned several spin-off lines, including travel shoes, trousers, and Ts. And with over two million customers worldwide, combining fashion, comfort and travel has made BauBax an online brand to watch. Just sit tight and read our BauBax reviews!
Pros
The company has a personal touch that makes it engaging – and the two founders are still very much involved
The range has some innovative designs and quality features which are practical rather just looking good
BauBax's reputation is backed by the number of crowdfunders willing to invest
Uses sustainably sourced organic bamboo materials in some of its products, which is free from harmful chemicals
Offers 30-day return period
Offers a good range of promotional offers and sale discounts
Cons
Limited international shipping – although the company stress on their website they are looking into shipping wider
BauBax doesn't have a physical high street presence – they are only online - and so you can't try on before you buy
Their clothes and shoe range are not totally waterproof but water-resistant
They do seem to run low on stock
BauBax Men's Clothing Review
Bomber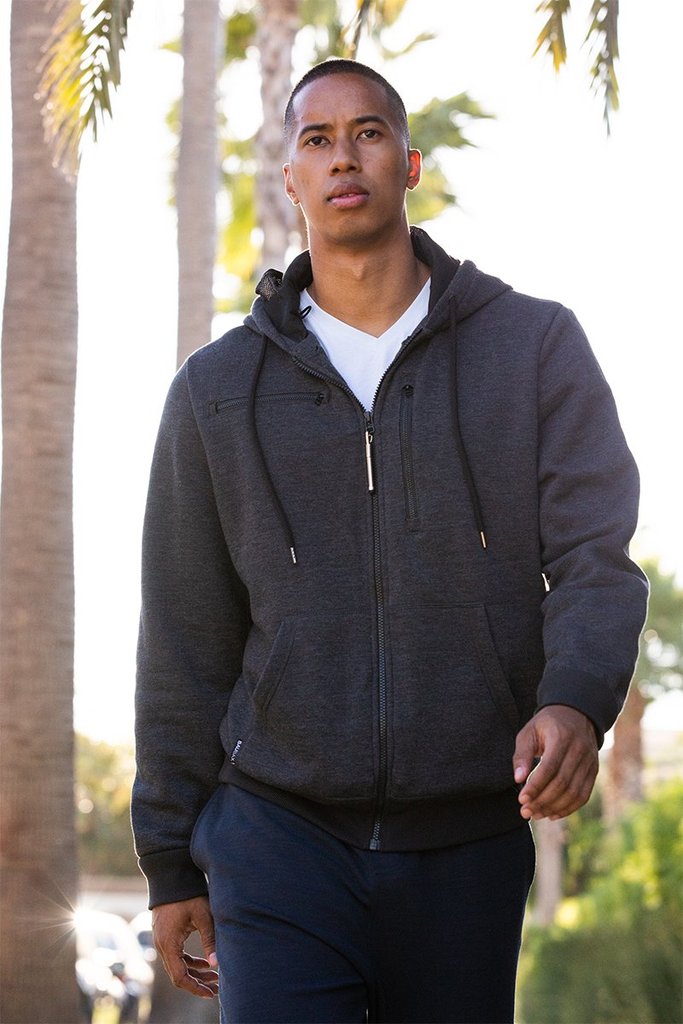 One of the latest incarnations of the trailblazing BauBax Travel Jacket, the 2.0 BauBax Bomber jacket is a stylish addition to any wardrobe. This Baubax jacket has an urban casual look with all the styling you'd expect from a performance coat. Made from water-resistant polyester that is lightweight yet offers plenty of comfort and warmth.
This travel jacket is not designed to be full-on waterproof however and will not protect you against full-on or sustained rainfall. That aside, there's sufficient insulation to keep you warm when out and about, and the softness means it is comfortable to wear, whether sightseeing or waiting in an airport departure lounge.
This cool BauBax bomber jacket is also pocket central, with 13 well-placed for access pockets for all your travel items and accessories. From a water bottle and charger pocket to mini pockets for pens or your iPad stylus, all your travel pocket needs are met, plus a hand-warming pocket and a secret pocket for your valuables.
Throw in a detachable hood, an inflatable neck pillow, and a built-in eye mask, and you are totally set to go. For a travel jacket that isn't waterproof, this BauBax jacket is a little on the expensive side – it is currently retailing at around $120 although sales can mean it's cheaper. And machine-washable, the BauBax bomber jacket is practical too.
Athletic Chinos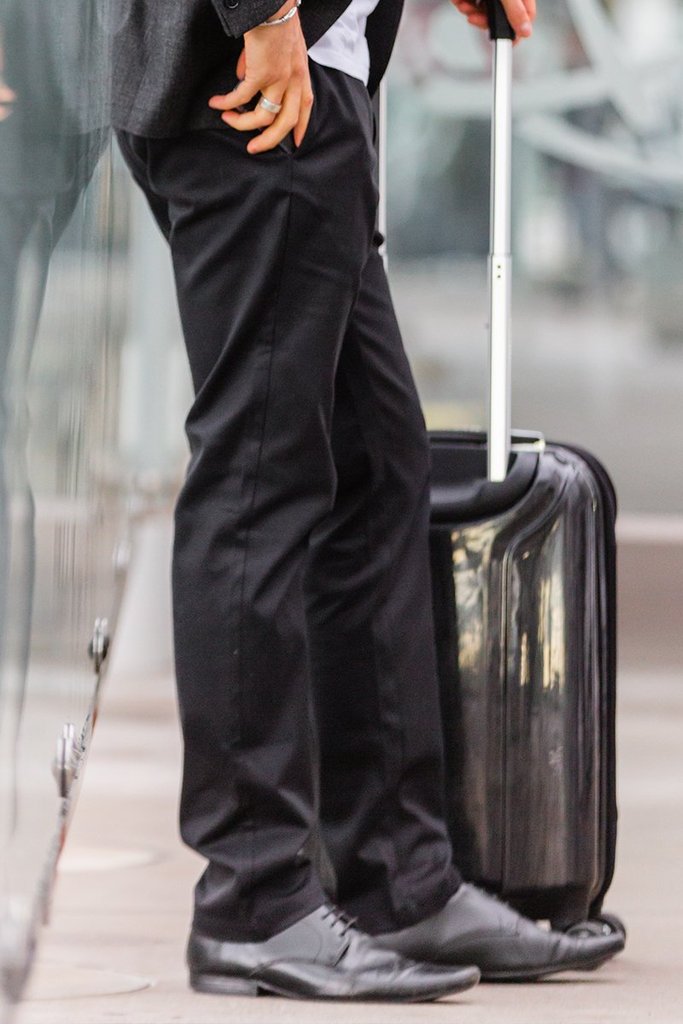 Looking for travel pants, that doesn't look like travel pants? Then with BauBax's Athletic Chinos, you are shopping in the right place! Made from soft bamboo and wicking merino wool, with added elastane for a comfortable stretch, these smart pants will take you from office to rail station or airport without breaking out in fashion-faux pax sweat. The cut is stylish too, with more room in the hips, while tapering at the calf for a streamlined silhouette.
These chinos also have outdoor practical credentials, with stain and water-resistant properties, as well as UV protection and odor control. They are also quick drying and pack down to a small, carry-on size.
Available in a choice of two colors – black and khaki – and 11 waist sizes, you can expect to pay between $100 and $160 for these versatile and smart-looking BauBax pants.
Bamboo Cotton Long-Sleeve Tee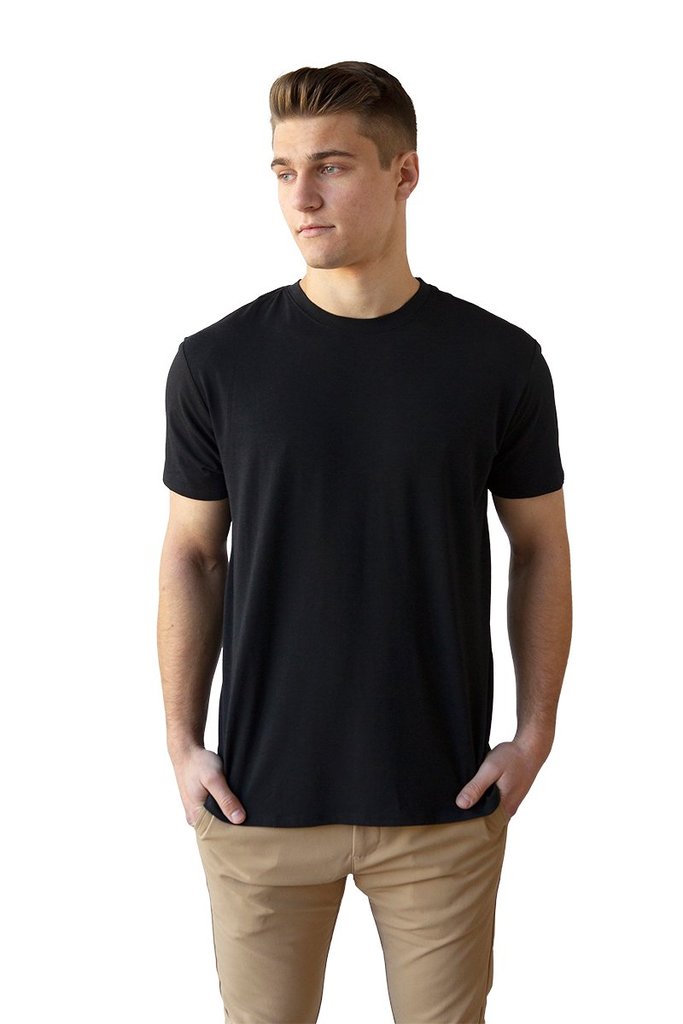 Renowned for its odor control properties as well as being highly breathable and sustainable bamboo is a wonderful material to use in tees that sit closer to your skin. And used as a base layer when you need to keep warm, BauBax's bamboo Cottom Long-Sleeve Tee is a versatile piece to have in your travel or at-home wardrobe.
Super-soft and easy care, this tee has a looser fit and travels well. The design is also available in a short-sleeved version too. The color range is limited, however, currently just black, and gray, but you do get a decent range of sizes, from XS to XXXL.
This is not the cheapest long sleeve tee you can buy as it retails around the $50 mark, but it is durable, and keeps its size and shape well, even with repeated washing.
BauBax Women's Clothing Review
Vest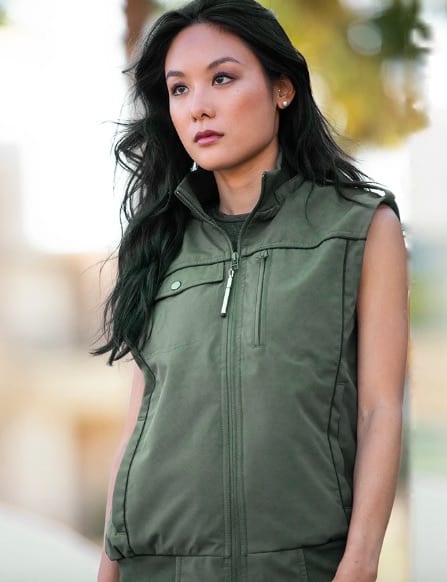 With all the expected features and functions of the now-iconic BauBax Travel Jacket, the BauBax Vest for women is, as the name suggests, just missing its sleeves! And this makes the vest super-versatile as it can be worn on its own over a tee or strap top when the weather is warmer or layered over jumpers and even a thin coat when the leaves and the temperatures start to fall.
We think this vest is a good choice for sightseeing as it keeps warm enough without being too restrictive and you still get all that BauBax pocket space. And as it is made from water-resistant fabric it'll also keep you dry.
Available in just three colors – black, blue, and olive – the plus is that they are all low-key stylish and can be dressed up or down. But for all this functionality and versatility, you will pay a little more as the BauBax women's vest currently retails at around $128.
Trouser Leggings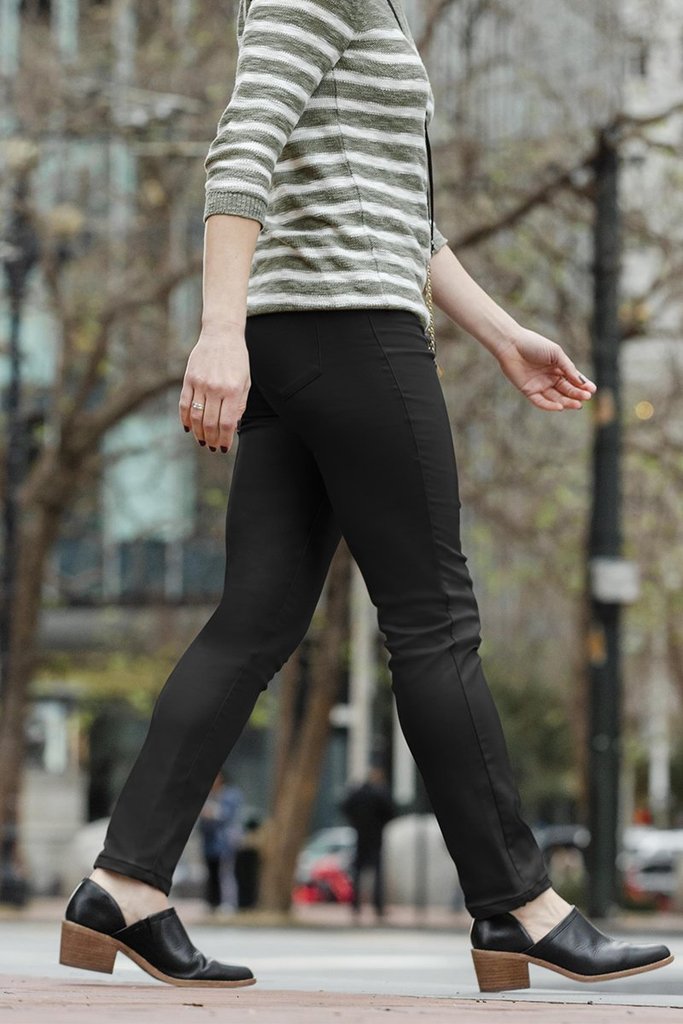 Who doesn't love stretch pants? And when they are as comfortable, durable, and nice to wear as BauBax's women's trouser leggings, it is hard to resist. Made from a lovely blend of merino wool (for warmth as well as moisture-wicking) and bamboo (for softness and comfort), the design is smart yet functional, with a total of six pockets for the woman who likes to keep her belongings close by.
And with 10% elastane, the flexible stretch to the fabric means these leggings move with you without digging, whether that's sightseeing or sitting on an airplane.
Available in just black or khaki, the colors are a little limited, but these versatile shades can easily be dressed up or down. However, some reviewers report that the sizes do run a little small, so make sure you are getting the right size for the ideal fit. But the comfort and style factor of these versatile women's trouser leggings seem to be a hit.
Bamboo Cotton Short-Sleeve T-Shirt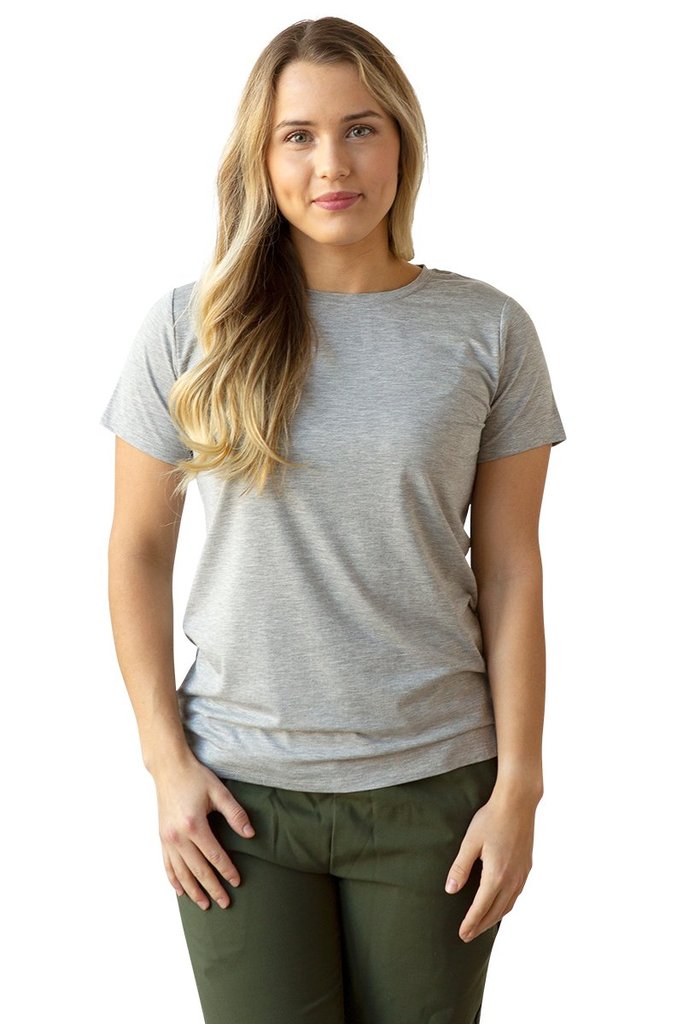 When it comes to versatile pieces in your wardrobe, the classic Tee has to be one of the best. Perfect with jeans for a casual outing, or dressed up under a jacket and worn with heels, you really can't go wrong. Available in the tried and tested colors of black and gray, BauBax's Short-sleeve t-shirt is a class act.
Made from bamboo cotton, this super-soft tee is a delight to wear, and the gentle fit of the design creates the perfect daytime silhouette. As an outdoor tee, you get the spec you'd expect: moisture-wicking, UV protection, and odor control. Meanwhile, well-priced at around $35, it's ideal for traveling as it packs well and keeps its shape, even after repeated washing.
Wear on its own on a summer day or layer up when the weather gets cooler, we think this women's tee from Baubax is a low-key stylish companion.
BauBax Women's Shoes Review
Dressy Heels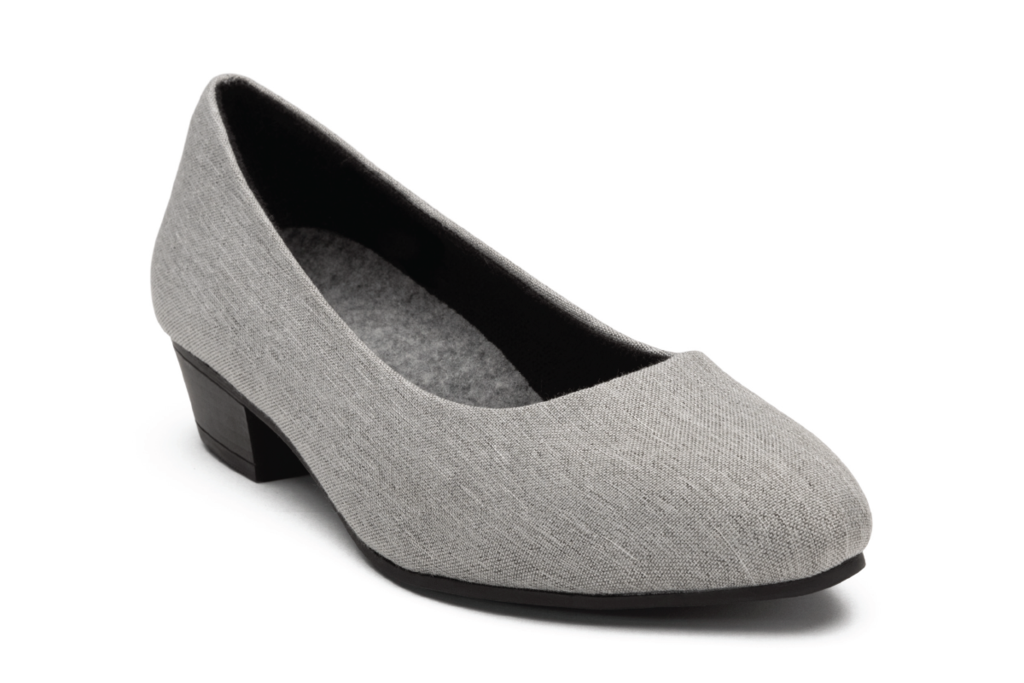 A nice surprise addition to our BauBax shoes review, their dressy heels are, as you would expect from this travel brand, practical as well as cute. We are not talking three-inch killer heels here, but heeled slip-ons that promise plenty of comforts but also look good to boot.
With a smaller heel height, these BauBax shoes would look equally good with a pair of jeans as they would with a dress or wide-legged slacks and as they are made from a softer material, will pack up nicely, even in your hand luggage.
With a bamboo upper for comfort as well as superior wicking and temperature control, you also get a merino wool liner as well as a coir middle layer which offers superior foot support. And the outer sole is made from natural latex, which supports and cushions your feet.
As with most of the BauBax range, they haven't gone mad on the color choice but the colors available – gray, black, and beige – work with most outfits and are easy to maintain. Available in seven ladies shoe sizes, expect to pay between $119 and $160, depending on the BauBax sales.
Breezy Laced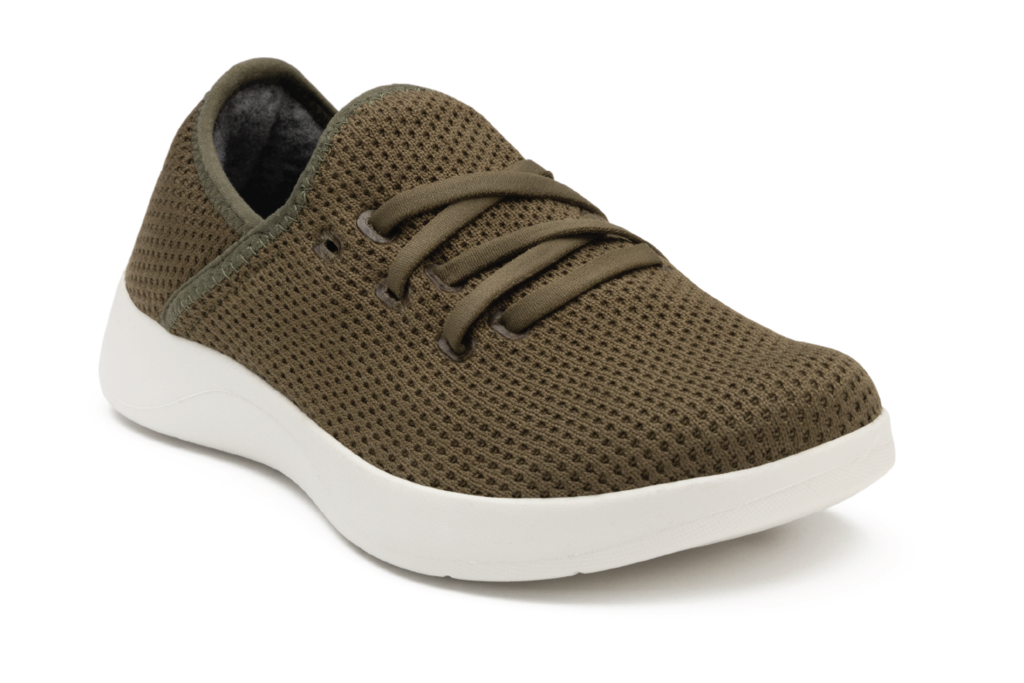 Traveling and sightseeing, or just walking around your hometown, all call for a pair of super-comfortable shoes. And you would certainly be stepping out in comfort with a pair of the popular BauBax Breezy Laced shoes.
One of the brand's bestsellers for women, it's easy to see why. With a sporty sneaker feel coupled with a stylish design, the Breezy can be worn with a casual outfit or used to add a comfy edge to a more formal outfit. But whatever you wear them with, these shoes are designed to keep you light on your feet.
Made from BauBax's bamboo upper, with a coir midsole and natural latex outsole, you also get a merino inner for extra comfort and warmth. These shoes are also lovely and lightweight as well as easy to keep clean, as the outer shoe is machine washable.
Not the cheapest casual shoe you can buy – you are looking at just shy of $100 – but you get a good lightweight, smart and durable travel shoe for your money.
BauBax Men's Shoes Review
Breezy Loafers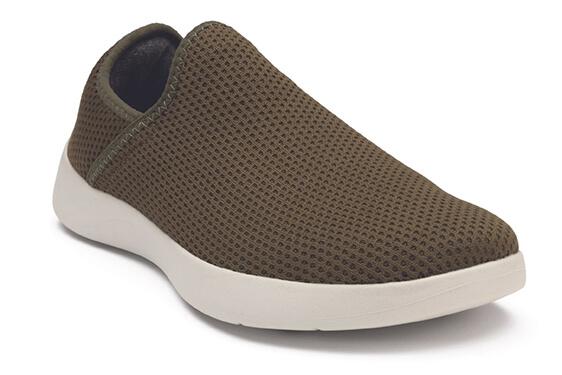 Slip-on and off you go – that's the intention of the Breezy Loafers from the BauBax shoe range for men.
The signature design of BauBax footwear is used to good effect in these slip-on style loafers, including the coir midsole, supportive rubber outsole, and breathable knit fabric upper. And the design is surprisingly light, giving you a feel as if you are walking on air. But that doesn't mean these loafers are a soft touch as they have been designed for the rigors of travel.
We particularly like how the soft yet durable upper stretches with your foot and the seams are well stitched for extra support. You can also wear these loafers with or without socks so can take you from walking the city sidewalk to the beachside café.
Available in a choice of four colors, including all-black upper and sole, these loafers are understated and at less than $100 a good investment for your traveling wardrobe.
Loungy Laced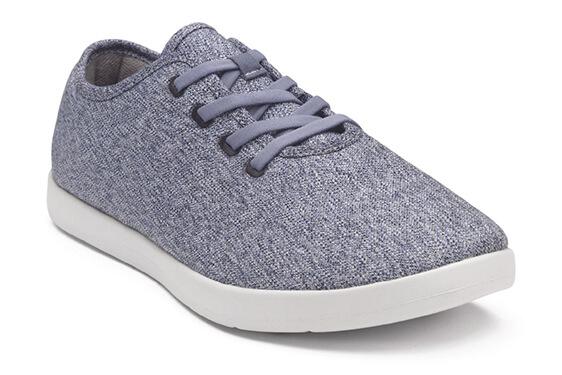 For those slower traveling days or long flights, check out the Loungy range from BauBax, including these smart/casual laced-up shoes for men. With a more laid-back, do-less vibe than the more active Breezy, the Loungy certainly lives up to its name.
Designed for everyday use, the Loungy can take you from home, to work, to the café, around town, and then back again, thanks to their versatile design. And, as the woven fabric is ultra-lightweight, the Loungy packs up in your luggage, ready for when you need to give your travel-weary feet a treat.
Also available in a loafer version, the Loungy comes in four smart colors, including cool denim and at $109 is a popular choice in our BauBax shoes review.
BauBax Reviews from Customers
One of the best ways to assess any product is to get the insider from those in the know – people who have already bought them. So, to help you decide if BauBax is the right brand for you, we've scanned the many BauBax reviews left by customers.
Our first port of call is the BauBax website, which lists over 2,700 customer reviews, garnering an impressive overall score of 4.7/5. According to their website, 79% of reviewers would also recommend BauBax to a friend.
Some of the positive comments include 'awesome fit, comfort, and value', 'they are as fashionable as they are comfortable', 'I wish I had found this vest years ago'. However, some issues from customers do crop up, such as sizing running small, lack of color choice, and low stock.
Further customer reviews
Go beyond the BauBax website and while the positive comments and customer experiences remain, some customers appear to have had a less than perfect experience. On TrustPilot, comments regarding delivery and incorrect orders have been raised, although for some it appears that these come from the early days of the Kickstarter which BauBax has worked to resolve.
Over at Amazon, the BauBax Travel Jacket review pages do have some mixed reviews and scores 3.7 out of 5. Many customers 'love the functionality of the jacket', 'keeps me warm', 'I love the concept and it's really handy for traveling'.
Meanwhile, others question whether so many pockets and accessories are needed and whether more could have been done to ensure all the functions such as the inflatable pillow work as well as they should.
But on balance, the innovation of the Travel Jacket and the rest of the BauBax traveling clothes is a big draw, with many customers saying they like the combination of style and functionality and will buy again.
Where to Buy BauBax Clothing
BauBax does not retail in any physical stores and can only be bought online. The number of online stores you can buy the range is also limited to the BauBax website and Kickstarter. You can also purchase some of the BauBax range on Amazon.
BauBax Shipping and Return Policy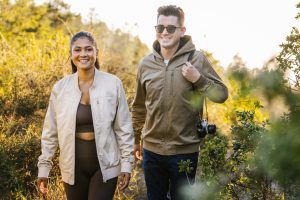 The BauBax website is a little confusing as to where they ship to. The home page advertises free shipping on all orders over $150 to the US, SG (Singapore), and AU (Australia) yet their FAQs state they only ship within the US.
Testing this with an online order, you do also get the option off Japan so, beyond these four countries, it looks like they currently don't ship internationally. However, if you purchase BauBax via Amazon rather than directly from their own website, you get a greater choice of international shipping.
BauBax's own shipping time is not the quickest, but you can expect to receive your order within seven to 10 working days. BauBax currently does not offer the option of express delivery.
The BauBax returns policy is clearer, with a free 30-day return service on all products except sales items. The 30-day return period starts from the day you place your online order.
To instigate a return, you need to email the BauBax customer service team who will send you a return authorization which you must send back with your returned item.
It is also important to note that you will not be reimbursed your original shipping cost and all returns are subject to a $10 restocking fee.
BauBax Reviews – Promotions & Discounts
BauBax offers a good range of promotions, all through email sign-up. Enter your email on the main website and you will receive regular offers and discount codes, including money off your first purchase as well as discounts when you spend.
You can also share the BauBax love with your friends and family, thanks to the BauBax gift card range. And their seasonal sales are pretty good too, typically offering up to 30% off selected items.
Contact BauBax
Still have more questions after reading our BauBax reviews? Looking at their website, there doesn't appear to be a direct contact telephone number for BauBax's customer service team. Instead, all inquiries are directed to their online contact form. Alternatively, you can email them at [email protected]
They do, however, promise a 24/7 service from their customer services. Additional help can also be found in their comprehensive FAQ section on the BauBax website.
BauBax Reviews: Editors' Verdict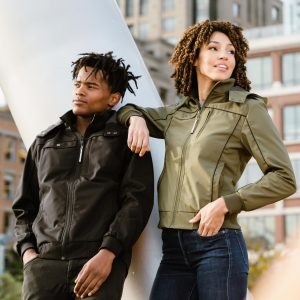 With such an ambitious concept, it was inevitably going to be difficult for BauBax to live up to its 'world's best travel clothing line' hype. However, the idea and its delivery are good ones, and the brand is on track to be a force to be reckoned with in the traveling clothes market. And for many – frequent travelers or homebodies alike – the idea of a 'gadget' style jacket with ample pockets and some useful 'surprises' has struck a chord, especially when you look at the brand's following.
 The BauBax price point is fair for what they offer and when put together with comparable brands, their added functionality and features could give them the edge. Ok, the color choice and size range could be improved, and you may not really need all the extra bells and whistles, but these are not necessarily a dealbreaker.
It's whether the functionality and design of the BauBax jacket and other clothing items match your lifestyle, your travel plans, and your expectations. And if so, then our jacket review thinks BauBax could be your ideal traveling companion. 
Still on the hunt for the perfect clothing line? Check out some of our reviews on Fabletics, Cuts Clothing, and Alain Dupetit Suits.
BauBax FAQ
Are the BauBax jackets machine washable?
While the BauBax vest, bomber, and windbreaker jackers are all machine washable, the BauBax Blazer (1.0 version) is dry clean only.
Are BauBax shoes waterproof?
No, their shoes are not waterproof, but they are water-resistant. According to the BauBax website, they have avoided fully waterproof fabric as it is less breathable. Instead, the company have chosen to treat the bamboo upper fabric of all their shoes with Teflon Fabric Protector to repel water and stains.
Do all the jacket styles have all the 25 features?
Yes, all of the BauBax styles come with 25 features. The only item without the features is the vest as it doesn't have the gloves.
Is the bomber suitable for tropical climates?
The bomber is not suitable for tropical climates as it has the warmest and thickest interior. This jacket is made for colder climates.
Are the Travel Shoes machine washable?
The Loungy and Breezy shoes can be washed on a gentle cycle. BauBax recommends removing the insoles and laces before washing them. Use mild detergent and do not tumble dry. These are best to be air-dried. The Dressy shoes are not machine washable, for those you'll just have to use a wipe to clean them.