More and more clothing brands realize that there aren't many quality clothes for men. It's either you pay a high price for T shirts and receive good quality, or they are just cheap, from every point of view. This is where our Cuts clothing review can come in handy. What is Cuts you ask? They are marketed as "the only shirt worth wearing". As per GQ, Cuts Clothing offers premium quality shirts with minimalist designs for the modern man.
Made from custom PYCA™️ fabric, which is highly durable yet breathable, these shirts are suitable for most occasions, including office, travel, even date nights. Sounds pretty great; but are they worth it? To help you decide if this brand is really worth the hype, we give you our unbiased Cuts Clothing Review. Here, you can read all about Cuts' apparel, including the quality and durability of their material, where the shirts are made, what customers think, and more.
About Cuts Clothing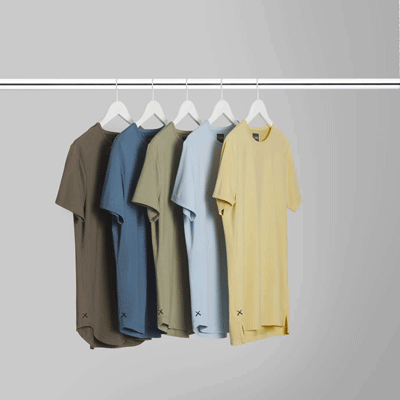 Founded in 2016 in Los Angeles, Cuts is a male T shirts brand with an authentic mission: to provide the ultimate quality/value ratio with their apparel. Steven Borrelli, the founder of Cuts, wanted to create a brand that would allow men to wear the same high-quality T shirts at work and during their time off.
The Cuts' T-shirts' most famous feature? A finely engineered fabric called PYCA™, built from scratch after months of research and development. This material offers men fresh, minimalist shirts that are not only amazing when it comes to style, but also highly durable.
Featured in Vanity Fair, Business Insider, Forbes, and GQ, the PYCA™-based T shirts are imagined to mix ultimate softness and comfort. As a result, you get a classic item of clothing that allows you to feel great in your skin, be effortlessly performant at work, and be confident on a night out.
Before we dive deeper into this Cuts Clothing review let's highlight the brand's pros and cons:
Pros
High-quality, innovative PYCA™ fabric
Versatile and classic designs
International shipping and returns available
Free return shipping for US orders
Contemporary shirt designs that can be worn any time of the day
Cons
Cuts only offer classic, neutral tones
Limited clothing range
Pricier than average, with tees starting at $48
Cuts Products Review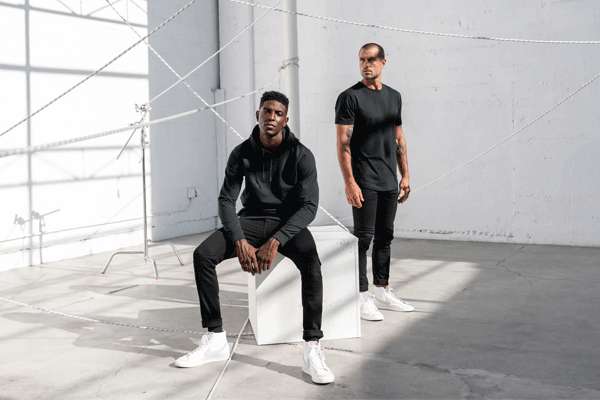 The LA-based brand offers a variety of T-shirts that feature the stunning custom-engineered  PYCA™ fabric. Described as a buttery soft material that provides a tailored fit as well as a wrinkle-free result, the Cuts fabric seemingly sets itself as your new wardrobe essential. After all, who enjoys ironing their clothes?
With this Cuts clothing review we're going to mention the best styles on the website. The PYCA™ staple fabric offers unmatched versatility. Crafted for the Sport of Business, that also boasts incredible elasticity thanks to its 4-Way stretch, without piling and wrinkling.
You can purchase your Cuts shirts as one-time items. Alternatively, the brand also offers a very convenient membership. This allows you to select 2 Cuts shirts per month, fulfilling all the shopping cravings of the modern man.
Crew Curve-Hem T-Shirt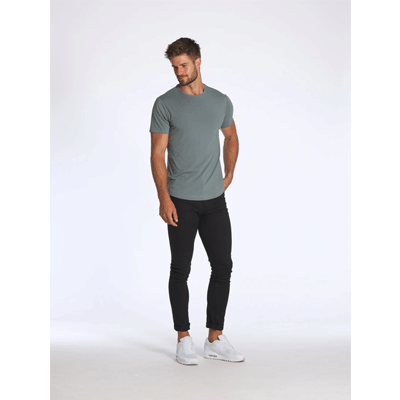 The Crew Curve-Hem T-Shirt lies among the best-selling short sleeve styles of the brand. It features an average torso length and a tailored fit. It doesn't bunch at the waist, making it a staple in most men's wardrobes.
The Crew Curve-Hem T-Shirt is a fantastic option if you are looking for a new tailored fit T-shirt. Pre-shrunk and wrinkle-free, it is truly one to turn to for a staple that doesn't let you down. It has earned a 4.7-star rating on the Cuts website, with over 1200 customer reviews highlighting the great texture and nice stretch fit that make for the best T-shirt a man could own.
The Crew Curve-Hem T-Shirt retails for $48 and is available in neutral colors such as Black, White, Mountain Mist, Granite, and Sage, as well as other classic seasonal colors.
Henley Curve-Hem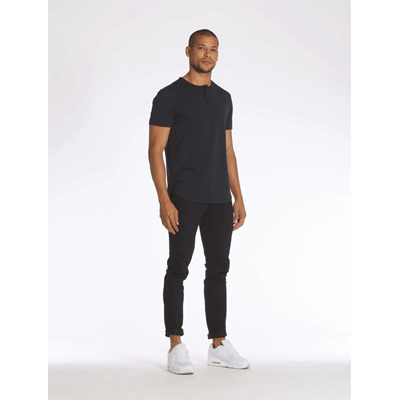 The Henley Curve-Hem T-shirt retails for $58 and comes in three colors: Black, White, and Sage. Other limited edition colors are Deep Amber, Fjord, Night Owl, and Blush.
The Henley collar features three sturdy buttons to fasten for a more professional look, which you can open up for a night out. Henley is also available in a long-sleeve model, with an elongated or split hem that boasts silky smooth fabric.
Polo Curve-Hem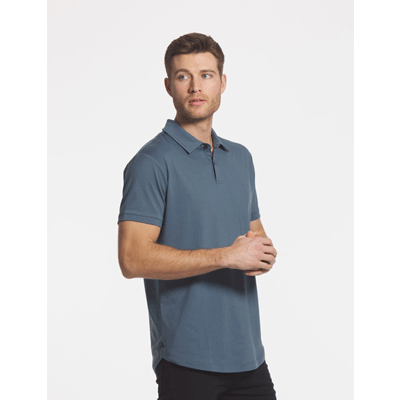 Here's a Polo Curve-Hem review that perhaps best describes this shirt. "I'm taking this to the grave. Absolutely love this shirt! Please buy one if you have a chance, you will never go back to buying regular shirts.".
This sole review sets the tone for the quality of the PYCA™ fabric used for the Polo Curve-hem, which retails for $72. The PYCA™ Polo features a two-button collar to keep you fitted for the daily work grind, a happy hour escape, and everything in-between. In simpler words, the Cuts Polo may just be your new wardrobe essential.
The Cuts Polo is only available with a curve-hem cut though, but thankfully, it comes in multiple colors, including the classic black color, Deep Amber, Night Owl, Salt, and Fjord.
Cuts Clothing V-Neck Curve-Hem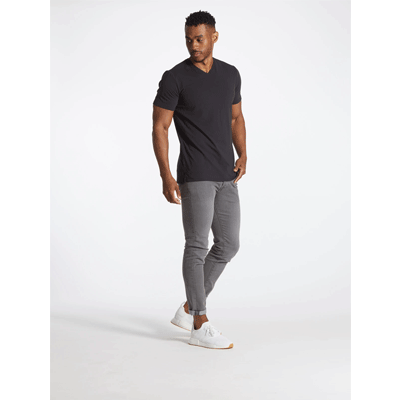 The Cuts V-Neck Curve-Hem retails for $48 and comes in the following staple colors: Black, White, and Mountain Mist. The brand also offers limited edition colors for this model. Like Glacier or Nine Iron, some of them are even on sale at $42 at the time of writing.
A definite winner, the V-Neck Curve-Hem is an elevated model that boasts a tailored fit to eliminate bunching around the waist, making you look slightly taller and even more athletic. One happy review reads: "Amazing quality! Great fit, like it's tailored for me. Fantastic texture."
A classic tee, the V-Neck Curve-Hem seems like a go-to for many of the brand's customers. Its pre-shrunk, wrinkle-free material is certainly one of its selling points.
Cuts Clothing Hoodie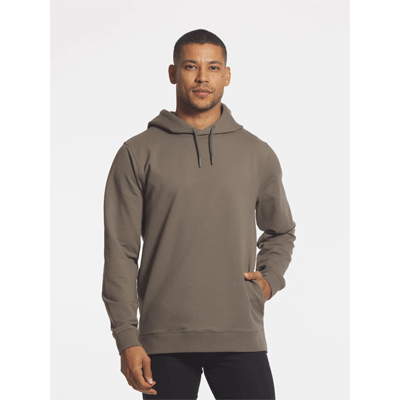 The Cuts Hoodie Classic comes in three colors: Black, Sage, Mountain Mist, and retails for $118. The Black Forest and Glacier are two limited edition colors you can choose from to amp up your everyday style.
The Cuts Hoodie retains fit and shape over time, which means that you will have a great return on investment while sporting this stylish, lightweight sweatshirt. The Hoodie classic features low profile pockets, a crossover collar, and a double-walled hood that make up a seriously beautiful, athletic-fitted sweatshirt.
Cuts Clothing Sizing
Cuts cater to men of all sizes with shirts available from size S to size XXL. The website also has a handy little tool called Find My Fit, which helps customers select their perfect size according to the level of tailoring they are looking for.
While you can manually select your usual size, Cuts recommend using the Find My Fit tool for each shirt. The sizing and fit slightly differ depending on the shirt you are looking to buy.
Cuts Clothing Review from Customers
For this Cuts Clothing review, we've taken a close look at the reviews on the website, and we've found that the customers are overall thrilled with their shirts' quality.
It is enough to read through the hundreds of reviews to understand that Cuts is a real game-changer on the male tee scene:
"I have never been happier with any other shirt in my life. I have worn custom clothing most of my life and modeled all over the world, and this truly is the best shirt ever made!".
"You can't beat this T-Shirt for the money."
"Replacing all my old shirts. Getting more but different colors!".
Popular Alternatives to Cuts Clothing
However, do note that some customers have highlighted that the brand runs on a smaller size. "Originally ordered size small, based on the fit guide, but it was a little too tight. Exchanged it for a medium, and it fits great! Very comfortable and very well-made! Can't wait to order more!". Some folks recommend sizing up and trusting your usual T-Shirt size.
The duuude.co blog has also praised Cuts shirts, rating them 9/10 for material quality and construction and 10/10 for feel/wearability. TrustPilot also shows the positive impression customers have.
Overall, Cuts clothing customer reviews are mostly positive, they seem super-pleased with their Cuts shirts, highlighting their feel and quality.
Cuts Promotions & Discounts
For this Cuts clothing review, we've scoured the Internet in search of all the deals and discounts available to get the brand's shirts at the best price. We have found that the company is generous in terms of promotions.
When you sign up for the Cuts Newsletter or SMS alerts, you will get a 15% discount code off your first order. On RetailMeNot and DealSpotr, we have also found various promo codes that allow customers to get $25, 15%, or 20% off their Cuts order. Nice one to try if Cuts' prices are normally a bit too high for your budget.
Where to Buy Cuts Clothing
At the moment of writing, the Cuts clothing shirts can only be purchased from the brand's official website, cutsclothing.com.
Shipping & Return Policy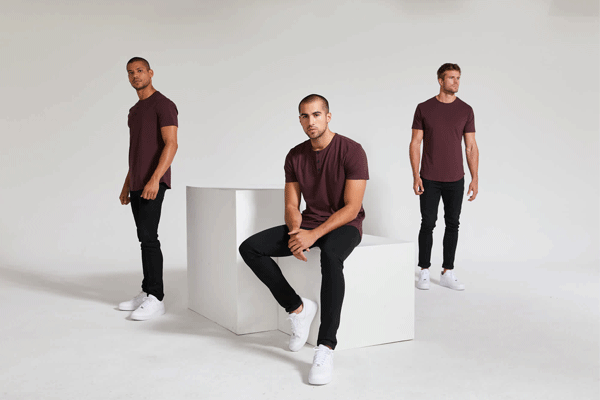 Cuts clothing ships to the USA and internationally, with all orders processed and shipped from Los Angeles, California.
US Shipping
When you order from the Cuts website, your order will be processed, shipped, and delivered on business days, excluding weekends and major holidays. Once your parcel ships, your delivery estimate will vary according to the carrier, and you can find the most up-to-date delivery estimate by checking the tracking number in your shipping confirmation email.
You can enjoy free US shipping for all your orders over $150 (including promo codes and discounts).
US returns
If you are not satisfied with your Cuts order for any reason, you can initiate a return or an exchange. All items must be unworn, unaltered, and sent back within 20 days of your delivery date in their barcoded individual black bag. The shipping and return costs are non-refundable.
Your new items or refund will be processed within 7 days of being received back at the Cuts warehouse.
International orders
When you order from outside of the United States, bear in mind that your order will be processed, shipped, and delivered on business days, excluding weekends and major holidays. It will take between 8-14 days to reach you. Duties and taxes vary by country and incur to the customer.
The brand offers free international shipping over $200 USD, with the order total being over $200 USD even if you are using a discount or promo code on your order.
International Returns
If you are not satisfied with your Cuts shirt's size or color, you can return your items within 45 days of purchase and place a new order as Cuts does not accept international exchanges.
The brand does not accept returns on all accessory items, including masks. The items must be in their bag with their barcoded individual black bag, unworn and unaltered, to be eligible for a return.
To initiate your international return, you will need to email the brand at [email protected]. Shipping costs for international returns incur to the customer and are non-refundable.
Contact Cuts
Should you need to contact Cuts Clothing, you can do so via:
Cuts Clothing: Editor's Verdict
After spending enough time looking at the Cuts clothing customer reviews and specificities, we have to say, Cuts is the real tee deal.
Despite a seemingly high price for simple T-shirts and hoodies, most customers rave about the brand. This is mostly thanks to the Cuts' innovative fabric that does not budge an inch, ever. Pre-shrunk and perfectly tailored for men of all sizes, with a signature anti-pilling and anti-wrinkling material, the Cuts shirts are slowly becoming wardrobe essentials for men around the globe.
But are they worth it for people on limited budgets? There are probably other brands out there that would do the job, however, based on these previous clothing customer reviews they are worth it.
Want to step up your fashion game? Here are a few more popular options to consider: Alain Dupetit Suits, Mr Porter, Rhone, and Buck Mason.
Frequently Asked Questions
Where is Cuts Clothing Made?
Cuts Clothing apparel is designed, processed and shipped from the brand's Los Angeles headquarters.
Do Cuts Clothing Shirts Shrink?
Thanks to the smart anti-pilling, anti-wrinkling 4-way stretch, pre-shrunk PYCA™ fabric, Cuts clothing shirts do not shrink. They're also highly durable, so you can expect to wear and wash them over and over again, and they should remain as good as new.
How should I care for my Cuts?
For specific instructions on individual items, check the label inside the products. Otherwise, the best way to care for them is to wash them in cold water, lay flat to dry, or use a low-temperature dryer setting if you're unable to air dry it.
What are CUTS Fabrics?
There are a number of different fabrics. Pyca Pro, Pyca Slub and Hyperloop French Terry. Each of these have different materials.
Pyca Pro's fabric Composition
62% Polyester

33% Cotton

5% Spandex
Pyca Slub's fabric Composition
62% Polyester

33% Cotton

5% Spandex
Hyperloop French Terry's fabric Composition
52% Polyester

42% Cotton

6% Spandex
Are Cuts Clothing ethically made?
Yes, all of the Cuts clothing is ethically made. It is a top priority at Cuts to be ethical from start to finish.