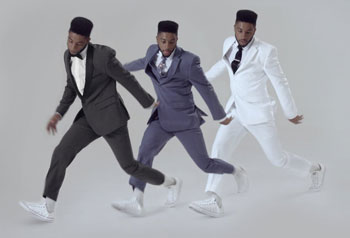 For an item of clothing worn by most men very few times for only special occasions, suits tend to carry a very high price tag. But looking sharp for that special day shouldn't cost an arm and a leg and should be available to everyone. This is where Alain Dupetit comes in. The exclusively online brand provides its customers with good-quality suits, tuxedos, shirts, and other accessories at a very reasonable price. In fact, most of Alain Dupetit's suits come to less than $50 which seems unthinkable for anyone who's ever bought a suit before.
But how do they do it? Are their suits worth it? Are they even wearable? To help you decide whether the brand is worth your money, we answer these questions and more in this thorough Alain Dupetit suits review. Read on for a close look at the brand, their offering, quality of materials, and what existing customers think of their suits.
Overview of Alain Dupetit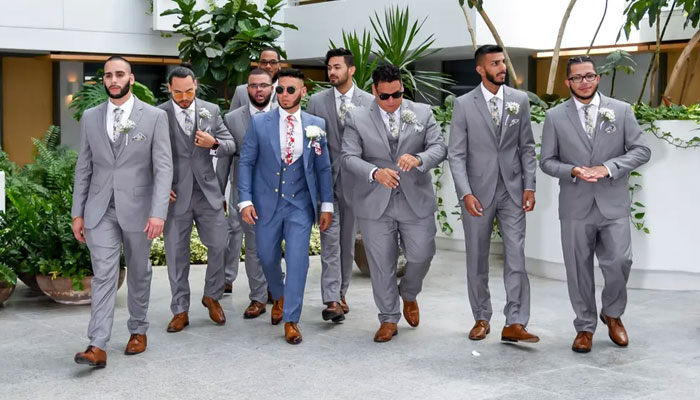 Alain Dupetit is an online-only brand of off-the-rack suits and tuxedos at a very low price point without sacrificing quality. Most of their suits cost less than $50, while the rest don't exceed the $80 mark. The way the brand was able to do that is by cutting out any middlemen and extra expenses.
They manufacture their suits themselves and don't sell their products through any other retailers or a physical store. Instead, they sell directly to the customer through their website, eliminating the need for any kind of markups that prices of suits usually have.
CoThe company was founded in 2015 by Alain Dupetit, a French-born tailor who came to the United States at the young age of 21 and opened his suit store there shortly after. Now with over 40 years of experience in designing suits and shirts, as well as manufacturing suits for many well-known designer labels, Alain and his team decided to create a more affordable and inclusive way for men to get their hands on a good suit.
Because they believe that stylish clothes should be accessible to everyone and looking sharp shouldn't cost a fortune.
Before we go ahead and dive deeper into the Alain Dupetit suits review, let's take a look at some of the major pros and cons of the company:
Pros
Very affordable, with most suits costing under $50
International shipping available
High-quality classic designs
Many years of tailoring and suit-making experience
Cons
High shipping charges
Doesn't offer exchanges
Return costs are not covered
Doesn't offer separates, only sets
Alain Dupetit Suits Review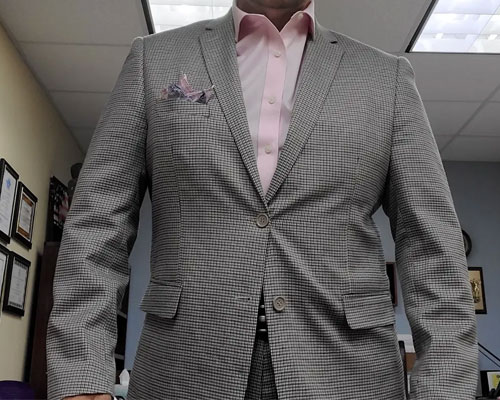 The brand offers a wide range of styles of ready-made suits, along with tuxedos for extra special occasions. The materials used are either Tetron Rayon or corduroy made from 100% cotton cords which makes for highly breathable fabric. Alternatively, lightweight cotton for their summery seersucker suits. Tetron Rayon, or TR for short, is made with a blend of synthetic materials.
The material is soft and feels similar to wool. However, it is more durable than wool or cotton and won't shrink as the other fabrics would. TR is also absorbent and faster drying than the aforementioned fabrics. The brand's suits are still dry clean only though. This is not a cheap suit that's made of bad material, they are quite long-wearing.
Alain Dupetit offers a few different styles of suits:
Two-Piece suits
Three Piece suits
Tuxedos
Casual suits
Kids suits
Their Two-Piece suits also have a few sub-categories in terms of more detailed styles, with tuxedos technically also being a two-piece suit:
Two Button suits
Three-Button suits
Wide Lapel suits
Double Breasted suits
Seersucker
Black Two Button Suit Review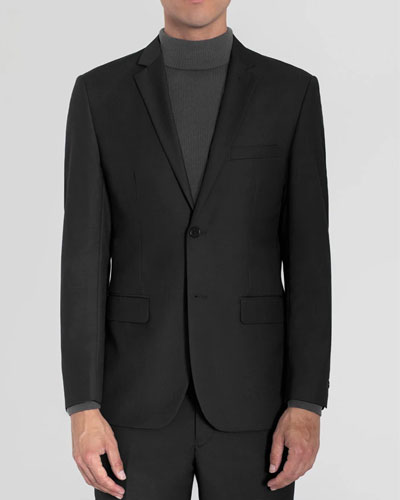 The signature and most classic suit from the Alain Dupetit suit collection is the Two Button suit in black. It is an elegant two-piece suit, comprising of a jacket and matching pants. Customers have a choice between a classic fit and a slim fit, the former being perhaps a more comfortable choice, while the latter will make for a more stylish look.
There is an exception to this for some of the larger sizes which are only available in the classic cut. Either way, this style retails for a very reasonable price of $49 and the brand points out that elsewhere, this suit would sell for $295 which is quite a considerable difference.
This suit is made with a Tetron Rayon shell and rayon lining which looks and feels good. The jacket features straight pockets, non-functional buttons on sleeves, and, of course, two-button fasting which is obvious by the name. The pants have a flat front and they are unhemmed, just as all the other pants by Alain Dupetit. If you prefer to have a hem, the brand recommends on their website to take the pants to your local tailor as they do not offer this service or any other alterations.
This style comes in other colors as well, including navy, light grey, and more daring color choices like rose or burgundy. However, black is a classic, fit for so many different occasions and this suit is one of the brand's best sellers.
Three Piece Suits Review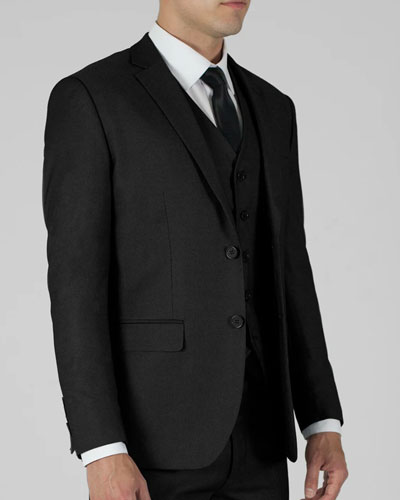 Another popular, even if a bit fancier and smarter choice of Alain Dupetit's customers is the Three Piece suit. This suit set includes a jacket, a waistcoat, and pants. This is a more traditional style but with a modern take on it and it is perfect for weddings or any other more formal events.
The fits available are the same as for the suit reviewed above – classic/regular or slim. These suits are also made with a Tetron Rayon shell and 100% rayon lining. The unhemmed pants have a flat front and are 36 inches long as are all the other pants by the brand. The jacket again features straight pockets and non-functional buttons on a two-button fast.
Understandably, these suits are the more expensive ones as they involve more individual components but they are still very cheap compared to everything else on the market. The price on average is between $69 and $79, depending on the material, shade, and pattern, while other companies charge around $345 for similar suits. They include designs in birdseye, plaid, houndstooth, and pinstripe, as well as solid colors such as tan, peacock green or simple grey.
Tuxedos Review
Do you want to be really fancy? Then put on a tuxedo. Suitable for very few occasions, the tux can be worn only to very important and monumental events such as award ceremonies, the opening night of ballet or an opera, a ball, or a grandiose wedding. And this kind of grandiosity comes with a high price attached to the type of suit in question.
But Alain Dupetit comes to the rescue once more with their tuxedos ranging from $59 to $79 which is a very good value for your money, as well as good quality and fit. Made from the Tetron Rayon material, the tux comes in two different types of fit – regular and slim. The jacket comes with a shawl lapel, straight pockets, non-functional buttons on sleeves, and single-button fasting. The pants also have a flat front and are not designed with a satin side stripe as many other traditional tuxedos are. The available colorways, in this case, are black, navy, and royal blue; few but very classic.
Alain Dupetit Shirts Review
Apart from suits, Alain Dupetit also carries a small range of dress shirts to complement their suits and tuxedos. And when we say small, we mean small as the range only includes 3 styles compared to the countless suits the website offers. All the shirts come only in white so an expansion in a few more colors or patterns would certainly be welcomed. However, at $16 each, they are very cheap compared to the usual price of $98 on average. The material used is a blend of 80% deluxe Egyptian cotton and 20% polyester and is machine washable in a cold setting.
Dress Shirt With French Cuffs In White Review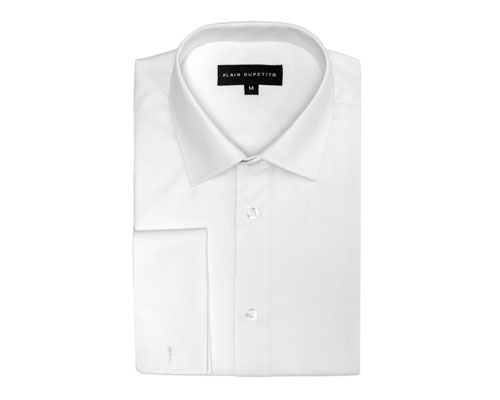 The Dress Shirt with French Cuffs is a well-liked style by the AD customers. The shirt features a spread presidential collar, non-breakable buttons, and a gently rounded hem. The french cuff without buttons on the sleeves makes for an elegant shirt. If you don't own cufflinks, the brand has a line of simple yet elegant cufflinks. The only downside of this shirt that previous customers have pointed out is the absence of a pocket. The brand also doesn't offer a monogramming option or any other made-to-measure services which is something that they could definitely work on.
Alain Dupetit Accessories Review
As mentioned before, besides the signature suits (and shirts), Alain Dupetit also makes a rather extensive line of accessories to pair with your suits and shirts. From cufflinks for those french cuff dress shirts, regular woven or thicker knit ties for everyday wear to bow ties for that special event coupled with a tux – all of those are available on the brand's website.
Cufflinks Review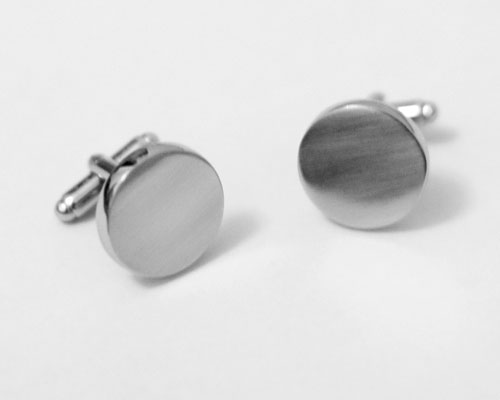 Made with high-grade stainless steel, the designs and silver color of the company's cufflinks are very simple but elegant and their quality is good, while the $9 price is impressive. The cufflinks come in a custom-made case which also makes it a good present for any man in your life, as cufflinks are often gifted to men. The original price of these, as stated on the website, was $87 which makes them a bargain. There is a choice of seven different designs available, from smooth polished circles to a more textured rectangle with engraved lines.
Woven Ties Review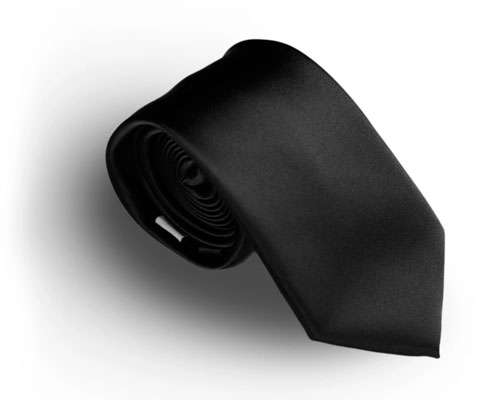 Alain Dupetit's traditional woven ties come in an array of colors and patterns – from black to lilac, stripes and checks. They retail for humble $9 a piece. However, their original price is $45 according to Alain Dupetit's product description. Customer reviews state that the ties are of good quality, don't feel cheap and look business-ready. Made from woven microfibre which is a durable material, the ties are smooth and have a sheen to them. They are very practical as they are machine washable on a cold setting. Every tie also arrives with a matching handkerchief.
Alain Dupetit Suits Review by Customer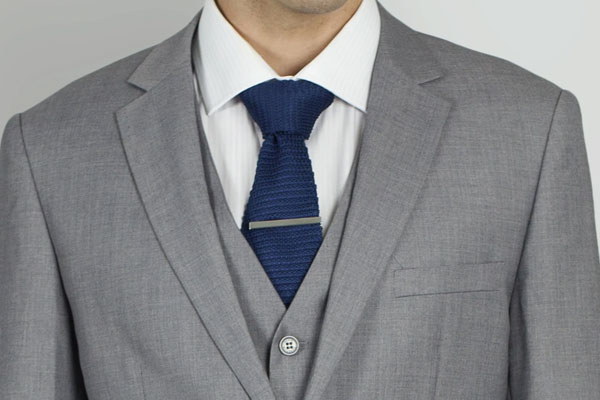 The brand's extremely low price point piques many people's interest. Hence, there are over 6000 customer reviews on the brand's website, multiple Reddit threads discussing the brand's quality can be found online, and reviews on TrustPilot as well as videos of unboxing and reviewing Alain Dupetit's suits which you can see on YouTube. While the customer reviews on Alain Dupetit's website are nearly all favorable, YouTube and Reddit reviewers are mixed.
The main complaint seems to be the Tetron Rayon material. The fabric makes some feel too hot in the suit, which wouldn't happen in a wool suit, and feels somewhat cheap against the skin. The fact that the suit arrives unhemmed and therefore needs to be tailored has also proven problematic for some and so has the inability to choose separate sizes of pants and jacket.
Further customer reviews
However, everyone is always impressed by the price point which makes it a good value for money and the fit also tends to be on point. The execution also gets mentioned a lot, complimenting everything down to the stitching being of good quality. Many praise the suits as a good option for either an "occasional suit" for those that don't wear suits on a regular basis or a "working suit" for someone working in hospitality, retail or security where a lot of moving around is involved. Here are some examples of reviews taken from different platforms:
"I'm not a suit wearer normally, but decided to get a basic black when the marry 'em and bury 'em needs arise. I was hesitant at first due to the pricing, but figured I could donate it if it didn't meet my expectations. Well, I admit, this is a high quality piece of clothing, has a nice lining and the fit was almost perfect. I'm tempted to buy a couple more as they are impressive. Shipping was quick, and the suit was beautifully packaged. I highly recommend this company."
"The tux arrived in a reasonable amount of time. It has proven to be slightly problematic because finding someone who can do alterations has been more difficult than I expected. Without the pandemic, this would have been perfect. Also, have the ability to order a size larger pants would have been very helpful too, but all in all, the tux is nice, you can't beat the price and for want of a tailor, it would be perfect."
Alain Dupetit Suits Sizes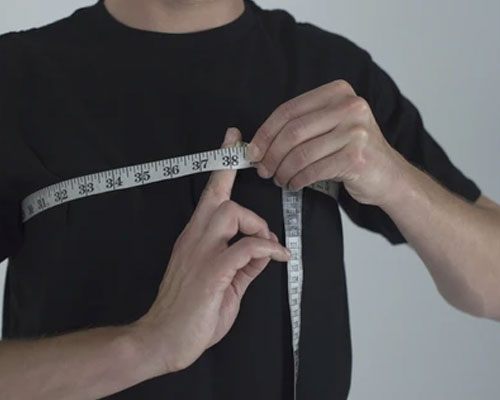 Alain Dupetit caters to men of all sizes with sizing ranging from 32S/26W to 54L/48W. The suits are true to standard US sizes with a 6-inch size drop between the jacket and pants. The brand doesn't offer separates or mixing and matching sizes of their jackets and pants. This is one of the issues their customers often bring up.
Popular Alternatives to Alain Dupetit Suits
It is very important for a suit to fit its wearer well. Even more so than with any other clothing. But being that Alain Dupetit is solely an online brand, customers are unable to try the suits on. That is why the website provides a very detailed sizing guide that includes tips on how to measure yourself – your chest, your waist, and your height – complete with example images, as well as a virtual body sizing tool.
This tool is essentially a form you fill out and send off to the brand. They will then get back to you with a recommended suit size based on the information you provided. These are the details Alain Dupetit requests in the virtual body sizing tool:
Height
Waist measurement
Weight
A video of you from neck to feet turning around wearing close-fitting clothes
Where to Buy Alain Dupetit Suits
Alain Dupetit suits are only available for purchase through their website, alaindupetit.com. Selling directly through the website, cutting out any middlemen and extra costs, is part of the brand's philosophy as that is how they are able to keep their suits so cheap.
Alain Dupetit Shipping and Return Policy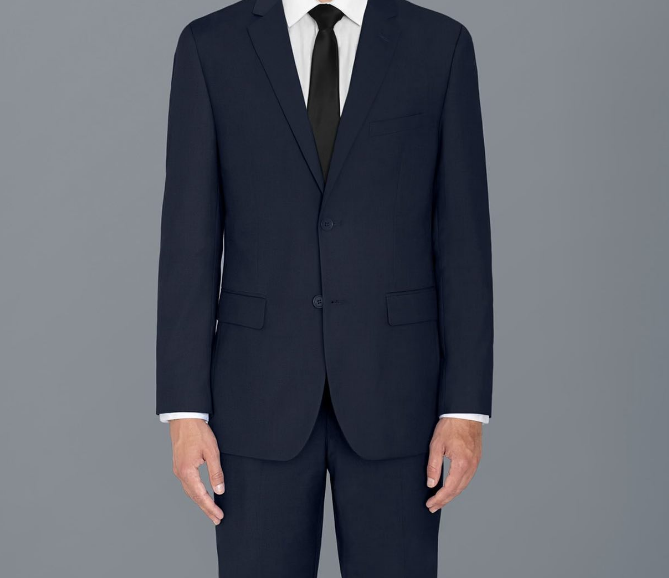 Shipping
The brand ships internationally via UPS with all orders processed and shipped from their warehouse in Ontario, Canada. Orders are usually fulfilled within five business days.
Unfortunately, there is no standard shipping fee. Every shipping fee is calculated at checkout and it is definitely on the pricey side. The delivery fee for the US and Canada is around $16/$17 which considering the price of the actual product, is easily half of the price of the suit you're ordering. And it gets very expensive if ordering from further away. Delivery to the UK for example was calculated at $45 which means you will pay double the price for your suit if you include the shipping fee.
Furthermore, if an item is returned to the brand due to unsuccessful delivery because the customer wasn't home, the customer will have to cover extra delivery costs.
Return Policy
Alain Dupetit accepts returns on their products and offers a full refund. However, the brand doesn't cover return shipping costs, the customer does. The initial shipping costs are also not refunded.
However, at this time, the brand doesn't offer any exchanges. The only way to achieve an exchange is to return a product and then order a new one.
Contact Alain Dupetit
If you have any additional questions that we did not answer in this review, you can contact the Alain Dupetit customer service team from Monday to Friday between 9 am and 5 pm PDT via:
Editors Verdict: Alain Dupetit Suits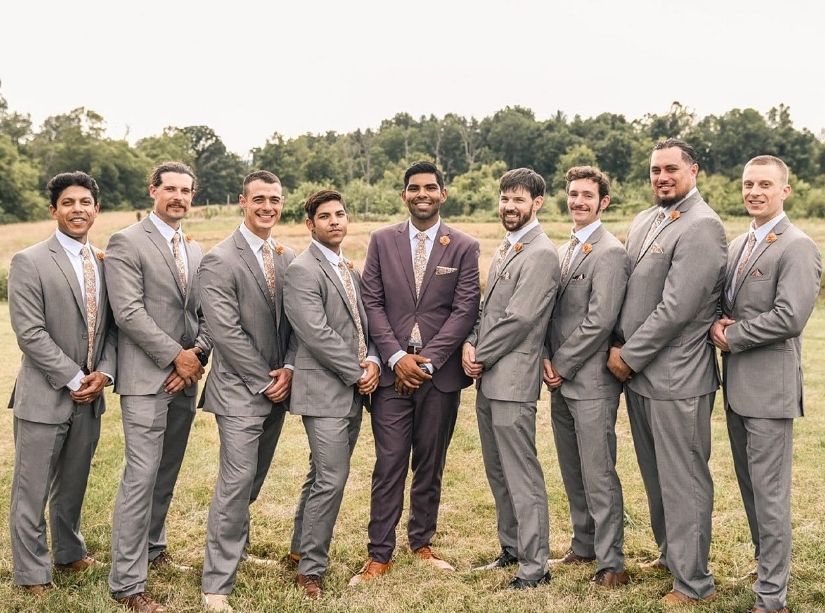 The real question here is whether Alain Dupetit's suits are worth it. After reading and watching countless reviews on various platforms, we have come to realize that the vast majority were actually positive. And following a very close inspection of the products and their materials and becoming familiar with the brand and its philosophy, we believe it is worth it but only for certain types of customers.
If you are someone that wears a suit on an everyday basis and you need to look sharp and somewhat expensive – for example, you're a banker or a real estate agent or such – we would say this brand might not be for you. However, if your work requires a lot of moving and running about like jobs in restaurants and stores do, whether that's waiters, sales assistants, or security guards, we would highly recommend these suits.
Alain Dupetit is also perfect for someone that doesn't wear a suit often and only pulls it out of the closet for special occasions like weddings, funerals, or proms.
We can really appreciate what Alain Dupetit stands for and we agree that good suits should be available to everyone at a reasonable price, and so should look sharp and stylish. In the end, style is not about money and never has been.
Are you interested in other fashionable men's brands? Check out our reviews of Mr Porter, Rhone, Fresh Clean Tees and Altone Late.
Alain Dupetit FAQ
Are Alain Dupetit Suits Worth It?
Yes, they are. Customers claim that these suits are so worth it. They are budget-friendly yet offer high-quality suits.
Is Alain Dupetit true to size?
Another positive response is that Alain Dupetit suits are true to size. They do not need tailoring after you have purchased the suit. We do recommend checking their size guide before buying anything.
Can I purchase individual jackets or suit pants?
They do not have separate jackets or suits for sale. You would have to purchase them as a suit.
Do you offer made-to-measure custom sizing or alterations?
Not at the moment. Alain Dupetit claims that their standard sizes will match most people, so there's no need to offer made-to-measure customer sizing or alterations.