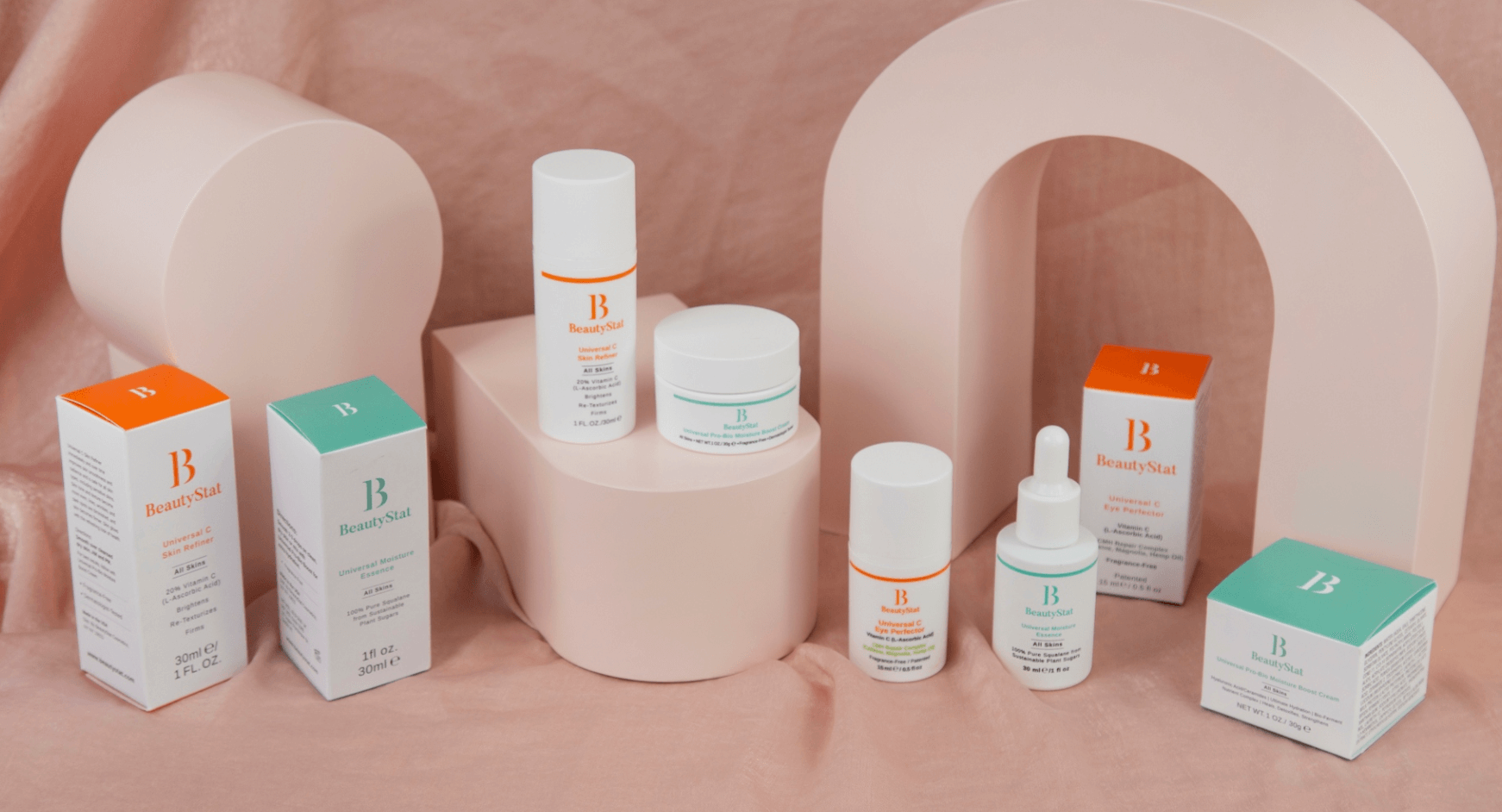 For years, BeautyStat was a mere blog that set out to educate and sensitize people about skincare and its ingredients. The blog became one of the most trusted sources for unbiased beauty products reviews and even with the brand's evolution to BeautyStat Cosmetics, many people continue to give positive BeautyStat reviews.
In this review, we'll go through some of the brand's best-selling products alongside their ingredients and technologies. We'll discuss their shipping and return policies, promotions and discounts, faqs, and give our opinion on the brand.
Keep reading to learn more.
About BeautyStat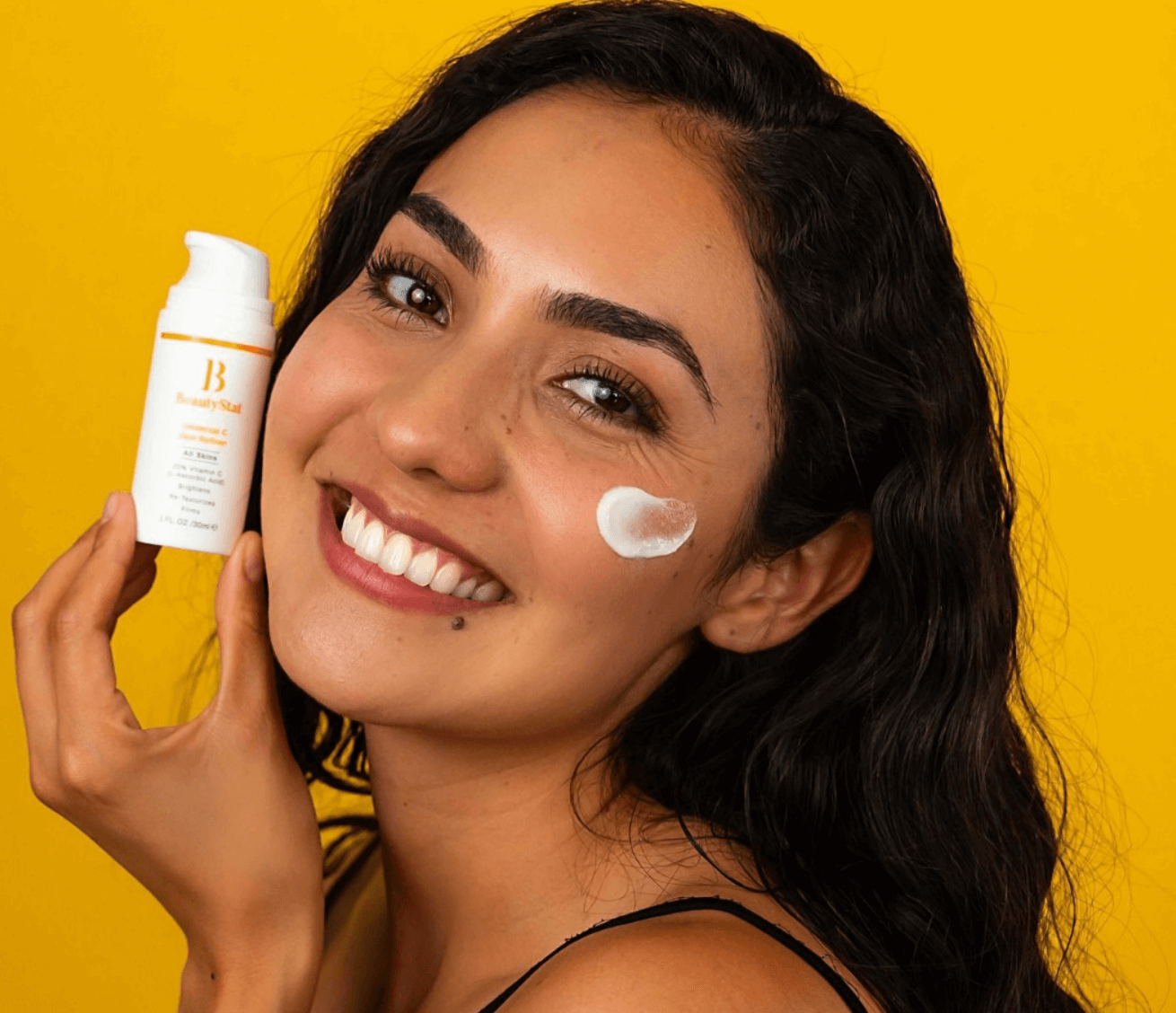 As of today, the market is saturated with beauty and skincare brands. So why BeautyStat? Why invest in its products?
Cosmetic chemist and CEO of BeautyStat, Mr. Ron Robinson asked himself the same question.
Before BeautyStat even became a brand, it was a blog; a simple social media website that helped educate the target audience about skincare products.
After working and helping to develop products for popular brands like Clinique, Avon, Revlon, and L'Oreal, Rob took it upon himself to educate consumers about some of the ingredients and formulations in such products to help customers make better purchase decisions.
As people got to understand more about these products, interest grew, and the demand for his products rose; that's how the brand came to be.
BeautyStat is a result-focused, science-backed skincare brand applicable to all skin types that were developed to offer transparency in skincare ingredients helping everyone feel confident in their skin.
BeautyStat Overview
The brand uses premium ingredients, science, and patented technology to elevate your skincare products not only to work but work fast.
With an immense background in cosmetic chemistry, the black-owned business creates award-winning products starting with their star product; the Universal C Skin Refiner.
After working 5 years in the lab, the brand created the world's 1st vitamin C serum with 20% pure and stable vitamin C content that remains potent from the first drop to the last. Read more about their products in the following sections.
Pros
Science and Research-Based: From the ingredients to the formulations, to the technologies, the brand follows science to offer a product line sure to serve its customers well.
Cosmetic products are formulated well enough to work concurrently for optimal results
Tested Products: Every product they sell is thoroughly tested via the right authorities, third-party labs, and dermatologists.
The skincare products are free of alcohol, parabens, and phthalates.
Great Packaging: The products are well packaged in airtight containers to keep the formulations potent from start to end.
Cons
Pricey: The potent 20% Vitamin C serum is $80 for 1 oz.
As the cosmetic line is rather new to the market, they don't have a full range/ collection of skincare products.
The gritty texture on some products may seem off for many customers.
BeautyStat Products Review
Starting with the vitamin C serum, the brand also sells a variety of skincare products ranging from eye creams, moisturizers, essences, cleansers, and other treatments. Let's review their best-selling products.
BeautyStat Universal Pro-Bio Moisture Boost Cream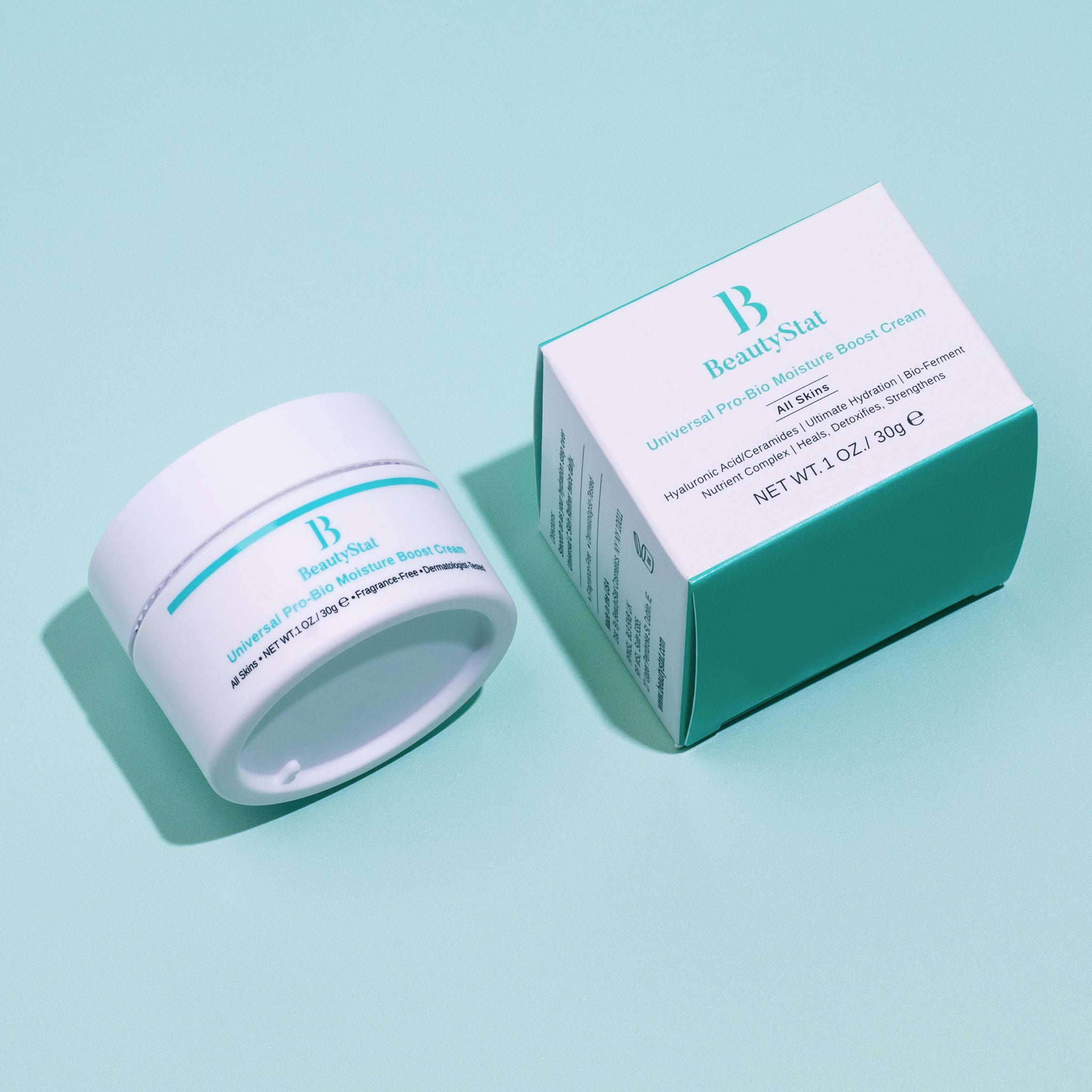 The BeautyStat universal pro-bio moisture boost cream is an excellent skin moisturizer formulated with hyaluronic acid to bind moisture to the skin leaving it hydrated, supple, and smooth all day.
To provide the perfect combination for a moisturizer, the pro bio cream contains humectants, emollients, and occlusives in its formulation. The 30ml tub contains:
Hyaluronic acid for increased moisture
Ceramides and pomegranate sterols offer a proprietary barrier sealing the skin, preventing moisture loss, boosting the skin's moisture mantle, and reducing the appearance of wrinkles and fine lines.
Ganoderma, is a probiotic that heals and detoxifies the skin, soothes the skin, and helps protect against environmental pollution and other aggressors.
This airy cream is allergy tested, fragrance-free, and dermatologist-approved for use in all skin types including sensitive skin. For great results, hydrate twice with this cream over the Universal C Skin Refiner.
BeautyStat Universal C Skin Refiner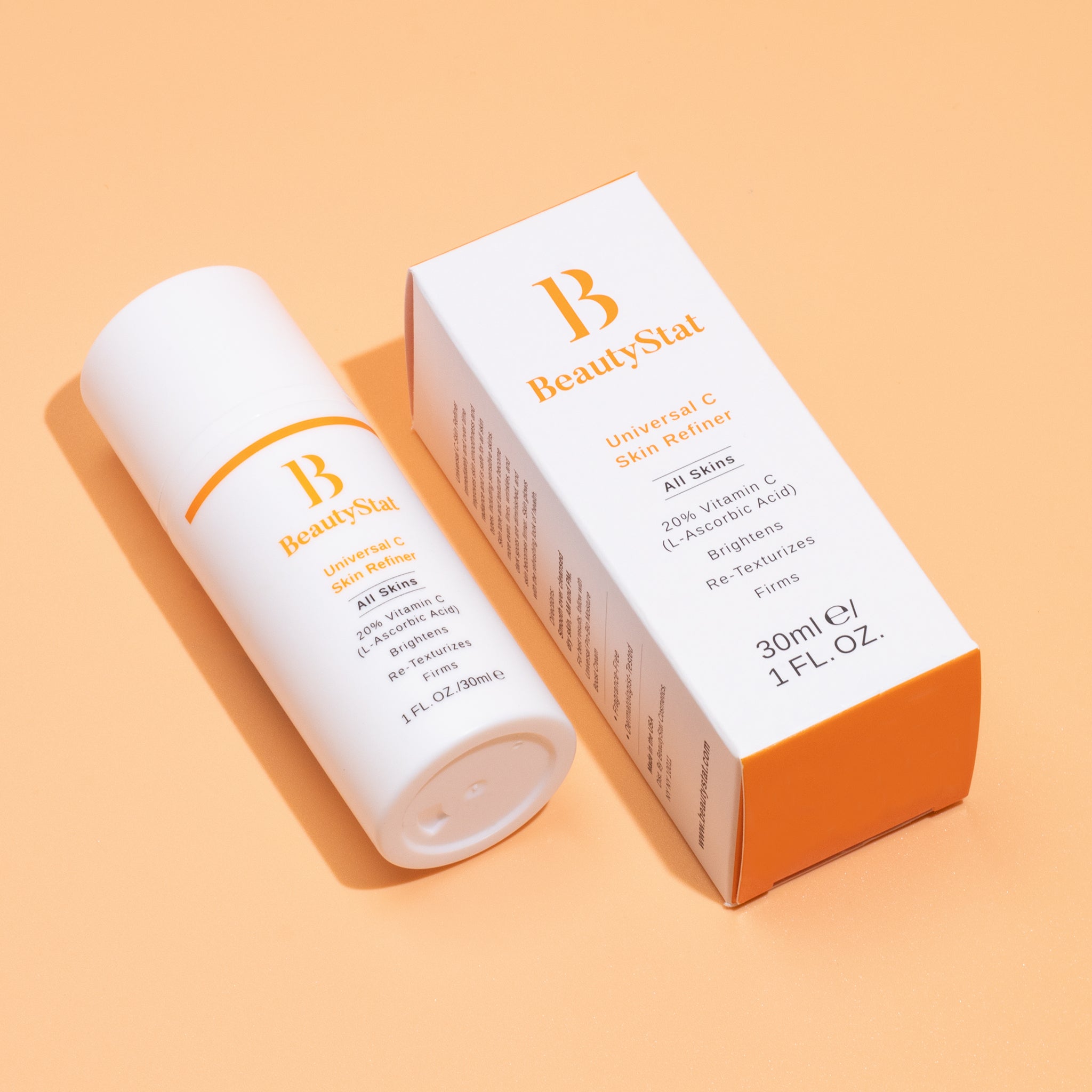 Voted as the best serum for mature skin in the 2021 women's health skincare awards, the BeautyStat universal C skin refiner is the genesis for BeautyStat Cosmetics. It's the world's first 20% vitamin C serum containing stabilized L-ascorbic acid which is the purest form of vitamin C.
The product was formulated via a patented encapsulated system that contains star ingredients such as:
20% pure L-ascorbic acid that helps to fade dark spots, treat wrinkles and fine lines, brighten, lift and firm the skin.
Green tea (EGCG), is active catechin used as an anti-inflammatory and also helps with anti-aging and fading dark spots.
Squalane helps with added hydration.
Tartaric acid exfoliates and unclogs the skin pores and balances the skin's pH balance.
The Universal C Skin contains powerful antioxidants that help prevent radical damage to the skin and prevents/ reduces hyperpigmentation leaving the skin bright and firm.
The refiner is available in a 30ml standard package and a 50ml value package.
BeautyStat Universal C Eye Perfector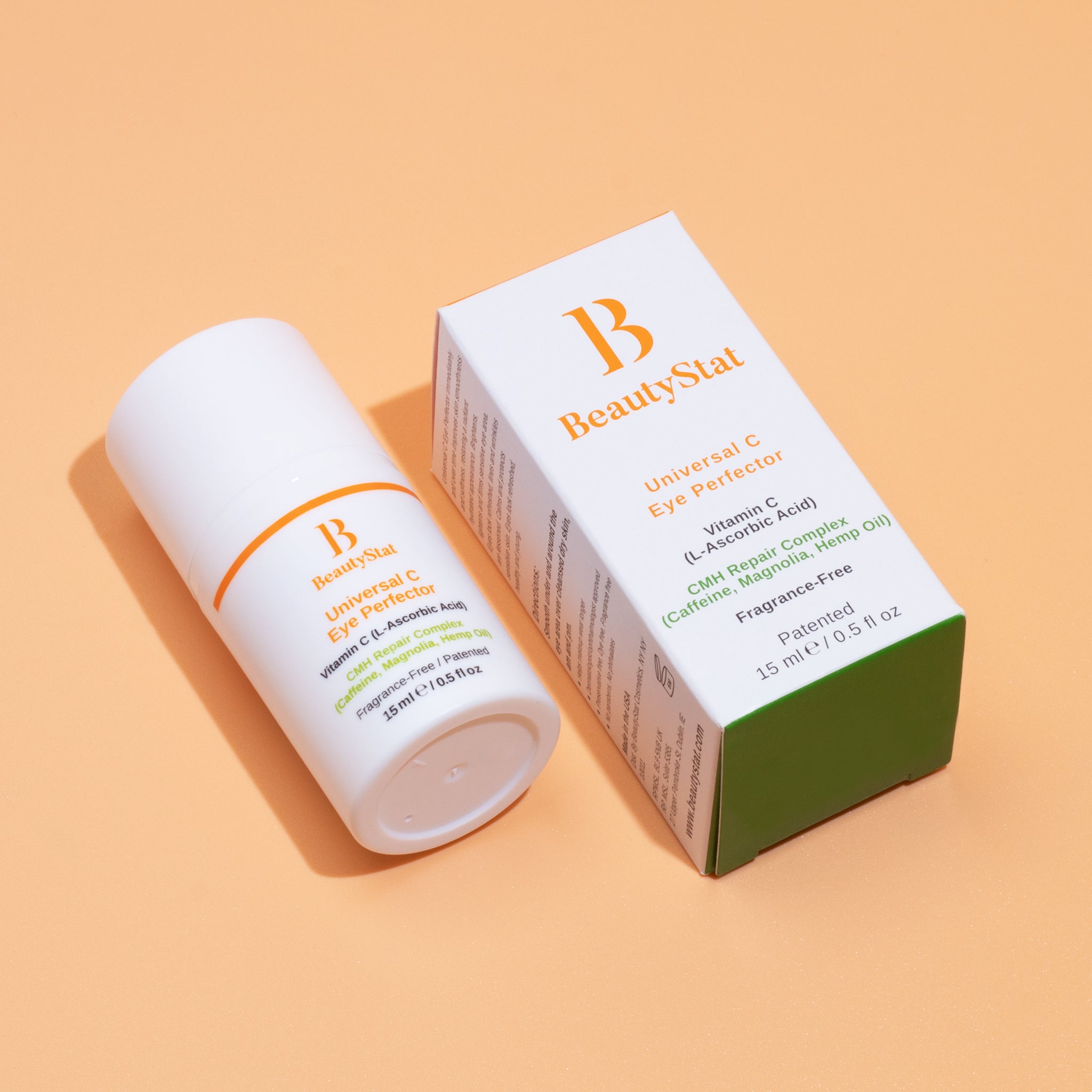 If you want all the benefits of the Universal C Skin Refiner around your eyes, then the Universal C Eye Perfector is the way to go. The product is as light as air and velvety for easy application around the eyes and contains pure 5% stabilized Vitamin C and the CMH Repair Complex.
For its ingredients, the product contains:
5% L-ascorbic acid that helps to prevent premature aging by firming the skin around the eyes, getting rid of crow's feet and wrinkles.
CMH Repair Complex is a blend of magnolia, coffee, and hemp seed oil that acts as an antioxidant that protects against the effects of pollution and other environmental irritants. It also helps with puffiness, keeping the skin calm and revitalized.
Hyaluronic acid binds water to skin cells for deep cell hydration.
Green tea EGCG acts as an anti-inflammatory and antioxidant.
According to multiple BeautyStat universal c eye perfector reviews online, the products work efficiently to offer the best results fast.
What's more, it's great for all skin types as it's dye-free, fragrance-free, preservative-free, and has no parabens or phthalates. Plus it's ophthalmologist and dermatologist-approved.
BeautyStat Universal Moisture Essence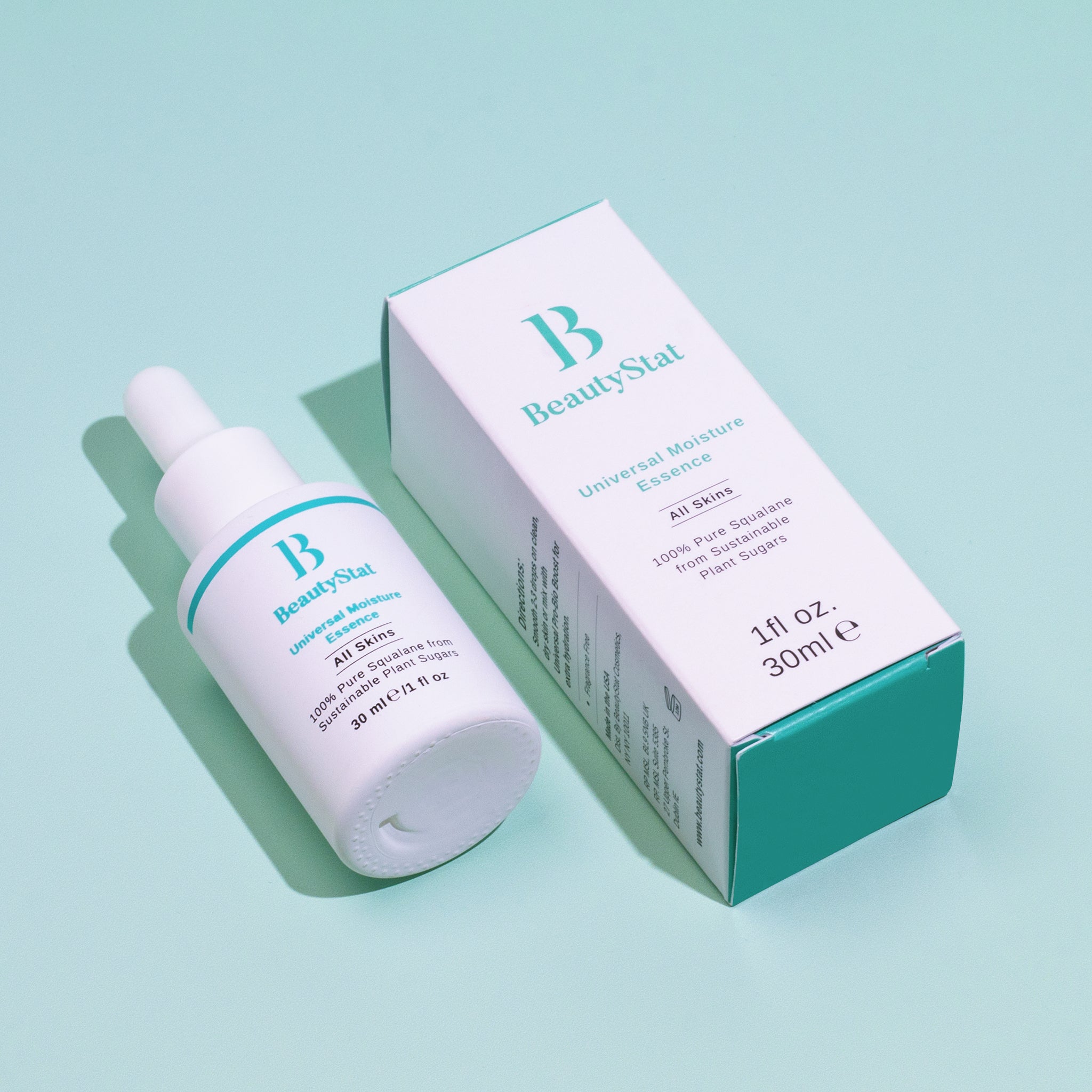 The BeautyStat universal moisture essence is similar to the Universal Pro-Bio Moisture Boost Cream as it's also a moisturizer. However, the moisture essence has a different consistency as it's an oil rather than a cream.
It's a weightless and stable moisturizing oil with 100% pure squalane used to hydrate the skin, reduce or treat hyperpigmentation, and reduce the appearance of fine lines.
With its only ingredient as Squalane, a sustainable plant sugar, the product is safe for use on skin as a lipid barrier that replenishes the skin's naturally occurring sebum leading to healthier, plumper, softer, and more elastic skin.
Universal Microbiome Barrier Balancing Cleanser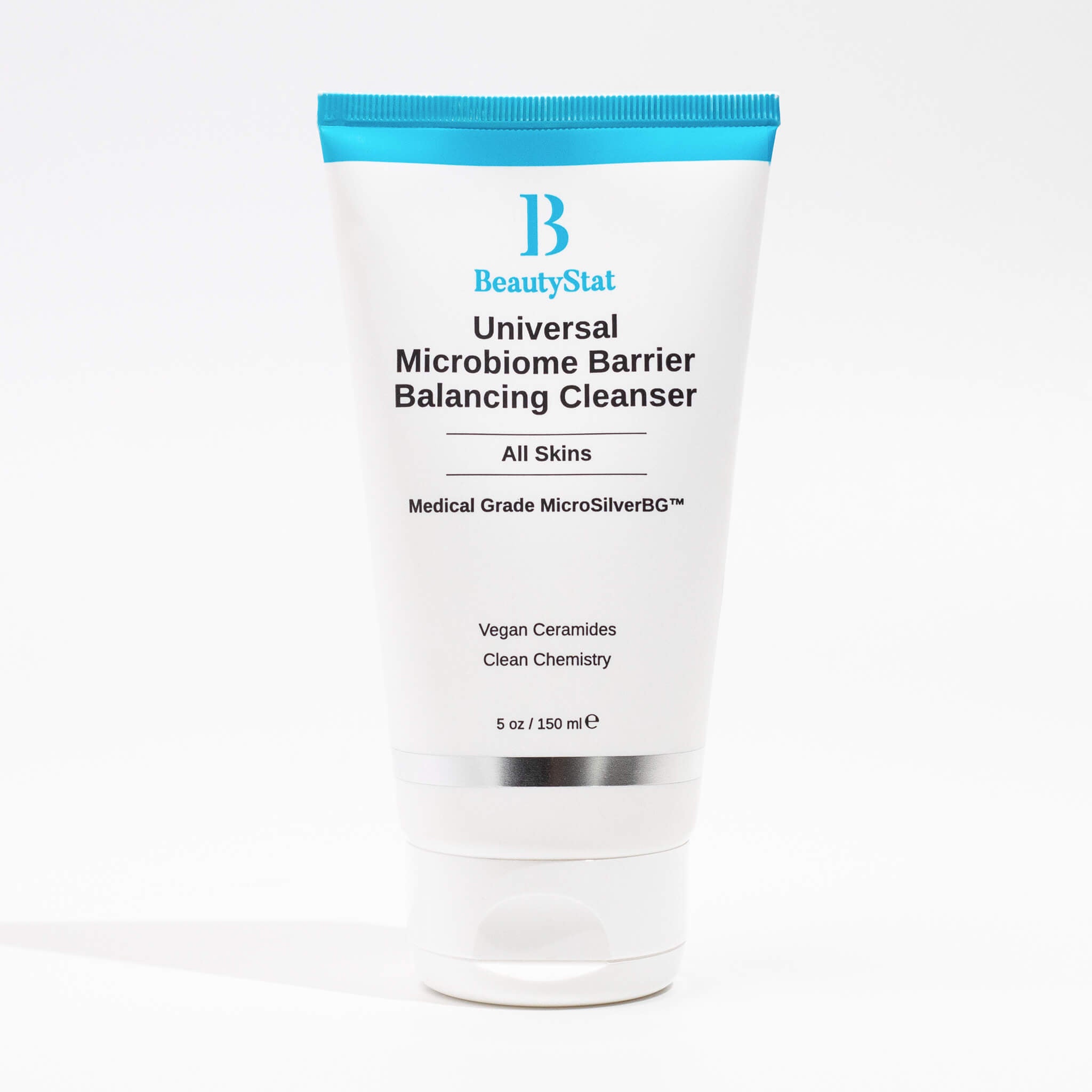 Last but not least is the Universal Microbiome Barrier Balancing Cleanser with its gentle formulation that's used to clean your skin and remove impurities like makeup, grime, dirt, excess oil, sweat, and pollution.
The Cleanser contains:
Coconut Surfactants fight bacterial and microbial infections, as well as irritations and acne.
MicroSilver BG (pure silver) protects the skin against toxins, germs, and viruses, as well as repairs the skin microbiome function.
Vegan ceramides, vitamin F, and pomegranate sterols protect against skin damage from UV radiation, hydrate, and replenish the skin's barrier.
Squalane boosts the skin lipid barrier and locks in moisture in the skin.
This cleanser primarily cleans the skin of environmental pollutants just enough to maintain, protect and promote the skin's microbiome leaving your skin looking healthy and glowy.
BeautyStat Reviews from Customers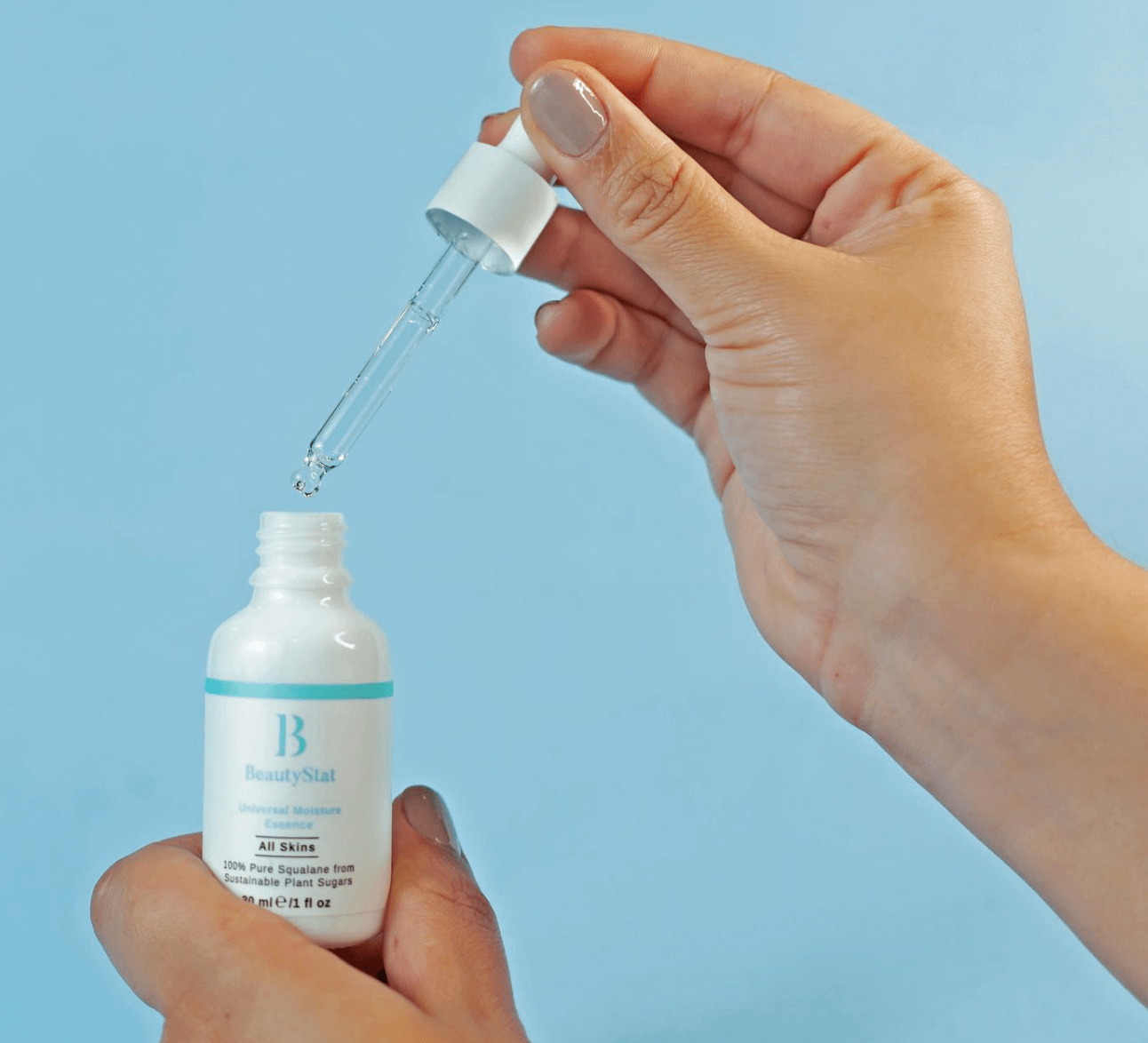 BeautyStat earned its reputation from the thousands of reviews it did online via its blog and social media channels. Coming up to start its product line about a decade later, the brand was and is still well-received by its customers.
The brand has many great reviews on multiple websites including Trustpilot, Consumer Reports, and Amazon with an average rating of 4.1 out of 5 stars.
To sample one of its positive reviews; "This product is amazing!! After using this the first time I immediately saw a difference. My face looked firmer and brighter. I was shocked bc I've tried so many different serums, Moisturizers, and products with vitamin C and this honestly is amazing and he must have a product I will not buy anything else after using this".
Many customers have similar sentiments in that their products really do work and especially their universal c skin refiner. Many use terms like hydrating, smoothing, plumping, and firming.
On the other hand, the sentiments aren't across the board for all their customers. One consumer stated it's "definitely NOT Universal!!"
More Customer Review
While another went ahead to explain; I was looking forward to this wonderful new product I read so much about and the transformation I was expecting. The bottle reads Universal C Skin Refiner (all skins), Brightens, Re-texturizes, and Firms all of which so far are very UNTRUE!!
I'm a 45 yr old Black and Hispanic female and this product dulls my skin so there is NO brightening. My skin is so dull I'm forced to use an oil product afterward to provide my skin with some much-needed moisturizing.
I'm very disappointed, to say the least since it sells as a product for all skin types but I would warn others to find a sample before spending $80 + on a small 1 fl oz bottle that will end up sitting in the medicine cabinet collecting dust".
That said, there are very few negative reviews mainly about the hefty costs and probable side effects of the product.
Sign Up for BeautyStat
You can subscribe to BeautyStat, all you have to do is add in your email address so you can be a part of their community. You'll receive your newsletters plus other updates from the brand.
Where to Buy BeautyStat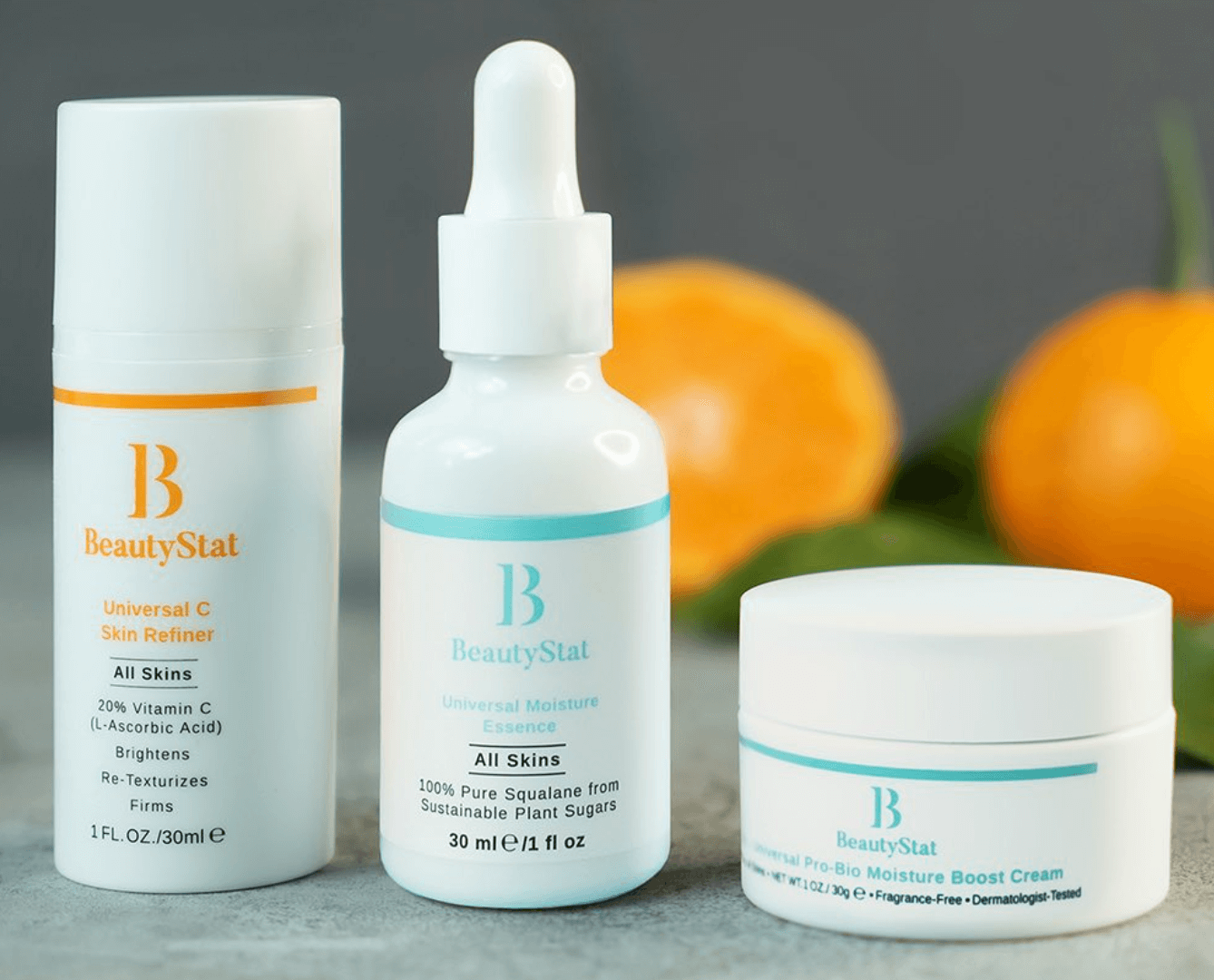 The brand has many stores spread across the USA, so your best bet is to use their store locator from their website to find your nearest store for walk-in shipping.
For those who would like to purchase their products online, you can get them via the brand's website at www.BeautyStatCosmetics.com.
Other stores include Amazon, Revolve, Cult Beauty, and Skinstore.
BeautyStat Shipping and Return Policy
The brand has a straightforward shipping policy:
Delivery can take up to 30 days as delays occur occasionally.
Upon checkout, all your charges will be calculated and displayed at once. The fee will include shipping charges.
You will be liable for additional fees such as taxes and tariffs.
The brand isn't liable for lost or damaged goods. Any damage to the product should be taken up with the shipping carrier to file a claim.
Return Policy
For their returns and exchange policy, all sales are sold "as is" and are final; no refunds. After the purchase of an item or upon receiving your delivery, you can return the item within 30 days after that time lapses, the brand can't exchange the product or offer you an equivalent in-store credit.
All items brought in as a return have to be in new condition and must be packaged in their original packaging. If you're shipping back the delivery, ensure you send it to the return facility address provided by their customer service otherwise they may reject the return.
All their items are returnable except for some personal care items, some health items, and gift cards.
When shopping for your returns, it's best to add a tracking number so you can fast track the processing via their customer service team at https://support.BeautyStat.com.
The brand has to inspect the product for eligibility and if approved, you can get a refund, exchange on the item, or equivalent store credit.
Note that store credits are non-transferable and refunds will be issued to the same payment method and in the same currency you used for the order.
If it's a credit card it'll take about 20 working days and bank transfers within 48 hours, depending on the bank or issuing company of the credit card.
Lastly, you're responsible for the shipping costs on returns and the cost is non-refundable.
BeautyStat Promotions & Discounts
One of the greatest things about the brand is that they're always looking for ways to enhance their sales and help their customers save using promotions and discounts.
For example, with the BeautyStat coupon codes, you can enjoy up to 50% off on their products. Of course, their promotions are similar to other brands where they have seasonal discounts for Christmas, Easter, Thanksgiving, women's day, Valentine's, and so forth.
Contact BeautyStat
The customer service team of the brand is always available through their URL at https://support.BeautyStat.com.
The website allows you to ask questions about anything; from orders to their products, delivery, payments, returns and refunds, affiliates, subscriptions, and much more.
BeautyStat Reviews: Editors Verdict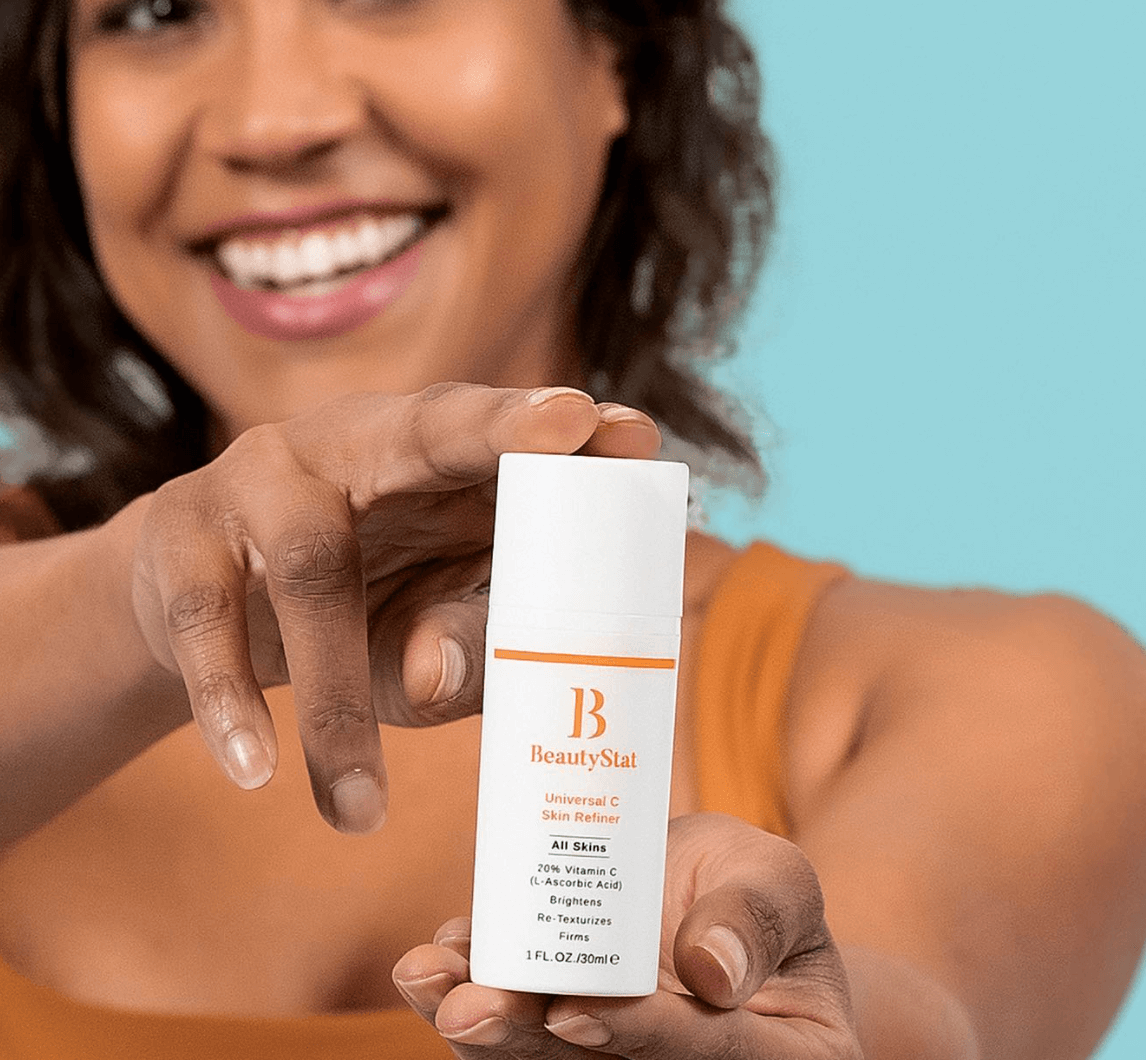 Much like other BeautyStat reviews, we can equally say that the brand is one of the most accepted brands in the market. Their products have been well received starting with their vitamin C serum to their eye perfector and moisture essence.
What's more, the brand continues to provide its consumers with transparency about its formulas and ingredients to allow them to make conscious and informed purchase decisions. Being upfront about their products has surely earned the hearts of many.
The only downside would be they have a limited range of products which ideally means they are focused on their current line of products but can be rather disappointing if you were looking for a complete skincare kit including cleansers, skin treatments, and sunscreen.
All in all, the brand is surely customer-centric and provides products that are sure to make a difference in your skin.
Still searching for your personal skincare brand? Make sure to take a look at other beauty brand reviews of Athena Club Review, Laurel Review, DHC Cosmetics Review, and Timeless Skincare Review.
BeautyStat FAQ
What Kind of Product Safety Testing Does BeautyStat Do?
BeautyStat complies with FDA regulations and the European Union's 8th Amendment Cosmetic Directive and the requirements for safety in all the countries in which our products are sold to ensure they adhere to and uphold the highest standards of safety for their products.
Furthermore, all their products are subject to testing and supervision by an independent Clinical laboratory and dermatologist to ensure there are no allergens, great skin compatibility, and minimal unwanted reactions.
Do BeautyStat Products Contain Parabens?
All their products don't contain parabens, phthalates, or alcohol.
Are BeautyStat Products Safe to Use During Pregnancy or Nursing?
Unfortunately, all tests conducted with their products weren't tested on either nursing or pregnant women so you'd have to consult your physician before use.
My Skin is Sensitive, Is Universal C Too Strong for Me?
No, the product can be used on sensitive skin without issues.
The Universal C Skin Refiner has been formulated with a double alpha hydroxy acid; tartaric acid to allow for maximum absorption and performance of the very potent 20% vitamin C serum.
Also, it contains green tea(EGCG) which is an anti-inflammatory that helps to keep your skin calm and without adverse effects like burning.
What Should I Do If I Experience Other Negative Reactions Such as Redness, Irritation, or Burning?
Even though the products are aggressively tested for safety, there will be an occurrence of negative effects. If that happens, reduce your usage and application to once a day and follow up your application with the Universal Pro-Bio Moisture Boost Cream.
You can use another moisturizer but the brand has simultaneously tested the vitamin C serum and the moisture boost cream and they're compatible.
If the negative reactions don't subside, stop usage completely and consult with your dermatologist in severe cases.