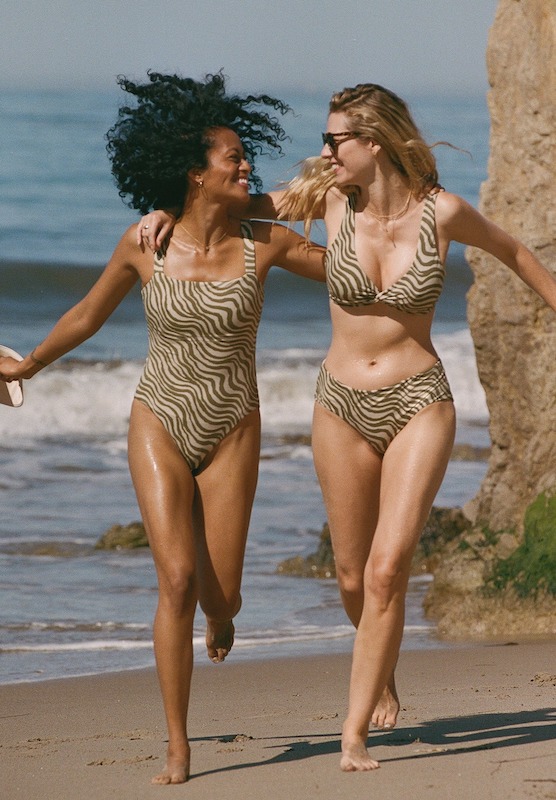 Finding swimwear that fits perfectly is challenging, but not when it comes to Andie Swim. The company was born from the need for quality swimwear that no matter the activity, can keep up with you. No adjusting, no tugging, or pulling, just thoughtfully made, quality swimwear that is flattering and comfortable at the same time. This is what the company promises. It sounds amazing, but are these promises legit? What do Andie Swimwear reviews say about the products? Is this company worth your trust and money?
Today, we are going to uncover every detail about Andie Swim, including the company's history, values, customer service, shipping, and return policy, and many more. We will also take a close look at the products and analyze customer reviews, too. We hope you're ready to dive deep because we've got a lot to share!
About Andie Swim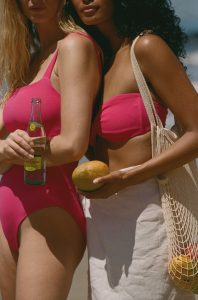 The history of Andie Swim goes back to 2017, when founder and CEO, Melanie Travis launched the company with one simple mission: to create swimwear that makes women feel good. From the very beginning, the company believes that "when you wear a suit that fits, enjoying yourself comes naturally." The truth is that 'till this day, the brand stayed true to these values and this is reflected in so many aspects of its production and operation.
Swimsuits are made of high-quality, luxurious fabrics using innovative technology that gives all pieces a fine finish. Both bikinis and one-pieces come in multiple fabrics options and colors, so even the pickiest customer can find the one piece that suits all their needs. Also, Andie does not only provide swimwear, but they do their best to offer you support at the highest standards. They have a fit expert team that provides 15-minute fit consultations via call or video call to help you choose the right fabric and size for your body type and taste. Quoting the company, "no matter whether you need a swimwear expert, a try-on cheerleader, or a kid-friendly vacation recommendation", they have got you covered.
But before we dive deeper into our Andie Swimwear review, let's take a quick look at the most important pros and cons you should know about the brand before placing an order:
Pros
A broad range of high-quality swimsuits that come in different fabrics and colors

Innovative fabrics with a luxurious finish

Frequent sales that allow you to purchase the items for a more affordable price

You can schedule a 15-minute fit consultation with the Andie Fit Expert team to discuss your concerns about sizing

Based on customer reviews, Items are true-to-size
Cons
Fits can be different depending on the fabric you choose. For example, the flat fabric is more compressive, while ribbed gives a more relaxed fit

Prices are steep
Andie Swimwear Products Review
In the next section, we are going to share with you all that we learned about some of the most popular Andie Swim pieces. No matter whether you're curious to learn about the materials, sizing, or price tags, we're going to uncover them all!
Andie Swim The Tulum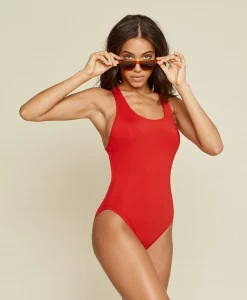 The Tulum one-piece swimsuit is a classic. It features supportive cross-back straps, removable soft cups, underbust steam, and a medium leg cut. When it comes to supporting and coverage, it provides maximum bust support and medium bottom coverage. It's chic, flirty, and flattering, so we absolutely see why this item is one of the brand's best sellers. The swimsuit comes in 3 materials, Flat, Ribbed, and Eco Nylon. To understand the difference between the 3, please head to the FAQ section of our review. Also, If you prefer full bottom coverage, that option is available as well.
Nothing proves better the success of this piece than Andie Swimwear reviews under the product. To quote a 61-year-old happy customer: "I love this suit! I was looking for something to take me from lounging by the pool to snorkeling and this is perfect!! The cut and fabric are so flattering! High leg cut helps with a little extra thigh and the bottom coverage is neither too much or too little. The long torso is a godsend to me. No tugging… comfortable all day!"
Size-wise, the Tulum swimsuit comes in a broad range of sizes between XS to 3XL, so most body types and shapes can find a comfortable fit. Regarding the price tag, the Tulum swimsuit cost $110.
Andie Swim The Belize Top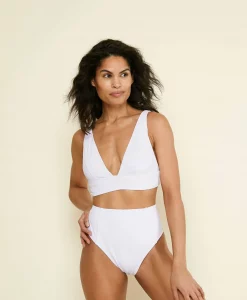 The Belize top comes with a plunging neckline, thick straps that provide light support, and a secure underbust elastic that gives a delicate lift to your chest. The straps are adjustable, so you can easily set them in a way that is most comfortable for you. The Flat fabric features a compressive lining and a four-way stretch that provides comfort all the long, no matter the activity. You can relax by the pool, enjoy the ocean or hop on a board to catch some waves without having to worry about your swimwear: this top will keep up with you.
If you prefer the Ribbed fabric, you can choose that version as well. Both versions come in sizes of XS to 3XL and cost $50.
Demi Moore Andie Swim Favorites
If you are into effortless swimwear that allows you to move freely and feel at your best, you should definitely check out the Demi Moore Andie Swim Favorites. This collection includes all types of swimwear, including tops, bottoms, and one-pieces. One example is the Amalfi one-piece which costs $95. It comes in 6 different materials, such as flat, ribbed, glossy eco nylon, ripple, wave, and eco nylon. Each fabric has its specific advantage, so based on your needs you can find the most suitable one for you.
Andie Swim The Nantucket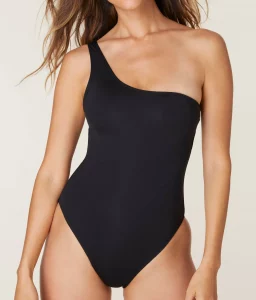 The Nantucket is another example of how the combination of tasteful design, innovative fabrics, and thoughtful manufacturing can result in a flattering swimsuit that fits all body types and shapes. Available in multiple colors such as cherry red, white black, navy, and silver, this one-shoulder swimsuit offers classic elegance and ultimate comfort. A verified customer confirms that the swimsuit delivers all that the company promises: "Obsessed with the style and fit of this suit. I feel confident and comfortable wearing it — the butt coverage is great for someone like me who usually has issues finding suits that aren't too revealing for a swim day with my family. I've recommended this suit to many friends of all shapes and sizes and they've all loved it too!"
It features medium bottom coverage, a low leg cut, and gives light bust support. Price-wise, the Nantucket swimsuit cost $115, but at the time of writing thanks to an ongoing sale, it is available for only $58.
Andie Swim The Classic Tee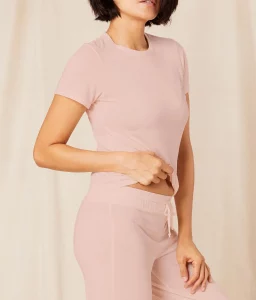 Last, but not least on our list is The Classic Tee, a must-have item from the Andie apparel collection. As its name suggests, it is your classic tee, yet, with an innovative take. The company uses Eco Bamboo, a special fabric they use to create their loungewear collection. This fabric is woven from bamboo and recycled polyester, and the result is an immensely soft luxurious t-shirt that is comfortable to wear all day.
This tee comes in chic colors such as ivory, blush, midnight blue, fern, and black. The sizes range from XS to XL. In terms of prices, the Andie Swim Classic Tee costs $50.
Andie Swimwear Reviews from Customers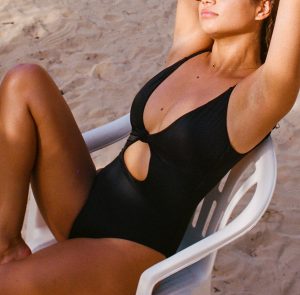 Now that we took a close look at the product, it is time to share with you some Andie Swimwear reviews from previous customers. Reading reviews from multiple sources, our overall impression is that the majority of shoppers are satisfied with the products and they had a good experience with the company.
On the official Andie website, there is a 5/5 rating system where people can rate the purchased items. There are over 13 thousand reviews, yet the overall rating is close to 5. Both the swimwear and apparel got very positive reviews. A verified buyer, who purchased a bikini, mentions: "I truly struggle to feel comfortable in a bikini, but these bottoms did the trick! They are high-waisted but still kinda sexy, and very flattering. Love mixing and matching, another great purchase from Andie!" Another one gives her feedback on the Malibu – Eco – Iris – Long Torso top saying: "Comfortable and great coverage. I'm usually a size small due to my bust and hips but got this one on a pretty good sale in XS, and it fits very well."
Popular Alternatives to Andie Swim
However, what we noticed is that many customers mention how different fabrics feel. Some prefer the ribbed fabrics, others say that flat suits them better. To make sure you buy the one that you like the most, we recommend checking them out in-store or getting in touch with the customer service for further advice.
Speaking of customer service, Andie Swimwear reviews mention that the customer service is great, the company is good to buy from, shipping is fast, etc. A review reads "Always easy to order/rerun/exchange. Great quality.", while another one mentions "Andie's Swimwear is great. Easy purchases and returns. And their product is awesome! Highly recommend.".
Sign Up for Andie Swim
We have also looked into the sign-up process on the official Andie Swim website. To create an account, simply head to the Account page and click on the "Sign Up" button. Add your personal and contact information such as your first name, last name, email address, and password. The company also asks for your birth date, which allows them to surprise you with a special reward each year on your birthday.
Once you create your account, you will enjoy a smoother shopping and faster checkout experience.
Where to Buy Andie Swim
In case Andie Swimwear reviews convinced you to shop from the company, you have two options to choose from. To those preferring online shopping, the most convenient option might be heading directly to the company's website at andieswim.com and placing an order. However, if you would rather try on the pieces in the store, the brand has a pop-up store you can visit in West Palm Beach, Florida.
Andie Swim Shipping and Return Policy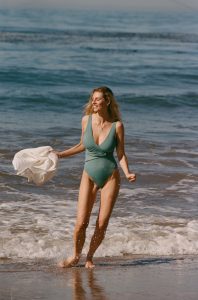 According to Andie Swim, all orders are usually fulfilled within 2 days. US shoppers have 2 options to choose from:
Standard Shipping: 2-5 business days
Expedited Shipping: 1-3 business days
The company also ships internationally, this usually takes 2-3 weeks.
When it comes to Andie Swim returns, things are quite simple. For items shipped in the US, the brand offers free exchanges and returns within 21 days from the delivery date. All returned items must be unworn, unwashed, and undamaged, with the original tags still attached. However, keep in mind that final sale items and underwears are not eligible for returns or exchange.
To start the return process, you will need to head to the company's website and follow the instructions. Once your return is accepted, the refund will be issued to your original payment method or you can choose to receive store credit instead.
Andie Swim Promotions & Discounts
Now that we discussed Andie Swim returns, let's see if there are any perks to save some money on your order. If you are after discounts, first you should head to the Sale section under the Shop Swim category. Here you will find all types of swimwear on sale, including tops, bottoms, and one-piece swimsuits. And, if you're lucky enough, you even have the chance to catch 50% discounts on some items. Definitely a good way to save money.
The company also has a point-based reward system you can sign up to. To get the benefits, there is a 3-step process you should follow:
Sign up by creating an account (this will already give you points)
Earn points: each $ you spend equals 1 reward point
Redeem your points at checkout
Referring a friend can also help you to get an Andie Swimwear coupon. For this, all you need to do is invite a friend. This will give your friend $15 off on their first order of $95+, yet you will get $15 for each successful referral you make.
Contact Andie Swim
If you have any issues, questions, or inquiries, you have multiple options to get in touch with the Andie Swimwear customer service. You can contact the company with any customer issues about your order or a specific item, or you can ask for advice regarding your size. To help you find the one option that you prefer the most, below we are going to list them all:
For general inquiries send an email to [email protected].
You can also contact the company via chat message on Instagram or Facebook.
There is an in-built live chat you can rely on to get in touch with the company via the official website.
In case you have any questions or issues regarding shipping and orders, reach out to the company at [email protected]
Thanks to the in-built Fit Consultation calendar, you can schedule a 15-minute phone call or video call with a member of the Andie Fit Expert team. This will allow you to talk through your swimsuit needs, and discuss your concerns about sizing.
Andie Swimwear Reviews: Editors' Verdict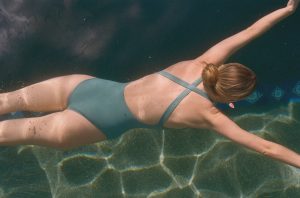 Now that we looked behind the company's values, and customer service, and shed a light on Andie Swimwear reviews, it is time for our final thoughts. Does this brand get a pass? Is it worth your money? Based on all that we learned today, the effort Andie Swim makes to help you through the process of finding your ideal swimsuit is more than impressive. Most of us feel insecure when it comes to shopping for swimwear and this brand handles this amazingly. We genuinely believe that their support system is one of a kind and we strongly suggest taking advantage of it.
Almost all customer reviews we came across were very positive, no matter whether people mentioned the products, the customer service, or the return policy. So if you are curious about our final verdict, we can confidently recommend Andie Swim to you!
Still looking for other swimwear brands or companies that sell swimwear pieces? Read our reviews of Boohoo, Blackbough Swim, Frankies, and Cupshe. 
Andie Swimwear FAQ
Where is Andie made?
Andie pieces are made in China, at the world's leading luxury swimwear manufacturer. According to the company's website, the manufacturer has decades of experience in creating high-quality swimwear from innovative textiles, and they use a state-of-the-art-equipment. Regarding ethical production, Andie Swimwear claims that the manufacturer in China respects ethical and fair labor practices.
How do I care for my Andie?
To maintain the longevity of your Andie pieces, you should pre-rinse your suit in fresh water before jumping into a pool or the ocean. This will help maintain the swimsuit fibers, as salt, chlorine and other particles in saltwater cling to dry suits. After each wear, immediately you should rinse them in cold water to remove saltwater, chlorine, sunscreen, and natural body oils. To wash your swimsuits, the company's advice is to hand wash them in cold water using a gentle laundry detergent or hand soap. As the last step, lay them flat to dry. For intimates, the company's care instruction is to machine wash in cold water with like colors, then flat dry.
Can I talk to an Andie fit expert?
Yes, if you have any concerns about which size would fit you the best, you can schedule a fit consulting call or video call with one of the Andie fit experts.
What's the life span of an Andie Suit?
According to the brand, all Andie Suits are made of high-quality, durable fabrics, using innovative technology. However, no swimsuit will last you forever. The good news is that you can always help their longevity and maintain the quality of the fabrics by following the company's care instructions.
What are the Andie swimsuit materials and construction?
The company uses 3 staple swimsuit materials: flat, ribbed, and eco. Here's how each of them is constructed:
Flat: This includes a high-quality blend of

18% spandex, and 82% nylon which is chlorine-resistant, durable, non-pilling, quick-drying, and breathable.

Ribbed: Made of

90% Nylon, and 10% Spandex. Thanks to the compressive lining, and the textured rib, this material provides a smoothing effect.

Eco: A stretchy and compressive material made of

87% Recycled Polyester and 13% Spandex.