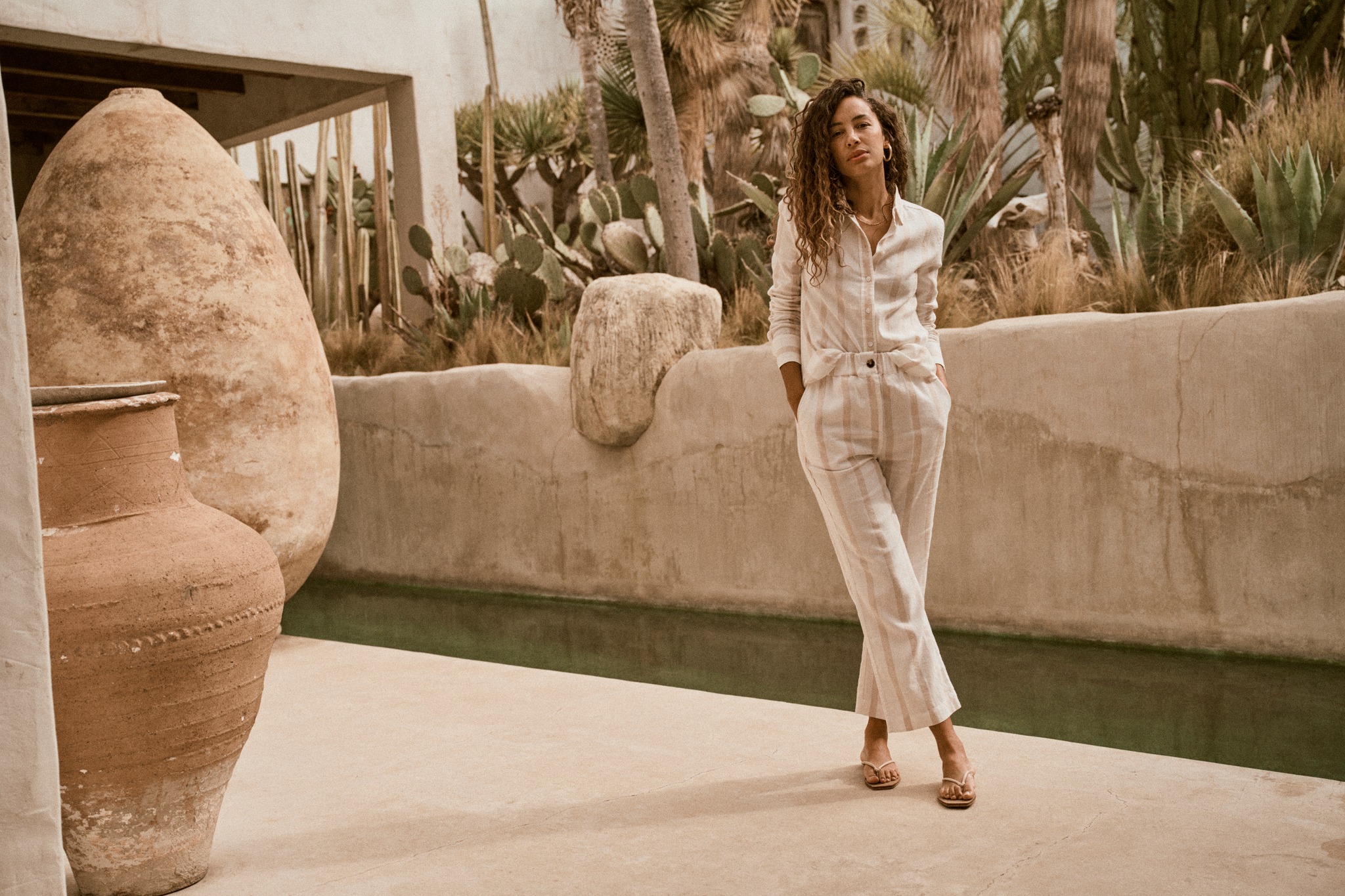 Lately, Faherty Brand reviews have been catching our eye. This gorgeous apparel company offers sustainable, feel-good clothing that allows customers to enjoy that famous "beachy aesthetic… without looking totally douchey" (according to a Faherty brand review found on Reddit).
But to achieve this level of commitment to premium quality and sustainable practices, a high price tag is often required… And that's without even considering that one of the founders trained under Ralph Lauren!
It was featured in many publications so far such as NY TImes,  Glossy, GQ, and WWD and now count 192k followers on Instagram and over 67k on Facebook.
So, in our thorough and unbiased Faherty Brand review, we'll find out whether this brand lives up to its promises (and price tags). We'll look at the company's background, its approach to sustainability, its goals and priorities. We'll also look at a whole host of Faherty Brand reviews from around the web. All so you don't have to!
About Faherty Brand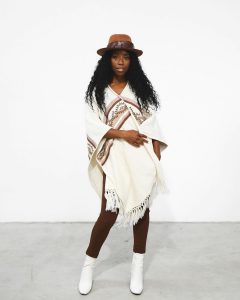 Faherty Brand reviews might not be that common, but they all share the same glowing story of a company dedicated to slow fashion and doing good for the planet and communities.
Customers love the "stylish and comfortable" clothing. The most common 'complaint' we found was that people want more color choices! At first glance, this looks like a company that belongs on any fashionista's radar.
Faherty Brand was founded in 2013 by twin brothers Alex and Mike Faherty. Alex's wife, Kerry Docherty, is also the brand's Chief Impact Officer. So, this brand is truly a family affair. We love the personal stories of the three key players of Faherty shared on the company's "About" page.
These stories give plenty of character to the brand and validate their expert backgrounds (Mike Faherty majored in Fashion Design at Washington University and "spent almost a decade learning his craft under Ralph Lauren" before starting Faherty Brand with his brother).
Faherty proudly states it "is a family-run business fueled by purpose and optimism." The company's goal is "to build a new American legacy by creating high-quality, sustainably-minded, feel-good favorites that will bring you joy to wear."
Although promises about sustainability and "feel-good" practices are typical these days, Faherty Brand takes its commitments seriously. In 2021, the company successfully hit 85% plastic-free and aims to get this to 90% by the end of 2022. Almost all the materials used to create Faherty apparel are made from recycled or sustainable fibers.
For example:
Organic cotton,
Ethically-sourced cashmere,
Recycled polyester
Linen
Hemp
And there's loads of information on the website for those interested in the environmental impact of Faherty Brand clothing.
In addition to planet-friendly materials, practices, and packaging, Faherty Brand is also dedicated to good causes. Currently, Faherty partners with the following:
1% For The Planet – Faherty has been a member of this organization since 2017, pledging 1% of all swimwear sales to environmental organizations.
Surfrider Foundation – Faherty is a Corporate Sponsor of this organization, which is "dedicated to the protection and enjoyment of the world's ocean, waves, and beaches for all…"
A Second U – Alex Faherty has a close friendship with the founder of A Second U, Hector Guadalupe. This organization helps "formerly incarcerated men and women" find their place in the personal training industry.
What's more, Faherty also boasts quality "Native Initiatives," which aim to restore power to Indigenous communities. Faherty is committed to taking an active role in this and works hard to stay educated regarding Native history and erasure.
To achieve this, the brand is dedicated to "listening to Native leaders and teachers, holding [the] team accountable, and continuing [their] anti-racism work."
Faherty has made it part of the brand mission "to model a mutually beneficial relationship between Native artists and non-Native companies for collective healing – one that mutually restores their land, communities, and stories." You can find more information on Faherty's Native Initiatives on the company website.
Pros
Wide range of apparel options, covering everything from dresses to sweaters, sandals to overalls, and much more.
Offers a wide range of sizes for men, women, and children.
International shipping is available, plus free US shipping for orders over $100.
Admirable loyalty and referral programs available.
Generous 60-day Faherty returns policy.
Regular Sales offer impressive discounts on Faherty Brand clothing, making this expensive apparel shop more accessible.
A serious commitment to sustainability and eco-friendliness in every step.
Supports multiple good causes.
A family-run business with plenty of expertise to make Faherty Brand a trustworthy apparel store.
Lifetime Guarantee to verify the brand's promise of clothes "made to last a lifetime."
Cons
The brand is expensive.
Limited color options on most lines.
Quite a specific aesthetic that might not suit everyone.
Faherty Brand Products Reviews
Now we know a bit more about Faherty Brand, and what the company stands for, it's time to find out whether the pricy products match the promise of being "the highest quality products made from the world's finest materials, made to last a lifetime."
Obviously, we can't review the entire range of Faherty Brand clothing, so we've picked a few best-selling, popular items to look at in more detail.
In this section of our Faherty Brand review, we'll consider the quality, materials, and aesthetics of the Faherty Brand lines. Plus we'll check out some customer reviews to find out what real people think of the items.
Faherty Men's Shirts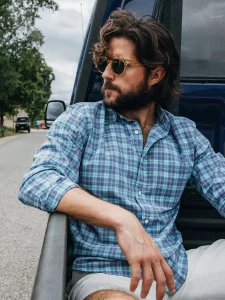 First up, Faherty Men's Shirts. With an effortless yet somehow smart feel, Faherty shirts are the perfect addition to any men's wardrobe, whether you're spending a day in the sun, heading to the bar, or need to attend a work meeting!
Looking at the collection, pale blues dominate. Still, each Faherty shirt is also available in other muted tones, with a few fun patterned options inspired by the traditional Hawaiian print with an understated feel.
Diving a bit deeper, we've selected the Short-Sleeve Stretch Playa Shirt, a "Best Seller" Faherty Shirt. This smart-casual shirt is available in four understated colors with a subtle "fish scale" pattern that would look equally at home on the beach or in the boardroom.
The Playa is made from 100% Cotton and is described as a "classic button-up shirt." Faherty Brand has called this shirt "very possibly" their "favorite shirt ever," and customers seem to agree, with 76 reviewers giving this Faherty shirt a 4.7-star average rating.
Faherty Women's Shirts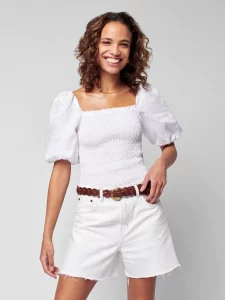 The Faherty Women's Shirt collection features a similar pallet to the menswear, with muted and pastel colors immediately transporting shoppers to spring/summer evenings sipping cocktails in comfy sandals.
Although these Faherty shirts are effortlessly beachy, many would be entirely suitable for the office, evening drinks, or any occasion.
We love seeing "Back in Stock" items noted in the catalog, like the Faherty Dream Cotton Gauze Tee. This gorgeous and comfortable t-shirt comes in white or nougat and promises a "lofty, breathable feel" thanks to the 100% organic double-gauze cotton.
One best-selling women's shirt is the Faherty Legend Sweater Shirt. It's described as "the most comfortable and versatile flannel you'll ever wear… perfect for layering" and ideal for spring or autumn evenings. This shirt is available in eight colors/patterns and is made from 62% recycled polyester, 33% viscose, and 5% spandex with faux horn buttons.
Customers adore this shirt, with Faherty Brand reviews giving the Legend Sweater Shirt" an impressive 4.8-stars across 1,091 reviews. One reviewer called it a "soft blanket of a shirt," which makes us feel immediately cozy!
For a lighter feel, the Faherty Dream Cotton Gauze Desmond Top is another "Best Seller," scoring 4.5-stars across 72 reviews. This Faherty shirt is made from "a breezy, airy organic double gauze fabric" to offer "a soft, relaxed feel… reflected in an equally laid-back silhouette."
Faherty Women's Hoodies and Sweatshirts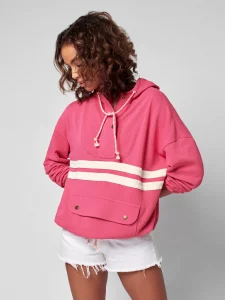 Although most Faherty Brand clothing has a clearly summer-focused feel, the brand hasn't forgotten that even beaches can get chilly in the evenings. So, they launched an excellent range of Hoodies and Sweatshirts that men and women will love.
We again find light colors in the Women's collection to inject sunshine and brightness into your closet. Models often supplement the sweaters with a surfboard for additional aspirational value.
In this collection, a "Best Seller" is the Faherty Daybreak French Terry Hoodie. This gorgeous sweater is available in two colors: "Morning Rays" or "French Rose." The sweater promises to "bring all kinds of brightness with its cheery stripes," which we noticed are a relatively common feature throughout the Faherty sweater lines.
Daybreak is made from 100% organic cotton and features "practical, surf-inspired details," including "a snap placket, functional front pocket, elastic cuffs, and a multicolor flecked drawcord" to make this the perfect beach-day companion.
This hoodie scores 4.7-stars across 34 reviews on the Faherty website. Customers love the casual beachy look, with many stating how comfortable they found it. This lightweight hoodie won't offer much protection for year-round beachgoers, but one reviewer noted, "It's perfect for cool spring and summer evenings."
Faherty Women's Dresses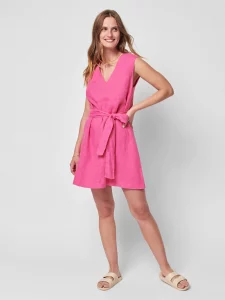 Faherty's collection of Women's Dresses immediately transports shoppers into a world of natural, summery elegance. You'll find plenty of floaty skirts and the standard Faherty color pallet of pastels and natural-looking prints inspired by bohemian styles.
We absolutely adore the Faherty "Best Seller" Dream Cotton Gauze Isha Dress, which the brand describes as "hands down our #1 bestselling dress". "With just enough swing to give it a little retro flair and an updated fit," this dress promises to be "more flattering than ever before" and even features "hidden side entry pockets" that make it the perfect holiday strolling outfit.
Customers love this Faherty dress, giving it an average score of 4.6-stars across 727 reviews, with many customers calling it their "favorite dress." Although a few noted that the dress is relatively short, one reviewer mentioned being "afraid my undergarments would show from behind!"
For a longer skirt, you might want to check out the Faherty Gracie Linen Dress or the Orinda Maxi Dress. Both of these are also marked as Best Sellers and offer an effortless yet somehow glamorous look that would be perfect for any occasion.
Faherty Blankets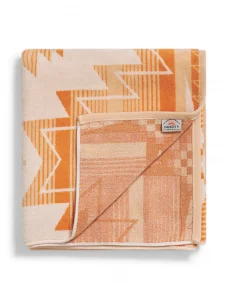 Whether you're heading out for a relaxed day on the beach or some serious surfing, bringing a blanket along is always an excellent idea for when the sun starts to dip or for helping you warm up after a good swim. And Faherty has you covered (literally) in this department, with a gorgeous range of beach towels and luxurious fluffy blankets to keep you warm and dry.
We absolutely love the "Native Designed" Doug Good Feather Summer Beach Towel. An excellent example of the brand's Native Initiatives, this towel was designed in collaboration with the Native artist Doug Good Feather (Standing Rock Lakota and Dakota Nation) and features "an original print inspired by nature and his Native roots."
For a warmer option, shoppers should check out the Faherty Recycled Sherpa Blanket. Featuring "plush sherpa fleece," this blanket is "custom-woven on looms using long-staple cotton yarns" and "is brushed for an especially soft, time-worn feel."
The Sherpa Blanket is rated a very impressive 4.9-stars across 188 reviews. One customer claimed it's "the best blanket around" and that they "have one of every style to meet everyone's personality."
Plus, if you're unsure how Faherty women's clothing fit, you could always use one of these blankets as a wrap-around. In particular, we think the "Native Designed" Adirondack Blanket would make a gorgeous wrap dress, or you could wear it as a shawl over a Faherty dress to keep your shoulders warm when the sun goes down.
Faherty Brand Reviews from Customers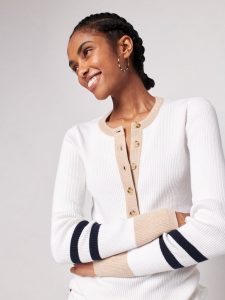 Throughout our Faherty Brand review, we've tried to pay attention to the items customers love most. We have spent hours scrutinizing Faherty Brand reviews from around the web to uncover the truth about the customer experience.
On the Faherty website, we found countless 5-star reviews throughout the range. Customers often call items "soft and comfy," and the word "love" is included in almost every review!
The most frequent 'complaint' we found on the Faherty Brand review page was that customers would like to see more color options. We also noted that some items offer a "slightly snug fit," so shoppers may want to check the product descriptions carefully and size up if unsure.
But we didn't stop at Faherty Brand reviews on the company's own website. Faherty Brand clothing is also available on Amazon and many other retailers, so we looked at Amazon.com for some independent, unfiltered reviews.
Not all items on the Faherty Amazon page had reviews, but those that did regularly score 4-stars or higher. For example, the Faherty Men's Slub Cotton Hoodie scored 5-stars across 4 reviews.
Popular Alternatives to Faherty
Further customer reviews
We also found a Reddit thread dedicated to Faherty Brand clothing. Here, customers state, "Faherty Brand is one of my favorite brands. The fit is great, the brand uses a lot of interesting fabrics, and offers a good mix of classics and styles/patterns." However, another commenter stated, "the fit was a little large and boxy."
It's worth noting that Faherty Brand clothing does come at a premium price point, causing many reviewers to only shop the sales. Or utilize a Faherty discount code to make the items more affordable. One commenter on Reddit stated they "don't know if I'd ever pay full retail price for any of their garments" but did go on to say how much they loved the items they'd got on sale.
TrustPilot provides only 2 reviews – one completely satisfied customer and one completely disappointed in customer support.
Sign Up for Faherty Brand
Faherty Brand offers a generous loyalty program that makes it well worth signing up for an account.
Simply create a Faherty account to start earning. Shoppers will be rewarded with 1 point for every $1 spent on the website. You can also earn points for other activities such as reading the Faherty Journal, following the brand on Instagram, reviewing a product, and more.
Subscribers to the Faherty newsletter will also receive a 15% Faherty discount code towards their first purchase.
Where to Buy
The full range of Faherty Brand clothing is available at fahertybrand.com. If you prefer an in-person shopping experience, you can also use the handy Store Finder to locate retail partners and Faherty stores in a location near you.
Faherty Brand Shipping and Return Policy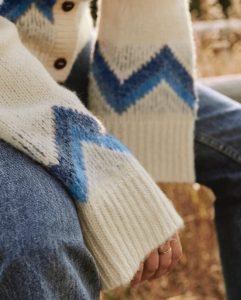 Shipping
Faherty shipping is free on orders over $100. Otherwise, shipping and taxes will be calculated at checkout.
You'll receive a shipping confirmation email as soon as your order has been processed, which will contain a tracking reference and any other vital shipping information.
Returns
The Faherty returns policy offers an impressive 60-day returns policy for eligible items. Simply visit Faherty.hemster.co/returns to request a prepaid returns label.
Final Sale items or items that have been hemmed, washed, worn, or are missing their original tags or sanitary stickers are not eligible for returns.
Promotions & Discounts
As an expensive brand, it's no wonder many people keep an eye out for a Faherty discount code to help make their shopping a little more affordable. And the brand does an excellent job of keeping this in mind!
Subscribing to the email newsletter will give you 15% off your first order. A free Faherty account will also get you "early access to sales, birthday gifts, loyalty points per order, access to private events, and more."
Faherty Brand also offers a respectable Refer a Friend Program, giving referred members $50 off their first order over $150, and you'll receive $50 yourself for every successful referral.
Finally, Faherty Brand has a generous Sales catalog, where shoppers can pick up items for up to 70% off.
Contact Faherty Brand
Faherty Customer Support is available Monday to Friday, 10am-7pm EST, and Saturday and Sunday, 11am-8pm EST.
You can contact them via telephone at (877) 745-8994. Or email [email protected].
Faherty Brand Reviews: Editors' Verdict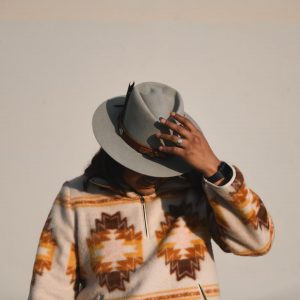 As soon as we looked at the 'About' page for Faherty, we must admit we were pretty sold on this brand. Their commitment to ethical and sustainable practices is so evident and something we believe every fashion company should aspire to.
Who can resist this brand's range of very summary, beach-worthy apparel? Particularly when many items from the Faherty Brand clothing ranges would be totally appropriate in unlimited settings, meaning there's no need to get changed even on a day that takes you from the office to the beach to evening drinks!
Faherty Brand reviews from bloggers, fashion editors, and real customers do nothing to stop us from falling in love with this brand. Reviews praise the company's gorgeous, comfortable lines almost everywhere we look.
When a brand looks this good, feels this good, and even DOES good, we simply have to recommend it!
The only downside to Faherty (in our opinion) is the price. We think a review we found in the New York Times summed the cost of this brand perfectly: "If you buy your surfboards new, no problem. If you buy them secondhand, perhaps take a pass."
That said, shopping the sales and adding a Faherty discount code to your cart are great ways to bring the cost down to a less painful sum. Plus, with free shipping over $100, there are plenty of ways to save!
Are you still looking for other fashion brands that are worth your while? Check out our reviews of MyTheresa, Annie Cloth, Chicwish, and Carolina Herrera.
Faherty Brand FAQ
How do Faherty women's clothing fit?
It's always a good idea to check customer reviews to find out how do Faherty women's clothing fit. Every product page also features a size guide and even recommendations to help you find the perfect fit.
How to care for Faherty clothing?
For most Faherty Brand clothing, the company recommends machine washing in cold water on a delicate or hand-wash cycle and allowing your items to air dry. Specific care instructions are printed on the label of every item.
Where are Faherty clothing manufactured?
Faherty brand promises to "prioritize working with the best partners, regardless of factory or region." This means Faherty clothing is manufactured all over the world. At the time of writing, most Faherty products are made in Peru, India, China, Turkey, or the United States.
What is the Lifetime Guarantee?
Faherty promises "to bring you the highest quality products made from the world's finest materials, made to last a lifetime." To achieve this goal, the brand offers a Lifetime Guarantee on all products. This means that if an item is faulty due to a manufacturing issue, the company will "happily exchange it out or issue a return."