Regularly brushing your teeth can maintain good hygiene and stay clean and healthy. A good toothbrush helps reduce dirt buildup and plaque to prevent cavities, gum disease, or any mouth infections. The best toothbrush brands make products with functional designs and features ideal for gum health.
We have considered the best options of toothbrush brands in the market to help you perfect your dental hygiene routine. For our list, we considered products with small design nuances like sturdy handles and hard bristles for both manual and electric toothbrushes. In addition, we considered the Planet and chose sustainable/eco-friendly toothbrush brands.
10 Best Toothbrush Brands
Lastly, we asked our dentists to recommend some of the best toothbrush brands they have used in practice, and we have added this selection to our list. You can replace your old toothbrush by choosing any option from this list. Let's get into the best toothbrush company in the market and why we love them.
1. Burst Electric Toothbrush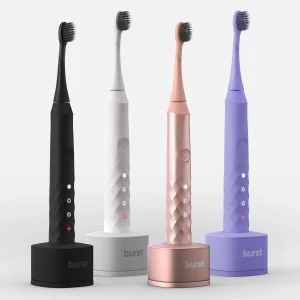 If your manual toothbrush is not reaching those pesky areas between your gum and teeth, you can try an electric toothbrush. The best electric toothbrush brands offer advanced technology to protect your gum and teeth. Burst Oral Care works with professional dentists that consistently ensure the integrity of all their products.
The Burst electric toothbrush is recommended by 99.9% of dental hygienists and dentists as a medical product, not just a cute bathroom accessory. If you want a well-constructed toothbrush that helps improve your brushing experience, then you will appreciate Burst electric toothbrushes.
In addition, Burst electric toothbrush has an impressive reach of 30,000 vibrations per minute, and it uses advanced charcoal technology for the toothbrush heads. Even with their upgraded features, Burst products remain affordable and accessible, setting it apart from competitors. With its connections with top dental professionals, you can be assured that your teeth are in good hands.
Besides its excellent electric toothbrushes, Burst Oral Care supplies a wide array of dental care products, including Floss, Whitening Stripes, Oral Probiotics, Toothpastes, and more. All its products are backed by successful clinical trials, so you don't have to worry. For anyone who wants to up their oral hygiene routine, Burst is an ideal company to use.
Many customers love the innovation and creativity that come with all Burst products. The Burst Sonic toothbrush is medically proven to remove 10x more plaque than a standard manual toothbrush. It also has charcoal infused bristles, which help whiten teeth and is gentle on the mouth. Meanwhile, it comes in three modes: whitening, sensitive, and massage, with a two-minute timer for proper brushing.
2. Foreo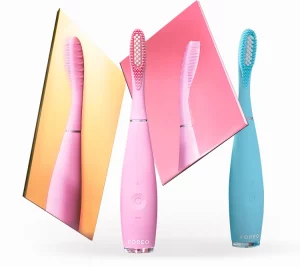 You should feel confident and be proud to flash your pearly whites whenever possible. Good oral hygiene helps to empower your image and reduce your insecurity. If you're considering electric toothbrush brands, you can look for Foreo. This brand offers a wide selection of bathroom devices and accessories. From skincare tools to luxury, one-of-a-kind massagers, Foreo comes with an impressive product line.
The Foreo electric toothbrush is a brilliant device that works with sonic vibrations to improve your dental care regimen. Foreo offers a combination of style and functionality in this sonic-powered device that is ideal for the user's lifestyle. It comes in an impressive hybrid design with a combo of soft silicone bristles and PBT-made polymer bristles to care for your teeth.
In addition, the toothbrush battles all plaque and removes dirt without hurting your gums or causing bleeding. It features a non-rechargeable Sonic Pulse Technology and offers about 800 uses. You can also choose from a vibrant color selection such as pearl pink, summer sky, cobalt blue, wild strawberry, and cool black. The dynamic cross-design also makes it perfect for those hard-to-reach areas.
Unlike most brands that focus on only one best-selling product category, the brand covers a different range of products to turn your everyday grooming routine into an all-star experience. The Swedish company launched in 2013 and has since changed the game in the personal care industry. It offers a clear innovation and a unique line of products for different grooming needs.
Since its inception, Foreo has gained an impressive reach among customers with a solid reputation for its revolutionary business approach. It has featured in respectable media publications like Mashable, NBC News, Forbes, and Hello Magazine. The brand also connects with an extensive team of engineers and developers and creates minds to improve its products.
3. EcoRoots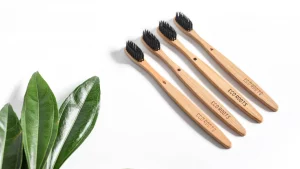 EcoRoots is a sustainable beauty and personal care brand that focuses on minimalist and eco-conscious approaches. It offers an array of all-natural and recyclable alternative vital grooming products such as zero waste floss, reusable cotton rounds, and other examples. It prides itself among the best bamboo toothbrush brands with various bamboo toothbrushes.
In addition, EcoRoots also offers an inclusive platform where small eco-conscious businesses can sell their products, connecting customers with different kinds of sustainable quality products. It acts as a one-stop shop for sustainable living and offers a wide range of high-quality, sustainable items. The brand also shares facts and useful information about every product on the website.
One of its top-rated items is the EcoRoots bamboo sustainable toothbrush, a plastic-free alternative to mainstream toothbrush products. Unlike most plastic toothbrushes that end up in landfills or oceans, EcoRoots bamboo toothbrushes will help preserve and protect the environment. It comes with soft, recyclable bristles and fully biodegradable bamboo handles.
With EcoRoots bamboo toothbrush, you can quit plastic and practice a more eco-friendly and sustainable lifestyle. The EcoRoots bamboo toothbrush has soft bristles and a sturdy handle that breaks through plaque and ensures whiteness without harming your gums. It is ethically sourced, non-toxic, and comes in recyclable cardboard packaging.
After you're done with the toothbrush, you can just detach the head and bury the bamboo handle in the soil to decompose. You can also shop for eco-friendly dental care products such as EcoRoots floss to continue a sustainable oral care regimen. Impressively, Eco-roots also donates sales proceeds through 1% for the Planet for various environmental actions.
4. CocoFloss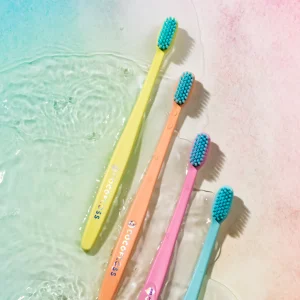 CocoFloss is among the best toothbrush brands with a broad category of dental care products to help you achieve a bright, glowing smile. The brand's products are designed by professional dentists to prevent cavities, gum recession, and gum disease. If you're looking for a dental-focused brand that provides complete items to ensure your teeth are in a good state, then you should try CocoFloss.
Initially, the brand launched with its Dental Floss line that helps remove plaque and calculus from the hidden areas in your mouth your toothbrush won't reach. Many dentists recommend CocoFloss in practice to their patients to ensure a healthy dentition. It is featured in Vogue, New York Times, goop, the Strategist, and other notable media outlets.
Meanwhile, the brand has since expanded into a huge corporation with a long list of effective oral care products. If you're considering switching toothbrush brands, you might want the alternative, gentle, Cocobrush product. It is sixteen times more effective than regular toothbrushes with its super-soft micro bristles to treat your gums while cleaning up all nasty bacteria.
In addition, the bristles come in tall, tapered, and small, rounded types for all-around dental care. The curved handle is from recycled ocean-bound plastic with a compact, angled brush head for those areas that most toothbrushes won't reach. For every Cocobrush you buy, the brand removes an additional 10 Cocobrushes' worth of ocean-bound plastic from the environment.
5. Spotlight Oral Care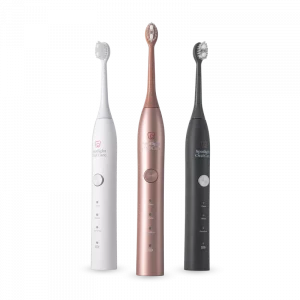 Spotlight Oral Care is one of the top toothbrush brands in the market to provide quality dental care products to deeply clean and whiten teeth without harming your gums. The brand helps you find all you need to ensure a stronger and healthier smile. All Spotlight products underwent a successful clinical trial with proper dental tests.
Spotlight Oral care features in Vogue, Good Housekeeping, Huda Beauty, Yahoo Life, Real Simple, Glossy, and more media publications confirm this brand's premium quality. It is also an award-winning company being a recipient of the RSVP Magazine's Best Beauty Gadget for its innovative designs and effective usage to ensure a proper dental care routine.
The Spotlight sonic toothbrush may be better than your regular manual toothbrush in removing plaques and stains from your teeth. It requires less time and effort than a manual toothbrush to produce whiter teeth and healthier gums. In addition, it offers three different speeds so you can adjust the vibrations. You'll also get a travel case and 3 brush heads for a nine-month supply.
What else? The Spotlight sonic toothbrush is built with a technology that allows oxygen to pass through the teeth and gums to remove all the buildup and residue. You can also try the Graphite Grey Sonic Toothbrush, which boasts three cleaning modes: Sensitive, Clean, and White. It also provides a thorough clean without harming your gums.
Additionally, Spotlight Oral Care offers affordable products that are also effective, clean, and free of toxic or harmful ingredients. It is also sustainable and practices eco-friendly actions to protect the environment. The Spotlight toothpaste tubes come from sugarcane. The floss is made from recycled plastic with biodegradable packaging to reduce plastic waste.
6. Curaprox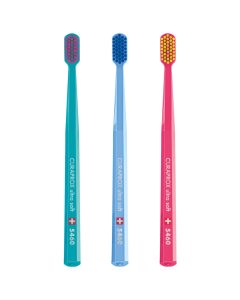 You can switch up your dental grooming regimen with more effective products if you want a cleaner, brighter smile. Plus, the best toothbrush brands work with expert dentists who design gum-friendly or interdental brushes and toothpaste. Curaprox is one of those brands that you can trust with your oral health.
It offers resources and learning guides on the website showing different ways to take care of your teeth and gums. In addition, the Swedish brand provides useful oral health instructions, whether for teeth whitening, braces, or implants, ensuring that you don't miss out on healthy gums. Curaprox also conducts clinical trials to confirm the safety of all its products.
The company offers manual and hydroponic electric toothbrushes, so you can pick an option based on your preference. Curaprox hydroponic pro toothbrush offers professional teeth cleaning with up to 84,000 vibrations per minute. It is gentle on sensitive gums, braces, and implants and goes through hard-to-reach spots.
Additionally, it comes with three innovative brush heads, including Power, sensitive, and single, with seven different cleaning levels. The handle also includes the signature Curacurve technology, so you can bend the brush at 10 or 15 degrees. You can also get the Black is White hydroponic toothbrush with the Black is White toothpaste for ultra whitening benefits.
7. Bruush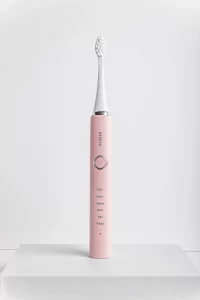 More people are switching from manual to electric toothbrushes, and many power toothbrush brands are in the market to cater to this demand. Bruush is a sleek and modern electric toothbrush for anyone who wants a gum-friendly, gentle product for a cleaner, healthier and whiter dentition. It is the dentist's favorite toothbrush and helps improve your oral care routine.
Since the product launched in 2019, brush has gained a large user network with features on Health Magazine, New York Times, CNET, Vogue, and many other publications. The brand is well-known for bringing fun, creativity, and innovation to its oral care products with a mission to give you the healthiest mouth ever.
Bruush toothbrush comes in multiple colors and functional designs that create enjoyable and professional teeth cleaning experience. Every toothbrush has a built-in two-minute timer that turns off in 30-second intervals to ensure a thorough mouthwash. Bruush toothbrushes feature six unique cleaning settings: Daily, White, Gentle, Gum, Max, and Tongue.
Additionally, Bruush comes with three brush heads, a magnetic carrying case, and a USB charger. Plus, the company partners with A Reason To Smile and donates an oral care kit for every brush head refill to a person in need. Bruush electric toothbrush is also accessible to many users due to their affordable prices, unlike most products in the markets.
8. Pro-Sys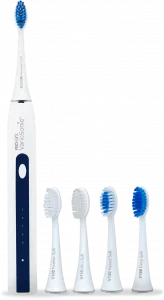 You may also consider toothbrush brands made in the USA for your effective dental care products. Meet Pro-Sys, a reliable, trustworthy oral care company that your dentist will surely approve of. Unlike mainstream brands that offer generic teeth cleaning, less effective products malfunction. The Pro-Sys team is dedicated to ensuring quality and high standards in all their products.
It brings fresh ideas and innovation into its toothbrush designs and oral care products as a family-owned company. The brand offers manual and electric toothbrushes for the whole family to strengthen household bonds and make cleaning more special. It also prioritizes social impact, and 5% of sales proceeds go towards improving the dental health of individuals in local communities.
The Pro-Sys VarioSonic Electric Toothbrush is a cost-effective, battery-powered device for your premium dental hygiene. It is impressive for sensitive teeth and gums, thanks to the variety of brush heads and speed settings. Pro-Sys VarioSonic electric toothbrush boasts multiple functional features that make teeth cleaning more effective.
It has a two-minute timer to ensure a standard, proper cleaning process. This electric toothbrush also has built-in five-speed settings that you can adjust based on your gum sensitivity. From normal soft to extra soft or soft feather bristles, you can switch between brush heads. Pro-Sys toothbrush is also certified safe and effective by the ADA Council on Scientific Affairs.
9. GUM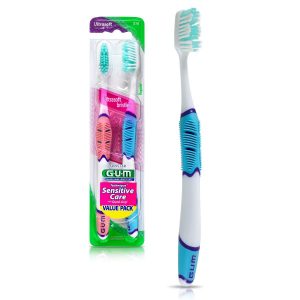 GUM works with 'The GUM Link,' a belief that our oral health can affect the general state of health in all human beings. The company partners with dentists to design different innovative solutions to achieve total gum health and maintain body health. Besides being one of the best toothbrush brands, it offers a learning platform where you can learn how to maintain healthy teeth and gums.
Additionally, the unique collection of dental care products includes mouthwashes, toothpaste, interdentals, floss, tablets, toothbrushes, and multiple dental accessories. It also offers solutions for various concerns like stained teeth, advanced gum care, and children's oral care. GUM also offers manual, electric toothbrushes and a unique toothbrush range.
One of the GUM bestsellers is the GUM Travel Ortho toothbrush. It is foldable, compact, and perfect for traveling or when you're on the go. You can fold your travel toothbrush in two for easy carry-on or fold it like a regular toothbrush when needed. In addition, this foldable travel toothbrush is perfect for cleaning braces or sensitive gums.
10. Boie USA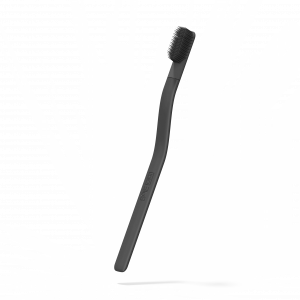 Boie USA is one of the main toothbrush brands made in the USA. It is highly regarded by several media outlets such as PopSugar, HuffPost, Buzzfeed, Vogue, GQ, and more. The brand deals in a range of beauty and personal care items. It offers different bathroom utilities and accessories to help improve your grooming routine.
Suppose you're trying to maintain good dental hygiene. In that case, you can try Boie USA Fine toothbrush, which offers a better cleaning power than regular products. The toothbrush is made from 100% recyclable materials to avoid landfills and reduce waste. In addition, the design features thin, triangular bristles for small, hard-to-reach areas. It also offers a sleek replaceable head that lasts longer than the old-school designs.
Top Toothbrush Brands: Editor's Verdict
If you're concerned about dental hygiene, you cannot compromise with poor-quality oral care products. The best toothbrush brands make gentle, gum-friendly products and are perfect for overall dental care.
We have recommended these ten toothbrush brands based on our dentist's approval and customer feedback. No matter what you pick, electric or manual, you'll find different brands to cater to specific needs.