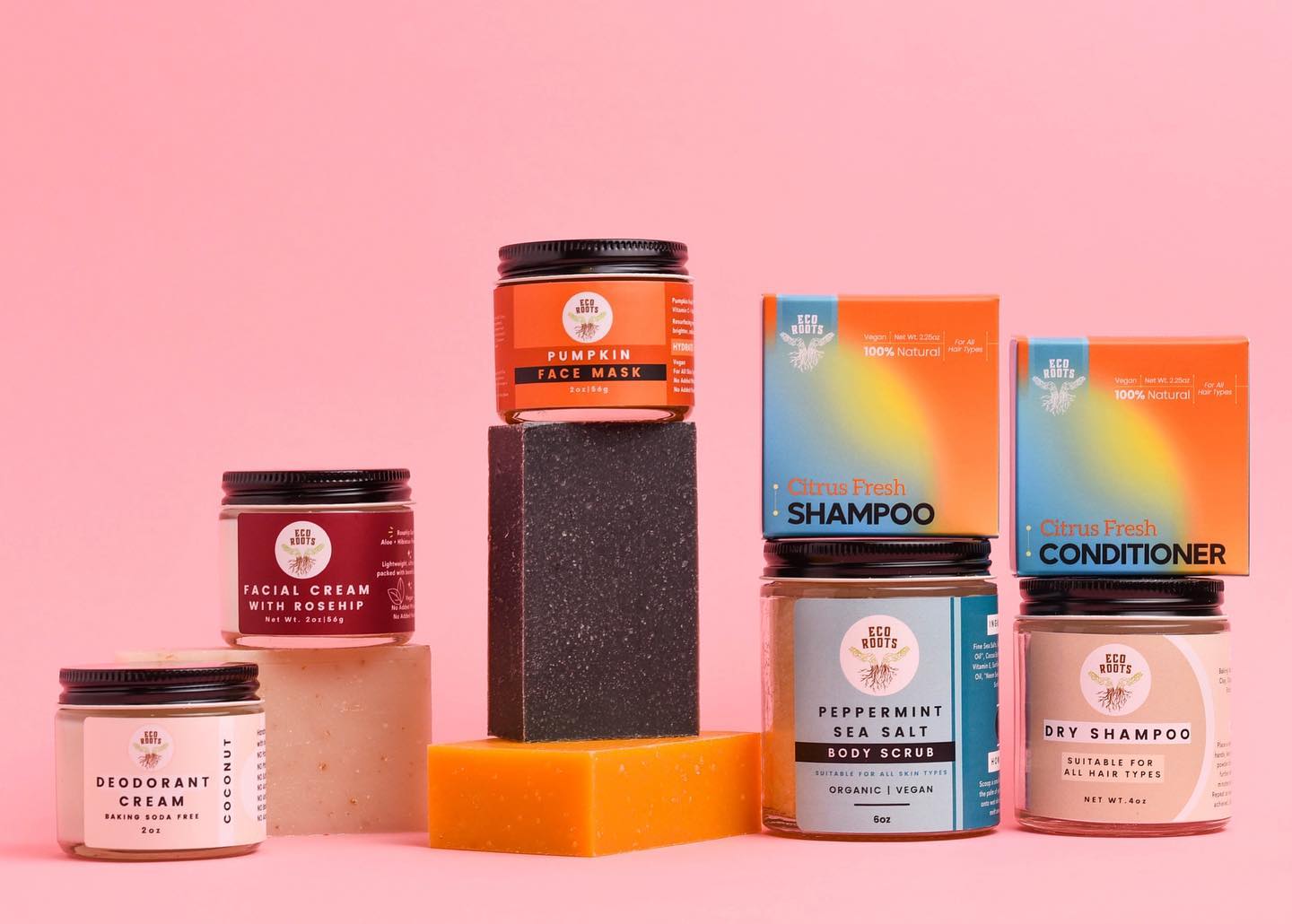 EcoRoots is unlike any other personal care and beauty brand as it focuses on being minimalistic and eco-conscious. The brand offers a range of all-natural and recyclable products. Their extensive selection of sustainable alternative options to vital household items includes zero waste floss, bamboo toothbrushes, and reusable cotton rounds. The brand also supports other businesses by offering them a colorful platform to sell their products. This measure means that customers can find all kinds of quality products in one place. We will examine EcoRoots reviews, its bestsellers, returns and shipping policies, and much more to help you determine if its eco-friendly products are worth checking out. 
About EcoRoots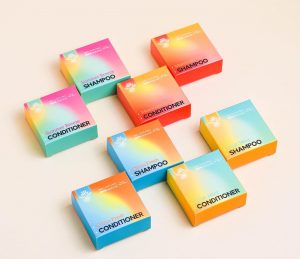 EcoRoots is a unique brand that focuses on being minimalistic and eco-conscious. Antonia Pitica and Alin Turcea, a nature-loving couple, founded the Aspen, Colorado-based company to provide sustainably and ethically sourced products for everyday use.
The couple's love of nature is evident in the products they provide. Most of the products on the website come from various eco-conscious manufacturers and vendors. Small local businesses also get a chance to sell their products on the EcoRoots platform. As a result, the brand offers a wide range of high-quality, sustainable items and acts as a one-stop shop for sustainable living.
Besides ethical and sustainable production of products, EcoRoots also provides disposing information about every product on the website. Customers can learn how to properly dispose of an item once it's no longer needed. Based on EcoRoots reviews, shoppers love the brand because of this thoughtful and comprehensive approach to product information.
Additionally, since most products are compostable, users can bury them in the soil and help with the nutrient cycling process. Since its inception, EcoRoots has grown tremendously, amassing a social media following of more than 88K on Instagram and 5K on Facebook.The brand was featured in Environment, Sustainable Jungle, The Wellness Feed, Green Matters, amongst all. They also donate some of their sales proceeds via the 1% for the Planet to various environmental initiatives.
Pros
They offer an extensive selection of skincare, cleaning, home, and beauty products
The brand provides eco-friendly alternative products
All their products are cruelty-free and vegan
Most products are biodegradable and compostable
Their products are affordable, averaging $20 or less
They provide free shipping for US orders worth $45 and above
Cons
EcoRoots does not offer return services
They do not provide free shipping on orders outside the U.S.
The site does not have a chat function
EcoRoots Product Reviews
With its extensive selection of environmentally friendly home and body products, EcoRoots has something for everyone. We'll take a close look at some of its best-selling items and start with the EcoRoots Safety Razor review.
EcoRoots Shaving Kit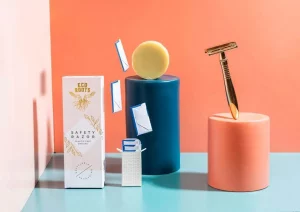 Did you know that each year people throw away two billion single-use razors? By using the EcoRoots shaving kit, you can shave guilt-free and change these hideous numbers. The EcoRoots shaving kit is a complete set with a safety razor, replacement blades, and a tube of organic shaving soap. 
The kit is designed to provide a close and comfortable shave. Although designed for women, the Zero-Waste Shaving Kit is perfect for everyone, especially people with sensitive skin. The kit is plastic-free, zero-waste, vegan, and comes with recyclable packaging and blades made of stainless steel.
This shaving kit contains one black safety razor or one rose gold safety EcoRoots Razor, organic shaving soap, and high-quality replacement blades made of stainless steel. You'll get five blades in the razor package and an extra ten replacement blades.
These efficient safety razors come with a sharp double-edged blade meant to leave your skin feeling smooth and silky. With these razors, you will never have to worry about throwing away another plastic razor again. The Replacement blades offer you a super clean and close shave that will leave your skin irritation-free and looking outstanding.
On the other hand, the organic shaving soap comes with a delicious mixture of cocoa butter and citrus enriched shea. It is organic, plastic-free, cruelty-free, zero-waste, vegan, and gives you a foamy treat for your legs. Using this soap, you can say goodbye to bumps and forget about itchy skin after you shave.
With a price tag of $49.97, the EcoRoots shaving kit is the ideal option for those looking for a sustainable and eco-friendly shave.
EcoRoots Shampoo Bars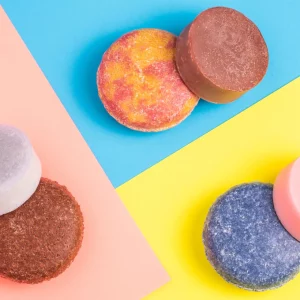 Statistics show that we throw more than 552 million plastic non-biodegradable shampoo bottles in landfills each year. These bottles can take years to decompose. However, with the EcoRoots shampoo bars, you can cut down on this waste while also providing your hair with a gentle and natural cleanse.
These zero Waste Shampoo Bars come packed with the ideal ingredients to benefit your scalp and hair. EcoRoots reviews reveal that buyers are in love with these handmade bars because they leave them with nourished, soft, and clean hair without stripping their hair color or its natural oils. These eco-friendly and unisex shampoo bars work efficiently on all hair types. They are travel friendly and 100% plastic-free too. 
EcoRoots zero waste shampoo bars come in six distinct flavors and scents. These include; Citrus Fresh, CocoLime Colada, Forest Mist, Honeydew, Moroccan Oil, and Summer Breeze. Each of these scents comes with a distinct mix of ingredients that work to give your hair the best possible cleanse. Visit their website to learn more about each scent.
Each of the bars is 2.25 oz and will last an average of 50+ washes. This EcoRoots Shampoo Bar review found that this product is made in the United States. The bars are also silicone-free, paraben-free, phthalate-free, all-natural, cruelty-free, vegan, color-safe, and offer plastic-free packaging and shipping.
For $11.50 per bar, the EcoRoots shampoo bars are an excellent way to cut down on your waste and provide your hair with a natural cleanse. Use your ideal zero waste shampoo bar with the conditioner bars for the ultimate sustainable hair-care experience.
EcoRoots Build Your Bundle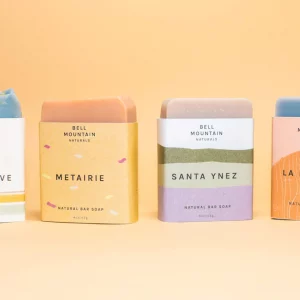 If you are looking for a way to go completely plastic-free with your beauty routine, EcoRoots Build Your Bundle has got you covered. This package allows you to choose from 3-6 of EcoRoots' best and most sustainable products to create your personalized zero-waste kit. Essentially, the more items you buy, the more money you save.
You can choose from their selection of shampoo, conditioner, body wash, and facial wash bard together with their body scrub and facial cream. All these products come in sustainable and recyclable packaging.
Their facial soap bar is luxurious, soft, natural, and formulated for all skin types, even sensitive skin. On the other hand, their body wash bars are unisex and designed for a refreshing and waste-free shower ideal for all skin types. The body scrub is effective in removing all of the dead skin cells, and the facial cream is perfect for daily use, hydrates, and soothes your skin.
The EcoRoots Build Your Bundle is the perfect way to get all these sustainable and zero-waste products in one place and save money while you are at it. When you purchase three items, you get 5% off, four get you 10% off, five get you 15% off, and six get you 20% off.
EcoRoots Cleaning Kit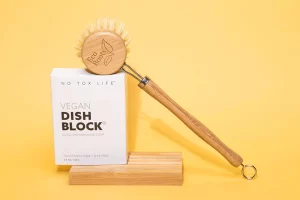 The Eco Roots Cleaning Kit is a set of all-natural, non-toxic, and biodegradable cleaning products that work great on all types of surfaces. From stainless steel to sealed granite, this kit can handle it all. The brand has put together all the essential plastic-free cleaning supplies for your kitchen and home in a single kit.
By purchasing this kit bundle, you can save 10%. It comprises 1 dish soap (zero-waste), 1 Bamboo made soap dish, and 1 Wooden brush with a detachable head. All these products are made of natural ingredients, biodegradable, and work great on all types of surfaces. The dish soap is 5.9 oz, gentle on your hands, and removes all the grease and grime from your dishes. The bamboo soap dish measures 9 inches x 1.55 inches x 1.95 inches and is a beautiful and sustainable way to store your soap. 
The wooden brush is durable and comes with a detachable head for easy cleaning. It measures 4.75 inches x 3.20 inches x 1.50 inches. Other features of this kit include sustainable bamboo and sisal materials, vegan and organic ingredients used in the soap, zero-waste, and biodegradable.
Together, these products make for a great all-natural cleaning kit that is gentle on your hands and the environment. They come in plastic-free shipping and recyclable packaging.
EcoRoots Floss and Refill Bundle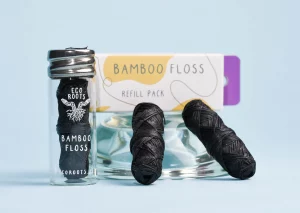 The EcoRoots Floss and Refill Bundle is a great way to reduce your environmental impact and go plastic-free with your dental care products. The bundle includes eco-friendly floss made of bamboo fibers. It is biodegradable, compostable, and plastic-free.
The floss is gentle on your teeth and gums and removes all the plaque and bacteria. It comes in a travel-friendly case made of glass. You can save up to 20% when you shop for the duo floss and refill bundle. You can refill your floss case with a new bamboo floss.
The bamboo floss measures 30 m/33 yds and contains bamboo fiber, essential oils, and charcoal. It comes coated with candelilla wax, making it gentle and glides easily between the teeth. The product is vegan, cruelty-free, gluten-Free, and uses compostable/recyclable packaging. It also doesn't feature preservatives, colorings, or artificial sweeteners.
The EcoRoots floss and refill bundle is a great way to reduce your environmental impact with your dental care products. The bamboo fiber floss is gentle on your teeth and gums, removes all the plaque and bacteria, and comes in a travel-friendly case made of glass.
Unlike other dental flosses on the market, the EcoRoots bamboo fiber floss is made of biodegradable materials and is compostable. It also comes with a refillable case.
EcoRoots Reviews from Customers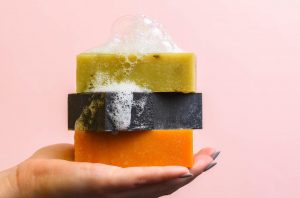 EcoRoots has received numerous rave reviews from previous customers regarding their products and ethics. Most customers commend the company for creating sustainable, organic, and plastic-free products. Shoppers also rave about the quality of the products and their effectiveness.
One such customer talked about the shampoo bars and said she loved how gentle they were on her hair. She also enjoyed the various scents and was amazed at how long they lasted. A buyer from Colorado said that the cleaning kit was perfect for her needs; she loved the bamboo and sisal materials used in the products and the zero-waste design.
Another customer stated that the shaving kit was the best solution to their single-use plastic problem. As an eco-conscious individual, she loved how the shaving kit used sustainable bamboo and sisal materials and vegan and organic ingredients used in the soap.
EcoRoots has also received a few negative reviews. One of the customers was disappointed the brand did not offer free shipping outside the U.S. The shopper had hoped to find a more affordable and sustainable alternative to their current cleaning products, but the shipping costs made that challenging.
Unfortunately, there are not many reviews on independent websites such as TrustPilot.
Sign Up for EcoRoots
Open an account with EcoRoots today to start enjoying its sustainable, organic, and plastic-free products. All you have to do is head up to their sign-up page and input your first and last name, email address, and password. Once you've registered, you can browse through their selection of products and add what you need to your shopping cart.
Where to Buy
EcoRoots is an online store with various local brands that sell sustainable and plastic-free items. Therefore, the best way to buy their products is through their website EcoRoots.us.
EcoRoots Shipping and Return Policy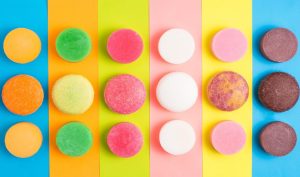 Shipping Policy
EcoRoots only ships via USPS from Monday to Friday and offers free US shipping to orders above $45. After placing your order, it will take about one to two processing days to ready your items for shipping. Once shipping commences, it takes an average of two to six days for the products to arrive at their destination.
Customers will also receive an email with shipment tracking details for their orders. Note that it might take up to 24 hours for your tracking information to appear. For more information about their shipping policy, visit the shipping section of the EcoRoots website or contact their customer service team.
Return Policy
EcoRoots does not accept any returns or exchanges at this time. The brand considers all purchases as final sales. If you have any questions or concerns before making a purchase, be sure to contact their customer service team.
Promotions & Discounts
On their socials, EcoRoots offers various discounts and promotions. To unlock these deals, use an EcoRoots discount code at checkout. You can find their latest discounts and promotions on their Facebook, Twitter, and Instagram pages. You can also visit their website and sign up for their email newsletter to get the latest updates on discounts and promotions.
Contact EcoRoots
For more information about EcoRoots or their products, you can contact their customer service representatives, you can contact them via their email address [email protected]. Alternatively, you can write them a message using the contact form on their site. You will have to provide your name, email address, and the message you intend to send. You can also send the EcoRoots support team a message on their Facebook or Instagram account. 
EcoRoots Reviews: Editors Verdict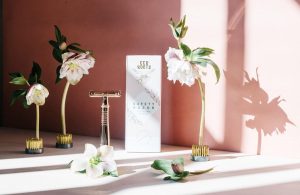 Looking at the various EcoRoots reviews from customers, it's clear that the brand is impacting the eco-friendly and sustainable community. From the high-quality materials used in their products to their commitment to reducing waste, EcoRoots is a brand you can trust. And with so many positive reviews online, it is hard not to recommend them. 
EcoRoots is a member of the 1% for the Planet charity organization, and their Zero Waste blog provides customers with helpful information on how to reduce their carbon footprint. The company only uses recyclable shipping and packaging materials and is an initiative in its marketing strategies, as they offer discounts and monthly giveaways on their social media pages. We recommend the EcoRoots to anyone looking for a reputable brand committed to sustainability and reducing its environmental impact. 
Check out the amazing haircare brands such as Cantu, Hairstory, Gisou, and Briogeo.
EcoRoots FAQ
Is EcoRoots legit?
If you are wondering: Is EcoRoots legit? Yes, the brand is a verified seller. They have also been in business since 2009 and have a large customer base that continues to grow.
Are all of EcoRoots products cruelty-free?
Yes, EcoRoots does not test any of its products on animals. Their policies also prohibit other brands on their site from doing so. Such measures ensure that all the products available on their website are cruelty-free.
Is everything on EcoRoots sustainable?
All products on EcoRoots are ethically and sustainably sourced. For shipping and packaging, the brand uses recycled and biodegradable materials.
How do I use a safety razor?
There are a few tips you should know before using a safety razor. First, wet the area you want to shave, apply the soap or cream, and then use the razor to shave in the direction of hair growth. Be sure to rinse off the blade after every stroke.
Where are the shampoo & conditioner bars made?
The manufacturing process of the shampoo bar takes place locally within the U.S. The raw materials used also come from within the country.