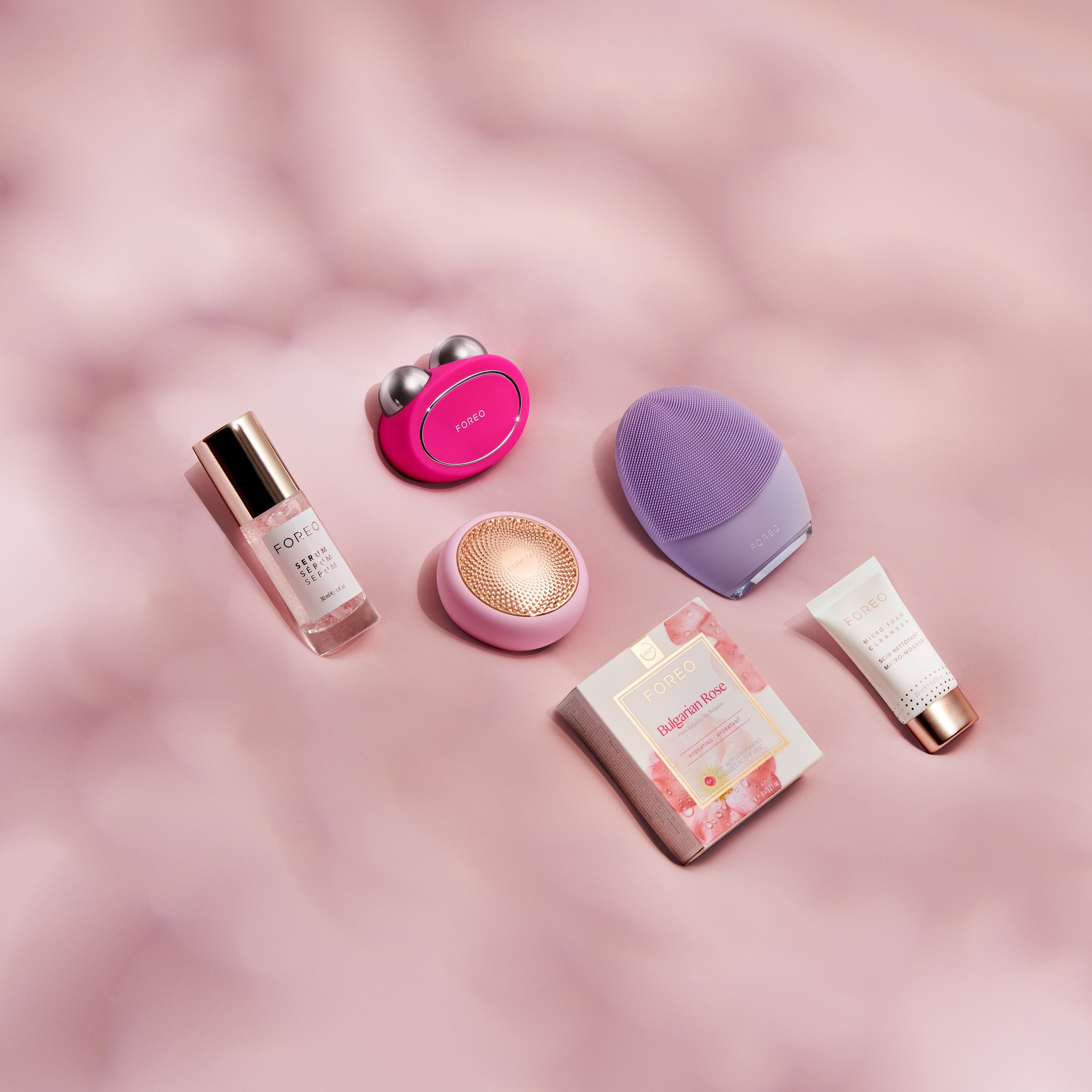 From luxury skincare devices to top-of-the-line massagers, Foreo has designed its products to transform simple everyday grooming practices into an experience equal to a 5-star salon. While many luxury brands focus on a particular product or category, Foreo covers all bathroom areas with an impressive lineup. This Foreo review will explore the brand's best-selling products, discounts, customer ratings, and more. You can then determine if their high-end bathroom appliances are worth the splurge. 
About Foreo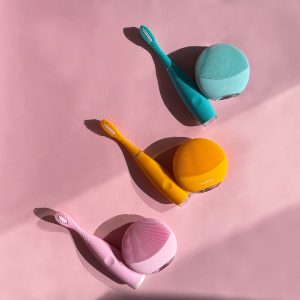 Foreo is a Swedish company founded in 2013 and shook up the industry with its ability to innovate the latest products and technologies in the cosmetic business. The company's breakthrough product, the Foreo Luna, was the first of its kind and continues to be a top seller. 
Since its inception, the brand has amassed an impressive social media presence, with more than 592K Instagram followers and over 592k followers on Facebook. It has also gained a concrete reputation for its innovations and revolutionary business approach.
Numerous reputable publications have featured this company, such as Mashable, NBC News, Forbes, and Hello Magazine. Additionally, they have become affiliated with various celebrities, including Rita Ora, Aaliyah Jay, and Paris Hilton.
Starting from just two employees in 2013, they have grown to over 3000 people working in various international cities. They have more than 36 million items and products in over 75 countries. With an impressive team of engineers, developers, and creative minds, Foreo is constantly working on new ways to improve its products and technologies.
Currently headed by Filip Sedic, the acting CEO, Foreo works diligently to make grooming and skincare a better, more indulging experience. So far, the brand has developed exceptional, award-winning products such as the ISSA 2 toothbrush and facial cleansing scrub. They have also won various internet trophies, including the Cosmopolitan Best Face Device title in 2018 and the Elle Beauty Awards in 2019.
For people on the lookout for dermatologist-recommended products, Foreo is a safe and trustworthy bet. All their products endure rigorous clinical testing to ensure they are safe for all skin types. 
Before we go any further into this Foreo review, let us go over the pros and cons of the brand. 
Pros
Foreo has an extensive selection of skincare and treatment products
Their products are appropriate for use on all skin types and treat a range of skin concerns
They have warranties available for select items
They have a mobile app that activates all the devices, and the brand has received numerous positive customer reviews
Their website promotions offer up to 50% off on select products
They offer free shipping for select merchandise
Cons
The company offers a short return period of only 14 days
They don't accept returns for items whose boxes have been opened
They do not offer customer support around the clock
Foreo Products Review
Since we know more about the brand, let us look at some of their most popular products. We will also discuss Foreo how to use some of the devices for optimal results.
Foreo Luna 2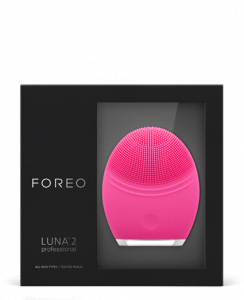 Say goodbye to sugar scrubs and pumice stones, for it is time to welcome the future of facial massager. The Foreo Luna 2 is an updated version of the brand's original Luna device. It is a facial cleansing brush that uses T-Sonic technology and silicone touch-points to cleanse the skin better than manual cleansing. The device comes with 12 different intensity settings to customize your cleansing routine according to your skin type.
This anti-aging massager and face exfoliator brush comes with an advanced brush head of 2nd generation and dual motors. With a multi-zone brush and twelve pulsation intensities, the Luna 2 is suitable for all skin types and provides specialized facial for various facial areas.
It also features an Anti-Aging Mode for massaging your skin in wrinkle-prone areas. This mode uses lower-frequency pulsations, which reduce visible aging signs by smoothing wrinkles and leaving your skin looking youthful and refreshed. The Luna 2 is 100% waterproof and can work even in the shower. It is fully rechargeable and comes with a two-year warranty.
Customers can choose between the three colors: Magenta, Aquamarine, and Pink. Luna 2 brings exceptional and professional spa-like skincare to your home with matching results. Treat your skin at least twice a day using a calming 2-minute routine and ensure a rejuvenated and radiant complexion in between treatments.
Get the Foreo Luna 2 professional delivered to your doorstep from Foreo.com for only € 199. Be sure to try out the Revitalizing, nourishing Foreo mask and the Foreo Eye Massager, as they will renew and replenish your skin and leave it smooth and dreamy-soft.
Foreo Luna Fofo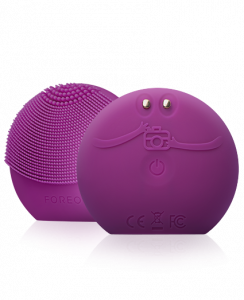 Meet the skincare version of Alexa: The Foreo Luna Fofo is a smart facial cleansing device that uses advanced T-sonic technology. It allows users to acquire an in-depth examination of their skin complexion before committing to creams, serums, or lotions.
Accessible using a mobile device, the gadget will generate a detailed report regarding how the user's skin reacts to various stressors. According to Foreo, stressors analyzed in the report include water intake, diet, and climate. The device will also provide a comprehensive explanation of the skin type and what kind of products would be beneficial.
Customers can use the small, fine-toothed bristles on the tip to slough away impurities when cleaning their faces. The device will emit gentle pulsations to open up stubborn pores. Its compact design also enables the delivery of a personalized spa-like cleansing and massage experience.
It has advanced sensors that can communicate with the FOREO app to gauge hydration and compile an analysis of the user's skin health. The Foreo Luna Fofo uses non-porous medical-grade silicone, making it gentle on the skin. The bristles are soft enough to provide a comfortable cleansing experience while remaining firm to deliver incredible results.
The device is 100% waterproof and can even work in the shower. It is fully rechargeable and comes in about seven colors. Interested customers can cancel their next appointment with the dermatologist since the device costs a mare € 69.
Foreo Bear Mini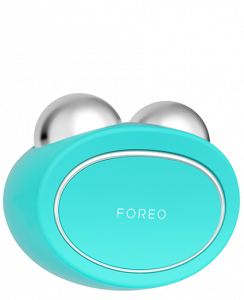 Meet the first medical microcurrent device ever with an anti-shock system and cleared by the FDA. Bear combines T-Sonic massage with microcurrent anti-aging technology to efficiently and safely tone and train over 65 muscles in your neck and face. It applies pro-level power to ensure lasting results.
Foreo offers similar treatment as a celebrity spa by helping improve sagging, facial contours, wrinkles, and fine lines. It does all this in just 2 minutes so that you can relish the professional spa experience from the convenience of your home.
With the Foreo Bear Mini, you can trick your way into a renewed-faced selfie without using a filter. The handheld gadget will help you achieve firm and tight skin for a contoured complexion and youthful look. The device is ideal for all skin types and works on the entire face, including delicate areas around the eyes.
Users must use a microcurrent device such as Bear with a gel-like or conductive serum for safe and efficient results. Use a serum-like Foreo's SERUM SÉRUM SERUM.
The Foreo Bear Mini comes in two colors: Mint and Fuchsia. The device is small enough to fit into any purse or handbag for on-the-go treatments. It costs € 299 on their website and includes a 2-year warranty.
Foreo Ultimate Acne Treatment Kit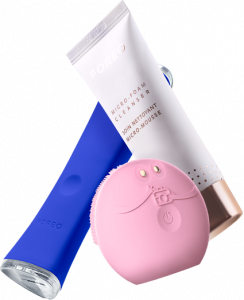 Do not allow acne to wreck your vibe. The Foreo Ultimate Acne Treatment Kit will help you get rid of acne and restore confidence in your appearance. Stop acne using this iconic duo before it makes a red, inflamed appearance on your face.
Foreo designed this kit for those who suffer from acne, blemishes, and breakouts. The three-step system will help soothe, treat, and protect the skin. The kit contains ESPADA, Luna FoFo, and a 100ml of Microfoam cleanse (an acne-clearing gel) that works together to fight acne-causing bacteria.
This Foreo Espada review found that the product uses Blue LED light therapy that is clinically proven to target and kill acne-causing bacteria. The device comes equipped with T-Sonic Pulsations that help to cleanse the skin and reduce inflammation.
Luna FoFo is a fuchsia-colored device that uses sonic pulsations and soft silicone bristles to cleanse the skin. It fights the acne by keeping the pores unclogged and the complexion glowy and fresh. The device also has sensors that can track the user's skin health.
The 100ml Micro-foam Foreo Face Cleanser is a lightweight formula that contains Salicylic Acid and Niacinamide. The gel helps to soothe the skin and reduce blemishes.
The Foreo Ultimate Acne Treatment Kit is available on their website for a reduced price of € 199.
Foreo Toothbrush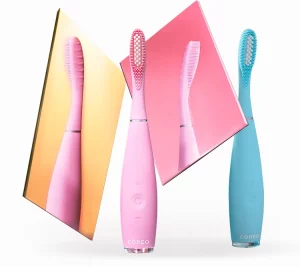 Designed to clean the teeth and gums, the Foreo Toothbrush is a unique device that uses sonic vibrations. It is a revolutionary toothbrush designed to bring style to the bathroom and brighten your smile.
Foreo ISSA-play toothbrush combines function and style in an elegant sonic-powered solution ideally suited to its user's lifestyle. It has a hybrid and ground-breaking design that remains gentle on gums and tough on the plaque. It remains the ideal electric toothbrush to introduce you to the world of sonic oral care. Additionally, it boasts about 800 uses. Therefore, you can explore the capacity of Sonic Pulse Technology on the go or at home in a non-rechargeable layout.
The sonic toothbrush has an attractive Swedish design and vibrant colors that make it a lovely addition to your overall oral care routine. Engineered to utilize the soft silicone bristles when treating the gum, the toothbrush also combines PBT- made polymer bristles with hygienic properties that work superior to typical nylon bristles. The dynamic cross-design targets plaque buildup in those hard-to-reach areas, and the result is a clean and healthy smile.
The unique selling point of this toothbrush is its minimalist yet stylish design that makes it stand out from the rest. It comes in five colors: pearl pink, summer sky, cobalt blue, wild strawberry, and cool black.
It also has a sleek ergonomic handle that makes it easy to hold and use. The Foreo Toothbrush is on sale for a reduced price of €29.
Foreo Review from Customers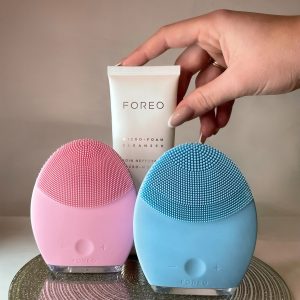 The Foreo brand has gotten a lot of positive feedback from customers. Many love that the devices are made of high-quality materials and are very durable. Some have even said that the Foreo products have helped to improve their oral health.
Other customers love the unique design of the Foreo devices. They appreciate how the products are simple to use and easy to clean. Many also like that the brand offers a wide range of products.
A product like the Foreo Luna 2 has received more than 40 ratings with 4.5 stars overall score out of 5. In terms of quality, it has received a 4.7 and a 4.5 for value.
The Foreo brand has also received a lot of positive feedback for its customer service. Customers stated that the staff is very helpful and accommodating. They also said that the company is very responsive to questions and concerns. One customer asked the team: "Which Foreo luna should I get?" and reported that she got a response within minutes, and they guided her diligently.
There were also a few negative reviews, with most customers complaining that Foreo has a short return window period.
Sign Up for Foreo
Open an account with Foreo to claim your warranty and register your products. Creating an account is quick and easy. You only have to provide your basic details, and you are good to go. Don't forget to sign up for exclusive deals, product updates, emails, and beauty care tips.
Where to Buy
You can purchase Foreo products online through the official website Foreo.com or authorized retailers. Their official website offers a wide range of products, such as Foreo Luna FoFo, at different price points. You can also find special deals and offers on the site.
If you want to see the products before buying, you can visit an authorized retailer, but check their authorization. These retailers include:
Sephora
Walmart
Amazon
Holt Renfrew
Hudson's Bay
Skinstore
Shoppers Drug Mart
Ulta Beauty
Macy's
Nordstrom
Foreo Shipping and Return Policy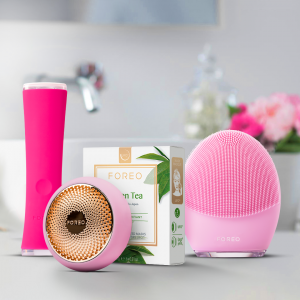 Shipping
Foreo ships internationally, and shipping costs vary depending on the delivery location or customer's location. The brand urges all clients to note the shipping fee applicable when placing their orders. Once a customer has placed an order, it will take one business day for processing and between 3 to 5 days, depending on the delivery location.
Return Policy
Foreo's return policy offers 14 days, starting after the delivery date, for unsatisfied shoppers to send back the products. However, this policy applies only to unopened items. They also provide various warranties for select items.
Promotions & Discounts
You can find a variety of offers on the Foreo website. This Foreo review discovered that the brand is hosting a promotion on their website, where select items are available at a discounted price. For instance, the ISSA play toothbrush costs €29, down from its original price of €49.
Contact Foreo
For inquiries and for questions we have not covered in our Foreo review, you may reach out to their customer support team through the following contact methods:
Phone: (Monday to Friday from 8 AM–4 PM)+1 (844) 503-6062
Email Address: [email protected]
Filling out the online message form
Using the chat function on their website
Foreo Review: Editors' Verdict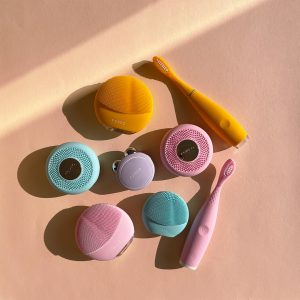 As noted in this Foreo review, the brand has received numerous positive feedback from customers. Users commend the company for providing high-quality products and excellent customer service. The brand also has a wide range of products available at different price points.
Overall, we believe that Foreo is a good choice for anyone looking for skincare or beauty products. We, therefore, recommend their products to everyone.
On the hunt for other beauty brands? Consider reading our reviews of Ulta Beauty Review, Ren Skincare Review, Anese Review, and Fur you Review.
Foreo FAQ
Do I need to charge my FOREO device 24 hours before my first use?
For those interested in purchasing the device but are wondering Foreo how to use it, the procedure is straightforward. The first step dictates that you charge the device before your first use since it may not have fully charged on arrival.
How do I clean my FOREO device?
To clean the devices, wash all the brush surfaces using water and soap and then rinse them with clean water. Afterward, pat them dry using a lint-free towel or cloth. The brand also recommends spraying the Foreo device using their silicone cleaning spray to wash and rinse them using warm water afterward.
What are the differences between the LUNA™ 2 professional and the LUNA™ 2?
The LUNA 2 professional is an upgraded version of the LUNA 2. The main difference is that the LUNA 2 professional has the Advanced Anti-Aging Mode on both sides, while LUNA 2 only has it on one side.
Can I use ISSA™ if I am undergoing treatment for any oral conditions?
If you have any oral condition or undergoing treatment, consult with your dentist before using ISSA. If you both decide it is safe, then you can go ahead and use it.
Is Foreo vegan and cruelty-free?
Yes. Foreo is vegan and cruelty-free as they do not test their items on animals. Their products are also devoid of any chemical nasties like sulfates and silicone.