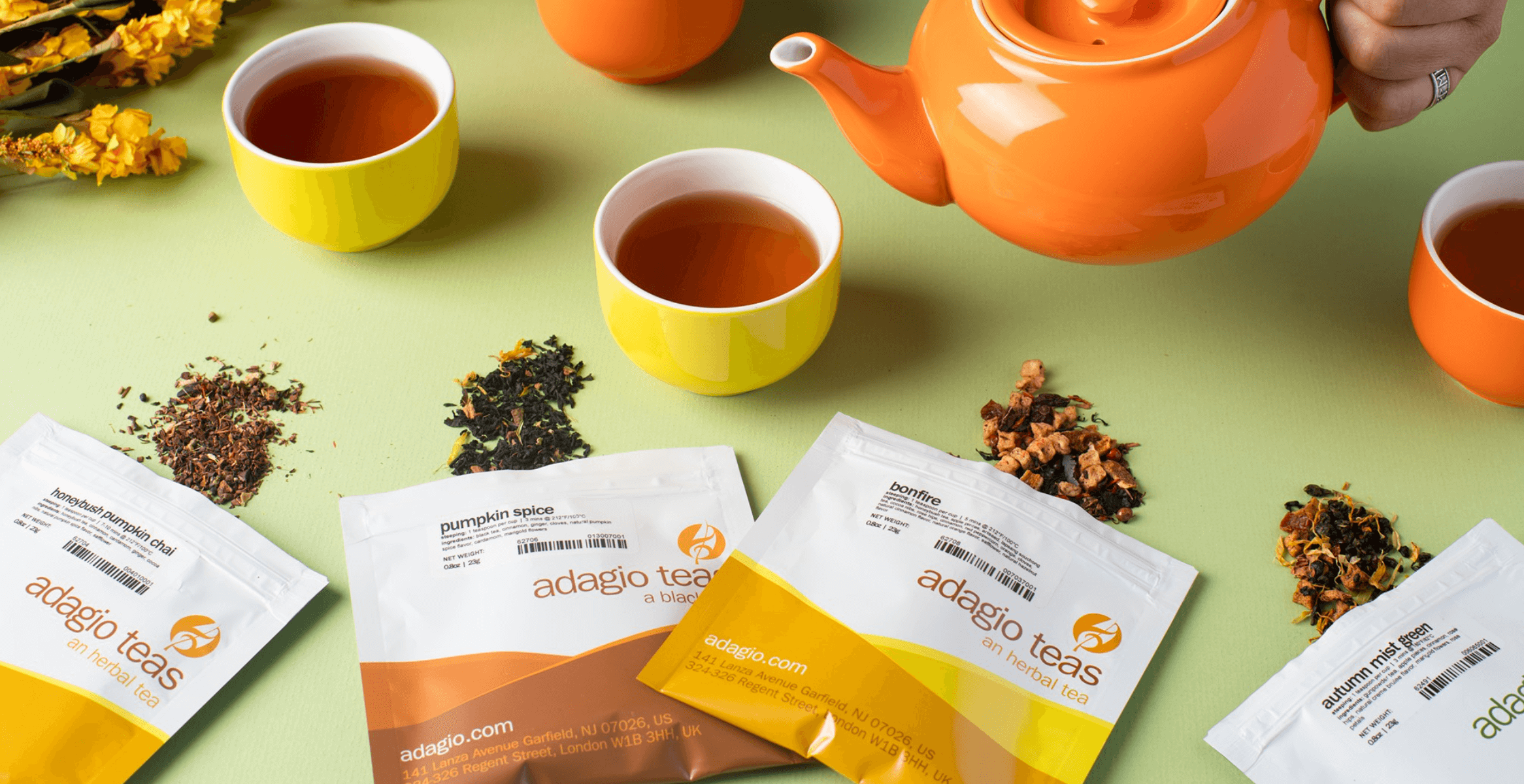 Teas are an excellent source of antioxidants, help reduce the risk of getting heart strokes or attacks, keep your smile bright, and help protect your bones. However, finding quality teas on the market is challenging. Adagio Teas offers an immense range of tea varieties, including rooibos, herbal teas, flavored teas, green teas, blends, and more. Additionally, the company sells accessories for making tea. Our Adagio Teas review will take a deep dive into the ins and outs of this brand to help determine if it's what you have been seeking.
About Adagio Teas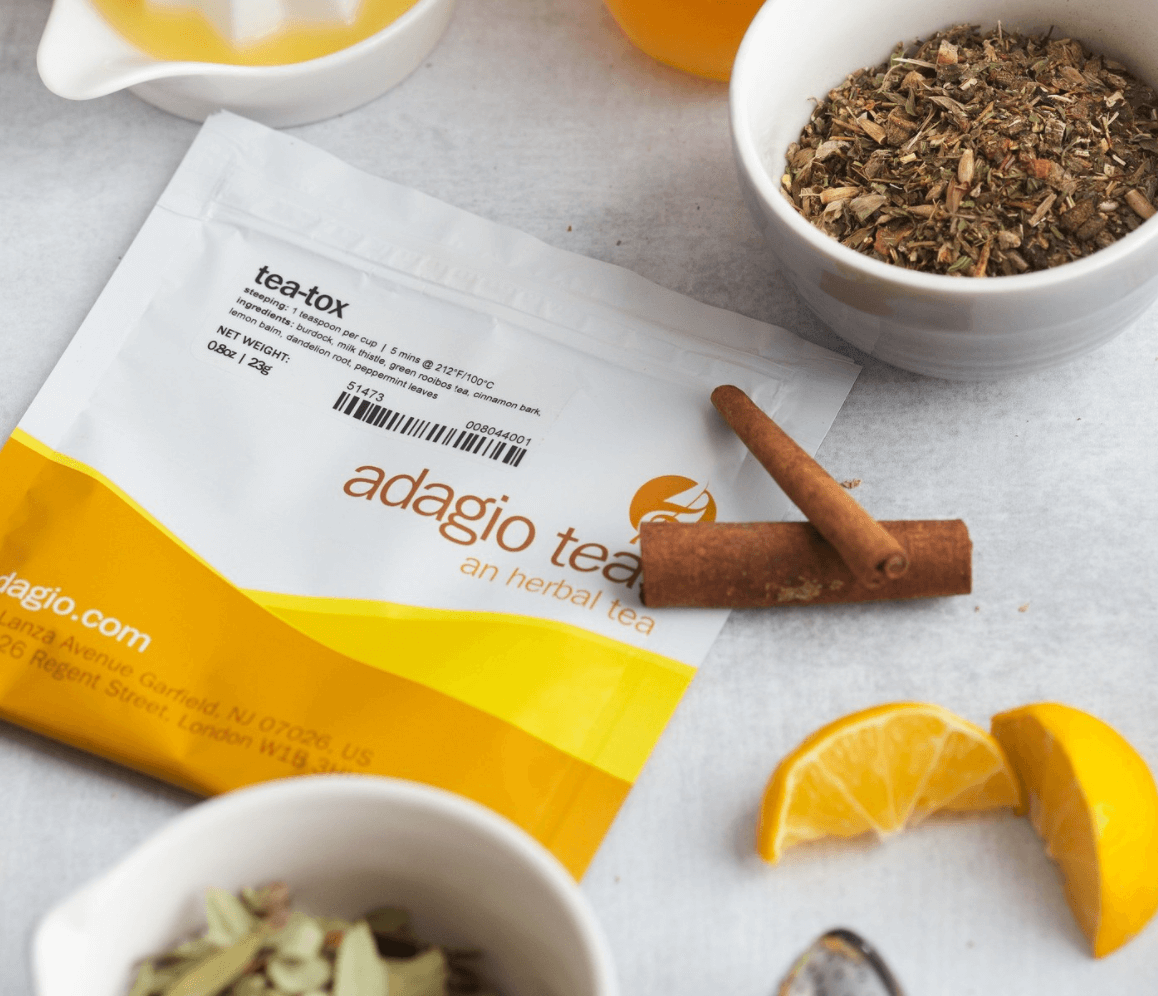 Michael Gramer launched Adigos Teas in 1999 after he decided to turn his mother's knowledge and passion for gourmet tea into a money-making business venture.
He partnered with his mother and brother, Ilya, to launch an online-first tea retailer that quickly became popular since they procured tea directly from suppliers from different parts of the world.
Ilya is brilliant with computers and technology and was tired of working on Wall Street. Gramer was ready for a challenge since he had just returned from Eastern Europe.
The duo started with a domestic supplier, and when their carefully selected teas arrived, some showed that they were a couple of years old. They later started getting their teas from other countries.
Adagio now sources its tea from farmers from Argentina, Taiwan, Sri Lanka, Japan, China, India, Egypt, and South Africa. The company is headquartered in Elmwood Park, NJ, and its manufacturing takes place in a UK-based sister facility and New Jersey.
Today, the brand offers a range of gourmet teas, custom blends, teaware, and tea-related gifts. They uniquely stand out from the competition with the option of offering their customers the choice of coming up with their tea blends.
After logging into your Adagio Teas account, you can either choose one of the formulas provided by the company or freestyle your unique blend selecting the percentages of each tea to include.
Adagio Teas Review
The company pays consistent attention to the quality and consistency of their teas; this is quite visible from the Adagio offers, tea origins, prices, and overall tea approach. The company works directly and closely with tea makers and farmers responsible for cultivating tea.
The brand ensures all their workers find a secure, conducive, and pollution-free environment to enhance their products, whether in China, Asia, or any other part of the world where they manufacture their tea.
Time Magazine, The Boston Globe, the Los Angeles Times, The Wall Street Journal, and The New York Times have all featured Adagio Teas. On further research, we took a look at the massive social media presence following that the brand has amassed since its inception.
Currently, Adagio has 28.7k, Twitter, 28.6k Instagram followers, and more than 78K followers on Facebook.
The popularity of this brand undoubtedly stems from the self-customizing blends that have caught the attention of movie and anime lovers, video games players, and much more.
Pros
The company offers a variety of tea blends in various categories
Customers who purchase products worth $49 and above enjoy free shipping
A loyalty program that allows you to earn points and use them to save money
They have a range of attractive and straightforward tea wares, including brewers, cream and sugar pots, and tea mugs
Offers organic teas at affordable prices
Ships internationally
Cons
Customer service is not available 24/7
Some international customers complain of late deliveries
Does not offer phone support
You cannot return blends
Best Adagio Teas Review
Our reviewers looked at some of the best Adagio Teas. They have a variety of teas to suit everyone's preferences.
Adagio Fandom Teas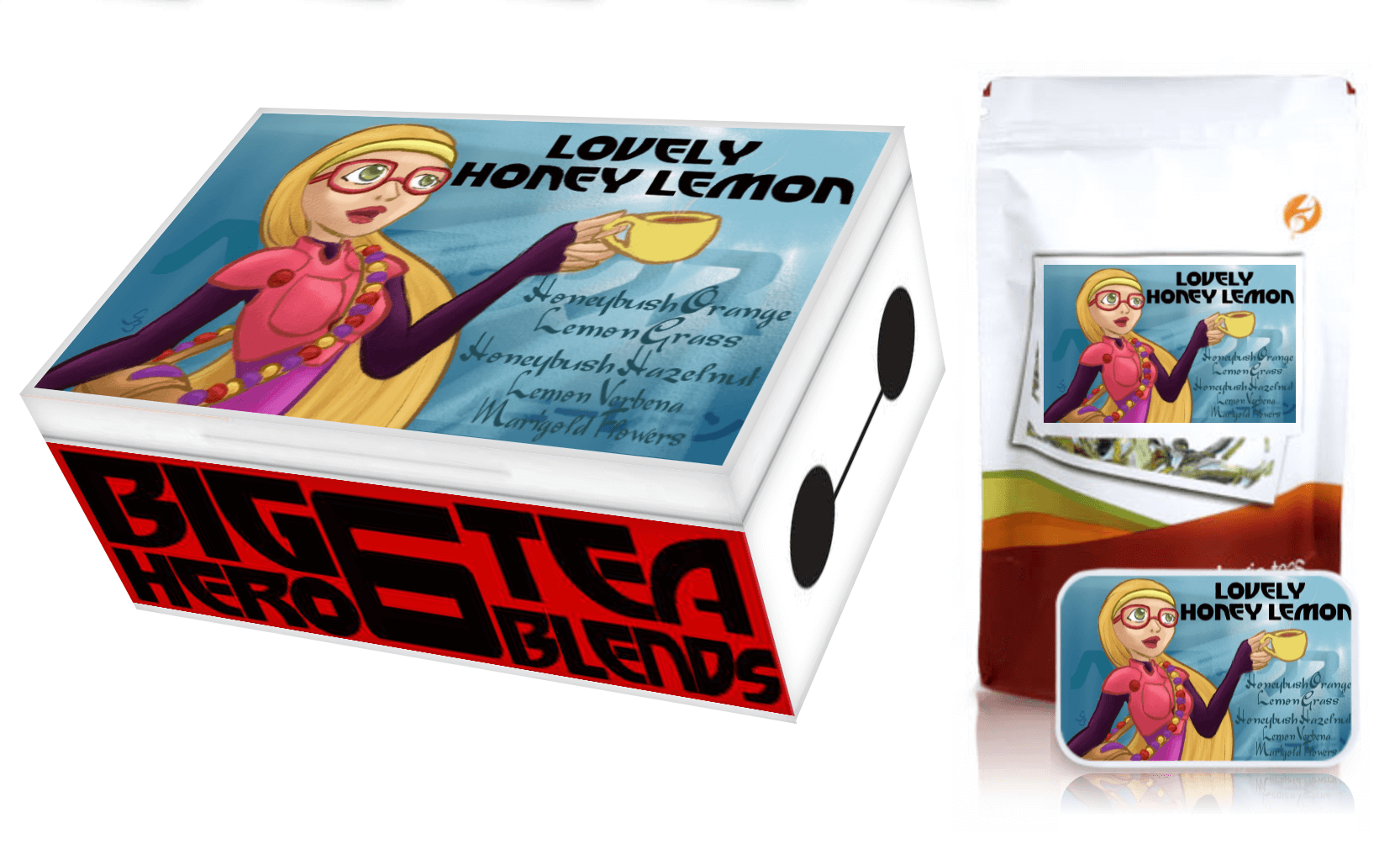 Purchase or take part in creating the Adagio Fandom Teas by either stemming inspirations from movie and TV characters, Greek mythology, animations, and much more.
Magic portions teas involve the names of potions or drinks found in the popular series Harry Potter. You can get fan-made blended teas with names from notable characters from the game of Hades. Whether it is black, green, or herbal tea, you will not be disappointed.
The brand also offers various Jurassic tea brews with the names of ancient dinosaurs from the movie Jurassic World. Tea blends forming the batman animated series derive their names from the same.
Earle Grey Moonlight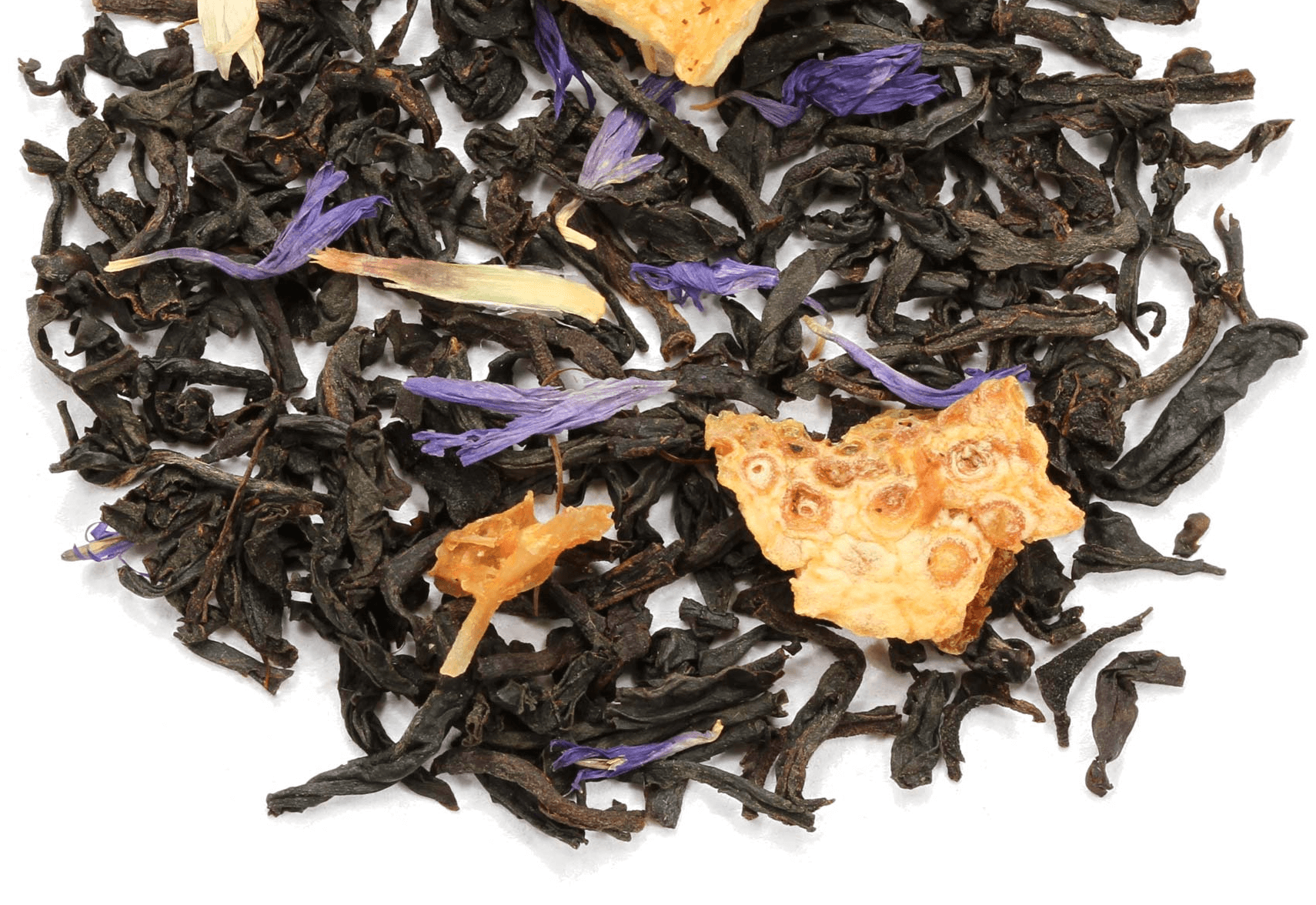 Designed to give your taste buds extreme pleasure, the Adagio Teas Earl Grey Moonlight comes in flavors of cream and vanilla.
The Earl Grey Moonlight is the first of the two tea blends forming part of the Adagio Tea black teas — the other is the Irish Breakfast. You cannot ignore the smooth and pleasant mouthfeel that the ingredients combine to form.
The brand offers a sample size that can make ten cups at $3. For $9, you'll get a 3-oz pouch that can make 24 cups. The 16-oz pouch goes for 29$, while the teabags need 9$ and come with 15 whole leaf pyramids.
Chocolate Truffle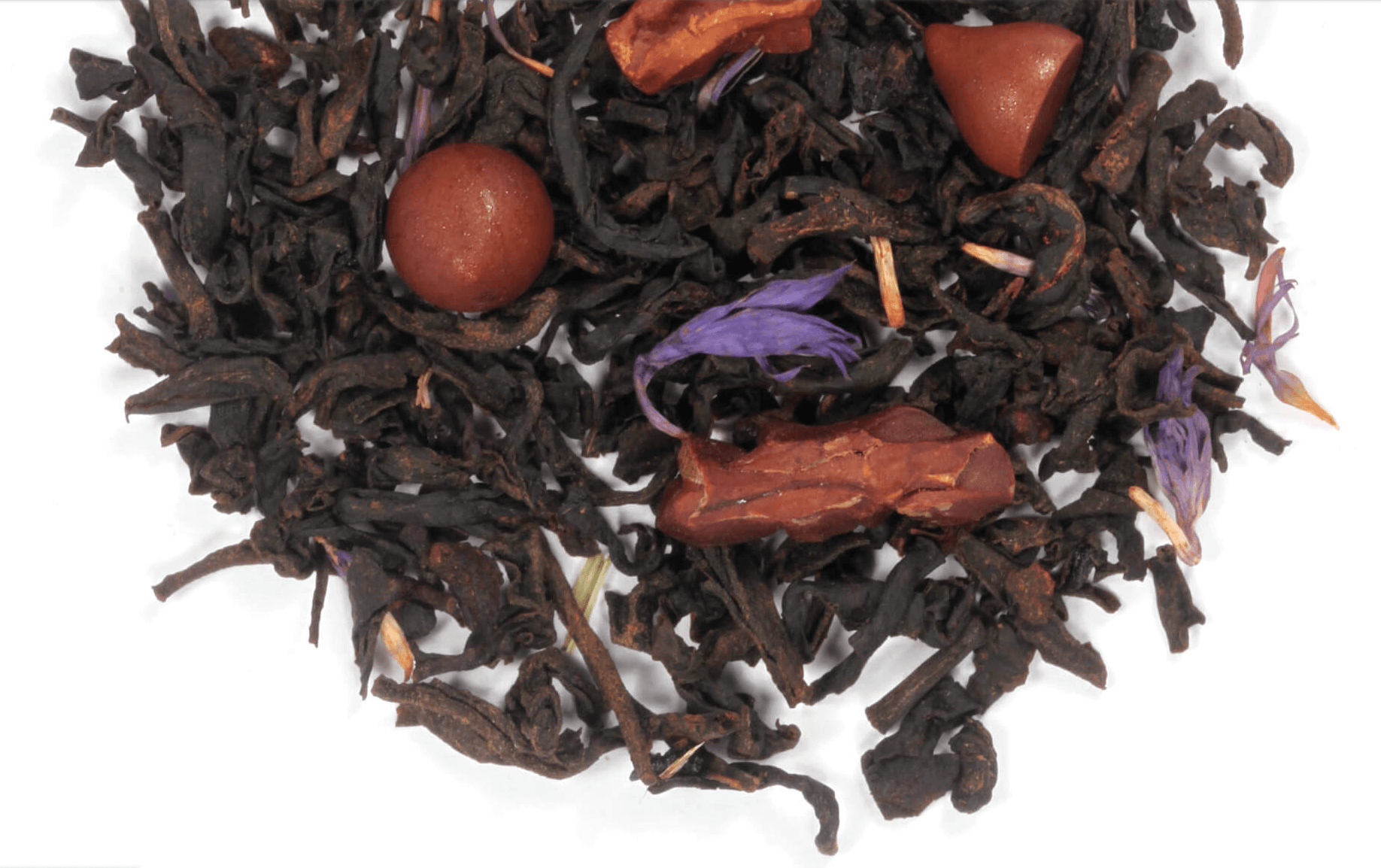 If you are a chocolate-lover, the Adagio Teas Chocolate Truffle is ideal for you. This flavored tea at Adagio has a velvety smooth chocolate taste, and it's blended with cocoa powder dash, chocolate chips, chicory, and cocoa nibs.
Our Adagio Teas review found that it's a black tea with high caffeine consumption, steeped at 2120 for 3 minutes to achieve its luscious chocolate taste.
With a score of 95, this tea comes in four options: sample size at $3, which makes 10 cups; the 9$, 3-oz pouch; the 16-oz that goes for 29$; and teabags will cost you 9$ and feature 15 full leaf pyramids.
Masala Chai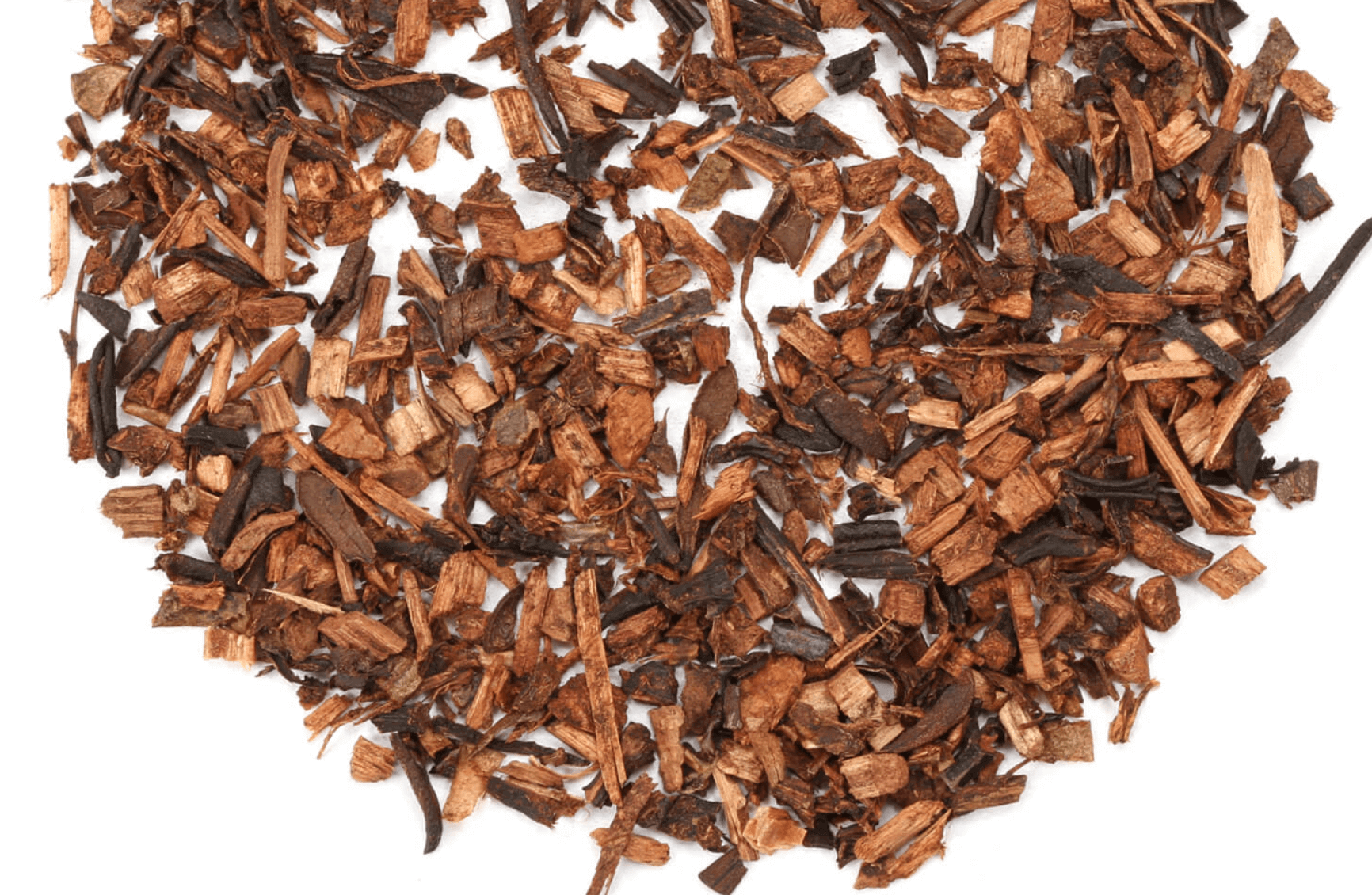 Get the full health benefits of cardamom, ginger, cinnamon, and cloves combination in the Adagio Teas Masala Chai spiced tea. For this zesty flavor, aromatic chai, and invigorating blends, the brand recommends two heaping teaspoons for every 8oz cup.
With the option of adding either sugar or milk, you can purchase this mix in either of the available four options:
Sample size at $4, which makes 10 cups
3oz will cost you 10$
16oz goes for 34$
Portions with 12 single-serve go for 9$
Teabags need 10$ and feature 15 full leaf pyramids
Adagio Teas Ingenuitea Teapot Review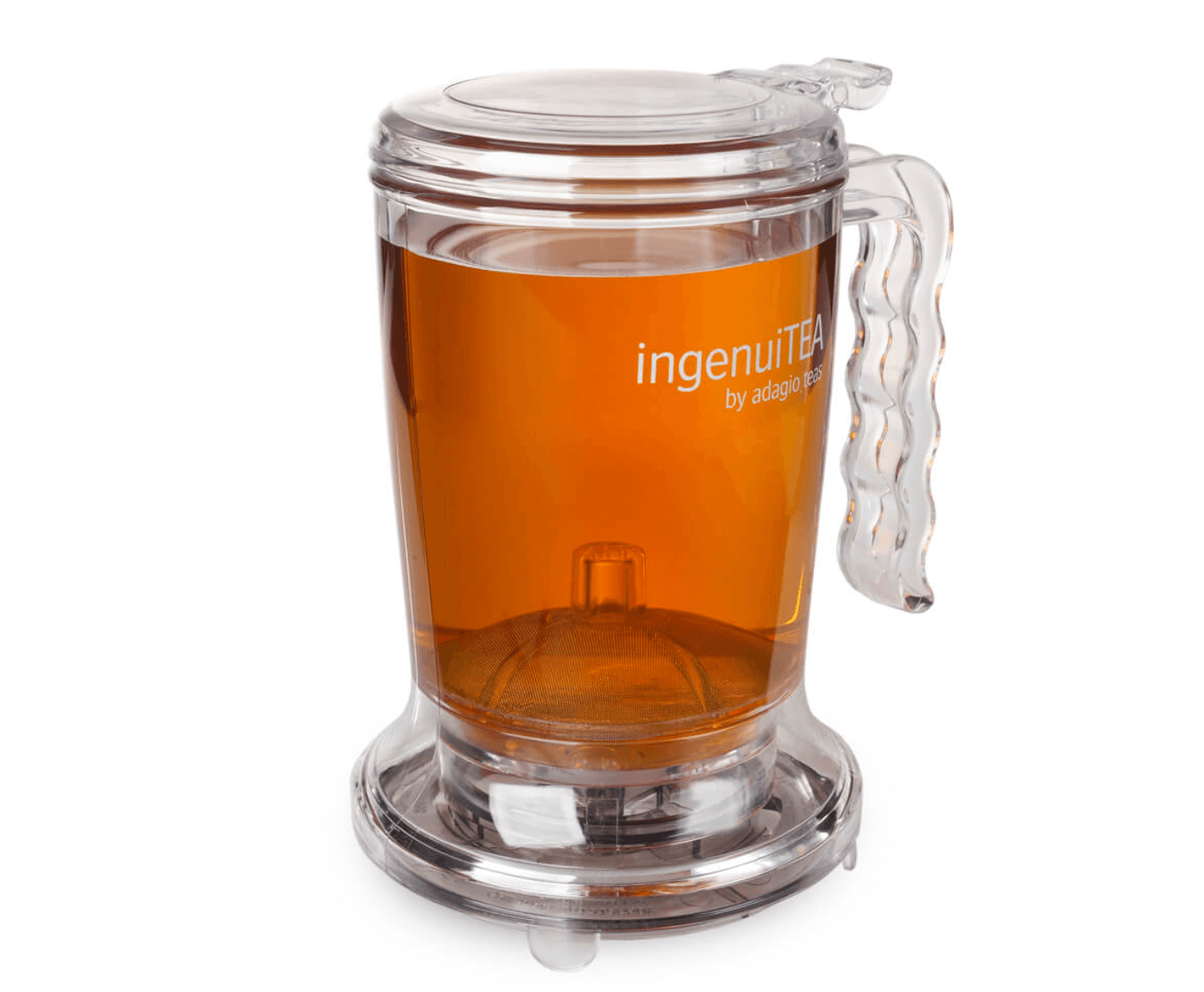 The 6-inch Adagio Teas Ingenuitea is a convenient 19-dollar teapot with a stainless-steel filter basket, mesh filter, infusers, and a silicon gasket. When pouring the tea, the valve at the bottom releases the tea, while the mesh filter retains the tea leaves using the infusers.
This Adagio Teas Ingenuitea Teapot Review found that this 16-oz teapot is made in Taiwan and is 100% BPA-free. It has a diameter of 3.5 inches, and it's designed to be completely safe in hot-temperature applications.
Adagio Teas Reviews from Customers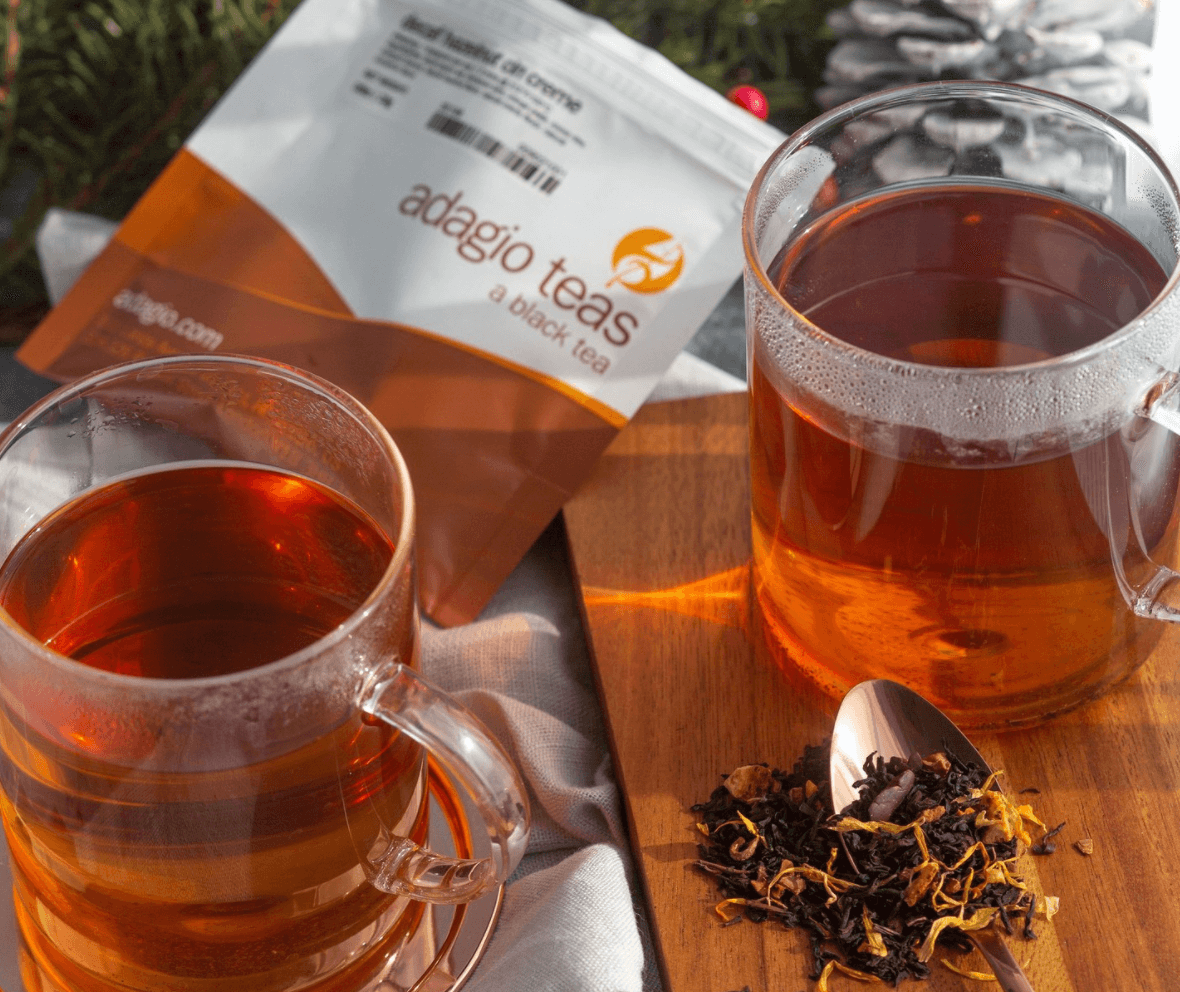 Customers left feedback on each item that Adagio offers. Most buyers were satisfied with their products and gave a 5-star rating. They applauded the company for providing affordable tea blends and wares without compromising quality and authenticity.
We checked what customers had to say on Amazon and found that most of them praised the brand for selling high-quality tea, either loose-leaf or packed in amazing silken pyramid tea bags.
Adagio achieves such effects on its customers due to the quality and experience policy that they never slouch on.
Trustpilot gave the company an average rating of 4.4 out of 329 reviews, with a high percentage of customers praising the brand's extensive and community-building range of products. Other customers commended their fair prices and friendly, responsive support team.
While most Adagio Teas reviews from customers were positive, a couple of shoppers complained about the company not accepting returns on blends.
Sign Up for Adagio Teas
You don't have to set up an Adagio Teas account to start shopping on their site. The website will automatically create one when you want to make a purchase.
Where to Buy Adagio Teas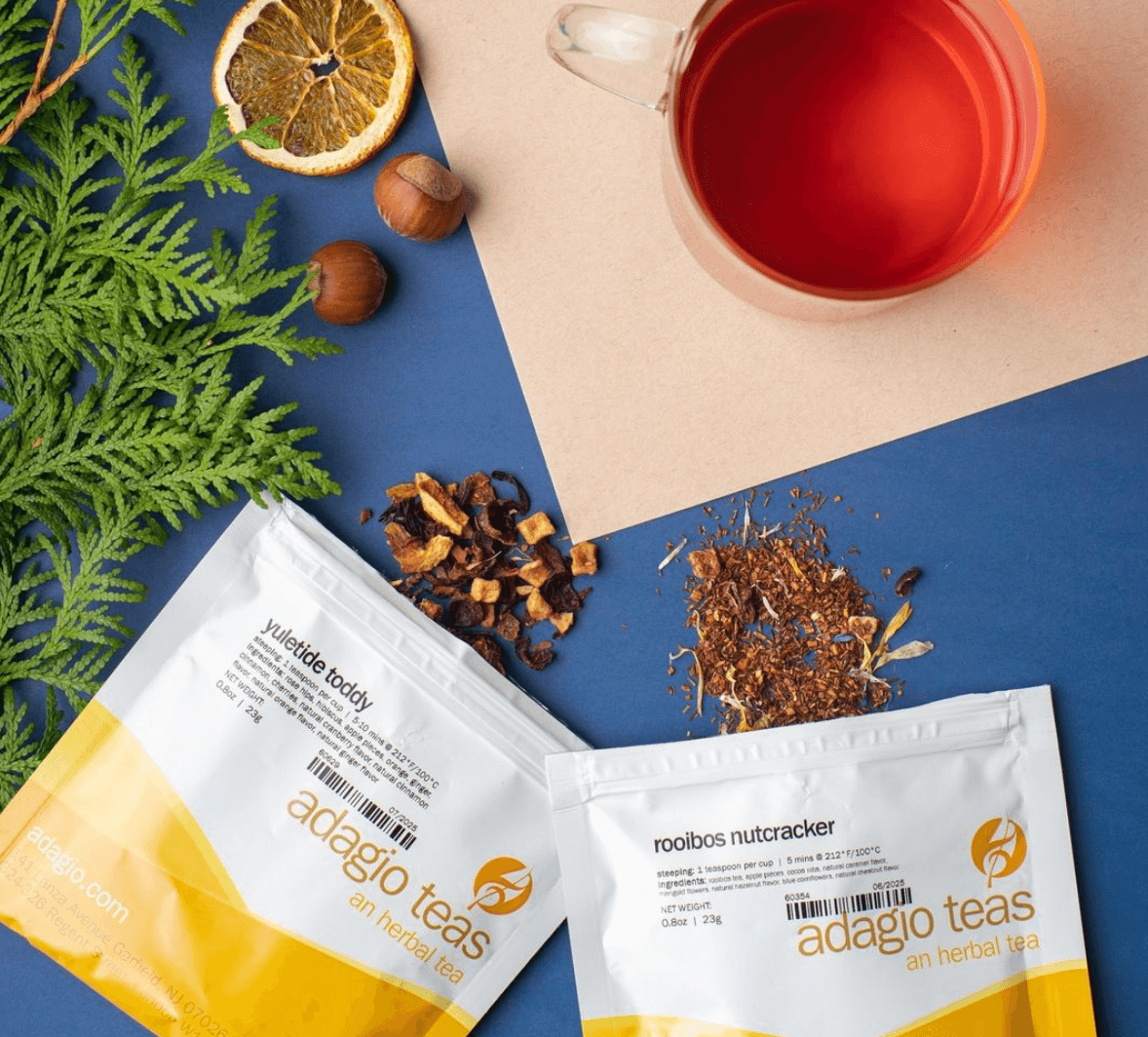 You can purchase Adagio Teas directly from their official site Adagio.com or any of its two Illinois retail locations: Adagio Teas Old Orchard Mall in Skokie and 27 W Jefferson Avenue, Naperville.
You can also find some of their products on major retailers, including Bath, Amazon, and Walmart.
Adagio Teas Shipping and Return policy
Shipping
This Adagio Teas review discovered that shipping rates at this company are reasonable, with US mail (via FedEx Economy) going for a flat rate of $3.75. They also offer free deliveries on orders worth at least $49.
FedEx ground is generally $5.75, while FedEx Day rates are calculated depending on distance and delivery weight.
When you place orders by 3 p.m. EST, the brand makes a point to ship the delivery on the same business day and ensure prompt and timely delivery on all their shipments.
Once you place an order, Adagio Teas puts a tracking number on your order to gauge its progress. Expect FedEx Economy shipments to arrive within 6-12 business days, with the delivery time of Ground shipments being between 1 and 7 business days.
Keep in mind that FedEx delivers between Mondays and Saturdays.
For Alaska and Hawaii shipments, the shipping fees have proved to be much higher than the standard domestic shipments. Adagio chooses to ship orders from these places using priority Mail, which will cost you $9.75 since FedEx is not a viable option.
The brand promises a 5 to 7 business days lapse before getting your order, but there might be delays during the holidays.
More About Shipping
For international orders, allow FedEx Cross Border to deliver your item between 7 and 20 business days, with delays experienced during holidays. Selecting items on their official sites shows you the exact shipping fees and estimates.
You can find your county's shipping costs from their site, too. Expect to pay additional duties and taxes upon item delivery. The company does not ship to New Zealand, Bermuda, and Mauritius due to COVID-19 restrictions.
When you make a mistake with your address, contact the company immediately. Adagio will then contact FedEx or the USPS to redirect your order. As a result of the interception of your order during transit, you will need to pay the 14-dollar fee charged by FedEx.
For this reason, double-check your information to prevent such an event from occurring when placing an order.
Orders worth $49 and above sent to a valid physical location can get free shipping from the company. FedEx does not accept P.O. Boxes, but the company will gladly ship to a PO Box if you are willing to pay a 7.75-dollar USPS fee.
Return Policy
Adagio Teas accepts returns, but you have to claim within 30 days from the time of purchase. If you are unsatisfied with your purchase, you might want to reach out to their support team via email.
However, you'll have to pay a 35-percent disposable fee if you have used or opened the tea or teaware. When the fault is traced back to the company, they will cater for the return shipping fee, but you'll incur the return costs if the damage is your fault.
The company doesn't accept returns on Fandom/Signature Blend Teas, custom blends, and sample pouches.
To return a gift, head to the Gift Return page on the brand's official website. You'll have to provide the order number and your county's zip code to receive replacements or store credit.
Returning purchases from third-party stores such as Bed Bath and Amazon proves to be tricky, as you have to return the goods where you purchased them from.
Adagio Teas Promotions and Discounts
Adagio Teas gives its customers 5% off their first purchase after signing up on its mailing list. The "Frequent Cups" loyalty program is another booster that allows its customers to earn points they can redeem and get credits that they can use to get products at discounted prices.
For every dollar spent on Adagio.com, each customer receives 1 point, with other ways of racking up points.
When you refer your friend to this company with a 5-dollar coupon, you will earn six points. You will receive ten points if your friend uses the coupon.
When the referred people use the coupon, you will automatically get 10 points. When you share the brand's blend of tea you enjoy on social media, you'll receive two points.
Once your points total 100, you are free to exchange them for particular products or save on cash on future purchases. Be sure to check for the latest Adagio Teas coupons, discount deals, and seasonal promotions.
They provide you with an opportunity to save money when you purchase teas on their site; signing up for their emails sets you up to receive automatic updates on their ongoing sales.
Contact Adagio
While there is no Adagio Teas phone number or email, you can contact their support team via the live chat function on their website. You can also use their Faq search page to ask short and direct questions.
Adagio Teas Review: Editor's Verdict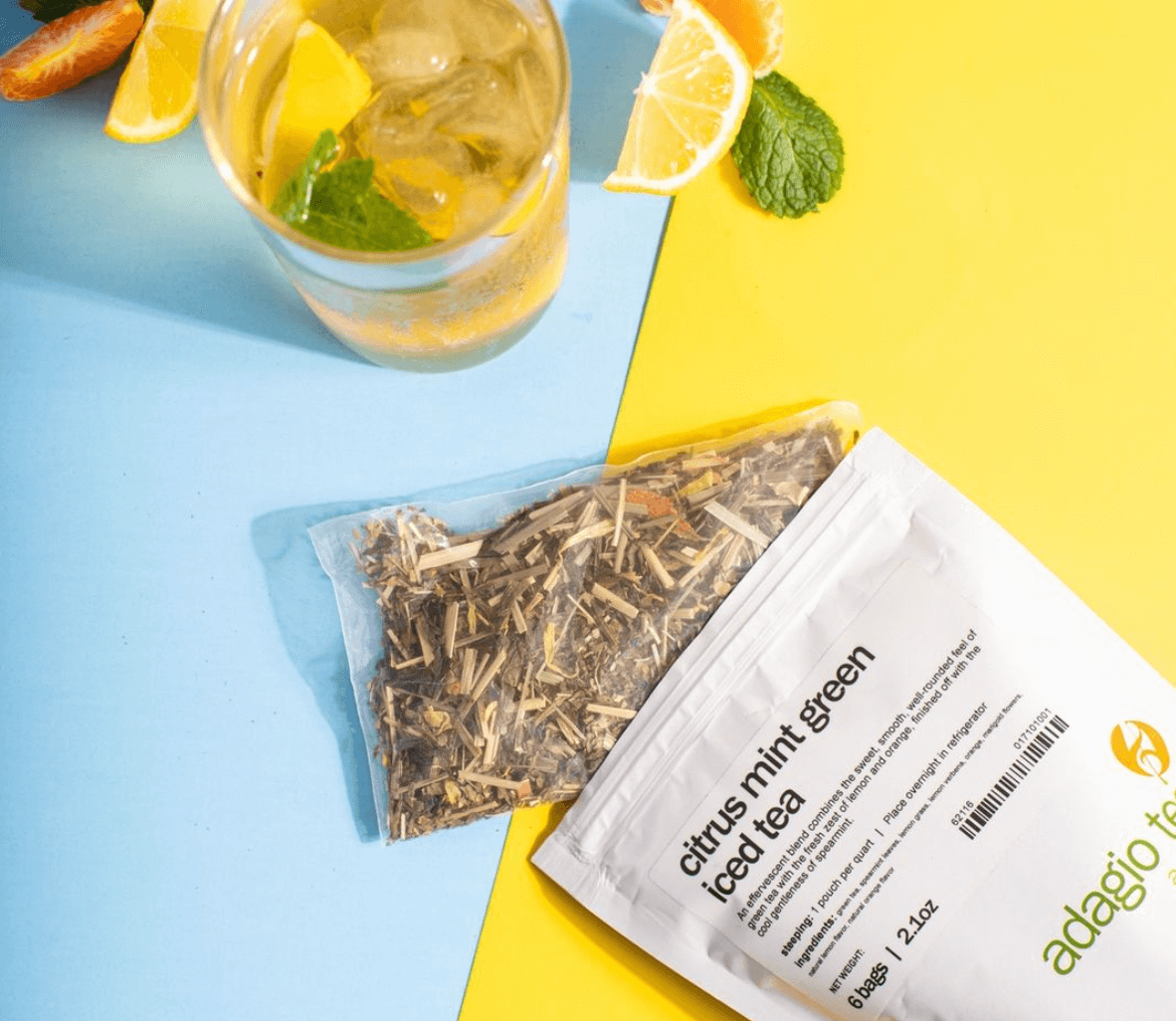 This Adagio Teas review recommends the company and insists on its legitimacy in offering extensive tea quality at affordable and reasonable prices, not to mention engaging its customers in its tea-customizing journey.
Right from the customer service team to how they treat their employees and to ensure tea farmers worldwide can support themselves, the company brings more than just a blend of tea but also a sense of belonging and purpose.
While conducting our investigations, we were enthralled by what followers across all social media sites had to say about the company.
Some have gone ahead to state that they are willing to offer the necessary support to the brand's policy of directly supporting a fair wage and safe working environment.
The company also accepts Google Pay, ApplePay, PayPal, and all major debit and credit cards; as long as your card comes with an American Express, Discover, Mastercard, or Visa card symbol, you are good to go.
Based on customer reviews, some buyers complained of delayed shipping during holidays. The support team at Adagio Teas ensured the complaints did not go unnoticed, unlike other companies, and quickly clarified the matter.
Overall, this company offers value for money, and its products are worth checking out.
If you are looking for some healthy food and drink brands, consider reading our popular reviews of  Herbaly, Pique Tea, Bluebird Botanicals, and Art of Tea.
Adagio Teas FAQS
Does Ingenuitea Teapot come apart for you to clean?
Yes. Adagio Ingenuitea Teapot comes off swiftly to allow you to clean it with ease.
Are Adagio teas organic?
Some of the teas that Adagio offers are organic.
Is Adagio tea any good?
Yes, Adagio always ensures you get high-quality and outstanding tea, whether customizing for yourself or having one of the brand's formulas.
Furthermore, they make sure to source their teas globally and directly from the tea farmers and producers, making their teas original and available in different flavors and choices.

Is Adagio tea legit?
Yes, Adagio Tea is legitimate. On checking Trustpilot, the brand has a 4.5/ 5-star rating based on positive reviews on the quality of the teas, customer service, return, and shipment policies.
The majority of the comments center on the company's extensive range and community-building of offerings.
Where does Adagio source their tea?
Adagio sources its tea directly from tea producers worldwide.