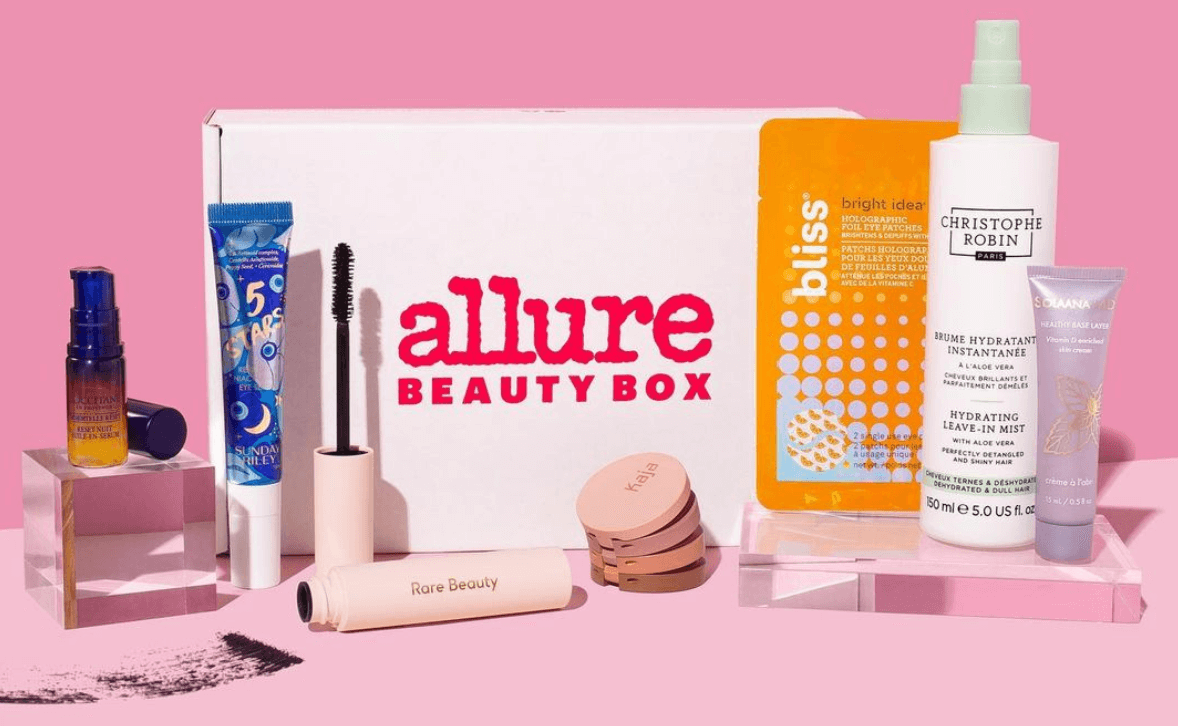 The American women's magazine- Allure, started its Beauty Box journey in 2012, through an e-commerce partnership. The Allure Beauty Box is a rather dandy way of purchasing cosmetics- through a subscription service! You can easily choose between multiple-month plans, and receive exclusive access to not only Allure Beauty products but events as well. Find out more about this service and the benefits it brings you through this critically sourced Allure Beauty Box review!
About Allure Beauty Box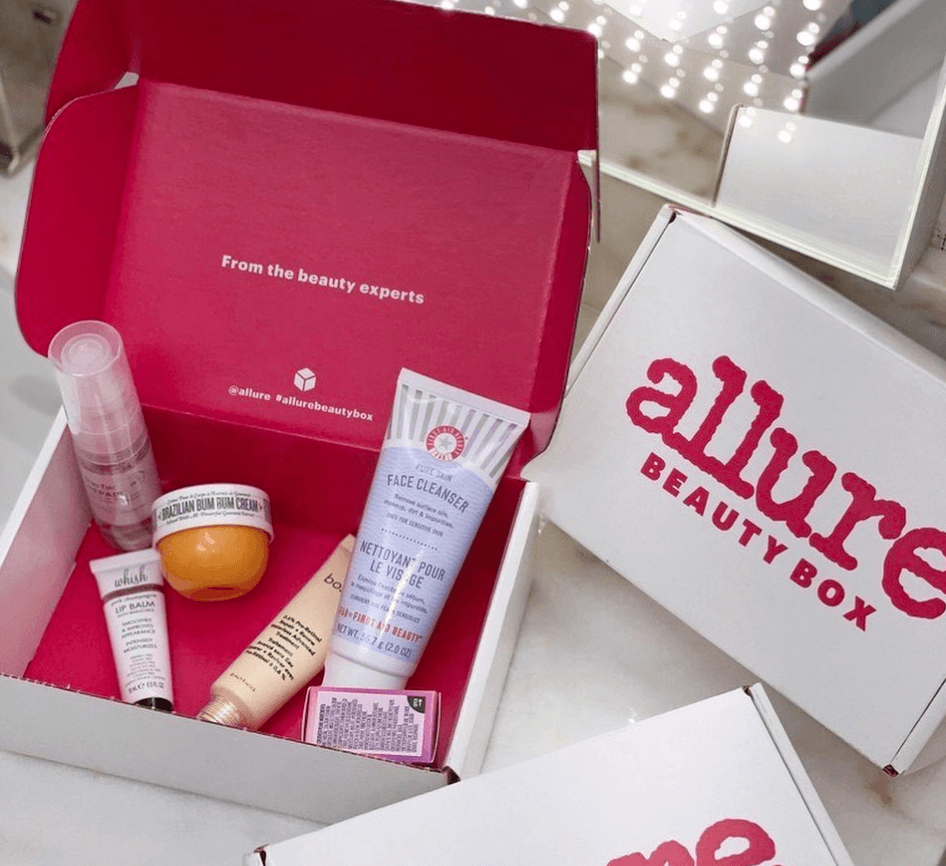 After you subscribe to the Allure Beauty Box through the monthly, 3 month based, or yearly program, you are set to receive a new and exciting box containing products from Allure Beauty every month!
Each month the box will contain more than six tested products specially curated by the Editor, that value up to at least $100. Among these items, you will also find at least 3 full-size products.
If you are almost sold on the program, wait till you find out about the gift you'll receive on your first box! Additionally, if you live in one of the 48 contiguous United States your shipping will be free.
The profits that seal the deal for this subscription service is the exclusive access to not only discounts on Allure products but events as well. You could easily get into parties and balls that no connection would have been able to provide through a simple subscription! Let's get into our Allure Beauty Box review to find out more about what people have to say!
Pros
Premium products specially curated and chosen by the editor will be delivered to you every month.
The yearly subscription service saves up to $26, which chalks up to the price of one month's subscription box.
Exclusive access to deals, events, and news will be provided.
Shipping is free in contiguous states in the United States of America.
Extra incentives are to be provided if you refer someone to the box.
The contents of each box are posted every month so you can compare and find out the value of each product easily
You get a free product through the Refer-A-Friend Program.
Cons
If you live outside the United States you will have to pay for monthly shipping of the box along with the subscription service itself.
Products are always provided based on the Editor's choices, meaning you will not have any idea what items you will receive. Along with that, you will not be able to customize your box either.
Although the plan seems to be rather cheap, only 3 out of the 6 items are full-sized.
The yearly subscription service is non-refundable.
You will not be able to return your box or products.
Allure Beauty Box Products Review
Receiving around $175 worth of items for $26 each month ($23 if you go for the yearly subscription) sounds pretty much like a dream. Allure is one of the biggest magazines in the business, and the same could be said about the Allure Beauty Box too.
Since every month's box features a new product, this can be a great way to test out new products and see if they are worth buying in the long term. Every product is perfectly curated and chosen by the editor, so you can assume that each item is high-end and of excellent quality.
Allure This Month Beauty Box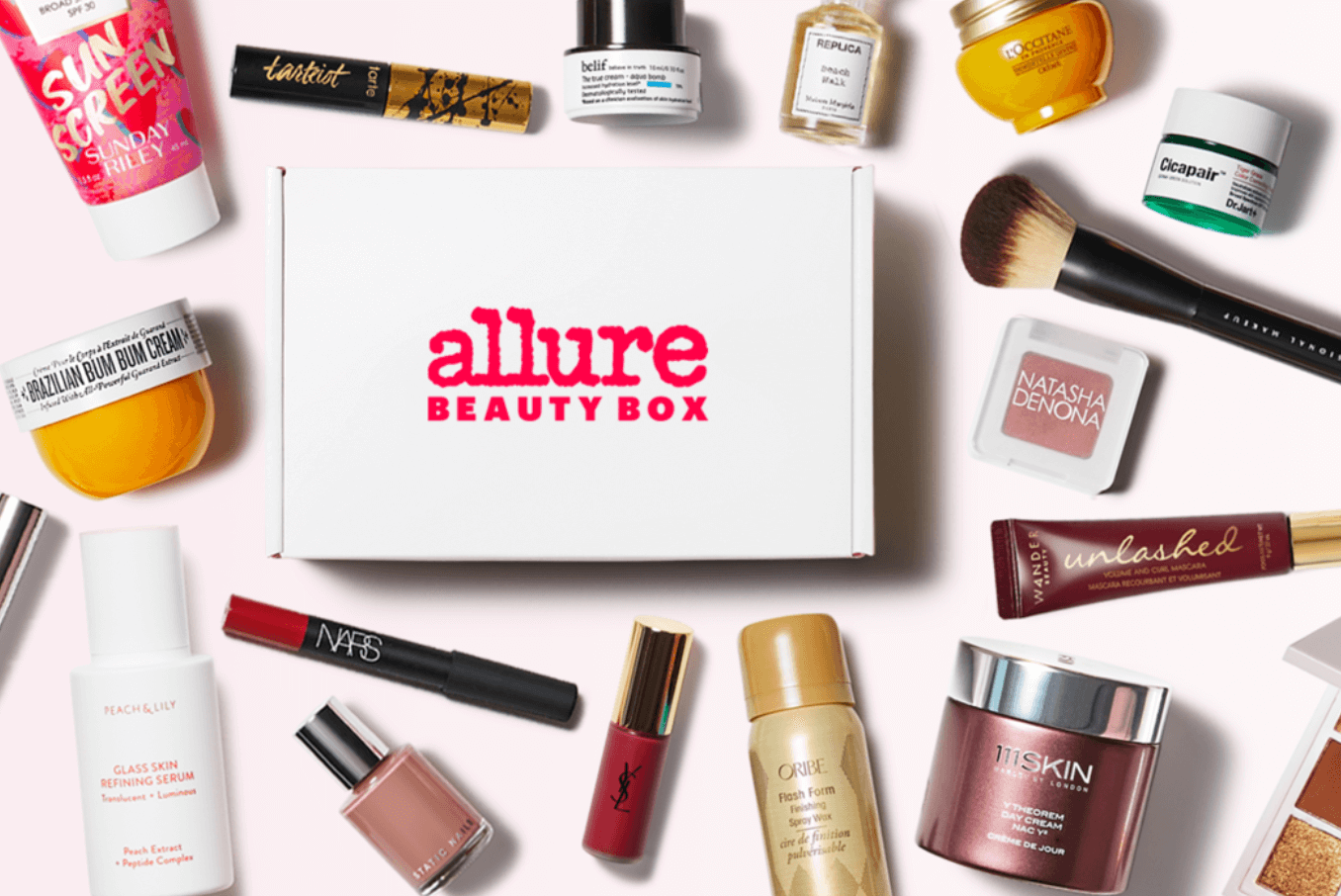 The box for January 2022 features 6 items, including 4 full-sized ones! New members will also be able to receive an extra full-size product. In this month's case, the new member gift is the Kaja Beauty Bento in Chocolate Dahlia.
The rest of the beauty box includes 3 more full-sized items- Rare Beauty Perfect Strokes Mascara, Sunday Riley 5 Stars Eye Serum, and a Hair Mist or the Christophe Robin Daily Hair Cream.
The rest of the 3 items include Solana MD Healthy Base Layer, L'Occitane Overnight Reset Serum, and the SkinMedica Instant Eye Bright Mask or Bliss Holographic Foil Eye Patches.
Allure Feel Good Box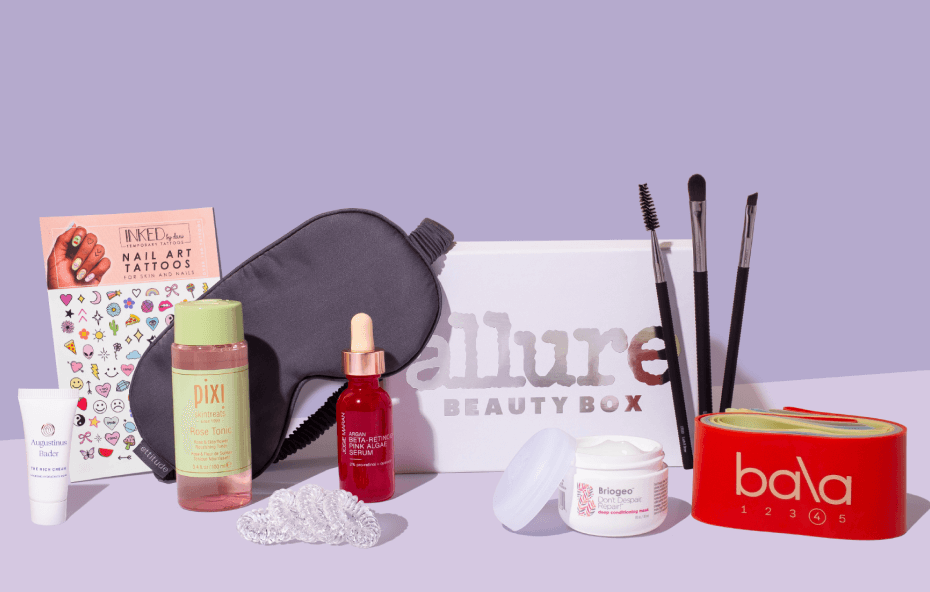 The Allure Limited Edition Feel Good Box contains items that can easily price up to $204, however, if you buy the Feel Good Box itself, you can get them for $80- almost half the price!
However, if you are a subscribed member, the Allure Beauty Box team will provide you with this box for just $40!
A total of 9 items will be included in the box, with 3 full-sized ones- Josie Maran Argan Beta-Retinoid Pink Algae Serum, Laruce Three-Piece Eyebrow Grooming Set, and the Pixi Rose Tonic!
The rest of the 6 products entail the Briogeo Don't Despair, Repair! Deep Conditioning Mask, a set of 5 Bala Bands, the Ettitude Sateen Eye Mask, Color Nail Art Tattoos from Inked by Dani, a 4-pack of clear Kitsch Hair Coils, and the Rich Cream by Augustinus Bader!
Allure Best Of Beauty Box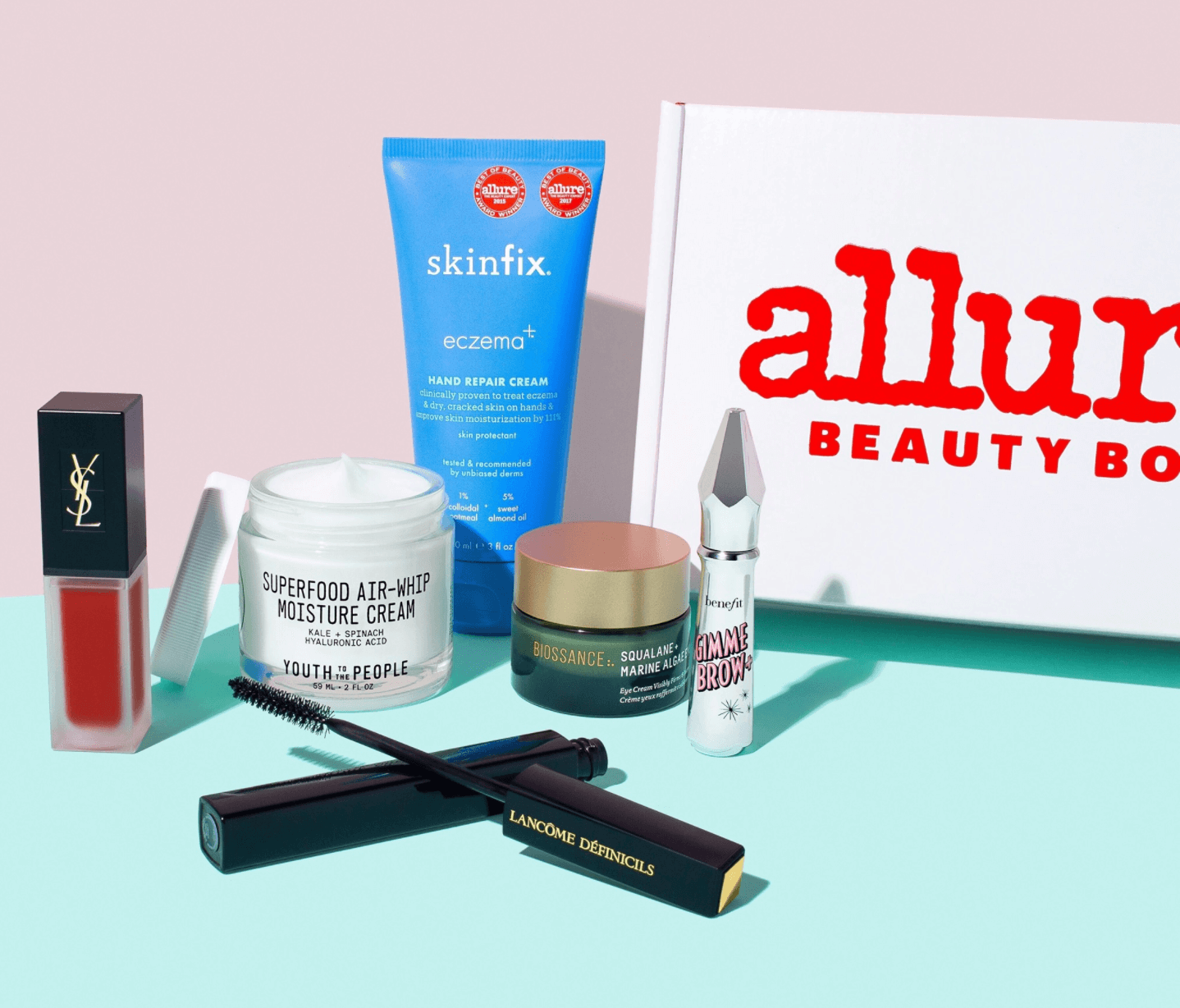 Worth $210, the Best Of Beauty Box contains all the editors' all-time favorite products from the entire year. The box can be bought at $65 for anyone that isn't a member, while members only have to pay $40!
Unlike most of the Beauty Boxes by Allure, all of the Best Of Beauty Box's products are full-sized.
The 6 items include the Skinfix Eczema Hand Repair Cream, the Benefit Gimme Brow along with the Tinted Volumizing Eyebrow Gel in Shade 3, the YSL Rouge Rebel Shade 212, Biossance Squalane plus the Marine Algae Eye Cream, Superfood Moisture Cream from Youth to the People, and finally the Lancôme Définicils High Definition Mascara!
Allure Beauty Box Luxury-At-Home Edition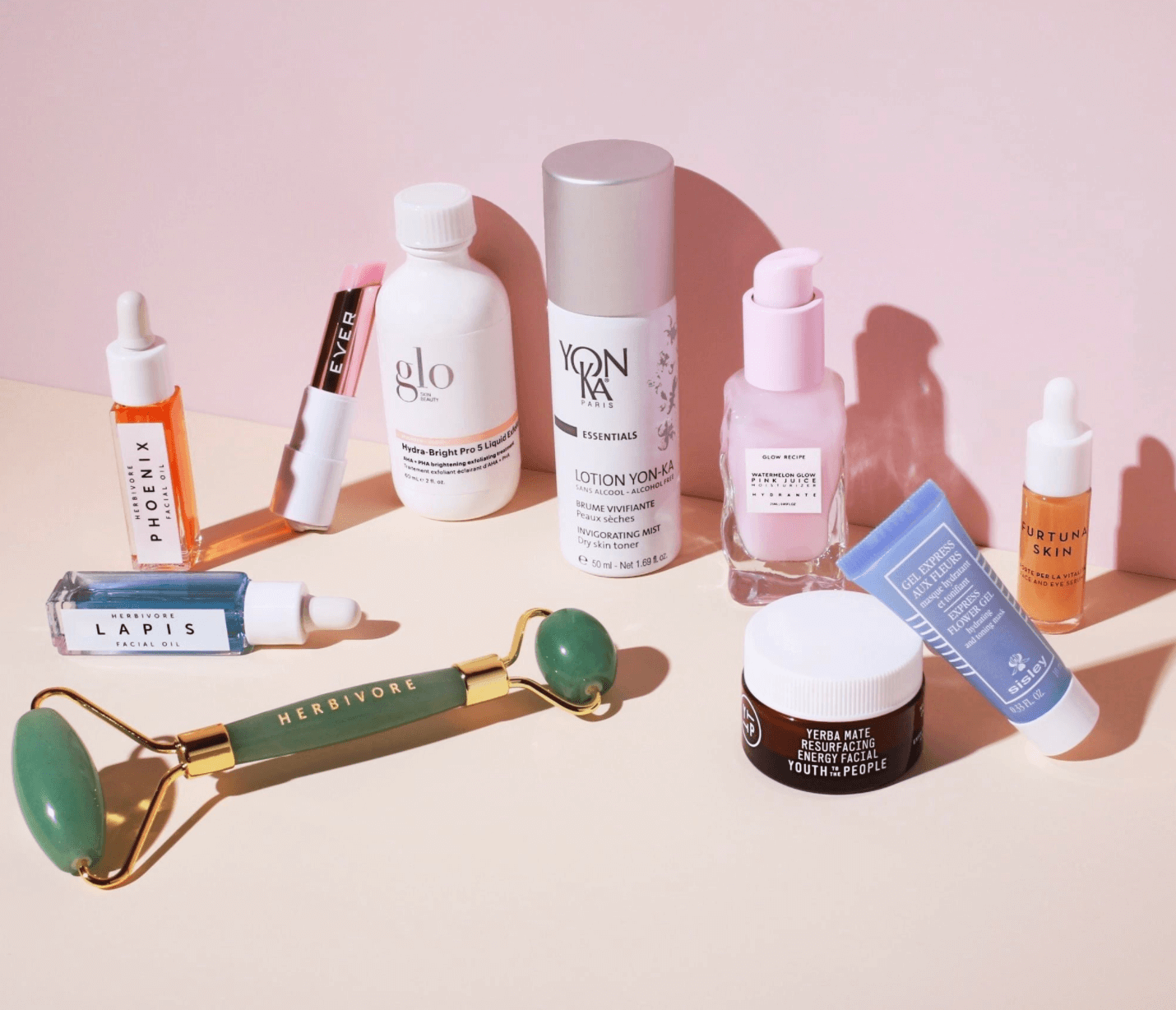 Next up on our Alluxre Beauty box review is the Allure Beauty Box: Luxury-At-Home Edition. It features products chosen by the editors that chalk up to the price of more than $250 if you get the items separately. However through the Box buyers only have to pay $60, while members receive their products for $40.
Featuring 10 products from the most up-and-coming brands, you get 3 full-sized products- the Glo Skin Beauty Hydra-Right Pro 5 Liquid Exfoliant, the Herbivore Botanicals Jade Roller, and the EVER SMOOTH Peptide Lip Therapy!
The rest of the products include 2 Herbivore Face Oils– the Lapis Blue Tansy Face Oil and the Phoenix Rosehip Anti-Aging Face Oil- the EVER SMOOTH Peptide Lip Therapy, an Express Gel Mask from Sisley-Paris, the Furtuna Porte La Vitalita Face & Eye Serum, the Glow Recipe Watermelon Glow Pink Juice Moisturizer, Yon-Ka Paris Lotion Yon-Ka, and the Yerba Mate Resurfacing Energy Facial by Youth to the People!
Allure J-Beauty + K-Beauty Box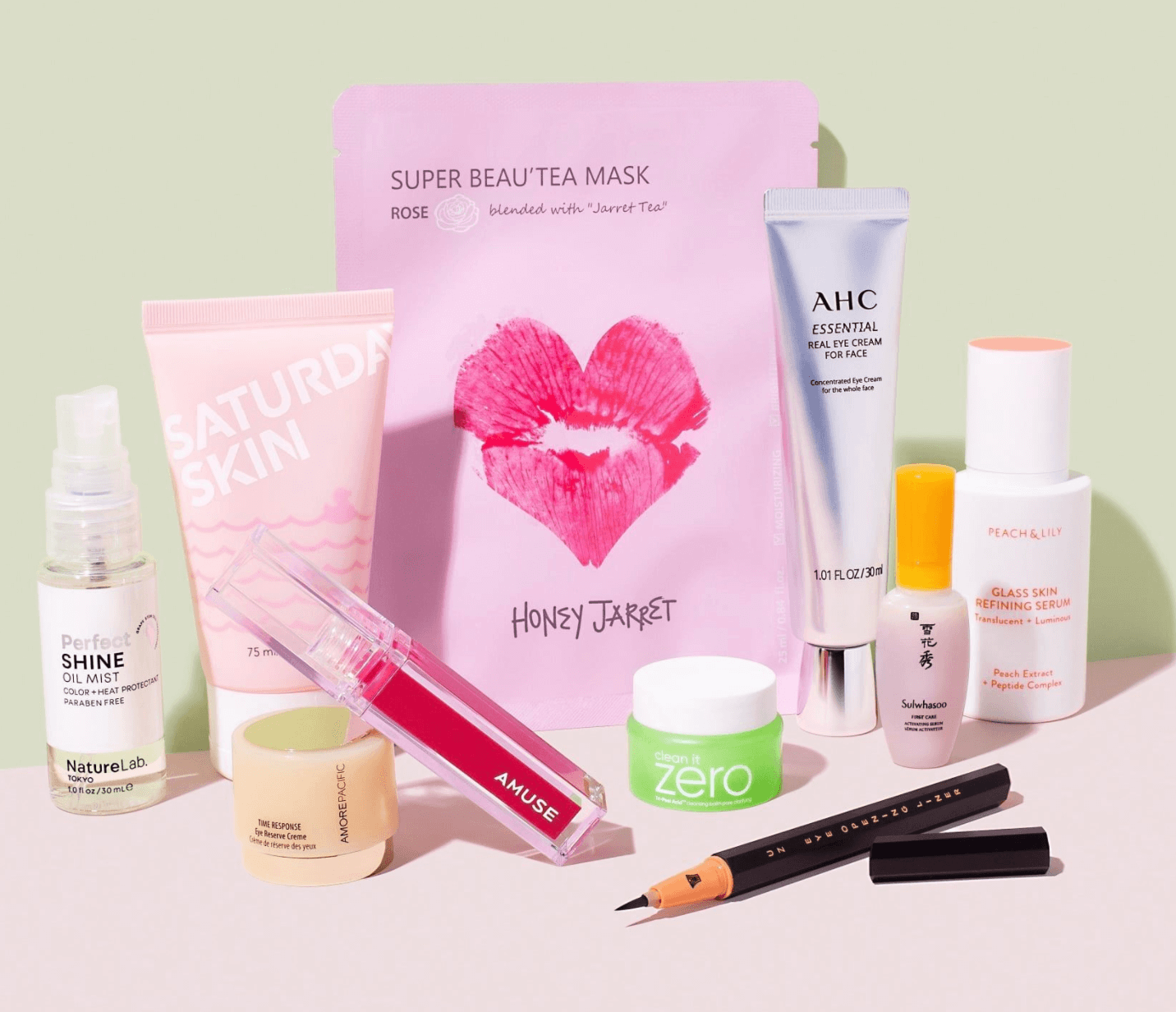 The option to buy 10 editor-curated items worth $200 for just $60 and $20 for members is not one you should pass on.
The Limited Edition J-Beauty + K-Beauty features 5 full-sized products- the Saturday Skin Rub-A-Dub Refining Peel Gel, the AHC Essential Real Eye Cream for Face, Peach & Lily Glass Skin Refining Serum, the Amuse Dew Tint, and the UZ Eye-Opening Liner!
The rest of the 5 items include the Sulwhasoo First Care Activating Serum, the Amorepacific Time Response Eye Cream, the Banila Co Clean it Zero Pore Clarifying Cleansing Balm, the Honey Jarret Super Beau'tea Mask Rose Sheet Mask, and the Tokyo Perfect Shine Oil Mist by NatureLab!
Allure Beauty Box Reviews from Customers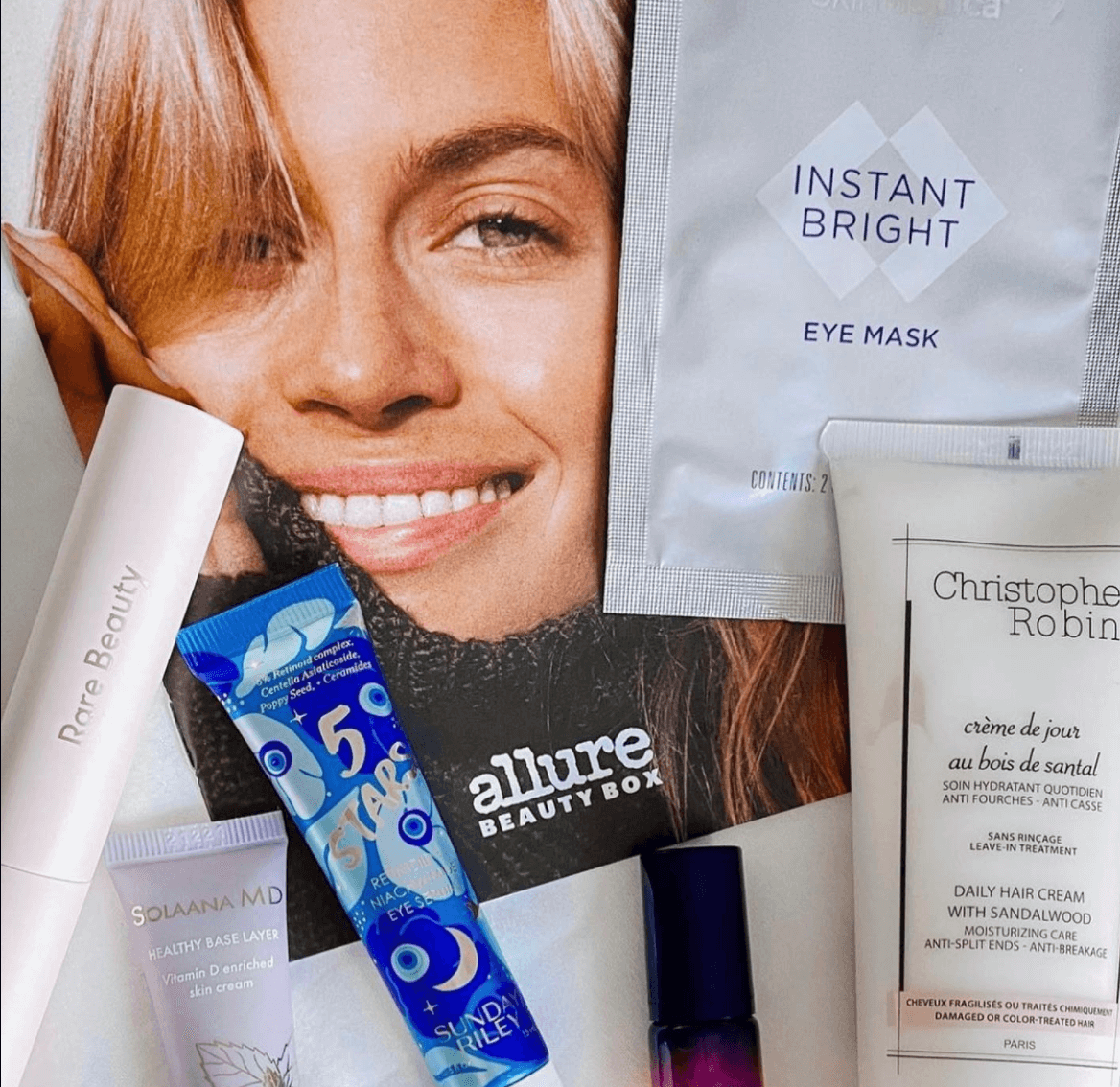 Most of the subscribed members for the Beauty Box claim to have had positive experiences with the products.
Although trying out one box and having a good result does not necessarily mean it is the best box, some say they have "tried several different beauty box subscriptions- Birchbox, Starlooks…- and this one is consistently the best."
More people state that the boxes have "an incredible value. The little magazine that comes in the box is just great; you get info on what each product is as well as where to find it and the price! This is a keeper!"
Sign Up For Allure Beauty Box
Signing up for the Allure Beauty Box is rather straightforward, all you need to do is follow the link on the home page that asks you to Join Now. The link will lead you to the three subscription options for the Beauty Box.
After choosing an option that fits you best the website will lead you to a form that requires your payment options, shipping address, and promo codes if you choose to add one.
The process for the Allure Beauty Box sign-in is pretty easy as well. After you have chosen a subscription option an account will be made on the Customer Care Portal for you, where you can access and change all the information you handed in.
Where to Buy
Since Allure does not sell standalone boxes for each month, to buy one you will need to subscribe to their Beauty Box service. The website for the Beauty Box can be accessed anywhere, so all there is to do is to subscribe to a plan you like and pay for the box and it will come to you!
Allure Beauty Box Shipping and Return Policy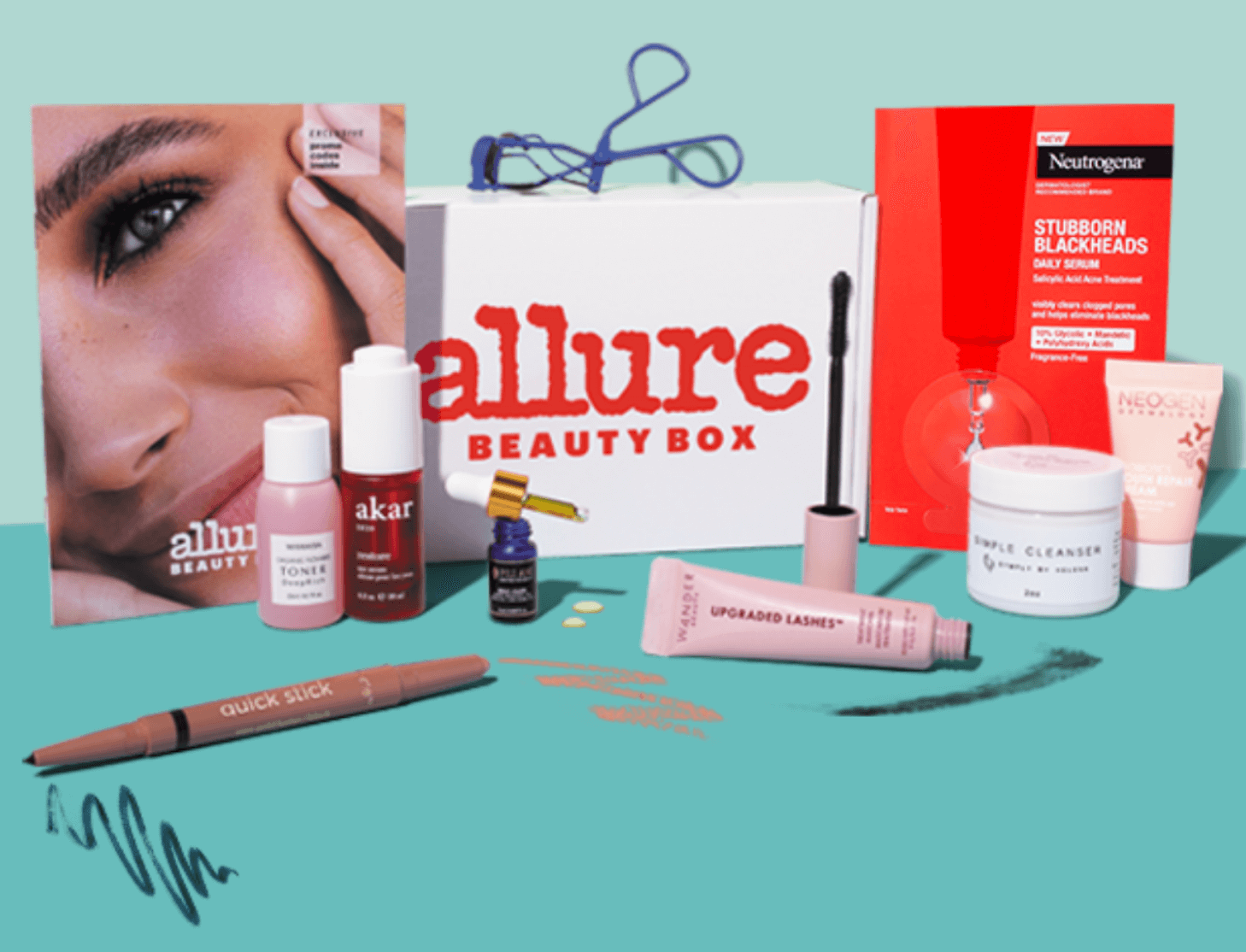 Shipping Policy
If you live among the 48 contiguous United States and in Puerto Rico shipping will be free for you regardless of your subscription program. Although shipping to international countries is possible, currently the Allure Beauty team is unable to send their products out of the U.S. states.
Tracking packages is easy as well- the second our box is sent out for shipping you will receive all tracking information via email. If you don't receive information, you can contact Allure's customer service team for guidance through phone or email.
Aside from issues such as national disasters, the Beauty Boxes for an existing member will be shipped in 10 days of order confirmation, though it may take up to 20 business days for new members to receive their boxes.
You can communicate with the service team if you think your order has been misplaced.
Return Policy
If any of your products show up damaged, you can either get a refund on those items, replacement samples, or an entirely new box depending on your case. All boxes come with 6 items, with the exclusion of 1 or 2 extra ones.
The boxes contain a mini-magazine about all the products you have received. If your products do not match the ones in the magazine or you received 5 or fewer products you can collect a replacement.
Since customizability is not an option if you do not like a product or the box you will not be able to replace or refund it.
If you are planning on canceling your subscription make sure you ask for your replacement items beforehand, and all the replacements you ordered may take up to 3 weeks to show up.
Promotions and Discounts
The Refer-A-Friend program provides you an incentive every time you get a loved one to subscribe to the Allure Beauty Box. You will be eligible to get a free Youth to the People Superfood Air-Whip Moisture Cream if you've made a prior purchase of at least $11.50 from the Allure store.
Although you will only be able to get the incentive once a month, getting a gift worth $48 is a pretty sweet treat!
Contact Allure Beauty Box
There are a large number of areas you can come into contact with the Allure team. You can email all your concerns to them at Bea[email protected] and receive a response within 2 business days.
If your queries are more hands-on you can contact them via phone at 1-800-274-1603 from Monday to Friday from 7:00 AM-8:00 AM Central Standard Time, and on Saturday the Allure customer service will be available 8:00 AM-4:00 PM CST.
You can find them on social media platforms such as TikTok, Twitter, Pinterest, and Facebook, however, contact via Direct Message is available only on Instagram through @Allurebeautybox.
The Allure Beauty Box customer service is available via email, phone, and social media. If you happen to have had a poor experience with representatives of the team you can DM them a complaint on Instagram or request to speak with a supervisor through the phone!
If you are not receiving replies via email in 48 business hours you can also get into contact with the Allure Beauty Box customer service through the phone or social media.
Allure Beauty Box Review: Editor's Verdict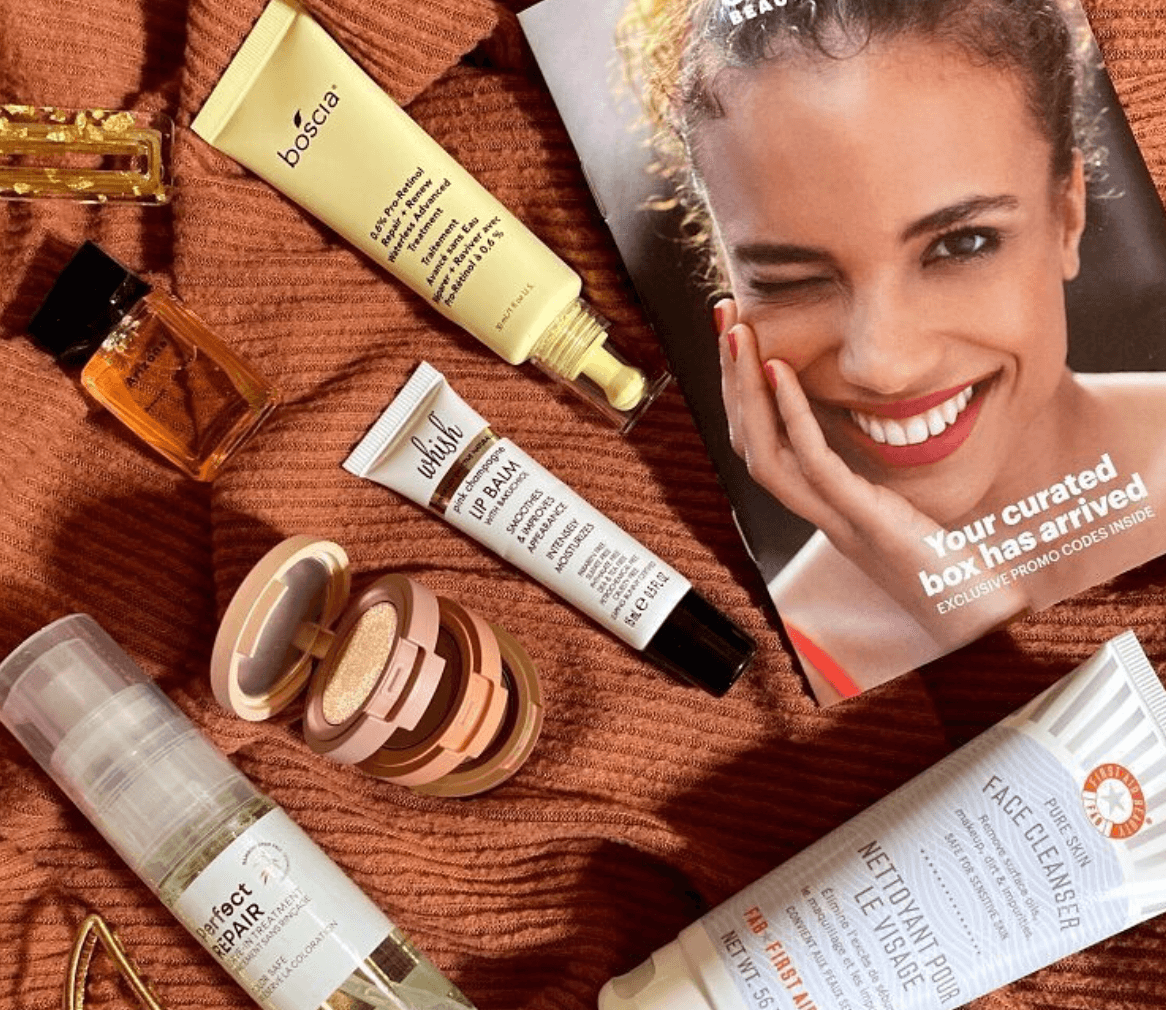 This Allure Beauty Box review contains information on the contents of this month's Beauty Box, and all the limited edition boxes available right now.
Reading about the prices, discounts, quality products, and benefits might have convinced you completely to subscribe to the program.
Although a yearly subscription is way cheaper than the monthly one, it does require a lot of commitment since it is nonrefundable or switchable to a different payment plan.
Therefore, if you are a new member, test out the waters with the month or 3-month plan and if you are satisfied you can easily switch to a longer commitment on the plan.
Although the small items may seem annoying to some, traveling with quality products will be made much easier with the travel-sized products provided in the Allure Beauty boxes.
Along with that, Allure ensures that no member will receive the same item twice, so if you are the kind of person that wishes to discover the cosmetic world but are held back due to budget, definitely give the Allure Beauty box a chance!
Looking for a makeup brand to diversify your beauty routine? Make sure to take a look at our popular cosmetics brand reviews of MakeUp Eraser Review, ITEM Beauty Review, Timeless Skincare Review, and Cult Beauty Review.
Allure Beauty Box FAQ
How to cancel Allure Beauty Box?
Monthly subscribers can cancel any time through the contact services, however, you will have to make sure to cancel a month before so that the next month's order is not processed.
This is important as you will not be refunded if you have already been charged. If you get charged even if you canceled beforehand, you can apply for a refund through Allure's customer services.
The process on how to cancel Allure Beauty Box for the yearly subscription program can be canceled any time of the year, however, it is nonrefundable so you will receive boxes till the end of your original subscription period.
When does Allure Beauty Box ship?
Active or existing members will be able to receive their Allure Beauty Boxes within 10 days of the order's processing. For new members, it may take 10-20 business days though.
Additionally, if there is a problem that the Allure Team cannot control, you will receive information regarding your boxes and how long it may take for you to receive them.
How much is Allure Beauty Box?
A monthly subscription will cost you $23 every month for a new and curated Beauty Box, along with a special gift for new members for joining the Allure team.
The annual subscription is worth $250 for the year, which means you save up enough money to get an entire month's box for free!
What comes in an Allure Beauty Box?
Every Allure Beauty box comes with at least 5 high-quality products chosen and curated by editors, and sometimes you can get up to 2 extra items as a gift. At least 3 items are full-sized, and the rest are travel or deluxe-sized- meaning they are eligible for at least 3 uses.
Aside from all the products, you will also receive a mini-magazine that contains a letter from the editor, and all the information on the given products such as tips on how to use them.
Will I receive repeat products in my Allure Beauty Box?
No, active members will not receive any repeating products, and if you see one on the current month's issue on the website there is no need to worry as you will not be receiving it since the list is provided for new members.
However, if you cancel your subscription and rejoin the website will consider you a new member so you may receive editor's favorites or repeat products.