Brickell skincare products are the best way for men to care for their skin at all stages of their lives. The company formulates these products with the safest and purest ingredients along with the most advanced skincare technology available. The brand offers a line of solutions for all skin types and problems that provide well-rounded protection against the aging effects that all men face. This in-depth Brickell men's products review and learn more about the brand's unique and advanced approach to skincare for men to help you decide if it's worthwhile.
About Brickell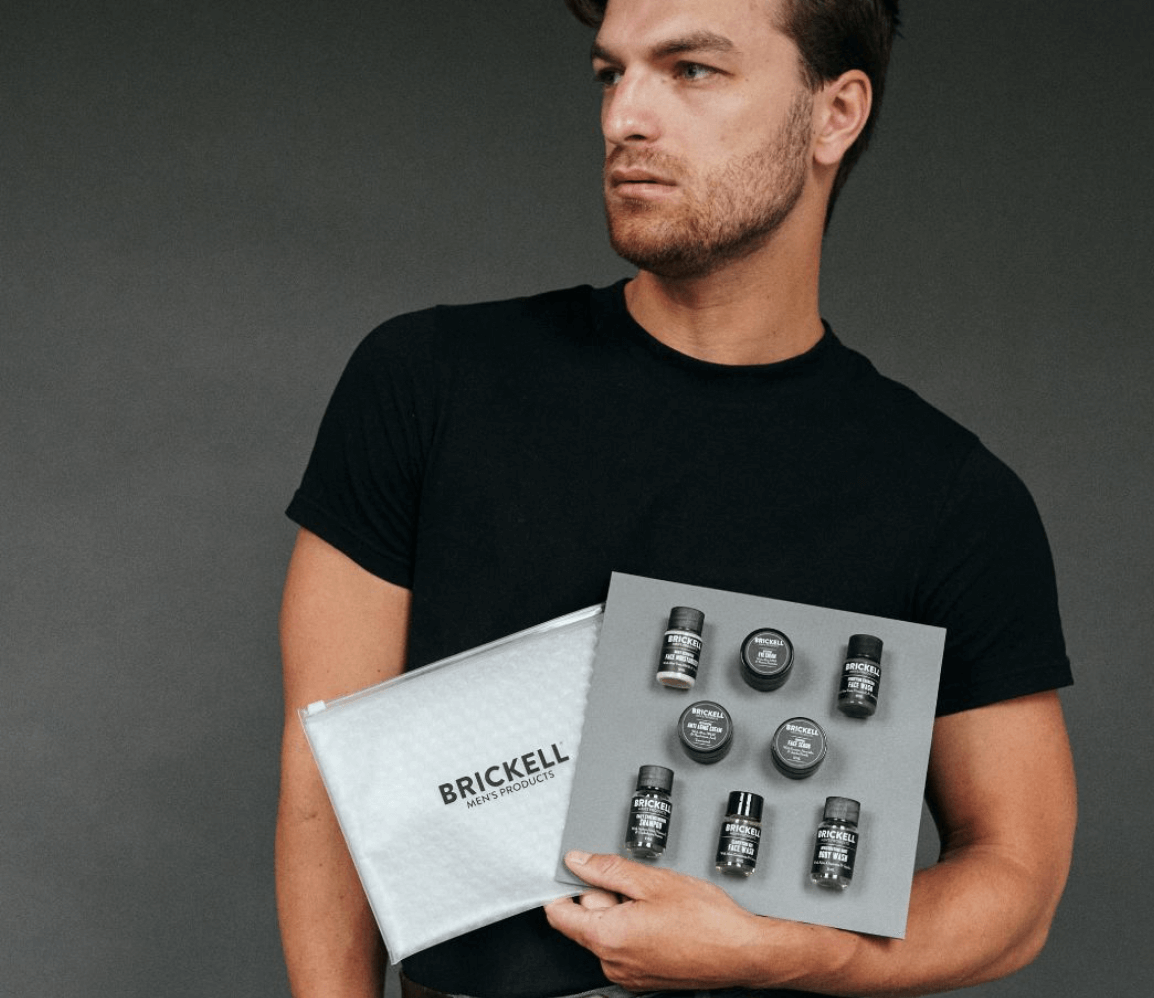 Located in Miami, Brickell is a high-end men's skincare line that offers high-quality, advanced, and effective products for men of all ages.
Founded in 2014 with the simple goal of creating high-end skincare products formulated specifically for men, the company has rapidly gained recognition amongst skincare enthusiasts.
The idea for the brand came after the then-girlfriend of Josh Meyer, the co-founder, used photoshop on his pictures to improve his skin. The pair had taken a photo together at an event they had attended.
Meyer noted that his skin looked incredibly smooth, only for his girlfriend to reveal that she used Photoshop to smoothen out some of his wrinkles.
He became more self-conscious regarding his skin than ever before and began seeking out high-quality men's skincare products. He quickly discovered that there were no high-end natural alternatives for mentions, and with that realization, Brickell was born.
Josh Meyer co-founded the company with his partner Matt Bolduc. They aimed to provide safe skincare products free of dangerous synthetic elements that may jeopardize men's health.
Brickell Overview
Since its inception, Brickell has developed a solid following to become one of the most recognized skin care companies for men. Renowned publications like Men's Journal, GQ, and Men's Health, have highlighted Brickell products in their editorials.
The company has also created a significant social media following with over 27.5k Instagram followers who routinely share pictures of themselves using Brickell products and also over 75k Facebook followers.
Pros
Products are organic and all-natural
Their products address skin problems specific to men
They provide international shipping services
They offer sample kits
Customers using auto-shipping enjoy a 15% discount
Cons
Products in larger bottles can be more costly than their volume
No phone support
Customer service is not available 24/7
Brickell Men's Products Review
The Brickell Men's product line includes a range of skincare products for men. The company has created a complete skincare routine with products formulated to cleanse, exfoliate, moisturize and protect the skin. Let's look at some of their best-selling skincare products.
Brickell Face Wash Review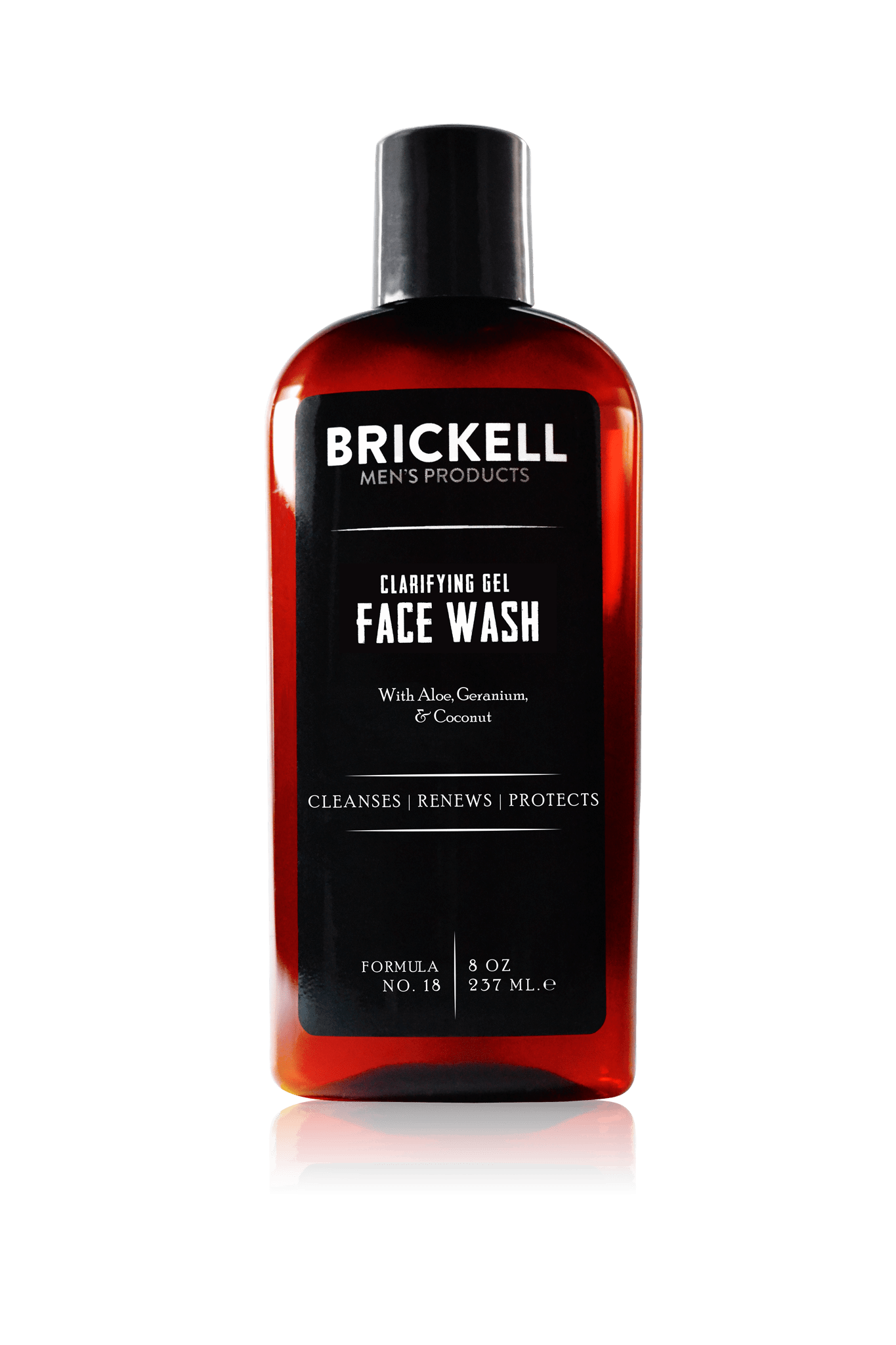 Clarifying Gel Face Wash for Men is a specially designed face wash for all skin types — from oily to normal. The product aims to cleanse the skin and remove toxins and impurities without stripping away the natural oils in the skin.
Our Brickell Face Wash review found that this foaming gel face wash is 72% organic, 97.5% natural, and contains no skin-irritating chemicals. It effectively removes oils on the skin using powerful coconut-based cleansers.
Its aloe vera content renews the skin, while the geranium functions as an antiseptic that cleanses out facial impurities. The final result is a more radiant, clear complexion.
The product uses powerful ingredients to remove dead skin cells and clean facial pores. It comes scented with an essential oil mixture of lemongrass, eucalyptus, and peppermint. Apply this face wash in the morning and evening.
It is ideal for men with oily, combo-type, and normal skin. Men with dry or sensitive skin should try using Purifying Charcoal Face Wash.
Brickell Anti-Aging Cream Review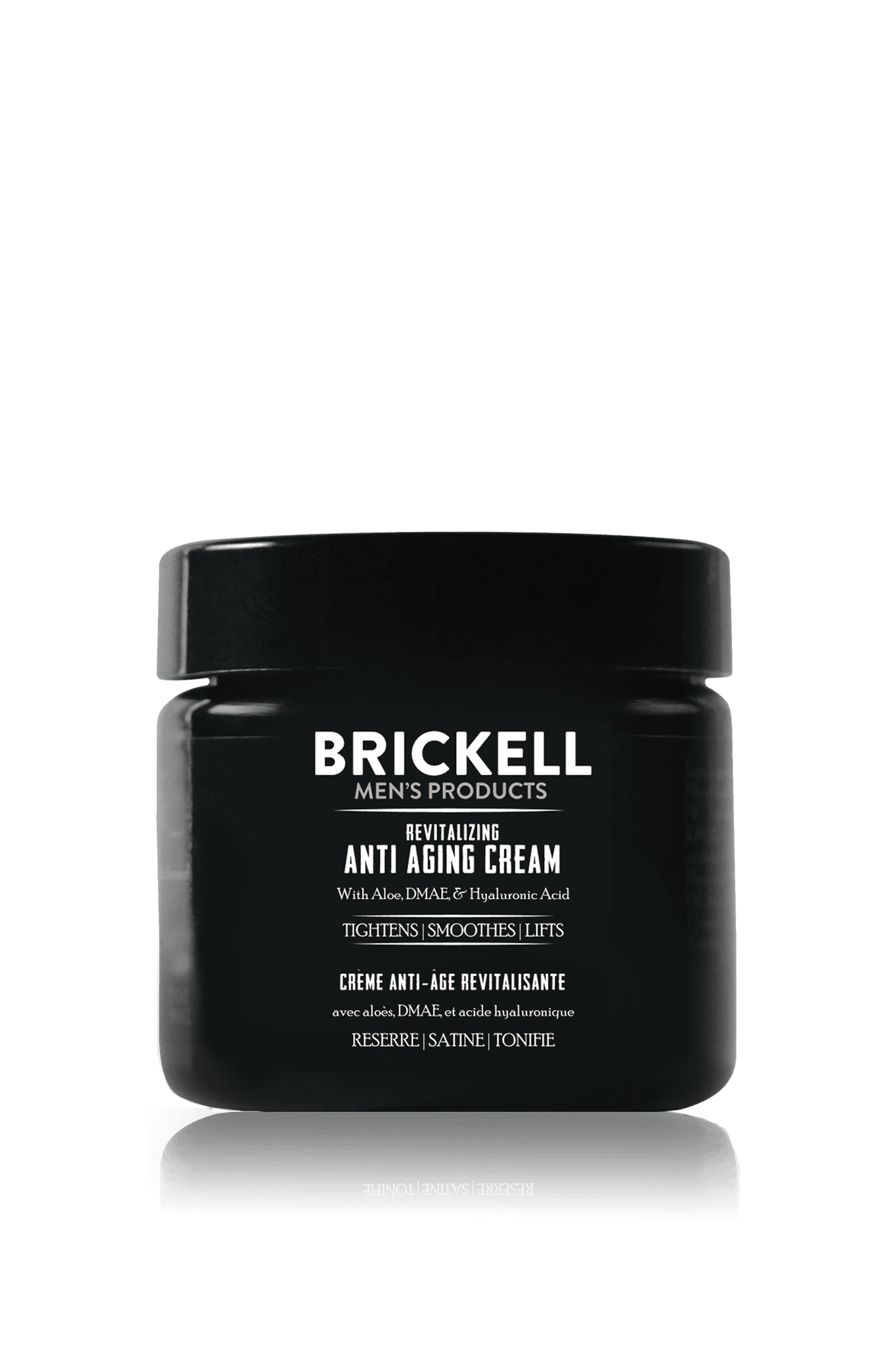 Some of the most prominent skin issues associated with men include wrinkles and lines around the eyes, forehead, and mouth. The Brickell anti-aging cream is a clinically proven formula that reduces wrinkles and lines of the face to make men look younger.
It is an all-natural product with the finest organic ingredients.
The Revitalizing Anti-Aging Cream For Men is designed for nighttime use, and it is an efficient, natural, organic anti-aging cream that reduces wrinkles and fine lines. Our Brickell Anti Aging Cream review found that this cream is 81%organic and 100% natural.
It contains a potent blend of natural and organic ingredients that tighten, tone, and revitalize the skin. Its key components include DMAE, MSM, and Hyaluronic Acid.
DMAE (Dimethylethanolamine) is a powerful component that aids in the contraction of the facial muscles underneath the skin, thus tightening the skin. This measure prevents the folding of the skin and the formation of wrinkles.
MSM (Methylsulfonylmethane) is a common nutrient found in superfoods like kale and spinach. It reduces age spots on the skin and pigmentation issues, which occur on some facial parts over time.
Hyaluronic acid acts as the ultimate moisturizer and prevents the formation of wrinkles through the retention of moisture. The water-holding molecule in this gel captures nearly 1,000 times its weight in water.
For only $40.00, customers can choose the unscented option or the one scented with an essential oil mixture of lemongrass, eucalyptus, and peppermint.
Brickell Eye Cream Review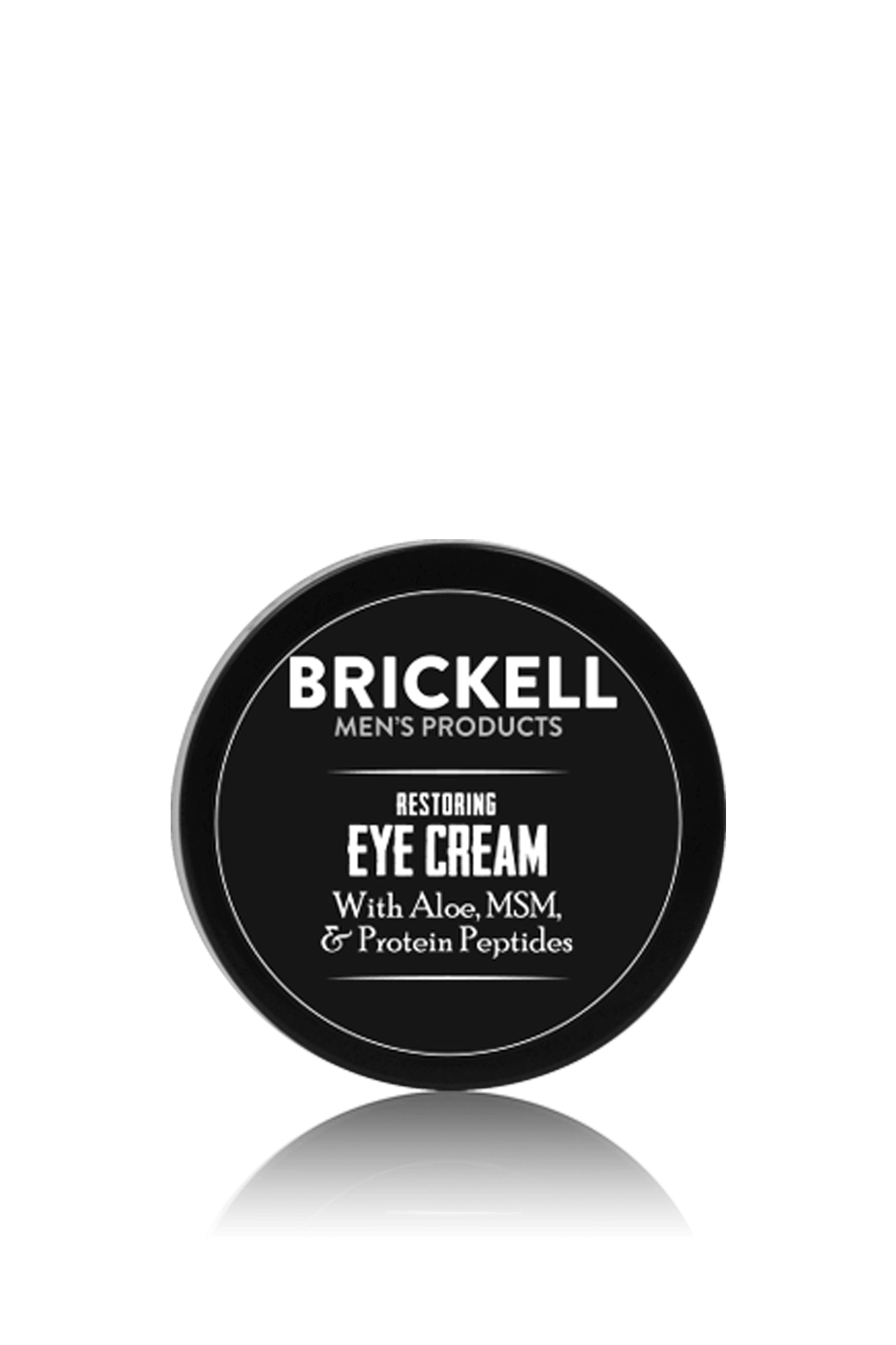 Designed to reduce puffiness and dark circles, the all-natural Restoring Eye Cream for Men is an anti-aging eye cream free from toxins, chemicals, and irritants.
It uses natural ingredients to brighten the skin and reduce bugs, wrinkles, and lines underneath the eyes. This Brickell Eye Cream review found that their eye cream comes with a certificate of authenticity that shows it has passed stringent quality control tests.
Our Brickell Men's products review discovered that this remarkable cream is 70% organic and 97.5% natural. It is ideal for reducing dark circles, eye wrinkles, creases, and under-eye bags. It contains three main ingredients: Matrixyl 3000, MSM, and Hyaluronic Acid.
Matrixyl 3000 is a mixture of protein peptides clinically established to reduce wrinkles by 45% within two months. We lose the capacity to create collagen as we age. Collagen is the major structural protein present in our skin.
Therefore, by boosting the production of collagen, Matrixyl 3000 reduces wrinkles. With a potent mix of natural compounds, this under-eye cream for men can help restore and rejuvenate dull, tired eyes.
It toughens the surrounding skin, reducing dark circles and puffiness while also smoothing wrinkles about the eyes.
For only $40.00, this eye cream is a must-have for every man. This jar will last roughly 45 days if used twice a day as directed. With a money-back guarantee, this eye cream is worth every penny.
Brickell Shampoo Review
One of the most common self-esteem issues among men is hair loss. Brickell shampoo products are affordable and specifically formulated to reduce hair thinning or loss and strengthen existing strands.
This line is free from harsh chemicals, and the products consist of a 100% organic DHT blocker.
This Brickell Shampoo review found that the Daily Strengthening Shampoo for Men is 83% organic and 97% natural and has an invigorating and refreshing mint scent. Designed to cater to all hair types, it is ideal for daily use and safe for use on color-treated hair.
This shampoo is ideal for adding volume, strength, and vitality to thinning or damaged hair. It promotes fuller and firmer hair through its distinct blend of natural ingredients.
Additionally, the natural cleansers from plant extracts deliver deep cleansing for a scalp free of flake. The results are immediate.
The shampoo uses hydrolyzed wheat protein to increase the thickness of the hair strands while strengthening the hair structure.
Its amino acid content increases follicle volume and restores hair shine, while vitamin E minimizes hair loss by stimulating the scalp for hair growth. Finally, its tea tree oil and peppermint content destroys skin flakes and reduce scalp irritation.
You'll need $20 for this shampoo, and it offers outstanding value for the money. It is a worthwhile addition to your daily hair routine as it can help you achieve that thick, lustrous hair.
Brickell Repairing Night Serum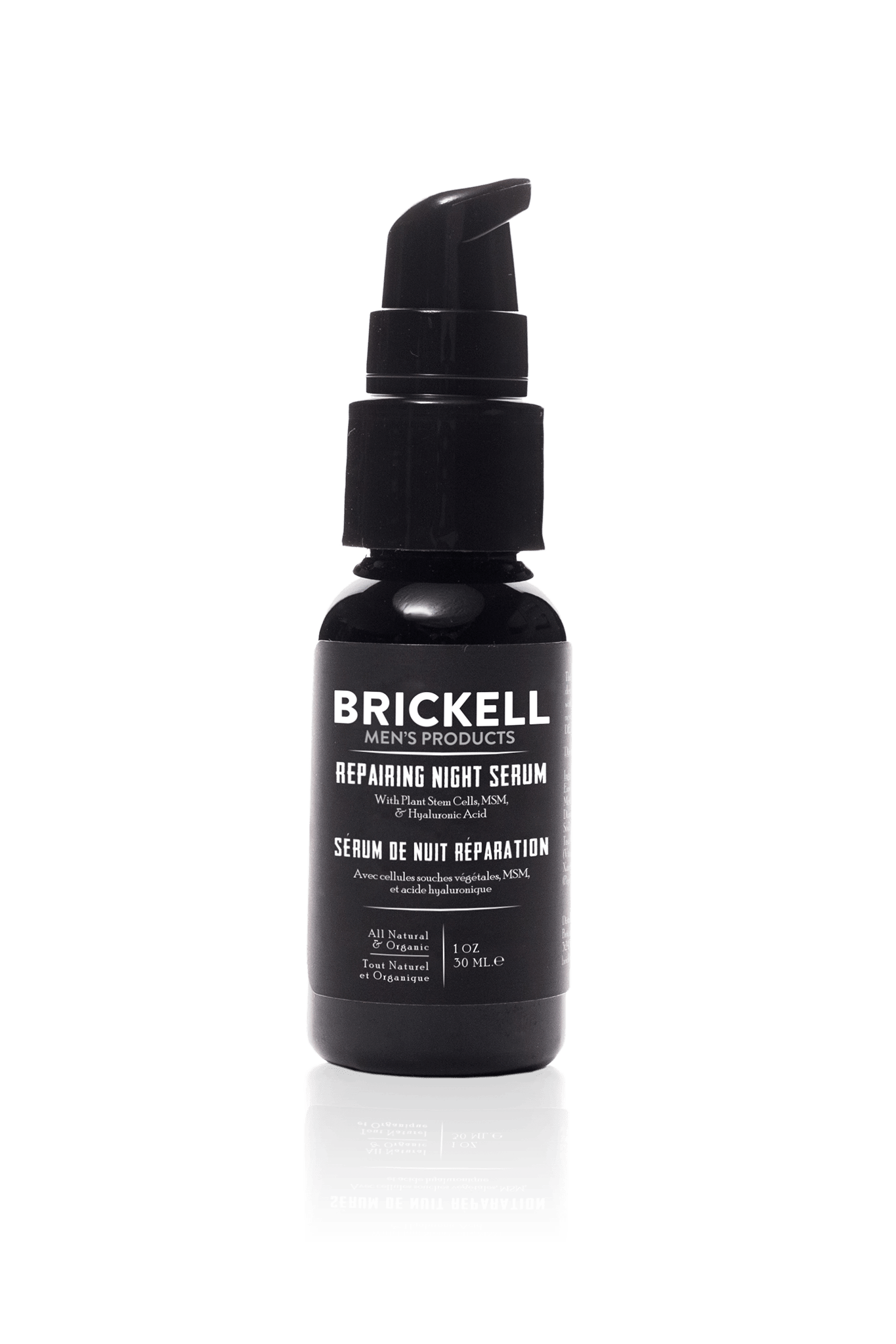 Often men get damaged skin or even inflammations due to working in harsh environments. Brickell has created a whole line of products that can help reduce these inflammations and repair the skin cells from the damages.
One of their most essential products is the Restoring Night Serum.
This product contains all-natural and organic ingredients. The serum utilizes plant stem cells and extracts, the latest green technology, to repair skin cells and reduce inflammations. It is ideal for all skin types, including sensitive, dry, mature, oily, or acne-prone skin.
Our Brickell Men's products review found that the main ingredients used in this product are plant stem cells, vitamin C, MSM, and Hyaluronic Acid. Each of these ingredients helps improve the skin, making it firmer and healthier.
Its vitamin C content helps reduce wrinkles, age spots, scars, and blemishes caused by the interaction of the sun and the skin.
You should use the product during the night by applying it underneath the anti-aging cream. A pea-sized amount of the product is more than enough for the face. The skin will absorb the nutrients without leaving sticky or oily residues.
The Restoring Night Serum costs $75 a bottle and goes a long way. It is perfectly safe for daily use for men of all skin types.
Brickell Men's Products Reviews from Customers
With their high quality and effective products, Brickell Men's products have received numerous rave reviews from customers who left feedback on their site. Customers commend their products for improving the texture and health of their skin.
Most importantly, customers appreciate that their products are free from harsh chemicals and offer value for money.
Our Brickell Eye Balm review found that most customers had good things to say about this product. Most buyers stated that they were impressed with its effectiveness.
Customers also loved their other products; one shopper praised the brand, saying that he used to be self-conscious about his skin due to acne scars. However, once he started using Brickell's products, he was pleased with the results.
Another user said that his hair felt thicker and healthier after using the shampoo for one month.
Another one commented that the customer service had been helpful, and they sent free samples to him to test out the products. He continued saying that he tried the shampoo and liked it very much because it made his hair fuller and thicker.
There is also a customer who bought their products for his father, who works outdoors in construction. Before using the night serum, his father's skin was dry due to harsh working conditions.
However, after using the repairing night serum, his skin was healthy and without any traces of dryness or inflammation.
Such rave reviews are the highlight of the brand's customer reviews. However, there have also been negative reviews on TrustPilot and Influenster, with some customers saying they feel that products in larger bottles can be more costly than their volume.
Sign Up for Brickell
Experience quick and easy re-ordering and earn rewards and discounts per purchase by signing up for a Brickell account. Sign up by providing your first and last name, email address, and password.
Subscribe to their newsletter to receive updates, reminders, exclusive promotional offers, discounts, and coupons.
Where to Buy Brickell Men's Products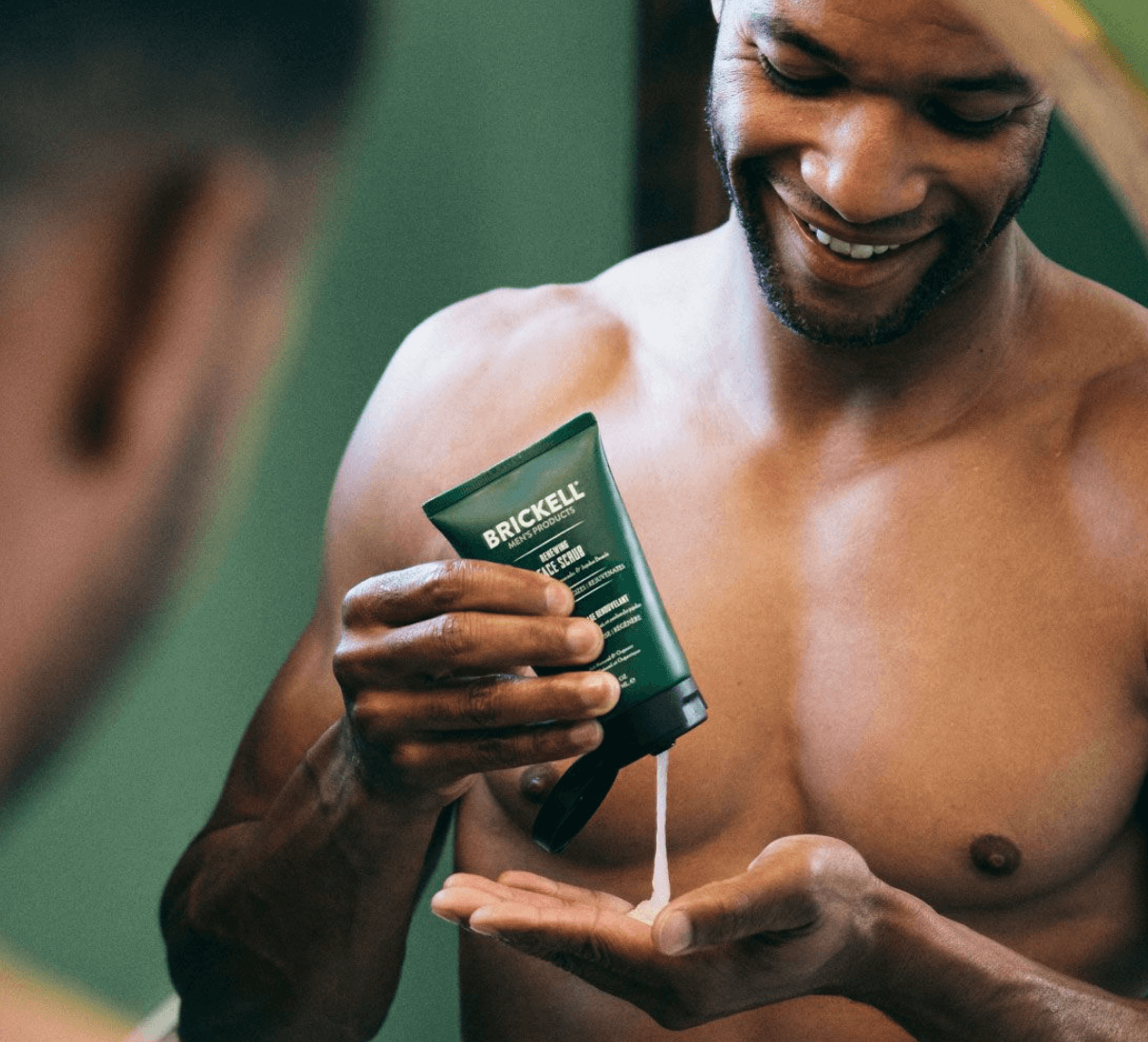 Brickell products are available in numerous physical stores across the U.S To find a store near your area, visit their Store Locator page. For international customers, the brand has a store locator page showing the location of its many international distributors.
Customers can also visit their website BrickellMensProducts.com any time to check out new products and make a purchase.
Brickell Shipping and Return Policy
Shipping
Brickell offers three shipping modules. Standard shipping costs $7.50 and takes between 5-7 business days for orders to arrive at their destinations. Secondly, the 2nd-day shipping costs $29.99 and takes two business days for ordered items to reach the customers.
Next day shipping costs $61.99 and takes one business day. Additionally, the brand offers free two-day shipping on orders amounting to $50 and above.
The brand also offers free shipping on international purchases over $75. However, not all countries qualify due to restrictions in their restrictive nature.
Return Policy
The brand has a 30-day money-back guarantee. Therefore, if you feel unsatisfied with Brickell products, you can return them within 30 days of the initial purchase date to get an exchange or refund.
However, items like initial shipping costs, individual samples, sample kits, gifts, and gift cards are not eligible in this plan.
Brickell Promotions & Discounts
The brand frequently offers special deals and discounts on its products. Sign up on their site to receive a 15% discount on your first order and free grooming recommendations every week.
Unless stated otherwise, discount codes are not automatically activated. Customers must enter the codes at checkout for the discount or special offer to take effect; this is a great way for buyers to save money.
Contact Brickell
To get assistance on anything customer service-related, click the Help button situated at the lower right corner of the screen. Customers may also consult the Frequently Asked Questions page, which contains typical queries and responses.
Use the wholesale contact form for inquiries relating to wholesale, distribution, and partnership. Alternatively, you can send their support team an email at [email protected].
Is Brickell A Good Brand: Editors Verdict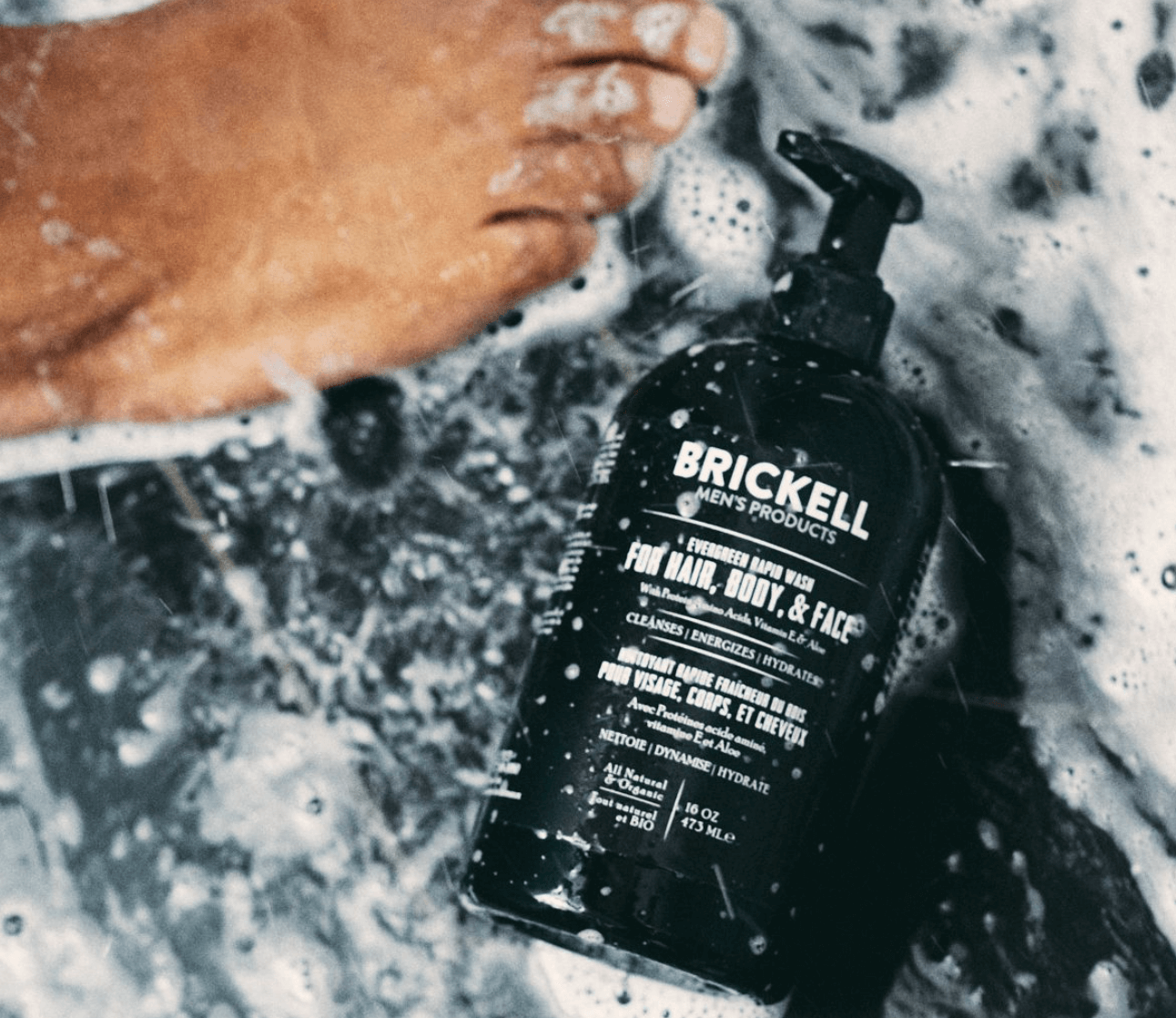 If you are asking yourself: Is Brickell a good brand? The answer is yes. Brickell men's products are known for their premium quality.
Their products are vegan and formulated scientifically to help men achieve healthy and hydrated skin. All Brickell products are also cruelty-free, meaning that the brand does not test them on animals or are any animals hurt during production.
Our Brickell Men's products review looked at the feedback left by customers, and it is clear that over 90% of users feel satisfied with what they offer.
Therefore, Brickell is a good men's grooming brand, and we recommend it to all men looking to improve their skin health and appearance.
Looking for some quality men's skincare products? Check out our other popular beauty brand reviews of Supply Review, Bevel Review, Ahava Review, and American Crew Review.
Brickell FAQ
Does Brickell offer samples?
Yes, Brickell offers samples of their products for customers to test before purchasing. This is an excellent way to know if the product you want to buy is good for you.
Does Brickell test on animals?
No. Brickell is a supporter and promoter of cruelty-free products. The brand does not test any of its samples on animals.
Is Brickell really all-natural?
Yes. All of Brickell's products are all-natural and utilize high concentrations of organic components whenever feasible. They are, in essence, everything you would expect from a group of hippies minus the hippie vibe.
My product has separated, is that normal?
Yes, slight separation may occur due to temperature changes, but it does not hinder the product's efficacy. Some natural ingredients separate since they have higher thresholds, and the brand avoids using artificial binding agents.
To reconnect, place the product inside your refrigerator for a couple of hours. Afterward, take it out of the fridge and stir. Remember that even if it does not reconnect fully, its efficacy is not affected.
Can Women Use Brickell Products?
Yes. Most clients are women, and the brand recently launched a line for women called Eight Saints.