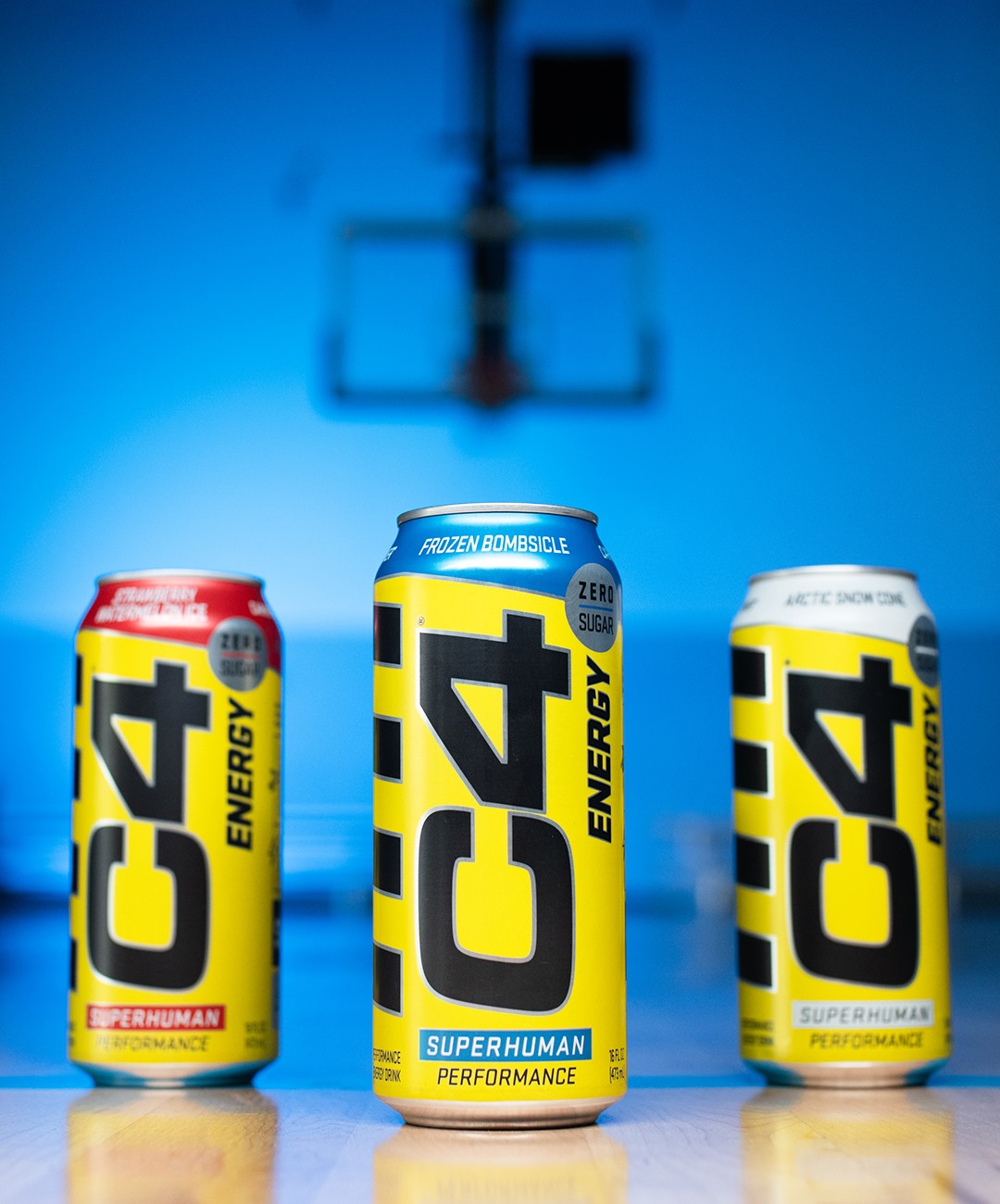 Energy drinks improve reaction time and enhance alertness. With so many brands in the market, one may be confused about the best energy drink to purchase. If you are looking for sugar and calorie-free pre-workout drinks, C4 Energy offers you the best drinks. Their drinks will help you boost performance and stay alert the whole day. This C4 Energy drink review will look at the company's bestsellers, customer ratings, discounts, and much more to help you determine if their products are worth the buy. 
About C4 Energy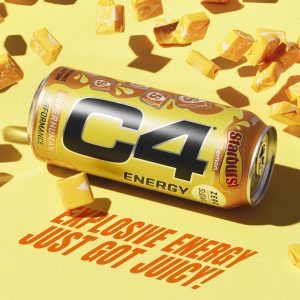 C4 Energy is a pre-workout drink distributed by the brand Cellucor. The drink is designed to enhance alertness and boost performance. The initial target was the gym-going consumer because it acts as a pre-workout supplement. 
Cellucor is a company founded in 2002 in Austin, Texas. The owner of this brand is Nutrabolt, a sports nutrition company. Nutrabolt launched C4 Energy in 2011 and decided to distribute them under the brand Cellucor.
The energy drink has taken the fitness world by storm. Fitness enthusiasts love the drink because it is sugar and calorie-free. Besides its body and brain benefits, it is ideal for strenuous activities and muscle-pumping workouts. 
The owner and founder of Nutrabolt is Doss Cunningham. He has been the CEO of the company for the last 12 years. Cunningham has led the company from its early stages when it was a start-up company and has made it the leading sports nutrition company in the world with retail sales of over $650 million.
Cunningham is also the co-founder of FitJoy, a nutrition company that is rapidly expanding. He has dozens of investments along the same line. 
Since its inception, C4 drinks have hit the market waves as a functional energy drink. It has become popular among consumers because it fuels one's body for performance in the gym, during general workouts, and enhances active lifestyles. 
More about C4 Energy
C4 drinks contain Beta-Alanine and CarnoSyn performance ingredients that boost energy levels and improve mental focus for overall performance. Besides its winning formula, the drink is available in various explosive flavors with zero sugars, calories, and carbs. 
After a decade of being in existence, C4 is undisputedly the best pre-workout drink. It has garnered nearly half a billion retail sales and over 50% dominant share category. The drink's focus is on energy, which has made it a leading brand over the years.
The popularity of the drink is evident on all social media platforms. The brand boasts over 320k Instagram followers and more than 990k followers on Facebook.
Before we dive deeper into this C4 Energy drink review, check out some of the company's pros and cons. 
Pros
Free shipping and returns

The company offers a variety of energy drinks to choose from

Their energy drinks are sugar and calorie-free

C4 Energy products are safe for vegans and vegetarians

There are several offers and deals on the company's website

The drinks are available in tons of tasty flavors
Cons
You will need a physician's approval before consuming any of their products.

Long-term use of caffeinated products has some negative side effects

The company does not offer 24/7 customer support
C4 Energy products Review
If you are asking yourself: Is C4 Energy drink good? We'll look at the overview of some of their top-selling products to help you know they are worthwhile. 
C4 Energy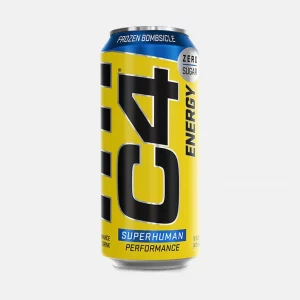 C4 Energy carbonated drinks are available in ten different tasty flavors that have zero sugars. Some of the top-selling flavors are Cherry, Cotton Candy, and Orange Slice. The drinks are so tasty you will not believe they have no added sugars. 
According to the brand, these C4 Energy drinks are made from an explosive energy blend making it the perfect drink to boost your energy and concentration when fatigue creeps in. 
If you are feeling a bit lazy and need something to jump-start your day, grab the 12-pack cans for $30. 
Energy drink C4 is made from a mixture of carbonated water, which improves digestion and reduces constipation. Another active ingredient is citric acid which helps with energy metabolism. Potassium sorbate is also incorporated to help prolong the shelf-life of the drink by preventing the growth of fungi, yeast, and mold. 
The nutritional value of this drink is vitamin B12, which keeps the body and nerve cells healthy. You will also get niacin to lower cholesterol levels and boost brain function. 
If you are asking yourself: How much caffeine is in a C4 Energy drink? This drink contains approximately 200mg of caffeine per 16 oz can. Caffeine is a stimulant that will increase your energy levels during workouts and give you a clear, focused mind. Your muscles will also be hydrated. 
According to the FDA, recommendations take a maximum of two cans daily. You can drink a can when you feel you need extra energy. 
C4 Energy X Starbust Candy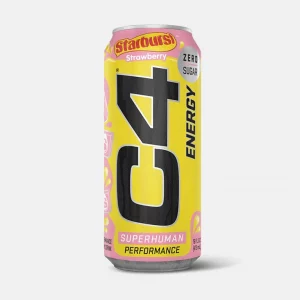 The C4 Energy x starburst candy, a partnership of two brands, offers flavors that are on point. The drink is available in four flavors; cherry, strawberry, lemon, and orange. 
These four flavors are power-packed with the needed caffeine to boost your workout sessions. The product is sugar-free and calorie-free, and you can get a 12-pack for $30.
This C4 Energy drink is made from natural flavors to enhance its taste. Additionally, it contains malic acid to help fight muscle fatigue, promote energy production, and increase exercise endurance. It also features sucralose, which produces an energy-rush sensation through a combination of herbal supplements, nutrients, and vitamins.
Even though it contains zero calories, zero sugars, and zero carbs, you don't have to be worried about the C4 Energy drink nutrition facts. The 16-oz can give your body 30 mcg of niacin and 6 mcg of vitamin b12. 
Drinking this product will give you explosive energy. The drink will pump your body with 200 mg of caffeine to hydrate your muscle cells while increasing endurance during workout sessions. 
Starburst C4 Energy drink is designed for pre-works; you can drink it 20 to 30 minutes before you hit the gym. You can still enjoy the drink even if you are not working out. The brand recommends its customers take C4 drinks just before bedtime because the caffeine will interfere with their sleep. The best time to take this energy drink is just before doing a strenuous activity. 
C4 Energy Variety 6-Pack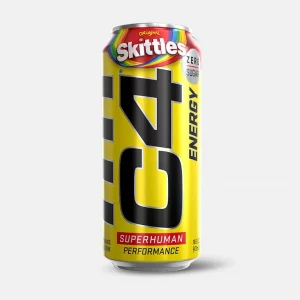 The C4 Energy variety 6-pack has a wide variety of energy drinks loaded with potent ingredients for an effective fitness journey. The C4 Smart Energy is a classic example. When things get tough and you can't focus, try this drink. 
This C4 Carbonated Energy Drink is made for those people who are overwhelmed with work and need a boost of energy to get things done. The smart pack is available in six juicy flavors: ice blue razz, electric sour, peach, mango, and nectar. You can get it for $29.99.
This C4 Energy drink review found that the potent ingredients used to manufacture the drink are cyanocobalamin, which helps maintain nerve cell function and increase energy levels. Acesulfame potassium is another ingredient that adds flavor to drinks without increasing the calorie content. It also features niacinamide, which breaks down food molecules to release energy. 
Smart Energy Drink does not have fat, carbs, and calories. Despite that, you will get 30 mcg of niacin and 6 mcg of niacin. 
C4 Smart Energy works to give you a clear and undistracted focus. It also assists in increasing concentration and enhancing alertness. Once you take the Smart Energy drink, you can effectively handle stressful situations and tackle challenging tasks.
The drink uses caffeine, which acts as an energy boost. It is advisable to take it before engaging in a challenging task. If you have an early morning exam, take a can of this drink and witness the magic of Smart energy. 
C4 Ultimate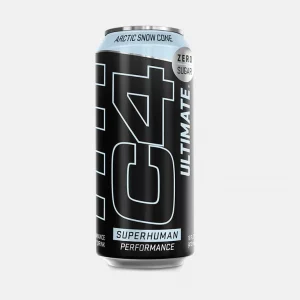 Cellucor has rebranded and reintroduced a stronger go-to performance energy drink; this product has maintained its original values of convenience with zero sugars, carbs, and calories. 
The formula behind the C4 ultimate carbonated drink contains active ingredients in the previous version. You can get this C4 energy drink for $34.99 and enjoy C4 Energy drink benefits. 
Fuel your ultimate energy with this explosion of tasty flavors. Every can is packed with fantastic flavors designed to kick start your taste buds and give you an energy-packed day.
The ultimate carbonated drink is made from clinically studied ingredients to give incredible energy. The ingredients used to manufacture it are Beta-alanine, which reduces muscle fatigue and enhances performance by increasing the workout capacity. It also has CarnoSyn to enhance muscle performance. Alpha- GPC is also an active compound that enhances cognitive performance. 
Do not consume this drink if you are pregnant or breastfeeding because it contains 300 mg of caffeine, which can reduce the blood supply to the fetus. This product is also not recommended for children. 
If you want to engage in vigorous exercise consume one can of 10 oz 30 minutes before the challenging exercise. Some people tend to experience a harmless tingling sensation. The feeling is attributed to beta-alanine, an active ingredient that reduces muscle fatigue and increases exercise capacity.
C4 Energy Drink Review from Customers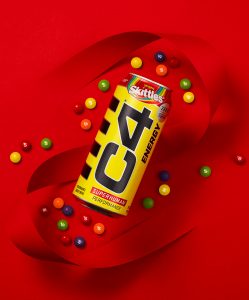 If you are wondering: Is C4 Energy drink good? Our team checked C4 Energy reviews from customers to answer this question. We found that most customers left positive reviews. Many customers who bought the C4 Energy drink can attest it is the leading pre-workout drink in the market.
The C4 Energy drink reviews that the team analyzed are in line with what is written on the company's website. The energy drinks enhance alertness and improve performance and concentration. They are free from sugars, calories, and carbs.
One customer from Amazon says she loves workouts. Every time she goes to the gym, she buys one of the C4 carbonated drinks and chugs it down. The drink is effective because she gets so much energy, which makes her workout sessions last long. The consumer is grateful because she always looks forward to going to the gym.
Looking at the company's website, one customer raved about C4 drinks because they are low on calories. According to them, they love the blueberry and cherry flavors because they have an amazing taste. The drink is helpful because he suffers from a sleeping disorder. He sips the energy drink in the late morning and the late afternoon together with his meds, which help to keep him awake and alert.   
Another reviewer is satisfied with the red and blue C4 because they are the best-tasting energy drinks on the market. The customer has sampled many energy drinks, but none of them compares to C4 energy drinks. He said they are fulfilling and gave him an energy boost they could not find in other drinks.
Sign up for C4 Energy
To get started with C4 Energy products, visit their official website and register an account. Check the small box at the end of the page to receive exclusive deals, recipes, and workouts. 
Once you complete the registration, you'll earn points every time you shop for energy drinks on their site. You can also review, track your orders, and manage your subscriptions. 
Where to Buy
If you are wondering: Where to buy C4 Energy drink to enjoy its benefits? You can purchase their products on their website C4Energy.com. Their products are also available in stores across the United States, including GNC and Walmart. Use the store locator on their website to find a store near you. 
C4 Energy Shipping and Return Policy
Shipping:
C4 Energy ships its products from its warehouses across the country; the warehouses don't operate on weekends and most US holidays. Allow 3 to 5 business days to ship your orders from the warehouse. Expedited orders are prioritized and shipped overnight. Orders are often shipped using FedEx and USPS. 
Return Policy:
C4 Energy cares about its customers and their needs. If you purchase any of their products and are not satisfied, you can request a refund or a replacement of the product. Their return policy only applies to products purchased on their website because they don't have control over other unauthorized sellers. C4 Energy has a 60-day 100% satisfaction guarantee for C4 and cellular products. 
C4 Energy Promotions & Discounts
Our team discovered several C4 Energy sale promotions and discounts available to customers that will help them save money when shopping for their energy drinks.
Get 20% off and free shipping for orders above $75 when you use the code JULY4

Military discount: Get 30% off when you shop on their website

Student discount: 25% off when you purchase the 6-pack

Give your friends $20 off $50 on their first order and get $20 off $50 for each successful referral
Contact C4 Energy
To know more about C4 Energy products, or if you have any questions, contact the company through their phone number (866) 927-9686. You can also send an email through [email protected], and they will respond within 24 hours. 
Alternatively, you can send them a message on their Facebook or Instagram page.
C4 Energy Drink Review: Editor's Verdict
To conclude this C4 Energy drink review, we think the brand is worth checking out. The company has numerous positive reviews online, and it ranks as the leading pre-workout drink in the market. 
Many customers appreciate the availability of a wide selection of different flavored drinks. Our team recommends their products because they are one of the few energy drinks with zero sugar, zero carbs, and zero calories. Their drinks are also formulated with active ingredients that have proven effective in enhancing alertness and concentration. 
Are you still looking for other brands that specialize in drinks like coffee or wine? Read our reviews of Atheltic Brewing, Atlas Coffee Club, and Bev Wine. 
C4 Energy FAQ
How much caffeine is in C4 Energy drink?
A can of C4 Energy drink has 200mg of caffeine, zero sugars, and zero calories. Other drinks contain 300 mg, meaning consumed by pregnant and lactating women should not consume them.
Are C4 Energy Products safe?
Yes. C4 Energy products are safe because they contain legal dietary ingredients harmless to anyone 18 years or older. The company recommends you consult your primary care physician before starting a supplement regime. Your physician will be able to advise you if you are healthy to take our supplements to boost your lifestyle and fitness journey. Additionally, C4 Energy products are manufactured under strict guidelines and regulations set by FDA. The regulations imposed by the FDA cover all safety standards.
Is there any chance that I could fail a drug test?
No need to worry. All their dietary supplements are formulated with safe and legal dietary ingredients. Their supplements are unable to show a false positive or make you fail a stimulant test during a urinalysis. The company cannot risk breaking the Public Safety program. If you are an athlete, please consult with your trainer or testing facility because the standards set for athletes are different.
Who is the founder of C4 Energy?
Doss Cunningham is the founder and CEO of Nutrabolt, the largest sports nutrition platform that manufactures C4 Energy.