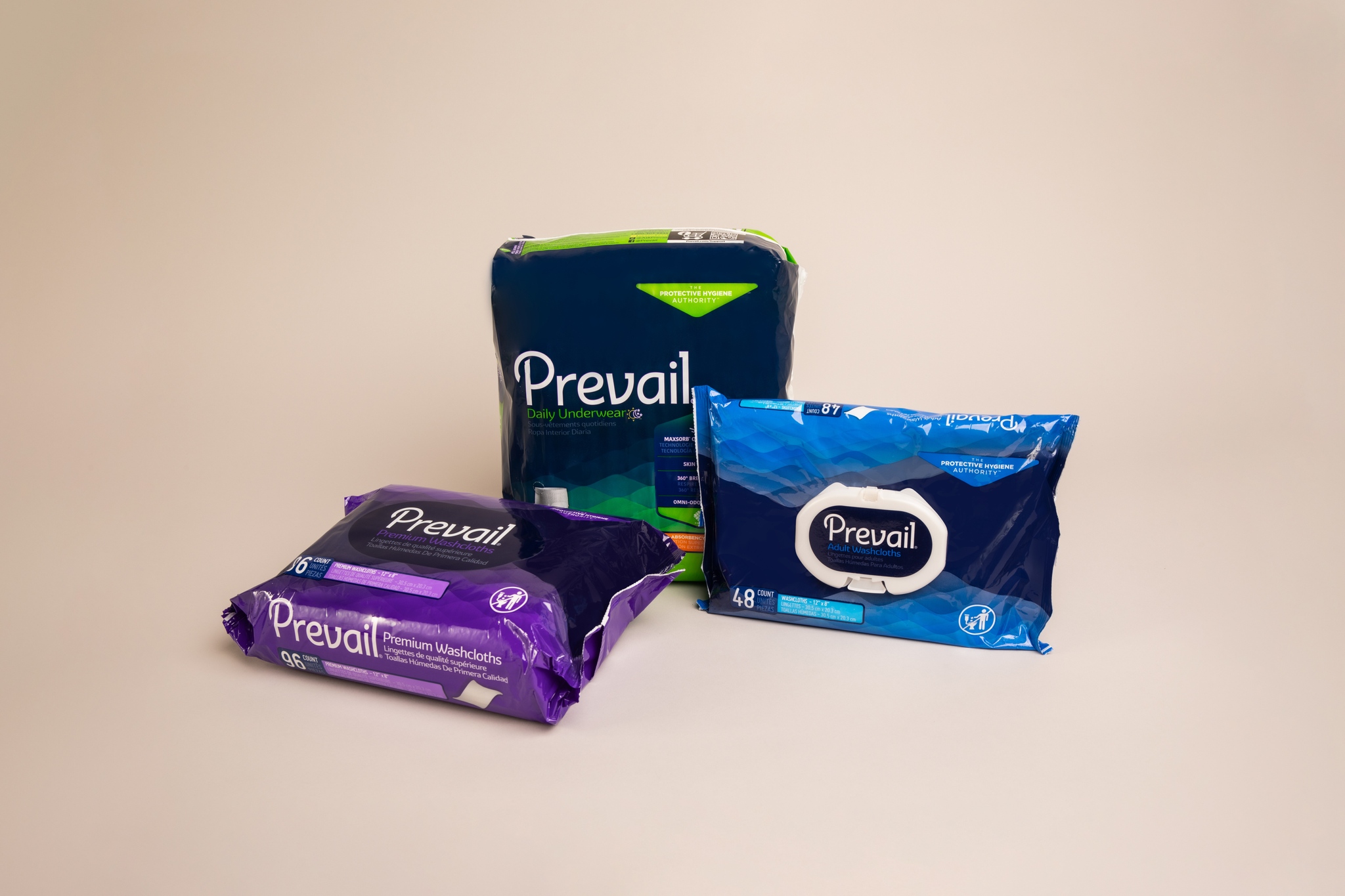 Everyone wants to take care of their loved ones to the best of their ability. But sometimes giving them the best care can be overwhelming. You want to make them comfortable, and finding the right care products is another frustration many people face. Decent and quality care products are often offered at very high prices in the market, adding more stress to accessing them. Are all these issues worrying you? Don't fret. Carewell comes intending to provide a peaceful shopping experience by offering helpful service and support. The brand offers quality and affordable personal and healthcare products. This Carewell review will examine the brand's best-selling products, customer ratings, promotions, and more. Keep reading to decide if its products are worth purchasing. 
About Carewell Products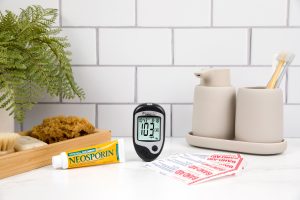 Bianca, one of the co-founders, was taking care of her grandmother when she realized that it was challenging to know what products to use and where to find them. She trolled the online marketplace and could only get more confused about which product to settle for. Her search in the local shops was unfruitful because she found the limited selection, no discretion, and no empathy. 
The products had no guide for what to expect, and she found everything disconcerting. Bianca and her husband Jonathan decided to come up with a better solution for caregivers. The brand's mission is to make caregivers' lives easier by providing products that are convenient and pocket friendly. The company offers educational content, high-quality products, and empathetic guidance in the comfort of your home.
The brand's team is made up of real people, including caregivers who believe in trust and dependability. The team understands that a family's health and wellness come first and strive to make you feel supported. The couple gathered together their ideas, strength, and experiences to create a brand that changes lives. The brand was launched in the year 2015.
Carewell was featured in many prestigious online media, such as BMC Health Services and ScienceDirect, Brand's social media presence is rapidly growing, already counting over 4k Instagram followers, 11k Facebook followers, and can be also reached via Twitter and LinkedIn.
Pros
They offer an expansive collection of home care, personal care, and wellness products

The company offers all sizes up to 3XL

Their products are affordable, especially for bulk orders

Their Autoship program can help you save money

Family-owned business

Their products come with thoughtful packaging
Cons
The brand does not offer international shipping

You can only buy their products on their site

No live chat function on their website
Carewell Products Review
The brand stocks an immense range of products to help caregivers across the United States. Buyers have a hassle-free experience buying households, hygiene, and Carewell medical supplies. We investigated the best Carewell products to find out their special features and the reason they outshine other care products in the market.
Tranquility Pull-Up Underwear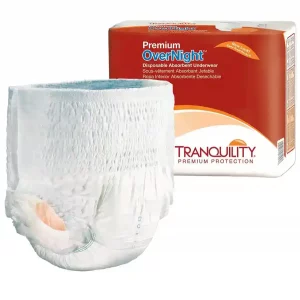 The tranquility pull-up underwear is adults' diapers that resemble real pants. The diapers are super absorbent that slide up and give the user a comfortable fit while asleep. The pull-up diapers are silent, breathable, and adequately created using a soft, premium fabric. 
The Carewell diaper keeps the skin dry, knocks off odor, and puts an end to bacteria growth. The style allows for overnight protection, and the inner legs cuffs prevent leakage of the liquid that results from the bowels/bladder voids and channel it to the core of the underwear. For those who experience daytime leaking, the tranquility pull-up underwear makes the perfect all-day diaper. 
This Carewell review found that the diaper's high absorbency allows your loved ones to sleep longer without the worry of experiencing falls and heavy leaking in the middle of the night. 
The underwear features an odor reduction technology that neutralizes the bad smell in urine for a fresher and clean feel. The diaper is soft and gentle on the skin with a full-rise waist panel for a comfortable waist fit.
The unisex underwear features a polymer top sheet material and a cloth-like backing. Tear the sides of the diaper for easy removal. 
Prevail Adults Wipes with Lotion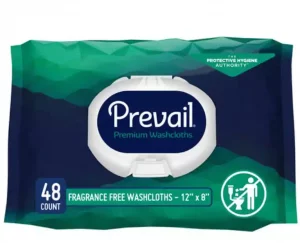 The Prevail Adult Wipes are created for soft skin and contain no added scents. They are small washcloths formulated for personal cleaning. They are larger and stronger than baby wipes packed in a dispenser pack that prevents evaporation of the moisturizing ingredients. 
Our Carewell review discovered that these wipes contain aloe vera, which moisturizes and helps alleviate dry and itchy skin. Aloe offers antibacterial properties that help in gentle cleansing. It prevents infection, and its antimicrobial properties treat any form of rashes and, at the same time, reduce redness and inflammation.
The adult washcloth also contains vitamin E, which is a fat-soluble vitamin rich in antioxidants properties. Vitamin E protects the skin cells from damage and creates a natural barrier that keeps the skin moisturized throughout the day. Vitamin E makes the skin soft, radiant, and supple. It prevents other substances from penetrating the skin to irritate. The wipes are unscented, non sterile, and not made with natural rubber latex.
Chamomile is another ingredient present in the Prevail Adults Wipes. This ingredient has been used for ages as a cure for irritated, sensitive, and dry skin. Chamomile helps to address redness and hyperpigmentation as well as soothe sensitive skin. It also promotes cell regeneration, aids in wound healing, and offers other antimicrobial advantages to the skin.
Carewell Medical Supplies Wound Care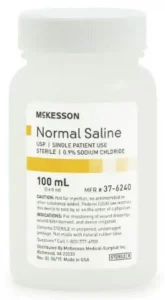 Is your loved one suffering from a stubborn wound? Carewell offers McKesson Irrigation Solution, Sodium Chloride that moistens wounds dressing, device irrigation, and wound debridement. The Carewell medical supplies wound care is not used for injection and contains zero anti-microbial or other substances. 
The sterile salt creates an environment that destabilizes the growth of bacteria, hence keeping the wound free from infections. The concentration of saline in this solution is 0.9%, and it draws water out of the wound through osmosis, giving a drying effect. 
Medihoney First Aid Gel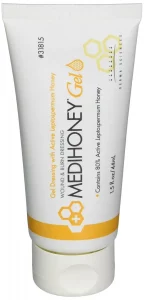 You don't have to struggle managing wounds and burns for your family anymore. This product contains Leptospermum Honey (ALH) extracted from the Leptospermum species of tea tree. The medical-grade honey-based product has properties that are helpful in all phases of wound healing. 
The high healing capabilities have made this product rank first in the medical industry, and many clinicians use it to manage chronic, acute and stalled burns and wounds.
This product contains a combination of 80% of Leptospermum honey and 20% natural gelling agents. The gel contains low PH of 3.5 to 4.5 to create a more acidic PH within the wound to facilitate faster healing. The formula is natural and non-toxic, and it is effective even in a wound with blood, fluid, or tissue.
This product is safe for diabetic foot ulcers, leg ulcers, pressure ulcers, first- and second-degree partial-thickness burns, donor sites, and traumatic or surgical wounds. Depending on exudate, the first aid gel is suitable for extended wear times.
Banatrol Plus Diarrhea Treatment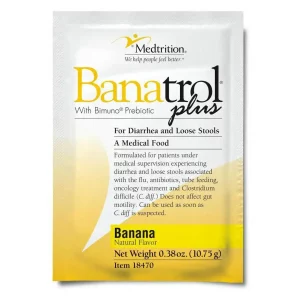 Loose stools can be frustrating, more so if you are generally ailing. Are you or your loved one experiencing awful moments or regular visits to the washrooms? Carewell has a relief for that. The Banatrol plus diarrhea treatment is made of banana flakes and clinically proven Bimuno prebiotic. The prebiotic feed on the good bacteria and do away with the bad ones to improve and restore normal gut health. 
The banana flakes contain high soluble fiber that solidifies the stool by working through absorption to shorten the time and severity that comes with diarrhea.
The product does not slow gut motility and can be administered through tube feeding. A patient can use it continuously to thicken stool and end the diarrhea constipation cycle. The powder mixes well with juice or water, and you can add it to pudding, yogurt, or apple sauce. 
Carewell Reviews from Customers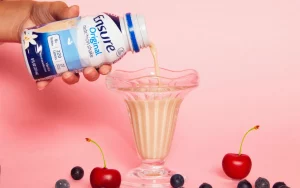 So many customers are already enjoying access to quality and natural personal care products at affordable prices. We checked Carewell com reviews to find out what their customers are saying about the brand and its products. The company has a 5-star score with overwhelmingly positive reviews on its website. 
More than 90% of reviewers appreciate the company for offering clean and cruelty-free products for all. Customers are impressed by the well-thought-out and crafted products they offer, terming them the best in the market.
The brand boasts of a high number of buyers who love the convenience of its products. They are also the go-to products for individuals who have no idea where to start when it comes to perfect caregiving. The brand's diapers are soft and super absorbent, gentle to the skin, safe, and don't irritate. 
Since its inception, Care well has never received any complaints, and through that, we can tell that the company pays attention to providing the best. Customers praise the efficient customer service support team and faster deliveries. 
On TrustPilot Carewell has almost perfect score – 4.9/5.
Sign Up for Carewell
To get started with Carewell, you need to visit their sign-up page on their website and create an account. The registration process is a cinch. You are required to provide your first and last name, valid email address, and password. The site will send you an email with a link that you will use to activate your account.
Once you complete the registration process, you are free to start browsing through the products they offer and have a happy shopping experience. You will also get updates on new arrivals and products, brand news, promotions, and shopping reminders.
Where to Buy Carewell Products
Carewell is a direct-to-consumer brand that offers pocket-friendly prices and a huge selection of products. Therefore, you can only find the company's products directly from their website Carewell.com.
Carewell Shipping and Return Policy
Shipping:
Buying adult diapers is no longer embarrassing as Carewell delivers their packages in discreet boxes with no branding. Orders placed before 3 p.m. ship the same day, while orders placed after that roll over to the next business day. Orders take 1-2 business days to arrive at the destination. Free shipping applies to orders worth more than $50, and a flat rate of $5 shipping fee is chargeable to orders above $50.
The company ships orders through UPS to provide customers with the fastest and most reliable service. The company sends customers an email with the tracking information for follow-up. 
Carewell does not ship orders outside the United States.
Return Policy:
For return, the packaging and tag should be intact, in the same condition you received it, and in the original packaging. The brand offers a 30-day return window period. If your return request is accepted, Carewell issues a full refund as long as the return is within the window period. To initiate the return process, reach out to the company at 1-855-855-1666.
Carewell Promotions & Discounts
The brand offers several discounts to help you save on your purchases. They include:
10% off for First Responders, veterans, teachers, and medical staff 

Carewell allows you to save money with their Autoship program

You get to enjoy free 1–2 day shipping on orders over $50

Use the Carewell discount code SPLASH at checkout to save $10 on orders over $100, $20 on orders over $120, and $30 on orders over $15

With code TOGETHER, you can save 10% off Carewell incontinence products + wipes when you buy them together 

Free pill organizer when you spend $50 with code DAILY

10% off Oral Care products with code SMILE
Contact Carewell
This Carewell review found that the company has a professional and friendly customer support team. So, if you want to make further inquiries, leave a comment, or start a complaint, feel free to contact them. Their support team is available around the clock. You can reach out to them by phone at +1(855) 855-1666 or email at [email protected]. 
The company also has a live chat feature on its website where you can chat directly with them. They are open from Monday to Friday between 8 a.m. and 7 p.m. and on weekends from 9 a.m to 6 p.m. EST.
Carewell Review: Editor's Verdict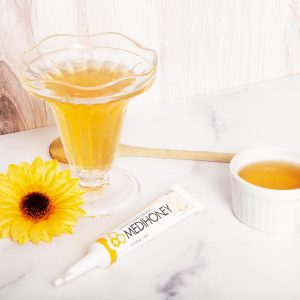 To conclude this Carewell review, we recommend this company because it offers value for every dime spent on its products. Additionally, the company focuses on providing safe and well-thought-out products that are safe and accessible. The brand's packaging is discrete and saves you from the embarrassment of buying adult diapers. 
The band reduces the stress of finding the right products, which mostly come with a high price tag. Carewell diapers look like regular pants and are designed to offer a perfect fit and prevent leaking. The diapers can hold more and give your loved one to feel normal and active once more. 
Customers who have used personal care and medical supplies stated that the products worked like magic on their health. Carewell home health company worked its way off to ensure caregivers find it easy, manageable, and less frustrating. 
The brand uses clean ingredients sustainably sourced to ensure that products are natural, cruelty-free, and safe for all skin types. The brand doesn't compromise on quality, and it produces effective and convenient products.
Other customers have testified that the products are easy to use and don't cause skin irritation or sensitivity. Although a couple of customers raised some service concerns, the brand generally received high praises from most people.
Are you looking for other brands to help with your health and wellness journey? Read our reviews of the 10 Vitamin Subscription Boxes, 10 Best Vitamin Supplement Brand, and Botanic Choice. 
Carewell FAQ
Is Carewell legit?
Are you asking yourself: Is Carewell legit? Yes, Carewell is a legit company that started in 2015. The brand's mission is to make the life of caregivers easy by providing the products they need at their doorstep. The company is for caregivers who want proactive services at an affordable price. The company offers them the selection and guidance they need at a click of a button.
Where is Carewell made?
The family-owned e-commerce company headquarter is based in Charlotte, North Carolina, in the United States, with branches all over the country.
What sizes does Carewell have?
Carewell offers a range of sizes from small to 3XL. They ensure that everyone gets the right size for their loved ones and make it easy for them to choose the perfect fit. To choose the best pull-up size, measure your waist and hip sizes in inches. Use the larger number between the two to reference the sizing guides the company offers for every product. A nice fitting product will feel comfortable, not tight, and the core rests well against the body.
How do I change Carewell's adult diaper?
Rest your patient/loved one on an absorbent underpad, roll them onto their side and slide the product down the legs. Some diapers can be torn on the sides for easy removal. Clean them using the Carewell wipes and change them with a fresh and dry product for the later hours.