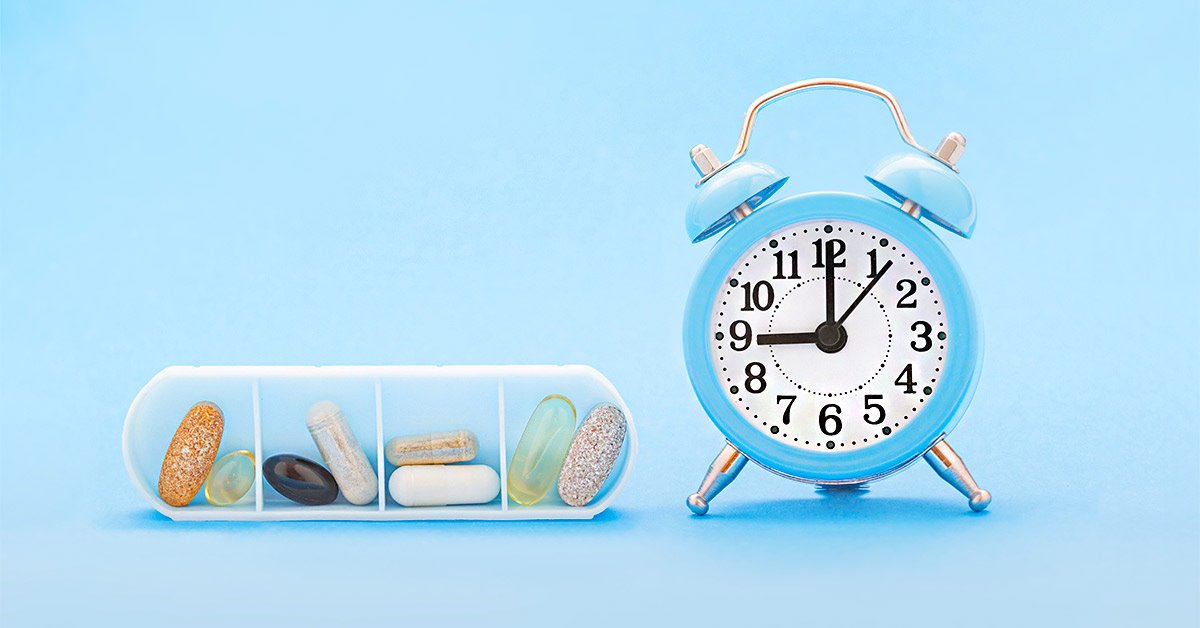 Botanic Choice is an online retailer selling affordable, natural supplements, vitamins, and other health-related products. The company's history goes back to the beginning of the 20th century, so there is no doubt the company has earned everyone's trust already, but how about the products? How about the customer service? Do you know everything you should before placing an order? In today's review, we are going to get behind the brand's history and values and take a closer look at the product line itself. As we always do, we are also going to check the customer's opinion about the brand company by analyzing Botanic Choice reviews from multiple sources.
In the end, we are going to answer some of the key questions you might as well have on your mind about the Botanic Choice products and production.  So if you are here to find out whether or not Botanic Choice is the right choice for you, we are ready to answer all your questions and give you an insight into the operation and production of the company. 
About Botanic Choice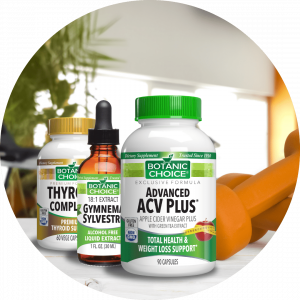 Botanic Choice was founded in 1910 by Joseph E. Meyer who dedicated his whole life to providing herbs and herb-based supplements to the people. At the beginning of the company, Mr. Meyer traveled all across North America and Europe to find the rarest herbals and gather information about plants and their right uses. As the business expanded, the company moved from the home cottage to an inspiring new location, to a wild tract of land found on the Little Calumet River. Soon, the land became "a profusion of medical plants" and in 1926 the home of Indiana Botanic Garden, Inc was built.   
Today, Mr. Meyer's great-grandson, Tim Clealand is the president of the company, continuing the family tradition. Nothing proves better than the company's success than the fact that what was once a small business located in the Meyer's cottage has grown over the years into the world's largest retailer of herbs and herbs-based supplements by mail order. 
Pros
A wide variety of budget-friendly supplements and vitamins made of high-quality ingredients

They develop vegan, non-GMO, and gluten-free products, too

Price-wise the products are affordable and you can save money by opting for a refill or purchasing a larger size

Straightforward customer service and customer-friendly return policy

Simple shipping policy with flat rates
Cons
Refunds do not include the cost of shipping and the processing fee

Some buyers seem to be inpatients as the supplements take time until they show results
Botanic Choice Products Review
Now if you are ready, let's dive deeper into the world of Botanic Choice vitamins and supplements, and take a closer look at the products themselves. As Botanic choice sells natural supplements to customers, in the next section we are going to investigate some of the most popular products and ingredients used in production. It's among the best vitamin supplement brands. Also, after discussing the products, we will check what buyers have to say about them by analyzing some Botanic Choice reviews from previous customers. 
Botanic Choice Aloe Vera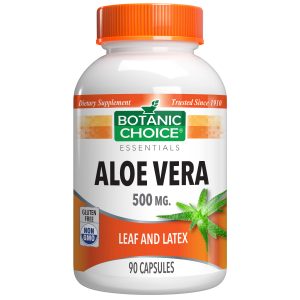 Aloe Vera is well-known for its health benefits, especially when it comes to cleansing the digestive tract. It has a boosting effect on stomach and liver health, helps sustain a healthy immune function, safely cleanses the digestive lining, soothes the digestive tract, and last, but not least, offers a daily infusion of the most important nutrients your body needs for an overall healthy state. 
The Botanic Choice Aloe Vera offers all these effects, as it is rich in vitamins, minerals, enzymes, amino acids, saponins, and sugars (the good types of sugars, of course).
Among these, the supplements have other ingredients too that you can find listed in the product description. They contain Rice flour, Gelatin Capsule, Magnesium Stearate, and Silicon Dioxide. In terms of price, one Botanic Choice Aloe Vera bottle includes 90 capsules, 500 mg each, and it costs $12.99. According to the Suggested Use instruction, you should take 1 capsule on a daily basis with your meals. 
Botanic Choice Thyroid Complex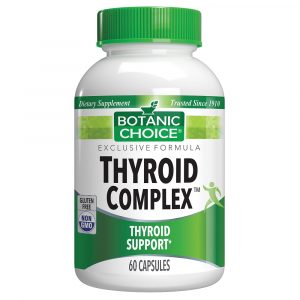 You might have very little clue why your Thyroid is such a big deal nowadays and why you should pay attention to it. Well, the latest research shows that the Thyroid is very much likely involved with your weight, sleep quality, temperature regulations, your energy levels, it affects your mental alertness and mood, influences your hair quality, and last, but not least, has a crucial impact on the health of your heart and your cholesterol levels. 
The Botanic Choice Thyroid Complex is a gluten-free and non-GMO supplement that was developed to nutritionally support your Thyroid. With the help of supporters such as iodine, selenium, and zinc, the complex maintains a healthy Thyroid function. Among others, it focuses on supporting your immune and cardiovascular system, keeping your hair and nails healthy, maintaining an optimal healthy body weight, a healthy body temperature, energy levels and it also helps your mood and digestion. 
If you read the ingredients list, you will see that this Thyroid Complex is rich in vitamins, minerals, and other nutrients. It contains 190 mcg of Iodine, 100 mcg of Selenium, 25 mg of Zinc, 1.5 mg of Copper, 100 mg of L-Tyrosine, 310 mg of Magnesium, 10 mg of Manganese, and a big dose of Vitamins B1, B2,  B3, B6, and B12.
A bottle comes with 30 capsules and the recommended serving size is 2 capsules/day. In terms of the price, the Botanic Choice Thyroid Complex costs $24.99. 
Apple Cider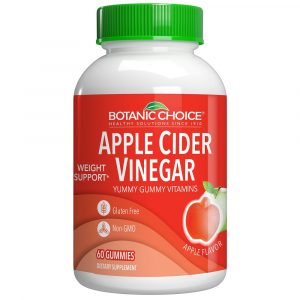 It is not a secret that apple cider is the "dieter's favorite", and it can really be your biggest supporter if you want to lose some weight quickly. The Botanic Choice Apple Cider Vinegar Gummy was made to help you get your daily nutrients and reach your weight goals. The supplement comes in a zappy apple flavor, it is non-GMO and gluten-free and is rich in vitamins B-12 and B-9. If you look at the ingredients, you will quickly notice that the yummy gummies also include Iodium, Sodium, Folate, and three types of fruit powders: Apple Cider Vinegar powder, Pomegranate Juice powder, and Beet Juice powder. These superfoods are great sources of key nutrients and plant compounds that can boost your health and support healthy living. 
The bottle contains 60 gummies, and it costs $14.99. According to the Suggested Use instruction, you should chew 1-2 gummies up to 3 times a day. 
Ultraimmune Botanic Choice Vitamins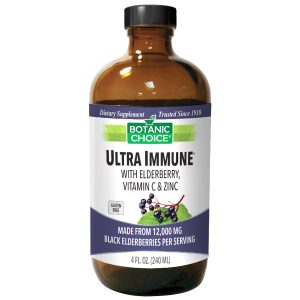 If you are scrolling through the large selection of Botanic Choice vitamins, you most likely will come across one of the most popular products: the Ultraimmune Botanic Choice Vitamins. Looking at the ingredients list, this product is rich in Vitamin C and Zinc, but also includes a good dosage of Black Elderberry, Red Raspberry Juice Concentrate, and 75 mg Proprietary Herbal Blend. This vitamin is a true immune booster that was developed to support your immune system all year long and promote your overall health. 
Price-wise, when you order the Ultraimmune Botanic Choice Vitamins, you can choose between two types of bottles: 4 oz and 8 oz. The 4 oz bottle costs $18, while the 8 oz bottle is $32. The serving size of this supplement for adults and children over the age of 12 is 2 teaspoons per day and 1 teaspoon daily for children between 6 to 12 years old. 
Herbal Botanic Choice Supplement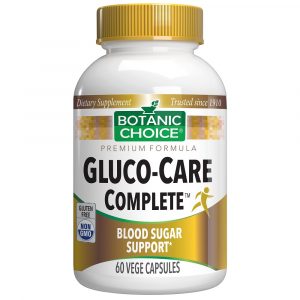 If you are looking for a Botanic Choice supplement to boost your immune system and maintain your overall health, this product might be the one. The Gluco-Care Complete targets glucose, by combating glucose-spiking foods like carbs, sugar, or starches. It maintains a healthy glucose level in the bloodstream, offers high antioxidant protection, and supports weight management. 
In terms of ingredients, the product includes Vitamin K2, Magnesium, Chromium, GlucoHelp Banaba leaf extract, Coenzyme Q10, Cinnamon, and other additional ingredients such as rice flour and magnesium stearate vege grade. 
Botanic Choice Reviews from Customers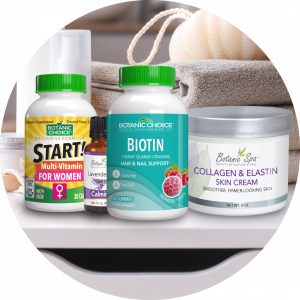 To give you our unbiased, honest opinion, we also looked into some Botanic Choice reviews from customers. We researched the company's website and other third-party sites such as Amazon and SiteJabber. The overall feedback is quite positive, people say that the Botanic Choice vitamins and supplements are effective and deliver the promised results.
A previous buyer that started to use a Botanic Choice supplement for hair growth says that the product is so effective that even half of the recommended dosage got her the results she was aiming for.
Popular Alternatives to Botanic Choice
Undoubtedly, the best Botanic Choice reviews are about vitamins and supplements that support hair and nail growth, but people are also satisfied with other products, too. 
Most products are rated 5 stars or 4 to 5 stars. It seems that customers are more than happy with what the brand offers, and they have no bad feedback about the customer service either. 
Sign Up for Botanic Choice
The Botanic Choice sign-up process is simple and straightforward. To create an account you are asked to fill out a form on the website. You need to add your name, billing address, phone number, email address, and last, but not least, create a password for your account. On the same page, you have the opportunity to subscribe to the newsletter to be the first one to learn about deals and promotions. Once you are done with this, you can enjoy the benefits of being a signed-up customer and save up to 70% on your orders.
Where to Buy Botanic Choice
Clicking on the Retail Store Locator option in the footer section, you will end up browsing in the one and only Botanic Choice retail store. You can find the store under the Indiana Botanic Gardens, Inc. 3401 West 37th Avenue Hobart, IN 46342-1751 address. The store is open between 9 AM to 5 PM on Monday to Friday, while on the weekend you can visit it on Saturdays from 9 AM to 4 PM. On Sundays, the store is not open. 
According to Botanic Choice reviews, customers say that the store is "inviting, clean, well organized and well-stocked" and they experienced a "wonderful service" while shopping there. 
Shipping and Return Policy
Shipping Policy
When it comes to shipping, US customers from the contiguous 48 states have their online orders shipped through USPS for a flat rate of $5.95. In Alaska, Hawaii, APO/FPO, and U.S. Territories an additional $5 shipping fee applies. Regarding processing and delivery times, according to the company's website, during weekdays all orders placed by 1 PM CST will be shipped the same day if the purchased products are in stock. The delivery can take up to 5-7 business days, while order delivery to overseas locations usually takes up to 21 days. 
If you wish to receive your order sooner, you can opt for the UPS 2ndDay Air service for an additional $12. In case you choose this option, you can receive your order within 2 business days, but only if you place your order before 11 AM CST. If you would like to opt for fast shipping to Alaska, Hawaii, APO/FPO, and U.S. Territories, you can choose the USPS Priority Mail service for an additional $5. 
Botanic Choice also ships internationally. Canadian customers can have their orders shipped for a flat rate of $6.95 via USPS Standard Service. Orders outside the US and Canada are shipped via the best shipping service available depending on the country, and it costs $9.95 no matter the size of the order. 
Refund Policy
We also looked at the return policy and the overall impression is very positive. If you are not happy with your order in any way, you have 90 days from the purchase date to return the product. Even if you opened a bottle and used some of the supplements or vitamins, you can still return the product.
According to the company's website, you can return any opened Botanic Choice supplement, but the CBD oil-based products due to sourcing issues. To return these you have to make sure that the bottle is not open, otherwise, you won't get any refund. 
The only criteria are that the product has to be in its original condition without any marks, writings, or stains on the packaging. Once you return the product, you will receive a full, 100% refund. The only thing to keep in mind is that the refund amount does not include the shipping and order processing fee.  
Promotions & Discounts
If you want to save some money when purchasing your Botanic Choice vitamins, the company offers quite a good deal you can benefit from. First, you need to fill out the form on the Botanic Choice website with your first name and email address and push the Invite Friends button.
When you refer a friend, they will get $20 off of their first order and you will also get $20 once they made an online purchase over $40. The offer is available for any Botanic Choice supplement. 
The product comes with 60 vege capsules and the price is $34.99.
Contact Botanic Choice
If you want to contact Botanic Choice customer service, you have 4 different ways to reach them:
Send them a mail to Indiana Botanic Gardens, Inc. 3401 West 37th Avenue Hobart, IN 46342-1751

Call the company at 1-800-644-8327. You can do this 24/7 a week

Fax them at 1-219-947-4148

You can also send them an email by submitting your request using the form on their contact page. In this case, a representative will get back to you within 2 business days. 
Botanic Choice Reviews: Editor's Verdict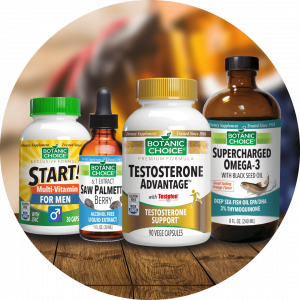 Now that we checked the company, took a close look at the products, and analyzed Botanic Choice reviews from previous and current customers, it is time to give you our overall impression of the company. Based on all the information we gathered for our review it seems that Botanic Choice checks out all criteria.
The company sells a wide range of affordable, natural supplements made of quality ingredients. People all around the world say that the products are effective, they deliver the promised results and even the customer service has got overall positive feedback.
So all in all, we can confidently say that Botanic Choice is a legit and trustworthy company, and most importantly is worth your money!
Curious about other vitamin brands? Check out our reviews of 8Greens, Persona Nutrition, Hum Nutrition, and Flo Vitamins. 
Botanic Choice FAQ
Are Botanic Choice products organic?
According to the official website, not all Botanic Choice products are organic, but the company follows strict quality control standards when it comes to the ingredients they use in their supplements. In case a certain product is organic, it is noted on the product description.
How much of Botanic Choice vitamin to take?
The nutritional expert team of Botanic Choice monitors the latest nutritional and scientific advancements. The formulas are developed based on this research, and the dosages are optimized for appropriate effectiveness. Each product comes with Suggested Use information that you as a customer are instructed to follow.
To achieve maximal effectiveness you should take the supplements as directed in the Suggested Use. In case you have a medical condition or you are taking prescription medication, Botanic Choice advises asking your healthcare professional about the appropriate dosage for you.
Are Botanic Choice products tested on animals?
No. Botanic Choice products are not tested on animals.
How long will it take the Botanic Choice supplement to work?
As in the case of any supplements, Botanic Choice supplements as well take some time until you will notice any effect. To achieve the appropriate results and effectiveness, the company's advice is to take the proper dosage of your supplements constantly.