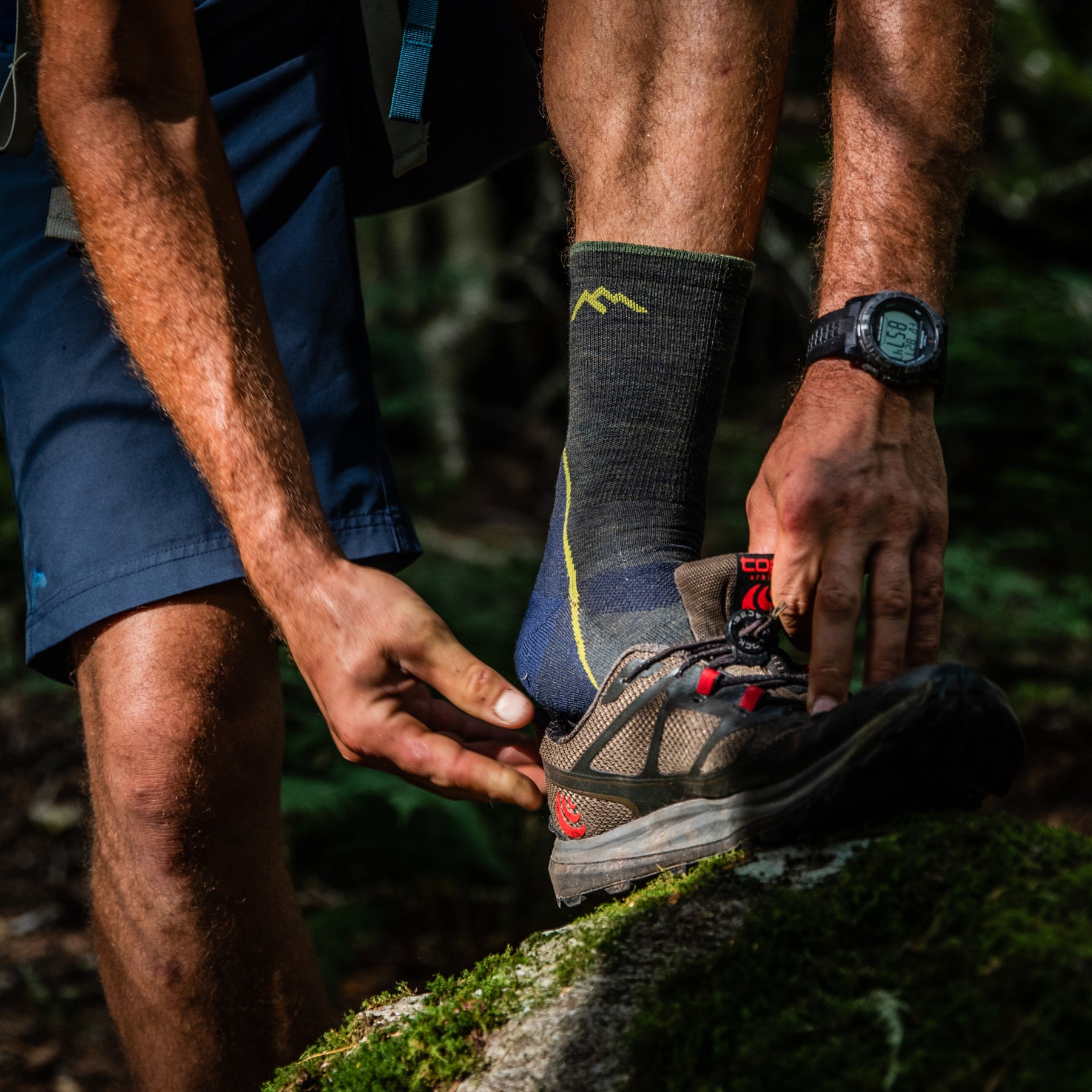 Proper boots go hand in hand with the right socks to keep your feet comfortable and happy while engaging in any outdoor activity. Darn Tough offers weather-performing outdoor socks made from Merino wool, nylon, and lycra. You can wear their socks for any purpose, but they suit well in running, hiking, sporting, and other outdoor activities. This in-depth Darn Tough Socks review will look at the ins and outs of this company, including its bestsellers, customers reviews, promotions, and discounts to help you decide if it's right for you. 
About Darn Tough Socks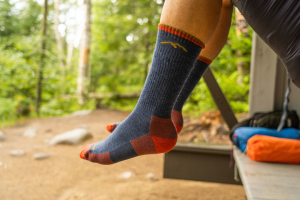 Marc Cabot founded Cabot Hosiery Mills in 1978, purchased it, and started crafting socks and selling them to other brands in the textile industry. These companies would then re-name these socks and sell them under their brand names. 
Marc used to sell socks to established companies such as Gap; this helped his brand to grow. At some point, the companies found lower-priced socks overseas, which negatively affected Cabot Hosiery Mills. By the year 2000, Cabot had lost 40 employees and was unable to settle loans and debts. 
In 2004, Cabot's son Ric Cabot decided to take the matter into his own hands by changing the direction of the Hosiery Mills. Ric began manufacturing Darn Tough socks, and the move appeared to be impractical for a company that was on the losing end. 
Marc sold 3,500 merino wool socks at the Vermont City Marathon in Burlington, where people were happy with the socks' quality and durability. The word spread fast, and people were impressed by the socks' lifetime assurance. The company grew and could distribute the socks nationwide, rising sales by 60% every year.
Ric's gamble materialized, and he focused on offering uncompromised quality to all his customers. Today, the company ranks among the largest employers, with more than 200 employees, and it plans for further expansion. The magic in the manufacturing process has made Darn Tough Vermont the destination where outdoor enthusiasts beat their path to the door for unmatched quality. 
Pros
The company offers durable socks with high-density stitching for longevity
The socks are made from smart wool to make them comfortable to wear
The socks absorb moisture to keep your feet dry and odor-free
The company does not compromise on the quality of their socks and offer a lifetime guarantee
They offer a 90 days return window period and free returns and exchanges
The socks provide the best fit and don't fall while wearing them
Cons
International shipping is not available
Some customers complain that the brand's return process takes long
Their socks are pricey but worth it
Darn Tough Products Review
Darn Tough allows you to sift through its sock catalog based on activity. They have running, biking, and hiking socks for men, women, and kids. Below are some of Darn Tough's best-selling weather-performing socks for different activities.  
Darn Tough Running Socks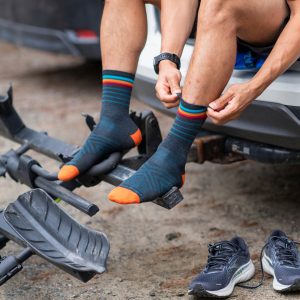 If you want to keep your feet more comfortable while running, Darn Tough Running Socks are the most suitable option for you. Most of the designs feature seamless construction to reduce the risk of chafing, keeping the feet dry and comfortable. 
You can choose between thick and thin socks depending on your preferences, but make sure they don't affect the responsiveness of your running shoes. Darn Tough Running Socks come in different heights, from knee-highs to no-show socks. They also offer running socks for both women and men. 
The Coolmax for men offers the best fit and works well with any running shoe. These socks are available in different heights to suit your preferences. These include quarters, micro crews, no-shows, and over-the-calf running socks. The company incorporates ultra-lightweight yarn, and some designs have a cushion for incredible comfort and protection, leaving no blisters on your feet.
The running socks category includes the women's Run Quarte, which offers an unconditional guarantee for life. This pair is made of merino wool that is odor-resistant, fast-drying, and breathable. 
The sock also offers a perfect fit to ensure that you don't experience slipping, bunching, or blisters while running. It pulls moisture away from the skin and dries out faster regardless of the season. This pair of socks gives an ultra-light feel, and others feature a Terry loop cushion under the foot for rebound purposes.e
Our Darn Tough Socks review also found that the brand has several other running socks designs that men and women can choose from according to the intended use and preferences. These designs gently compress muscles for smooth blood circulation, reduce weariness and boost recovery time to maintain running stamina.
Darn Tough Ski Socks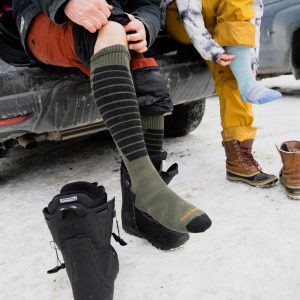 Ideal for people who rock their path in sky boots and skiing and snowboarding enthusiasts, Darn Tough Ski Socks are made with moisture-wicking fabrics that allow them to transfer perspiration away from your foot. In turn, this helps you avoid the clamminess that can cause skin irritation and discomfort
These socks are made long with extra cushioning on the toe, ensuring they protect your foot from boot pressure. They also improve blood circulation, giving your muscles more oxygen and nutrients they need to fuel and power throughout your exercise. 
Ski socks offer more than increased blood flow: Their grip supports your muscle, reducing the vibrations that exhaust them while working out. Less muscular tiredness translates to longer stamina and endurance, allowing you to enjoy an extended skiing exercise.
You may want to try out the Men's Solstice Over-the-Calf Socks that offer fit well. They are lightweight and allow your feet to breathe. The socks are made from 52% Nylon, 45% Merino Wool, and 3% Lycra Spandex that is sustainable sourced to last a lifetime. 
These socks are low profile, streamlined, and have no cushion that provides the ultimate boot fit performance. You can wear them with tall boots, and they are perfect for cooler days and nights.
The men's Snowpack Over-the-Calf Mid-Weight Sock features quality layers from high-quality merino wool, making them durable, lightweight, extra porous, and highly sustainable. These socks offer a precise fit to keep your feet comfortable throughout the day, and it doesn't fall off while wearing. The snowpack Over-the-Calf Sock includes a terry loop cushion underneath for extra comfort. 
Darn Tough Light Hiker Socks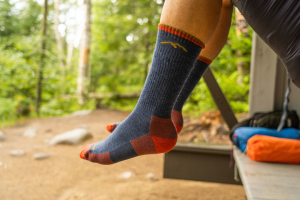 Hiking requires adequate preparation, and getting the appropriate hiking socks should be on your to-do list. A good pair of hiker socks ensures that you have an enjoyable day and end it with blisters-free feet. Darn Tough Light Hiker Socks are cushioned to keep the feet comfortable and are less sweaty, keeping your feet dry throughout your hiking adventure.
These socks are made of 54% Nylon, 43% Merino Wool, and 3% Lycra Spandex materials sourced sustainably to guarantee durability and long life. The cushion in this category is installed under the foot and reaches above the ankle in taller versions for protection and comfort.
The socks feature mesh panels on top of the foot to increase breathability, a smooth upper part to avoid falling off, and fine gauge knitting that is unique and durable. Merino wool content ensures that the sock pulls away moisture from the body while regulating temperature. Additionally, merino wool dries out quickly, leaving your foot moisture-free and odorless.
Darn Tough Women's Socks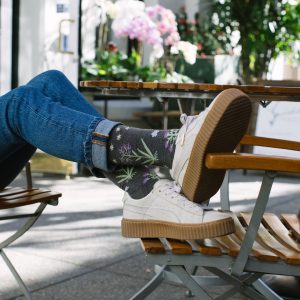 Designed to keep you warm in the winter and cool in the summer, Darn Tough Womens Socks are available in different styles and patterns. Their sock collection includes floral, striped, and animal prints. Most of them are lightweight and uniquely knitted to guarantee a longer lifespan. 
The Folktale Crew Lightweight Lifestyle Sock features a high-density knit that makes it long-lasting. These socks feature merino wool jackalopes and spring flowers that make them pleasing to the eye. You can pair them with sneakers, dress shoes, or boots.
If you are looking for a versatile piece, the Morgan Crew Lifestyle Sock is the ideal option for you. They feature striped details that make them aesthetically pleasing, stylish, and versatile. This Darn Tough Socks review discovered that these socks are made from 63% Merino Wool, 34% Nylon, and 3% Lycra Spandex materials that make them breathable, moisture-wicking, and fast-drying. 
These socks have no cushion and offer the modern woman the standard feel of rocking the pair with boots, sneakers, or dress shoes. The Morgan Crew Sock is designed with the performance fit in mind, and it ensures there is no brunching or slipping. The piece's high-density knitting offers both quality and comfort. 
Darn Tough Kids Socks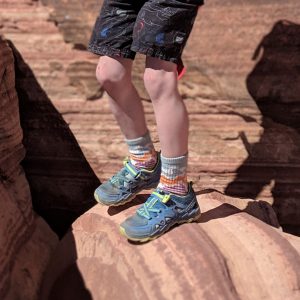 When grabbing socks for yourself, keep in mind that Darn Tough has unlimited socks options for your kids. Because kids are energetic people, the brand designs socks that are good at managing continuous energy and use. They are perfect for the playground, hitting the trail, or camping. 
With Darn Tough kid's socks, you can rest assured that your child will stay dry, breathable, and comfy throughout the activities. These socks come with beautiful patterns and decorations that will undoubtedly attract your kids. The brand offers gender-sensitive pairs as well as unisex ones that could be your kid's cup of tea. 
The boys' and girls' socks feature compression, reinforced heel, and provide arch support to give your child maximum comfort and protection. The rib-knit offers elasticity, while the elastic cuff prevents bunching and slipping, which can make your kid uncomfortable. Darn Tough offers kids' socks in different sizes and lengths to ensure you find one that matches your kid's taste and preferences.
Darn Tough Reviews from Customers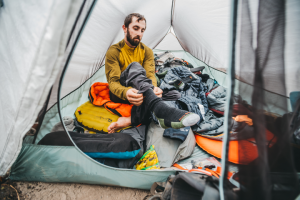 Our Darn Tough review investigated what customers feel about this brand and its products; we found that a high percentage of the reviews were positive. Customers generally show that the company is doing a great job. 
More than 90 % of the customers on Amazon loved their socks and the improvements they made to ensure they all had thrilling hiking experiences. Some customers praised the quality of their socks, and they said that they are durable and maintain the shape and fit all through. They find the pairs the most comfortable and durable socks you can ever get.
Popular Alternatives to Darn Tough
Reviews on Trustpilot were equally positive, with the brand scoring an overall 3.6-star rating. 62% of the customers said the brand offers comfortable, warm, and stylish socks. Other customers were happy about how the company honors its lifetime warranty if the socks don't serve you as you had anticipated. 
We also saw a few negative reviews where customers complained about experiencing a delayed return process. Other customers complained about a high price tag but stated their products are worthwhile.
Sign Up for Darn Tough Vermont
To purchase socks from Darn Tough, you need to open the sign-up page on their website and create an account. The sign-up process is short and only takes less than 5 minutes to complete. You will need to provide your full name, a valid email address, and then create a password that you will be using to log into the account.
Verify the details you have provided to ensure they are correct, and click the Create button. Your account will be ready within a short time, and you will be able to access the various products that the company offers at the comfort of your couch.
Where to Buy Darn Tough Socks
You will find the entire socks collection directly from their website DarnTough.com or place your order through authorized online sellers such as Amazon and Recreational Equipment Inc. 
Their products are also available at many brick-and-mortar stores, including Walmart and Dick's Sporting Goods. Use Darn Tough's store locator on its website to find a nearby store.
Darn Tough Shipping and Return Policy
The company ships orders to addresses within the United States only. Orders ship out within 2-3 business days, and the customers will receive an email with the tracking number. Standard ground shipping is free for orders worth $50 and more. Orders under $50 are charged a $6 flat rate. Expedited shipping and delivery speed are calculated at checkout. 
The company offers a 90 days return window for all returns and exchanges. You won't pay any shipping fee when you return items. 
Darn Tough Promotions & Discounts
The brand offers exclusive programs for military, responder, teacher, and medical categories. To enjoy these discounts, visit the exclusive programs page and click on the Get Code option under each category, and sign up or log in to your account to verify. You will receive a one-time code to apply at checkout. 
Contact Darn Tough Socks
If you have any questions, complaints, or concerns regarding the company and its products, feel free to reach out to their customer support team; they are available from Monday to Friday, 9 a.m. – 5 p.m. Eastern Standard Time. 
You can use the live chat feature on the company's website and get instant replies. You can also call them at 877-327-688 or drop them a message by filling in the form provided on their contact page. Provide an email address, and one of their customer service representatives will respond to your message.
Darn Tough Socks Review: Editors Verdict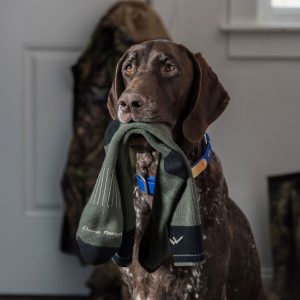 This Darn Tough socks review concludes by saying that this is one of the world's best brands that offer weather-performing socks. It is the go-to place for those looking for weather-performing socks that will serve them for many years to come. Their socks will keep your feet comfortable, blister-free, and dry. 
The materials used are sustainably sourced from local communities and globally to ensure they offer soft, warm, and stylish end products. The socks are also versatile, as you can use them for any intended purpose. 
The Darn Tough Socks warranty assures you of a lifetime guarantee, and if this doesn't happen, the company fully honors its word. That means if a sock doesn't meet your expectations in terms of comfort, fit, or lifespan, you can return it to the company for a refund or replacement. For these reasons, this brand is worth checking out. 
On the hunt for the perfect pair of socks? Perhaps you'll like Sock Fancy, COMRAD, Kane11 Socks, Bombas.
Darn Tough Socks FAQ
How to wash Darn Tough socks?
Would you like to know how to wash Darn Tough socks? Machine-wash them in warm water while turned inside out. Use the gentle cycle, and don't use bleach. Be sure to hang dry or tumble dry on low.
Do I need to shrink Darn Tough socks?
No, you don't need to shrink Darn Tough socks, as they are preshrunk. Use the Darn Tough size chart to help you identify the correct size according to your shoe size.
Where are Darn Tough socks made?
Darn Tough socks are made in Northfield, Vermont, United States. This is where they make high-quality socks that are unmatched in fit, durability, and comfort.
Are the materials in Darn Tough socks primarily sourced from within the US?
Darn Tough sources materials for making socks globally. They use domestic yarn together with other materials acquired from different parts of the world.
Where does Darn Tough get the wool?
Darn Tough makes its products from the finest merino wool available. They sustainably source the wool from the local communities, and they also work with partners to obtain premium wool from North America, Oceania, and Europe. Most of their supply comes from Argentina, Uruguay, New Zealand, and South Africa.