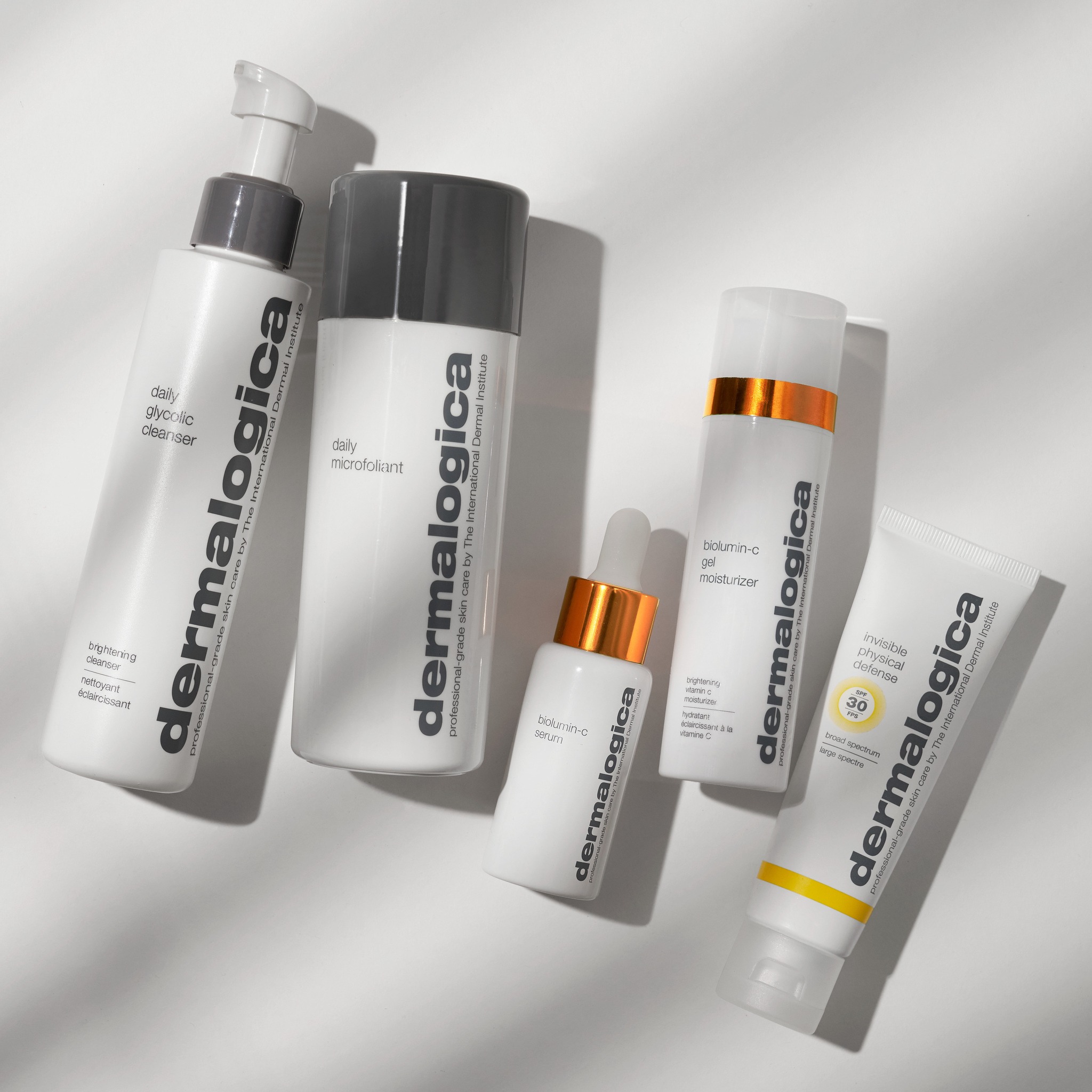 Finding a reputable skincare brand that can help you achieve and maintain clear, youthful skin is challenging. Dermalogica offers skincare products that simplify your skincare routine while effectively treating and preventing overlying skin issues. The brand focuses on sustainable production and natural ingredients. Here, we'll look at Dermalogica reviews from customers, the company's best-selling products, discounts, promotions, and more. In turn, you'll be able to make an informed decision on whether this line is right for you.
About Dermalogica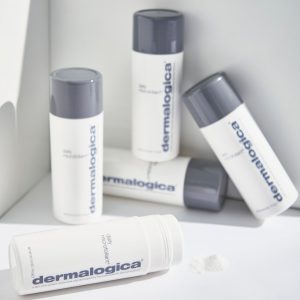 Dermalogica is a professional-grade skincare line with headquarters in Carson, California. The brand has been on the market since 1986 and has some of the most popular products in the industry. Currently, it has over 100,000 skin therapists in over a hundred countries touting its benefits.
Founded by Jane Warwand, the company has grown, becoming one of the topmost recommended brands by medical professionals. The brand seeks to make effective skincare products and educate people on why skincare routine matters. 
The line believes that proper skin health requires a partnership between the user and a qualified skin therapist. For this reason, it works with the buyers to find the correct regimens for every skin type and condition.
Dermalogica reviews show that customers love their products because they formulate them without irritating ingredients like SD alcohol, artificial colors, and fragrance. Their products are also cruelty-free and ideal for every skin type, including those with easily irritated or sensitive skin. Additionally, they have a Give Back program, which seeks to help and uplift women in marginalized communities. 
Pros
The company uses natural ingredients, and its products are made sustainably
The company offers fast shipping services and subscription services on all its products
They have an extensive skincare product line organized by customer concerns and product type
The brand provides access to skin therapists at their outlets
They run a Give Back program designed to empower women
Easy return policy
Cons
They do not ship internationally
The company does not offer round-the-clock customer support service
You cannot return items once you open them
Dermalogica Products Review
The brand has a variety of skincare products to suit every skincare concern. The products have an easy formula to help you scrub out dirt and debris off your skin quickly. With that in mind, let's look at some of the best-selling products that Dermalogica offers.
Dermalogica Cleansers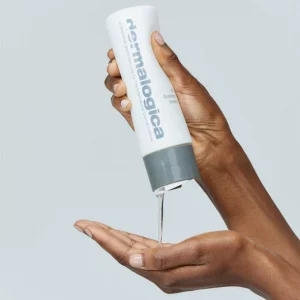 Some of the most favored products from Dermalogica are skin cleansers. They remove toxins and work with your body's natural oils to keep your skin's surface fresh. While some are more popular than others, they all work to improve your skin health.
Dermalogica does not believe in one-fit-all types of solutions. As a result, the company formulates a line of cleansers to suit all skin types; normal, dry, oily, and sensitive. That makes it easier for customers to pick out products that will work to cleanse and be gentle on their skin.
This personalization helps both the company and the customer. It means that the user is not guessing which product to use or wasting money on something that won't work for them.
Different types of cleansers
The cleansers come in different packaging and budget to suit everyone. So which are some of these top-rated Dermalogica cleansers?
Ultracalming Cleanser
Clearing Skin Wash
Breakout Clearing Foaming Wash
Intensive Moisture Cleanser
Special Cleansing Gel
Precleanse
Precleanse Balm
Skin Resurfacing Cleanser
Active Clay Cleanser
Daily Glycolic Cleanser
Dermalogica Special Cleansing Gel is a soap-free gel that works to remove impurities from your skin without stripping or being too harsh. It also has calming and soothing properties that make it ideal for sensitive skin.
The gel feels soft and gentle on your skin and doesn't leave any residue during application; it has a light scent that dissipates quickly, making it perfect for those with fragrance sensitivities. It also lathers well with water forming a soft, foamy consistency.
Moreover, the cleanser is lightweight and mild enough for daily use. You can use it in the morning and evening without having to worry about over-drying your skin.
Dermalogica special cleansing gel comes with a blend of natural ingredients, such as lavender extracts, quillaia Saponaria, and balm mint. Combined, they loosen sebum and oils from your skin before you even start washing your face. As a result, you can get a deeper cleanse that washes away all the dirt, makeup, and impurities clogging your pores.
Dermalogica Eye Treatments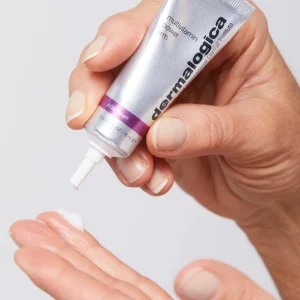 Another line of products from Dermalogica is eye treatments. The company understands that the delicate skin around your eyes needs special care and attention. As a result, they have formulated a range of products to hydrate, brighten, and de-puff this area.
The eyes are one of the first places to show signs of aging. Fine lines, wrinkles, and dark circles can make you look tired and stressed even when you're not.
That's why Dermalogica formulated a line of products specifically for the delicate skin around your eyes. The eye treatments work to hydrate, brighten, and de-puff the area while also reducing the appearance of fine lines and wrinkles. Dermalogica's line of eye treatments also includes:
Awaken peptide eye gel
Multivitamin power firm
Biolumin-c eye serum
Age reversal eye complex
Stress positive eye lift
Intensive eye repair
Total eye care with spf15
Packaging
All eye treatment creams come in squeezable tubes that make them easy to carry and use anytime. They are also lightweight and non-greasy, so they won't cause your eyes to feel heavy or weighed down. Although the products help the skin around the eyes, they work differently to cater to different needs.
For example, Dermalogica's Age, Reversal Eye Complex is one of their most popular eye treatments. The cream contains a blend of peptides, antioxidants, and vitamins to help reduce the signs of aging. It also helps to brighten and hydrate the skin while keeping it firm and elastic.
One of the most efficient ingredients in cream is caffeine. Caffeine helps reduce the appearance of puffiness and dark circles when applied. It does this by constricting blood vessels and diminishing fluid accumulation.
Another crucial ingredient is niacinamide. Niacinamide is a form of vitamin B3 that helps brighten the skin and even out the skin tone. It also reduces inflammation and redness while keeping the skin hydrated.
The Dermalogica Eye Cream is gentle enough for everyday use. It doesn't have an overwhelming smell, and it sinks into the skin quickly, unlike most other products. The cream comes in a small tube that is easy to carry around.
For best results, apply a small amount to the area around your eyes and massage it until it's fully absorbed. If you're looking for an eye treatment that will help with the overall health of your skin, then Dermalogica's Age Reversal Eye Complex is a great option.
Dermalogica Exfoliators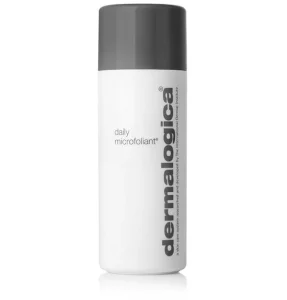 The brand also offers a range of exfoliators that help to slough away dead skin cells and impurities. Exfoliating is important because it helps to brighten the skin, even out the skin tone, and prevent hardening of the skin.
The human body produces millions of skin cells every day, which replace the older dead cells on the surface. The surface skin loses moisture, hardens, and eventually detaches from the newly formed skin in a process called desquamation. However, as you age, the process slows down, and the skin doesn't shed as effectively. In turn, this can lead to a build-up of dead skin cells that makes the skin look dull, dry, and lifeless. It also clogs your pores and can cause acne and other skin problems.
To solve this problem, the brand came up with a line of skincare products that speed up the process and reveal the healthy new ones underneath. Their products include Dermalogica Facial Scrubs, Dermalogica Chemical Peel, and Exfoliators.
Facial scrubs remove dead skin cells and built-up impurities from the skin through friction. They come in various textures, including Rice Bran, Polish, and Smooth.
We all love a good chemical peel
Chemical face peel is a treatment that uses acids to dissolve the intercellular glue that holds the skin cells together; this allows the dead cells to slough off, revealing the healthy new skin underneath. Dermalogica Chemical Peel features Phytic Acid, Lactic Acid, and Salicylic Acid.
All of these products come in varying strengths to suit different skin types. You can choose from gentle exfoliation to dramatic peeling.
The exfoliators can also minimize aging by reducing hyperpigmentation and wrinkles. They contain Prickly Pear Extracts from the hearty Sonoran Desert succulent. The succulent thrives in adverse conditions and has a high concentration of antioxidants.
The antioxidants lift dull and discolored cells that give you a mottled appearance, improving your overall outlook. Additionally, they have superior moisturizing capabilities that help smoothen and brighten the skin when combined with hibiscus fruit extracts.
Lastly, the prices of the products are affordable, with the lowest being $14 and the most expensive being $79.
Dermalogica Age Smart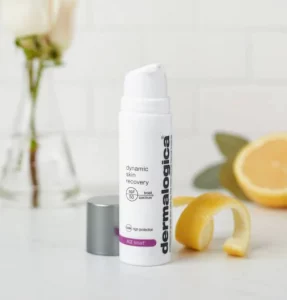 This line of skincare products helps mature skin look and feel younger. They contain a powerful combination of ingredients that help repair the skin, boost collagen production, and protect against environmental damage.
Dermalogica Age Smart is one of the most effective products and has a legendary status in the skincare world. The brand produces them with a double-pronged approach that tackles fine lines and wrinkles from two fronts.
For instance, they treat existing aging signs while also preventing future ones from developing. That's thanks to their innovative ingredients and cutting-edge technologies.
One of the key ingredients in the line is palmitoyl pentapeptide-4. This peptide helps to stimulate collagen production, which leads to firmer, plumper skin. It also helps repair damaged skin and reduces the appearance of fine lines and wrinkles.
Another critical ingredient is niacinamide. Niacinamide is a form of vitamin B3 that helps brighten the skin and even out the skin tone when combined with White Shiitake Mushroom. It also reduces inflammation and redness and helps to improve the skin's barrier function.
The products in the Age Smart line also come with antioxidants, which help to protect the skin from environmental damage. The damage can cause free radicals to form, which lead to premature aging.
Products in the Age Smart line include Age Smart Dynamic Skin Recovery SPF50; this Dermalogica sunscreen helps reduce the appearance of skin aging. It contains antioxidant white tea, which features polyphenols and a polypeptide that helps in improving the appearance of photoaged skin.
It also blends smoothly over your skin for that perfect finish you have always yearned for. Most importantly, active sunscreens do a great job in protecting you against UVB and UVA rays.
Other products included in the Dermalogica Age Smart are:
Skin resurfacing cleanser
Super rich repair
Biolumin-c serum
Age reversal eye complex
Biolumin-c eye serum
Age defense kit
Dermalogica Daily Superfoliant
All of these products help improve the appearance of your skin. They contain plenty of ingredients that help reduce the signs of aging and prevent further damage.
For a one-time purchase, the cheapest product is $12, and the most expensive is $85. If you're looking for a line of skincare that will help you look younger, then Dermalogica's Age Smart line is a great option.
Dermalogica Reviews from Customers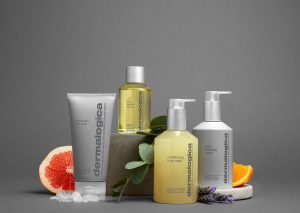 Our team of professionals also checked Dermalogica reviews from customers to see what they have to say after using their products. Having been in the market for close to four decades, Dermalogica is one of the most popular and well-loved skincare brands around. Some of its products have a legendary reputation. It's no wonder then that it has plenty of positive customer reviews.
Several reputable publications such as E Online, Forbes, and New York Times have featured the brand and its products. As per this publication, it has over 583k royal followers on its Instagram page.
The vast majority of customers who tried Dermalogica's products loved them. They report that the products are very effective, and they see a noticeable difference in their skin after using them. Many also appreciate the fact that the products are vegan and cruelty-free.
We saw positive customer reviews from comment sections of different sites, including their main website. For example, one buyer noted that the cleansing gel left her skin feeling amazing.
Another customer said that the product was their go-to cleanser for the last three years. They pointed out it worked well after using the pre cleanser oil. Despite having sensitive skin, she never had any adverse reactions.
Overall, Dermalogica seems to be a popular and well-loved brand. However, we did find a few negative reviews, with a couple of customers complaining that they could return items once after opening them.
Sign Up for Dermalogica
If you are interested in trying out Dermalogica's products, the best way to start is by signing up for their email newsletter and creating an account. All you need to do is provide your name and email address on their website, and you're good to go.
Where to Buy
The company offers easy online purchases on its main website Dermalogica.com. You can also get them from leading authorized retail stores such as Ariva, Walmart, Sephora, and Amazon.
Dermalogica Shipping and Return Policy
The company offers several shipping options for customers. They depend on the location of the buyer. The company only ships within the United States.
The company has a very lenient return policy. You can return any product within 30 days of purchase. However, this doesn't apply to promo items and gifts.
Promotions & Discounts
Dermalogica offers bundles that can help you save money on initial prices. They often offer deals on their products through their site. Currently, you can enjoy free shipping when you order items on their site worth more than $50, and you don't need a promo code to access this offer.
You'll also receive 2 x points with subscription orders. To be eligible for this offer, sign up for their rewards program when making your order. Additionally, the company allows you to choose one travel-size product when you order items worth $20.
Contact Dermalogica
Customers with any special request or concern can contact the company through their website using the contact form. Those who prefer to make calls can do so on working days from Mon – Fri, 6 a.m. – 5 p.m. PT via 1-800-345-2761. Alternatively, you can use the live chat function on Dermalogica's site.
Dermalogica Reviews: Editors Verdict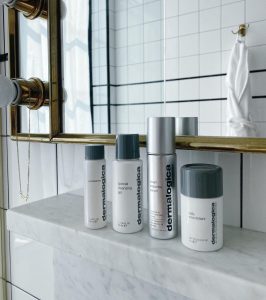 After reviewing Dermalogica reviews, we're confident in giving our stamp of approval. Most customers have had a positive experience with the brand, and we found no major complaints.
The company offers effective skincare products, with transparency in their ingredients composition. Transparency goes a long way in building trust. We, therefore, recommend Dermalogica to anyone looking for a reputable skincare brand.
Are you still looking for skincare brands? Check out our reviews of Glow Recipe Review, H2O Plus Skincare Review, Babor Skincare Review, and Apostrophe Review.
Dermalogica FAQ
Is Dermalogica cruelty-free?
If you are wondering: Is Dermalogica cruelty free? The answer is yes. The company doesn't test any of its products or ingredients on animals.
How soon will I start seeing results from using Dermalogica products?
The time it takes to see results varies from one person to another. However, most customers see an improvement straight away. It may take a while to show results for people with more advanced long-term needs like acne and aging.
Where are Dermalogica products made?
All Dermalogica products come from the brand's manufacturing facility in Southern California, United States. This proximity to their headquarters allows them to have greater quality control over their produce.
What are the long-term benefits of using Dermalogica products?
The long-term benefits of using Dermalogica products depend on the individual and their needs. However, many people see fewer breakouts, fewer fine lines and wrinkles, and softer, smoother skin.
What is Dermalogica Rewards?
It is a loyalty program that offers members access to exclusive products, fast shipping, and other benefits. To join, simply create an account on the Dermalogica website.