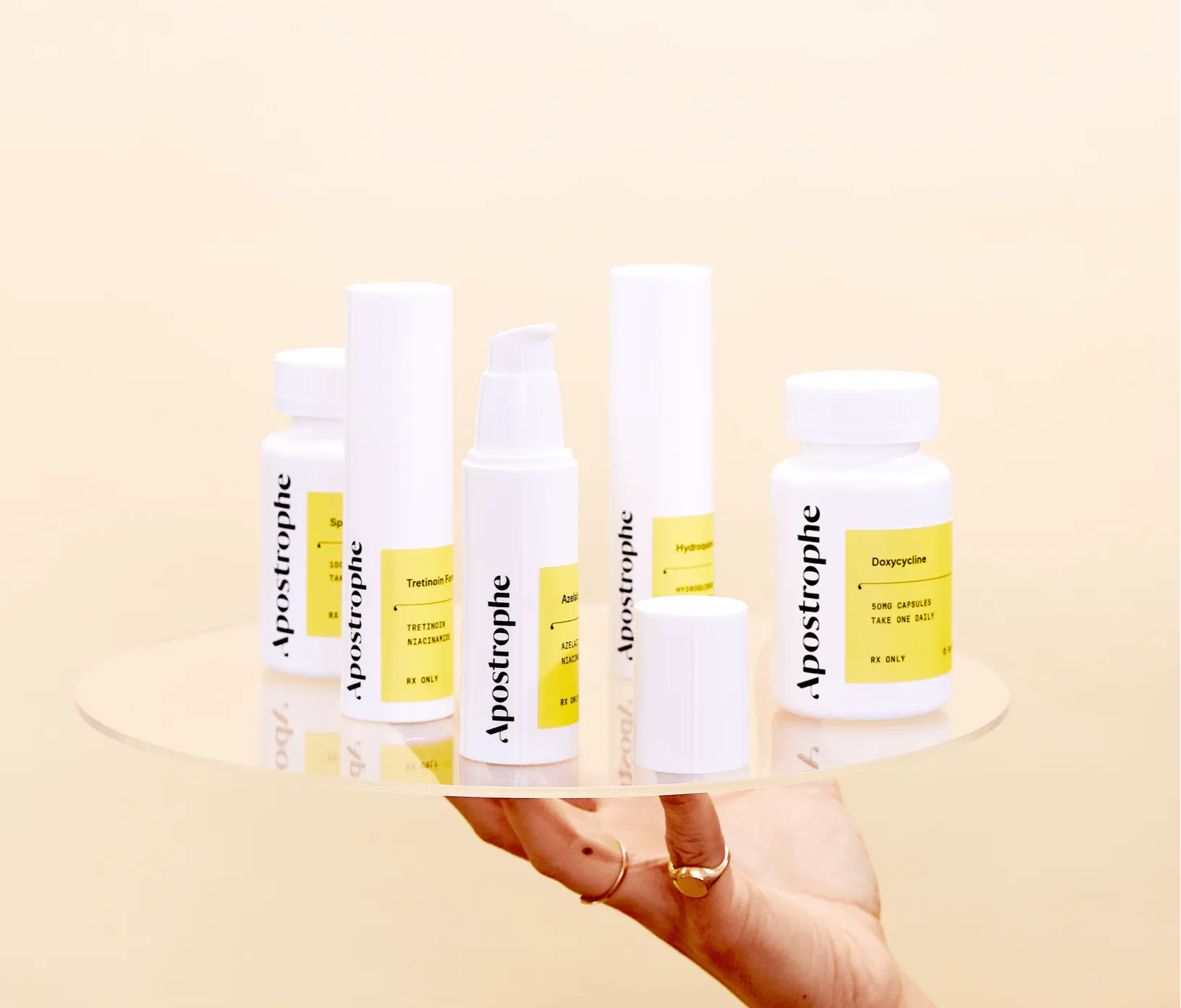 Apostrophe is an online service provider that matches customers with board-certified dermatologists for their skincare needs. The brand uses compounding pharmacies to create effective and advanced treatments for aging, acne, and hair loss. All their formulas go under vigorous testing to ensure safety and quality. But does it live up to the hype? We'll look at Apostrophe reviews from customers, promotions, its bestsellers, and much more to answer this question.
About Apostrophe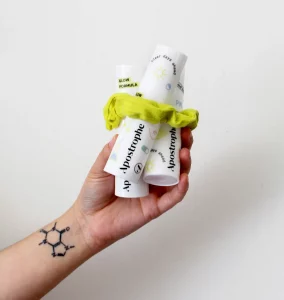 The Apostrophe story wouldn't be complete without mentioning YoDerm, the online platform that preceded it. Founded by Ryan Hambley and Ben Holber in 2014, the company rebranded in 2019. Before then, it offered pretty much the same service as Apostrophe does now but without shipping.
Later, the company realized that almost ⅓ of its patients weren't picking up their prescriptions after consultations. That prompted them to swap their services to a free shipping subscription-based platform. The idea was to ease the process and give patients the convenience they crave. 
The story behind the creation of this brand is surprisingly succinct and quite impressive. As the son of a dermatologist, Hambley grew up with great skin, while Holber contended with skin issues. Could this disparity between poor and great skin be just a matter of access? 
Turns out it's true, or at least it should be. Seeking treatment from a dermatologist in the traditional way is time-consuming, incredibly costly, and frustrating. Apostrophe seeks to address these issues by providing an easy, affordable, and convenient way for people to get the skin treatments they need.
Thanks to its e-based services, customers can now access board-certified dermatologists from the comfort of their homes. They can get prescriptions quickly, reduce the costs of treatments, and reduce doctor's visits. They will also get products right at their doorstep. At the moment, they have over 59k followers on Instagram and 10k on Facebook. Featured in Forbes, WWD, Cheddar. Women's Health, among the others.
Now you know more about the company and its story, let's get into the nitty-gritty of this Apostrophe review and see if it lives up to the hype. But first, check out its pros and cons.
Pros
You can connect with a board-certified dermatologist from the comfort of your home

The brand uses a custom approach to skincare, and it offers many skin problems, such as acne, rosacea, aging, hair loss, and wrinkle

It has a prescription for male pattern baldness and sparse eyelashes

It is affordable compared to traditional dermatologist visits, and the brand guarantees quality and safety

The company is board-certified in 40 states in the U.S., and it provides a pause or cancels option anytime

Customers get back their consultation fee if a dermatologist cannot prescribe
Cons
The brand may not provide prescription every time

It's not available in all states and U.S. territories

They do not accept returns
Apostrophe Products Review
Apostrophe has a lot to offer when it comes to products. The brand can develop unique and advanced formulas for its treatments, thanks to compounding pharmacies. With that in mind, here is an overview of the best-selling Apostrophe products.
Apostrophe Acne Treatment Review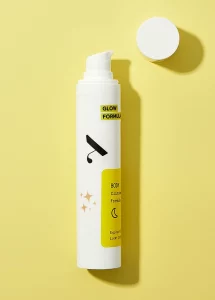 Acne is one of the most common skin problems in the world. And while there are many over-the-counter treatments, not all of them are effective. Apostrophe acne treatment is different. 
The brand's acne treatment starts with a consultation with one of its dermatologists. It will then prescribe a custom formula tailored to your specific needs. 
Apostrophe reviews show that one of their most popular prescription products is the Body by Apostrophe. It's a tested and proven acne system that targets the root cause of acne. 
What makes it different from other acne treatments? Our Apostrophe Acne treatment review found that it uses a unique blend of ingredients. It contains 4% Niacinamide, 1% Clindamycin, Aloe Barbadensis Leaf Juice, Shea Butter, Citric Acid, and Grape Seed Oil.
Niacinamide is a form of Vitamin B3 known for balancing sebum production in your skin. Sebum is the oil that your skin produces. When there's too much of it, your pores get clogged and cause acne breakouts. 
Niacinamide also helps even skin tone and brightens the complexion. Additionally, you benefit from reduced dryness and irritation.
More useful ingredients
Clindamycin is an antibiotic that works by reducing bacteria and calming inflammation. It also unclogs pores to give you a clearer complexion. Aloe Barbadensis Leaf Juice is a natural ingredient with anti-inflammatory and antimicrobial properties. It helps soothe the skin and reduces redness. 
Shea Butter is a nourishing ingredient that hydrates and protects the skin. It also has anti-inflammatory properties that help reduce acne swelling. Citric Acid is a type of AHA that helps exfoliate the skin. It also brightens the complexion and evens out skin tone. 
Grape Seed Oil is rich in Vitamin E, an antioxidant that helps protect the skin from free radicals. Free radicals cause premature aging. 
The Body by Apostrophe is an all-in-one acne system that uses a combination of ingredients to give you clear skin. It's an affordable and convenient option for those looking for acne treatment. At $75 for three months' worth of product, it's value for your money. 
Apostrophe Dermatology Review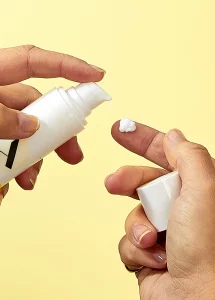 Want to see a dermatologist but don't have the time or money? Apostrophe is here to help. This Apostrophe dermatology review discovered that the brand offers online consultations with board-certified dermatologists. 
Virtual services are increasingly becoming the norm, and Apostrophe is one of the leading brands. The company makes it easy and convenient to get the treatment you need without leaving your house. With your smartphone, PC, or tablet, you can consult with a dermatologist from anywhere. 
But how do you go about it? First, you start by creating an account by clicking the Get Started button on their website. All you need is your email address and password, and you'll be good to go. 
Once you create, you can select any condition you want to get treated. The list of conditions comes in three categories, including the skin, eyelashes, and male pattern baldness.
You will proceed to fill out a form and give more information about yourself. The system will match you with a dermatologist near you. Read everything about your allocated doctor and reviews from other past clients. 
Your new doctor will also need more information about skin conditions to prescribe the correct custom treatment. Fill out a questionnaire and give any medical history. Ensure you make payment for the consultation fee.
What's needed?
The dermatologist will need to see some pictures of your skin to help get an idea of what you are dealing with. Take some well-lit photos without makeup from different angles and upload them. The brand has encryption to protect your data, so don't worry about your info security.
Just like that, your work is over. It's all pharmacies' responsibility to mix and measure ingredients and formulate a custom solution to your issues. Everything gets tested for stability and potency before it gets shipped to you. 
There is nothing as great as convenience in life. The Apostrophe makes it possible for you to get help for your skin without even stepping out of your house. The brand has some of the most qualified dermatologists who will give you a personalized solution to your skincare needs. 
Apostrophe Skincare Screen SPF 43
Protecting your skin is paramount, even if you don't have any skin issues. The sun is the number one cause of skin damage, which leads to premature aging and even skin cancer. 
Apostrophe Skincare Screen SPF 43 is a physical sunscreen that uses an array of natural ingredients to protect your skin against UVA and UVB light. It's unscented, so it's ideal for those with sensitive skin. Additionally, it's easily absorbed and lightweight, so it won't leave your skin feeling greasy or heavy. 
The sunscreen contains zinc oxide octinoxate, humectant, Panthenol, and Allantoin. They work together to reflect the sun's rays away from your skin. 
Zinc oxide is a physical sunscreen agent that works by creating a barrier between the skin and the sun. It protects against hyperpigmentation, sunspots, and other damage caused by UVA rays. 
Octinoxate is another physical sunscreen agent that works to reflect the sun's rays away from the skin. It protects against UVB rays. 
Humectant helps to keep the skin hydrated by drawing moisture from the air. That way, your skin won't feel dry or tight after spending time in the sun. 
Panthenol is a type of vitamin B5 that helps to soothe and protect the skin while calming inflammation. Allantoin is an extract from the comfrey plant and has anti-inflammatory properties. It helps hydrate and calm any irritation caused by the sun. 
The best part. It's cruelty-free and vegan-friendly, ensuring you rest easy knowing no animals get harmed during the making process. A 3.0 fl oz squeeze bottle needs $36. 
Apostrophe Pills Oral Medications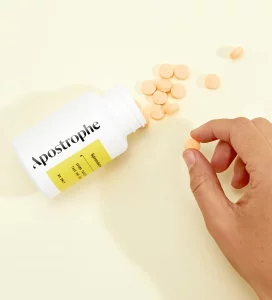 Apart from application products, Apostrophe also has a range of oral medications that help with conditions like acne. Sometimes you need to tackle underlying causes of skin issues from the inside out. The pills have active ingredients that go-to work as soon as you ingest them. 
Apostrophe reviews show that people love their oral medications to target inflammation, which is a leading cause of acne. They also help to regulate hormones, which can also cause breakouts. Apostrophe pills contain zinc, vitamin A, chromium, selenium, and black currant seed oil. 
Zinc is an essential mineral that helps to reduce inflammation and heal the skin. It also helps to regulate hormone levels. 
Vitamin A is an antioxidant that helps to protect the skin from damage caused by free radicals. It also helps to reduce inflammation and promote healing. 
Chromium is a mineral that helps to regulate blood sugar levels. That, in turn, helps to regulate hormone levels and reduce inflammation. 
Selenium is a mineral that helps to protect the skin from damage caused by free radicals. It also helps to reduce inflammation and promote healing. Black currant seed oil is an essential oil that helps to soothe and calm the skin. It also has anti-inflammatory properties. 
While these antibiotic tables aren't the first cause of action, doctors can prescribe them if they feel you might get better results. They are typically a short-course treatment to get acne vulgaris under control quicker.
Typically, a 90-days supply of these Apostrophe pills will cost you about $45-$90.
Apostrophe Hormonal Treatment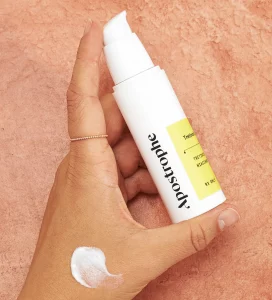 Sometimes your skin condition is due to hormonal imbalance. That means your application formula might not be as effective. In that case, Apostrophe also has a range of hormonal treatments to help you get your skin condition under control. 
The hormonal treatment tablets are exclusively a women's affair. They help regulate hormones and clear up the skin by reducing jawline breakouts. The ingredients in the pills work together to prevent purging, often caused by tropicals. 
The ingredient composition is one of a kind. That's to ensure you get the best results from the treatment and your skin clears up as soon as possible. Like their antibiotics, the hormonal tablets are also a short course with a 90 days supply costing you anywhere from $45 to $90.
Apostrophe Reviews from Customers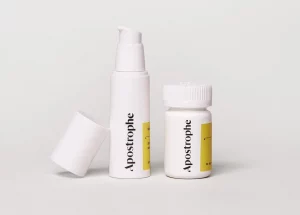 While Apostrophe seems to have everything in order, what do customers say about their experience with the brand? We set out to find genuine reviews from verified customers to give you a balanced view. 
Generally, people are happy with the products and their effectiveness. Customers also like that they can buy the products online and have them delivered to their doorsteps. The company also has a good reputation for customer service and responds quickly to queries and concerns. 
The brand received an average of 4.7/5 star rating from more than 7500 reviews on the main website. One customer said she had struggled with acne her whole life. She wasn't free from this condition even after Accutane.
But the Topical Tretinoin + Clindamycin from Apostrophe worked like a charm for her. It was the first time in her life to have clear skin and an acne-free face. She added that she would recommend it to anyone with the same problem.
Further customer reviews
Another customer with hormonal acne said the pills helped regulate her hormones and rid-of breakouts. She had tried numerous other products, but nothing worked as well as this one.
Apostrophe also has a presence on Trustpilot with an average rating of 4.4/5 stars from over two hundred reviews. One customer said the products were excellent, and they helped clear her skin in just a few weeks. 
While most users had good things to say about the brand, we found a few negative reviews. One such comment pointed out that the customer did not get enough product in the bottle. Some complained that the company does not accept returns. Others also complained that the brand is not available in all the states.
However, we noticed the brand replied to the feedback and offered a solution. Other than that, most comments were positive, with people saying they would recommend the products to others.
Sign Up for Apostrophe
To get started with Apostrophe, you can create an account by heading to their website and filling out the registration form. All you need is your email address and to create a password.
Where to Buy Apostrophe
To get Apostrophe services and products, you can visit their website Apostrophe.com.
Apostrophe Shipping and Return Policy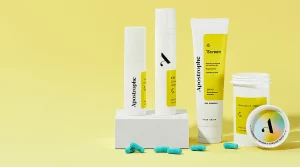 Apostrophe offers free shipping on all orders. Your order takes about one week to reach you, depending on your destination.
The company does not accept returns for any orders. Since it offers only prescription medication, it cannot take them back. 
By law, once a prescription medication leaves a pharmacy, it can never get restocked on the shelves. However, they offer a 100% money-back guarantee on consultation fees if a dermatologist doesn't help you.
Contact Apostrophe
You can reach out to Apostrophe's customer service in several ways: These are:
Apostrophe Reviews: Editors' Verdict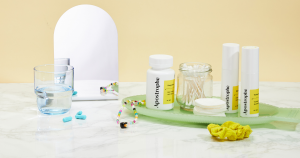 After reading many Apostrophe reviews, we can say that this brand offers good quality products and services. People are generally happy with the results they achieve after using the products. The brand also has a good reputation for customer service. 
Although there were a few negative reviews, the brand seems to take customer feedback seriously and works to resolve any issues. We recommend Apostrophe as a good option for those looking for help with their skin conditions.
Interested in other skincare brands such as Apostrophe? Check out our reviews of Dr Dennis Gross, Leahlani, Babo Botanicals, and Elta MD.
Apostrophe FAQ
Is Apostrophe legit?
If you are asking yourself: Is Apostrophe legit? The answer is, yes, it is. Apostrophe is a legitimate company that offers prescription medications for skin conditions.
How does Apostrophe work?
If you are wondering: How does Apostrophe work? It works by connecting you with a licensed dermatologist. They will help to diagnose your condition and prescribe the appropriate medication.
How much does Apostrophe cost?
Many people want to know: How much does Apostrophe cost? It is free to sign up for Apostrophe; however, you will need to pay for the consultation fees and any prescribed medications. Its products, such as sunscreen cost $27, Body treatment costs $75, and custom topical formula costs $75.
Can I use Apostrophe if I am under 18?
Yes. Apostrophe prescriptions are suitable for children 13 and above. However, if you're below the age of 18, you'll need the permission of your parent or legal guardian via an e-signature