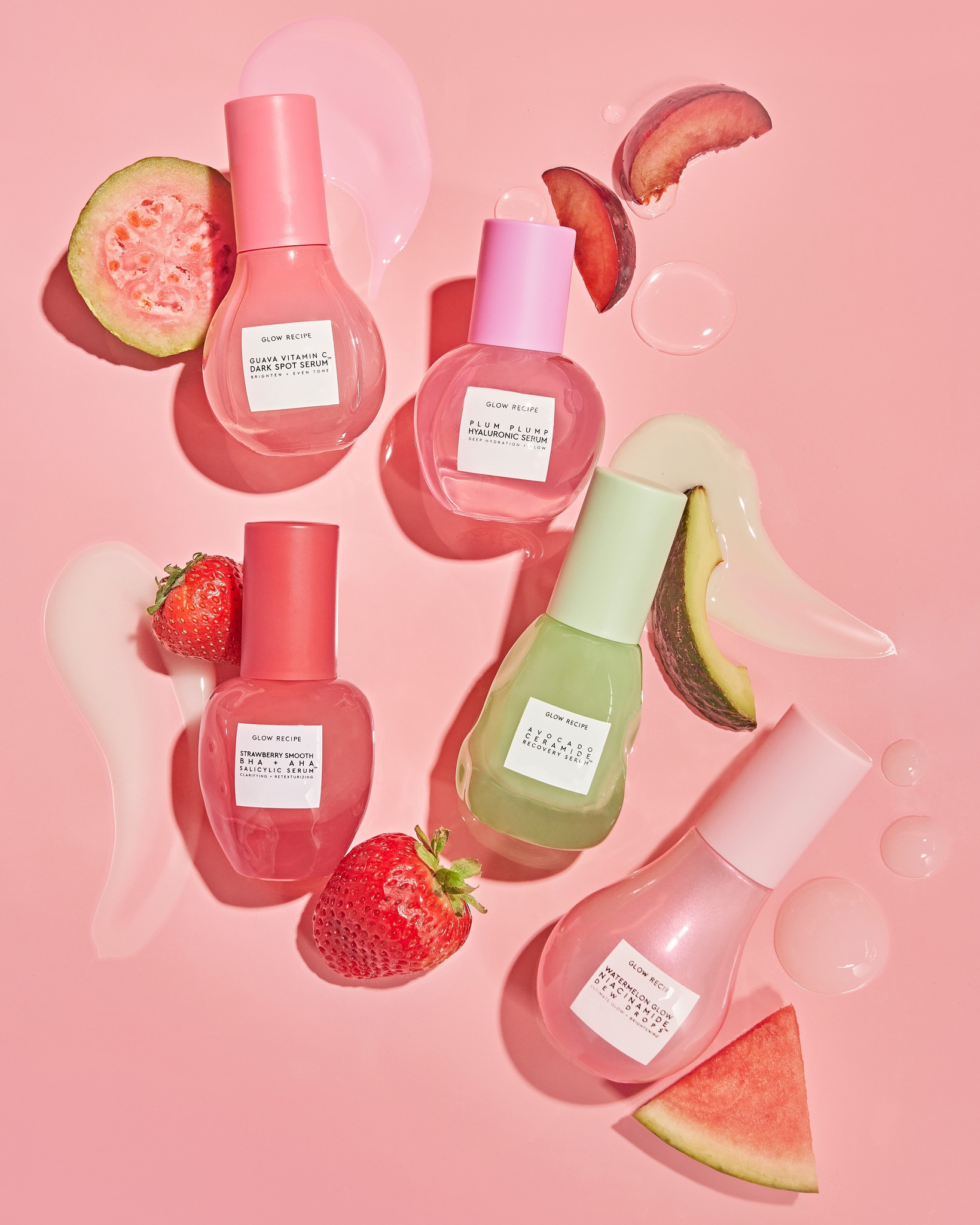 Glow Recipe is a skincare and beauty brand that formulates fruit-based facial products to help women glow all day long. Its products include toners, cleansers, lotions, and masks. These products are 100% clean, natural, and cruelty-free. Glow Recipe has been the go-to brand for women who want to access healthy and quality makeup at affordable prices. The company focuses on creating makeup that inspires women to look good in their skin through accessing effective products. We'll explore Glow Recipe reviews from customers, the brand's top-selling products, its return policy, and more to help you determine if it's right for you.
About Glow Recipe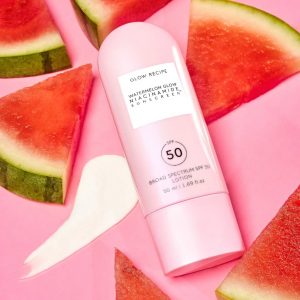 Glow recipe founders Christine Chang and Sarah Lee were working in the beauty industry in New York. The duo realized that many beauty brands worldwide looked up to Korea for the latest skincare products and ingredients. As a result, the whole industry is captivated, but no brand ever tells a story behind its success. The duo originated from Korea where they grew up learning more and more about beauty.
They observed their mothers and granny crafting beauty products using natural ingredients. The duo featured in the famous Shark Tank program to seek investors to help them kick-start their beauty line. Robert Herjavec, one of Shark Tank's investors offered them a deal of $425,000 investment that they turned down but continued to give credit to shark tank for helping them lift their business.
The two founders introduced the Glow Recipe to the world with a mission to offer the best Korean skincare products. They educated users on how to apply k-beauty products and ingredients to achieve the best results.
Before we dive into the Glow Recipe reviews from users, let's look at the pros and cons of this Korean beauty and skincare line. 
Pros
The brand offers 100% natural products that are safe for every skin type

Their products are cruelty-free

The company offers environmentally-friendly skincare products, including toners, and masks

They offer free samples with every order

The company donates a portion of its sales to organizations dealing with female empowerment, education, and environmental preservation

Lots of positive reviews from satisfied customers
Cons
The brand does not allow product exchange on international orders, including in Canada

Some customers complain about delays in products delivery

Other customers find the customer service team slow at responding to inquiries
Glow Recipe Products Review
The company offers a variety of products, including toners, mists, cleansers, masks, eye care, serums, moisturizers, lip products, and primers. We'll now look at the best-selling Glow Recipe products.
Glow Recipe Watermelon Glow Niacinamide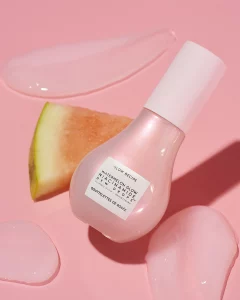 The highlighting serum brings out your inner glow instantly or over time after consistent use. The product is created without pearls, glitters, or mica. The Glow Recipe Dew Drops brighten your skin, remove hyperpigmentation, and give your skin a dewy glow without leaving a gray shade. 
The product is gentle and not irritating to the skin, and not sticky and greasy around the eye. The Glow Recipe Niacinamide gives you a light and buildable feeling that absorbs to the skin, making it suitable for all skin types, including acne-prone, oily or dry. You can use this product as a highlighting serum or as the last product to give you a glowy finish.
The dew drops contain watermelon rich in vitamins A and C for skin-plumping; this ingredient soothes, moisturizes, and helps reduce wrinkles and fine lines. Niacinamide in the formula helps even the skin tone, brightens the skin, reduces the appearance of dark spots, soothes the skin, reduces pores' appearance, and supports the skin barrier.
Hyaluronic acid is another ingredient found in this product, and it helps to reveal bouncy, supple, and plumpy skin. The watermelon glow niacinamide does not contain mineral oil, parabens, silicones, sulfates, synthetic dyes, or drying alcohol. The product is also cruelty-free and vegan.
Glow Recipe Watermelon Toner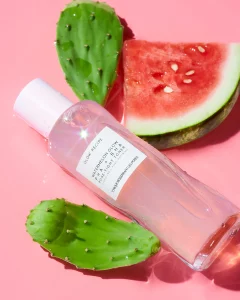 Designed to tighten your pores and hydrate your skin, the Glow Recipe Watermelon toner is one of the fan's favorites. The toner makes your skin flexible and smooth while preparing and plumping it to absorb the rest of the products. This product contains a balance of pore-tightening ingredients and hydrating activities to minimize pores and keep the skin moisturized. 
The PHA and BHA pore actives are gentle and effective inspired by the Korean aqua peel. The toner exfoliates and hydrates the skin to help achieve soft and glowy skin instantly. The product is ideal for oily, dry, normal, or sensitive skin. 
 The Glow Recipe Toner contains watermelon extracts rich in vitamins A, C, and B, potassium, and amino acids. The ingredient helps your skin look firmer, younger, and utterly glowing. Watermelon extracts contain high water content that hydrates, soothes, and minimizes wrinkles and fine lines.
PHA helps resurface and smoothen the skin by removing the dead skin cells with minimal and no irritation. The BHA, on the other hand, is an oil-soluble ingredient that absorbs into the skin to unclog pores reducing the appearance of pores and black spots. 
The tea tree extract offers the skin antimicrobial properties that clean the pores and soothe skin irritation.
Glow Recipe Banana Souffle Moisture Cream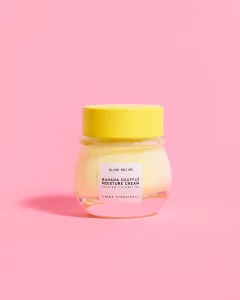 This formula is a lightweight and soothing moisturizer that hydrates, replenishes, and resets the skin without clogging the pores. The product is non-acnegenic and non-comedogenic, making it safe for all skin types, including those highly sensitive.
 The product contains bananas rich in potassium and magnesium, which helps hydrate and moisturize dry skin, making it supple and soft. Banana improves the skin's elasticity by reducing the appearance of fine lines and wrinkles. The ingredient removes dark spots and evens the skin tone making it look more youthful. 
Magnesium helps maintain barrier health, calms and rebalances inflamed and irritated skin as a result of environmental stressors.
The Glow Recipe Banana Souffle also contains Centella Asiatica, an ingredient that combats and reduces inflammation. The ingredient speeds up the healing of wounds, improves blood circulation, boosts collagen, hydrates the skin, and protects more skin breakouts.
Centella Asiatica also restores the skin barrier and generally increases its resilience. The ingredient reduces the visible signs of burning or itching. 
The product also contains turmeric rich in antioxidants and anti-inflammatory properties. The ingredient soothes the skin, reduces redness, and even the skin tone, and brightens the skin.
This product is vegan and cruelty-free and does not contain mineral oil, parabens, silicones, sulfates, synthetic dyes, or drying alcohol.
Glow Recipe Watermelon Glow Sleeping Mask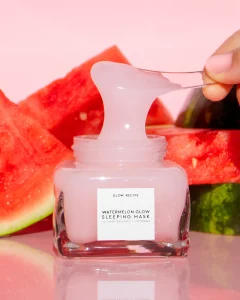 Formulated to soothe, soften, and smoothen your skin over the night, the Glow Recipe Watermelon Glow Sleeping Mask is breathable. The formula is pillow-proof and acts as a radiant adding agent that brightens the skin. 
The product is safe for all skin-type, including the most sensitive. It reduces the appearance of dullness, black spots, and hyperpigmentation.
The sleeping mask contains hyaluronic acid best for reducing wrinkles and fine lines and prevents moisture loss from the skin keeping it hydrated and plump. The ingredient promotes new skin cell generation because the skin is hydrated and doesn't have to fight for moisture. It helps your skin look younger, softer, and gentler. 
This sleeping mask contains watermelon extract with high contents of vitamins A, C, and B, amino acids, and potassium. The ingredient helps your skin glow and look younger and firmer. Watermelon extracts contain high moisture contents that hydrate soothes and minimize the appearance of wrinkles and fine lines.
The AHA is the other ingredient in the formula that exfoliates the skin removing the dead cells; this allows for cell regeneration making your skin appear more youthful.
Pumpkin extract's antioxidants help repair and protect the skin against external stressors. The glow sleeping mask does not contain Parabens, Sulfates, Mineral Oil, Synthetic Dyes, and Phthalates. The product is also leaping bunny certified, vegan, and cruelty-free.
Glow Recipe Papaya Sorbet Enzyme Cleansing Balm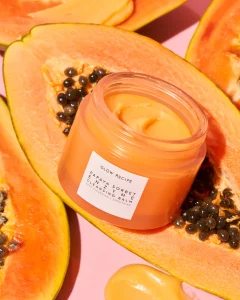 This product dissolves makeup, oil, and dirt through the papaya sorbet enzyme cleansing formula. The smoothing skincare product softens and replenishes the skin to reveal radiance from the beginning of your routine. Every type of skin can use the cleansing lip balm, including the acne-prone and the sensitive ones. 
The Glow Recipe papaya cleansing balm contains papaya enzymes known as papain. This enzyme exfoliates the skin removing dead cells and allowing new cell generation. Papain also removes damaged keratin that may build up and create bumps on the skin in the long run; this ingredient soothes skin irritation and is ideal for sensitive and acne-prone skin because of its anti-inflammatory properties.
The product contains papaya extract seed oil rich in linoleic, oleic, fatty acids, and vitamins A, C, and E. These contents help moisturize and keep the skin hydrated.  
Camellia Japonica Seed Oil is another ingredient in the cleansing formula that contains antioxidants and vitamins to keep the skin moisturized without weighing it down. 
The product also contains apricot kernel oil that replenishes, nourishes, and soothes the skin due to the fatty acids and vitamin E contents. This cleansing balm is cruelty-free and vegan with no contents of Parabens, Sulfates, Mineral Oil, Synthetic Dyes, Drying Alcohol, or Phthalates.
Glow Recipe Reviews from Customers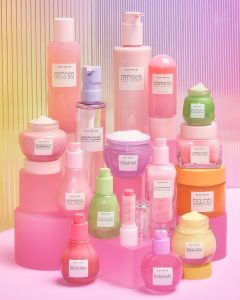 So many customers are already enjoying access to quality and natural skincare products at affordable prices. We checked Glow Recipe reviews to find out what their customers are saying about the brand and its products. 
The brand has a 4.5/ 5 score with many positive reviews on its website. More than 90% of reviewers appreciate the company for offering clean and cruelty-free products for everyone. Customers are impressed by the smooth, moisturized, and notable differences the products offer, terming them as the best the market holds. 
The brand boasts of a high number of buyers who love the efficacy of its products. They are also the go-to products for people with sensitive skin as most of the customers who have used them say they are gentle to the skin, safe, and don't irritate. 
On Trustpilot, customers are generally impressed by the effectiveness of the products. The site has a 3.8-star rating for Glow Recipe, with the majority of the customers talking about how the products are amazing and effective. 
We also have a few negative reviews on TrustPilot where some customers experienced issues with customer service and delivery. They were not impressed by shipping delays and slow customer service responses.
Sign Up for Glow Recipe
Sign up with Glow Recipe to enjoy 10% off your first order. The registration process is easy and quick and only takes you a short time.  
You need to provide a valid email address and your full name. Create a password that you will be using to log into your account every time you want to shop for Glow Recipe products. Once you fill out the details, confirm that they are all correct, and click on the Create Account button. It is that simple. You can now start browsing their entire collection and find items that interest you.
Where to Buy
To access the whole collection of Glow Recipe products, visit the company's official website GlowRecipe.com. Their products are also available on Glow Recipe Sephora and Glow Recipe Amazon.
Glow Recipe Shipping and Return Policy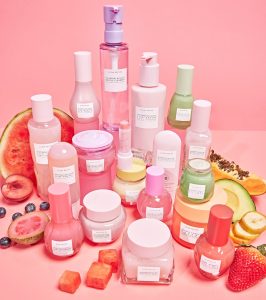 Shipping:
For people living in the U.S., the company offers various shipping options. They include:
Standard – free for orders above $35 and a flat rate of $7 for orders below $35. Shipping takes 5-8 business days

Express – free for orders above $100

FedEx Express and FedEx 2nd Day Air, which takes 3-4 business days

DHL International Standard shipping to Canada, which takes 5-15 business days at a flat rate of $17.50, and free shipping for orders above $100

International shipping takes up to 15 days via DHL international standard
Return Policy:
The company accepts returns for US orders, and this should happen within 30 days after the purchase date. The brand has a return portal on its website for customers who want to initiate the return process. The company does not allow international returns and exchanges.
Promotions & Discounts
The company offers a 'give $15 and receive $15' for referrals. You can also accumulate reward points as you purchase products from the brand to gain access to exclusive offers and special product perks. 
Additionally, the company offers a 15% student discount. If you are an esthetician or a professional makeup artist, the brand has a Glo Pro Program that offers a 30% Off discount.
Contact Glow Recipe
Is there something we have not answered in our Glow Recipe reviews? You can reach out to the Glow Recipe support team for further information or inquiries about their products. Customers can contact them through the following email addresses:
Glow Recipe Reviews: Editor's Verdict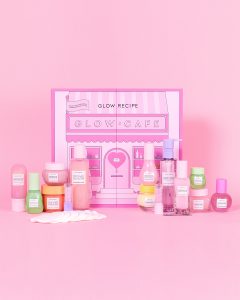 After seeing many positive Glow Recipe reviews from users, we recommend this company because it offers value for the money spent on its products. Customers who have used the products have the confidence to say that they work magic on their faces and body. 
The K-beauty brand worked its way up to ensure that women with chemical allergies get the chance to glow and show off their beautiful faces as perfectly as the others do. The brand offers clean and natural products that don't compromise on quality. The company is committed to saving the planet as it produces items that are environmentally friendly and sustainable. 
All of their products are grouped into categories, so you can choose products according to the main ingredients in the product, the specific type of fruit extract, or what product is suitable for certain skin types or to treat certain types of facial blemishes. 
Customers who have already used Glow Recipe products have testified that the products are lightweight, smooth, easy to apply, and don't cause skin irritation or sensitivity.
These attributes make the products suitable for many types of skin, including sensitive and acne-prone. Although other customers were unhappy about delays in delivery and the time it took the customer service team to respond to their inquiries, the brand generally received high praises from the majority of the customers.
Are you still looking for other skincare brands? Check out our reviews of COSRX Review, Onda Review, and Clearstem Review. Alternatively, for a more extensive list, read our reviews of the 15 Best Skincare brands.
Glow Recipe FAQ
Is Glow Recipe cruelty-free?
Yes, Glow Recipe is cruelty-free. The company is Leaping Bunny Certified and doesn't test its products on animals. The brand also does not allow third-party companies to test products on animals on their behalf.
Is Glow Recipe vegan?
Yes, the company's products are vegan-friendly and don't contain animal ingredients. This is except for the Avocado melting sleeping mask, which has contents of manuka honey.
Can I send Glow Recipe products back for recycling?
Yes, the company allows you to send products back for recycling anytime you wish. Glow Recipe is glad to be in partnership with Terracycle.
Does Glow Recipe offer skin consultations via email?
Yes. The brand offers skin consultation via email. If you need a min-consultation, detailed instructions, or product recommendations, email the brand at [email protected] and expect a response within 1 business day.
Does Glow Recipe offer complete skincare routines in one package?
Yes. The company offers detailed and well-written skincare routines for different skin concerns. If allergies or skin sensitivity persists, you might want to consult a dermatologist before they get too intense.