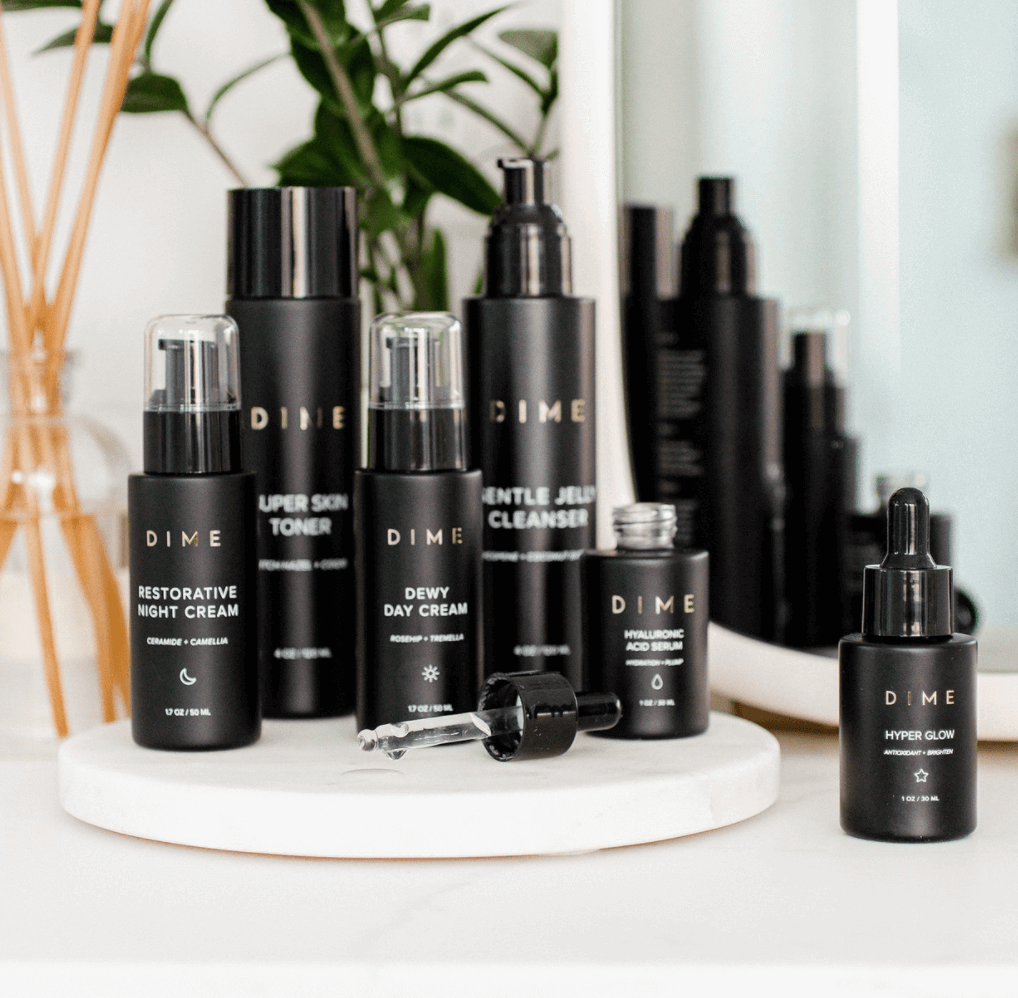 In 2022, we're taking care of our skin and nourishing it from the outside as well as the inside. It's important to find quality skincare that helps the outside look amazing. And what better companion on this miraculous journey than one of the market's leading skincare and wellness brands: Dime Beauty. At Dime Beauty they love skin, and they want to teach you to love yours, which is why they've developed an entire range of products designed to tackle your skin problems at every stage of life – all containing natural, healthy, and eco-friendly ingredients. And of course, if you're ever in doubt there are always the Dime Beauty reviews to read before thinking of purchasing the products. In our Dime Beauty reviews, we'll bring a different perspective of the brand and hopefully by the end of this article, you will have decided whether the brand is for you or not.
About Dime Beauty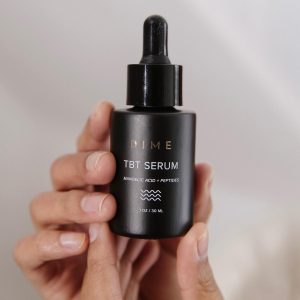 A couple-led brand, Dime Beauty was started by Baylee Relf and Ryan Relf, spurred by Baylee's want to provide optimized and clean skincare for women of all backgrounds.
Baylee's foray into the world of skincare – and her journey into becoming a recognized beauty and skincare advocate – stemmed from her own experiences, namely her issues with her own skin. 
As Baylee saw a lack of suitable options around her, she quickly took the matter in her own hands and became a licensed master esthetician.
But that was only the start of Baylee's journey, as she learned that different skin types and different skin stages require different products – all while seeing her mother struggling to find her perfect skincare routine – her surroundings resulted in the birth of Dime Beauty. 
Dime Beauty is a clean beauty and skincare brand, promising to only use ingredients that are free from any and all toxins, including sulfates, parabens, chemical sunscreens, aluminum, and formaldehyde.
And what's more, Dime Beauty takes it one step further by making vegan products that are both cruelty-free and encased in sustainable packaging, effectively playing their part in making the world a better place. And by combining skincare with beauty, Dime really is a one-stop-shop!
Pros
Dime Beauty is a 'clean' skincare brand, which means that it doesn't use any harmful products
Dime is paraben-free, sulfate-free, aluminum-free, and formaldehyde-free - among many other things!
The brand is completely vegan (yes, all of its products!) and cruelty-free
All of Dime Beauty's products are packaged in sustainable material

Dime Beauty is incredibly transparent and honest - all of their products are listed on their website and are marked according to standards upheld by EWG
Dime Beauty is diverse in its product range - they stock cosmetics, skincare essentials, and anti-aging and wellness products
Customers get an exclusive 15% discount when they sign up to Dime's mailing list
They can also continue to save 15% on every order if they choose to subscribe to a product

Dime Beauty is inclusive - they ship internationally, so it's a big win for all those foreign ones!
On US orders that exceed $49, Dime Beauty ships free!
Cons
With many products exceeding the $50 mark, Dime Beauty can be considered an expensive buy
Dime Beauty's beauty line is extremely limited, with really only lip colors being readily available

Dime Beauty is a completely online brand, making it somewhat difficult for individuals who are wary of the promises of online shopping

For international orders, customers are responsible for paying the full shipping fee (which can be quite a lot in some cases!) as well as 20% of customs, taxes, and duties

Since Dime Beauty is online, it may be difficult for customers to get a staff consultation to see which product suits them the most
Dime Products Review
Dime Beauty sure does seem like any girl's – or guy's – dream come true. After all, you're getting sustainable, clean skincare and beauty products all from the comfort of your home, would you really want anything else?
And not only that, but this clean beauty brand has vegan and cruelty-free products, offering almost guaranteed changes to your skin. And we know how much our skin affects our confidence, so Dime products are here to save the day! Let's look into some of the most popular items they sell.
Dime Eyelash Serum Review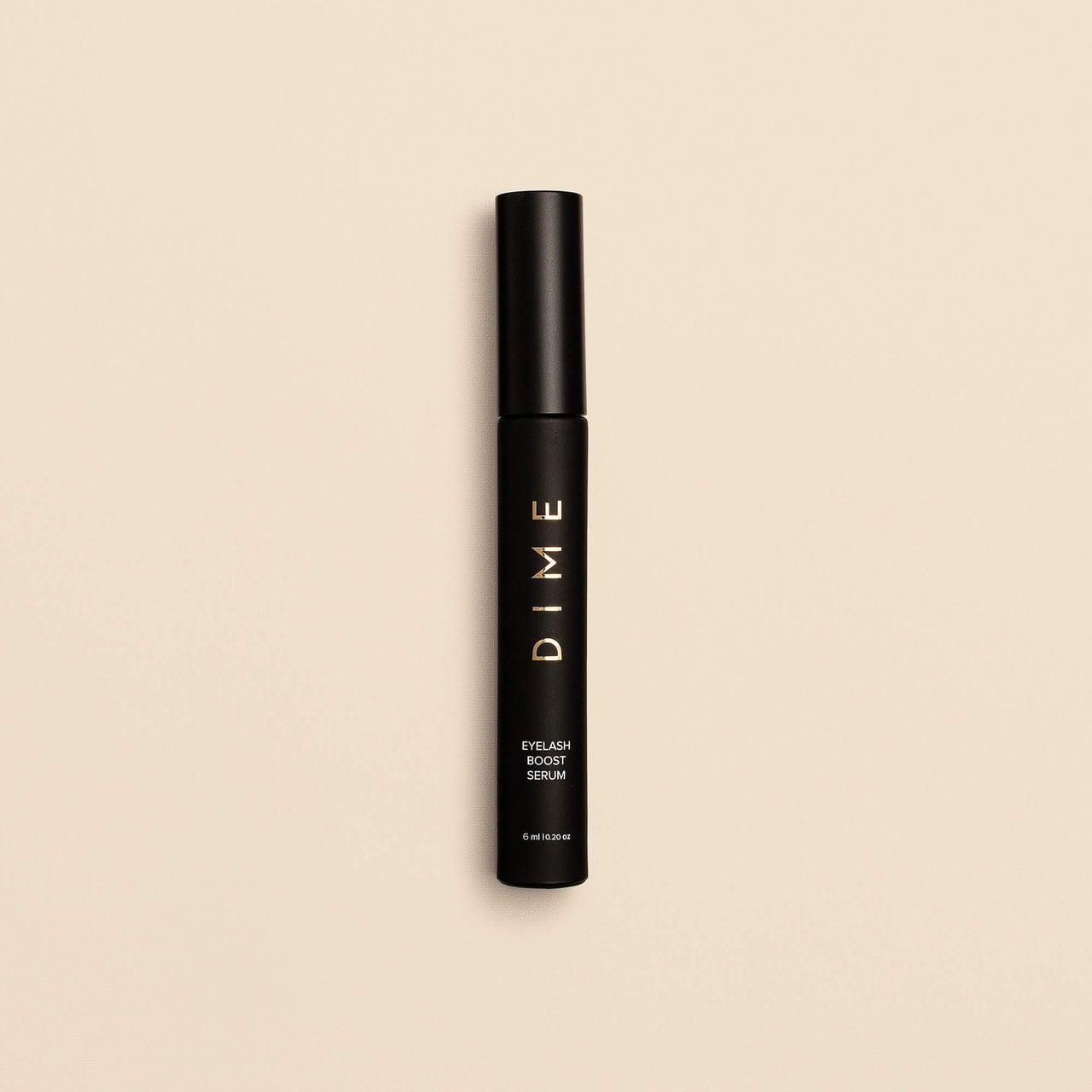 One thing's for sure – Dime's Eyelash Serum is a straight-up winner, and before you wonder what is so life-changing about it, just listen to one of the approvers of Dime Beauty itself in this Dime Eyelash Serum Review. 
Listed as one of Dime's bestsellers, the Dime Eyelash Boost Serum is available to grab for a price of only $44 – or $37.40 if you choose to subscribe. And that's a small price to pay for the promise of stronger and longer lashes – with continuous use, of course. 
Drenching your eyelashes in oil or other sticky substances is time-consuming and the results are not guaranteed. Now you can apply Dime's Eyelash Serum with its fine tip brush, specially designed to coat the eyelash and just the eyelash!
With star ingredients such as collagen-rich amino acids, biotinoyl tripeptide 1, myristoyl pentapeptide 4, and aloe leaf extract, the Dime Eyelash Serum promises to improve both your eyelashes and eyebrows by building hair from the root for a stronger and longer duration.
And of course, they use only EWG rating 1 ingredient in their magical eyelash serum, putting your health first. So get ready to say hello to thicker, longer and more beautiful lashes!
Volume Dime Mascara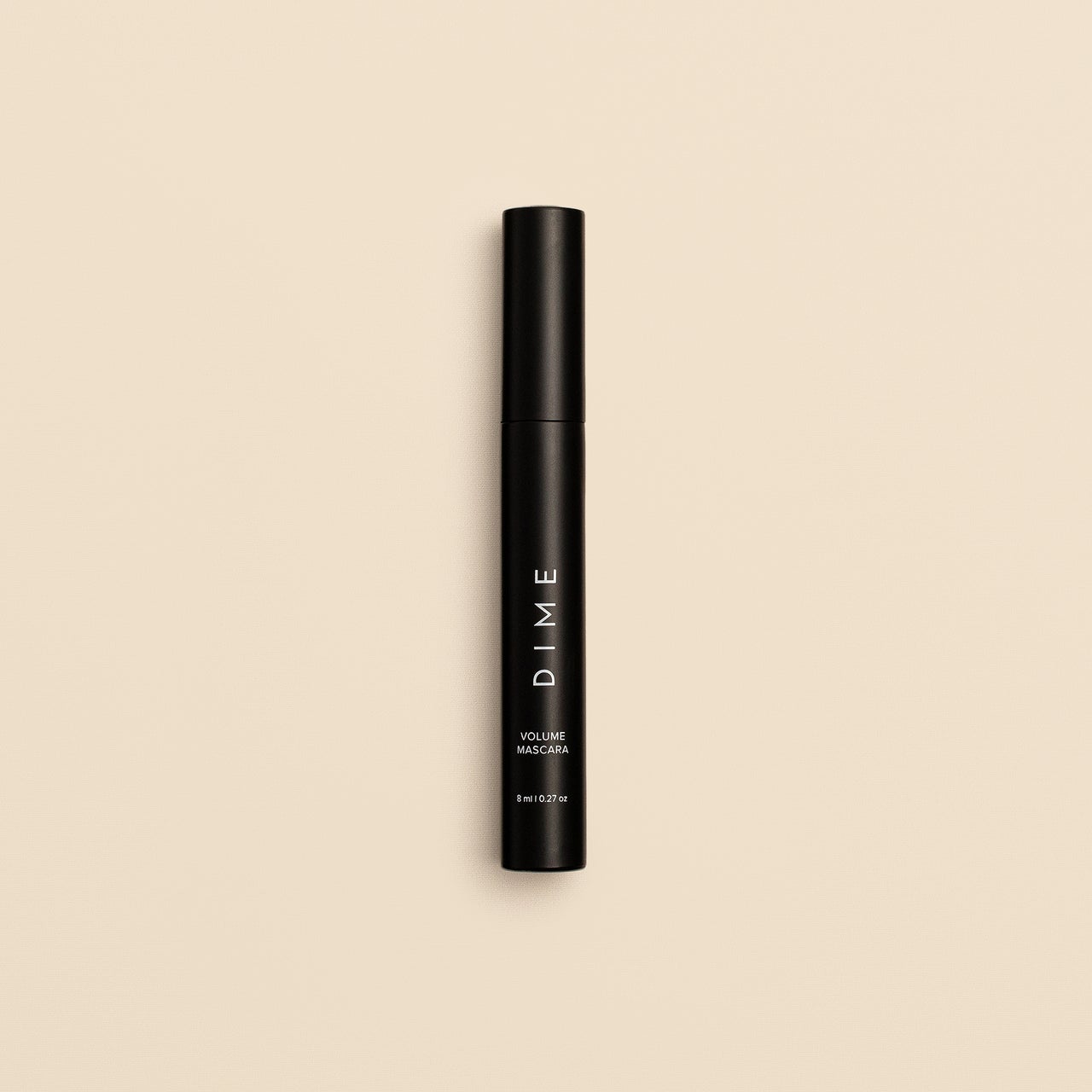 Do you want natural lashes that look like fake ones? Luckily for you, the Volume Dime Mascara is here to be at your service. Now you can get beautiful, smudge-proof lashes with Dime's volume-enhancing, no-smudge mascara! 
Priced at $18 a tube – or $15.30 when you choose to subscribe – Dime's mascara is bound to be in any beauty's budget. Especially when you look at how long it lasts you! And if not, then you can purchase it in four easy, interest-free money installments of $4.50 with the AfterPay service.
It's so worth it since, unlike other mascaras, Dime uses tapered brushes to help the user easily apply mascara to their lashes without fear of clumping, adding both thickness and length in the same stroke. 
And since Dime vows to use clean ingredients – and clean ingredients only – the mascara doesn't just make you look fab! It also strengthens your lashes and helps them grow to their best. Sounds too good to be true?
Well, the Dime Volume Mascara does include absolute superstar ingredients such as squalane, pure theobroma cacao extract, pantothenic acid, and glycerin – all of which not only protect the eyelash hair against damage but also promote its growth and repair that is often needed after being subjected to external stressors. 
Super Eye Duo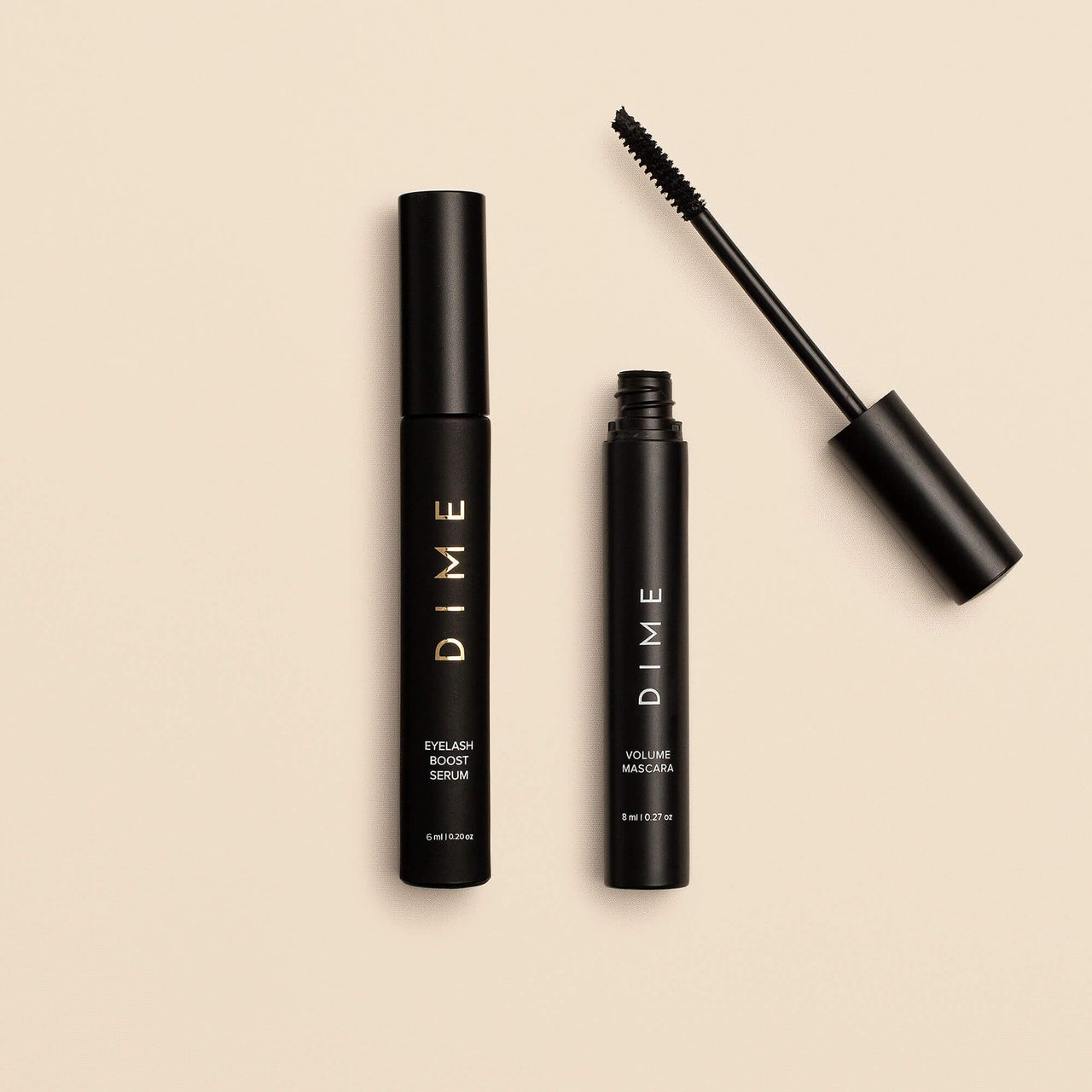 What's better than one? Two, of course! And that's just what Dime's Super Eye Duo delivers! It's true that eyes speak to the soul, and with Dime's Super Eye Duo, your eyes will be doing some serious speaking!
Consisting of the Dime Eyelash Boost Serum and the Dime Volume Mascara, the Super Eye Duo is the perfect combination of beauty and care – nourish your lashes with the boost serum, and then present them as their best selves with the volume mascara – it really is the perfect pair.
And the eBay part is that purchasing the duo set saves you bucks instead of buying the two separately! Priced at $59, the duo is $3 cheaper than the individual products when both are bought, helping you put those extra few towards something else.
And as always, subscriptions lower the cost because Dime loves to reward those that are loyal. Dime just made your eyelash care routine that much simpler!
Cleansing Duo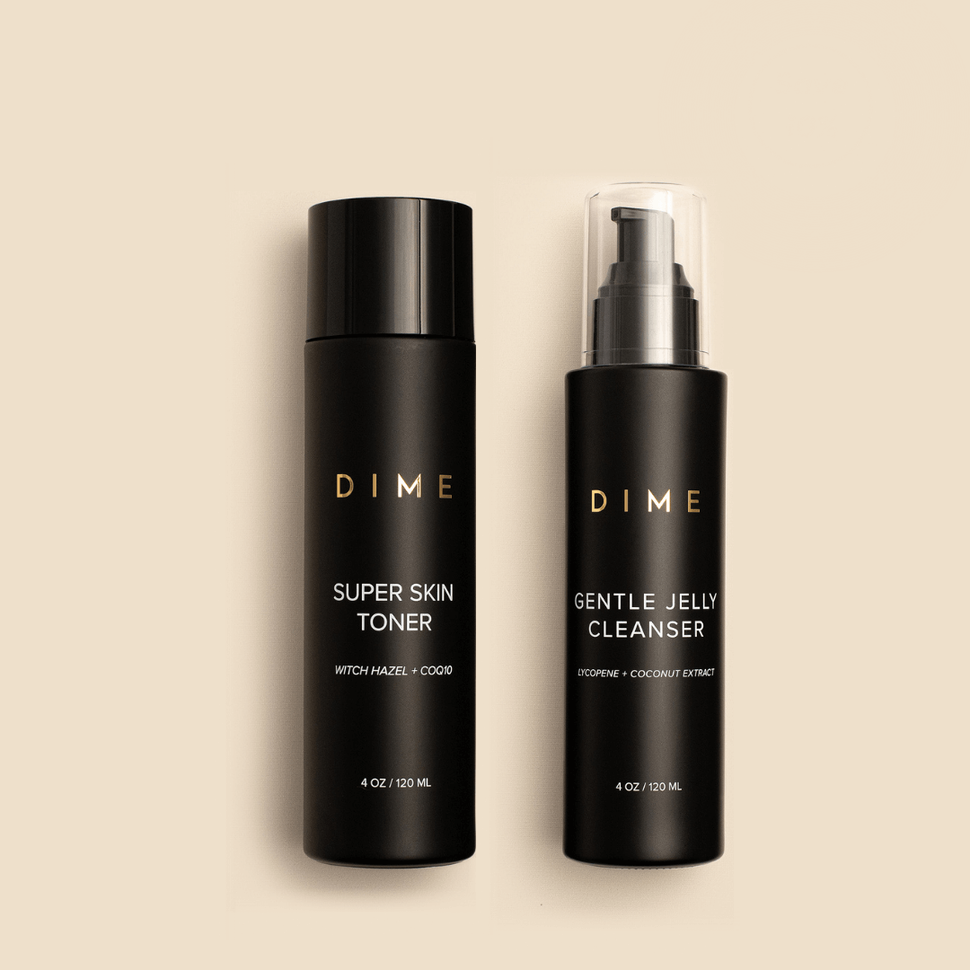 No matter how much we dress ourselves up or indulge in makeup, sometimes it's important to strip it back to the basics and focus on the one thing that is often the make or break between a tired and dull look, or one that is fresh and beaming to go: your skin.
And since Dime clearly cares about its customers, it provides the thoughtfully curated Cleansing Duo. 
Consisting of the Dime Gentle Jelly Cleanser and the Dime Super Skin Toner, the Cleansing Duo is your perfect morning to night routine. Start off your day by washing away the night's laziness with the Gentle Jelly Cleanser with witch hazel and COQ 10, both of which have a high safety rating on the EWG scale.
Oh, and it's also a great end-of-the-day activity to free your skin from the accumulated dirt and sweat collected from a day full of work, allowing your skin to breathe for a full night's sleep.
And unlike some other skincare products, Dime makes sure that their items don't over-dry or leave the skin feeling sticky – they take your comfort as their top priority. 
As for the toner, it's a pro at evening skin tone and leaving you looking brighter than ever, and it has the benefits of lycopene and coconut extract to thank for this.
And priced at $45 for the two, and 120ml of each, it's safe to say that the price is a fair bet – you even save $3 on buying a pair compared to what you would have paid for the individual products had you purchased both. So, it's a clear win all around!
TBT Duo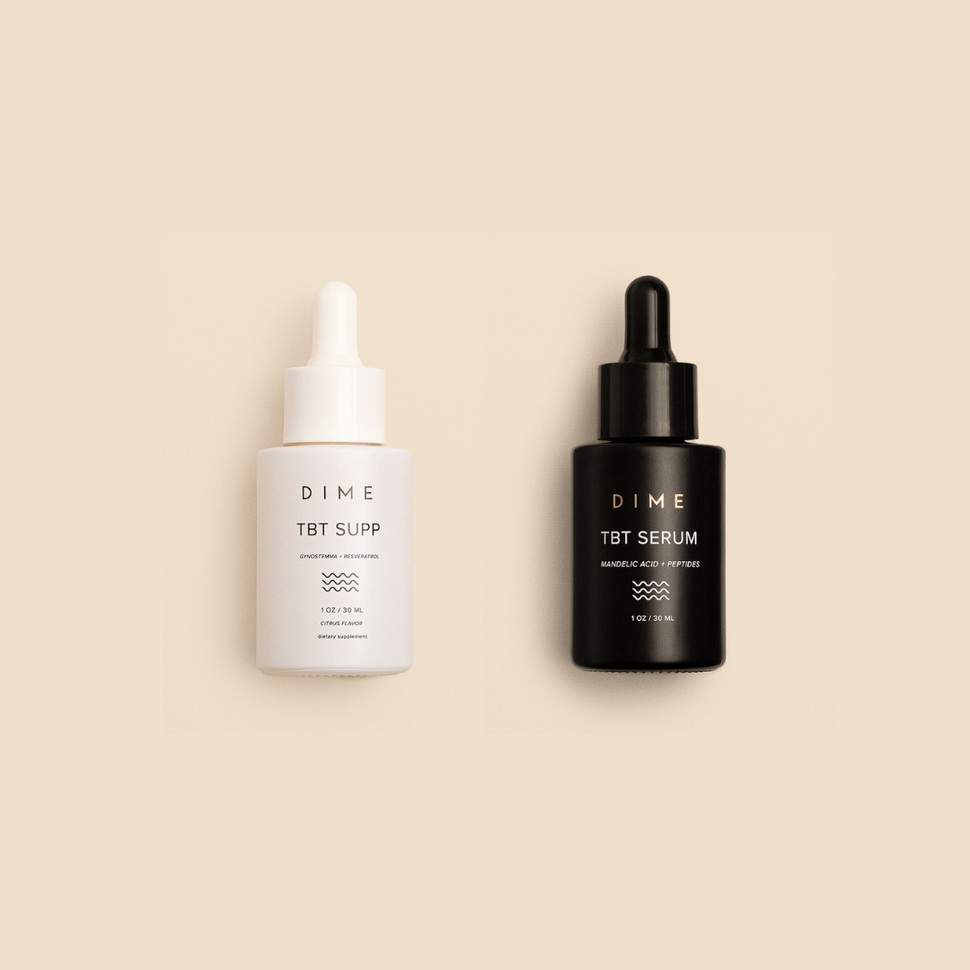 If there's one thing about Dime Beauty, it's that they know how to cater to everyone, no matter their skin type or stage. So without further ado, Dime Beauty introduces their TBT Duo.
Specially crafted for aging skin, the TBT Duo caters to the skin at all stages of aging, working masterfully to leave users with that youthful glow that carries natural beauty within it. 
Consisting of the TBT Supplement and TBT Serum, the two complement each other's action and ingredients, nourishing the skin with ingredients such as mandelic acid, peptides, resveratrol, and gynostemma to bring it to its best! 
One of the best things about the TBT Duo is that it doesn't leave the skin feeling weighed down by formula and solution. Instead, it's light and breezy, allowing the skin to breathe and relax. And all this in monochromatic bottles, giving your skincare collection some serious style points!
Dime Beauty Reviews from Customers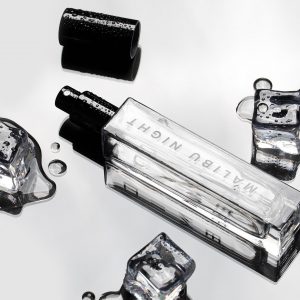 Let's face it, skincare is no joke. One wrong or miscalculated step and your skin can suffer from damage that will take some serious work to reverse.
And apart from doing your own research on the product and consulting professionals, there's really only one other thing you can do to make sure you embark on a journey of skincare success: read up on reviews by real customers. And the same goes for Dime Beauty customer reviews. 
Regarding ratings, Dime does reasonably well at a cumulative 4.4 stars out of a potential 5, gathered over tons of reviews from customers across the globe. 
One thing that Dime Beauty customers seem to love is how the brand targets specific skincare issues and works to solve them in the long term. 'I can finally say goodbye to my dry skin. It's a happy happy day for me', said one user who had struggled with dry skin for years on end. Similarly.
'I started using Dime at 56 years of age, and in just 5 months my skin looks brighter and fresher than I can ever remember' showing how Dime really doesn't restrict itself to any one skincare issue or group. 
Further customer reivews
That's not all that loyal Dime customers had to say, 'Dime has changed my skincare routine. No longer do I have to deal with sticky solutions and heavy skin'.
It's clear that customers love how natural and light Dime feels on their skin and how it's made them feel more energized and fresh on the whole. 
And even those who didn't rate Dime as their best often did so because of wrong orders – issues that were aptly handled by Dime's professionally trained customer care team.
And of course, there were a few that took issue with Dime's price point, but even they admitted, 'Dime is pricier than my previous skincare products, but the improvement is also massive, and for me, that's worth it. 
Sign Up for Dime Beauty
Making a purchase on Dime is super simple, and signing up isn't a necessity. That said, signing up does carry a lot of benefits.
First things first, customers who sign up get an exclusive 15% discount on their first order – helping them save some money when they're just trying out and unsure about what their experience is going to be like. 
And the monetary benefit isn't the only thing. When you sign up for Dime Beauty, you become a valued part of the Dime family, and Dime believes in family first which is why you'll get exclusive access to deals, offers, and product launches. 
So head onto www.dimebeautyco.com and sign up today!
Where to Buy Dime Beauty
Dime Beauty is an online brand, and it is only available to purchase from its website. We haven't found any other retailers that were selling Dime. So if you're interested in their products, just go to www.dimebeautyco.com and shop away!
Dime Beauty Shipping and Return Policy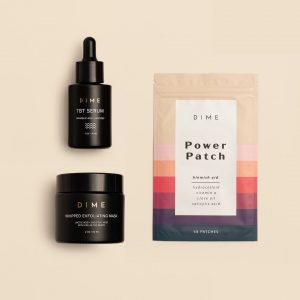 Dime offers free shipping on US orders over $49, and for orders below that customers simply have to pay whatever the courier company is charging.
As for international shipments – excluding the EU and UK – Dime customers pay courier charges according to their location along with 20% customs, taxes, and duties – the rest is covered by Dime. 
Regarding the returns policy, Dime caters to returns within a 60-day period, given that products are not damaged. All you need are your order details and you're good to go!
Simply reach out to the Dime customer care team through their returns page on the Dime website, and they'll assist you throughout the entire process. 
Dime Beauty Promotions & Discounts
Dime loves its family, which is why they reward you every chance they get. All you have to do is sign up to Dime and you'll automatically start earning points for each purchase – points which you can later exchange for Dime products!
Contact Dime Beauty
There are two ways of reaching Dime customer service. Either reach out to them through the live chat option on their website or send them an email at [email protected].
Dime Beauty Reviews: Editors' Verdict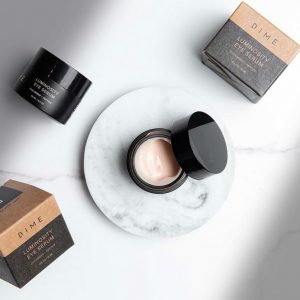 So, are you still curious about our verdict after reading our extensive Dime beauty reviews? Overall, the brand seems to be worth the hype. Any brand that offers clean beauty, cruelty-free, and ingredients that actually work on your skin should be taken into consideration. Dime beauty products are also not too expensive. Although if you want to buy multiple products, you might be spending over $100.
With that being said, Dime beauty products are still affordable compared to other similar beauty brands offering clean products. If you have sensitive skin, aging skin, acne, fine lines, or just simply want more hydration, Dime can certainly help. Give Dime beauty a go and share your Dime beauty reviews with other people. This way you'll be helping them when they want to purchase Dime beauty products.
Still searching for perfect cosmetics products? Consider reading our popular beauty reviews of Vert Beauty Review, AILLEA Review, Barry M Review, and ColourPop Review.
Dime Beauty FAQ
Are Dime Beauty products safe for pregnancy and breastfeeding?
Due to their clean and natural ingredients, Dime Beauty products are pregnancy and breastfeeding-friendly, but it's always best to seek medical advice before making any changes
Do Dime Beauty products help with acne?
Dime has helped many customers with their acne issues, and you could be the next!
Why am I experiencing pimples/reactions after using the products?
Dime mentions that experiencing pimples or reactions while using their products means that your skin is getting rid of all the impurities. Although it might be alarming at first, they recommend continuing to use the products until you see the results.

Why does my skin feel oily after using the Dime products for a short time?
As we have different skin types, certain products might react differently based on your skin complexion. If you have oily skin, according to Dime and probably every other skin specialist, you should still apply moisturizer. The key is to apply the correct one which was specifically created for oily skin, this way you avoid adding too much or too little moisture.
Where are Dime products made?
Dime confirms that all of its products are manufactured in Utah, United States. Only the Volume Mascara, lip stains, and power patches are made overseas as they do not have the necessary equipment available in the USA to produce them.