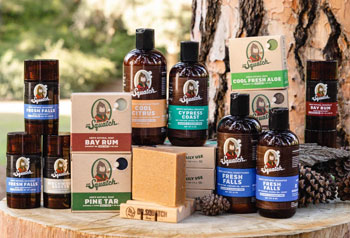 Most skincare and grooming products, men's soaps included, contain harsh chemicals that can irritate the skin and dry it out. Not Dr. Squatch though; completely natural and gentle yet effective at its primary job – cleansing the skin. Dr Squatch handmade soaps promise to revolutionize the way men approach hygiene. Oh, and they're formulated to leave you smelling "like a champion" too. Are you curious about this Dr Squatch soap review already?
Sounds great on paper, but what's it like in practice? In this review, we will explore the product line created by the company and its subscription program. Read our detailed and unbiased Dr Squatch soap Review to find out about the brand.
About Dr. Squatch Co.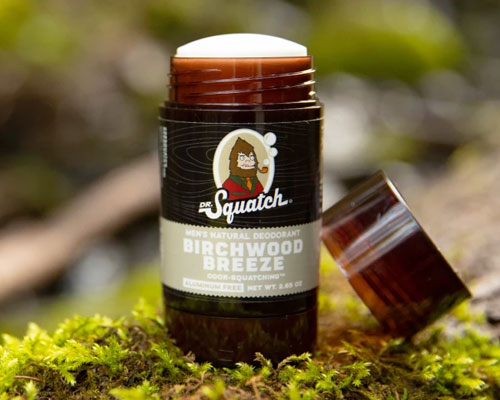 The North American company Dr. Squatch Soap Co. was created in 2010 when Jack Haldrup noticed that the men's cosmetics racks genuinely lacked a selection of natural products and ingredients.
A natural product enthusiast, Jack Haldrup spent weeks perfecting his "it" soap formula. After countless test batches made while experimenting in his basement, he created the "perfect" formula, made with natural ingredients and fresh, masculine scents. Although the brand was created in 2010, it took three years until Jack, the CEO and founder put the final touch to his honest soap formula and finally offered it to the public.
The brand's natural concept boasts a fun approach to the male market that criticizes the industrial way of creating men's personal care products: "During the First World War, BIG SOAP began stripping natural ingredients from soap to make production cheaper and faster… The term "natural soap" was as rare and mysterious as the Squatch himself."
More than a decade later, Dr. Squatch's mission has not changed: the brand led by Jack Haldrup is still raising the bar for the men's grooming industry. Their range of natural, handmade soaps has now been joined by a plethora of other masculine, natural, and healthy personal care products, including colognes, hair care products, and beard oils.
Pros
Natural, handmade skincare and grooming products
Clean composition and ingredients free from preservatives and harsh chemicals
"Sudisfaction Guarantee" with a possibility of replacement or full refund if you are not satisfied with your product
Unique masculine scents for all skin and hair types
Monthly or quarterly subscription available
Regular discounts and bundles available to help you save on the Dr. Squatch products
Cons
Prices set above average male personal care products prices
Limited range of products
Dr. Squatch Products Review
For this Dr. Squatch review, we have found that the brand's product line is quite limited, which, on the one hand, allows the company to keep offering customers the very finest natural ingredients at the highest standards, but on the other means that not everyone is going to find a product/scent they enjoy using. At the moment, Dr. Squatch provides men with natural men's soap, shampoos, conditioners, oils and colognes, and various candles and gifts.
Bar Soaps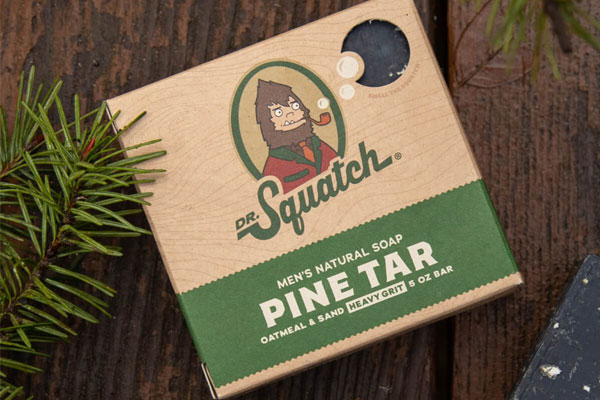 Dr. Squatch offers their customers a choice of 12 natural, handmade soaps that include the following scents:
Pine Tar soap: rugged, woodsy, and strong
Wood Barrel Bourbon: an old-fashioned blend of spice, bourbon, and oak.
Alpine Sage: an invigorating smell of cypress, lavender, and sage.
Cedar Citrus: a refreshing and energizing blend of rustic cedar and zesty orange oils.
Cool Fresh Aloe: go green with this aloe-built bar that cleans deep without drying you out.
Deep Sea Goats Milk: rejuvenate and moisturize your skin with the nectar of the goats
Grapefruit IPA: a perfect brew of refreshing grapefruit and crisp, hoppy beer.
Cold Brew Cleanse: a robust & caffeine-infused soap bar for a cause.
Bay Rum: an intoxicatingly delightful cocktail of clove, cinnamon, pine, and citrus.
Spearmint Basil: a perfectly minted bar that will awaken your senses.
Eucalyptus Yogurt: stimulating, moisturizing, and exfoliating for a well-rounded scrub.
Gold Moss: a revered, reliable, and potent blend driven by oakmoss.
Whether you feel like treating yourself with a refreshing, rejuvenating, or deeply cleansing soap, Dr. Squatch's cold process and handmade soaps have got you covered. Each bar costs $7, but customers can subscribe to a monthly or quarterly delivery subscription that can save you 15%.
Dr. Squatch also offers a handmade men's soap saver and a gripper to reduce soap scum and extend your soap's life, as well as a travel bag so you can take your soap with you everywhere you go. If you're curious about the rest of the Dr Squatch soap review, read on!
Shower & Hair Care
From an all-natural, handmade soap brand, Dr. Squatch has quickly evolved to offer other personal care products missing on the male market, including natural shower and hair care products.
Much like bar soap, men can get their shampoo and conditioner as a one-time purchase, or they can subscribe and save while getting free shipping for life at the same time.
Dr. Squatch's hair care products include:
Two conditioners for all hair types with an "uplifting cool mint with orange scent" and "crisp forest waterfall" scent
Two shampoos for all hair types with the "ocean breeze" scent and "crisp forest waterfall" scent
Two Conditioner + Shampoo Kits ($37, or $28 on subscription)
At the time of writing, one conditioner and shampoo are out of stock (Fresh Falls shampoo and conditioner), so we're going to focus on the two that are in stock: Cypress Coast shampoo and Cool Citrus conditioner. The good news is that they're all quite similar; the main difference is the scent.
Conditioner
The conditioner ($20 for 12 oz., and $17 when you subscribe) contains peppermint which helps stimulate hair follicles and soothe the scalp and is infused with calendula for hydration. Other than peppermint and calendula, the product contains a host of nourishing ingredients, including aloe leaf extract, avocado oil and coconut oil, rosemary leaf extract, and more. Unlike most generic men's 2-in-1 shampoos and conditioners, Dr. Squatch's conditioner contains no silicones or harsh ingredients, which means that it should help hydrate your scalp and hair without making it oily.
As for the Dr. Squatch Shampoo ($20 for 8 oz., and $17 when you subscribe), it's designed to be used 2 to 3 times per week to fortify and restore your shiny locks. The brand has formulated its shampoo with refreshing tea tree oil, nettle leaf extract, jojoba seed oil, and no harsh chemicals to cleanse naturally and gently. You'll notice the shampoo is free from harsh ingredients, including lauryl and laureth sulfate, which can strip the scalp of its healthy oils. Overall, it's a very gentle but potent shampoo, with a clean ocean breeze smell.
Beard Oil & Beard Cologne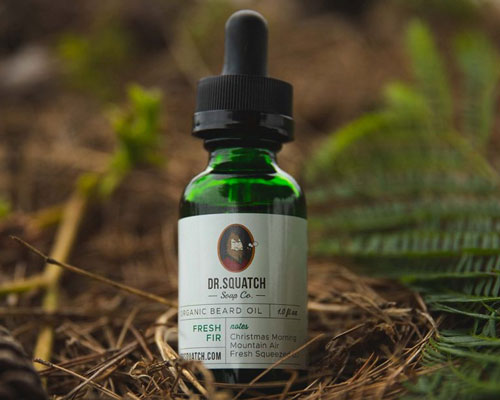 The brand has designed two Beard Oils, one reminiscing of summer scents and one reminiscing of wintertime's freshness. Each is made to compliment the Beard Colognes which are available in the same scents.
The Sandalwood Bourbon Beard Oil retails for $18. Its formulation is specifically designed to protect and moisturize your face mane with a tastefully smooth, sandalwood scent. Among its ingredients, you can find natural oils such as jojoba, almond, castor, and argan oil, as well as essential oils, such as sandalwood, bergamot, grapefruit, and myrrh.
Dr. Squatch also offers Crushed Pine Beard Oil ($18). The basis is the same as the Sandalwood Bourbon oil, meaning the first four ingredients are natural oils: jojoba, almond, castor and argan oil. However, the essential oils are different (so the oil smells distinctively different too): cedarwood, sweet orange, fir needle, and patchouli and spruce.
The CEO, Jack Haldrup, has worked endlessly on the Dr. Squatch products' formulation and scents, and it seemed only natural to complement the nourishing formulas of the oils with assorted colognes.
The Beachwood Bourbon Cologne and the Crushed Pine Cologne each retail for $21 and are made to be applied to pulse points; on the neck, wrist or chest. Once again, the formulation is all-natural, consisting of essential oils and organically sourced oils such as almond or jojoba.
Candles and Gifts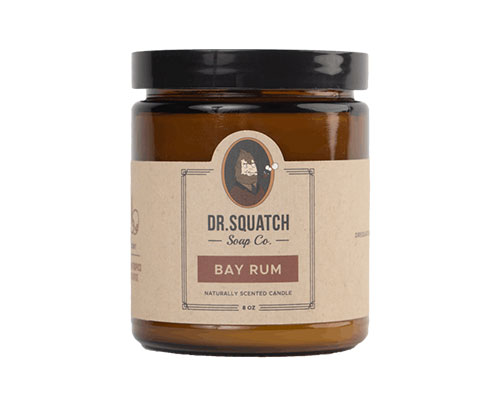 The LA-based company is continually raising the bar, extending its product range to colognes, candles, hand sanitizers, and more to allow men to smell good and feel their best on any occasion. If you are looking to treat yourself or a close one, you can either purchase products as one-time items or choose to get a gift bundle among the Starter bundles, the Best Selling bundles, and Full Routine bundles.
Described as a "Subtle way to say 'you stink," the Dr. Squatch Starter gift bundles offer three gift options that will allow you to discover the brand with some items from each range, including:
the Clean bundle: 3 Soaps and a Soap Saver ($28 instead of $36)
the Groomed bundle: 3 Soaps, Soap Saver, and a Hair Care Kit ($49 instead of $76, and free shipping)
the Smooth bundle: 3 Soaps, Soap Saver, Hair Care Kit, Toothpaste Kit & Candle ($79 instead of $115, and free shipping)
The company also offers bundles of their bestselling products, including:
the 6-Pack bundle: 6 soaps ($39 instead of $42)
the Try' Em All bundle: all Dr. Squatch soaps ($69 instead of $77)
the Full Routine Essentials Bundle: 2 Soaps, Deodorant, Hair Care Kit and Toothpaste Kit ($76 instead of $85)
the Shower Essentials bundle: 6 Soaps and Hair Care Kit ($71 instead of $79)
Customers who already know the brand well or would simply like to treat a special someone to a great personal care routine can choose between 6 Full Routine bundles:
the Every Clean bundle: 3 Soaps and Toothpaste Kit ($40 instead of $43)
the Bay Rum bundle: 3 Bay Rum Soaps, Bay Rum candle, and Bay Rum Deodorant ($48 instead of $51)
the Fresh n' Clean bundle: Hair Care Kit, Toothpaste Kit, Deodorant ($63 instead of $71)
the Shower Essentials bundle: 6 Soaps and Hair Care Kit ($71 instead of $79)
the Full Routine Essentials Bundle: 2 Soaps, Deodorant, Hair Care Kit and Toothpaste Kit ($76 instead of $85)
the Ultimate Squatch bundle: 3 Soaps and Soap Saver, Hair Care Kit, Coffee Mug, Trucker Hat and Shower Koozie ($98 instead of $131)
Aside from the bundles, you can also get a special someone a nice Dr. Squatch Bay Rum candle ($18 for 7.2 oz), which is currently the only candle available in the brand. Made from a soy/paraffin blend, its crushed cloves, cinnamon sticks, crisp pine, and the zesty orange blend is sure to whisk you away to a white-sand tropical beach. As the Bay Rum candle is available in the Bay Rum bundle with the matching soap and deodorant, it can prove a perfect gift for any man who is in deep need of a vacation far away.
Squatch Soap Main Ingredients
The brand prides itself on using the best ingredients in its handmade and natural soaps, toothpaste, shampoos, and beard oils. Following the founder and CEO's line of action since 2010, Dr. Squatch still strives to raise the bar for men's skincare with the most natural ingredients around.
In the brand's soap formulas, the base ingredients are saponified oils like olive, sustainable palm, and coconut oil, as well as shea butter.
Natural ingredients with diverse characteristics and properties are then incorporated in the formula, like essential oils, essential oils, oatmeal, activated charcoal, sea salt, clay, and many more ingredients to benefit your hair and skin. You can also find an Ingredient Glossary on the Dr. Squatch website to find out each ingredient's properties and how it can benefit your body and hair.
Within this Ingredient Glossary, you can find a short description of each ingredient, for instance:
Oatmeal: exfoliant. The saponins found in oats work as a natural exfoliant, removing dirt and oil from the pores.
Sand: exfoliant. The sand acts as a natural exfoliant to peel off dead skin cells, which leaves your skin glowing and smooth to the touch.
Shea butter: skin softener. Abundant in vitamins and fatty acids like linoleic, oleic, stearic, and palmitic acids making it incredibly nourishing for the skin. It acts as a strong humectant, preserving moisture in the hair follicle.
Clary Sage Essential Oil: scent. Linalyl acetate is an ester in clary sage, which reduces skin irritation and improves your skin's overall health. It is known to stimulate the hair follicles to help achieve a healthy, full-bodied head of hair.
While some ingredients are usual components of cosmetics, like clay or shea butter, others are much more unexpected like sand or oatmeal, making the Dr. Squatch products that much more appealing in terms of benefits.
Soap Subscription
If you opt for a Dr. Squatch soap subscription, you will be able to get your favorite soap scents, such as the Pine Tar Soap, regularly.
There are a couple of upsides to getting a Dr. Squatch soap subscription, which includes:
A discounted price: 15% off each soap bar
Flexibility: you can choose each natural soap scent or let the team select a scent for you that you haven't tried already among the 12 available scents, and choose the quantity and frequency of your subscription (monthly or quarterly)
According to the quantity and frequency of your subscription, prices vary as follow:
$18 for 3 bars shipped every 3 months
$36 for 6 bars shipped every 3 months
If you choose a Dr. Squatch subscription, you will get free shipping store-wide for life. You can customize your subscription with your favorite scents, and you are always free to change them, keeping in mind that most customers use around 2 soap bars per month.
Customers can also skip or delay their next subscription refill or simply change the scents they will be receiving on their next refill easily from their account dashboard before their next order is processed. Canceling your subscription is also hassle-free, as you can do it straight from your account settings.
Dr. Squatch also offers subscriptions on hair ($28 every 3 months), toothpaste ($20 every 6 months), and deodorant ($11 every 3 months). On top of your subscription, you are free to add some goodies that will be sent with your first shipment only.
Dr Squatch Soap Review from Customers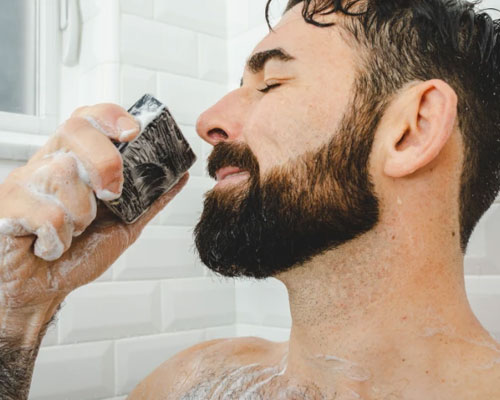 For this review, we made it a point to read through as many customers' experiences as possible, so you know exactly what to expect when buying from Dr. Squatch. To our surprise, despite overall outstanding reviews for the products, the company averages a 4.1 out of 5 mark on Trustpilot at the time of writing. So pretty good but not as great as one would expect from a company that offers ultra-nourishing natural grooming products for men. That said, most issues that a handful of people met with delivery delays, for instance, happened during the Covid-19 worldwide shutdown.
Most reviews we've found were very recent and praised the soaps and other Dr. Squatch products' organic and natural concept. Some customers enjoyed each of the scents they have tried, with Pine Tar soap being a seemingly customer favorite. They described the products as "second to none", and praised the customer service. The auto subscription also seems like a really easy and much-appreciated way to top up men's personal care drawer without ever having to worry about running out.
Further customer reviews
However, we have also come across some customer reviews who deplored the processing and shipping times and the sometimes unavailable customer support team, which could be explained by the delays and issues that Post Offices and companies worldwide are experiencing at the moment. If you would like to get a Dr. Squatch subscription, we would recommend selecting the quarterly renewal so that you never run out.
Overall, customers of Dr. Squatch seemed very happy with their one-time purchase and subscriptions alike, with one review reading: "You need to try it! At first, I fell in love with the soaps because of their smell and that it is more natural. After a few weeks of use, my skin feels better than ever! Now, I have started using Squatch deodorant as well – I couldn't be more pleased!".
Some customers highlighted the positive physical and mental effects that the natural formulas of Dr. Squatch have on their skin, hair and self-confidence: "I feel healthier with Dr. Squatch. I've been getting Dr. Squatch for a while now, and I love it. My skin feels better, and when I use it, my hair feels great. The toothpaste makes me feel like I just got done at the dentist every time!".
On the whole, with a very attractive selection of soaps and personal care lines, and hundreds of positive customer reviews, Dr. Squatch places itself as a brand to try and adopt.
Coupons & Promo Codes
Aside from offering men excellent-quality natural and handmade soaps, Dr. Squatch also allows customers to purchase their products for less with regular sales and discounts:
Signing up to the mailing list: new customers can get 20% off their first subscription by signing up for the newsletter
Subscription: you can save up to 15% with a soap subscription
Hero Discount: Dr. Squatch offers a 10% discount for all military personnel, first responders, and medical professionals on any one-time orders, first-time subscription orders, and all subscription renewals
At the time of writing, the President's Day Sale allows you to get up to 25% off the new Dr. Squatch bundle offers. Get $10 off your $55+ order with the code SAVE10 and $20 off your $80+ order with the code 20SAVE.
Where to Buy
A small selection of Dr. Squatch products is available at third-party retailers and stores. However, if you would like to get an overview of the full range of all-natural soap, shaving products, toothpaste, and more, the best place for you to browse is the Dr. Squatch website.
Dr. Squatch Shipping and Return Policy
Dr. Squatch currently ships to the United States, Australia, Canada, and the United Kingdom. When you order from the company's website, Dr. Squatch will ship your parcel within 1-3 business days.
Shipping times for domestic shipping are estimated as follows:
Standard ground shipping: 3-7 business days
Expedited shipping: 3-4 business days with USPS Priority and 2 business days with FedEx 2-Day
If you order from Canada, Great Britain, or Australia, the shipping rate will be calculated at checkout, and your order will be shipped using USPS Priority Mail. Taxes incur to the customer, and free shipping is not available for international orders.
Return Policy
While Dr. Squatch does not accept returns, the brand does offer a Satisfaction Guarantee on all of its products. Abiding by their motto, "If this isn't the best soap you've ever used, it's on us," the company allows dissatisfied customers to either choose a replacement scent or receive a full refund on their product.
Contact Dr. Squatch
If you still have questions that haven't been addressed in this Dr. Squatch review, the support team is available to help via:
A contact form on the website
Additionally, the Dr. Squatch team can be reached on various social media:
Instagram
Facebook
Twitter
YouTube
Dr Squatch Soap Review: Editor's Verdict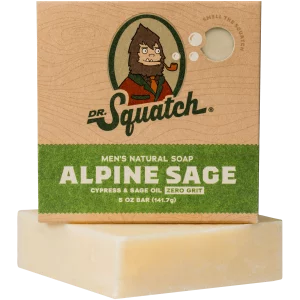 When taking a close look at the Dr. Squatch brand for this review, we have found that the company offers many natural skin and grooming options for men in a world still dominated by "BIG SOAP" and its harsh chemicals.
Dr. Squatch focuses on bringing to life all-natural, handmade soaps, hair care, beard products, and more, specifically imagined for men's skin and hair. With clean formulas and ingredients that benefit customers, the brand looks like a company very much worth trusting.
Importantly, when we went through customers' experiences, we discovered that the brand really delivers what it promises. Strong, masculine scents are praised by hundreds of customers, male and female alike, and the products uphold both the cleansing and nourishing properties advertised by Dr. Squatch.
Despite the sometimes lengthy shipping times, the California-based brand offers everything men need in their bathroom for a great price. Considering the intense care and thought put into the formulation of each product, as well as the natural composition of each recipe, Dr. Squatch is definitely worth trying out.
Check out another men-specific skincare brand review for Lumin Skin Review and Manscaped Review. Moreover, if you're looking for other all-natural products, check out our review for Green Goo Review too! We also wrote a review about the 10 Best Self Care Subscription Boxes. 
Frquently Asked Questions
Do Dr. Squatch offer samples products?
Dr Squatch doesn't offer any sample products at this time. What they do offer is a refund in case you do not like their products.
Can women use Dr. Squatch Products?
Yes, women can also use their products as they are unisex.
What Ingredients are in Dr. Squatch products?
You can check out the ingredients used in the ingredient glossary. For example, Dr Squatch's soaps have ingredients like coconut oil, glycerin, or lye
Does Dr. Squatch test products on animals?
No, they do not test on animals. The brand is 100% cruelty-free.

Are Dr. Squatch products vegan?
The majority of the products are vegan. None of the soaps are made from animal fats. The only products that contain animal-derived ingredients are Deep Sea Goat's Milk bar, Eucalyptus Greek Yogurt bar, and some shampoos or conditioners containing animal byproducts.