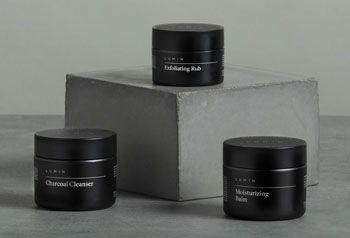 It's no secret that people with clear and even-toned skin look healthy and well-groomed, and men are no exception. Great skin can make you feel more confident and give you a natural glow from within. If you're looking to amp up your skincare game and are eyeing male-specific brands, this Lumin Skin review is for you.
Marketed as a premium skincare brand with effective and simple skincare products, Lumin caters specifically to men. According to this relatively new-to-the-market brand, men's skin is tougher and thicker than women's skin, so it requires different skincare ingredients and regimes to be truly effective. Sounds reasonable; but is it really worth it? Check out our comprehensive Lumin Skin review to find out.
About Lumin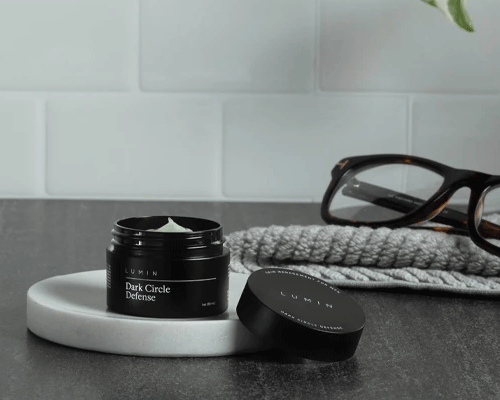 Lumin is a Los Angeles-based company founded in 2018 by Richard Hong and Darwish Gani. Hong struggled with acne in his youth but managed to clear his skin thanks to his sister's help. She recommended he use her own skincare products. Friends noticed the difference in Hong's skin and asked him for advice. Over time, Hong realized that skin woes affect practically everyone, including many men. So, in a typical entrepreneurial fashion, Hong launched Lumin Skin together with his co-f0under Gani.
While new on the skincare market scene, the brand has been featured in many leading publications, including Vogue, Forbes, and Vanity Fair. Lumin skincare is generally praised for offering relatively affordable premium skincare that's specifically formulated for men.
These products are made for thicker and tougher skin, which is differently structured than women's. Like most skincare brands nowadays, Lumin allows customers to purchase their products either individually or as a set that targets specific skin concerns. There are few products that target various skin concerns, including dark circles, fine lines, and wrinkles, dry skin. For example, the charcoal cleanser and moisturizing balm duo will do wonders for your skin.
Pros
Premium skincare at sensible prices
Effective products formulated specifically for men's skin
Unique male hair & body care products
Free trial available on any product
Helpful and competent customer support
Worldwide shipping available
Cons
Free trial must be canceled to avoid ongoing membership
Relatively small bottles for the price
Lumin Product Reviews
Lumin skincare products are paraben-free, dermatologically tested, and cruelty-free.
Some of the products are made to be applied during the night to improve skin absorption, like the Moisturizing Balm, the Recovery Oil, or the Dark Circle Defense. While others are formulated to be used during the day to defend the skin against the pollutants and/or to reduce the appearance of puffiness, such as the Eye-Puff Deflator and Touchless Face Mist.
For this Lumin Skin Care review, we'll take a close look at some of these products, including the popular Moisturizing Balm, Charcoal cleanser, Anti-wrinkle serum, and Exfoliating rub. All of these can help you achieve healthy skin.
Charcoal Cleanser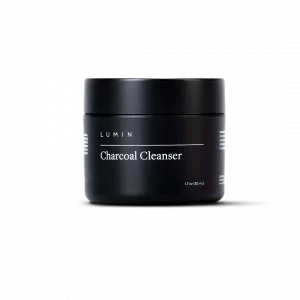 The No-Nonsense Charcoal cleanser retails for $16, or $12.80 for members. Among its ingredients, we can find charcoal, rose flower oil, and Centella Asiatica, all blended into a very efficient face cleanser that fights off impurities and oil buildup. The charcoal's main goal is to clear up the dirt and prevent breakouts.
Centella Asiatica is all the rage now so it's no wonder it's present in this popular cleanser. Its purpose is to repair the skin barrier and reduce inflammation, plus it has some minor anti-aging effects. We also like the addition of the rose flower oil as it has some anti-acne and anti-aging properties too.
Anti-Wrinkle Serum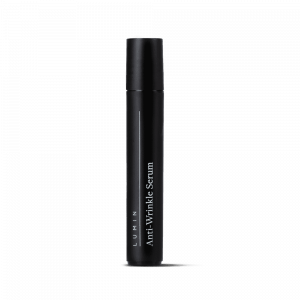 The Anti-Wrinkle Defense ($19, or $15.20 for members) is a serum jam-packed with antioxidants to counter sun damage, premature aging, and fine lines. Containing vitamin C, hyaluronic acid, and pomegranate extract, this handy little serum helps hydrate the skin, smooth fines lines, and prevent puffiness.
We're fans of the high concentration of vitamin C especially as it's proven to have anti-aging properties. The anti-wrinkle serum also contains various other antioxidants, including celery, tomato, and broccoli extracts, which are all great for everyday defense against free radicals and other pollutants.
Lumin Moisturizing Balm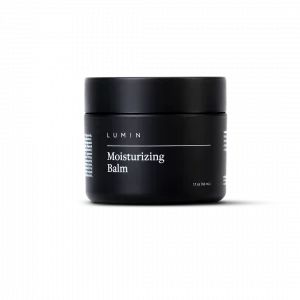 This Lumin skin review wouldn't be complete without us mentioning one of Lumin's bestsellers, which is also mentioned in GQ: the Ultra-Hydrating Moisturizing Balm ($29, or $23.20 for members). Its apple extract, ginger extract, and meadowfoam seed oil help with dehydration, sun damage, and oil regulation. Furthermore strengthens the skin barrier, making it a must-have moisturizer in our book. Like the Charcoal cleanser, this moisturizer seems to be the foundation for a standard skin routine.
For men who are beginners in the skincare game, our Lumin skin care review will also look at the Exfoliating rub, as a moisturizer is not enough when your skin looks a little dull. A powerful face scrub, the Exfoliating Rub helps with acne scarring, shaving irritation, and dark spots to allow your skin to recover from external aggressions. Among its ingredients, we can find charcoal that sucks out dirt and impurities, which is great for preventing breakouts.
Lumin Shampoo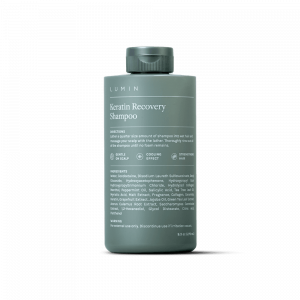 Aside from the extensive face skin care regime, Lumin also offers interesting hair care products.
The Keratin Recovery Shampoo ($13.75, or $11 with the subscription), for instance, contains tea tree leaf oil, ceramide, and peppermint oil. The ingredients prevent oil buildup on the scalp, promote hair growth, strengthen follicles and give a shiny appearance to the hair. It's recommended for dry and damaged hair, but we don't see any ingredients that would make it unsuitable for other hair types.
The Keratin Strengthening Conditioner ($13.75, or $11 with the subscription) helps with damage, dryness, and dehydration. The formula contains jojoba oil, green tea extract, and keratin, a combo that helps repair weakened hair, reduce skin inflammation, and boost hair health. Overall, it seems like a nice, lightweight formula that any hair and skin type can use.
The Advanced Repair Scalp Treatment ($15, or $12 for members) is a combination of tea tree leaf oil, ceramide, jojoba oil, and keratin. Therefore it helps with a range of scalp and hair issues, including dryness and dehydration, oil buildup, and follicle damage. It is a pretty effective product if you're looking for something to protect your sensitive scalp from pollution and other environmental stressors.
Lumin Body Products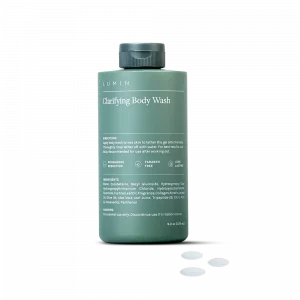 The Clarifying Body Wash ($13.75, or $11 every two months) keeps your body clean yet moisturized while preventing breakouts and inflammation. Its tea tree oil, aloe vera, and jojoba oil formulation should help nourish the skin and make it clearer and cleaner.
The Hydrating Hand Balm ($23 for 25 mL, or $18.40 every two months) is packed with natural antioxidants and moisturizing ingredients, helping protect and hydrate the rough skin on the hands. With shea butter, sunflower seed oil, jojoba seed oil, and various plant antioxidants, this hand moisturizer also helps reduce the signs of aging.
Free Trial Skin Care Products
For men who are not used to applying skincare regularly, Lumin has taken the initiative to offer one free trial of men's skincare per customer, regardless of the product. Only new customers can receive a free product or set to help them decide on the perfect products for their skincare routine. The free trial is a promotion offered in many countries, however, it should be noted that it's subject to change in shipping and inventory.
How Much does Lumin Cost?
While doing research for our Lumin Skin review, we compared Lumin to other skincare products formulated for men. First, of all, we found that their skin care, body care, and hair care products are actually quite affordable. Second of all, they're effective and available as an every-two-month subscription that can save you 20% off the retail price. Some prices include:
Keratin Recovery Shampoo: $13.75 or $11 with the membership
Clarifying Body Wash: $13.75 or $11 with the membership
Ultra-Hydrating Moisturizing Balm: $29, or $23.20 with the membership
Cooling Aftershave: $26, or $20.80 with the membership
Soothing Beard Oil: $18, or $14.40 with the membership
Lumin Skin Review from Customer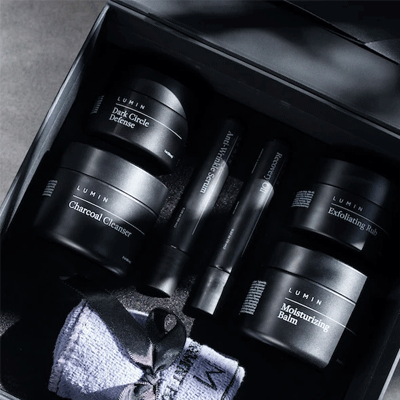 Lumin Skin enjoys a positive reputation not only among big publications but its customers too.
A great majority of customers report that the products have managed to improve their skin appearance, making it clearer and reducing the appearance of their pores. Quite a lot of people have raved about Lumin giving them smaller pores, but unfortunately you can't shrink your pores with creams; you can, however, reduce their appearance. Some customers note that Lumin products helped level out their combination skin. Apparently, they feel it is tighter, less red, and with fewer breakouts. A number of men have also said that Lumin skin care helped reduce the appearance of their fine lines.
Here's one satisfied customer's review on TrustPilot: "I've used Lumin products for a while now, charcoal face wash, moisturizer, and black circle defense. I'm extremely happy with all the products and have bought directly from Lumin on subscription and also through Amazon. I'd highly recommend them."
A handful of customers have experienced some issues while using the website, as well as delays in receiving their skincare products. The good news is that most of them have also highlighted the Customer Support's helpfulness in order and cancellation matters.
Overall, most of the reviews we've come across were very recent, and could not praise Lumin enough in terms of product formulation, labeling, and packaging. Some men enjoyed the simplicity of the Lumin skin care products' instructions and the products themselves, making for one complete, efficient solution.
Lumin Membership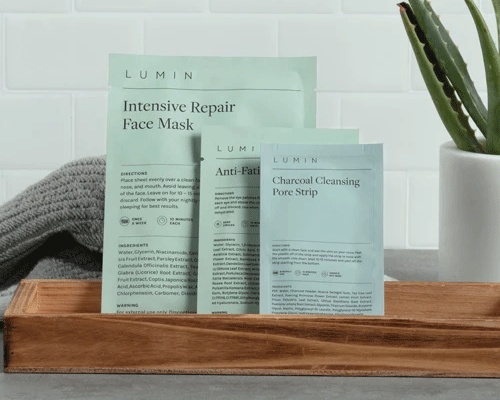 The Lumin Skin Care Membership is an easy way to have your must-have skincare items always at hand. If you would like to make changes to your subscription, like update your products or next order date, all you need to do is access your account in the Support Portal section.
How do I cancel my Lumin skin subscription?
If you would like to cancel your Lumin Skin care subscription, you can do so directly through your account before your next order date. If your order has already been processed, your subscription cancellation will not cancel this order though, which is something to keep in mind.
Where to Buy Lumin Skincare
Customers who would like to purchase authentic and safe Lumin skincare products can only do so from:
The Luminskin.com website
Amazon.com
Lumin's Shipping Policy
Whether you are based in the United States or in another country, you can purchase Lumin skin care products easily as they ship worldwide. Depending on the country, you will receive your parcel within 2 to 18 business days, with expected transit times calculated at checkout.
Lumin's Return Policy
If you would like to return your Lumin order, you can start the return process by contacting the Lumin Support Concierge in the Support Portal section. Keep in mind that you must return your order within 60 days after reception to be eligible for a refund.
Contact Lumin
The Support Concierge will answer any questions that haven't been addressed in this review within 2 to 4 days. You can contact them via:
Lumin Skin Review: Editors Verdict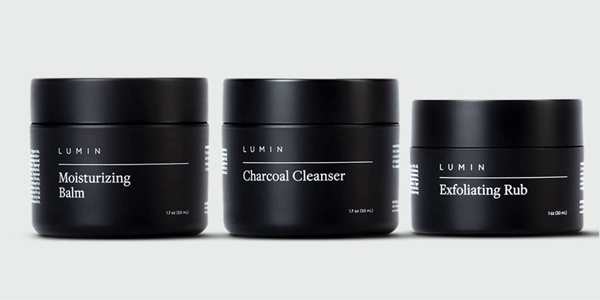 While skincare is subjective, there are certain ingredients that are scientifically proven to work for practically everyone, and Lumin Skin Care has quite a few of them in their formulas. For instance, many formulas contain vitamin C, niacinamide, hyaluronic acid, Centella Asiatica, and beneficial plant extracts and oils, which are all well-researched ingredients that are proven to help with various skin issues, including uneven skin tone, signs of aging, and more.
Needless to say, these are all high-quality and effective skincare products, so there's no question about their legitimacy. But are they worth their price? While you'd certainly be able to find cheaper male skincare in your drugstore, you'd be hard-pressed to find products that are this effective. For this reason alone, we believe Lumin is 100% worth it.
Check out another men-specific skincare brand below Dr Squatch Soap Review, Manscaped Review, Cardon Skincare Review, and Wildling Beauty Review.
Frequently Asked Questions
Does Lumin work for dark circles
Lumin skin care includes three new products that target the under-eye area:
Dark Circle Defense
Eye-Puff Deflator
Anti-Fatigue Eye Patch
In this review, we take a close look at each product to help you decide if any of these might work for your specific undereye issues.
Dark Circle Defense is one of Lumin's best sellers and it isn't hard to see why. This formula contains some of the most effective ingredients for fighting dark and tired under eyes, including niacinamide or vitamin B3 (brightens, fights inflammation and has anti-aging properties), caffeine (reduces puffiness and fights free radicals), and lemon extract (antioxidant properties, improves uneven skin tone). We also like the addition of licorice root extract as it's shown to have significant brightening effects. This is a pretty powerful combination that should help with a range of undereye problems, including dark and uneven skin tone, puffiness and fine lines.
The Eye-Puff Deflator is specifically designed to reduce the appearance of puffy eyes in the morning. It contains cucumber and green tea extracts that help boost hydration and soothe the skin, as well as vitamin B3 which helps brighten and strengthen weakened skin. Used on its own or in combination with Dark Circle Defense, this bad boy can help reduce the appearance of tired, puffy and dark under eyes.
For men who need some extra help in the undereye department, the brand offers Anti-Fatigue Eye Patches. Acting like small under-eye masks, they are to be applied for 10 to 15 minutes for that hydrated, smooth effect. Made with caffeine, hyaluronic acid, and Centella Asiatica among other things, these patches can be a lifesaver when you have to deal with the aftereffects of staring at the screen too long or having a drink or two more than planned while out on the town.
How often should I use Lumin?
If you want to see fast improvement in the general appearance of your skin, Lumin Skin recommends applying their products consistently, which is to say every day, and according to the instructions indicated on the product card. Of course, Lumin Skin products can be used alone or combined with other products for optimized results.
Is Lumin Good for Oily Skin?
Lumin Skin offers an extensive range of skincare to help balance all skin types, including oily skin. For instance, the Classic Maintenance Collection for Men is a set targeted specifically at oily skins that includes:
the Charcoal Cleanser
the Exfoliating Rub
the Moisturising Balm