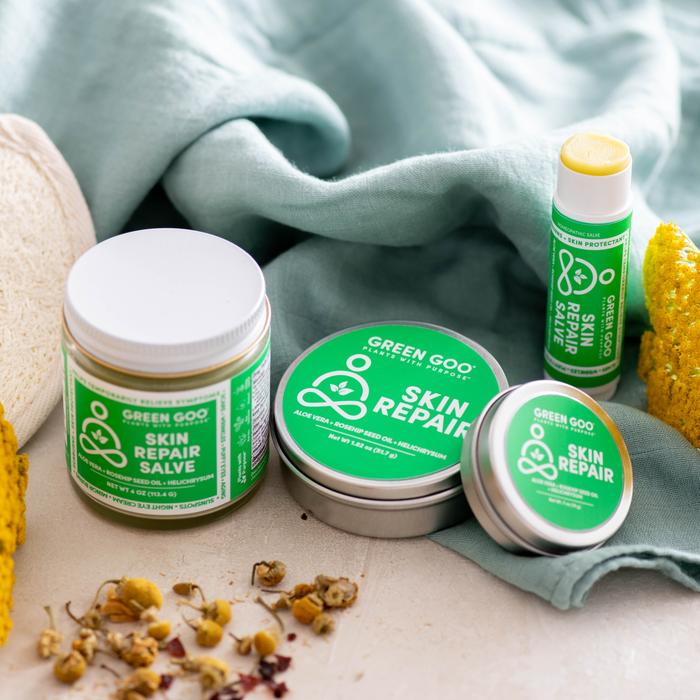 If you have an ailment, you shouldn't just ignore or cover the pain. Green Goo doesn't just create topical products that mask issues, they actually resolve them. With many of their products made from organic and vegan ingredients, Green Goo's range of dry skin repair and pain relief products has been specially formulated to meet your skin's particular needs. Your skin is the largest organ of your body, so it's important that it's cared for. To help you decide if Green Goo is the right brand for your ailments, we give a detailed and unbiased Green Goo reviews. Read on for an in-depth look at the brand, the ingredients they use, their products, and more!
About Green Goo – Review
Formed in 2008, Green Goo is a woman-owned, family-operated seller of high-quality organic first aid and body care products. Made in the USA with 100% plant-based ingredients, they have evolved from selling at local farmers' markets to becoming one of the most effective, all-natural product lines on the market.
Despite their growth, Green Goo is committed to maintaining their time-honored infusion process, high-quality and effective products that are safe for the whole family. Every product in their health and body care line has been slowly infused with enriching oils, unleashing their full potential.
Early on in the creation of Green Goo, they realized the importance of effective, safe, and simple wound care. The founders believe too much money is spent seeking medical solutions to cuts, abrasions, and skin conditions that can be treated with salves and herbal remedies. Green Goo is an inexpensive, portable solution to many skin issues.
Pros
Plant-based and natural
Ethically sourced
Child safe
Cruelty-free
Ships internationally
Versatile product range
Portable size
Cons
Jars can be hard to open
Lower shelf life due to the natural ingredients
Isn't an effective replacement for prescription medication
Not every product is vegan or organic
Green Goo Ingredients
Green Goo talks about Plants with Purpose, using it on their branding and social media hashtags. So, what do they mean when they say Plants with Purpose? It means nothing is put in their products that don't need to be in there. Every ingredient you see listed will help your body be the best it can be. You won't find any unwanted fragrances and colorants here!
The Green Goo skin repair salves stand out in the market, thanks to their revolutionary infusion process. Any herbs used are sourced from organic farmers and are infused into organic oils to increase their medicinal value. This infusion process maximizes the potency of their seals, taking the healing properties of the plants to a new level.
Full-spectrum ingredients
You may have heard a lot about full-spectrum ingredients alongside the popularity of hemp as an ingredient. Green Goo has always used a full-spectrum approach to creating their healthcare range. The full-spectrum approach is the belief that every part of a plant exists together for a reason, meaning that using the whole plant is more beneficial than just a single part.
Most of the ingredients used in Green Goo's products are registered organic and positively sourced. Green Goo has been known to change its formulas when it can no longer ethically source an ingredient. They also believe that farming and ranching communities should be paid fairly, advocating for the improvement of social and environmental standards for anyone who does the hard work growing things that the customer usually takes for granted.
Some of their most popular ingredients include:
Aloe Vera: this succulent has been a popular ingredient in skincare for thousands of years. Naturally rich in vitamins and antioxidants, it helps to smooth skin and is considered a natural moisturizer.
Chamomile: this daisy-like plant also has a rich history of being used as an antioxidant. Rich in terpenoids and flavonoids, this plant will soothe and refresh the skin.
Chickweed: Green Goo uses chickweed in many of their dry skin products and salves because it is packed with minerals and vitamins. Chickweed helps Green Goo skin repair products to absorb, soothe, and moisturize your skin.
Comfrey: another regularly used ingredient in history, this flowering plant is popularly used in topical products. It is soothing and regenerative when used in balms and moisturizers.
St John's Wort: this flowering plant has been regularly used in skincare because it is rich in so many benefits like essential oils, antioxidants, and vitamins. Green Goo's dry skin repair range uses this plant as it cleanses, nourishes, and Green Goo pain relief uses this as a natural painkiller.
Yarrow: Yarrow is part of the daisy family and was famously utilized during the Trojan war. The plant has flavonoids and salicylic acid which gently tightens the skin. Green Goo uses this ingredient in their wound care, first aid, and bath products.
Oils
Jojoba Seed Oil: Jojoba is a shrub whose seed has been used by Californian Native tribes for hundreds of years. It's high in fatty acids and antioxidants, which means it can cleanse, soothe, calm, and nourish the skin.
Lavender: lavender has a complex composition that has made it a prized ingredient since ancient times. This place is used in Green Goo dry skin products as it calms and relaxes the skin, also helping to even skin tone.
Olive Oil: olive oil is created by pressing the fruit. Used in many Green Goo skincare products, it is rich in vitamins and antioxidants, which help to hydrate and nourish the skin. This ingredient is used in Green Goo dry skin repair products.
Sunflower: sunflower seed oil is high in minerals, antioxidants, and vitamins. Used throughout the Green Goo skin repair line, it cleanses, exfoliates, calms, and soothes the skin.
Green Goo Products
Products like Green Goo pain relief, wellness, and cleanliness products come in both bundles and separately. They have ranges especially aimed at children, dry skin, and babies. From lip salve and body wash to hand sanitizer and massage oils, Green Goo has an affordable option available to you. Furthermore, these are all made using high-quality and natural ingredients. Shall we take a closer look at Green Goo products?
All-Natural Green Goo Deodorant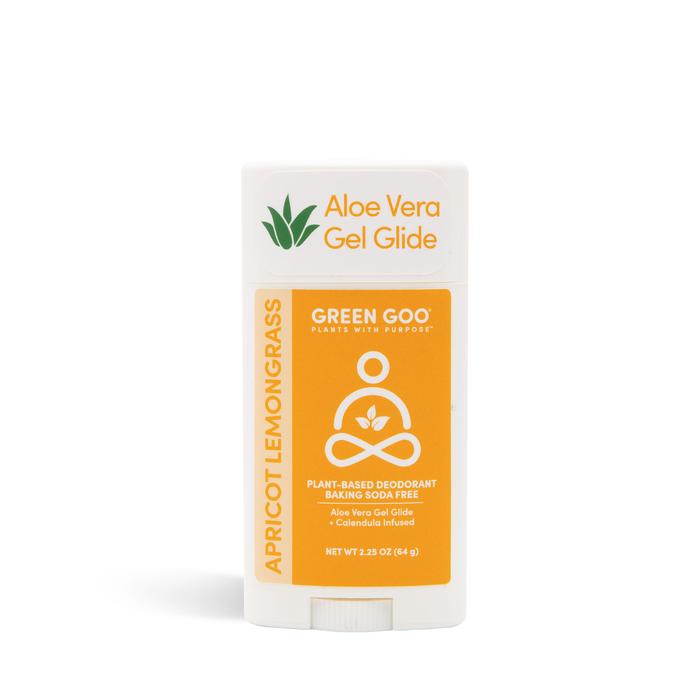 Finally, a natural deodorant that works! Stay fresh all day with a clear gel deodorant made from plant-based ingredients. Green Goo deodorant doesn't just mask the odor, it calms and fights skin irritation. The botanical formula is aluminum-free and calming, soothing, and nourishing to your skin as well as stops sweat.
Stay fresh with plant-based ingredients that are soothing to the skin, and effectively control odor. It smells like citrus with notes of apricot and lemongrass. Reviews praise the Green Goo deodorant on sensitive skin, with many customers claiming it's the only product that doesn't leave them with a rash.
Green Goo Skin Repair Healing Salve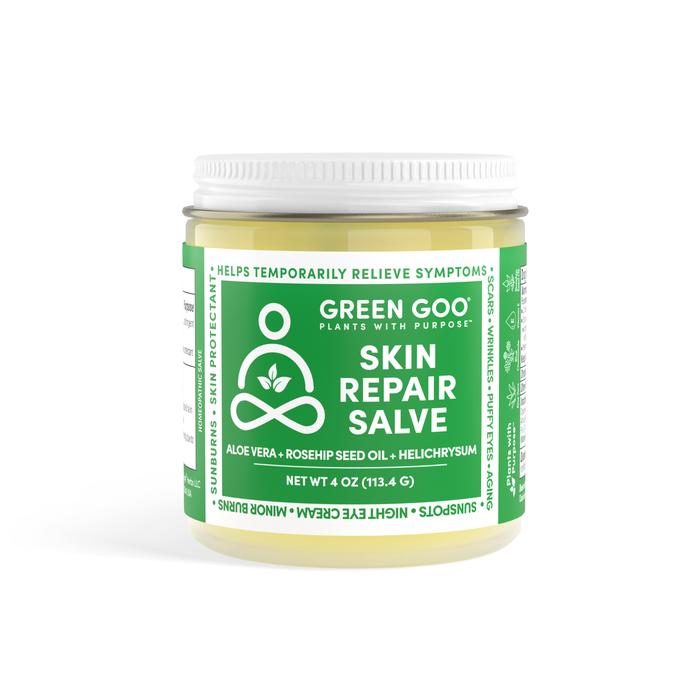 The Green Goo Skin Repair Healing Salve is made with a nutrient-rich blend of aloe vera, helichrysum, vitamin E, and coconut oil to moisturize and nourish the skin. This healing salve will help fade the appearance of scarring, wrinkles, and even minor burns.
The multi-functional Green Goo Skin Repair Healing Salve can be used as part of a nightly skincare routine, or as an after-sun solution. With ingredients like blue chamomile, rosehip seed oil, and aloe vera, customers have praised the way Green Goo Skin Repair Salve relieves everything from sunburn to puffy eyes and rashes.
Green Goo Baby Balm Moisturizer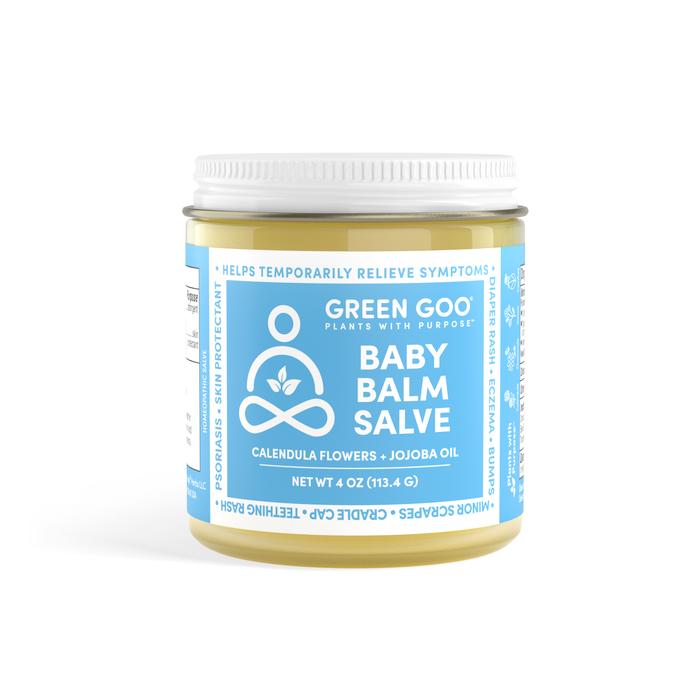 Green Goo Baby Balm is a gentle and soothing moisturizer ideal for your little one's sensitive skin. It is lanolin-free and safe for cloth diapers. Green Goo Baby Balm Moisturizer helps relieve skin irritations from diaper rash and baby acne to eczema and cradle cap.
The formula only contains natural ingredients like calendula, comfrey, and yarrow, so you won't have to worry about your little wonder having a reaction. Loved by mothers and midwives, Green Goo Baby Balm is not just good for babies; mamas and papas can use it on their skin irritations as well!
Green Goo Foot Care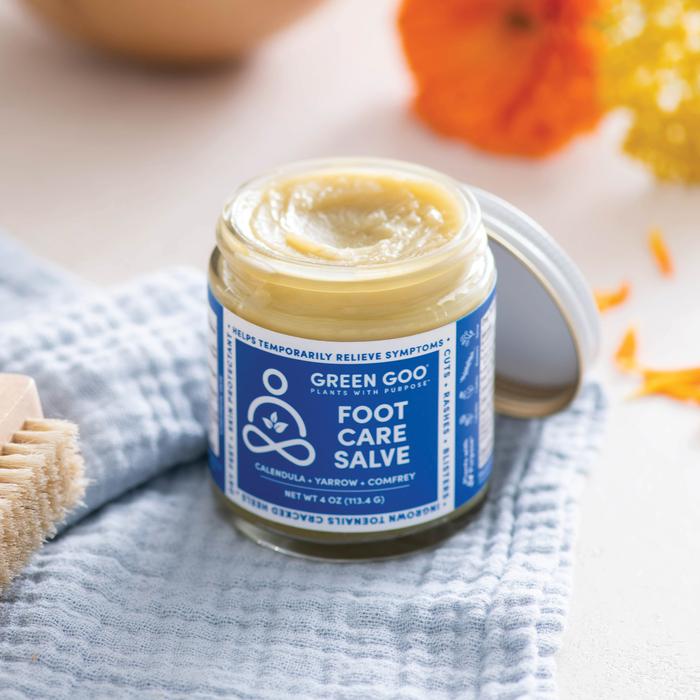 You're on your feet all day, so we know how important caring for your feet is. Green Goo Foot Care features a proprietary blend of over a dozen healing herbs. This product naturally protects the skin, reduces irritation, and provides pain relief to help heal and soothe your tired feet. Moreover, Green Goo Foot Care won't just moisturize for the short term, it offers longer-term pain relief.
Reviews indicate that climbers, hikers, hospital staff, and even teachers love the Green Goo foot care range. For example, if you work on your feet all day, Green Goo Foot Care is the product for you. The comfrey protects the skin, calendula prevents dryness, yarrow cleanses the skin, and St John's Wort relieves minor pain.
Green Goo Bugs Be Gone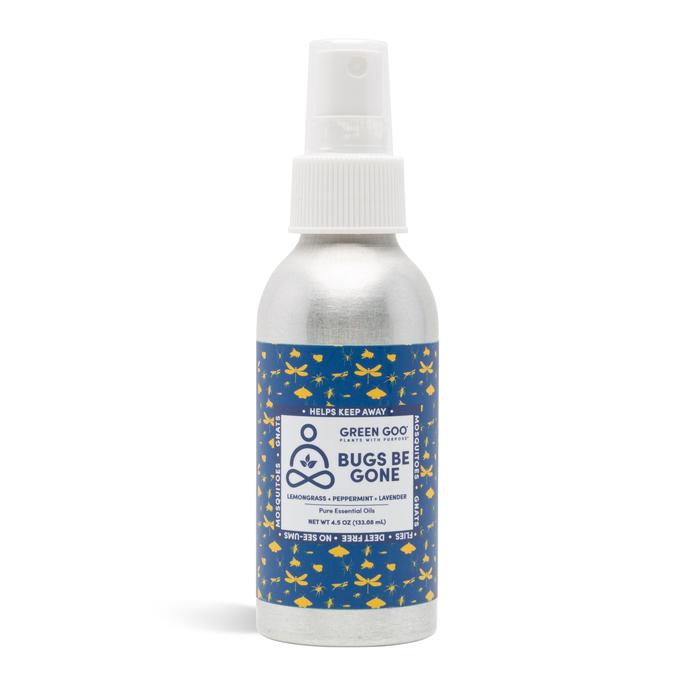 Finally, a bug spray that's safe to spray directly onto your skin! Green Goo Bugs Be Gone is a 100% insect repellant that can also be used as an air deodorizer. The highly effective blend of carefully selected herbs and essential oils repels insects yet contains no synthetic chemicals.
Spray Green Goo Bugs Be Gone onto your skin to repel bugs or after a bite to relieve skin. Enriched in geranium, lemongrass, and peppermint, it smells good as well as works to stop bugs from feasting on your skin.
Green Goo Reviews from Customers
To get a better understanding of a brand, customer reviews are a great indicator of quality and service.
Green Goo reviews on the brand's website are hugely positive, earning a 4.7 out of 5 stars. On Trustpilot, Green Goo has a 97% excellent rating. The only bad review talks about poor packaging but praises the company for quickly rectifying the issue and sending out the package again.
We also check Amazon for Green Goo reviews to find all the products available have been positively reviewed. Customers praise the versatility of the products and their natural ingredients. Whilst not every customer 100% agrees with the claims of the product, reviews rarely mention the product causing skin irritation or any adverse side effects. It might not work as well as the customer wanted, but it will never cause any harm.
There's one thing that customers really love about Green Goo pain relief and skin repair salve. That is how versatile and affordable it is despite its quality and effective ingredients.  Even external reviews from bloggers praise Green Goo's products. Influenster reviews are also overwhelmingly positive across their entire product line.
Sign Up for Green Goo
Signing up for Green Goo is easy. Start by visiting their website and clicking on the account button on the left-hand side. Create an account using your email address.
Where to Buy Green Goo products?
At the moment, Green Goo is available to buy on the Green Goo website, iHerb, and Amazon. Green Goo has its own Amazon page which sells all its products and contains the same level of information as their main website.
Shipping and Return Policy
When you order from the Green Goo website, your parcel will be shipped within 5-7 days. The company offers free shipping on all orders over $50 within the continental United States (excluding Alaska, Guam, Hawaii, Puerto Rico, and other U.S. Territories). Furthermore, Green Goo ships internationally, get in touch with the company to learn more about international shipping costs. Overseas deliveries can take any time between 7-16 days. Delivery details will be included in the confirmation email you receive after ordering your products.
If you would like to return your order, you can get a full refund within 30 days of purchase. Shipping costs will not be reimbursed unless there was a shipping error or product damage. Simply circle the items being returned or exchanged on the packing slip included in the shipment and make a copy to keep. Try to return the items in the original packaging and postmark the return parcel.
Promotions & Discounts
The easiest way to get a Green Goo discount is through their website. The company runs sales throughout the year, especially during Black Friday and the holiday season. Visit the sale section on the top menu to see the best ways to save money. They generally run sales on their bundles, helping you save up to 50% on skincare and healthcare products.
Check this section regularly to stay up to date with the newest sales as the company keeps this page updated. Green Goo also has a red banner on the top of the page that will keep customers updated with the latest ways to save.
Contact Green Goo
If you have any questions or need to get in touch with Green Goo, you can do so by:
Emailing the team at [email protected]
Submitting a ticket via their Contact Us form
Facebook
Instagram
Twitter
Green Goo Reviews – Editors' Verdict
Based on Green Goo reviews, the all-natural brand is fantastic for families looking for honest products that help to soothe skin irritations. Their versatile product range means you can find a solution to most issues, from natural hand sanitizers to pain relief and deodorant. They also have products to help pets and babies with skin issues, so you can feel confident knowing you are using formulas especially tested on different skin types.
Searching for more beauty brands to consider? Check out our handy reviews on Three Ships Beauty Review, Proven Skincare Review, 10 Best Deodorant Brands Review, and 4C Only Hair Review.
Green Goo FAQ
Do Green Goo have any vegan products?
Yes, they do. Although we recommend always checking the label before purchase, the following items are definitely vegan:
Castile soaps
Bath salts
Sitz Bath
Massage oils
Face wash
Also, Green Goo Bugs Be Gone Spray, gel deodorants, shampoo, conditioner, lotion, and toothpaste should also be suitable for vegans.
What does "food for your skin" mean?
Green Goo's entire product line has been formulated to meet the needs of your skin. Their products don't just mask the symptoms, they promote health and wellness. Green Goo only uses ingredients rich in vitamins and minerals, with the infusion process helping the body absorb products quickly. The brand's mission is to show the world how effective and powerful all-natural skincare and healthcare can be.
Why do I need to shake Green Goo Bugs be Gone?
Because Green Goo's Bugs Be Gone includes yarrow and sage-infused in witch hazel, which is combined with a potent blend of essential oils. Shaking the product before use will deliver optimum results, as the ingredients will naturally settle.
Can I use Green Goo products on my kids?
Yes, Green Goo's product range has been specially designed to suit the skin type of any age group. If you are worried, try their products out on a small area of your child's body before applying it all over. If you have a baby under one, check out their Baba + Mama line, especially the Green Goo Baby Balm, which has been formulated for sensitive young skin.
Does Green Goo use organic products?
Green Goo source the best ingredients as ethically as possible. Before sourcing the ingredients, the company research the benefits and the costs because they want their products to be as effective and affordable as possible. Whilst every ingredient may not be organic, it delivers the best results.
Why does Green Goo's products contain a Proposition 65 label?
In 1986 California voters approved a law known as the Safe Drinking Water and Toxic Enforcement Act, or Proposition 65. This law requires businesses to provide a warning label on products that contain 800 chemicals. Green Goo's products are totally safe but do contain some essential oils. These oils do not contain natural chemicals and are below the FDA and WHO guidelines.