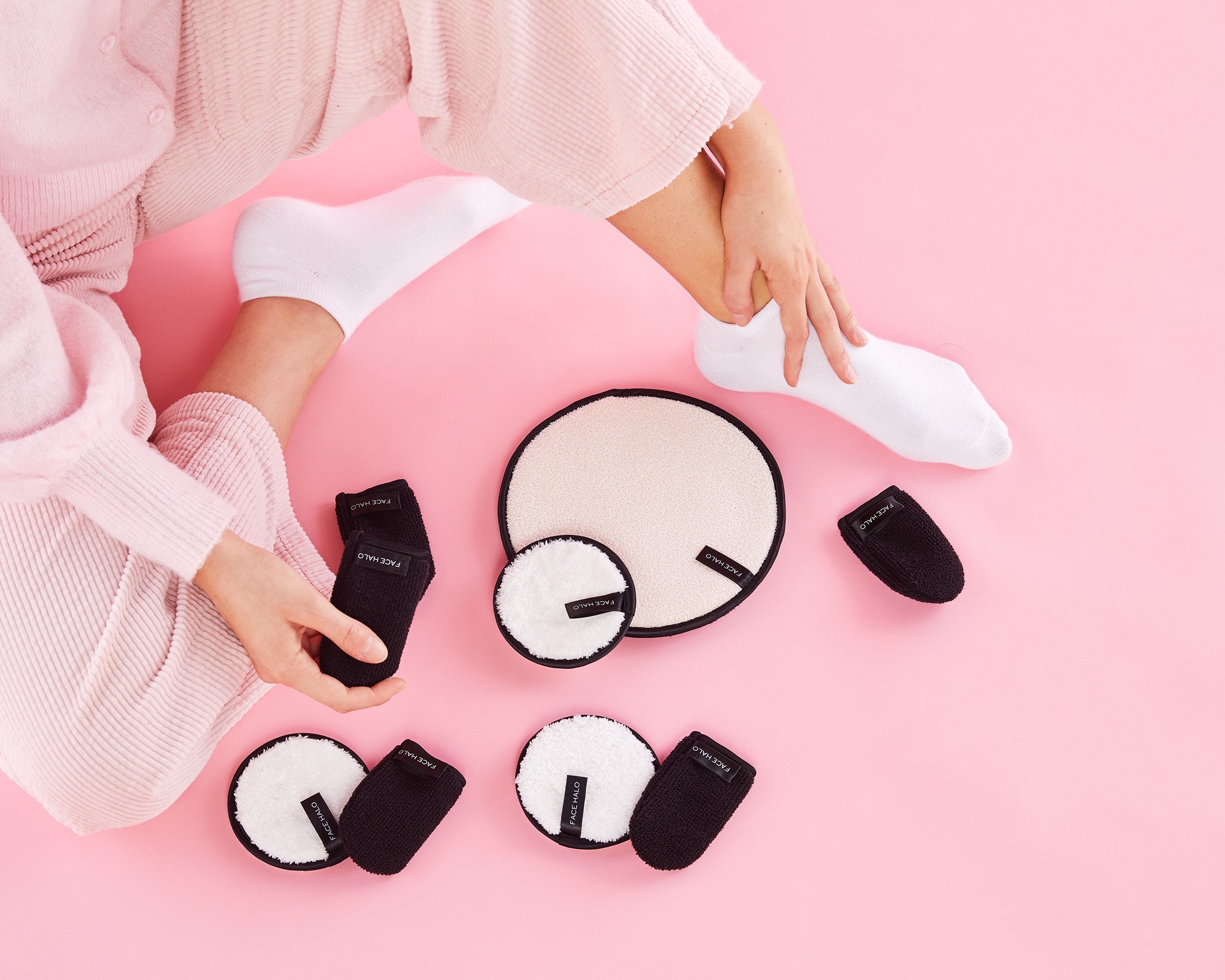 Wearing makeup is fun and even better when it looks exceptionally amazing on you. However, many women don't like it when it reaches the point to take it off, as the process is time-consuming and can be frustrating. Face Halo sells eco-friendly cosmetic tools designed to help women bring out the best in their skins. You can reuse their non-toxic makeup removing wipes to remove makeup without damaging your skin. Keep reading to find out more about the brand, including its top-selling products, Face Halo reviews from customers, promotions, and much more to help you determine if their cosmetics tools are worth the buy.
About Face Halo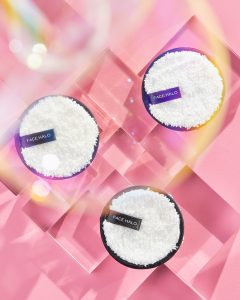 The genius behind the brand, Lizzy Pike, came up with the miraculous idea when she thought about faster ways to do things. She was too engaged by her three kids, so she had no option other than to find ways to multitask quickly. Lizzy met her friend to unwind over dinner, and as they shared stories about their busy schedule, her friend mentioned that it has been hard finding time to take off her makeup. 
Lizzy thought about her friend's sentiments and realized that she was right. There was a gap in the makeup industry, and no one was offering quicker, more effective, and safer ways to remove makeup. If not carefully done, the process can be overwhelming, messy, and oftentimes leave you not sure if the makeup is completely off.
Lizzy Pike is an expert in fiber technology. Having 15 years of experience in the industry, she decided to use her skills to come up with a solution that met all the requirements. Her main focus was to produce effective, eco-friendly, and affordable products for women. Lizzy launched her brand in 2017. Face Halo reviews reveal that customers describe its products as the best you can ever find on the market.
Many publications have featured Face Halo, including Goop, The Telegraph, Glamour, Refinery29, Harper's Bazaar, and Vogue. The company also boasts 114k Instagram followers and more than 20k followers on Facebook.
Pros
The brand crafts its products with the environment at the heart
Their products are cost-efficient and reusable
The company focuses on making effective products to ease the frustrations of makeup removal
Their products are soft and gentle to the skin, including the most sensitive ones
Their removers do not contain any chemicals
One makeup pad lasts for up to 200 washes replacing 500 disposable wet wipes
Cons
The brand lacks a live chat feature on its website where customers can have a direct chat with the customer care team
Some customers have issues with the short return window period of 21 days
You must wash their products well after every use
Face Halo Products Reviews
The brand offers reusable makeup removers that save you a lot of money in the long run that you have been spending to purchase wet wipes every other time. Many wipes contain chemicals that are harmful to the skin. Face Halo offers a variety of chemical-free makeup removers suitable for all types of skins. That said, let's look at some of the top-selling cosmetics tools that Face Halo offers.
Face Halo Glow Skin Set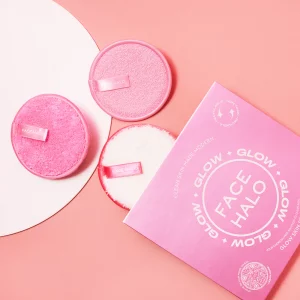 If you want to protect your skin, stop using wipes and start using the Face Halo makeup remover pads. This product removes all the oily and stubborn makeups in one go. The magical cloth traps and removes impurities on any skin type, sensitivity, and concern. The skin cleanser features the removalist, the cleanser, and the exfoliator. The trio allows you to remove, cleanse and exfoliate the skin in 3 easy to do steps.
The removalist pad helps to unclog the pores, and then the cleanser goes deep into the pores to remove all the impurities that could have been left behind. The last step involves the exfoliator, which removes all the dead skin and build-ups to remove the blemishes and maintain glowing skin.
The Face Halo glow skin set is non-toxic, chemical-free, PH neutral, and you can reuse it more than 200 times. With this product, your skincare routine will be simple, and you will achieve a natural glow in no time.
You don't have to purchase other skin cleansers and solutions, these Face Halo glow skin sets require only water, and you are all set for the session. The 200 wash cycles are equivalent to 500 disposable wet wipes, meaning that the brand's skin set saves you a lot of money in the long run.
Face Halo Body Exfoliator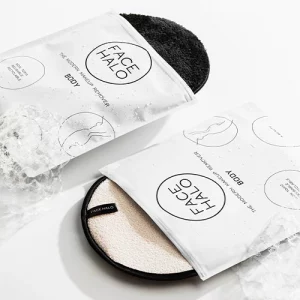 Many people understand the importance of cleansing the skin, but only a few know that exfoliation is equally urgent; this process helps unclog pores and rejuvenate the skin more than cleansing does. That's why you have to say goodbye to harmful face cleansers that can damage your skin by purchasing a Face Halo body exfoliator. These pads are dual-sided and feature wet and dry exfoliators to remove blemishes and smooth the skin.
The Face Halo body exfoliators create a radiant and glowing complexion that makes the skin gleam with health. It also prepares the skin for the next make-up session because it evens the skin. Exfoliation allows makeup to glide smoothly and come out as perfect as you'd wish.
The body exfoliator from Face Halo runs deeper into the pores than the cleanser, drawing out the impurities left by the make-up junk. Therefore, as much as the cleansers unclog the pores, the body exfoliator goes an extra mile to decongest them.
Face Halo reviews show that customers love using their body exfoliator because it slows down the aging process. This is because the exfoliation process revitalizes the skin, leaving it looking younger and flawless. If you have never used the Face Halo exfoliator before, you will be impressed by how it offers an instant glow to your skin.
For a nice and even tan, the body exfoliator allows you to prepare the skin for a successful self-tan. Your skin will remain smooth, and the moisturizer sinks in just as it should.
Face Halo Makeup Remover Pads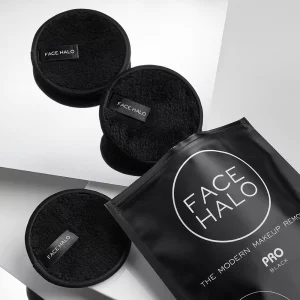 If you want to make heavier makeup come out with ease, Face Halo Makeup Remover Pads are the perfect option. This eco-friendly makeup remover is made of fiber material that works like a magnet, attracting the makeup components. These pads offer the solution to those women who want to remove makeup in one go.
These reusable pads will reduce your daily waste more than disposable facial wipes. You can use them for months, and they can last up to 200 washes and above, meaning your environmental impact will improve, and the financial benefit also counts.
The makeup erasers are also soft and gentle to your skin, making them suitable for people who suffer from any form of skin sensitivity. Unlike wet wipes and other make-up erasers available in the market, these make-up pads are chemical-free, making them safe for every skin type. The make-up pads are safe and easy to use around the eyes, where makeups are often stubborn.
Additionally, these remover pads are cheaper and call for low maintenance compared to the packed chemical wet wipes; you can use the pad repeatedly while washing and air-drying them from time to time. You don't have to buy cleansers to use this remover pad: you only need water to take off the junk quickly and effortlessly. Moreover, the pads are more absorbent when compared to the traditional cotton pads and are also long-lasting and easy to wash.
Face Halo Accessories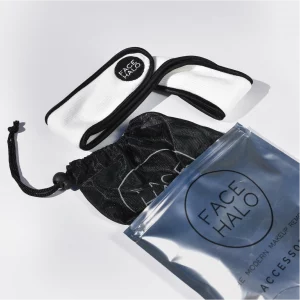 Your daily skincare routine becomes even better with Face Halo Accessories. The pack includes Face Halo Headband and the Face Halo Wash Bag.
The headband keeps moisture and makeup off the hair during the entire process. It separates the hair from the face when you are washing your skin, applying a soothing facemask, or applying makeup. They are made from a water-absorbent fiber material that prevents moisture from getting to the hair.
The material used on the headband is durable, long-lasting, and air dries faster. The wash bag, on the other hand, protects your Face Halo pads when machine washing. It keeps the pads looking fresh and lint-free during and after the cleaning process.
The headbands are designed for both women and young girls. The Face Halo Headband is 26 inches (67cm) and features an adjustable band to fit all head sizes and shapes. You can carry it along while traveling or going to the facial spa for some skin treatments.
The headbands are reusable and can go to up to 200 wash cycles before you think of replacing them. They are also non-toxic and environment-friendly. Lizzy wholeheartedly adheres to the environmental factor while designing her collection of products, including the accessories.
Face Halo Reviews from Customers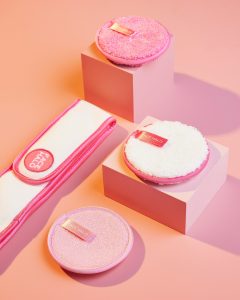 We checked on the web for Face Halo reviews to see what users think about the brand and its products. Our team found a lot of positive remarks from the brand's website, on Amazon, and other sites.
Generally, customers are impressed by Lizzy Pike's idea that came to save them the hustle of removing makeup. The products have a 5/5 star rating. on the company's website out of 2,705 reviews. Customers talk of how magical their products are and how they effectively take off makeup with just water. Other customers have stated that the remover pads worked perfectly on their super sensitive skin.
On Amazon, the brand has a 4.7/5 star rating, and customers praise the softness and efficacy of the makeup erasers. They say that the remover pads work so well, and they are not as messy as a regular washcloth.
Customers on other sites are impressed by the products' non-toxicity and eco-friendliness. A customer on The Body Exfoliator site mentioned how the products are natural and help save the earth.
We saw a few negative comments from customers who think that the product is overpriced. But when it comes to product efficiency, you get value for your money.
Sign Up for Face Halo
Sign up for the latest and greatest of the Face Halo makeup pads today and enjoy an easy makeup removal time. The sign-up process is a cinch: within 5 minutes, your account will all be up and running. You only need to provide your first and last names, an active email address, and then create a password you will be using to log into your Face Halo account.
Re-enter the password to confirm and click the Submit button to complete the signup process. Having an account with Face Halo means you can start placing orders from anywhere and at any time. You can also request to receive notifications about upcoming offers and deals whenever they are available via mail by signing up for their newsletter.
Where to Buy
To avoid taking home fake Face Halo makeup erasers, purchase them directly from the brand's official website FaceHalo.com. You will only need to create an account, and you are good to go. Face Halo products are also available on authorized retail partners such as Amazon, Beauty Bay, Look Fantastic, Selfridges, Skinstore, Revolve, Urban Outfitters, and Holt Renfrew.
Face Halo Shipping and Return Policy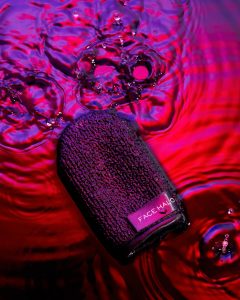 Shipping
Face Halo offers standard and express shipping for customers from the United States of America and the United Kingdom. Standard shipping charges $5 for orders under $35, and free for orders over $35. Express shipping charges $7.50 on all orders.
United States orders take 3-6 days, and the delivery estimated time is 1-3 days from the dispatch date, while UK orders take 2-3 days, with a delivery estimate time of 48 hours from dispatch. For Canadian customers, the Standard option takes 7-14 business days at $8, and the Express option takes 2-3 business days at $25.
For New Zealand, Hong Kong, Japan, Malaysia, and Singapore, Standard shipping takes 7-21 business days at $12, while the Express option takes 3-5 business days at $35.
Return Policy
If you have received your order, and for some reason, you are not content with your purchase, the brand allows you to return it within 21 days of purchase. The company doesn't pay for the return charges, ay any discount offered on the original order will be recalculated.
Promotions & Discounts
The following promotions and discounts are currently available on the company's website:
10% off discount code to use on order when you subscribe to their newsletter
Free US & UK shipping for orders above $35
Contact Face Halo
For further information or inquiries about Face Halo company or its products, you can reach out to the customer service team through email [email protected] or fill out the contact form provided at the contact page on the brand's website. Be sure to provide an active email address where they will channel the response.
Face Halo Reviews: Editors Verdict
Based on the Face Halo reviews customers wrote on the internet, we find this brand worth it. Its products are well-thought-out and designed with concern for Mother Earth.
The makeup removal and exfoliation pads reduce your waste by replacing the single-use wipes that are wasteful and harmful to the environment. They are easy to wash and can go up to 200 washes, which are equivalent to 500 disposable face wipes.
The brand's sustainability efforts go even beyond compared to other clean beauty brands as seen on the company's upcycle system for new products that they resell as modern merchandise.
The brand's products allow customers to save money as all the products are cost-effective. The brand leads for its effectiveness, environmental friendliness, and economical benefits. For those reasons, we recommend Face Halo to any woman looking for an effective and skin-friendly way to remove makeup.
Are you in search of other beauty products? Consider reading our reviews of Byredo Review, Bumble & Bumble Review, Crepe Erase Review, and Color Wow Review.
Face Halo FAQ
How do I clean my Face Halo?
Wash your Face Halo with hands, warm water, and soap after every use. For heavy junk, remove it by rubbing two Face Halo remover pads together in warm soapy water. Use the Face Halo wash bags to machine wash them together with similar colored clothes. Don't use bleach or fabric softeners to wash the Face Halos, as they might coat the fibers and reduce their effectiveness.
Can I put my Face Halo in the dryer?
If you want your Face Halos to maintain their original look, just air dry them after washing. Although drying them using a drier will still not affect the Face Halos' effectiveness, check the label to understand the recommended washing and drying temperatures.
How long will my Face Halo last?
Each Face Halo can be washed up to 200 times, which is equivalent to 500 disposable face wipes. For this cause, the products are beneficial to the pocket and the environment.
Is Face Halo sustainable?
The brand has always been committed to sustainability, ensuring less waste when it comes to its products. The eco-friendly beauty brand went an extra mile and launched a recycling system and can now restructure the makeup remover pads and exfoliators into the car seat cushioning and hard-wearing seat covers. The products are sustainable, gentle, and good for the environment.