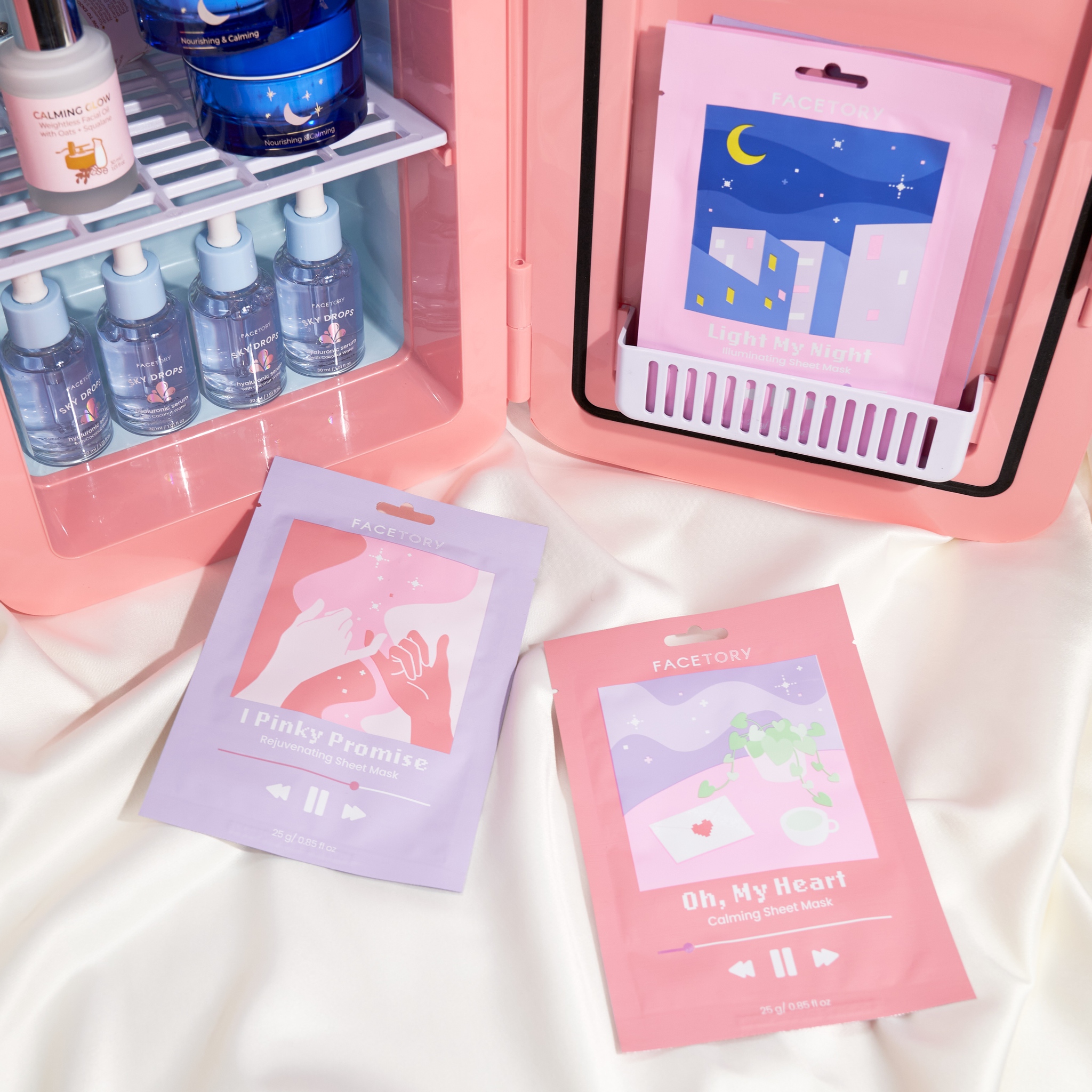 FaceTory offers an extensive selection of essential skincare items such as serums, cleansers, sheets, and masks. Most products derive inspiration from Korean beauty trends and feature natural ingredients. The company supports people in their skincare journey by creating products that solve their skin concerns in an approachable and fun way. We'll examine FaceTory reviews from customers, its best-selling products, promotions, and more. Read on to find out if this beauty brand is right for you. 
About FaceTory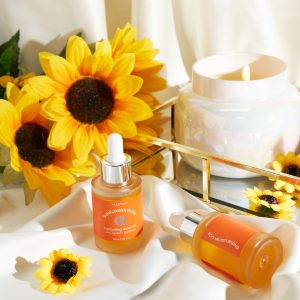 FaceTory is a Fullerton-based beauty enterprise founded in 2016 by friends Sang Lee and Chan Park. The brand's mission is to provide accessible, affordable, and fun skincare solutions for people with all skin types. All FaceTory products are inspired by the latest Korean beauty trends and contain high-quality ingredients.
When starting the enterprise, Chan and Sang wanted to create a brand that would offer an understandable, accessible, and affordable collection. The team wanted to focus on fun because they believed that skincare should be enjoyable and not a chore. Therefore, all FaceTory products are easy to use and target specific skin concerns. 
With the recognition that skincare products are not one-size-fits-all kinds of items, FaceTory also aimed to be inclusive. To achieve this, the brand initially launched a monthly subscription option, which introduced customers to their sheet masks. Since then, their product collection has grown to include all skincare essentials.
The brand has also grown in popularity and featured in renowned publications like Buzzfeed, Elle, US Magazine, Beauty News NYC, PopSugar, and Allure. They have also amassed a broad social media following of more than 71.5K followers on Instagram and many on Facebook and TikTok. The reviews show that customers trust this beauty company because it assures them that all its formulations have gone through heavy research and rigorously tested before being available to the public.
Pros
Korean-inspired products, including serums, toners, and sheet masks
They offer two subscription box options
Customers can take a skincare-type quiz that helps them select the best products
The brand has a blog site where customers can research more concerning skincare
They offer multiple reward programs for customers to save on money
The brand ships internationally
Cons
Limited information is available regarding international shipping, which starts at $10
They do not offer refund or return options for subscription boxes
Subscription boxes are excluded from exchanges and refunds exchanges
The company does not offer phone support
FaceTory Products Reviews
FaceTory products are cruelty-free and vegan-friendly. They also don't contain harmful ingredients. We'll dive deep into some of the top-selling FaceTory products. Stick around to learn how these products can help you in your skincare journey.
FaceTory Skincare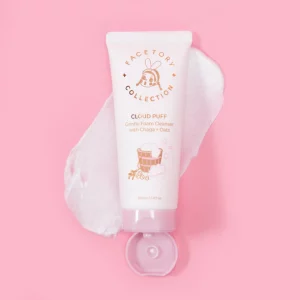 FaceTory has an expansive collection of skincare products designed to support your skin barriers. The brand has quintessential categories linked to Korean skincare, such as bunny headbands, ampoules, and sheet masks. Customers can shop for their products based on their skin type and concern. In turn, this allows them to narrow down their search for their preferred skincare product. 
The brand also offers a skincare fridge that you can use to keep the beauty products you purchase from them cool. With FaceTory Fridge, your skincare products will remain fresh and last longer. It features a handy compartment where you keep your jade rollers, Vitamin C serums, face masks, and more. 
Chilled skincare products can also help calm your skin. Keeping topical acne treatment in this fridge can help lessen inflammation due to the cooler touch of the skincare product. Furthermore, the cooler temperatures keep bacteria away from the products, ensuring they remain clean and sanitary.
FaceTory Skincare Mini Fridge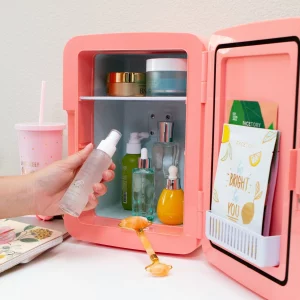 Available in cool pink or green, the FaceTory Mini Fridge comes with a top handle that allows you to move it to a new location with ease. The skincare fridge measures 24.5 x 29 x 34 centimeters, making it an outstanding option if you have a beauty product collection and want to keep them all in one place. It is double in size compared to most skincare fridges. It has a storage capacity of 10 liters and a weight of 3.8kg, which ensures it is portable. 
This FaceTory Skincare Fridge comes with two shelves, each holding up to six products, and it's designed to keep your skincare products at a cool temperature of between 41-48 degrees Fahrenheit, with the lowest being 32°F.
Based on FaceTory reviews, customers love this fridge because it accommodates all their skincare needs since it comes equipped with two adjustable shelving compartments for their facial mists, jade rollers, vitamin C serums, and gel moisturizers. Additionally, it comes with AC and DC cables and Fits all 110V US-standard outlets. 
It has an affordable price tag of $99.00. However, you can also save on cash by purchasing it as a set with sheet masks and hydrating facial oil at $119.
FaceTory Bundles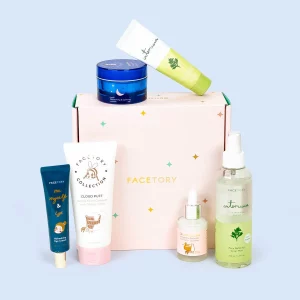 FaceTory offers a range of skincare bundles for those who want to try multiple items at once. It is a great way to get introduced to the products and save money in the process. The brand has a range of bundle options to choose from, each containing different items. 
These kits come with 4-7 products, all curated by the FaceTory team. The kits are perfect for those who want to experience a range of items and find their favorite products.
An example of these bundles is the Nightly Nourish Set; it is a set of skincare items that work together to nourish and hydrate the skin while keeping your complexion soft, smooth, and glowing. It includes FaceTory Moon Velvet Moisturizing Cream Mask, the Moon Velvet Sleeping Mask, and Me Myself the Eye Refreshing Eye Cream.
These products work together to hydrate and nourish the skin overnight while you sleep. The set is perfect for those with dry skin or those who want to achieve a dewy complexion. The main ingredient used in the Nightly nourish set is Shea Butter, which is a conditioning and moisturizing component that helps calm irritated, dry, or itchy skin. Shea Butter is also known to smooth out wrinkles, skin texture, and fine lines.
The Nightly Nourish set has a price tag of $67.85. Visit the FaceTory website to learn more about this product.
Some more bundles for you
Other examples of FaceTory bundles include the Rainbow Glow set, the Acne Sheet Mask Playlist, the Artemisia Set, This Is Everything Bundle, and much more. 
 The Rainbow Glow Set is a set of skincare items that work together to brighten and illuminate the skin while reducing dryness, redness, fine lines, acne, and pimples. It comes in two categories, the mini and deluxe. It includes velvet sleeping masks, drop-serum, and light-reflecting creams.
On the other hand, the Acne Sheet Mask Playlist is a set of skincare items that work together to soothe and treat acne-prone skin. One set includes three sheet masks designed to hydrate, brighten, and calm the skin. You can get this set at $8.95.
Generally, FaceTory offers more than 27 bundles, each compiled to help you with specific skincare goals. The sets also save you money as they are cheaper than purchasing single items. Visit the FaceTory website to learn more about these products and find the perfect bundle for your needs.
FaceTory Subscription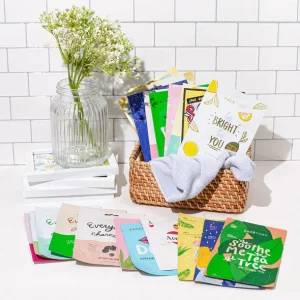 At times purchasing skincare products can be overwhelming. It can be challenging to determine which products work best for your skin type. Here is where the FaceTory subscription comes in.
The FaceTory Subscription is a monthly service that sends you skincare items straight to your doorstep. It is a great way to try out different products and find the perfect one for your skin type. The service also allows you to save money since you enjoy discounts on the products.
FaceTory Box offers two subscription options: the 7 Lux and the Lux Plus box. The Lux Plus includes 5-6 full-sized products and 5-6 sheet masks. On the other hand, the 7 Lux comes with seven luxurious sheet masks and 1-2 bonus items. The brand bills the former seasonally and the latter monthly.
The Lux Plus subscription comes with free US shipping. Both subscriptions have a flexible cancelation policy, so you can cancel anytime you want. Additionally, they allow auto-renews and auto-billing, so you never have to worry about your subscription running out.
Each of the subscription boxes allows for limited quantities available each month. The Lux Plus will cost you a mere $49.95 per season, while the 7 Lux will cost you $19.90 each month. Visit the FaceTory website to learn more about the subscription service and sign up.
Remember, since these subscriptions offer you numerous products, you will need the FaceTory fridge to ensure your products stay cool and fresh.
FaceTory Reviews from Customers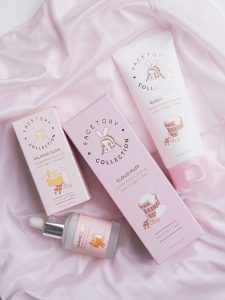 This FaceTory review checked what customers had to say on several sites, including BBB, TrustPilot, My Subscription Addiction, and Influenster. FaceTory has received mostly positive reviews from its customers. Most customers are happy with the quality of the products, the variety of items offered, and the customer service. They commend the company for its bundles, quick replies to emails, and ability to accommodate different needs.
With an average rating of 5 out of 5 stars, FaceTory Fridge is one of their top-selling. Customers love how the product keeps their sheet masks cool and fresh. They also appreciate the cute design of the fridge, which makes it a great addition to their skincare collection.
One Influenster reviewer gave it a 5-star rating and stated that the FaceTory Fridge is a game-changer. Another reviewer said that the fridge helped her with her sheet masking routine. She no longer has to worry about her sheet masks drying out or becoming stale.
Other customer reviews
A customer who had purchased the Acne Playlist said that the bundle helped her clear her skin. After using the products for a few weeks, she started to see a difference in the appearance of her skin. Another customer commented about their experience with customer service. They said that the team responded to their queries in time and was generally helpful.
Customers also commended the subscription service for its affordability. For example, one customer said that she saved a lot of money by subscribing to the service. She also appreciated the flexibility of the subscription as she could cancel it anytime she wanted. A high percentage of customers commended their customer support service, saying that their support team is highly-skilled, courteous, and are always glad to assist customers whenever they have queries or issues with their products.
However, there have also been a few complaints about the service. Some customers complained that the brand did not offer returns or refunds on their subscription services. Others said they were not happy with the limited information regarding international shipping.
Overall, FaceTory has received positive reviews from its customers. Most customers are happy with the quality of the products and the customer service. They love the quality of the products, the bundles, and the customer service. 
Sign Up for FaceTory
Sign up for FaceTory to experience the best of Korean skincare-inspired products. To create the account, input your first and last name, email address, and passwords. The FaceTory will also request you select your skin type and skin concerns from the options provided. Subscribe to their newsletter to be the first to know about new arrivals, exclusive sales, and insider tips.
Where to Buy
FaceTory offers its products for sale on its website FaceTory.com. You can also find FaceTory products on Amazon, YesStyle, Wholefoods, Target, and Walmart.
FaceTory Shipping and Return Policy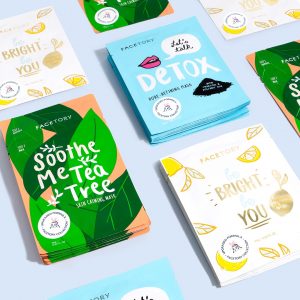 Shipping Policy
FaceTory offers free shipping on all US orders totaling $35. Non-subscription orders below this amount are subject to a $5.99 fee. The brand also offers free US shipping for their subscription boxes (Lux PLUS, 7 Lux, 4-Ever Fresh). Charges for international shipping begin at $6 per lb but may vary depending on the country. They calculate the international shipping fees at checkout.
FaceTory processes its orders immediately and ships daily from Monday to Friday. Once shipping commences, they send customers a confirmation email containing all tracking information. 
Return Policy
FaceTory has a 30-day return policy on its products. If you are not satisfied with the product, you can return it for a full refund. However, the brand does not accept any returns or refunds on its subscription services. Additionally, all products eligible for return have to be in their original condition and packaging.
Unfortunately, the brand will not incur shipping costs unless its items are faulty. Contact [email protected] to begin the return process.
Promotions & Discounts
FaceTory has a variety of promotions and discounts running at any given time. You can enjoy up to 85% off on select merchandise when you heat to the Sale section. At the moment, the brand has a limited promotion that allows you to get a 40% discount on all fridges and fridge bundles. The brand also has offers listed on each of its bundles. Visit the website to learn more about the latest promotions and discounts.
Contact FaceTory
You can reach FaceTory by submitting a request on their website. Here you will need to provide your email address, the subject of your query, and a detailed message. A member of their team will respond to your inquiry as soon as possible. Alternatively, you can contact them via live chat on their website or by sending them an email at [email protected].
FaceTory Reviews: Editors Verdict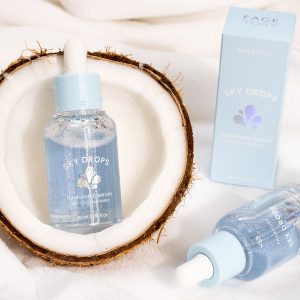 Looking at the various FaceTory reviews, it is clear that the brand has a lot to offer its customers. From quality products to exceptional customer service, FaceTory seems to have it all. The brand has also received positive reviews from its customers for its affordable prices and quality products. 
With all these positives, there are hardly any faults to find with FaceTory. The brand is clearly above average, and customers should have no problem subscribing to it. We recommend FaceTory for anyone looking for a quality and affordable skincare solution. If you are looking to incorporate fun into your skincare regime, FaceTory is the brand for you. 
Still on the hunt for amazing skincare and beauty products? Check out our reviews of Dermalogica Review, CoverFX Review, Facetheory Review, and Deciem Review.
FaceTory FAQ
Where are FaceTory products made?
FaceTory manufactures all its products in South Korea. The brand also takes inspiration from the latest Korean skincare trends to develop its line of products.
Can I get a freebie/ trial kit /sample size?
Unfortunately, FaceTory does not offer any freebies or trial kits at the moment. However, feel free to explore their shop for various discounts and promotions.
Can men use FaceTory products?
Yes! all FaceTory products are unisex and can be used by both men and women. The brand further recommends their Artemisia Line to all men interested in skincare.
Are FaceTory products cruelty-free?
Yes, all FaceTory products are cruelty-free, meaning that they do not test any of their regimes on animals. The brand further has a certification to prove its commitment to cruelty-free practices.
Can I cancel my subscription?
Yes. You can cancel your subscription at any time. However, please note that FaceTory will not offer any refunds on subscriptions canceled after the first month. If you are unsatisfied with your subscription, contact [email protected] for more information.